You meet someone, you fall in love, and you get married. That is what the media, greeting card companies, and for some people, their parents tell, us we should be doing. When a couple says their wedding vows, they promise to be together until "Death do us part." However, that is simply not the reality for about 50 percent of married couples. People fall out of love, and divorce happens. These people decided to share their stories about falling out of love with their partners.
Cutting Family Ties
One married couple had decided to have a child, as many couples do. Once their son had been born and was toddling about the family home, the wife decided that they needed to spend more time together as a family.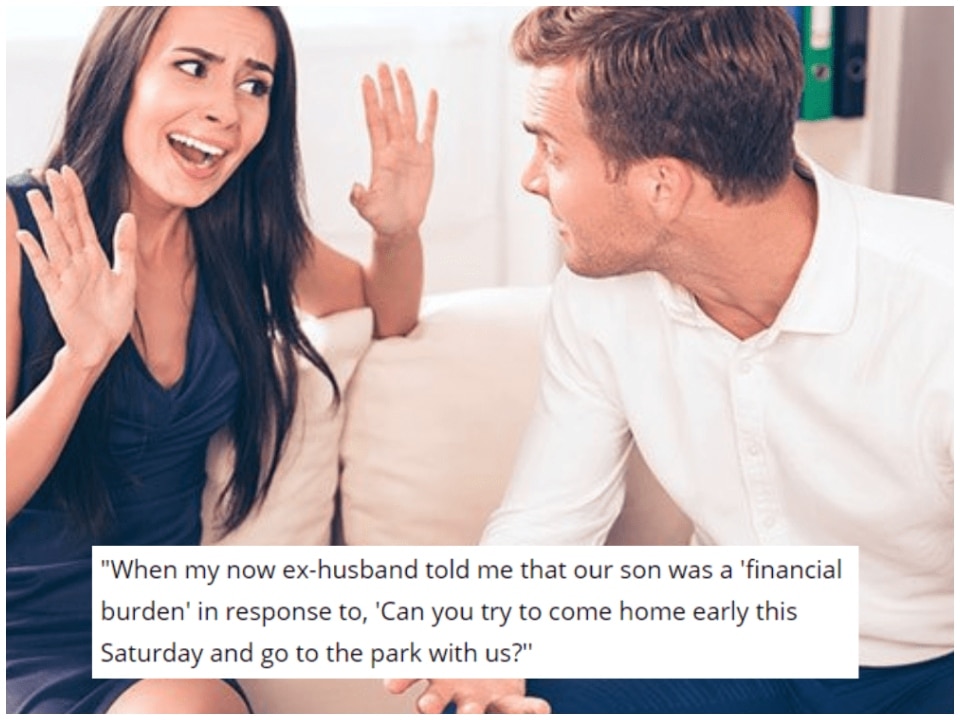 She asked her husband if he could try and take some time out of his work schedule on a Saturday for some family time in the park. Her husband looked at her point-blank and simply said their son was a financial burden.
A Difference Of Opinion
It's natural for couples to have different views on certain topics, but when it comes to love, you need to be on the same page. In order to love your partner, and provide them with the love they need, you need to understand what their love language is.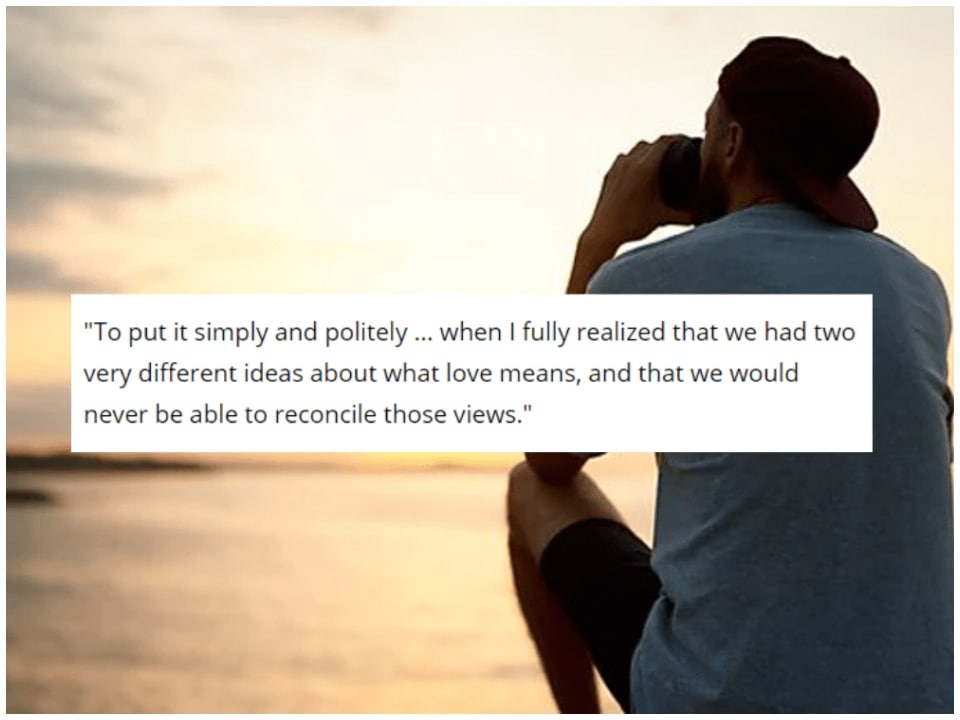 This couple had completely opposite views on what it means to love a person, and because of these views the marriage was over. The wife knew that neither she, nor her husband would be willing to change. Due to that, she decided to call it quits, and find someone who could give her the love that she needs.
Couples Therapy
Therapy is a great tool that can be used to save a marriage. However, both parties need to agree to attend the sessions together. This wife knew that she wanted to make her marriage work, and she gave her husband every opportunity to step up and attend therapy with her.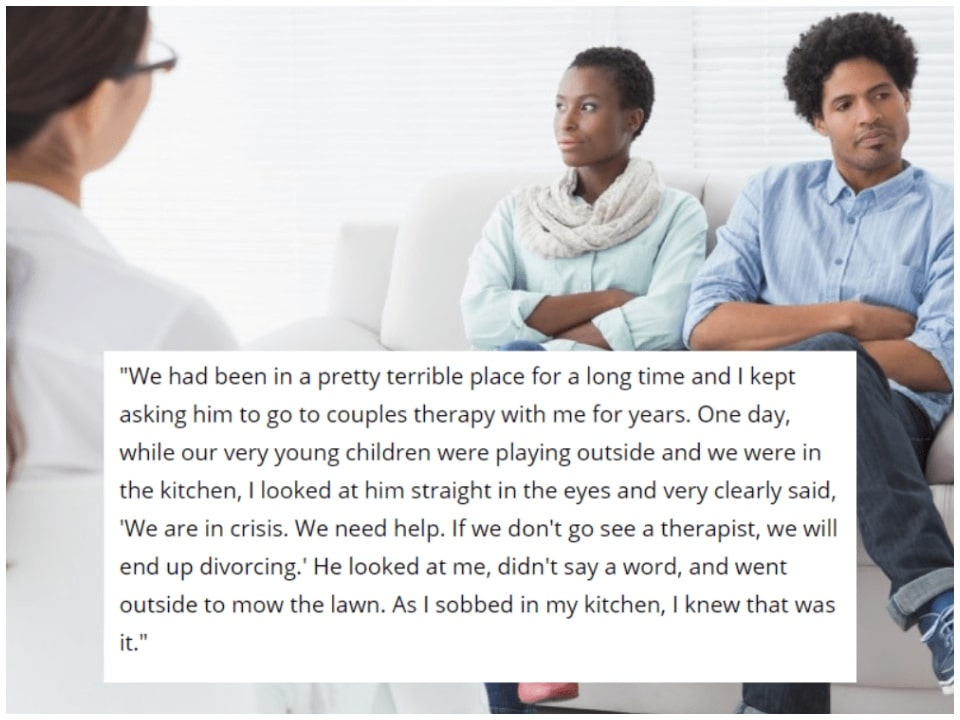 Finally, she explained to him that their marriage was failing, and pleaded with him to go to couples counseling. Instead of replying, and agreeing to try and work things out for the future of their family, he walked out the door. His lack of answer, or even saying anything made her realize her marriage was over.
Miles Away
A lot of couples have to spend time apart because of work. Business travel is the norm for a lot of industries, but that should make the time spent together that much sweeter. One spouse enjoyed being away from her partner, more than being with him. After a year apart, she no longer felt any kind of joy at the prospect of reuniting with her husband.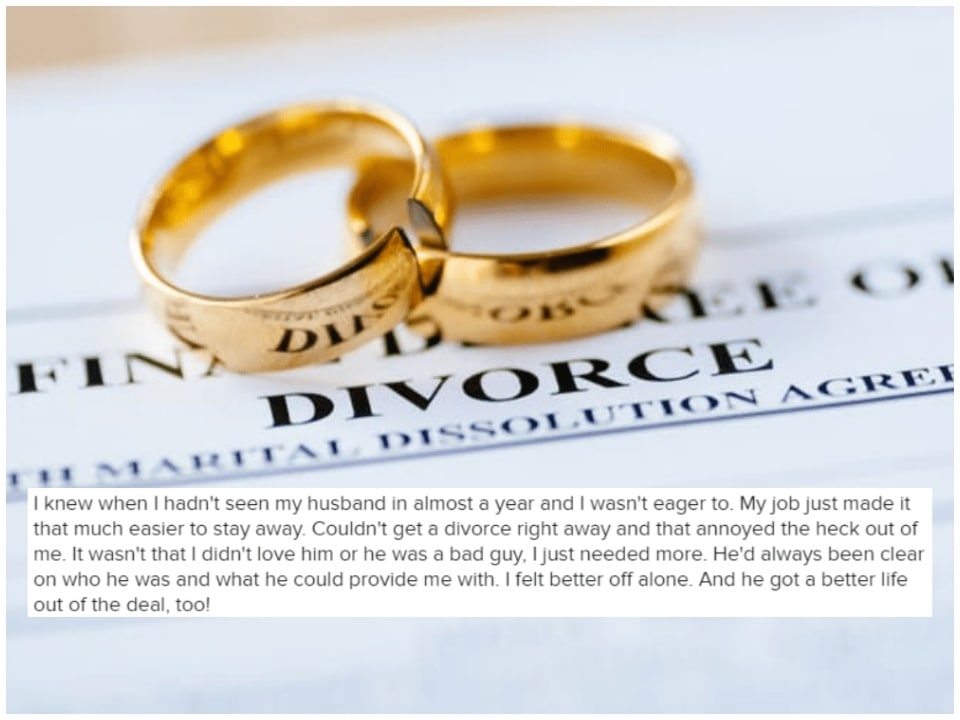 She knew that she preferred to be alone, and ultimately, her husband could find someone who appreciated him more than she did. Absence did not make her heart grow fonder, nor did it make his.
The Ball And Chain
Some people dream of retirement. They can finally stop working, and pursue all of the activities they never had time for. As a wife listened to her husband describe their retirement plans for the future, she came to a startling conclusion. This was not the man of her dreams, and his retirement plans were not something she wanted to be a part of.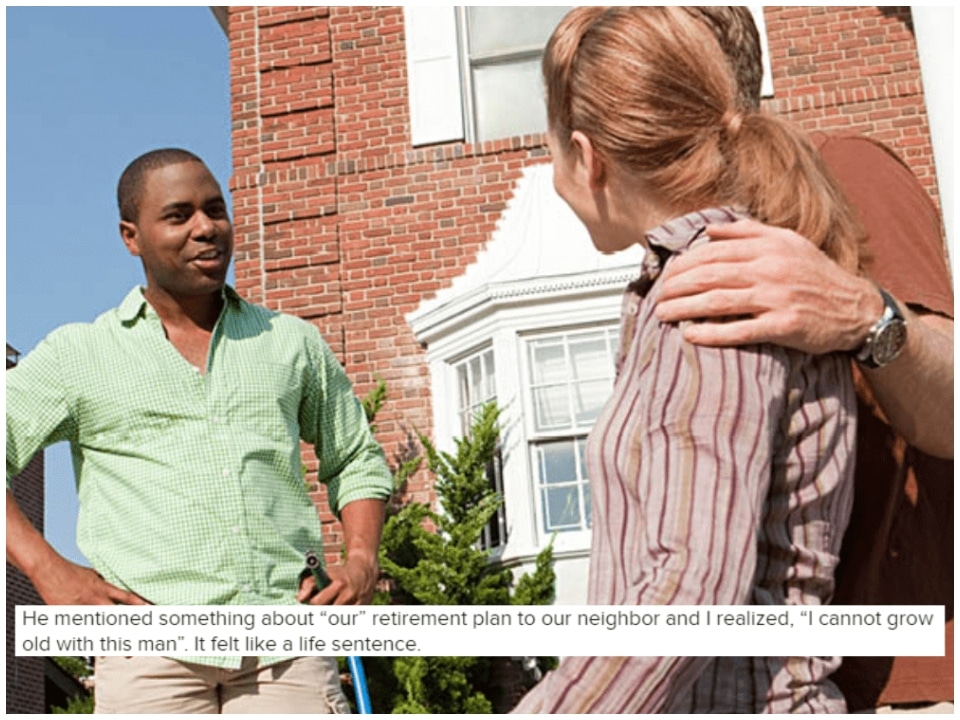 It was at that moment that she made the momentous decision to get a divorce and start a new life without her husband. This was a harsh decision, but you only get one life and you should live it how you want to.
A Toxic Time
Someone with a narcissistic personality will bring toxic personality traits to a relationship, especially a long-lasting one like marriage. This woman's husband made her believe that everything that was going wrong was her fault, and because of this, he had been unfaithful.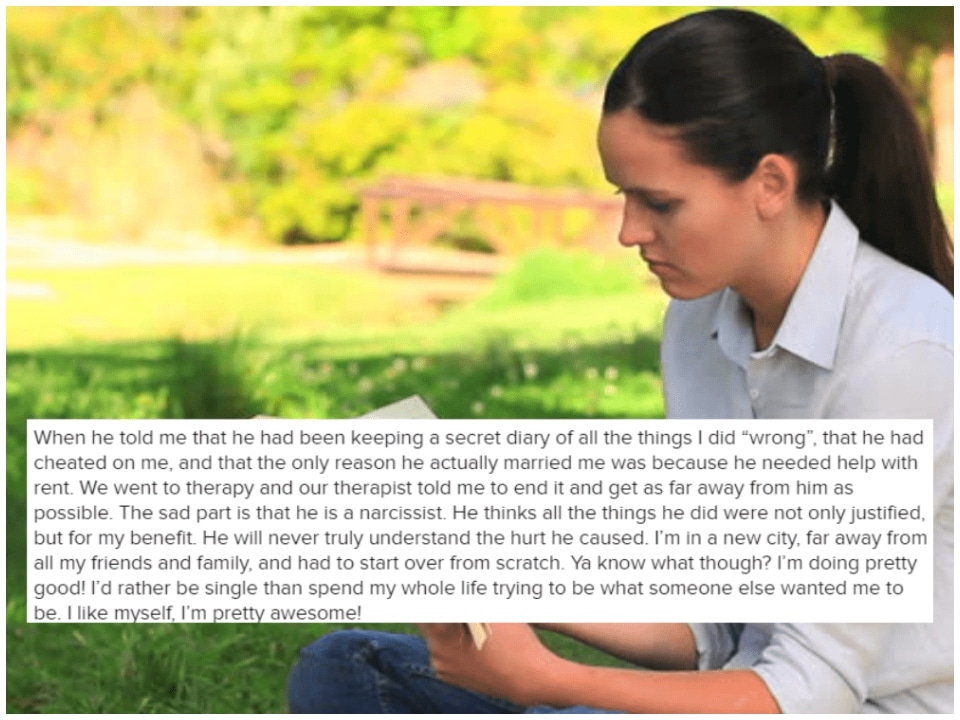 Luckily, her therapist explained that the situation would only improve if she divorced him. It was a tough road to take, but eventually, she left him. Now, she lives happily in a new city without the stress of having to communicate with her ex-husband.
No More Emotions
A wife and mother took a look at her husband one day and realized that he was not treating her the way he should be. She did not want her daughters to grow up with this sort of marriage as a model for their future relationships.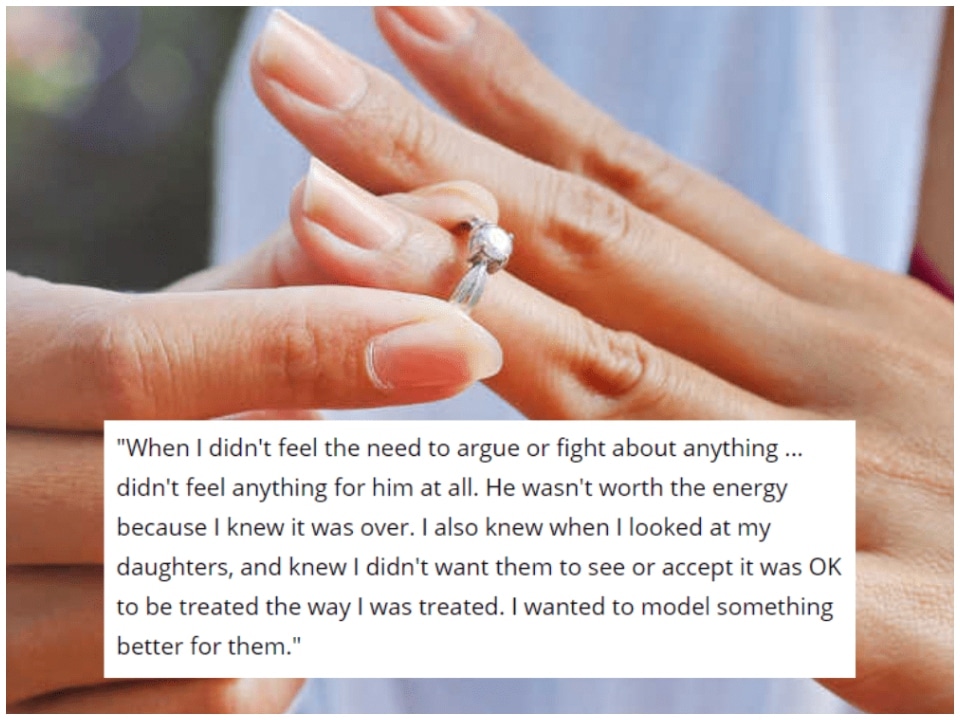 Her daughters needed to see that a woman should be treated well by the partner of their choosing, and their father was not a good example of this. That's why she decided it was time for him to go.
Time To Change
Having open dialogues and strong communication skills are one of the keys to a successful marriage. This couple began discussing the fact that the husband was not growing as a person.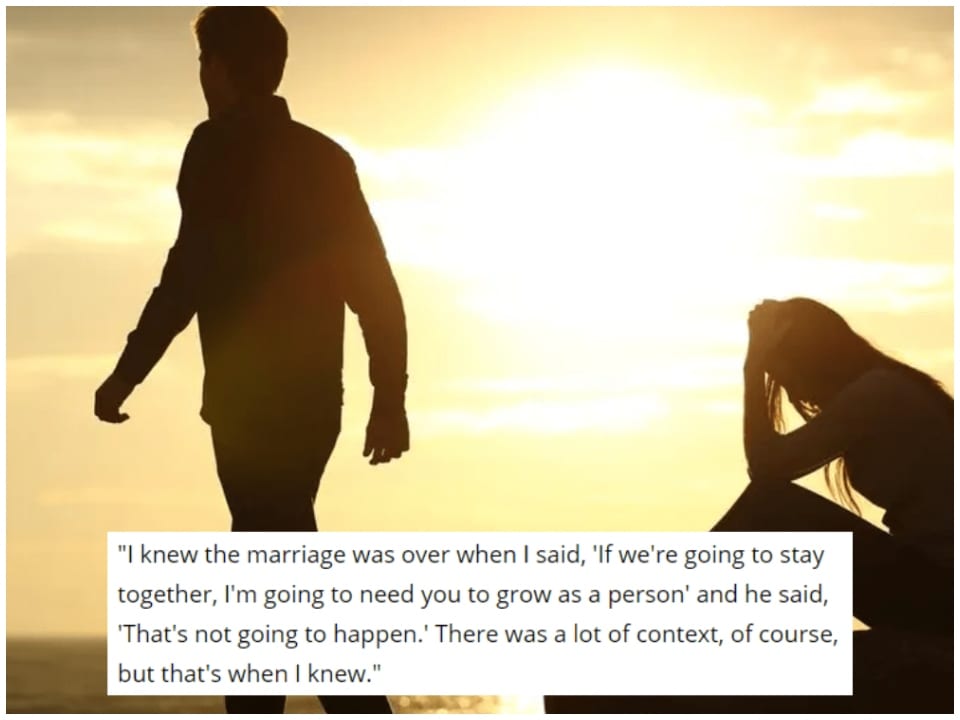 Instead, he continued to act the same way as he had in the early years of their relationship. He also did not want to change. Couples need to grow with each other if they are going to last, and the fact that he did not want to grow at all meant the relationship was over.
A Last Ditch Effort
If you don't have children or health issues that prevent you from working, it tends to be expected that both partners in a marriage will work. This woman had worked full-time for ten years to support her husband and herself, while he had barely contributed.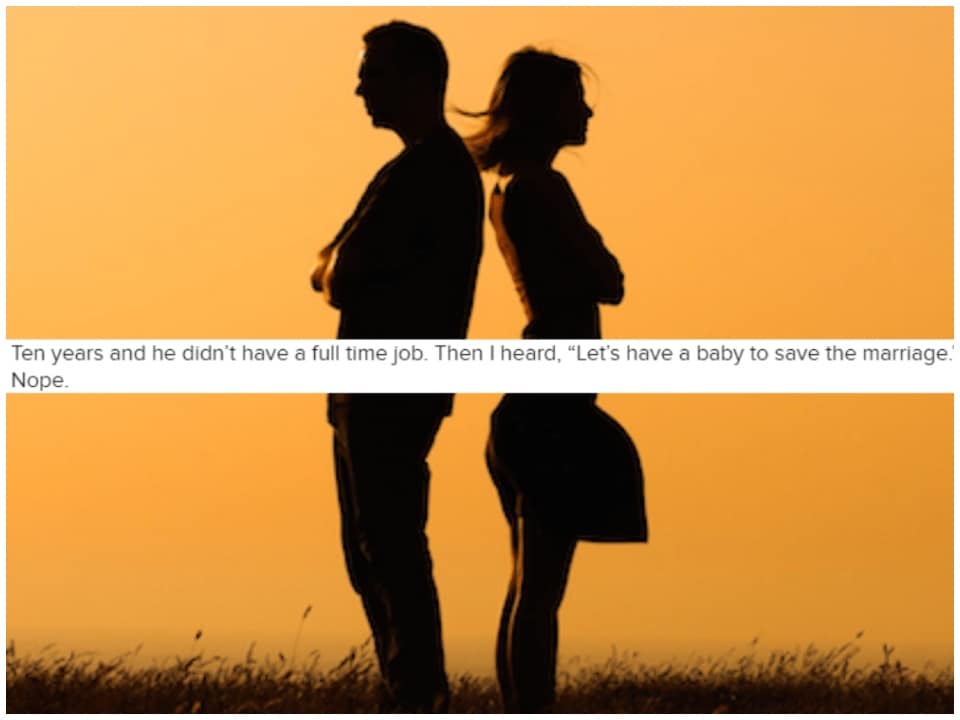 They both knew the marriage was failing, so her husband suggested that a baby could save their relationship. She knew that her husband would still refuse to work, and she did not want to have to continue supporting him.
Family Planning
Parenting is tough, everyone knows this. One dad worked part-time and was expected to get his twin boys sorted out for preschool. His wife was more than happy for him to go and enroll them, and choose a good school.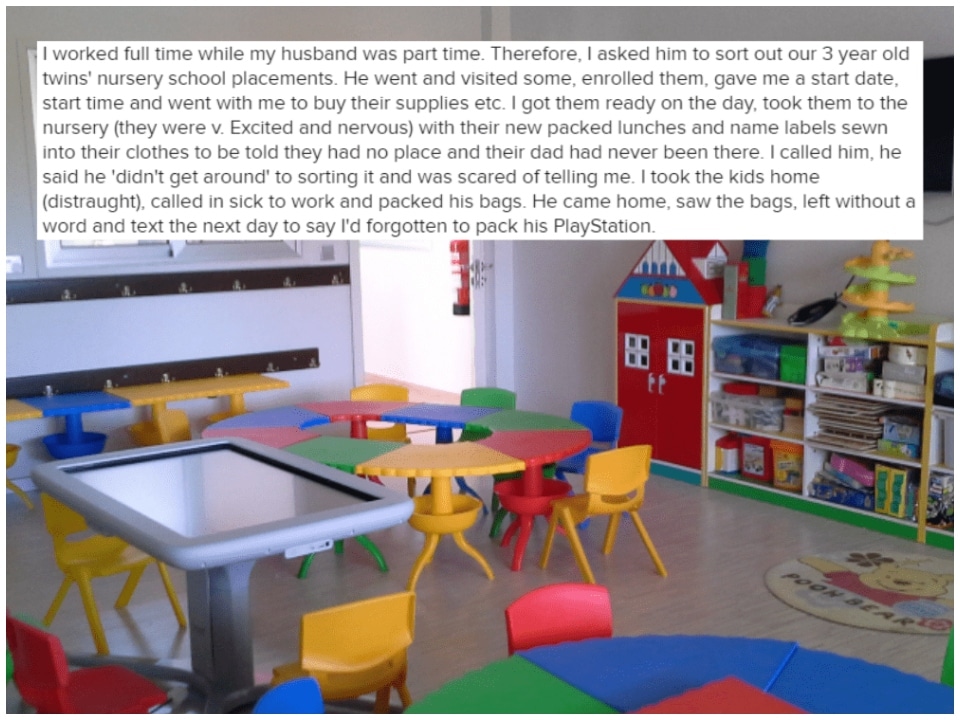 However, when their first day rolled around, she realized that he had lied about everything school-related. The children had no school to go to, and her husband didn't care about it. She decided to kick him out of the house and end things. All he wanted from their marriage was his Playstation.
Lost Love
When a partner decides to be unfaithful, it can be heartbreaking for the other party when they find out. This wife knew that something had changed in her relationship, but she wasn't sure what it was.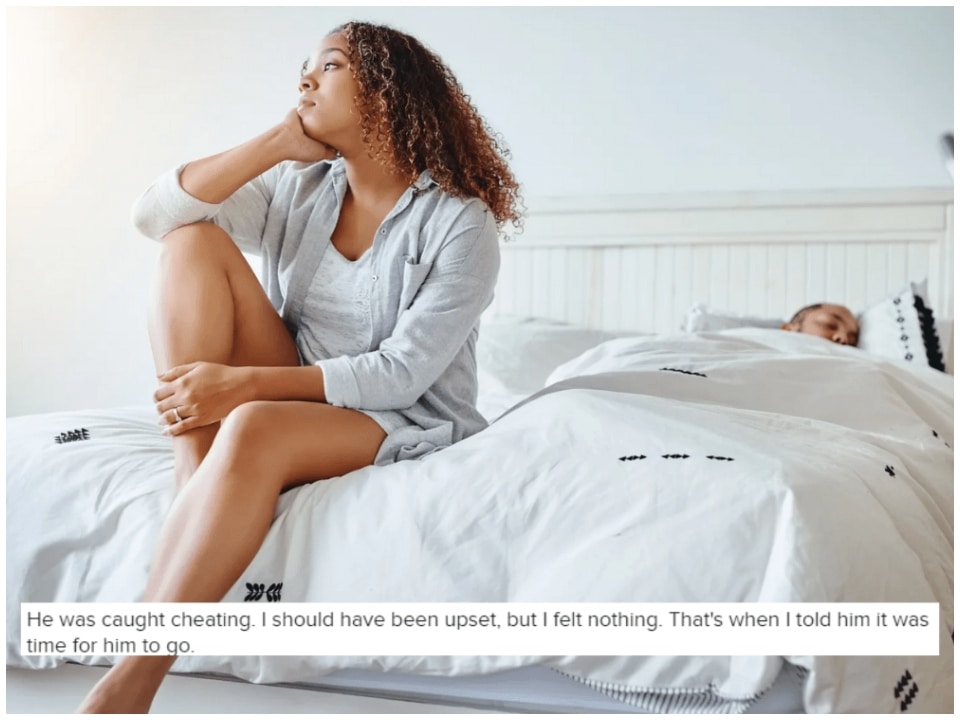 When she eventually found out that her husband had been seeing someone else, she expected to feel a deep sadness. Instead, she felt hollow. The love she had once had for him had gone, and it was time for her to move on as well.
A Moment Of Clarity
Sometimes pinpointing the cause of the stress in your life can be difficult. This woman decided to embark on a yoga and meditation program to clear her mind. Slowly, she began to feel content and a deep sense of clarity settled over her.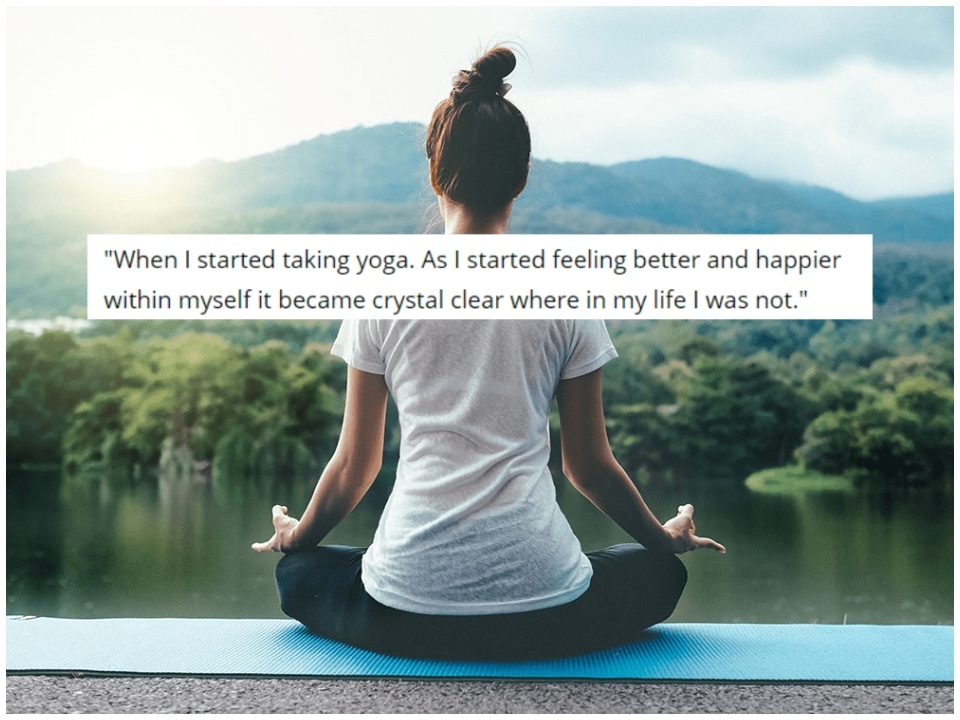 The stress in her life was not caused by work or friends, it was caused by her spouse. This moment of clarity made her reassess her marriage, and decide to be single for a while.
Silence Is Golden
This man's wife was a true narcissist and regularly gave him the silent treatment for days at a time when he did something she didn't like. It made it very difficult to have an adult conversation about their feelings, and how to overcome these situations.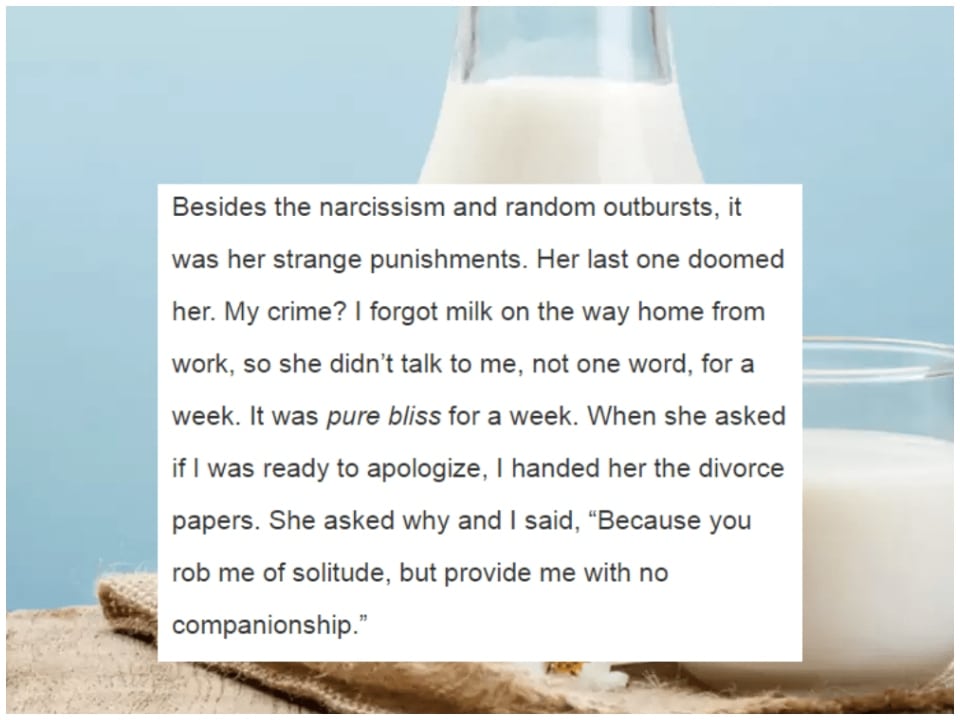 After a week of the silent treatment, the husband decided it was time to draw up some divorce papers. It was blissful not having to worry about her saying something mean to him, and he wanted a life without her in it.
Thanksgiving Woes
In another example of the silent treatment, this man's wife decided to make Thanksgiving a miserable experience for her daughter and her husband. Her husband had decided to make a lovely Thanksgiving dinner for the whole family to enjoy, which his wife did not want him to get any credit for.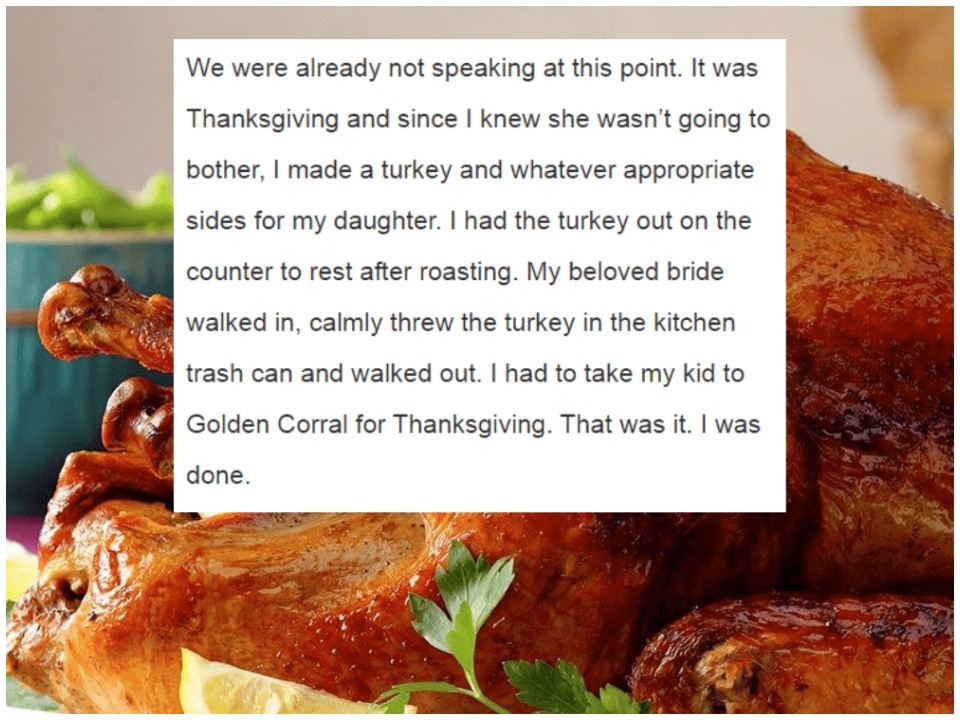 When she saw his turkey waiting to be served, she promptly dumped it in the trash. Marriage is over when a spouse doesn't want their own children to be happy on a holiday.
No So Loving Support
Usually, when a family member goes through medical trauma, like having a heart attack a spouse would offer their support in any way they can. When this woman's spouse heard that her father had had a heart attack, their only response was that they were busy with work.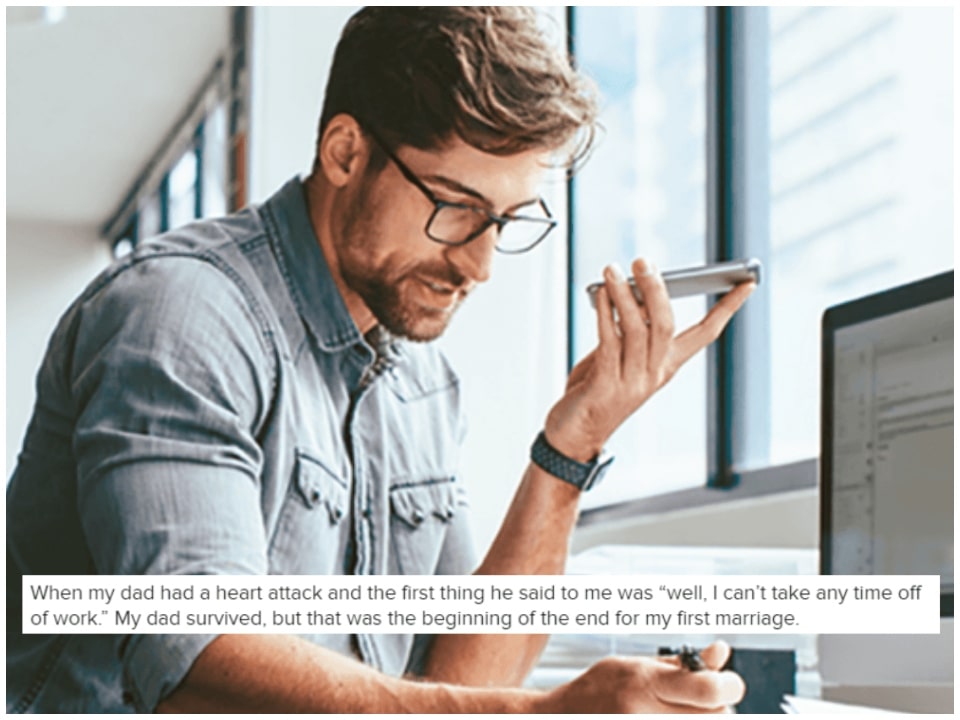 This lack of caring, or even ability to understand that they were in need of both emotional and physical support meant that divorce was in the near future.
The Final Argument
While there are always defining moments that end a relationship, this argument really takes the cake. The wife knew that their marriage was over, and decided to try and hurt her husband by saying the meanest possible thing.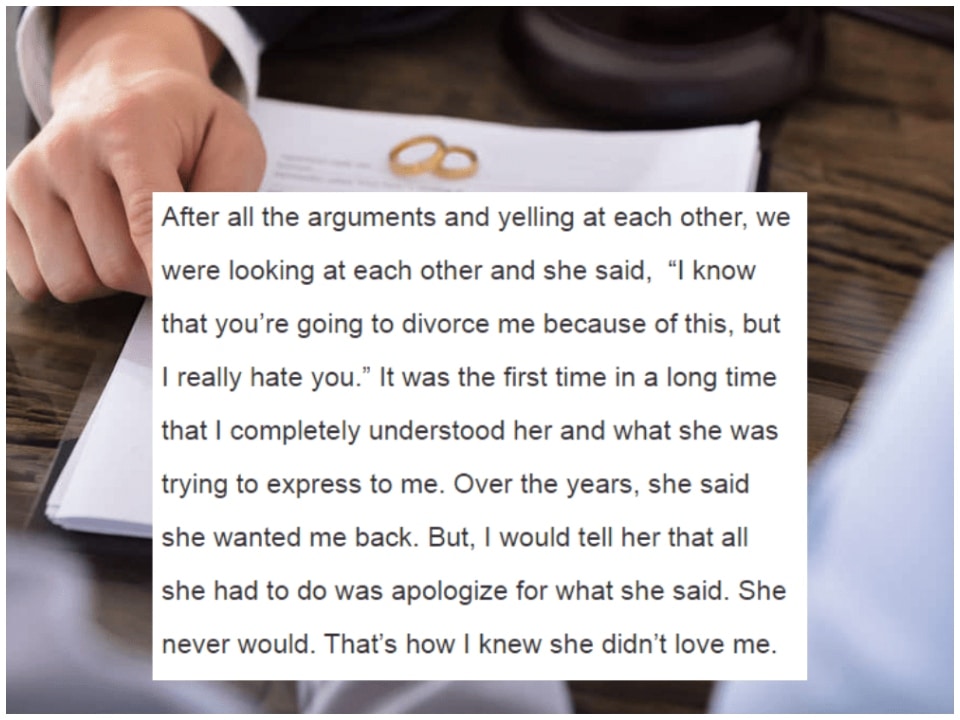 She informed him that she hated him, and he knew there was no saving the marriage after that. The divorce papers were served, and even though his wife regretted what she said, she never took it back.
The Kids Are Not Alright
Raising kids is hard, and it tests a lot of relationships. Ultimately though, both parents should care about the welfare of their kids, and offer them the best possible lives. This mom simply stopped caring about her kids, and her husband could no longer handle trying to cover for her lack of affection.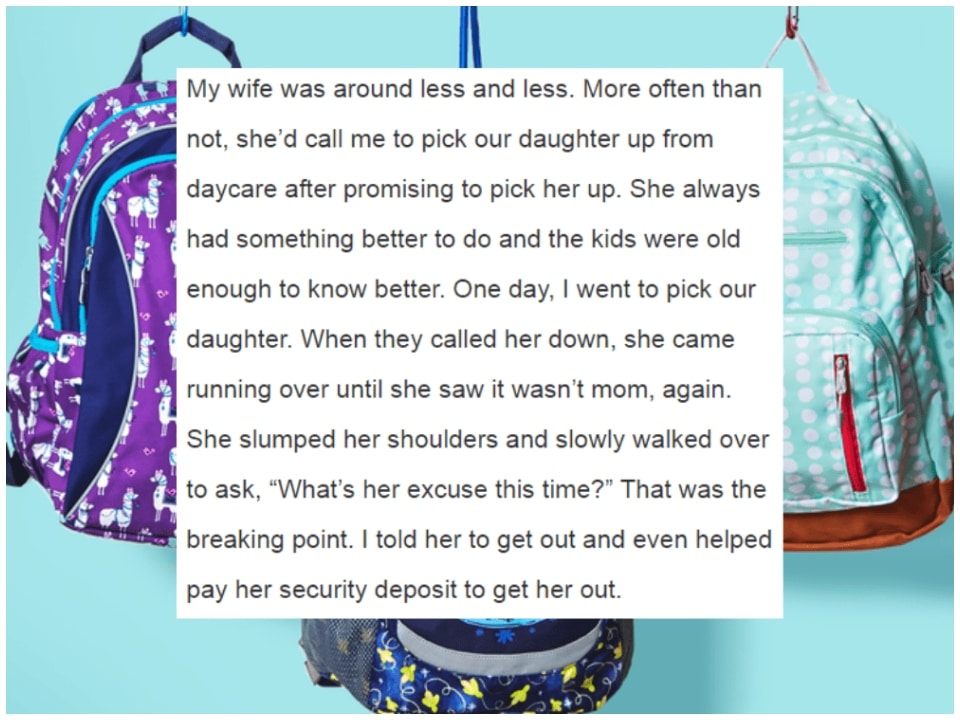 He made it clear it was time for her to leave after disappointing their kids for the final time. Sometimes being a single parent is better for the children.
Gone Golfing
Sometimes babies are born prematurely, and when this happens they usually need to stay in the NICU for a few days. Most parents are thrilled by the arrival of their child, and when they find out that it needs to be in the NICU this can be a stressful time.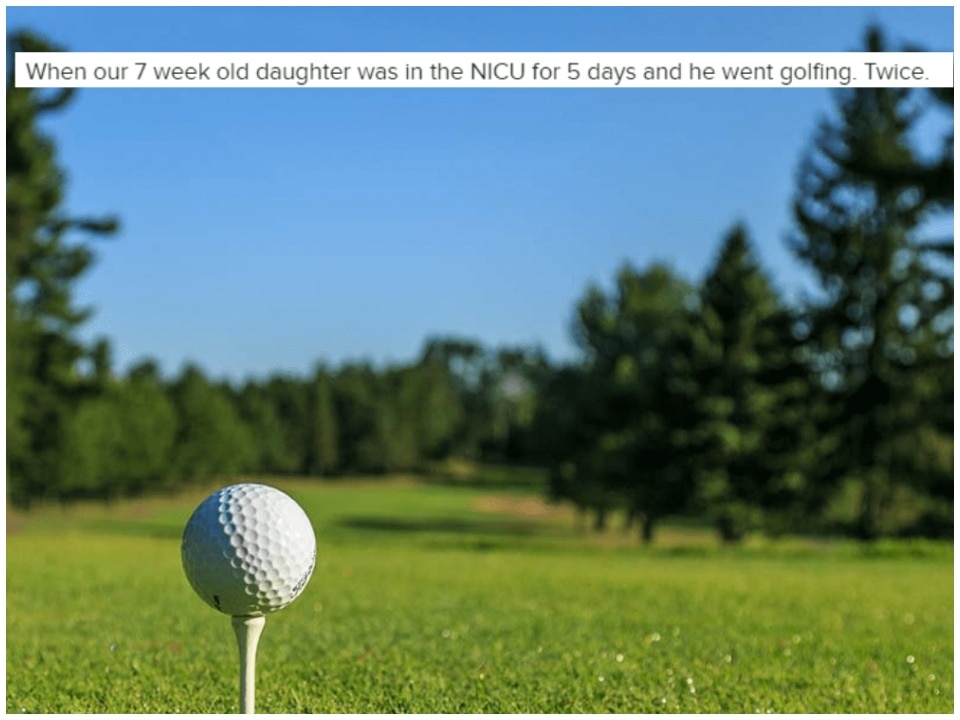 Instead of standing by his wife, and helping her through the stress of their baby being in the NICU this husband decided to go golfing. He didn't go golfing just once though, he went twice in the five days their baby was in the NICU. He showed where his priorities were, and they weren't with his family.
The Maintenance Man
This wife began taking her husband for granted, which she quickly realized. Whenever she needed something fixed, or an errand run she would ask him to do it, and he would. It was the realization that he was basically her maintenance man, and not her husband that she knew it was time to move on.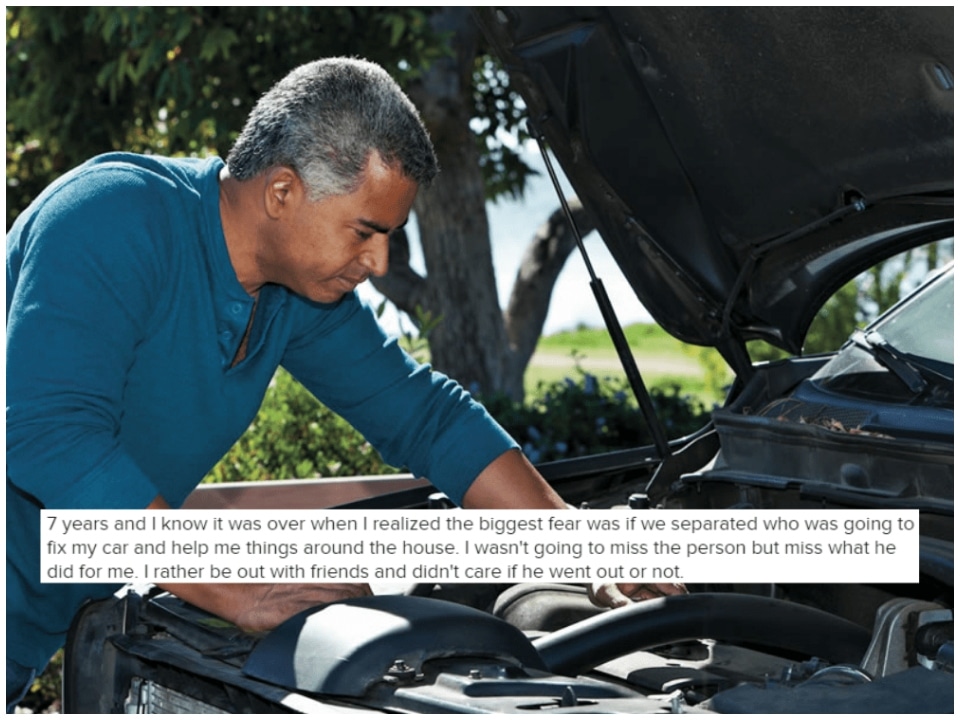 She wasn't appreciating her time with him, and her friends were more important to her. It sounds like both parties were better off without each other.
Learning To Talk
Children tend to repeat names and words they hear a lot when they are learning to talk. This man's son would always call him by the wrong name, which made him pretty suspicious. It turned out that his wife was having an affair, and the man would spend the day with his son.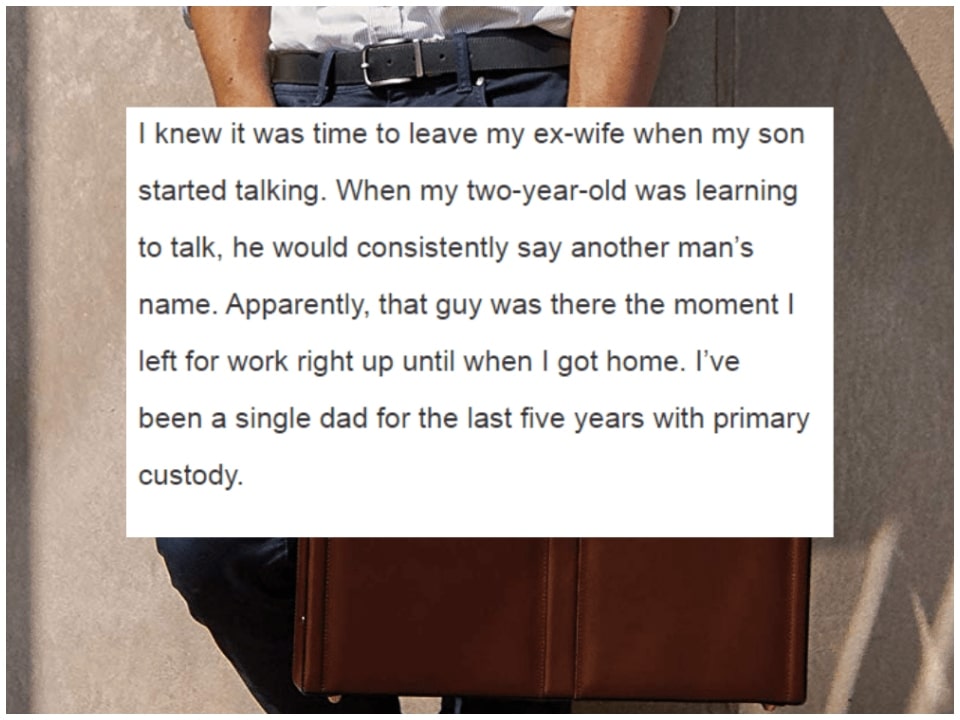 This was pretty confusing for the toddler, but the husband knew his marriage needed to end. He also knew that his son needed to spend the majority of his time with him, and not his disloyal mother.
A Mini Version
When a couple decides to have children, they tend to want their best characteristics to manifest in their children. This wife thought about the traits a potential child would inherit from her then-husband and didn't like any of them.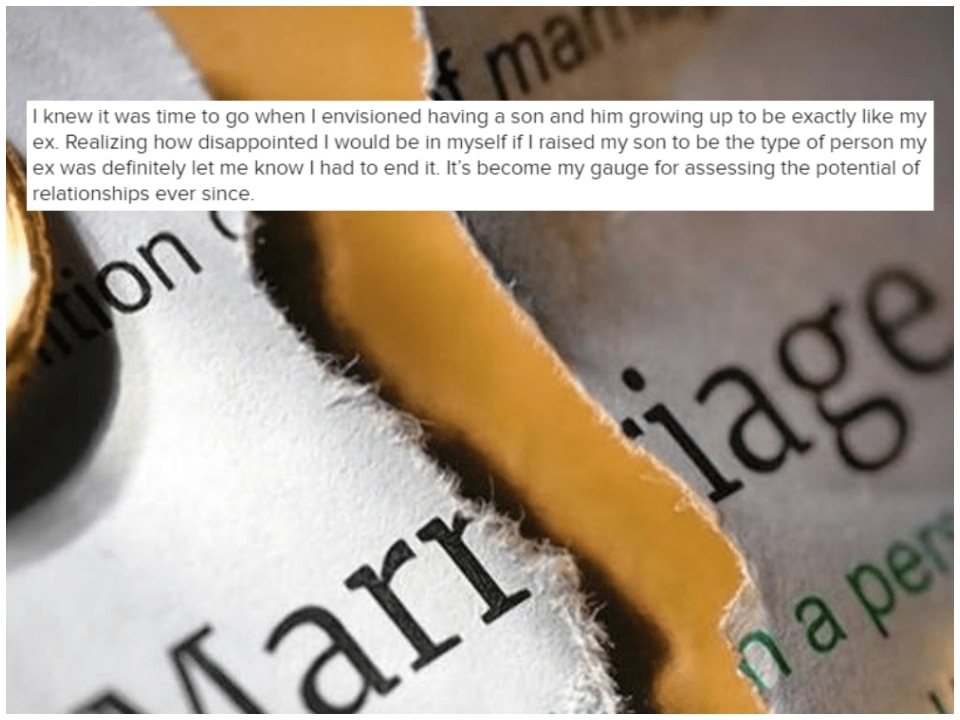 If you don't like anything about your spouse, and you don't want to see their traits duplicated in a child, then you should probably move on. It's a good way to gauge whether or not the person you are with is right for you.
The Other Woman
There are certain things that let you know if a partner is being unfaithful. One of these is being elusive about your plans or making up excuses to be alone. This husband opted out of a family vacation, and then made up more excuses about why he couldn't pick up his family at the airport.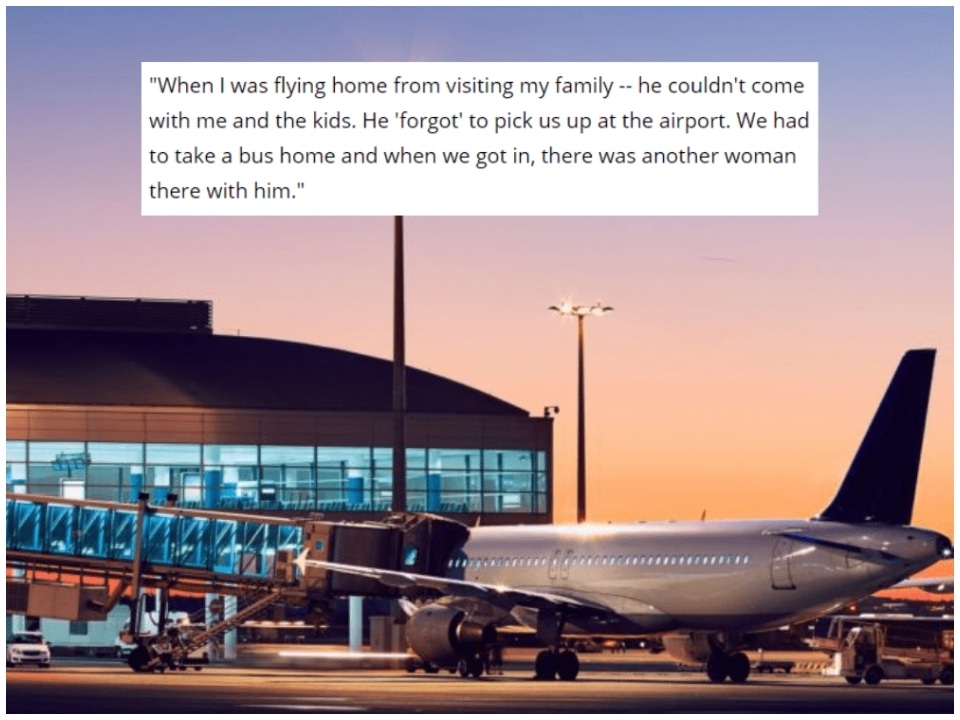 The real reason was pretty obvious. He had another woman he was seeing, and he had chosen to spend time with her instead. The family should always come first.
Office Romances
A lot of people have what they like to call the work wife or their work husband. It's the one person of the opposite gender who really gets them at work. One wife took her work husband relationship a little bit too far though.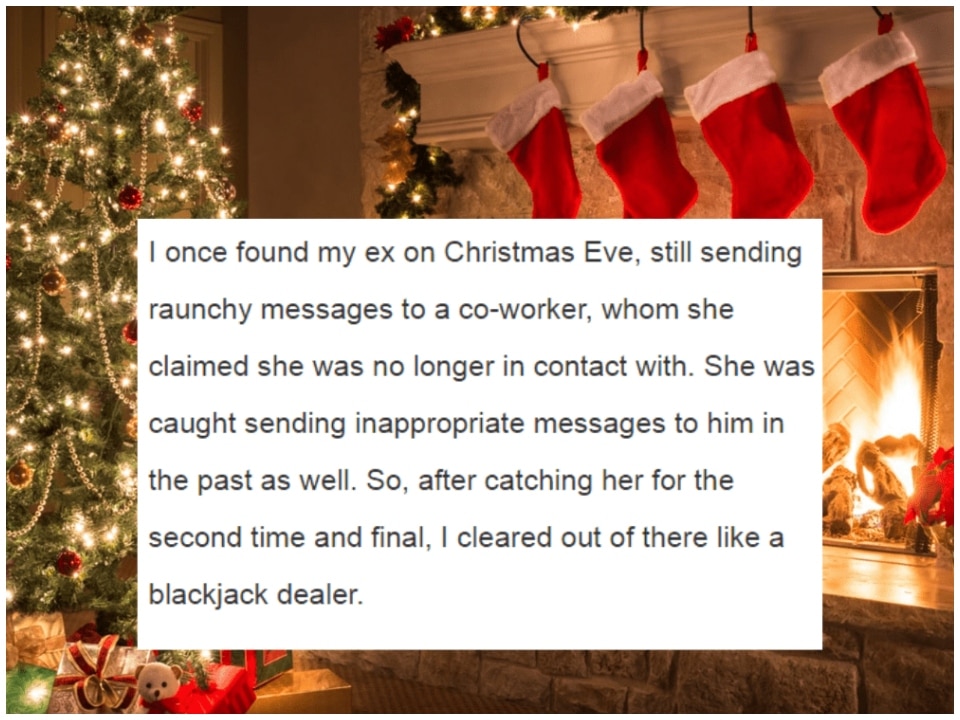 She spent hours texting him, and the message became quite flirtatious. After catching her messaging her co-worker for the second time, her husband was done. He was tired of coming in second place.
Going Public
All couples have arguments, but these arguments should be kept between the two people having them. One wife decided to broadcast her personal arguments with her husband on social media for the world to see.
After seeing her post about their latest one, and reading some of the comments the husband decided that he was tired of her oversharing. He needed a quieter life outside of the public eye of their social circle.
Looking For A Reason
You know a relationship is over when you no longer care about what the other person does. This wife found herself actively hoping that her husband would do something terrible enough that she would have a reason to leave him.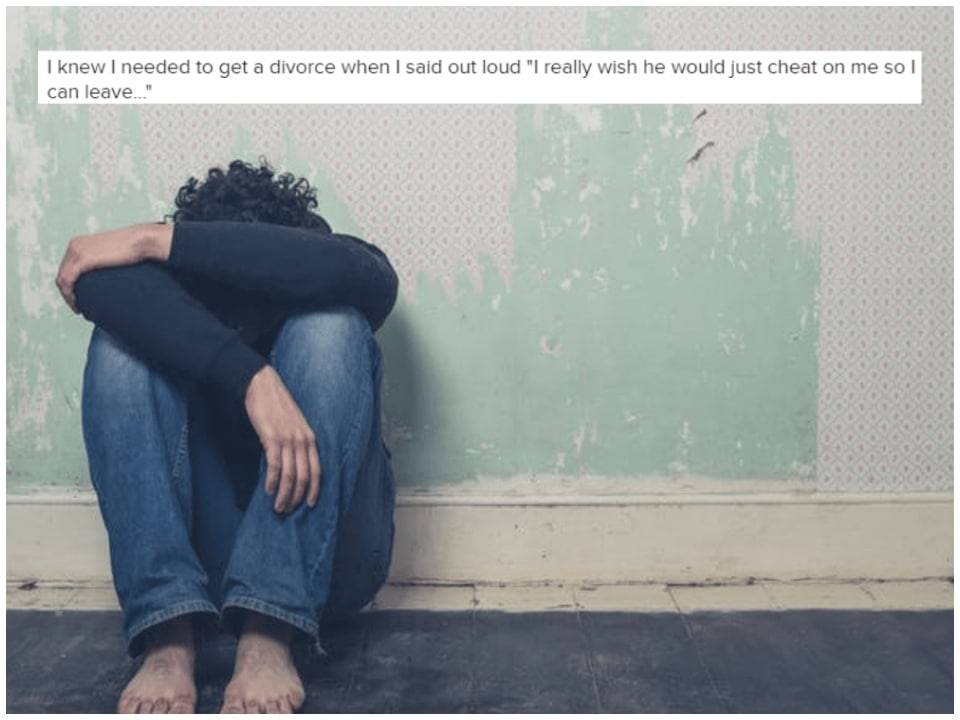 When she realized she was wishing ill on herself by doing this, she decided to take some steps to change the situation. Sadly, this meant that she needed to end her marriage and find happiness on her own.
Selfishness
Some sacrifices are made for the sake of your spouse's happiness. If they don't like horror movies but you love them, you compromise not to watch the genre with them.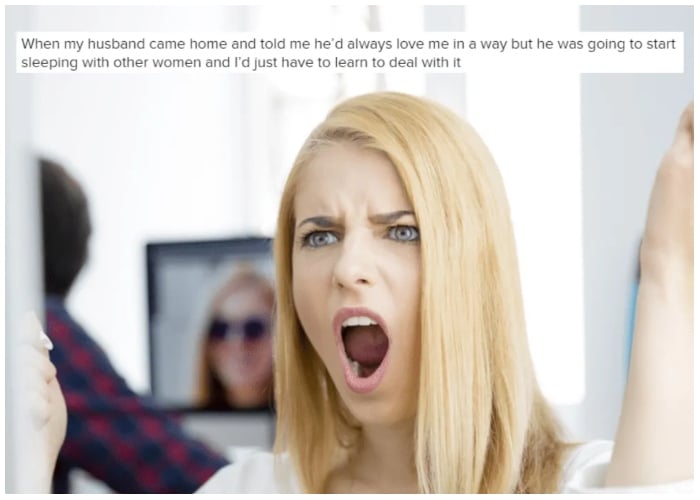 But there has to be an agreement between both parts. This husband decided that monogamy wasn't for him and that his wife had to deal with it without any say.
Opposites Don't Always Attract
Opposites attract and sometimes they even get married, but on some occasions the very same differences that once felt attractive are the ones that end up separating them. Being too different can be a problem as well.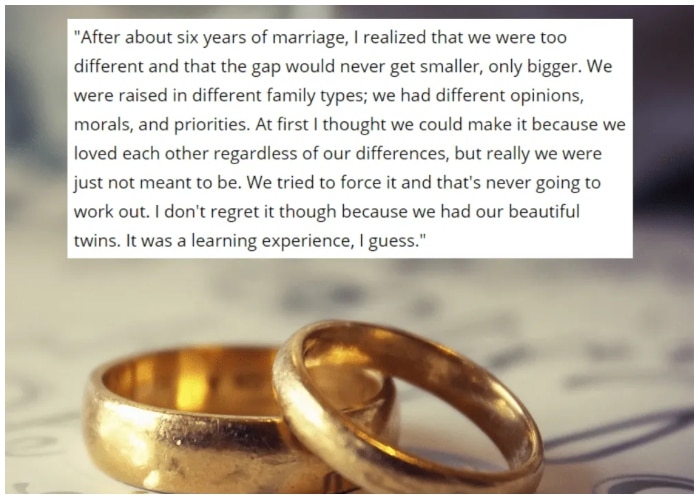 The difference in background, values, priorities and the age gap is what prompted this woman to make the decision to divorce her husband.
An Epiphany
Even if the surgical procedure is common and safe, it's difficult not to get carried away and imagine the worst-case scenario. This person was shocked when they found their worst-case scenario wasn't quite what they expected.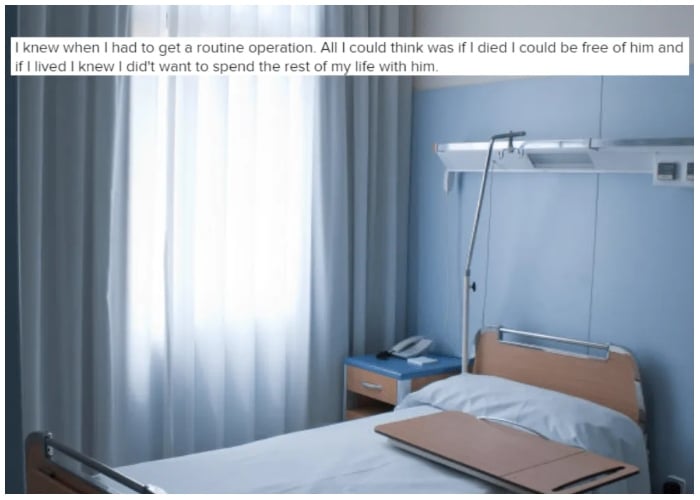 They realized that spending the rest of their lives with someone they didn't love was their darkest dread, leading to the option to divorce.
Unnecessary Nagging
Couples fight from time to time, but it doesn't always indicate divorce in near. However, there are certain fights that make it crystal clear that the relationship is not working.
This man forgot to unplug the toaster and his spouse waited all day to lecture him on "why he was doing things to make her mad", instead of unplugging herself.
Roommates vs. Spouses
To be successful, you must be willing to collaborate and have a relationship that is based on love and respect. This couple's misgivings began six months into their marriage, but they stayed together in the hopes that things would improve.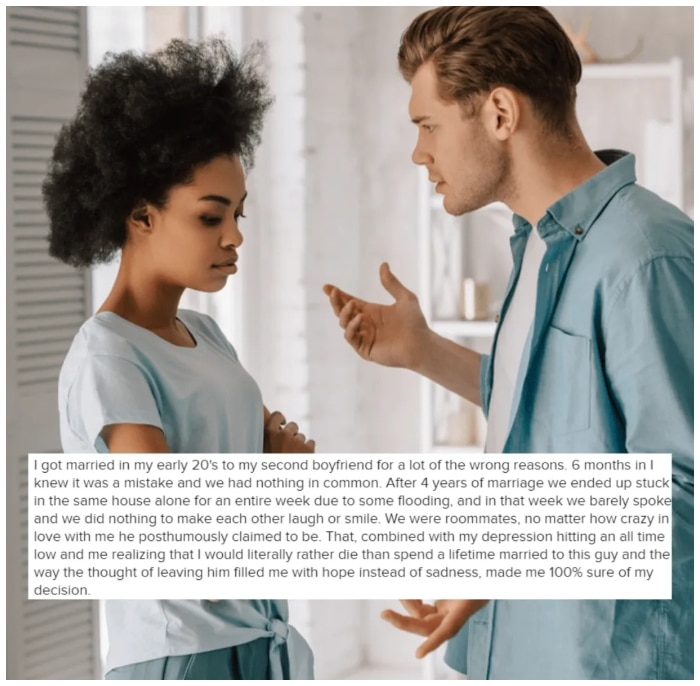 They later recognized that they didn't do anything for each other emotionally. Divorce happened to be more hopeful than sorrowful.
Change Can Be Good
When this woman married, she believed had found her dream partner. Regrettably, she eventually discovered that her husband held certain outdated beliefs. She stayed at home with their children for three years before expressing an interest in returning to college.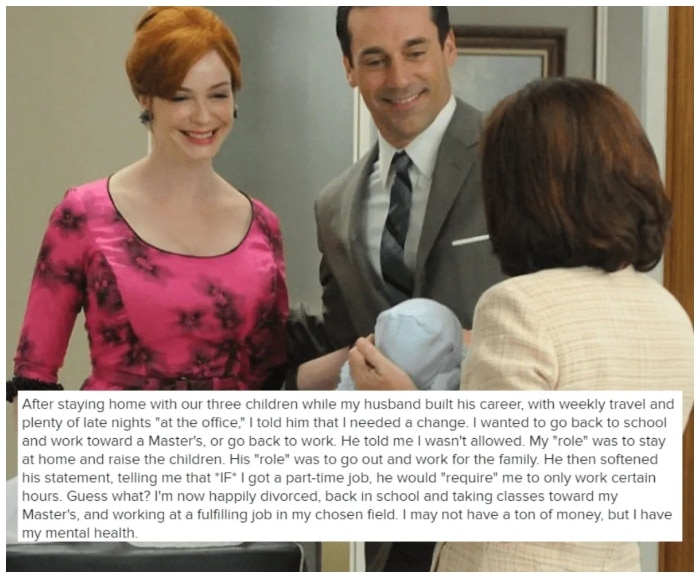 That's when she realized they had opposing viewpoints on family values. We're happy to know she's thriving after the divorce!
Something's Off
Something isn't right when you are newlyweds and you receive an unreasonably large phone bill with calls to suspicious numbers. This woman's phone bill contained
thousands of text messages exchanged between their husband, who had previously expressed no interest in texting, and a young woman.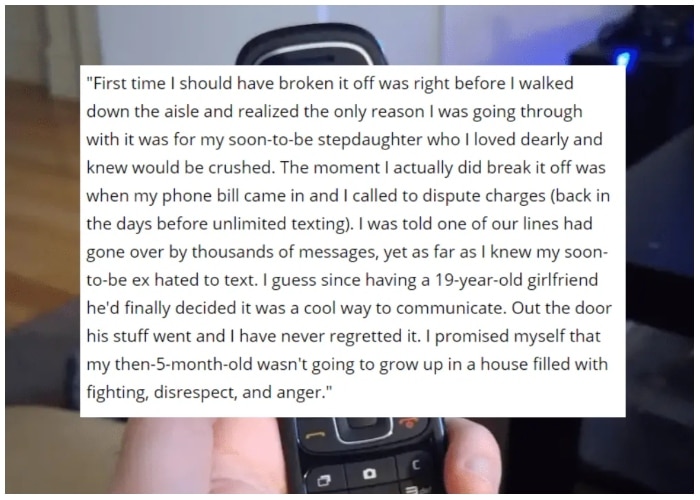 She realized things were finished at that point, and there was no hope for them.
Listen to Your Gut
This woman admitted that she had a sneaking sensation that she had made the wrong decision in marrying her husband. While she admitted to having deep feelings for him, she didn't think they were strong enough to deserve marriage.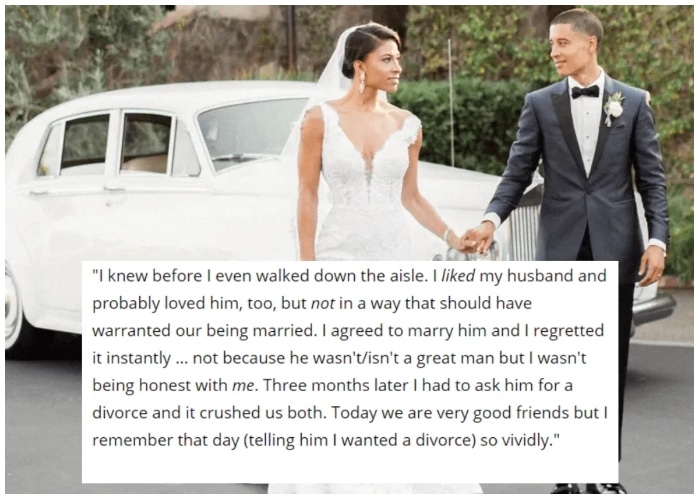 At the very least, they can look back on it with fond memories. You need to always trust your gut feeling.
A Bad Example
We don't always recognize that divorce is the best option for ourselves. When this woman was admitted to the hospital for kidney surgery, her husband didn't show her any kindness.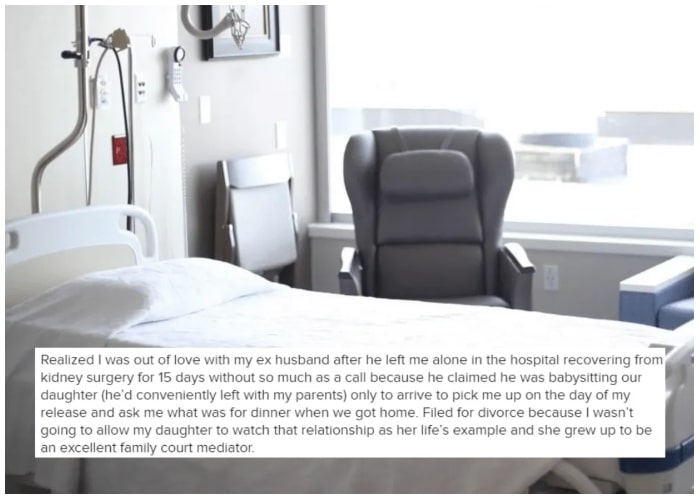 The first question he asked when he was driving her home was what they were having for dinner. She realized it wasn't the example she wanted to give to her daughter.
Obsessive Thoughts
There are signals that shouldn't be ignored in a relationship since they may indicate a nasty pattern of behavior that can become dangerous.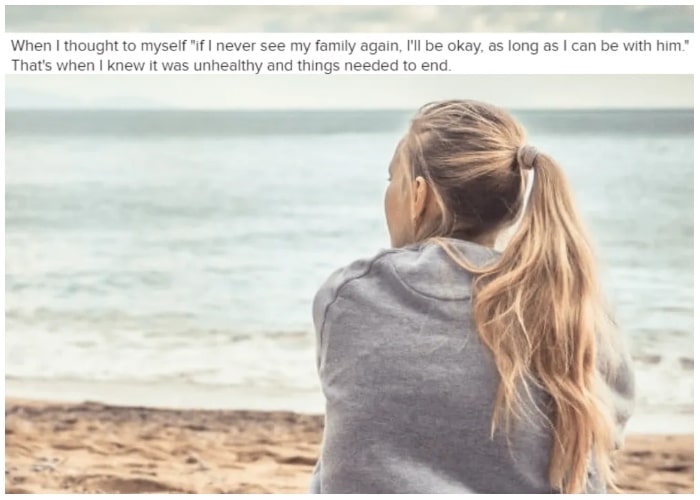 They can sometimes be difficult to see, especially if you have strong feelings for someone. This woman acknowledged that she had obsessive feelings for her significant other and that she needed to end things to keep healthy.