Are you tired of staring at a dull and uninspired yard? Want to boost your curb appeal and create a beautiful outdoor living space without breaking the bank? Look no further! This article shares 30+ easy and cost-effective yard landscaping makeovers that will transform your outdoor space. From simple plant additions to DIY hardscaping projects, these ideas will show you how to make the most of your yard without spending a fortune. So, whether you're a gardening novice or a seasoned pro, get ready to be inspired and start planning your next outdoor project!
1. Pallet Furniture
While picking furniture for the patio, it is easy to lean towards the chic and modern-looking furniture that gives it an edgy look. However, it is cheaper and more fun to build one ourselves using the old wooden palettes at home.
Not only does pallet furniture give the space a rustic edge, but it can also be painted any color to create a more enjoyable outdoor environment. We can also throw in patio pillows and cushions of different colors and patterns to match the seasons. Let's take out the tools and make ourselves some DIY furniture. DIY furniture is a trendy feature of interior décor, according to the latest trends. For an increasing number of individuals, recycling and upcycling are fundamental parts of life. Making items out of pallets has numerous advantages. Most significantly, they are very inexpensive. If you already have pallets from a materials storage project, the cost of making pallet furniture is merely a few small items. Pallets are also available at a moderate cost in industrial locations, supermarkets, and wholesalers. Pallets, while not always made of high-quality wood, are extremely durable and resistant to harm. Pallet wood projects are, therefore, durable, and such furniture lasts a long time. The material is both lightweight and environmentally friendly.
2. DIY Stone Fire Pit
Begin by deciding on the location for your fire pit, choosing a level, open area away from trees, bushes, and structures. Then, Determine size and shape: Decide on the size and shape of your fire pit. A circular shape with a diameter of 4-6 feet is a common choice. 1. Mark the area: Use spray paint or a garden hose to mark where the fire pit will be built; 2. Excavate the ground: Dig a trench in the marked area to 6-8 inches in depth; 3. Line the pit: Place a layer of fire-resistant bricks, stones, or concrete blocks around the inside of the trench.
4. Fill with gravel: Spread a layer of gravel at the bottom of the pit for drainage; 5. Build the walls: Continue stacking bricks, stones, or blocks to build up the walls of the fire pit; 6. Top with a fire ring: Place a metal fire ring on top of the bricks, stones, or blocks to contain the fire; 7. Add seating: Surround the fire pit with chairs, benches, or other seating options for comfort; 8. Enjoy: Start a fire in the pit and enjoy the warmth and ambiance of your backyard fire pit.
3. DIY Stools Using Upcycled Wood Logs and Ceramics
Get creative with old materials and turn them into functional pieces with this easy DIY project for making stools using upcycled wood logs and ceramics. Materials: Old wood logs, Upcycled ceramics, Mosaic glue, Mosaic grout. Tools: tile nippers, sponges, tile cutter (optional). Steps: Prepare the ceramics: Sort through your upcycled ceramics and choose pieces that work well together in a mosaic pattern. Using tile nippers, cut the pieces to fit the log's surface; Apply the mosaic: Use mosaic glue to attach the ceramic pieces to the log in your desired pattern. Let the glue dry completely; 
Fill the gaps: Use mosaic grout to fill any gaps between the ceramic pieces. Use a sponge to smooth out the grout and wipe away any excess. Let the grout dry completely; Finish the surface: If desired, sand down the log's surface and apply a finish to protect it; Enjoy your new stool: Your upcycled log stool is now ready to use! Its unique design and repurposed materials make it a unique and sustainable addition to your home decor.
4. Create Stunning Garden Flower for Under $5
Rush to your nearest Dollar Tree store and seize the opportunity to create gorgeous, one-of-a-kind flowers for your garden – no watering required! We stumbled upon these chip-and-dip plastic dishes perched on a gondola on a recent trip to find a frame, sparking instant inspiration. Luckily, I had the ingredients to make hypertufa, so we whipped up a large batch to fill two trays. After letting them set overnight, we couldn't wait to check the results outside.
Once we popped the hardened hypertufa flowers out of the molds, I placed them in the sun to dry further before spray painting them a few hours later. We left one flower in its natural state to observe how it ages, and now I'm eager to create even more! My next batch will be made from concrete, making them thicker and perfect for use as stepping stones.
5. Hose Holder
We all love a fun DIY hack, and it is never tiring to try something new. We are often unsure where to put the hose after watering the garden, so this DIY method of building a hose holder can be remarkable for small backyards.
A hose holder/ box can be built with anything, but a wooden holder looks impressive in the garden. The box can keep the hose away from everyone's sight, while the top can be used as a planter to grow beautiful flowers. The possibilities are endless! First, acquire a 4 by 4 by 48″ long pressure-treated (post), 4 hooks, some epoxy glue, cement and a solar post cap. Next, determine the post's height, the distance from the house, and the water spigot. Make a chalk mark on the brick to mark the place, and then measure out from the mark on the brick to find the perfect location to start digging a one-foot-deep hole. Once the hole is ready, place the post and pour dry concrete in. Gently add a quart of water and let it soak into the dry concrete.! Let it set up for 4 hours. When the cement is set, add the hooks. The final step is to add the solar light post cap with two-part-mix epoxy.
6. A Paver Path that Grows
Constructing a stunning and long-lasting paver path in your yard is easy with Trustone pavers. Simply lay the stones over a flat dirt bed, eliminating the need for a heavy base or complex cutting and fitting. Start by setting the path depth to 3-1/2 inches below the surrounding lawn. Skim the sod and dirt to achieve this, then use a rake to smooth the soil. Place the pavers end-to-end to form the path without worrying about gaps that may occur from curving the path. These gaps will be hidden once the grass grows through.
Next, fill the recesses with high-quality, clump-free soil. Tamp the soil lightly in each square to make room for the sod. To lay the sod, cut small squares with a utility knife from the sod roll. Press these squares into the recesses in the Turfstone pavers, then tamp soil alongside them to secure them in place. Finally, water the sod to ensure proper growth.
7. DIY Smokeless Fire Pit
Introducing the ultimate DIY Smokeless Fire Pit project that will transform your backyard into an inviting and cozy gathering spot in just 4 simple steps! Materials: Sunnydaze Steel Outdoor Fire Ring Insert; Master Flow Round Metal Duct Pipe; Galvanized Steel Worm Gear Clamp; Dryer Vent Installation Duct Tape; Master Flow Round Duct Cap; HDX27 Gallon Tough Storage Tote; IRON FACE Adapter for DEWALT 12v Max Battery; 12V Lithium Ion Battery; Aluminum Flexible Dryer Vent Hose; SEAFLO 4″ in-Line Marine Bilge Air Blower; Round Grate, 4-Inch; Scrap 2×4, see step 2 for purpose; Shovel; Large pavers; Utility knife; Drill and a large bit. Step 1: Dig a 36-inch diameter, 6-inch deep pit, and a 6-8 inch deep, wide trench connecting to a mechanical box (a heavy-duty plastic tote) placed 3.5 feet from the pit. Adjust trench length based on the distance between the pit, mechanical box, and air intake.
Step 2: Mount a small piece of 2×4 to the bottom of the tote to stabilize and align the blower. Attach the blower with screws, cut out circles for the piping, and connect the blower's lines to a 12V power connector; Step 3: Place the mechanical box in its dug-out location and align the metal duct pipe and dryer vent hose to the blower intake/outtake. Customize lengths and connect them. Drill air holes in the duct cap and attach the drain grate; Step 4: Cut a semi-circle in the fire ring to accommodate the duct pipe. Fill in the trench and pit with dirt and rocks, and layout wide pavers to protect the area. Connect a 12V lithium-ion battery to power the blower, and you're ready to enjoy your smokeless fire pit!
8. DIY a Whiskey Barrel Planter with Birdhouses
Inspired by an enchanting image of a garden with birdhouses, we decided to craft our unique whiskey barrel planter! Gather Your Supplies: Take a quick trip to your local hardware store. You'll need a whiskey barrel planter and a 4×4 post. You could craft the birdhouses from scratch or buy some ready-made ones based on your comfort and skill level. Measure and cut the 4×4 post into three different pieces of varying lengths – 2 1/2 ft, 2 ft, and 1 1/2 ft. These will form the bases for your delightful birdhouses! Play around with their positioning within the whiskey barrel once you have the cut pieces. This is your opportunity to envision what the final product will look like. Feel that your posts need a little height? A scrap plywood base can be the solution.
Shape it into a square and trim the corners to rest comfortably atop the wood pieces in the barrel. Align the front of your planter to rest on the top of the whiskey barrel, and use a fence board to support the back of the planter. Spray paint the posts a bright, eye-catching blue. Unleash your inner Picasso on the birdhouses and make them as vibrant as you wish. Mount each birdhouse on a new base. This setup will make attaching and detaching them from the posts a breeze. Add a whimsical touch by replacing the dowel perches with quirky handles and knobs. Lastly, crown each post with a top, rounding off your fabulous creation.
9. Build a Weatherproof Wooden Bench
Creating a cozy personal haven in your garden requires comfortable and long-lasting furniture. A handcrafted wooden bench fits this description perfectly. Choose water-resistant types of wood like oak and larch, which are excellent for making long-lasting garden furniture. Applying a layer of wood preservatives can further protect them from moisture outdoors. Here are the steps to construct your sturdy wooden bench: Build a strong frame. Use planned and smooth wood planks with dimensions of either 40 x 70 mm or 50 x 100 mm. Use a 100 x 100 mm piece of timber if you want extra reinforcement. Planed-edged boards have been smoothed and trimmed to exact dimensions, making them ideal for building your bench's structure;
Once you have the frame, it's time to attach the seat and backrest. Use a 40-50 mm thick smoothed-edge board for the seat and a 30-40 mm thick one for the backrest. Attach these to your frame using wood screws; For extra durability, add a 70 x 70 mm bar to the frame and use it as lintels (cross pieces that will support the weight of the seat and backrest); Once you've assembled your bench, secure it with metal fasteners like wood screws, bolts with nuts and washers, and steel corners; The final step involves making your bench weather-resistant. Apply a layer of alkyd-urethane varnishes.
10. Tree Bench
Sometimes we have no idea how to decorate the old backyard tree. A treehouse seems like a lot of work and is also expensive to build; however, a tree bench is an easy cheap makeover. Work around the tree to create the perfect circular bench for everyone to enjoy.
With some spare wood that's lying around the house, an amazing DIY bench can be made around a tree with no extra cost at all. It's easy, elegant, and gives an amazing rustic finish without having to buy any furniture for the outdoor space. The bench will be constructed from six equal-sized parts. At the seat's height, measure the diameter of the tree in inches (16 to 18 inches). To allow for growth, add 6 inches for a mature tree and 12 inches for a young tree. To calculate the length of the short sides of the inner seat boards, multiply the total by 1.75. Mark this length on a scrap piece of wood or cardboard, then cut the ends at 30-degree angles so that the other side is longer. Five more template pieces should be cut to size. Check for fit by clamping or scraping the pieces around the tree and adjusting as needed. You build it up around the tree from there.
11. DIY Plastic Barrel Planter
Unleash your inner creative gardener with this cost-effective and visually stunning DIY plastic barrel planter project! Materials: Plastic barrel; 1/8″ – 1/4″ wood planks; Brad nails; Mesh screen; 1″ thick scrap; wood (risers). Tools: Jig saw; Cordless drill; Mitre saw; Brad; nailer; Hammer. Follow these exciting steps to create your masterpiece: First, Cut the barrel – Use a jig saw to remove the top or divide the barrel into two smaller planters; Deburr and drill – Smooth the cut lip and drill multiple drainage holes at the bottom; Attach skids – Create two 2×4 skids and secure them to the barrel bottom for easy positioning; Prep wood – Revitalize salvaged wooden slats and scrap wood by planing, ripping, and chopping;
Nail slats – Cover the barrel in contrasting wooden slats with an air-powered brad nailer; Secure slats – Bend the exposed brad ends inside the barrel to lock boards and protect hands; Create the rim – Craft an octagon or sunburst pattern for the top using scrap wood, brads, and glue; Add screen and pebbles – Cover large bottom holes with window-screen material and small pebbles; Plant – Fill planters with a container-friendly soil mix, plant your flora, and add wood chunks or mulch; Preserve – Apply a water-based exterior polyurethane or varnish coat to prolong planter life.
12. Recycling Plastic Bottle Caps for Crafts and Art
We suggest a fantastic way to upcycle plastic bottle caps and transform them into beautiful, colorful flower designs on trees. This unique and eco-friendly art project serves as a visual delight and raises awareness about recycling and repurposing materials that would otherwise end up in landfills.
Materials Needed: Plastic bottle caps of various colors and sizes, Strong adhesive or hot glue gun, Scissors, Thin wire or twine, and A tree or wooden structure to display your creation. Instructions: Collect a variety of plastic bottle caps in different colors and sizes. Begin by arranging the bottle caps into flower shapes. You can use a single cap as the center of the flower and surround it with smaller caps to form petals. Attach the bottle caps together: Using a strong adhesive or hot glue gun, and then attach them to the tree with hot glue or nails.
13. Construct an Elegant Swan-Inspired Coffee Table
Enhance your living area with a homemade coffee table adorned with cement swan-shaped legs. By utilizing styrofoam molds, you can create a distinctive and appealing centerpiece. Step 1: Collect materials such as styrofoam blocks, a carving knife, cement mix, water, sandpaper, primer, paint, a tabletop, and adhesive. Step 2: Draw a swan outline on each styrofoam block, and sculpt the forms to serve as cement molds. Step 3: Mix cement and water, and fill the styrofoam swan molds with the mixture. Allow the cement to harden.
Step 4: Detach the styrofoam and refine the cement swan legs using sandpaper. Step 5: Coat with primer, and once dry, paint the swans in your preferred color or finish. Step 6: Align the cement swan legs, apply adhesive to their upper surfaces, and secure the tabletop. Allow the adhesive to dry before utilizing the table. Revel in your sophisticated and attention-grabbing coffee table!
14. Wall Planter Pallets
We have learned how to use wood to make many different types of DIY items for the yard. Another great use of wood is to make planter pallet boxes to hang up on the walls. These sturdy pallets look amazing on the walls and give the garden or the backyard more structure.
Since they are DIY, you can use your imagination and creativity. The limits to creating colorful schemes are endless! Place these planter pallets boxes on different sections of the wall in the outdoor space and create an exceptional design of flowers in boxes. Pallets that are 48 inches by 40 inches normally have seven top deck boards, while pallets that are 30 inches by 30 inches usually have five. The top deck boards will create the planter's front wall after conversion to a pallet planter. Five deck boards for bigger 40-inch pallets and three deck boards for smaller 30-inch pallets are located on the bottom. The bottom deck boards will serve as the backs of individual planter boxes in a pallet planter. The two-by-fours that run perpendicular to the top and bottom deck boards are known as stringers. Two side stringers and one center stringer will be present. They'll create the sides of separate planter boxes in a pallet planter.
15. Effortless DIY Hanging Daybed
Unwind in style with a simple yet captivating DIY project that transforms your outdoor space into a personal retreat. Introducing the hanging daybed, a budget-friendly project that promises comfort and a sprinkle of charm. Materials: You'll need 17 pieces of 2×4 boards, wood and lag screws, a nylon rope or chain with at least a 200 lb load limit, exterior wood filler, clear coat spray paint, various grits of sandpaper, measuring tape, carpenter's square, drill, and a saw. Measurements: The daybed is designed to fit a standard twin mattress with an additional 4 inches of space around it; Cutting: Most hardware stores can cut your lumber as per your specifications. Get 2×4 boards cut into specific lengths for the frame sides, joists, and deck boards;
Assembly: Start by building the frame. Measure, mark, predrill holes, and glue together the joists and frame sides. Next, attach the deck boards, ensuring they overhang by 1 inch on all sides. To attach the lag screws, drill a hole at the daybed's corners and secure them tightly, but do not strip the wood; Finishing: Fill exposed screw holes with wood filler and let it dry. Sand the daybed down and vacuum off the residue. Apply a protective layer of clear exterior coat and allow it to dry completely; Installation: Finally, it's time to hang your masterpiece. Locate a sturdy beam or rafters, install the lag screws, and use a rope or chain to hang the daybed at your desired height. Voila! Your handcrafted hanging daybed is ready to welcome a mattress and cozy bedding.
16. DIY Cement Stone Pathway
Glove up because we've got a great DIY idea for you. This is a quick method if you don't have stones or rocks around, but you want to create an elegant stone pathway in your front yard. You can gather some wet cement and fill them in small plastic bags or lunch bags to make round or 'stone' shaped cement bags. Stack them neatly on a pathway and let them dry.
The cement will dry up and look like a concrete pathway in your garden. You can then use a knife to cut the plastic bags and remove them to give that shiny and rough concrete look. Cement and concrete are frequently and wrongly used interchangeably. Concrete is the substance used to create the rock-hard surfaces that make up sidewalks, driveways, and entry steps. Cement, a fine gray powder formed from pulverized calcined limestone and clay, is one of the most important components of that concrete. This powdered cement is what provides poured concrete its bonding power and strength as it cures. Concrete is made by mixing powdered cement with additional ingredients. Cement powder, various types of mineral aggregates, and water are the fundamentals. The mineral aggregate is the variable here.
17. Set a Ground Grid to Keep Your Sand or Stone in Place
Upgrade your yard with an affordable, easy-to-install ground grid that keeps your sand or stone dust in place. We opted for a 2-inch deep plastic ground grid that effectively prevents erosion and movement, ensuring that your pavers remain in position, even when you run over them with a mower, carts, or occasionally with your car!
These ground grids are available in depths of 4 to 8 inches, making them perfect for driveways. With a ground grid, you'll use less base material, and it's the ultimate solution for keeping everything in place. The cost is approximately 40-50 cents per square foot, making it an affordable and practical choice for a stunning yard makeover that won't break the bank.
18. Build Your Own Fish Ladder
This unique aquatic feature adds visual interest to your outdoor space and provides a fascinating spectacle as fish traverse the ladder, creating a dynamic and lively environment. Determine your fish ladder's location, size, and design. Materials: large rocks, bricks, or concrete blocks, a flexible pond liner, a water pump, and hoses or pipes. Arrange your rocks, bricks, or concrete blocks to form a series of steps or tiers that gradually slope upwards. Ensure each step has a flat surface for water to pool, allowing fish to rest before moving to the next level;
Lay the flexible pond liner over your fish ladder structure, ensuring it covers each step and is securely tucked into the edges. This will prevent water from seeping out of the ladder; Connect the water pump to the hoses or pipes and position it at the bottom of the fish ladder. Opt landscape around your fish ladder with aquatic plants, decorative rocks, or lighting to enhance its beauty and create a natural habitat for the fish; Constructing a fish ladder in your yard will create a unique focal point that combines nature, water, and movement.
19. DIY A Tire Wishing Well for Your Garden
Do you have an unused tire gathering dust in your garage? Instead of letting it lie idle, why not breathe a new life into it? Crafting your DIY tire wishing well is a breeze. All you need is to stand the tire upright, fortify its position with a few sturdy lumber pieces, and voila – a brand new centerpiece for your garden, brimming with character and charm. Take it up a notch by filling it with coins as you whisper your heart's desires.
Want to add a vibrant splash of color? Consider transforming additional old tires into unusual planters for your treasured blooms. Don't forget to create some drainage holes at the bottom before you introduce soil and plants to your new home. And if you share your home with furry companions, ensure you select pet-friendly plants to keep your animal friends safe. With a dash of imagination, you can repurpose an old, discarded tire into a one-of-a-kind, chic garden feature.
20. Create an alternative to the instant concrete mix at home
Concrete mix is very helpful when redoing the home or the backyard. It is suitable for posts made of wood, PVC, metal, or concrete. So, instead of 60 kilos of quick concrete, we may put one average-sized post into the ground with just 1.1 kilograms of handmade concrete mix. The no-water, easy-to-mix solution is a no-fuss solution.
Simply mix in the bag before opening, pour, and watch as it quickly expands to fill the hole and secure the post. It sets in around three minutes and sets in about two hours. While covering with topsoil, cut away any surplus mixture above the ground surface using a sharp knife.
21. Tire Planters
When it comes to making planters, tires will be your best friend! Tire planters are another way of designing and revamping the garden with something unconventional.
Even though tire planters sound absurd, they can be repurposed to create a versatile look for the yard. They are also readily available and cost-effective, so you can stack them up and put a variety of plants and flowers to create the perfect cascading landscape. Adding some funky colors will make them look even more vibrant and fun. You can use any type of tire as a planter. However, tires vary in size, so select the one that best fits your plant needs and yard size. For example, large tractor tires are usually about fifteen inches wide, whereas standard car tires are around twelve inches wide. Thus, you can use tractor tires to grow multiple plants or vegetables and standard tires for growing single-potted plants. Edible plants, such as vegetables and herbs, are safe to grow in tires. Tires serve as great planters for vegetable gardens because they keep the soil warm and provide ample room for root growth.
22. DIY Interesting Backyard Wall Feature
A concrete bag retaining wall is an innovative solution to consider when sprucing up your yard. It involves laying down unopened bags of concrete, like building blocks, and thoroughly soaking them with water until they're fully saturated. The water triggers the cement in the bags to harden, creating a sturdy and robust structure over time. You can add additional strength by driving rebar into the bags before they set.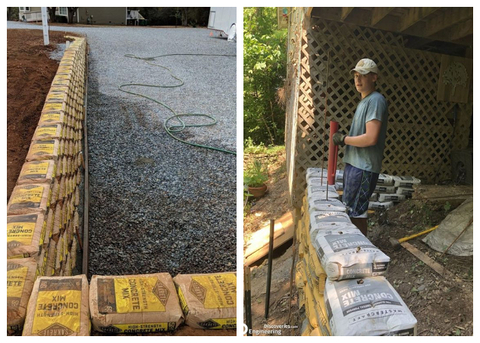 After the concrete hardens, you have the option of leaving the paper to naturally biodegrade, peeling it off, or burning it. This versatile technique isn't just limited to retaining walls; it can also be applied in creating unique sunken fire pits for those tranquil summer nights. Not only does this method save on traditional construction costs, but it also offers an intriguing visual aesthetic to your outdoor space.
23. Attract Wildlife with Bird Feeders
Attract more birds and other wildlife to your garden by installing bird feeders, baths, or houses. These additions will not only provide a source of food and water for the birds but also create opportunities to enjoy their beautiful songs. Research has shown that the sound of birds singing can positively affect our well-being, such as reducing stress, fatigue, and anxiety.
For an affordable option, consider making your own bird feeder using old tin cans. Simply wash them out, paint them, fill them with bird seed, and hang them in your garden. It's a great way to recycle and create a unique and functional addition to your outdoor space. Creating a bird-friendly environment in your garden can also support the local ecosystem and promote biodiversity.
24. Build a Bug Hotel
Looking for an engaging activity for the family and a way to attract wildlife to your garden? Building a bug hotel might just be what you need! It's an inexpensive and fun way to create a new home for insects. It serves as a unique decorative feature for your garden. Gather all kinds of recycled materials to add character to your bug hotel.
You can use old wine corks, sticks, leaves, and more to create a comfortable abode for insects. Get creative with the design and add multiple compartments to house different bugs. Start by gathering recycled materials such as old wooden pallets, bamboo canes, and dried leaves. Then, stack the materials in a wooden box, or attach them to a wall or post, to create a series of compartments for insects to live in. Make sure to include a variety of sizes and materials, as different bugs will prefer different types of shelter. Place the bug hotel in a sunny, sheltered spot in your garden and watch as it becomes home to an array of fascinating insects.
25. Cement Keepsake Garden Stones
Decorating the backyard is fun. Unique cement keepsake stones can add to the beauty. All we need is a bag of quick concrete mix, aluminum pie tins, and some colorful spray paint.
To begin with, blend the concrete with water to the desired consistency, as directed on the bag. Place the pie tins on a flat surface and fill them with the concrete mix to the rim. Using a wooden spoon or a garden spade, smooth out the texture of the mixture while it is still wet. We need to allow 15 minutes for the concrete to harden up and keep its shape.
26. Homemade Raised Planter Boxes
Those who love gardening need a good backyard. Beautiful planters can spruce up any backyard. . We do not need much to create stunning planters. Some board, wood screws, pocket screws, and landscape fabric! It is important to make a blueprint before starting.
According to the print, cut the board into different sizes and add the screws to build the form. While cutting the board, we recommend making it a bit larger and polishing it to the correct size. This will help the fitting of the planter to be tight and long-lasting. Once ready, paint it or add other accessories to make it look better.
27. Fish Pond Tires
If all these new planter ideas look too repetitive, there is always a new idea to make a fish pond using old tires. Even though the fish is optional, the tire ponds will look amazing in the backyard, surrounded by plants. Turning a tire into a pond is super easy; just dig up a small hole in the garden according to the size of the tire.
Then lay the tire on the hole, add a filter and some water (and maybe some fish), and you have turned an old tire into our own oasis in the backyard. Aquatic uses can be served by tractor tire ponds. These ponds are commonly used for home fish farming, but you may certainly utilize them as an outdoor aquarium. You must first install a pump and filtration box to recycle the water before introducing fish. The pond's water should be topped off with fresh water on a regular basis to aid filtration. Because pond water can make your fish sensitive, you should feed them on a regular basis. You may use fish excrement as fertilizer in your garden. To make the pond a more fish-friendly environment, add some pond plants.
28. Rustic Landscape
Even though this is not everyone's cup of tea, as most people want a fresh and neat garden, a rustic landscape doesn't look bad. If there is some old furniture or broken bench lying around the house, you can add them to the backyard to create an old-fashioned landscape.
Adding a split rail or a rail fence is another great way to add a rustic charm to the yard. It is not complicated to create at all. We just have to trim the trees and strategically place the plants and furniture to make the most out of nature. Garden sheds can be transformed into attractive elements and relaxing areas with a little care. Give wooden huts and summerhouses a new coat of paint. Cool paint colors blend in with the surrounding flora. If you want more authentic rustic garden ideas, don't be too precise when painting — uneven, weathered spots of peeling paintwork all add to the attractiveness. Create a welcoming environment with plenty of personality and interest. Paint a wooden chair, stool, or side table to match and use them to frame your refuge with your favorite container plants. For added appeal, include vintage treasures such as wooden washboards, stone jars, and glass bottles.
29. Pop of Color
Renovating the garden shouldn't have to be costly or tiring. It can be easily achieved without having to buy a bunch of plants planting them in different areas. A new yard can be decorated with gorgeous colorful flowers, such as roses and lavenders, which add a pop of color here and there.
There are so many plants that can be purchased to save money. They are usually found in discounted or "out of season" plants that can be gracefully incorporated into beautiful scenery. Seeds or seedlings are much cheaper, and they can be planted, so let's brace ourselves and brush up on our gardening skills. The color wheel is a gardener's best friend when it comes to creating a pleasing garden palette. It's based on the three primary colors — red, yellow, and blue. A full-color wheel resembles a rainbow, with red and orange next to yellow, followed by green, blue, purple, and violet. Another cue from the color wheel is to select plants that are spaced equally apart from one another and combine them; it's called a triad. It can definitely make an impact in terms of color and visual interest.
30. Rock Garden
Renovating the poolside area can be difficult and often expensive. However, using rocks along the poolside can add an interesting creative flair. The rocks can easily be collected from the garden, the backyard, or a nearby garden center, and the best part is that it is cost-effective.
Avoid using small stones or pebbles as they can unknowingly find their way inside the pool, or someone can accidentally step on these small stones and hurt themselves. A rock garden, also known as an alpine garden or a rockery, is a small piece of land with stones, boulders, and rocks organized in such a way that small plants can be planted among them. It has the advantage of being low-maintenance. Cacti and other plants that require little watering are common in rock gardens. The rocks also prevent the risk of erosion, making rock gardens an ideal alternative for those who enjoy gardens but not gardening. Grasses, sedums, and mungo pines thrive in rock gardens, which are frequently found in sunny locations.
31. It's Picnic Time
Who says picnics are meant for holidays or in the park? Now, you can also revamp your garden into the perfect picnic spot. Add a picnic table; it can be an old coffee table or a refurbished dining table. Stack some chic pillows and table cloth to give it the classic picnic look.
You can take it to the next step by hanging some string lights as well as some colorful and funky plants, and there you go! You have the most beautiful setting for an outdoor picnic any time you want, right outside your house. How much more convenient can it get? Look for a place that is picturesque and pastoral, lush and grassy, and has plenty of natural shade. Aim to set up under a tree so that you can make use of the shade if it becomes too hot, and make sure there's plenty of room for kids to run around. What if your picnic date falls on a rainy day? Set up shop inside! Wicker baskets are lovely, but they aren't necessarily the most practical. To safeguard your items, choose an insulated tote or bag with compartments and handles, as well as cushioning to protect soft food or glasses.
32. Pairing Blue With Green
Blue and green are nature's colors, and pairing them up together for your front yard can be the perfect contrast. Designing a poolside is not easy, and if you're not careful enough, it might end up looking tacky. Creating a raised bed along the poolside may give it an interesting texture.
Add some deep green plants on the beds, and if you're feeling extra cheerful, you may also add a splash of colorful flowers with it as well. We don't need to tell you wooden pallets may also come in handy. You can just about use anything to add some spice to the pool area. What should you plant in the poolside flower beds? Succulents and ornamental grasses are low-maintenance plants that create a statement when combined with the rest of your landscaping. Vine-like creeping plants (also known as ground cover) are a simple method to add greenery without detracting from the more interesting plants. However, not every brightly colored, lush plant should be used near a pool. In your future pool design, stay away from plants that have these two characteristics: Leaves fall to the ground, and the plant thrives in the shade. If leaves, pine needles, or dead flowers fall into the pool, they can cause more effort. They can also clog filters.
33. Steel Basin Planters
You probably think we've run out of ideas for planters, but you're wrong! If something can hold dirt in it, you can expect it to be a great DIY planter. Take this steel basin, for example – it is large enough, looks refurbished, and gives a rustic look. Therefore, it looks great as a planter for your backyard.
The basins may seem a bit rusted, but you can easily paint them with vibrant colors to give your garden that extra pop. However, the rusted basins can be paired with other types of old-school planters and furniture for the ultimate rustic landscape. Be aware that metal planters have a number of drawbacks, one of which is that the material attracts and absorbs a lot of heat. As a result, the soil and roots of your plants get hotter than they should be, leading the roots to fully overheat from direct sunlight in many circumstances. Because of the inadequate insulation of metal planters, this process is becoming increasingly worse. You'll need to use some type of additional insulation, such as a plastic pot liner or clay, to assist in avoiding root damage, though these can cause other problems.
34. Crushed Stones
This is another great example of using cheap or readily available items to design a landscape. Instead of buying expensive lawn turfs to cover the front yard, crushed stones or garden rocks can be used to decorate the lawn and separate the steps from the garden.
There are many types of garden fillers to choose from, such as gravel, rocks, crushed stones, or those giant boulders, and they come in different colors and sizes. It's a great way to add contrast and depth to the garden or patio, making it look even more stunning. Determine the size of your pavers and the spacing between them. The rule of thumb says: the larger the pavement scale, the larger the infill stone can be. Choose a stone that goes well with the others. Do you have repeating gray tones in your hardscape, for example? If this is the case, consider using the same hues in your filler stone. Consider something stable. When you step on it, it shouldn't kick around and scatter like confetti. Nothing is more disorganized than a walkway littered with pebbles. Filler stone should be laid between the pavers at a height slightly lower (at least half an inch) than the paver surface to reduce the mess.
35. Farmhouse Elegance
What do we love most about a farmhouse? The breath of fresh air it provides or the chic landscape that brings a rustic feel? If it is the latter, there's no need to worry as we can create our own farmhouse chic right in our backyard.
There is so much wooden and rustic furniture, such as the table in this photo, which brings out the farmhouse feel. Utilize the space outside the house with different budget-friendly furniture along with colorful flowers planted on the sides, and have an intimate gathering with friends and families in the new decor. Natural materials inspired by the surrounding countryside are used in the traditional farmhouse look. Reclaimed wood and wrought iron are excellent examples. These two materials are ideal for an outdoor farmhouse design because they operate well outside when properly handled. Wicker or more luxury rattan are other ideal materials for an outdoor farmhouse look, and vintage furniture items will definitely lift your garden space into beautiful country cottage territory. Incorporating salvaged materials into your landscaping and plant design is the perfect opportunity to embrace the rustic atmosphere. Allow nature to take over by using reused things like old farmhouse sinks or reclaimed wood planters.
36. Converted Driveway
Even if there is a small space in front of the house, it can be transformed into something beautiful. For example, the unused driveway can be converted into a small garden area to plant some pots and shape up a gorgeous flower garden. We can also place some comfortable chairs along the sides to allow us to rest and soak in sunlight during the summer.
An unused garage can also be a great place to build a small patio. With some added lights and a skylight, it will feel rather spectacular to enjoy the evening outdoors. Some folks make an eclectic, welcoming home office with a comfy sitting area out of their two-car detached garage. The structure preserves the appearance of a functional garage when the doors are closed. The ceiling and two walls can be painted white, while the cinder block wall can be painted a vibrant color to offer a pop of color. More natural light enters the space through skylights. You'll have plenty of desk space, and you may create a relaxing atmosphere by adding a comfy couch and armchairs. Others convert their unattached garage into a light-filled exercise studio. You might dedicate a certain area to yoga, pilates, or stretching. Keep in mind that hardwood floors are kinder to knee and ankle joints than concrete garage flooring.
37. Wooden Stumps
Everyone claims to be a nature lover, but how many can use natural elements to decorate their yards? It is easy and straightforward, and natural elements, such as wood and stones, can be easily found or purchased nearby. A wooden stump is a perfect example of incorporating nature into our home.
It can be used as a center table for the patio or even a side table along the poolside, whichever is preferable with the area and the setting. Other available natural things are bamboo to use as fences or wooden stumps as chairs and benches. The stump needs time to dry out. Some can take up to 6 months to dry out fully, but a minimum of 1 month of drying time in an indoor environment is recommended. This will ensure the bark is easy to remove and make the process easier. While it's drying out, the stump may split, which adds character and unique touch. First, you'll need to level any uneven surfaces on the top of the trunk either with a 60-grit sanding sponge or a saw (depending on how uneven the top is). Then, you need to remove the bark with a chisel and a hammer.
38. Glow It Up
A little glamor goes a long way, and the best way to do it is to add some lights. Lights look festive no matter the season, and it can be the perfect add-on to your front or back yard to give that extra glow.
Hanging up those cute little LED lights and adjusting the brightness from a yellow to a bright white hue can make the outdoors look so much more fun and chic. The energy-saving LED lights are readily available, so we don't have to worry about the electricity bill while glamming up our front yard to match the festive seasons. LED strip lighting may be utilized to light up your patio in a variety of ways. Multi-colored, white, and color-changing are among the various options available. To avoid water damage, invest in a waterproof LED strip. These strip lights might be used to border the edge of your decking, stairs, or walls or even on your fencing, as they are simple to install and self-adhesive. LED strip lights are inexpensive and simple to install, making them ideal for both aesthetic and functional lighting in your home or office. They are eco-friendly, cost-effective, and inconspicuous.
39. Fencing
Fencing completes the outdoor space and gives it a sturdy yet neat look that is perfect for the garden. Whether it is a miniature fence with a modern design or a wooden fence to border the garden, the ideal fencing will give that edgy look to the yard.
This is one of the most brilliant and cheap landscaping ideas to create a posh look for the front or back yard. Fencing might seem too much work, but it is affordable, and you can easily buy a wooden or metal fence and install it. Depending on the form and function, garden fences are made of a range of materials: Wood fences are often built of redwood, cedar, or pressure-treated pine and come in a range of hues. Steel and aluminum may be coated to seem like wrought iron, making them ideal for aesthetic fencing. Vinyl and polyvinyl chloride (PVC) fences are both inexpensive and simple to keep up with. These types of fencing can persist for years due to their weather resistance. PVC posts are sometimes hollow and reinforced with other materials such as wood or aluminum. A garden fence's height might be chosen for aesthetic or practical reasons. Decorative edging might be as low as 12 inches tall, but taller fencing would be required to keep wild animals away.
40. Borders
A neat landscape must include borders to give it a sophisticated look. Borders can be made with just about anything, whether it is plastic borders, wood, peat, or even just rocks for your garden. There are limitless possibilities for bordering a garden or yard.
Wooden shavings and border boxes( the ones that can be buried in the ground) look spectacular with the garden grass and rocks, and it is cheap to build one. It's a great way to separate the yard into different portions so that the space looks a bit more interesting. Draw the outline of the area to be planted on graph paper, and experiment with combinations until you discover one that works. Plants should be plotted with their mature size in mind to ensure that they'll fit. Look for combinations you like in books and publications, or even online. What is your time limit? Winter and summer bedding, rose bushes, fruit, vegetables, and floppy perennials are too time-consuming for those who work all day. If you don't have much time to cultivate, choose shrubs, neat conifers, attractive grasses, and tough-but-colorful mat-forming perennials instead.
41. A DIY Outdoor Cinema Guide
Turn your backyard into a cozy outdoor cinema with a few simple and affordable materials. With a white sheet, pegs, string, and a projector, you can transform your outdoor space into a movie-watching paradise in no time. Whether you're looking for a unique date night idea, a fun family activity, or just a way to enjoy the great outdoors, a DIY outdoor cinema is perfect.
Interior stylist Kel Harmer created a fabulous outdoor cinema in her garden and shares tips. She used string, pegs, and a king-sized white sheet to make the screen and placed the projector on a garden table, running the leads underneath the seating to prevent hazards. Her simple yet effective solution is an excellent example of how you can easily create an outdoor cinema in your backyard. With creativity and some basic materials, you can create a memorable and enjoyable experience for yourself and your loved ones.
42. Transform Your Wine Corks into Handy Garden Tools
Do you have a collection of wine corks taking up space in your home? Put them to good use by turning them into handy plant markers for your garden. You can create functional and eco-friendly markers for your plants with just a few simple steps.
First, slice one-fifth of the cork off to reveal a flat surface. Then, use a permanent marker to write the name of each plant on the cork. Finally, insert a wooden skewer into the bottom of the cork to help it stand upright in the soil. This clever and budget-friendly solution helps you keep track of your plants and repurposes a common household item.
43. Living Fence
Transform your backyard into a work of art with a budget-friendly living fence. Espaliering is the technique of planting a tree and training it to grow in a specific pattern, creating a beautiful and unique focal point in your outdoor space.
This technique adds visual interest and texture to a blank wall. It creates a high-end look without the expense of traditional fencing materials. Choose a tree species that will thrive in your area and enjoy watching it grow into a beautiful and functional feature in your yard. In addition to its aesthetic appeal, a living fence provides privacy, wind protection, and a home for wildlife. So why not try this simple, affordable solution for your next backyard project?
44. DIY Industrial Outdoor Coffee Table with Pipes
Bring a touch of industrial style to your outdoor space with this DIY coffee table made from steel pipes and cedar boards. The sturdy design boasts a sleek look and a convenient pull-out storage unit for your outdoor essentials. And the best part? You can easily create this table with just a few materials and simple instructions.
To begin, gather your materials: steel pipes, cedar boards, stains, screws, and brackets. Cut the cedar boards to size and sand the edges to ensure a smooth finish. Assemble the steel pipes and brackets to create the frame of the coffee table, then attach the cedar boards to the top. Apply a light stain to the wood surface, and you're done! With these easy steps, you'll have a stylish and functional coffee table that adds a touch of industrial charm to your outdoor space.
45. Edible Garden
This is a great way to start your own vegetable garden and plant some fresh fruits and veggies for the family. An edible garden doesn't only just look beautiful in the front yard, but it is also an environmentally friendly way to spice things up.
This is a cheaper and more fun alternative to buying your groceries outside since seeds aren't expensive and are readily available anywhere. There is a wide range of choices to pick from; it can be herbs, flowers, berries, and all sorts of vegetables that one can eat. While a vegetable calendar might help you plan ahead, it's also crucial to keep an eye on local temperatures and weather data throughout the gardening year. The date of the last frost is especially significant for determining when to start sowing and planting fragile crops. Because soil temperature is a significant element in seed germination, and various seeds germinate at different temperatures, consider purchasing a soil thermometer to ensure that the temperature is appropriate for planting. Because different types of the same type of vegetable have varied sowing and planting periods, always follow the seed packet directions.
46. Organic Pallets
We don't need to tell you what you can do with a little bit of leftover wood. Wooden pallets look nifty and can help you organize your garden as well. Some wood left after making some patio furniture? You can use them to create small boxes to store all kinds of things.
These wooden boxes are perfect for growing veggies for your edible garden, whether it is plants, tomatoes, herbs, or even onions! Attach some wheels to these boxes to help you move them around the garden and prevent them from getting too soggy during the rainy season. Because they look attractive on a patio and are inexpensive as planting containers. Most crates are either solid wooden boxes with wide spaces between the boards or solid wooden boxes with huge gaps between the boards. You may need to add a plastic liner before planting. A liner is required for crates with significant gaps between the boards to prevent soil and water from draining directly out of the crate. Solid boxes don't require a liner to prevent soil loss, but a plastic liner (with drainage holes at the base) can help avoid rotting by acting as a moisture block.
47. Grass Terrace
Terracing can be a great idea to add texture to the poolside or the front yard. Adding multiple levels to separate the patio and the garden make it look even more lively. Different types of grasses and shrubs can be planted on these terraces, or some gorgeous flowers and plants to add a pinch of color to the landscape.
Layering the yard creates great visual interest, and placing some small statues or sculptures around it will undoubtedly add some depth to a rather dull yard. So let's find the inner architect within us and create a remarkable terrace we've all been waiting for. Artificial grass is also a great option. There are many different attributes that you should be taking a close look at before making a purchase. The grass must look good, but it also needs to perform well to ensure a long-lasting, lush green lawn. This is because some are designed for different uses. For example, some grasses are manufactured to be hard-wearing, which usually means using a plastic fiber made from nylon (polyamide). However, the trade-off here is that nylon isn't quite as soft as polypropylene or polyethylene, the two other types of artificial fiber used in manufacturing artificial grass.
48. Old Furniture
We never know what to do with the old furniture around the house. Instead of giving them away, it can be refurbished to decorate the garden or the front yard. An old lawn bench or even your neighbor's old coffee table will fit perfectly on the patio.
Just add some paint or wood stain, and we are ready to scale up the old lawn bench to give our garden the rustic park feeling. There are endless choices, and with just some creativity and a little help, we can create mesmerizing scenery in our garden. It's not necessary to purchase a new pergola or parasol to incorporate garden shade ideas into your space. Climbing or trailing plants can be supported by a vintage ladder. A vintage wooden ladder provides character while also providing support, whether used as an overhanging pergola structure that requires suspending or attaching to supported wooden poles or as a trellis against a wall. Upcycling, quite literally, opens the door to a world of possibilities! A three-door potting shed concept, in which you can create a fashionable shed out of discarded materials.
49. DIY Tire Planter
Transform old tires into unique planters for your garden with a creative touch. Materials: Tire, Spray paint (optional), Soil, Plants, Landscaping fabric or plastic liner, Rocks or gravel, Tools: scissors, and utility knife. Steps: Clean the tire: Remove any dirt, debris, and dust from the tire. Optionally, spray paint the tire to the desired color; Line the tire: Cut a piece of landscaping fabric or plastic liner to fit the inside of the tire and place it inside. This will prevent soil from leaking out; Fill with rocks or gravel: Fill the bottom of the tire with a layer of rocks or gravel to improve drainage;
Fill with soil: Fill the tire with soil, leaving enough space at the top for the plants; Plant the plants: Choose plants that match your desired look and add them to the tire, pressing down the soil around them to secure them in place; Water and care for the plants: Regularly water the plants and care for them as you would in any other garden or planter. Enjoy your new tire planter and its unique and eye-catching addition to your garden or outdoor space!
50. Wood Rounds
Wooden pathways are a common sight in a front yard, but they don't have to be an old-fashioned rectangular shape. Cut up some tree log cross-sections and make rounded wooden pathways to give it a twist. This is cost-effective, and if circles aren't doing the trick, then cut them in any shape and size to adjust in the setting.
Large wood slices aren't the limit; stepping stones or garden rocks can also be placed in a circular pattern to create an artsy path in the yard. If natural is the way to go, these are the perfect fit. As a first step, we completely cleared the area of any debris. Next, pull up the sod from the entire area. Once all of the sod is removed, rake and trample the ground to ensure a level base. With a flat work surface to start laying everything out on, start laying out the various garden sections, creating a wavy path with cement edging pavers. Once the main pathway was established, fill in the outer sections with fresh topsoil, and plant the gardens. Cut the logs into 3″ disks (larger ones) and 2″ disks (the smaller diameter ones, as filler). Then start placing the largest disks evenly throughout the space to create the main stepping stones. Work my way down the sizes of logs, finally filling everything in with the smallest disks.
51. Fun With Refurbished Furniture
When it comes to inexpensive hacks, the best way is to recycle and reuse old things that are readily available in the house. We have found the perfect way to use an old bathtub as a planter. It gives the yard an antique twist and can be paired up with small shrubs of different shapes.

Not only will colorful flowers look good in this bathtub planter, but they can also be used as a mini vegetable garden. Isn't this a great and cheap idea to transform old appliances and furniture into a new rustic look for the garden? Because vintage tubs are tiny in comparison to a typical garden plot, fill them with smaller, simpler garden things. If you're planting large plants, such as tomatoes, keep the number of plants to a minimum. After you've decided what to plant, think about the best location for the tub. Vegetables require direct sunlight, so if you want a bountiful crop, set your tub in direct sunlight. Drainage is crucial to achieving gardening success. Although many vintage tubs have drains, some galvanized metal tubs don't. Drill holes in the bottoms of galvanized metal tubs to provide the necessary drainage.
52. Fence Pallets
We don't run out of ideas to make new pallets. This is a great idea if you have a smaller space and want more flowers in your garden. Fencing makes the yard look more put together, and hanging little wooden boxes on the fences will make them pop even more.
You can easily create these tiny flower boxes using some spare wood or board. It is better to use flower pots and place them directly inside the boxes to prevent the wood from getting ruined by water. You can make regular wooden boxes or even create them in different shapes and sizes for fun. Small planters are low-cost and lightweight, but they are nonetheless extremely robust. You also don't have to worry as much about the weight of your associated structure if you choose smaller containers and plants. This expands the number of locations where a vertical garden can be planted. You also won't have to worry about dirt spilling out of the planter's sides because it sits upright. Many plants, such as spider plants, can grow to cover the entire flower pot; thus, a conventional flower pot can practically achieve the same look as a vertical planter.
53. DIY Terracotta Candle Holders
Transform your outdoor space with DIY Terracotta Candle Holders and keep bugs at bay. These candle holders, made with terracotta pots, sand, and scented candles, keep mosquitoes and other pests away and add an aesthetically pleasing touch to your patio.
To make them, simply fill a few terracotta pots with sand and insert a trio of scented candles. Use three standard-sized dinner candles or 7 or more skinny tapers for a balanced look. Use candles scented with citronella, lemon balm, or lavender to repel bugs. Leave them lit for a couple of hours, ensuring they are out of reach for children and pets. Pair this with some insect-repelling plants for a full bug-free zone.
54. Make String Light Planters at home
Without good lighting, the backyard will always seem dull, no matter how beautiful the house is. Installing a lighting system may seem overwhelming to a lot of people. Surprisingly, the process is easier than one can imagine. It requires a few materials – a large and deep planter to hold enough concrete, 4×4 outdoor posts, fast-setting concrete mix, cup hooks, string lights, drill, potting mix, and flowers.
For safety, attach the posts to the planters using corner braces. Then pour water and concrete mix into the planter. After the concrete has dried, add some flowers to the planter. We also need to drill some holes into the planter to create drainage for the flowers. Feel free to add rocks, soil, and other decorative items. Finally, attach the cup hooks to set up the lights, and a stunning backyard is ready to be enjoyed!
55. Stepping Stones
Stepping pathways don't always need to be boring, with concrete slabs conventionally shaped in squares. You can easily make a new innovative pathway using stones. These stepping stones can be made with pebbles or garden rocks that can easily be found.
Improve the stepping pathway with new out-of-the-box designs, such as a circular stepping stone pathway, and add more contrast to the garden with some mismatched colorful stones and pebbles. It is as cute as it sounds! Examine your lawn for areas where the grass has worn down to a natural path due to regular traffic. Your stepping-stone walkway will look great here. Determine the stone location such that it corresponds to the average person's comfortable walking stride. As you walk along the walkway, plant landscaping spikes where the center of your foot rests at each step. Carry natural flagstones or artificial garden pavers to each stake with a wheelbarrow. Remove the stake and place a stone or paver in the center of each area. Then go ahead and make holes in the ground to place them. Add some gravel to set it, and voilà.
56. Stone Walkway in the Garden
There are so many ways to decorate the garden. It doesn't even require professional help. With just a few handy materials, one can completely transform the look. A good choice is using stones. We will need some random-sized stones to use as the steps, some pea gravel, and a rubber border.
Start by setting the border for the walkway. Then we need to place the stones according to the order of the steps. After that, all we need to do is cover the path with pea gravel. The pea gravel needs to be set carefully so that the stone steps are placed tightly.
57. Concrete slabs
Stepping stones look good in a small garden, but if there is ample outdoor space with a lot of areas to walk through, then concrete slabs might just seal the deal. Putting concrete slabs makes the pathway look elongated and neat.
Stone or concrete slabs can be found in any home improvement stores or garden centers, and they don't even cost a lot. Instead of just concrete, there are many options, such as natural stones, porcelain, or garden bricks. It is easy to pave them to create an elaborate pathway throughout the garden. Cement garden stepping stones offer practical purposes around the yard in addition to their decorative possibilities. Garden stepping stones will limit the amount of dirt tracked inside the house in unmulched planting beds. In mulched planting beds, damp weather can track mulch particles into the home; garden stepping stones will solve this problem. Garden stepping stones will cushion the impact of foot traffic on your lawn, preventing compaction issues. You can also use concrete stepping stones to help you attract butterflies. Butterflies are cold-blooded. Therefore, any hardscape features that absorb heat will help them warm up.
58. Building the Paver Patio
This project's requirements are surprisingly simple. We just need some essential garage tools, staples/stakes, pavers/concrete stepping stones, pea gravel, metal edging, and a weed mat. To begin the project, we need to create a plan for the design. Then, we need to remove the debris and clear the area. Now is an excellent time to dig a trench along with the areas where the edging will be installed.
Make sure the lines are straight and the edge stays level as we install. Then we dig up the depth; it is essential to have the correct depth. Next, cover the place with compact soil. We can install a weed mat on the surface. The next step is to place the large pavers on the surface. After that, spread the pea gravel. That's it! Now we can sit back and enjoy our new backyard.
59. Making a Pathway with Pavement Mold
Preparation is the secret to constructing a cement floor that won't crack over time. A permit may be necessary to guarantee that the floor complies with building and inspection requirements. A clean, dry flooring will offer ample support.
A visual inspection of the beams and joists will be required to determine whether the structure can hold the weight of the cement. The base will need to be built of extra materials before the cement is poured into supporting the cement pad and preventing it from slipping. Purchasing bags of ready-mixed cement will be enough for smaller floors with a thin coating of cement.
60. Adding Brick Borders to the flower bed
A flower garden with a brick border edging may bring a lot of appeal to a home's façade. Fortunately, practically every house we've had has had a random pile of bricks in the backyard. A brick border for flower beds can be designed in various ways. The edge can be perfectly straight or have a gentle s-curve. Try mapping out the margin of the brick border with a hose to visualize the pattern.
A brick border can be installed vertically or horizontally. First, lay out the design and dig up a trench for the brick edging. After that, add a layer of crushed gravel to help the drainage and leveling. Then it is time to lay the bricks with the edging. Remember to tap each brick with a rubber mallet for the perfect setup.
61. Create a cinder block fire pit
A cinder block fire pit is a low-cost DIY project that provides a gathering spot in the backyard. When ready to create a cinder block fire pit, we will need to figure out where to put it and how big it will be. To avoid an unintentional fire, fill the middle with a layer of sand or gravel. Place the first row of cinder bricks on the ground level. The structure will be more stable as a result of this.
To get the required height of the tower, add a second layer of blocks. After building the cinder block fire pit, consider using flat, fire-rated concrete cap blocks to finish. If we're going to indulge in fire pit cooking, it would be ideal to bring a grill and some benches and chairs, and we are set to enjoy the new backyard!
62. DIY mosaic cinder block planter
Unleash your creativity and turn those useless cinder blocks in your backyard into a stunning mosaic planter. You can transform these industrial building supplies into a beautiful outdoor decor piece with a little effort.
You will need cinder blocks, liquid nails, grout, and broken tile pieces to create the cinder block mosaic planter. The process is straightforward and allows you to customize the design to your taste. Start by arranging the tile pieces on the cinder blocks, then secure them using liquid nails. Finally, apply the grout, wait for it to dry, and voila! You now have a unique and eye-catching planter.
63. Bloom Boxes
Whatever you call it, a bloom box or flower box, it looks cute and pretty on the window pane. It can easily be created by using spare wood lying around in the house or even buying some leftover wood from the store, which isn't expensive.
Paint the boxes in colorful bright colors to match the flowers or just plain white to give them a chic look. Whether it is roses or lilies, a flower box can completely change the outlook of the house and make the outdoor space more appealing and delightful. Because they look attractive on a patio and are inexpensive as planting containers, wooden crates are popular planting boxes for herbs, strawberries, annual flowers, and bulbs. Most crates are either solid wooden boxes or have considerable gaps between the boards. If you want to plant herbs and annual flowers, use a wooden box that is at least 12 inches deep and ideally 18 inches deep for vegetables and perennials. Look for robust wooden crates in good condition that have been recycled. When utilizing crates for edibles, avoid those that have been painted or chemically treated.
64. Wheelbarrow Planter
In a world where repurposing old goods is trending, anything can be revamped and given a new personality. A wheelbarrow planter is another good example of transforming an old-fashioned object into a refreshing, unique style.
A wheelbarrow planter can be used in many different ways, such as filling it up with soil and then planting a variety of plants and flowers in it. A good tip is to add a layer of paint on the inside to prevent further decomposition and to mix with the soil. Again, it can be painted to match a garden theme, or you can add tiny succulents which look adorable. If you want to make your own with an existing wheelbarrow, the first thing you need to do is drill holes in the bottom of the wheelbarrow. This is to ensure proper drainage for the plants. Next, find a spot in your yard and wheel the wheelbarrow into place. Angle the nose of the wheelbarrow down, so onlookers would have a great view of the plants. To do this, we simply dug the wheel into the dirt a bit and slid it into place. It's possible that the planter can be a little bottom-heavy, and you don't want the wheelbarrow to flip forward. So, use wire to hammer the back into place. Finally, fill your new "planter" with soil and plants.
65. Contemporary Designs
If a house can have a contemporary design with modern furniture and eclectic walls, then so can the yard. There is no need to hire a professional to design the landscape and pay them a hefty sum since a good contemporary style can easily be achieved with great ideas and photos from the web.
A mismatched pair of plants and shrubs, along with some oddly shaped pots that complement each other, can surprisingly transform the landscape into a stylish exterior. So let's wait no longer because a contemporary yard is only an imagination away. Combining classic hardscape geometry with a creative twist can be the solution. There are many ways to go about this. One example is the use of a traditional concrete walkway that becomes a part of a water feature's path. Incorporate art pieces during the warm, dry season and use sculptures as a means of adding the unexpected to your landscape. Traditionally, a line of garden containers is planted with uniformly formal plants. You can shift the tradition by planting them with a variety of softer, asymmetrical plants.
66. Add a Touch of Magic with Stake Lights
Illuminate your plants and create a stunning, decorative look in your garden with stake lights. These lights are affordable and versatile, making them a great option for any sized outdoor space. Scatter them among shrubs, place them on your lawn, or stick them into window boxes for an instant wow factor.
Solar stake lights are an even more convenient option. Simply place them in a sunny spot in your garden to allow for a full day's charge, and watch as they automatically light up your garden as the evening falls. They add a warm and inviting glow and offer a practical solution for illuminating walkways, highlighting plants, and creating an ambiance in your outdoor space. Plus, with no electrical cords to worry about, they're also eco-friendly and low-maintenance.
67. Wooden Compost Bins
Everyone is into recycling nowadays, and if you are also an environmentalist, you can consider making a DIY compost bin for your garden. It is the best way to obtain some rich soil for your plants, as well as find a sustainable way to decompose your waste.
Wooden pallets can be made into wooden boxes where you can store your compost. It looks clean, and a painted white wooden pallet gives a great contrast to the greenery in the garden. Wooden pallets are versatile, and you can design them into anything you like for easy gardening. You will need four pallets of the same size to create a pallet compost bin (or you can cut them to size). Pallets are plentiful, but search for the pallet stamp to ensure they are safe to use. The IPPC or EPAL mark, as well as the initials HT, should be stamped on the wood, indicating that it has been heat-treated and that there is no chance of harmful elements seeping into your compost. Pallets with the letters MB on them should not be used since they have been treated with methyl bromide, a harmful pesticide.
68. Flower Beds
You can use a simple mulch for your flowers or plants. Not only will it provide nutrients to your plants, but it also gives an interesting texture to your garden. The earthy brown tones pair perfectly with the green palate of the plants.
It is best to put the mulch in during late winter or early spring so that it can trap in the most moisture and does not look dry during the summer heat. Use mulch to create a raised flower bed for all kinds of plants, shrubs, and flowers. If you're feeling creative, you can also make the mulch out of the compost. Mulch is used to keep the soil moist, discourage weeds, keep the soil cool, avoid frost heave in the winter, and improve the appearance of the garden bed. As the organic mulch decomposes, it improves the structure, drainage, and nutrient-holding capacity of the soil. Bark (shredded or chipped), pine needles, grass clippings, newspaper, shredded leaves, and straw are all examples of organic mulch. Organic mulch will decay and need to be renewed, but it will improve the structure and organic content of your soil in the process. The slower the mulch decomposes and the fewer nutrients it provides to the soil, the dryer and woodier it is.
69. Be Your Own Artist
We don't need to tell you that hiring a professional to do your landscaping can leave a hole in your pocket. However, we can give you ideas to improvise and improve your landscaping skills so that you can design the garden on your own.
All our DIY ideas are great, but you can take them up a notch by merging all these ideas to form a customized garden of your dreams. You can cut out shapes of sidewalks or different planters to give an interesting texture on display. Or you can also cut shapes on your lawn to create many designs. To begin, consider the following principles as you organize yourself. Make a decision on how you want to use your garden. Examine your garden. Make a wish list for your landscape. Understand the fundamentals of design. Select the appropriate plants for your design. Make a landscape plan. Assist with the creation of your ideal garden. Consider how you and your family would use the garden. Consider how you can make the garden operate best for you. Are you looking for a spot to unwind and enjoy your garden? In the space, place a garden bench or a table and chairs.
70. Revamp With Style
Even if you have a small front yard or patio to work with, don't worry because you can revamp even a tiny patio by placing some funky and exciting little plants. Paint some small pots and hang them on the patio as wall planters to add some freshness and greenery to the outdoor space.
These types of small spaces can be revamped into something amazing according to your choice. You can either scale it down by hanging up some wall planters and a small coffee table or scale it up a notch by adding string lights and funky colorful flowers as well. Hand-painted plant pots in your style will give a splash of color to your garden. Colors, designs, and patterns can be mixed and matched. The alternatives and possibilities are truly unlimited, and they're all within your budget. Acrylic and spray paint are the best paints to use on clay pots. Both of these paints are safe for use on terracotta pots. Cleaning the terracotta pots is the first step before painting them. Before you begin painting your pots, make sure they are thoroughly dry. Terracotta clay planters soak up a lot of water; therefore, it can take a while. Allow drying after painting.
71. String Lights
No matter the season or festivities, we all love a bit of bling during our outdoor gatherings, and it is more convenient if we can light up our own backyard for a barbeque dinner. There are so many different shapes and sizes of lights that they can fit any theme and setting.
String lights look even more elegant than candles and give a whimsical glow that can be hung around trees to light up a large, lofty outdoor space. Smaller LED lights hanging on the ceiling of a patio will give the illusion of stars shining under a night sky. Outdoor globe lights are ideal for lighting patios and backyard parties! They can be hung from external walls, eaves, or tree branches. To hang these outside lights, you can use wooden poles or branches in pots or buckets of sand, or create a few permanent poles embedded in concrete. Outdoors, DIY lanterns make excellent patio or porch lights, as well as ornamental ambient lighting for a backyard party. In a mason jar, combine botanical clippings, water, and a small amount of vegetable oil; voilà, a quick oil candle! Essential oils can also be used to repel mosquitoes.
72. Garden Structures
Placing a simple garden structure, such as an arbor, in a strategic place can create a bold statement without making a mess. Sometimes buying expensive furniture and garden pieces isn't the answer. Instead, building a plain structure, such as this metal arbor, makes the outdoor space look sleeker.
This type of arbor can be made with any piece of metal and pipes joined together, and you can also have some fun painting it. A wooden arbor can also be an awesome DIY to do with the family. An arbor is a vertical structure in a garden or landscape that can give shelter, seclusion, shade, and a decorative element. It can blend into the scenery or be used to divide and control traffic between different garden areas. The arbor has an open framework on its walls and roof to support colorful and fragrant vines. It can be freestanding or affixed to a fence, wall, or structure. A trellis is smaller and more delicate than an arbor, which is a key structural feature. Arbors are made of wood or wrought iron and can be built by hand or purchased from a garden center or online.
73.
Mosaic Garden Edge
Calade paving, which is traditionally done using small pebbles to create garden paths, driveways, and terraces, can also be achieved using larger, uneven rocks of various types. This can result in a stunning visual effect, as shown in the picture. If you're interested in achieving this look but prefer a more low-maintenance option, you might consider using faux-stone facing or false brick in combination with laying pavers and slabs.
This can give you the same desired aesthetic without the need for actual stones. Whether you choose to use real stones or faux materials, the end result of Calade paving is sure to be a beautiful and unique addition to any outdoor space.
74. Tiny Wall Planter
These tiny wall planters look cute in any kind of setting. If there is a small side garden area or even a balcony, hanging a few small planters on the wall is a great way to incorporate some greenery into the scene.
You can make these types of wall planters with just about anything, such as a small container or a bucket, whatever is available in your house. Since these planters are small, planting small house plants or vibrant succulents is advised so that they don't grow out of the cramped-up space and look messy. Container plants on a balcony can make your outdoor space feel pretty beautiful if you live in a building. Pollinators such as butterflies and hummingbirds will be attracted to window boxes or pots full of flowers, and putting fragrant flowers adds another dimension of enjoyment to your balcony. Potted lavender begs to be placed on sunny balconies. These perennials have a long blooming period and a great fragrance. They require direct sunlight. New Guinea impatiens are a reliable choice for long-season color, with cheerful colors ranging from peach to hot pink. These annuals thrive in pots rather than hanging baskets, which can be difficult to maintain in the summer heat. Shade is required for them.
75. Gutter Planter
Another way of incorporating some greens into a small space is to make rain gutter planters. It is easy to make, and gutters are available in any home improvement shop. Make sure to buy a gutter that is big enough to put in some soil and plants.
The most common plants that can be grown in a gutter planter are lettuce, spinach, strawberries, and peas. You just have to take care of the plants by managing a proper irrigation system and ensuring that the plants are not overwatered. Gutter gardening is an unconventional method for gardening, but one which works well. This gardening method is ideal for those who rent since it can be constructed and moved easily. Condo or townhouse owners can also use gutters as a form of a garden. However, gutter gardening is not only ideal for individuals with small living space. The gutter garden can easily be mounted to fence posts, wire tied to metal fencing, or secured onto buildings and structures. Also, growing in a gutter will help to keep a large majority of pests away.