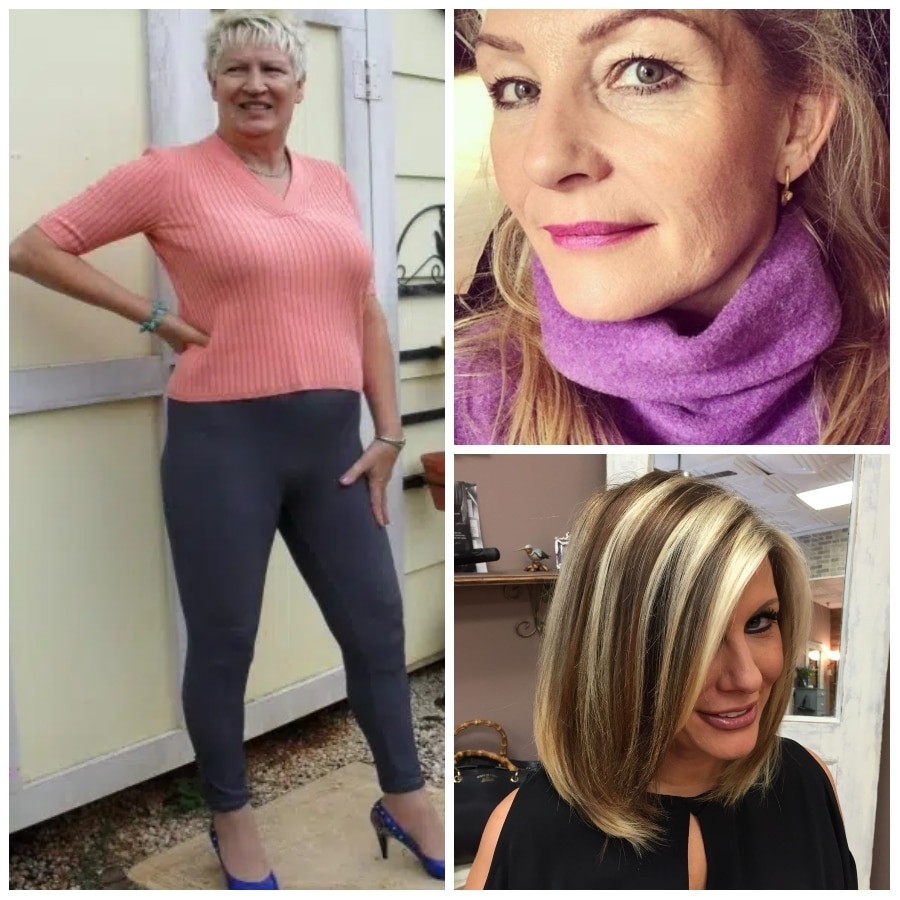 Sadly, there is no such thing as an expiration date for fashion. We could look much older than we are if we don't change our clothing, hair, and makeup regularly. The never-ending quest for youthfulness has an impact on everybody. We're always looking for new tactics, treatments, and ideas that will help us appear the best. Turning to the Internet for advice is also a common practice. Unfortunately, several of these styling pieces of advice available online are ineffective. Here are some fashion faux pas we should avoid at all costs.
Harsh Lipliner
Various trends already have fallen by the wayside for good, similar to brooches and a tweed, from stretchy jeans to bright floral designs, but by far the worst would indeed be black lip liner which doesn't blend nicely with the lipstick. Even though it was in vogue for some time, nobody is a fan of it now!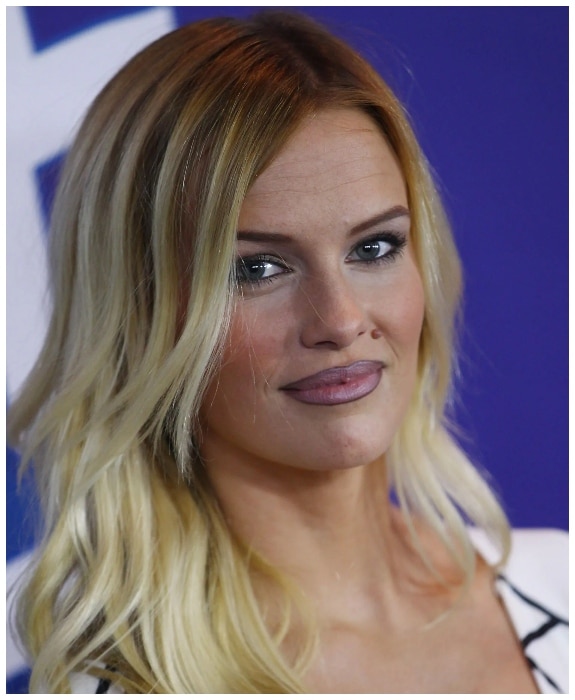 We almost always want bigger lips to enhance our features. However, overdoing that with a harsh lip liner makes our lips look smaller. Whenever someone wants to use lip liner, they should go for a tint closer to the same color of their lipstick rather than choosing a darker shade.
Skirts Worn Over Pants
Unfortunately, we are sorry to inform that, for no apparent cause, this pattern from the '00s has returned. However, don't be deceived by such a maximalist style; it's essentially a homage to power dressing which won't help anyone! Yes, maybe, some people are deciding to go for this look. Still, it's not a look that we would recommend to anyone.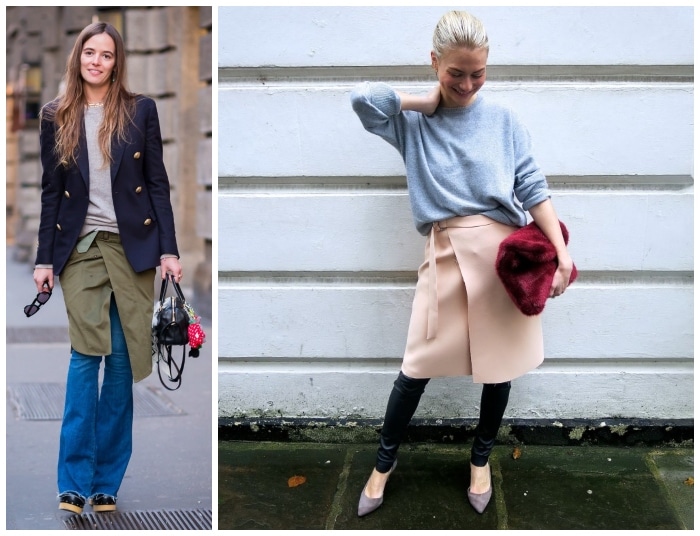 If someone is already wearing pants, there's no reason to wear a skirt because it inhibits their mobility. Besides, it doesn't even look that good when someone wears it! Then why do people like Ashley Tisdale choose to wear it in major film premiers? Well, we will never know!
Wearing Too Much Black
Although black is a slimming hue, donning it all the time might make one appear boring and washed out. We're certainly not suggesting that the color black is terrible; we adore it. However, as people get older, black isn't going to help them look younger. So as we get older, we should choose a brighter color; in our opinion, that is a much wiser option than opting for a monotonous black.
If someone prefers wearing black, they should consider adding a bright accent to their ensemble. If they wear a black skirt, they should pair it with a colored shirt and some eye-catching jewelry. If they are wearing a black top, they should go for bold patterns.
Accept The Natural Hair Color
The fashion business and aging usually are not good allies. Many people feel they should color their natural hair rather than having grey hair. However, grey can be empowering, and today grey is becoming quite a fashion statement; that is why we can say confidently that even grey hair can be appealing!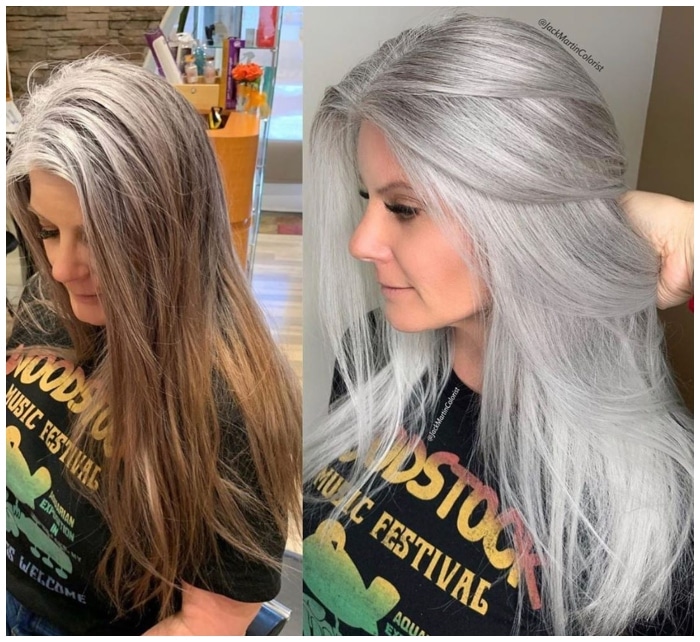 As one gets older, they might assume that lighter hair would make them look older, but it's not true, lighter hair can actually help you look younger.
Cakey Foundation
Some people opt to hide up or perhaps even detract from existing facial wrinkles by wearing a lot of makeup. And this kind of makeup usually includes a lot of foundation. However, all they're doing in this way is letting their skin look rough and gritty. Because too much foundation creates a cakey look which ruins the whole look.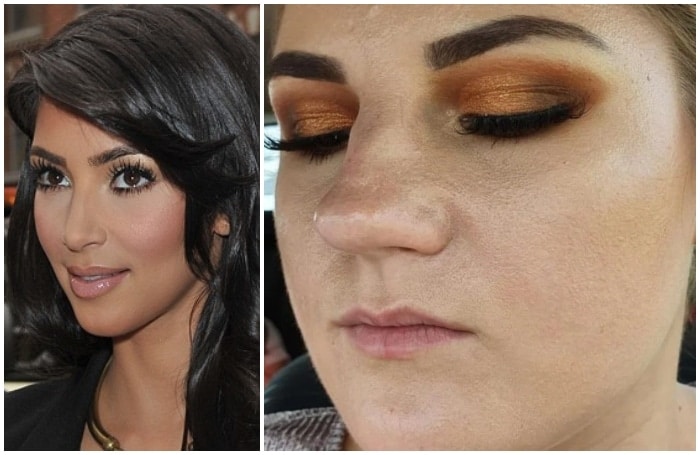 A person might have decided that they somehow have to compensate for their aging with lots of makeup, but we just have cleared that it doesn't work that way!
Big, Poofy Hair
Before we see this woman, we naturally notice her enormous 80s hairstyle. Her haircut would have been stunning in the 1970s and 1980s. However, she now appears to have come out from a time capsule because nobody in today's world would prefer a hairstyle as funky as that! Not only that, anyone would age themselves ultimately if they decide to carry such poofy hair.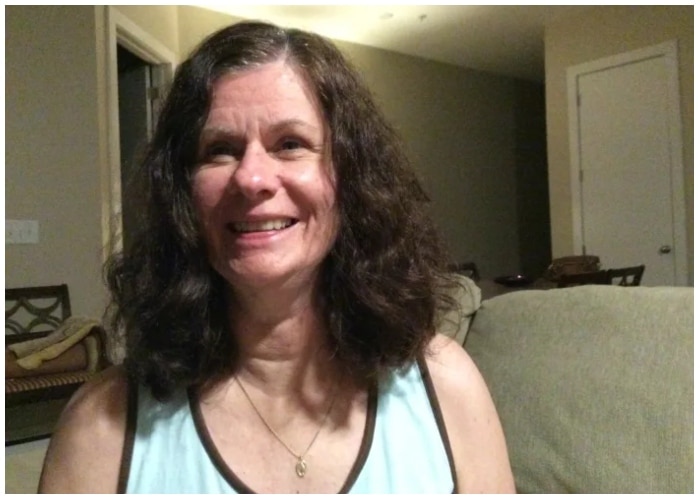 Teasing, spraying, and combing over the hair can cause it to look rough and dull. What a person needs to be doing is keeping the hair nourished and strong so that they don't even have to try these kinds of fashion hacks.
Baggy Clothes
We're not suggesting that one should wear skin tight apparel to appear younger Rather, we recommend that one opt for clothing that is fitted to their body type. It's sometimes enjoyable to dress in baggy apparel. A lovely loose summery tunic, a roomy dress, or a flowy pair of slacks might help one look artistic.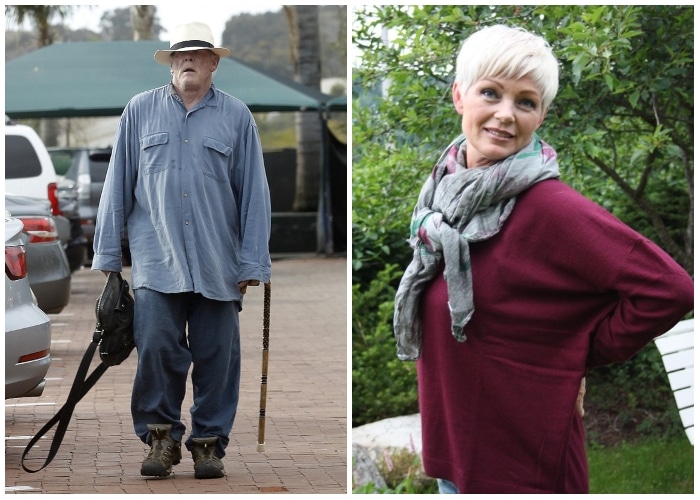 The true problem arises when people wear clothes that seem to be a couple of sizes too big. There seems to be a huge difference between wearing a dress that's supposed to be flexible/loose and a dress that's a size or two too big!
Bad Posture
Like ill-fitting clothing, poor posture may make someone appear older almost instantaneously. We may function normally, are active, and elegant when our posture is straight, and our shoulders are up. On the other hand, if one has a bad posture where they are always tilted forward, their whole look automatically looks unpleasant. S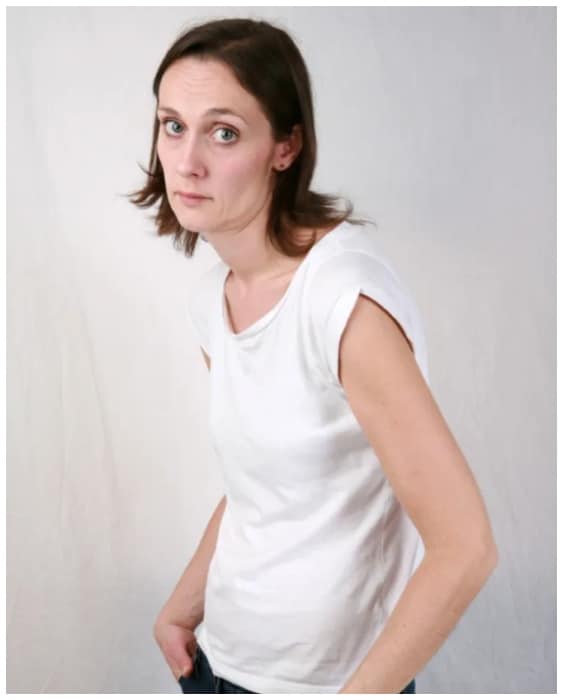 For individuals who strive to maintain their shoulders back and their spine upright, they could easily buy clothes that would help fix their posture. So why not give them a try?
Wearing Out-of-Date Fashion
Fashion trends tend to come and go, but they sometimes return. So it's not wrong to borrow from the past in the form of boxy jackets with long sleeves and high-waisted trousers. When someone decides to wear vintage clothes merely because they have never updated their wardrobe in several decades, they start to seem dowdy instead of classic.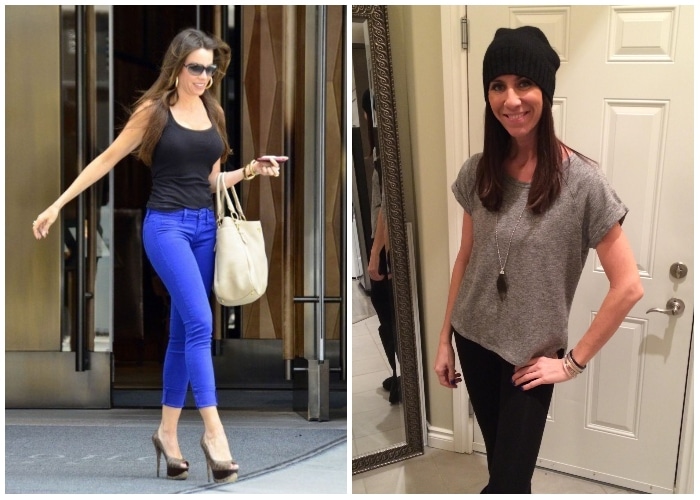 If someone enjoys wearing vintage styles but thinks they seem obsolete, they should repurpose them and look for more modern equivalents. Are those bell-bottoms still in their closet? They should wear them with just a button-down blouse that is tucked in.
Sunbathing
Remember when people religiously sat hours under the sun to get some tan. Those days of sitting out in the blazing sun, causing irreversible harm to the skin in the process, just to get tanned are already over. Although we don't recommend avoiding the sun entirely, sunbathing is no longer as trendy as it once was.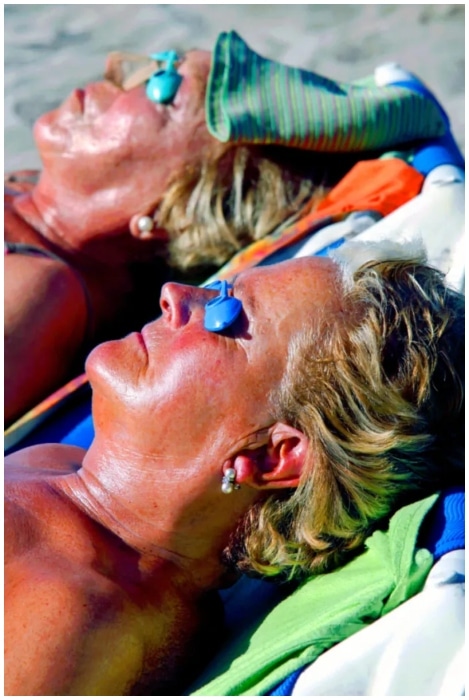 Today, it's mostly about taking care of the skin, which involves wearing SPF sunscreen and sticking to a skincare regime when outside. Fad-like tanning is not in fashion anymore, so don't destroy the skin by doing something that isn't even cool now!
Using Too Much Eye Makeup
Although one may only indulge in the periodic cat-eye makeup, a dramatic eye shadow look was just the rage in the 1990s. One may think their style is unique, but wearing that much eyeliner and eye shadows makes them look older and makes their eyes look smaller.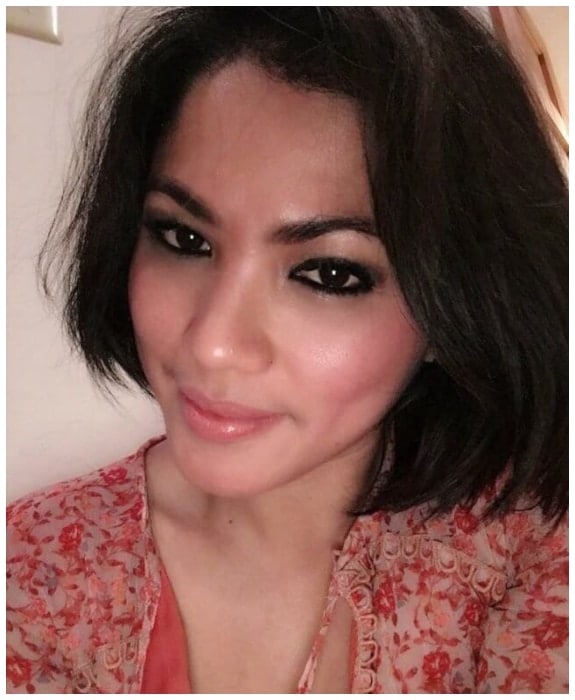 So the question is, why did so many people in the '90s go crazy over this look? We are guessing they didn't realize at that time how these heavy eye looks made them look older rather than making them look younger! If someone wishes to look a lot younger, they should go for a bare-faced, bright-eyed appearance.

Everything Floral
Wearing floral stuff might age a person and make them merge in well with the upholstery. One could wear fitted outfits that could always match well with easygoing pieces like denim or even a basic white t-shirt if they prefer wearing floral clothing. And If someone is looking for an alternative to flowers, they can try a sundress with a vibrant tropical design or something similar pattern to update the look.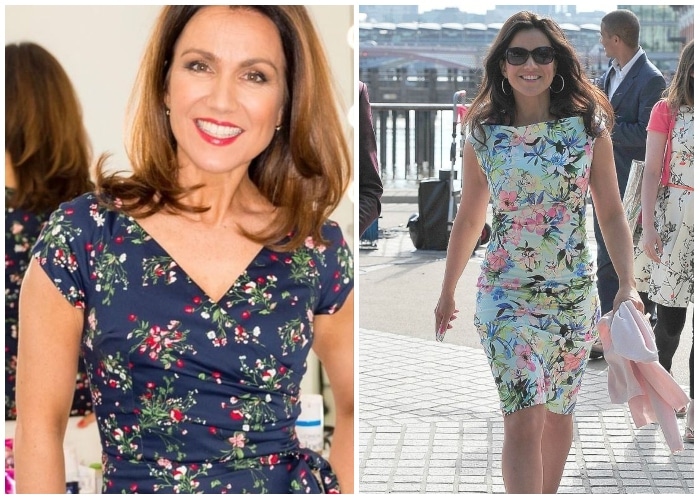 So, in short, florals might make someone look older, gain weight, or make them look slightly goofy. However, if chosen carefully, they may be one of the most cheerful outfits available and a delight to wear. But our verdict would be to avoid it as much as possible.
Outdated Handbags
Is it true that a handbag could make one appear older? Indeed, it can! One may look much older even when they are in their 20s if they carry an outdated bag! There are many different types, colors, and designs to choose from whenever it concerns buying handbags or purses. Then why carry that gigantic handbag that mostly makes one appear like Mary Poppins and pulls their style down?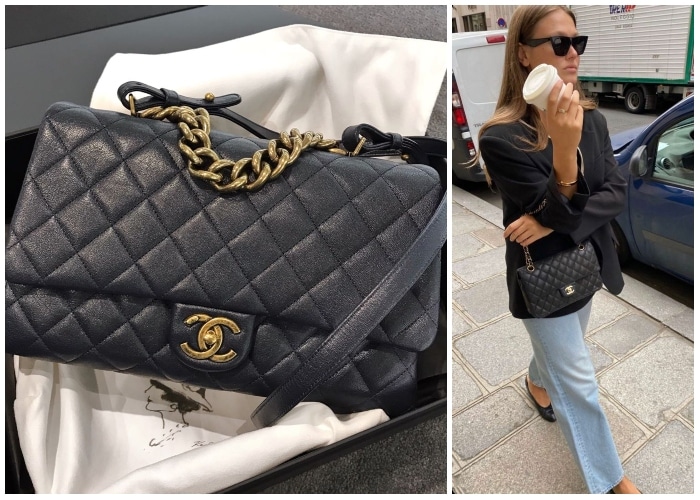 Compact clutch bags and purses are fashionable right now, while tote bags or a nice backpack are sometimes good alternatives if someone is searching for something a little more practical.
Never Smile
In a recent survey, younger, middle-aged, and even older people were told to look at hundreds of images and predict the age of individuals with various facial movements. It seems that cheerful smiles were judged to be younger than they had been, whereas unhappy expressions were judged to be older!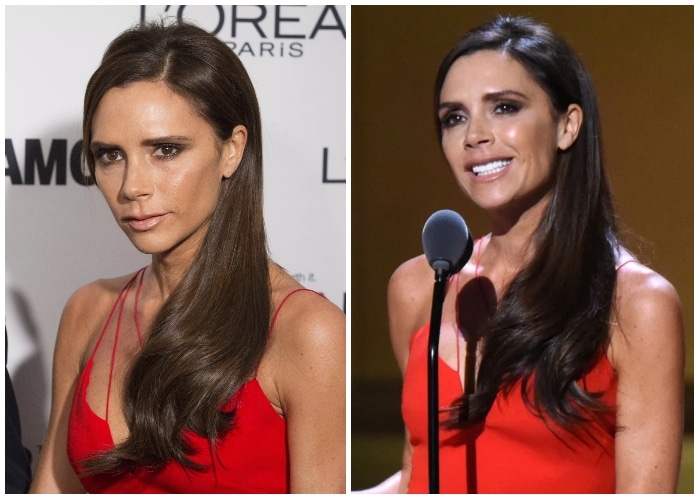 A smile is associated with joy, youth, and vitality. So when someone smiles, we immediately assume that they are younger and have more life in them. At the same time, a poker face warns us that the person in concern might be older than we assume! That is why not smiling may be aging you without you knowing. . It should be enough to put a smile on someone's face! Shouldn't it?
Take The Brooch Out of It
First and foremost, there is a distinction between antique and classic. Many may mistake the brooch to be a classic, but it's not. The brooches are out of style and not quite as timeless as one may believe. Sure, brooches were fashionable once; however, now, it's best to save them for emotional significance rather than wearing them.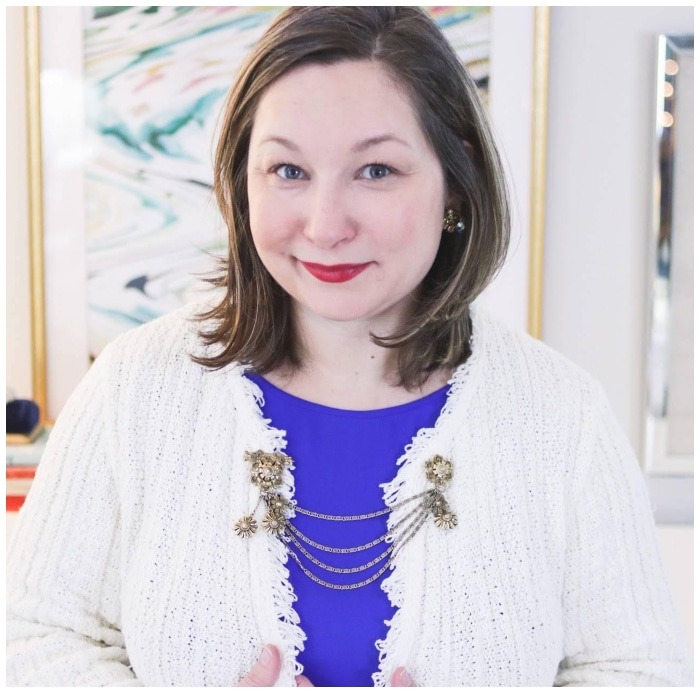 Brooches have been out of style since the "Dynasty" era; now, they are often seen as stuffy and stale. Old folks' drawers are brimming with them, and if someone doesn't wish to look like one of them, they should avoid them at any cost. However, If they maintain them in optimum shape, they could be appreciated in value.
Over Plucking Your Brows
Maintain the brows well enough to assist framing the face and bring attention to the eyes; however, avoid over-plucking them into fine lines that appear to have been drawn on the face. Furthermore, over-plucking the brows may even harm or even destroy the follicles that develop and promote hair growth; therefore, plucking the hair all of the time will simply result in the brow hair not growing back. So one has to be careful not to damage it.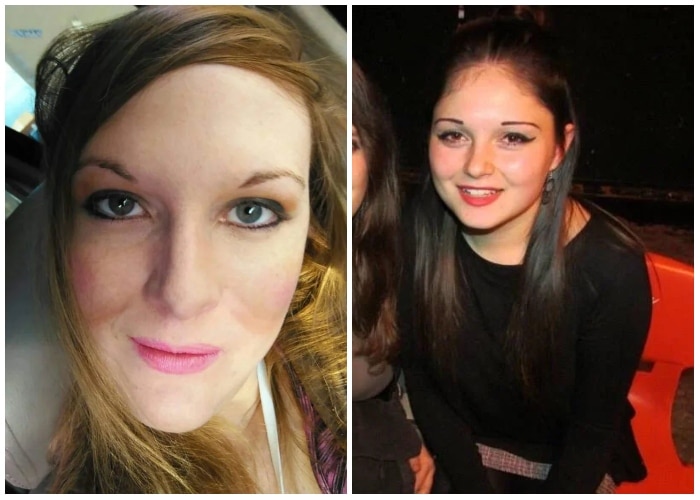 Tweezing too much can cause irreversible harm. If one tweezes too often, there's the possibility that the hair won't regrow. It's okay to use the tweezers just for simple touch-ups every now and then, provided one is mindful about it.
Sunglasses
The wrong pair of sunglasses can add years to your appearance. So one has to be very careful about which type of sunglasses they choose. Many sunglasses may look stylish, but if they don't suit the face, they could age someone easily. That is why no matter the type of sunglasses everyone else is going for, if it's not the perfect one for the face, then avoid it at all costs!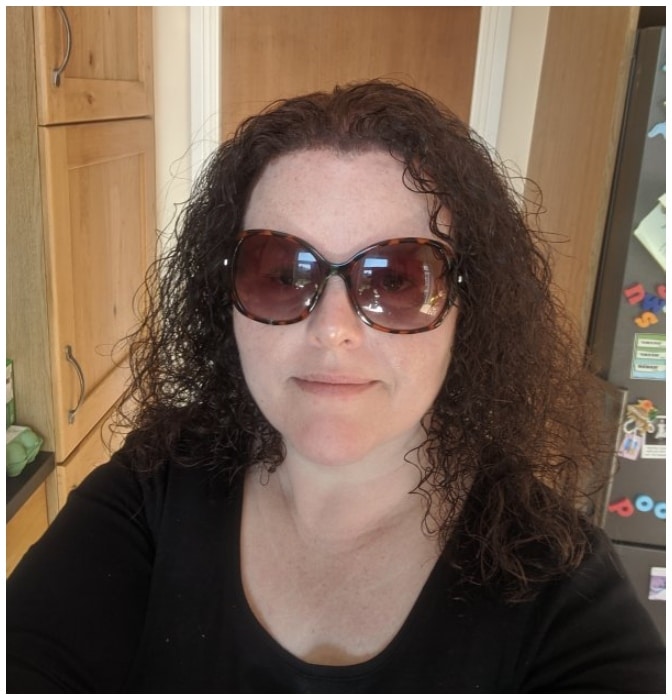 Whatever style one chooses, one should avoid wearing anything that will make them feel overly heavy, like thick, dark frames featuring sharp edges. Rather, opt for delicate, cool frames.
Not Putting on a Belt
Wearing tailored, well-fitting clothing will make one appear smaller and younger. On the other hand, loose clothes don't accentuate the body, making one look flat and ordinary. As a result, looser clothing may appear unattractive to others, so why not add a belt to that boxy dress?
We can understand that sometimes everyone wants to keep some loose clothes in their wardrobes. Not all garments ought to be fitted; however, if someone thinks they are looking a little ragged, slip on a belt — voilà! One can now don the clothing they have always wanted to wear without seeming dreary.
Turtlenecks
Turtlenecks are a classic piece of clothing that have been around for years. This multi-purpose garment may be done up with a jacket for a professional look as well as down with casual jeans for a much more laidback look. A few of the beloved celebs have been spotted wearing it.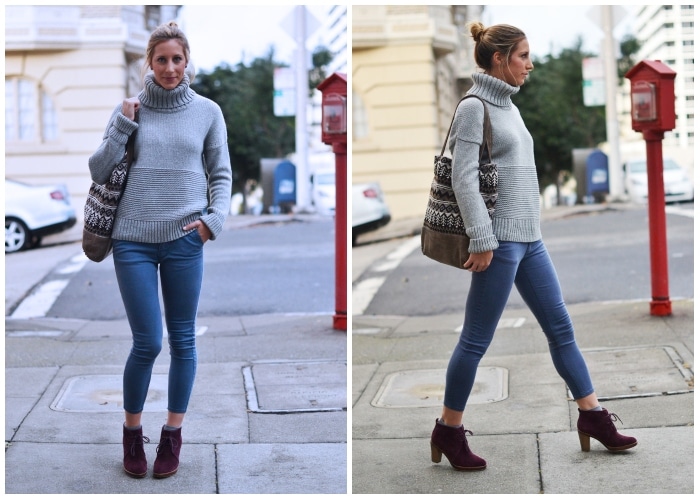 But still, turtlenecks are a risky approach; while they may be useful for concealing the neck, they could also backfire badly, making one appear dated and drawing attention to their chin. To avoid such situations, we would suggest a turtleneck with just denim or a fashionable blazer for a classic style that is more ageless than contemporary.
Flashy Jewelry
We think it's always good to invest substantially in the basics and then complement them with fashion pieces every season, selecting ones one adores. One may well have gathered certain styles which no longer offer anything good to their wardrobe once they have made the error of blindly chasing transient fads before.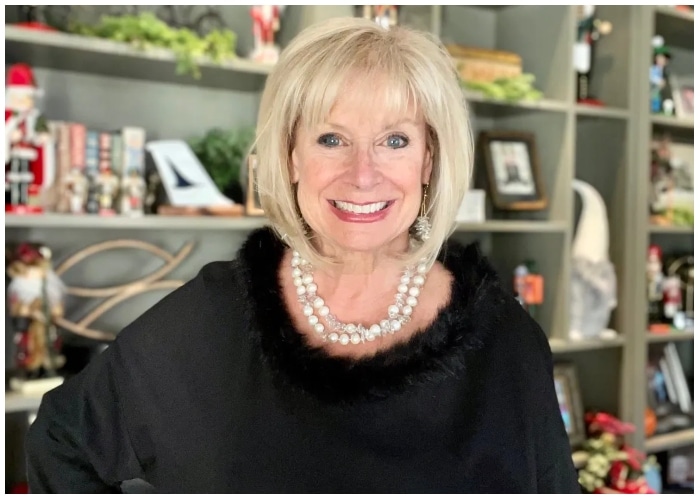 While it's natural for many individuals to want to wear quite as much jewelry as possible, going overboard can be a bad decision and even hold one back. That is why it's best to keep the jewelry simple and not over-accessorize.
Excessive Matching
While we all want to seem put-together in the mornings, wearing just so many coordinating pieces might make one appear like they are a candy wrapper. Because no matter how hard one tries to look chic by matching everything with their outfit, they will end up looking unattractive as coordinating the whole look is considered out of fashion nowadays. Since people realized that these fashion tactics never seemed to work that well earlier too!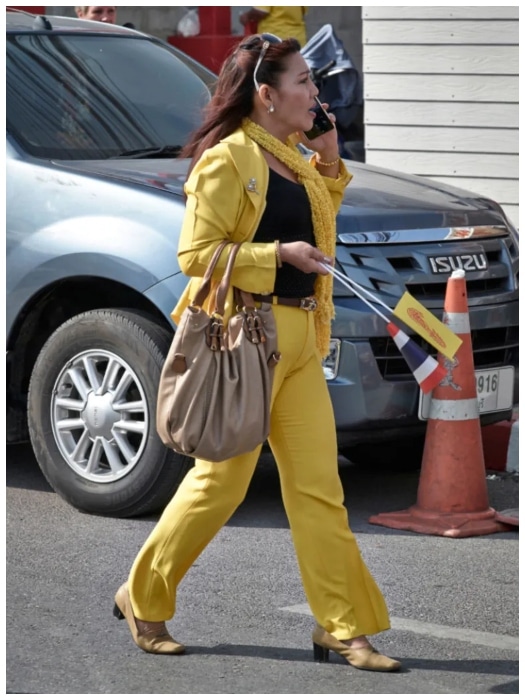 But we are not suggesting that one must never match; instead, try the opposite and then see what creative combos someone can start coming up with by wearing trousers that don't match their footwear.
Chunky Highlights
Remember when big blonde highlights were all the rage? However, we should be mindful that this appearance has passed its prime. Highlights are designed to make the hair sparkle, add dimension, and draw attention to the visual appearance and skin tone. They're also meant to look as though the sunlight created them, so if it goes too mild or over-highlights the entire head, it would look artificial. The streaks of separation around the roots would be more pronounced.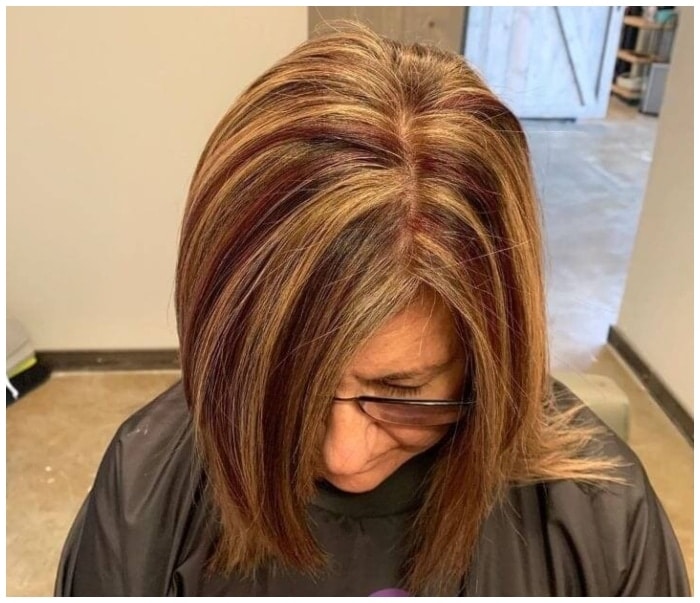 Hairstyles have evolved significantly, and today one may experiment with more subtle options such as balayage, which is a process for brightening hair with a much more progressive, natural-looking result.
Longer Skirts
Whether longer skirts are old-fashioned or not has sparked heated debate. If someone asks us then, in our opinion, yes, they are not in fashion currently! We agree that we all should strive to dress appropriately for our age. However, a skirt that reaches down to the ankles may do more damage than good simply by letting one appear old.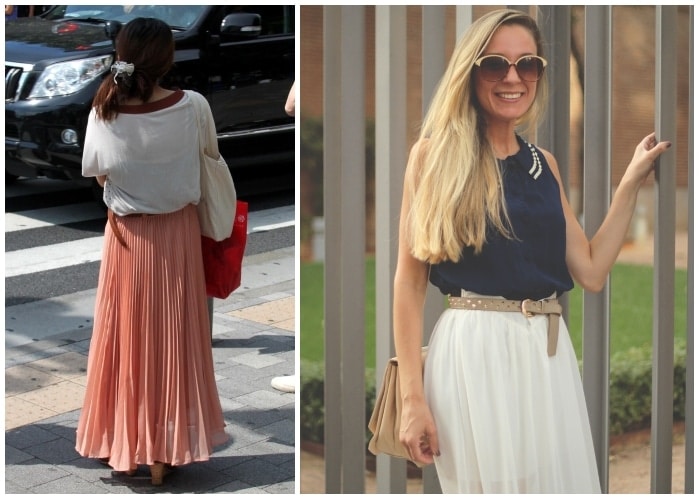 It's ideal to combine loose-fitting skirts perfectly with a fitted blazer or a tailored top if someone is into them. However, keep the measurements in mind because wearing such a long skirt necessitates pairing it with something smaller on top.
Capri Pants
Capri pants were indeed a popular fashion in the 2000s. However, they have always been associated with pessimism, leading one to question if they are out of fashion currently or not? In our opinion, capris are not in style anymore. Let us explain why!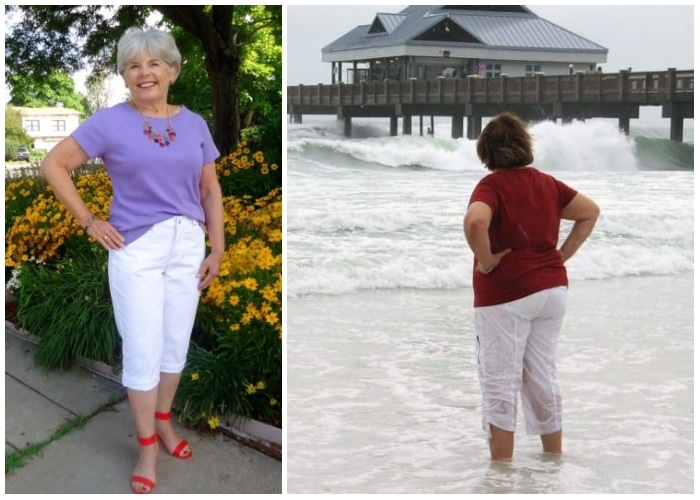 Capris have the uncanny ability to make one look both shorter and older at the very same time. These pants make the legs appear shorter since the cut ends around the calves, leaving the legs to appear wider, which isn't very appealing. Swap out the unattractive pants with something more current, like wide-legged slacks.
Wearing Excessive Pastels
Sporting too many pastel colors can make one appear flat and uninterested. But don't worry, one could still do so by combining them with different tints and hues—pastel colors like lemon, aqua, and lavender complement dark complexion tones beautifully. In general, milder, softer tones are preferable, and juxtaposing two pastels should be avoided. An all-yellow, lavender dress without any makeup could be donned comfortably for luncheons and day ceremonies.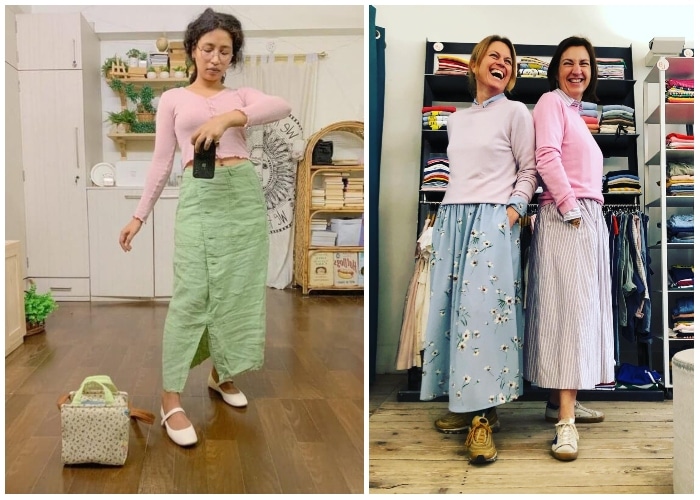 One should experiment with the wardrobe and be honest about which colors bring out the best features and which ones make them look washed out. Eliminate all the hues that make someone look drab, and the closet will be a lot happier.
Donning Conservative Style
If someone is always going for a conservative style, the chances are that they will look much older than they are. So what should one do? Our suggestion would be to change the style a bit. If one wants to appear younger, they should switch things up.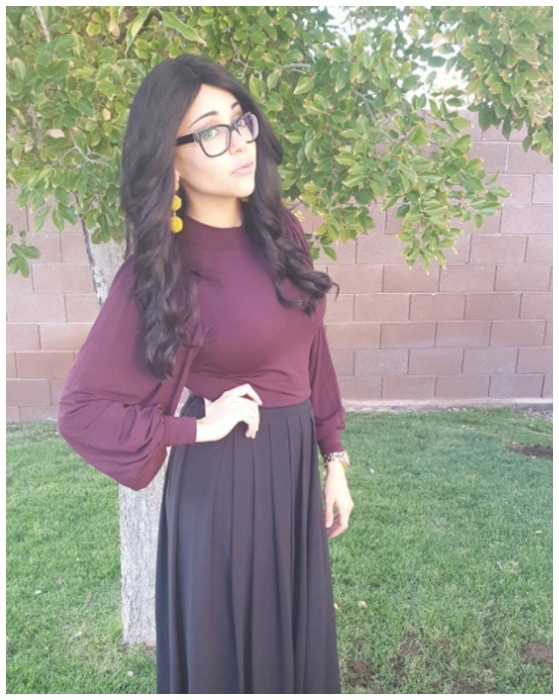 Pairing corduroy with pearls is a horrible example of conservatively wearing dresses; altogether, they are just too much but worn separately with much more current pieces, they will look amazing! So the choice is open. We want to tell everyone that they can opt for a stylish conservative look if they are cautious.
Knitwear
Knitting was once connected with lonely older women. It used to be an inexpensive technique to obtain a sweater. However, pattern plus yarn sales plummeted as this craft became increasingly outdated. But we still reach for that favorite knitwear of ours as soon as the weather turns a little chilly, and why shouldn't we? It's cozy and comfortable, but wanting to look younger when the attire makes someone appear like a stuffed toy might be difficult.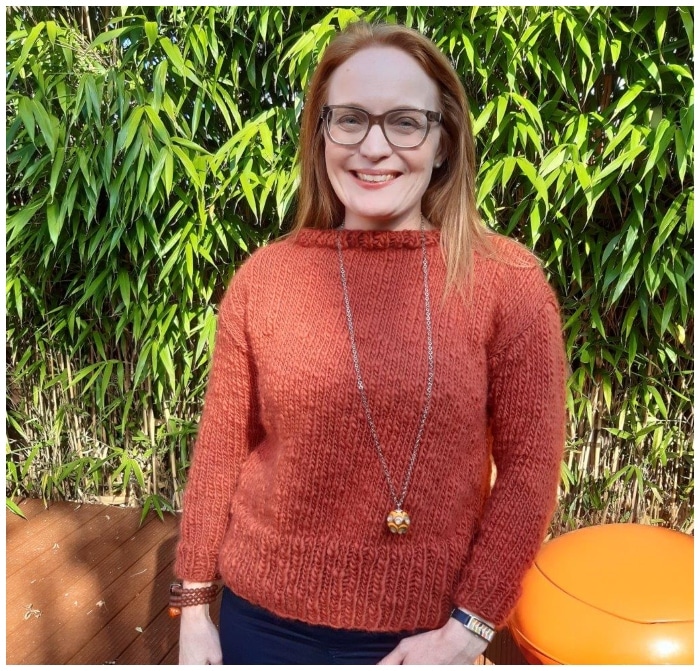 Pairing that wonderful sweater grandmother crocheted lovingly, with just a little more fashionable alternative, like a pleated skirt and boots, makes it simpler to wear.
Tweed
Tweed seems to be a rough-surfaced wool material originating from Scotland and is generally flecked with varied colors. But is Tweed really out of fashion now? Although Chanel tweed would always be in style, we will have to agree that this classic style is gradually losing its time.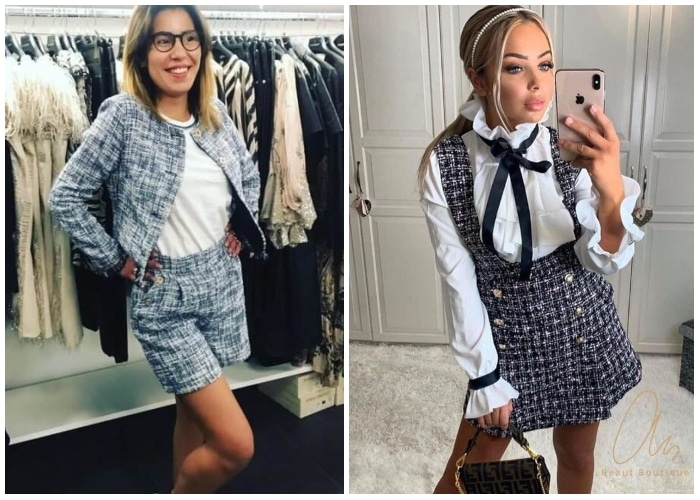 Even though it is a gorgeous cloth, wearing too much of it might make someone appear stiff and even conceited. Choosing two different tweed suits could be a bit overboard, so pair a tweed jacket with sleek black slacks and sharp heels to balance out any negative impressions.
Monochrome
Don't misinterpret us: we love the appearance of a beautiful monochrome ensemble. But something about the monochrome makes one look older when it appears too pristine and basic. When someone is young, they could easily opt for it without thinking twice, but as they get older, opting for a basic style like monochrome could age them and make them look unappealing.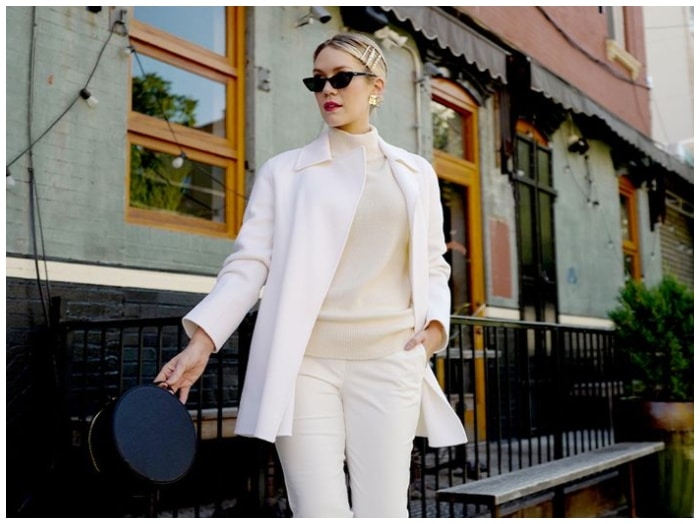 So one has to make a choice now. If a monochromatic ensemble leaves them feeling sleek and smart, they should go for it by all means. However, we recommend matching it with a bright scarf or purse to round up the look.
Hair That Doesn't Frame The Face
If the hair is healthy and well-cared for, it might look great, but when someone gets older, the vertical orientation of their hair could cause their face to sag. If someone's hairstyle does not frame the face, it's a big no-no for us.
A hairstyle that doesn't frame the face could make anyone look older; try other styles instead.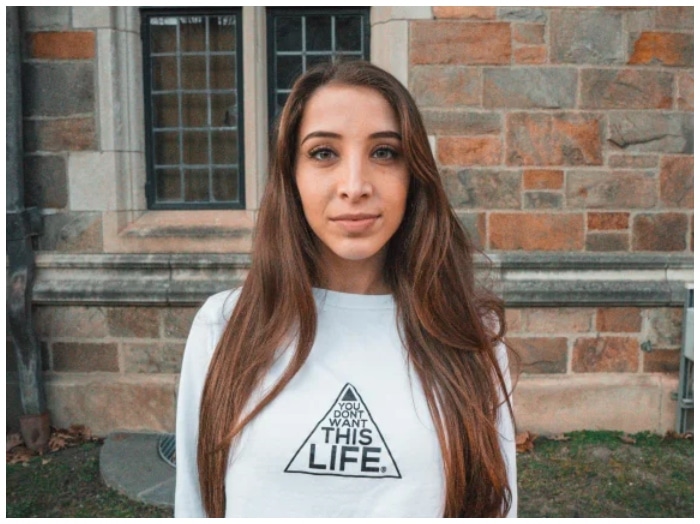 Style the hair up with a high ponytail for a quick and easy facelift.
One should indulge in something like a hairband for uncomplicated styling if they want to tie the hair up together in a french twist. This way, they could easily give their face some structure.
Trying Too Hard
It's important to remember that going over the top in an attempt to appear younger is never a good idea. Let's take Madonna as well as Andi MacDowell, as examples. Madonna constantly attempts to keep ahead of her youthful contemporaries to hold to her appeal. We can't say she looks good as it comes across as trying too hard.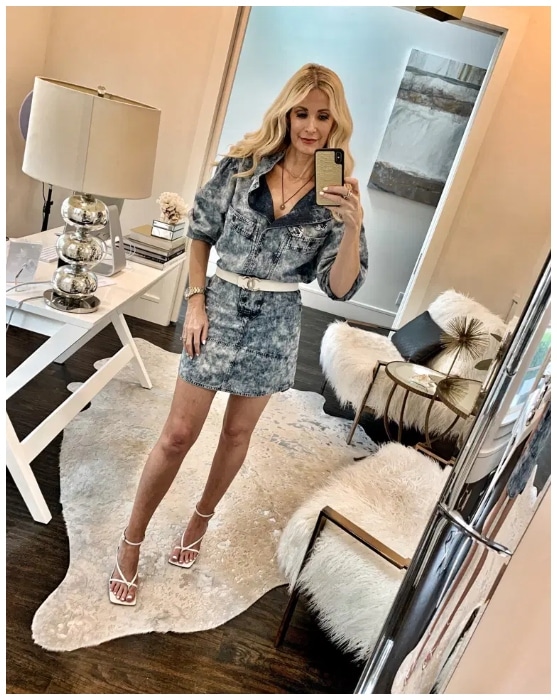 Whereas Andi MacDowell, on the other hand, despite being of Madonna's age, has gracefully embraced her age plus appearance. In this case, we can say that she looks lovely doing it! Surely this did not lessen her appeal to her fans even slightly.
Midi-Anything
Remember how outraged ladies were because the midi came back in the late '60s? They were entirely correct in their assessment that it was an unattractive cut! It made most women appear elderly and unattractive. However, one could always salvage their look by paying extra attention to where the midi lands on the leg.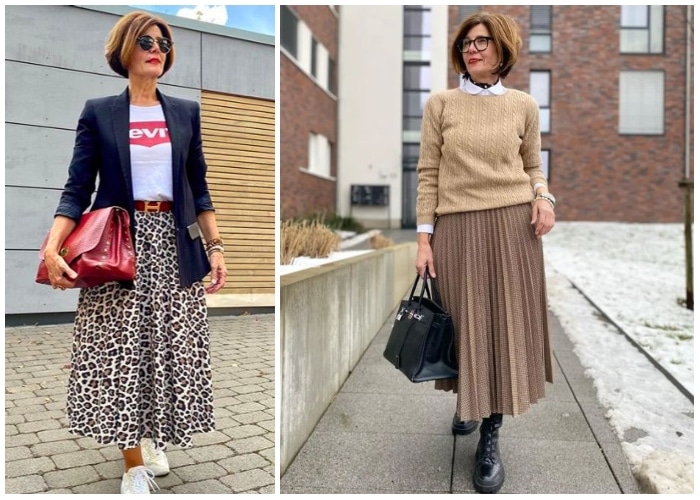 The skirts are available in various lengths, but we would suggest picking one that touches the leg without making one seem stumpy. A midi is traditionally defined as ending mid-calf. However, as most styling tis offer, this is not that great of a decision one should make regarding fashion and style.
Outdated Shoes
Fashion is ever-changing, so it's critical to stay on top of the latest trends. In regards to shoes, this part of the fashion look may ruin even the most fabulous dress. Replace those outdated ankle boots, thin-soled sandals, and other popular shoes that are out of fashion now.
According to fashion gurus and tabloids, round-toed footwear might make women seem shabby, frumpy, and old. So it's better to avoid these kinds of footwear to make fashionable choices. Peep-toe heels are no longer in style either, and avoiding them is necessary not to seem old-fashioned.
Stretchy Jeans
Jeggings are indeed a type of unattractive jeans in and of themselves. There's nothing more unattractive than those stretchy jeans, and nobody looks lovely in them! Stretchy jeans hinder airflow due to their tight fit, often considered a fashion blunder. So avoid wearing these stretchy jeans as much as possible.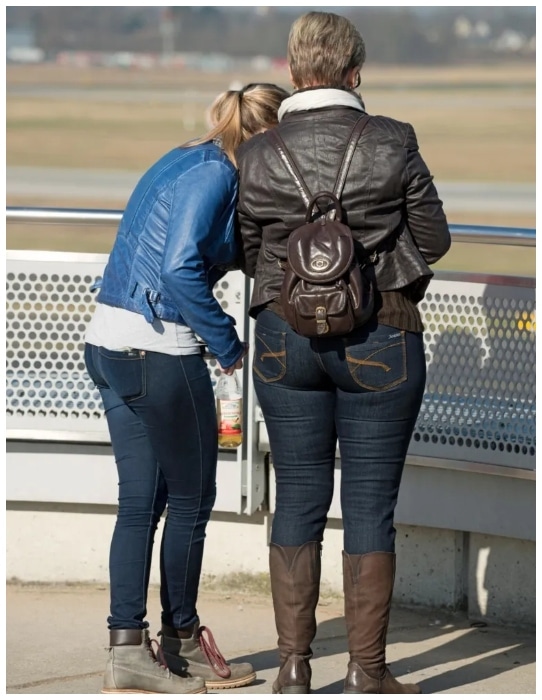 Even if we're all expected to be intelligent and more reasonable about our fashion choices, these awful items nevertheless make their way back into our wardrobes. We have to be more careful when making these choices, though!
Matte Makeup
Matte finishes are appropriate for specific skin types since they have no shine but seem dry on the face. Matte foundation is ideal for those with combination and oily skin. This can decrease the appearance of skin pores without appearing oily. However, it's not always good to opt for matte makeup if one wants to look young.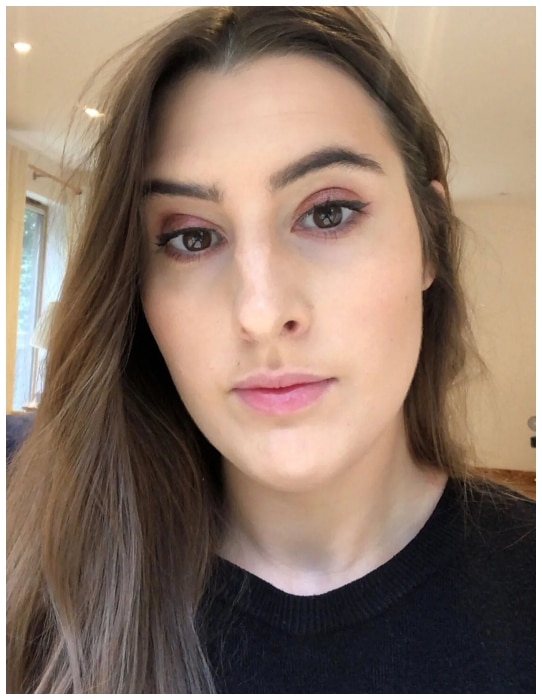 Matte makeup's goal is to enhance color without adding shine. This may have been stylish a few years back, but it is no longer fashionable. Instead, use foundation, mascara, lipstick, and eyeshadow to give the look a more dewy, youthful, and fresh-faced appearance.
Velour Tracksuits
We all should be aware of the worst fad trend of the twenty-first century: Ladies wearing velour tracksuits while walking around like Jennifer Lopez. These tracksuits can be challenging to wear outside! And so, we recommend saving them for cozying up at home.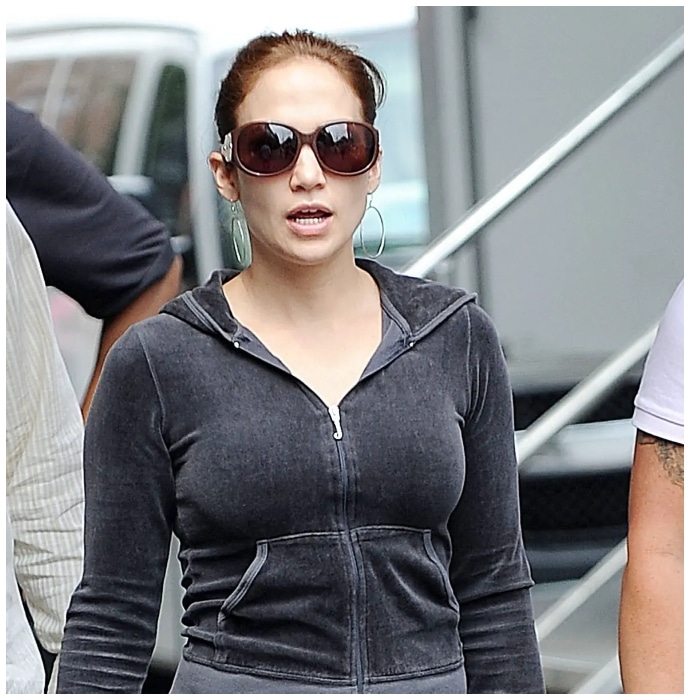 The velour tracksuit used to be a status thing back in the '00s, but not so much now. It was considered more fashionable to wear a tracksuit like that than to clutch a Birkin bag. They were worn by Britney Spears, Paris Hilton, and a very young Lindsay Lohan around 2003! They were even immortalized on movies and tv screens during those times.
Over The Top Nails
The judgment is still out on if women should wear elaborately designed nails. Especially those that dazzle just as much as the diamond rings they wear, but one thing is sure: they won't make one seem any younger. Some women have this wrong idea that going over the top with their nails might help them look more youthful. But it's not the case!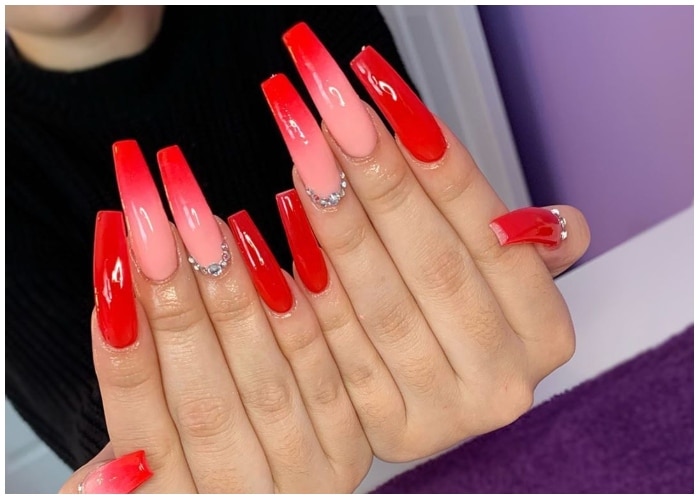 Excessively prominent nails may bring attention to the hands, something one may want to tone down as they get older. Besides, nail extensions, generally, are terrible for the nails, usually causing fungal or bacterial infections. So it's better to keep it simple and avoid going over the top with the nails.
Weird Sleeves
More individuals break the following rule than we had expected. These fashion fads have gone past our better judgment. From bishop to trumpet sleeves, even the biggest culprit, off-the-shoulder shirts, we can't seem to accept any of these fashion No-Nos. Bishop, trumpet, or off-the-shoulder sleeves, every one of these gives a very unnatural look, making one look drab.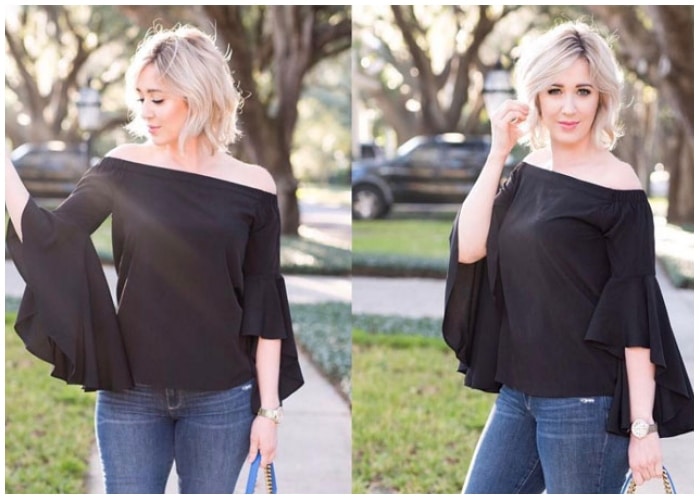 These weird sleeves make any woman look much older than they already are. So why wear them? These outfits are unattractive even at their finest, so stay away from them and go for something fitted instead.
Bohemian
The goal of the bohemian style would be to have a general, easygoing appearance. The look isn't about coordinating the clothes or flawlessly harmonizing a theme since it was influenced by gypsies who wore whatever they possessed when traveling. We adore the bohemian vibe, which is free-flowing and breezy while being comfortable enough for all the summertime. Regardless, being dressed as a 1960s hippy might make one appear like they are from the era.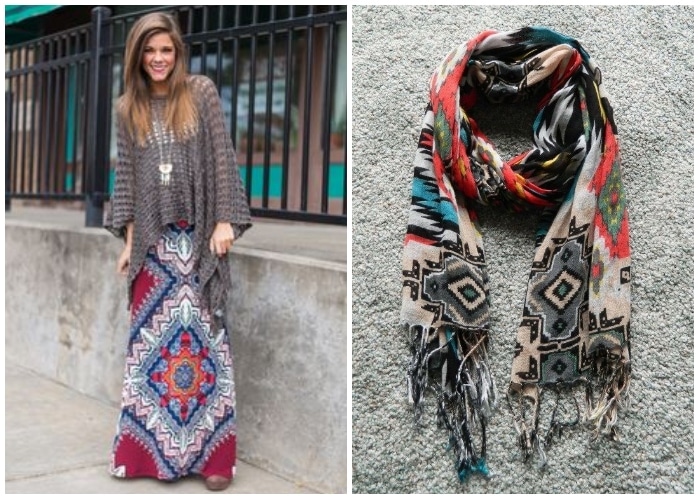 However, consider blending in other items like fitted jeans or a simpleshirt for a casual-chic appearance. Although Bohemian is no more a popular fashion choice, the boho style décor trend continues to expand. It has been evolving since many of us strive to make our homes look more casual, relaxed, and uplifting spaces.
Flat Hair
Allow the hair to remain wavy rather than attempting to achieve the straight hairstyles of the 1970s. Our hair begins to thin when we get older. Even most of us who have thick hair would most likely suffer from thinning at some point in our lives, and these kinds of hairstyles will add to the problem.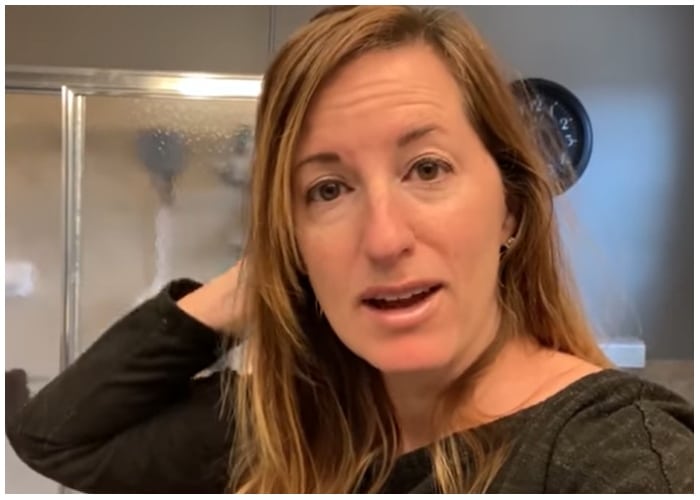 We have to say that wearing the hair split straight right down the center isn't attractive. Instead, concentrate on enhancing the volume of the hair. This would better compliment the face while making one appear younger. In our opinion, there's always a better hairstyling option than this one.
Blunt Bangs
There are different types of bangs, ranging from blunt bangs to side-swept bangs, curved bangs to wispy bangs, and everything in between. They are called blunt bangs when they have a clean, sharp cut. Wispy/feathered ends won't be at the side of this hairstyle. Make sure that the blunt bangs aren't too short. The length of the bangs should fall just over the forehead so that they don't draw attention to any crow's feet around the eyes.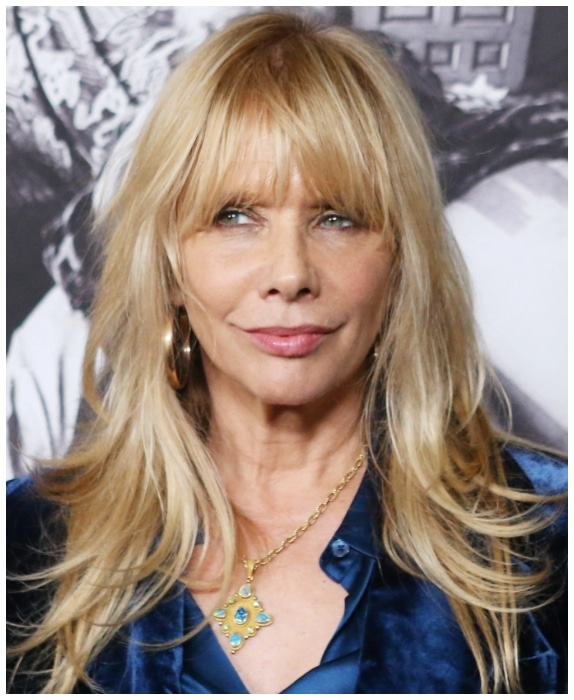 Bangs require a lot of work. And there is no way to avoid it. Get bangs appropriate for the face shape, hair texture, and lifestyle.
Wearing the Wrong Undergarments
Poorly fitted undergarments may make one seem older. For example, an excessively tight bra makes one feel miserable and could also alter the clothing fit. It could make someone look much older than they are. Ill-fitting bras were also linked to back, shoulder, and neck discomfort! It also causes poor posture and skin irritation due to rubbing and friction. Uncomfortably tight bras may also create a long-term impact on the body.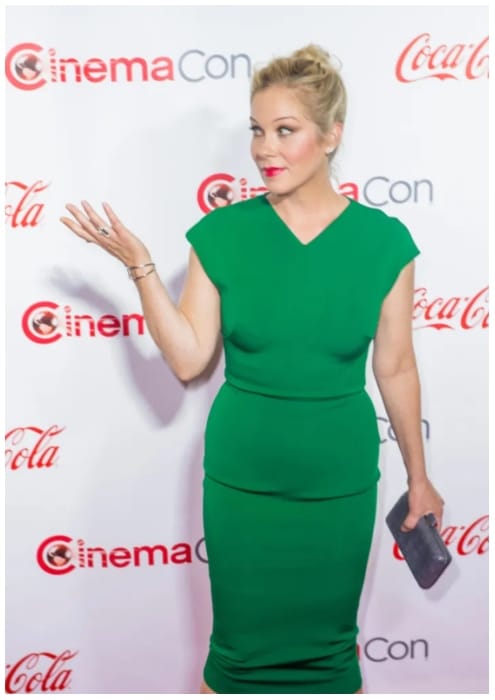 It's usually a good idea to spend more money on high-quality, comfy undergarments By visiting a reputable store, one can ensure that they are wearing the correct size by getting measured and taking advice.
Wearing "Girly" Accessories
What we wear should reflect how we feel on the inside. So it certainly could include ribbons, glittering hair clips, and even giant headbands if it's what leaves one feeling wonderful. However, if the objective is to dress in a way that will not make us seem older than we are, some of the girlier accessories will have to go.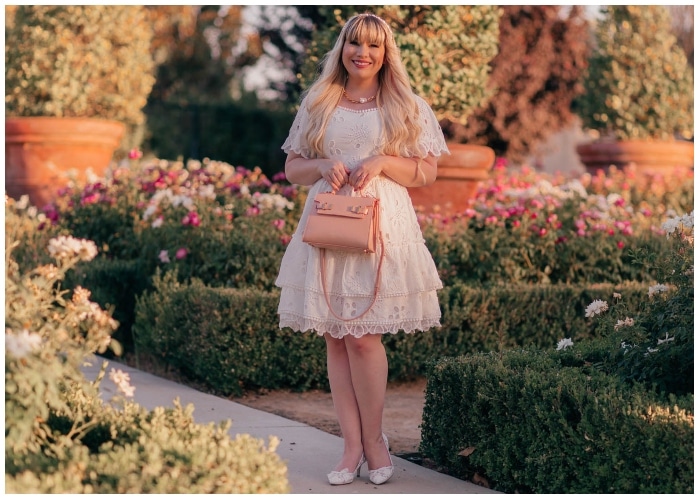 Of course, one may still pull their hair up in a ponytail and wear a headband. Still, we would recommend brightly-colored scrunchies or clips. Simple, beautiful, trendy accessories, such as a silk headscarf, and chic pearl hair clips, will look elegant and timeless.
Short Layers
Layering the hair is kind of like savoring a piece of dessert. In both cases, overindulgence may lead to disaster. At the same time, one could lead to thinning at the ends, and other results in bad taste. Many women cut layers that aren't long enough to make their hair look fuller. This makes their hair appear relatively thinner.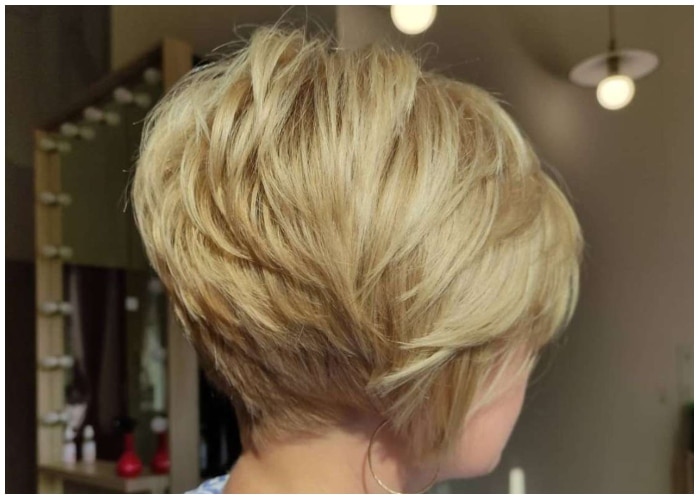 If someone mistakenly cuts their front layers too short, they can consider wearing their hair higher. A ponytail could work, just clip in the layers with bobby pins or have some front-framing pieces. If the layers still don't work, bangs may be a suitable option.
Clingy Fabrics
Cotton textiles are smooth and comfy, however, jersey fabric tends to stick to the body. It helps reveal ugly bulges, lumps, and textures, and draws attention to all the wrong areas. Double-knit textiles, which give a better structure and a comfortable fit while still allowing for elasticity, could be a flattering choice.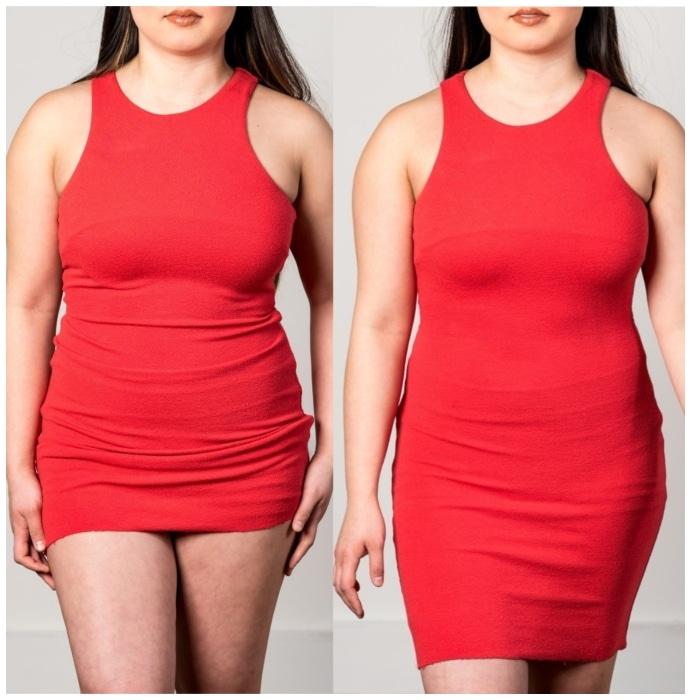 We have some suggestions for our readers in emergency cases with this stretchy fabric. Apply baby powder to the parts of the body that cling the most. While still clothed, try rubbing a usual dryer sheet on the troublesome items to see if it helps.
Extensions
Extensions could quickly and effortlessly add volume and length to one's hair, giving it a new look. They could be a fast way to make up for a terrible haircut or get ready for a sudden event. Even though the final aim may be increased volume, moderation should always be observed when applying hair extensions.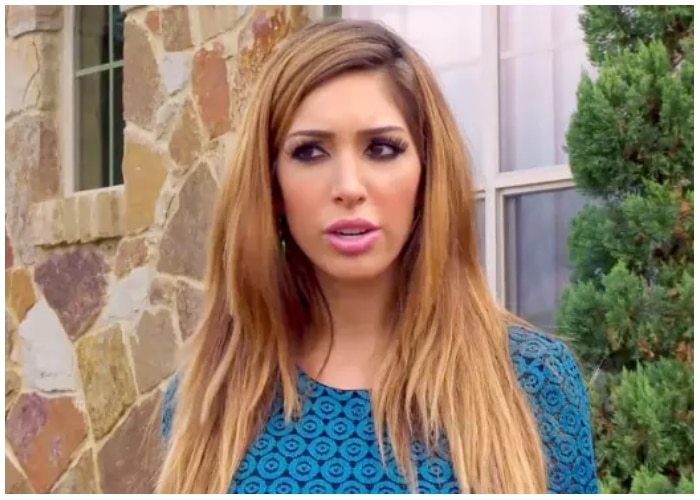 It's essential when it comes to concerns about aging. Excessively thick hair extensions can make one look artificial and obscure and dampen the facial features, appearing older.
Eyeshadow Blues
Not all hues of eyeshadow were made equal. Some shades like blue can do a great deal of harm by making a face appear a bit older than it is. The brighter blues are the most difficult to work with. The shade of an eye shadow we pick can impact our entire appearance more than we realize. So it's best to go for a shade that is more neutral and earthy in tone.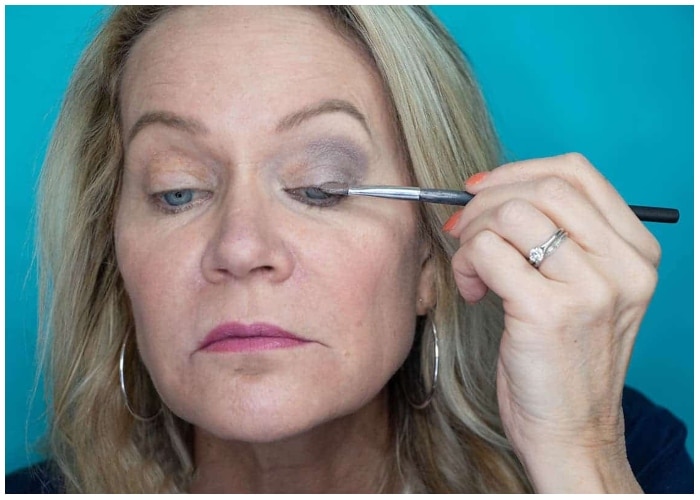 It is never a good idea to have one's eye makeup match their eyes completely. On the other hand, using a complementary hue may assist in making the eyes pop. If someone wants to create an eye-catching appearance, use a color that compliments the eye color. Dark blues work excellent with brown eyes..
Wigs
After decades of being an integral part of many folk's beauty routines, wigs have now gained widespread acceptance! This is mainly due to celebrities and social media pages that openly display their use of wigs. However, as wonderful as a wig could look, wearing the wrong wig or wearing it incorrectly could become a fashion disaster. !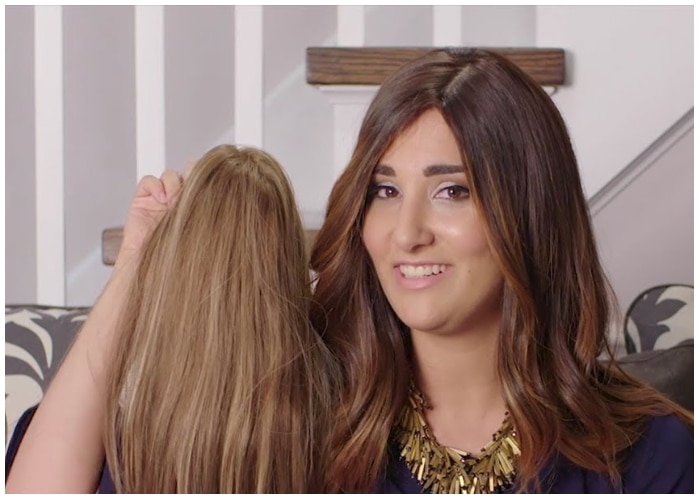 An ideal wig should have a thickness close to the natural hair's volume. It should not look artificial. Always keep your lifestyle in mind. Busy moms will find a bob wig to be less maintenance.Also remember that synthetic materials in wigs may also be problematic, particularly for sensitive skin people.
The Wrong Hairstyle
It is possible to get 'hairesy!' if someone uses photographs from the media and the Internet to reference a desired hairdo. Especially if a person is using the photo of somebody else's hair and it doesn't match their face or hair type, then it might be a challenge.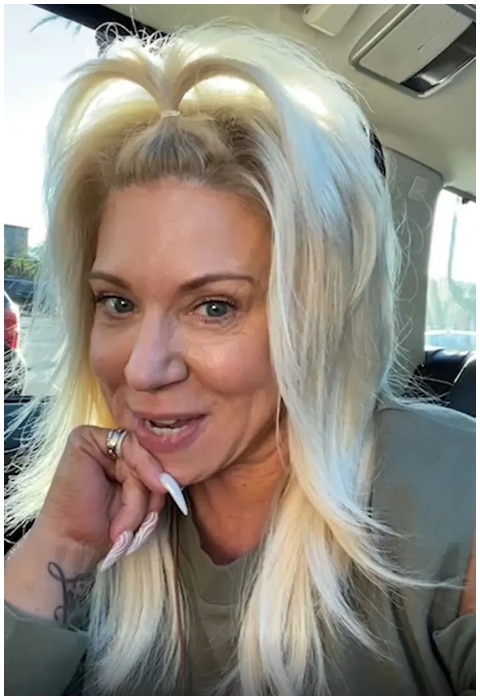 Many individuals identify with their haircuts. It's a method of letting the world know who they are. Extreme copying implies poor to no personality and an inferior mindset. It's a strategy to prevent being demoted. Copying briefly borrows the other individual's self. That is why it's always better to go with one's unique style.
Following Fads
For many of us, it is easier to search for clothing online to get a sense of how it looks. So we can go shopping and purchase comparable products.. While there's nothing intrinsically wrong with fads, individuals must sensibly engage in these. We recommend investing in classic pieces and those that have a contemporary touch.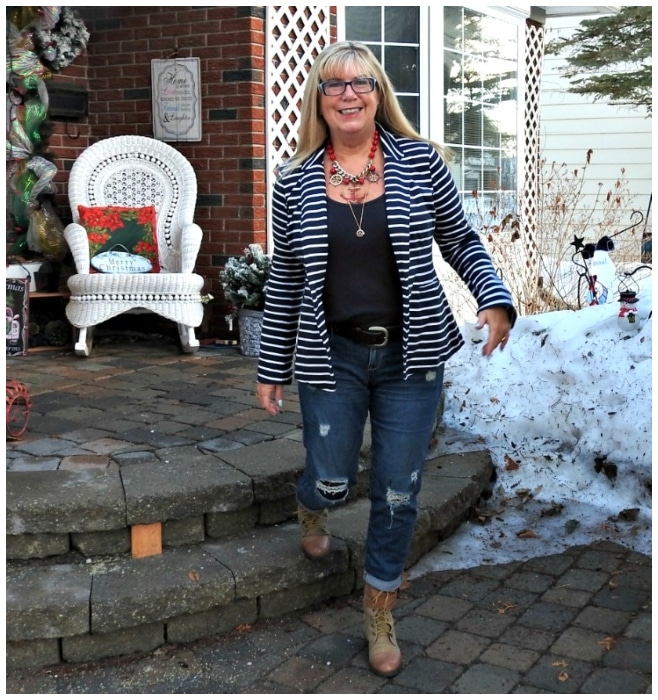 The most significant downside with fads is that they often change quickly. As a result, if we continue to wear outdated fashion, we will seem out of sync and, consequently, older.