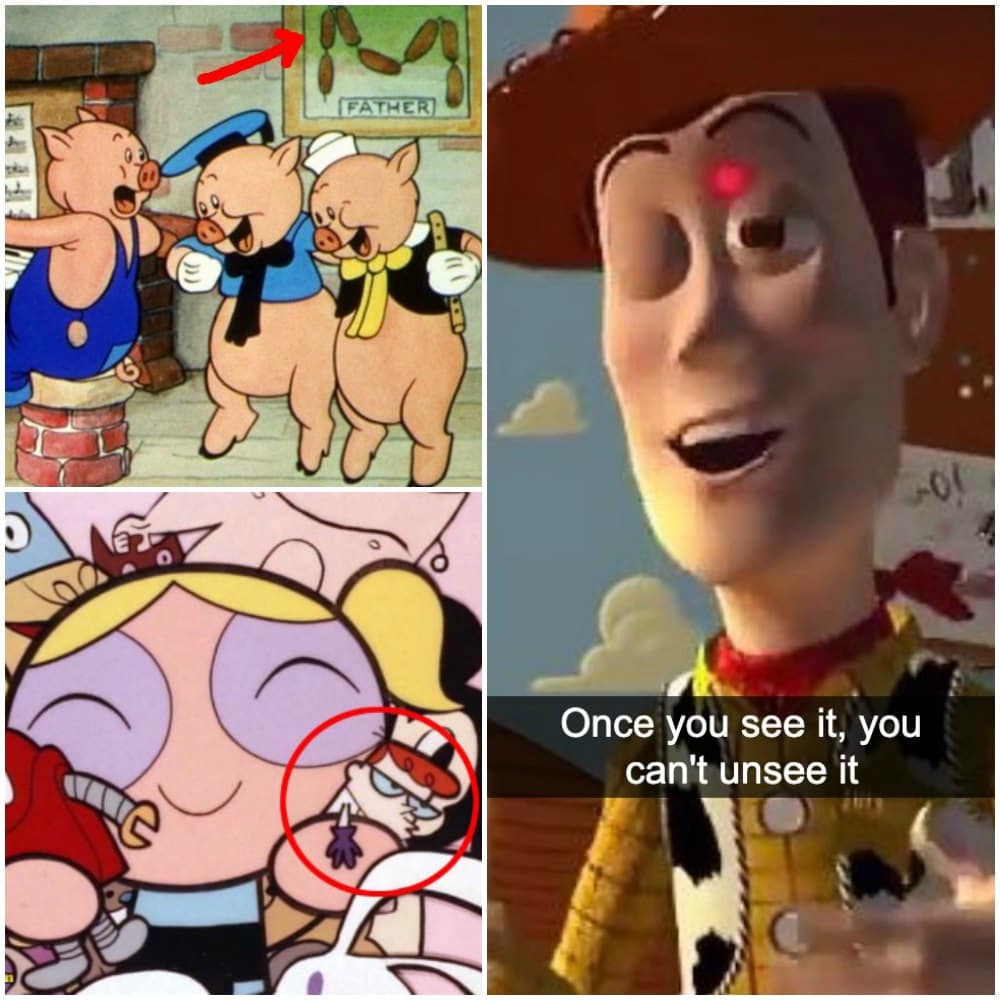 For generations, animated films and television shows have made children very happy. We spent a lot of time watching them as kids, but the truth is that we still love to watch them as adults. These movies and shows are still very close to our hearts. That's because we've only recently discovered how many "easter eggs" and minor nuances we might have overlooked as children. Did you realize that Sid's carpet in Toy Story is inspired by Stanley Kubrick's The Shining? Or how Scar is the only lion in the Lion King who constantly has his claws out? Continue reading for more interesting facts about your favorite childhood's movies that will make you say, "I can't believe I never noticed this before!"
A handsome throw rug
We learnt that royal adviser Zazu was smart, informed, and devoted to his masters from seeing The Lion King, but it wasn't until years later that we discovered he also has a talent for foreseeing the future.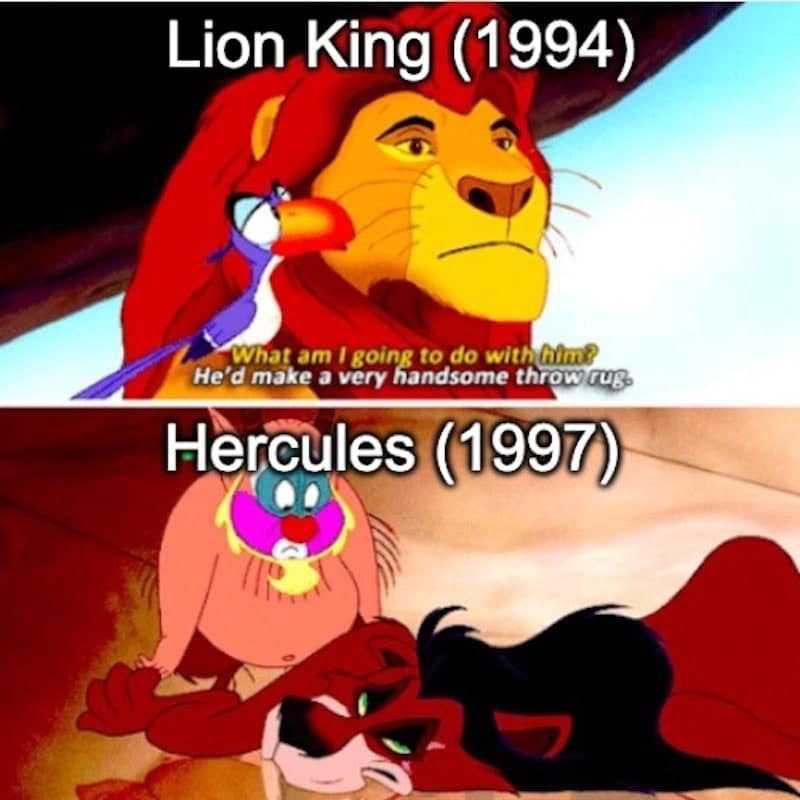 The little birdie informs Mufasa on one occasion that Scar "would make a very nice throw rug." Three years later, at the premiere of the film Hercules, the hero of the story is seen handling a gigantic rug that looks exactly like… Scar! There is no such thing as a coincidence in Disney, is there? You need to keep an eye on their movies.
The best restaurant in the world
We can't believe we had never noticed, considering Krusty Krab is one of SpongeBob SquarePants' key settings, but the restaurant's shape is of a lobster trap! As we already know from the show, it's famous for its signature burger, the Krabby Patty, the formula to which is a closely guarded trade secret.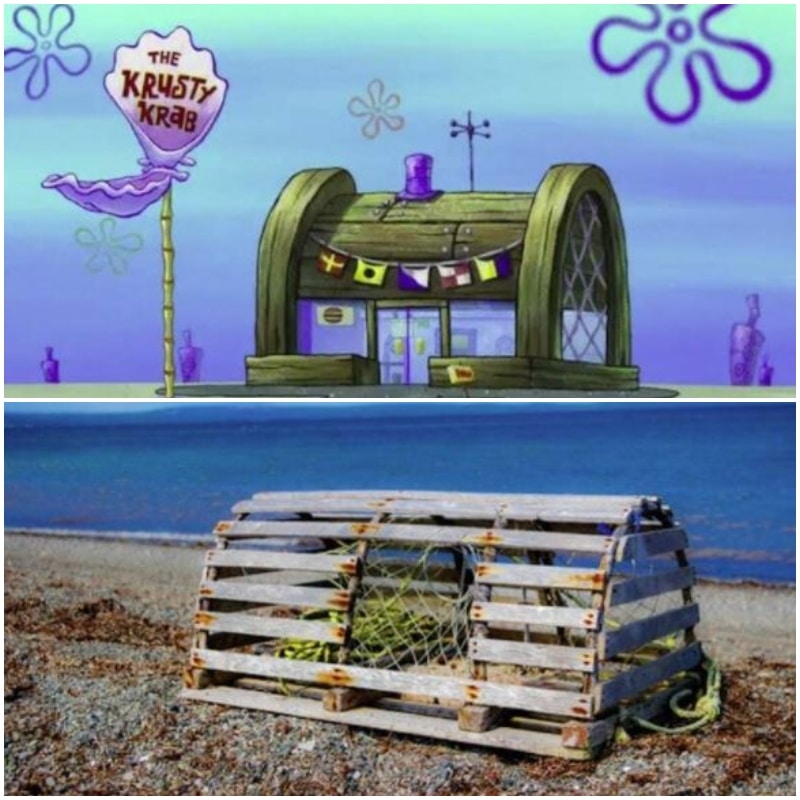 Another detail about "the finest eating facility ever constructed for eating" is that it was all inspired by series creator Stephen Hillenburg's summer job as a fry chef at a fast-food seafood restaurant after graduating from high school. Mr. Krabs was inspired by Hillenburg's manager at the restaurant.
Astronomy has progressed significantly
Remember the prophecy sequence in Hercules, where the Fates tell Hades what would happen in 18 years if he releases the Titans while the planets are in complete alignment? You may have noticed that the depiction of the sky only shows six planets — this is not by chance.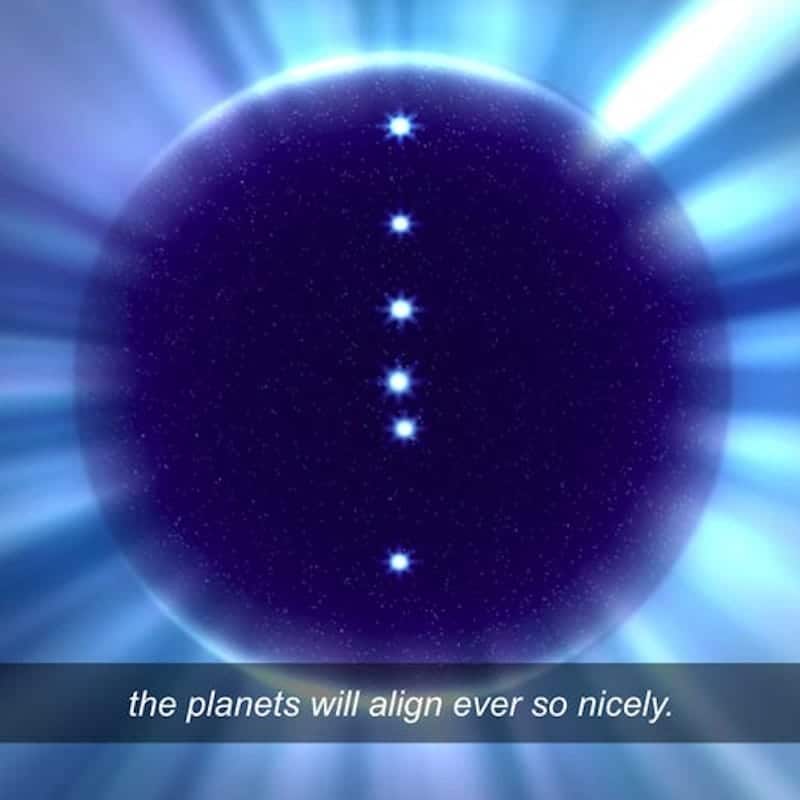 Only Mercury, Venus, Earth, Mars, Jupiter, and Saturn had been named at the time, therefore the writers left out a few planets to authentically depict Ancient Greece's conception of the solar system. They stayed true to the history of astronomy in Ancient Greece. Science has come a long way since then.
Someone has a keen eye for detail
It's not commonplace for animation studios to "recycle" scenes from previous films; most people don't notice it, so it's a good method to save time and money. The process is called rotoscoping, which involves animators drawing and tracing over old footage to create anew. Disney has done this with many of their classic films.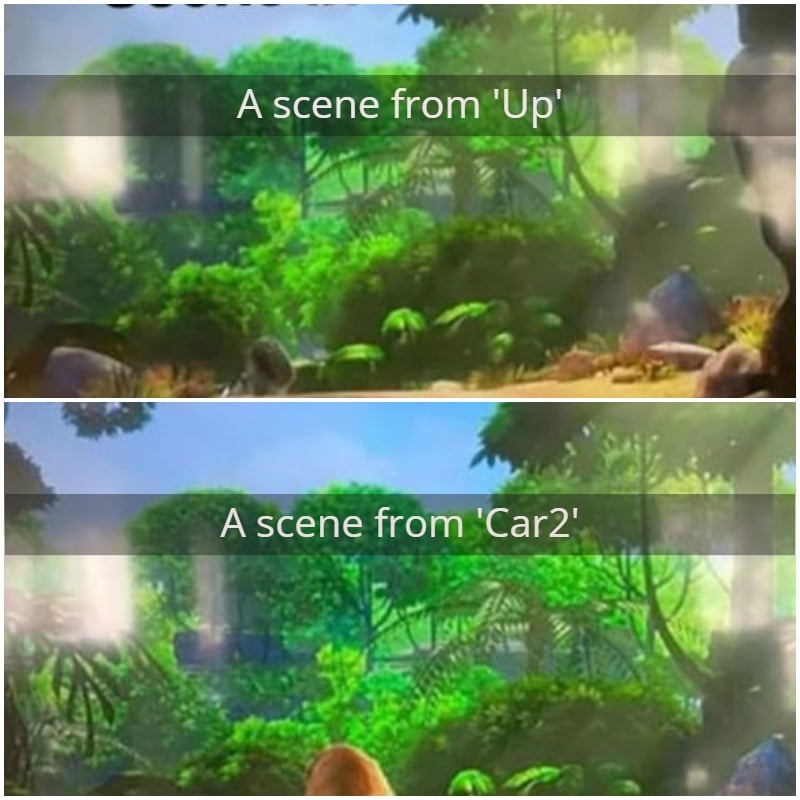 However, some people have a keen eye, and we were impressed to find that a seven-year-old child watching Up at home recognized a scene he had seen before. His mother halted the movie and photographed the scene, which they were able to find in Cars 2.
Father pig went to market (and never came back)
Working in animation must be thrilling since you get to create a complete universe from the ground up, right down to the smallest elements. When drawing a cartoon, nothing is out of reach, therefore the creators have a lot of fun with details. The Disney version of Three Little Pigs presents them to us already launched into the vast world, without father or mother, and occupied by the construction of their houses.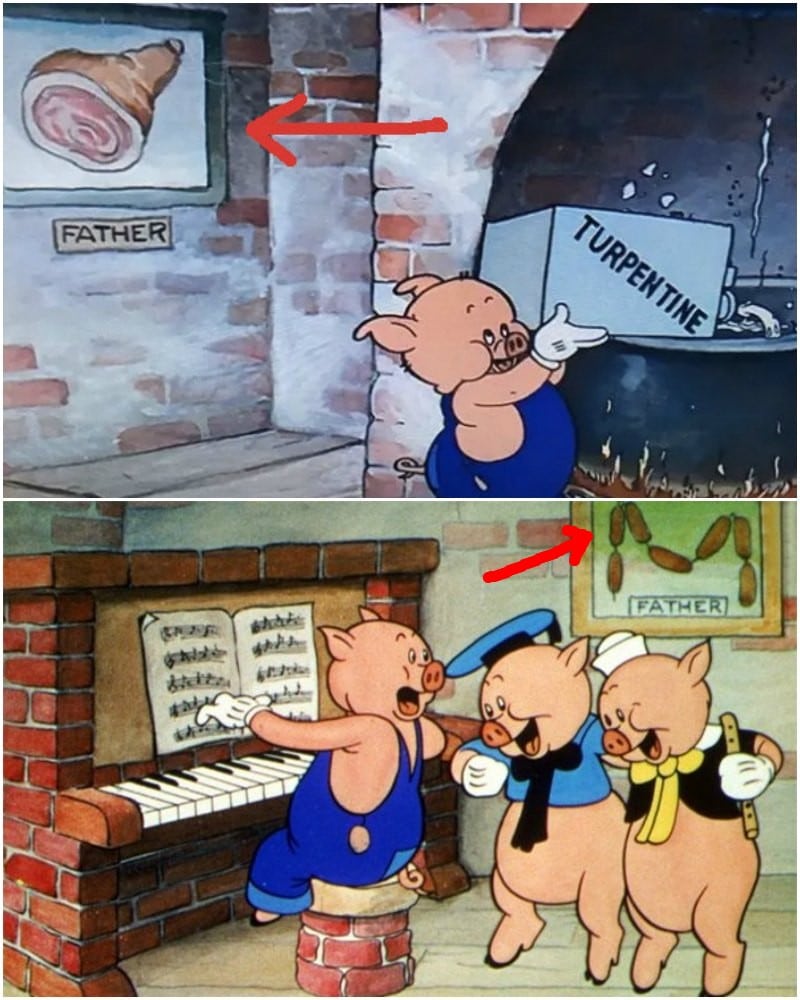 There is a brilliantly dark joke that most of us missed: Practical, Fiddler, and Fifer all have portraits of their father on the walls, depicted as pork slices.
'Won't you please be my prisoner, please, please, please'
The other dogs, especially Alpha, Beta, and Gamma, looked down on him, but in the end, it was Dug who tracked down the big tropical bird that Charles Muntz had been looking for for years.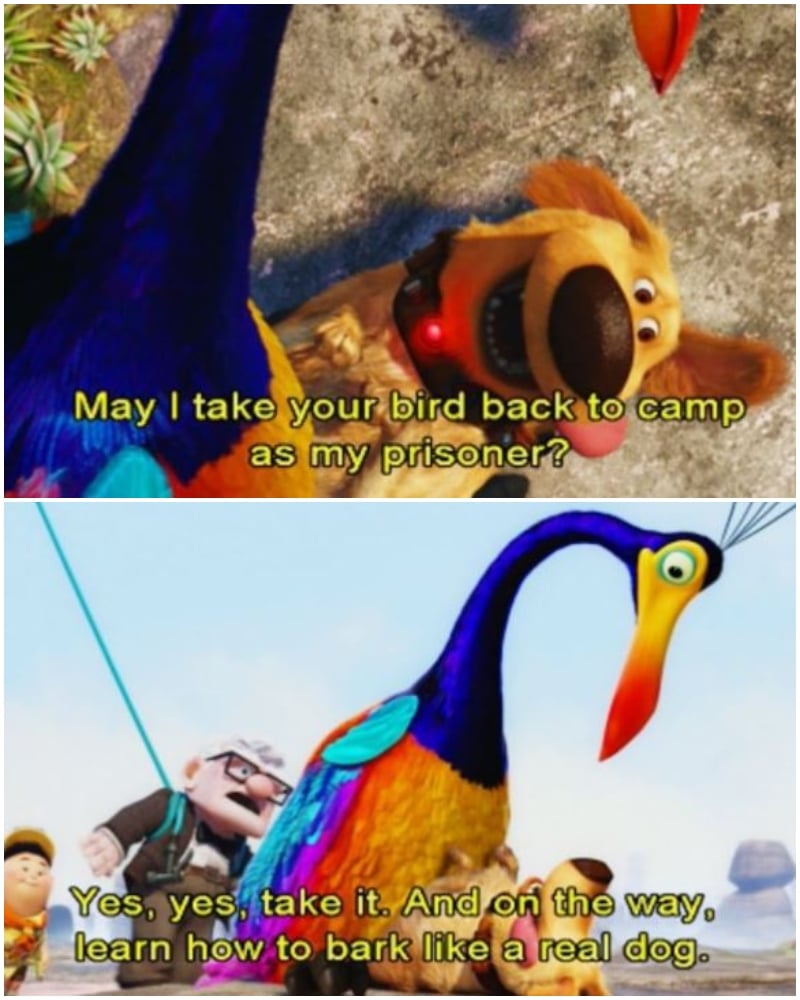 Until someone pointed out that it all made sense, we assumed it was a lucky coincidence. Dug, a golden retriever, was the pack's only hunting dog; the others were all guard dog breeds. Dug is the only dog owned by Charles Muntz that is not named after a Greek letter. Interestingly enough, there isn't a dog named Delta in the film, maybe Dug is Delta.
A surprisingly accurate detail
Although something in the image below, taken from the 1986 popular movie An American Tail, appears strange, it is historically correct. No, we're not referring to the mice who ride on the backs of pigeons. The color of the Statue of Liberty is what we are talking about.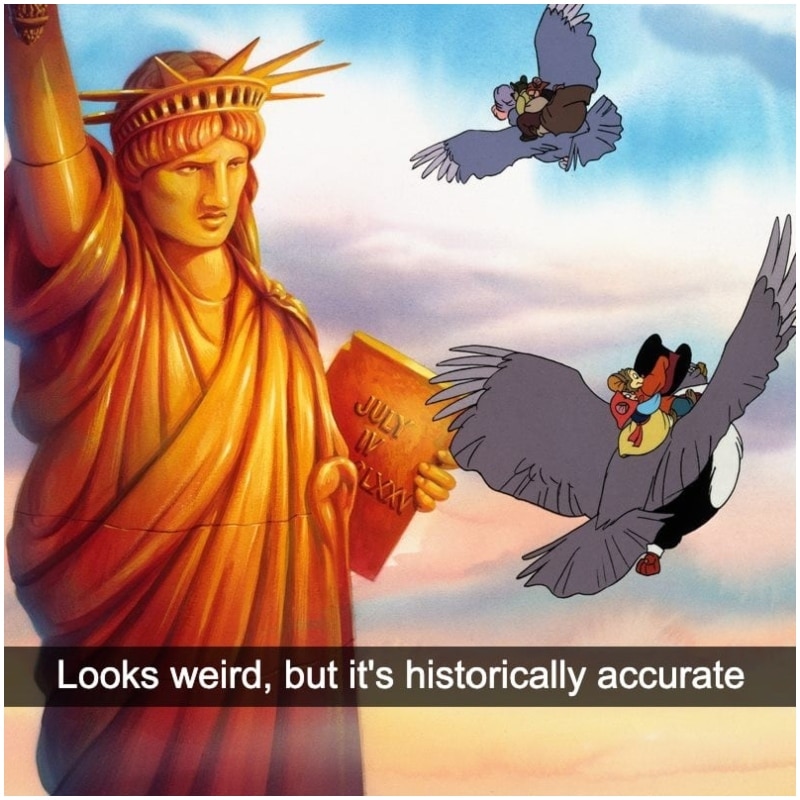 The Universal Pictures film is set in 1885, the same year as the monument's completion. This indicates that the oxidation that gave the statue its current green tint had not yet occurred, and the monument was still copper in color. Color images registered the transformation, and it was complete by late 1920.
Lilo's nod to Mulan
It's hardly unexpected that Lilo and Mulan would get along if they ever met in real life because they are both strong, independent women (well, one of them is still a strong, independent little kid).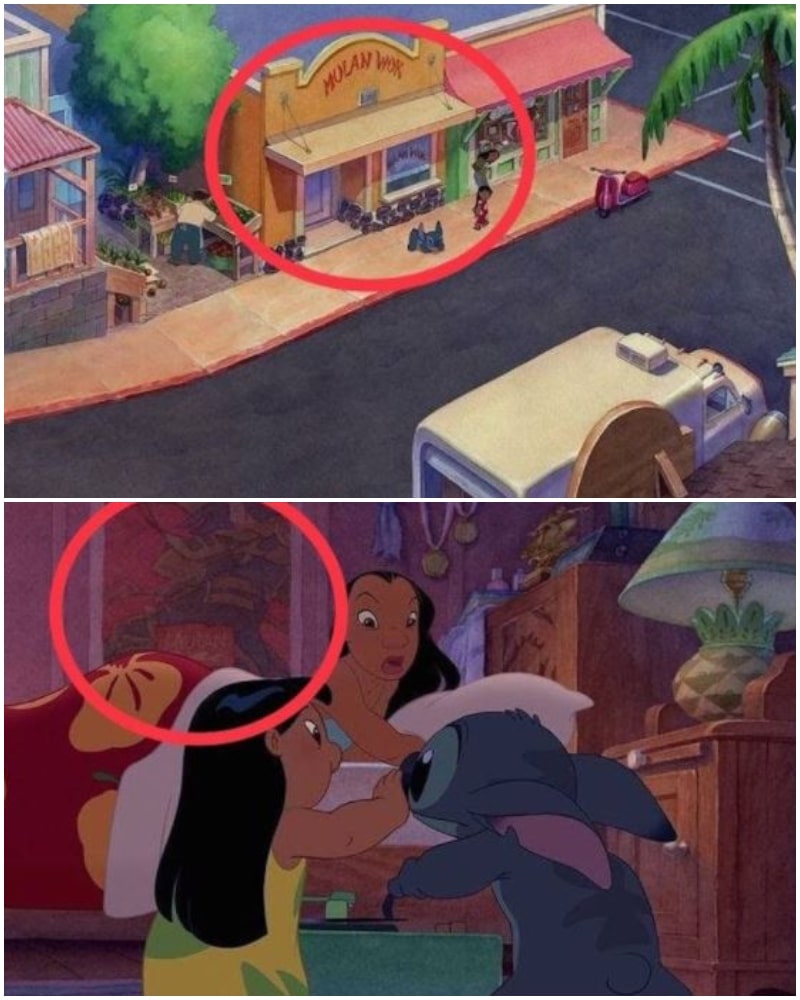 Of course, because they are fictional characters, this would never happen. Despite this, Lilo and Stitch managed to give Mulan a shoutout. You might have missed it while watching the movie, but there's a restaurant called Mulan Wok near Lilo's house, as well as a Mulan poster in Nani's room. We are sure these two characters would become great friends if met in real life.
That carpet seems familiar
When we first saw the inside of toy-torturer Sid's house in the first Toy Story, we felt a strange sense of déjà vu, but we didn't know why. The internet then came to the rescue — it was about the carpet.
That's the same pattern as in Stanley Kubrick's The Shining carpet! Who can forget Danny riding his bike through the corridors of the Overlook Hotel? It's a great reference because being inside Sid's house was like being in a horror movie for Woody and Buzz. The creators were fans of Kubrick's masterpiece and wanted to pay homage to it.
A not so subtle jab
It is no secret that Nickelodeon and Disney are formidable rivals; after all, they're both mega-brands competing for the same demographics of kids, tweens, and teenagers.
As you would expect from two massive corporations, their competition remains civil for the majority of the time.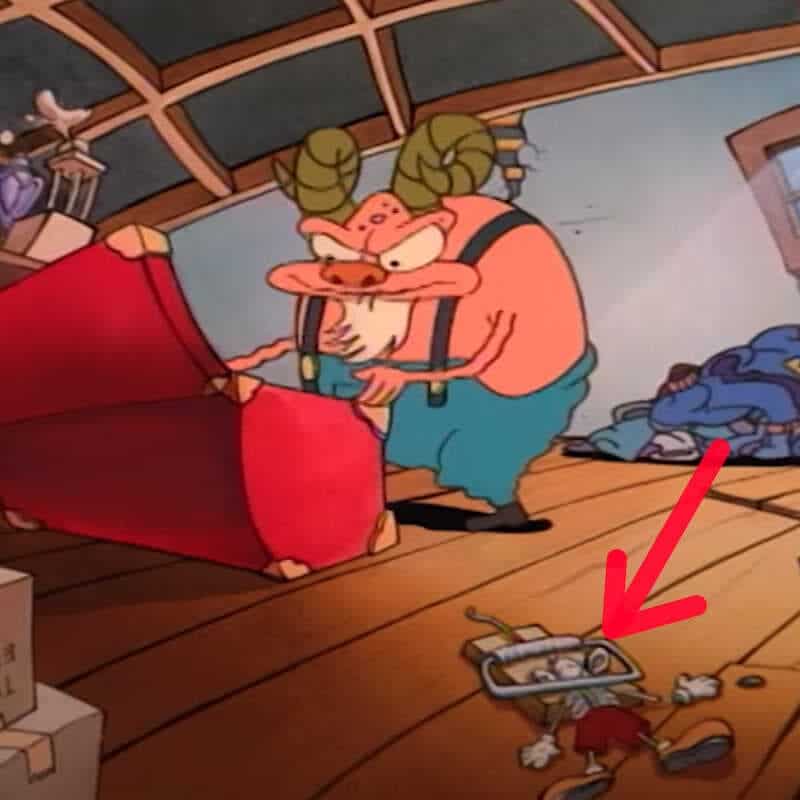 They do, however, poke fun at each other every now and then, as in this episode of Nickelodeon's Rocko's Modern Life, where you can see something captured in a mousetrap. That is, undoubtedly, the remains of the most popular Disney figure: Mickey Mouse! You can recognize him thanks to the iconic red shorts and yellow shoes.
Claws out
If you own a cat, you surely are aware that they have an interesting system in which they extend their claws when they need them (for example, when they want to personalize your cushions and furniture) and retract them when they don't (for example, when they're napping on your laptop when you should be working).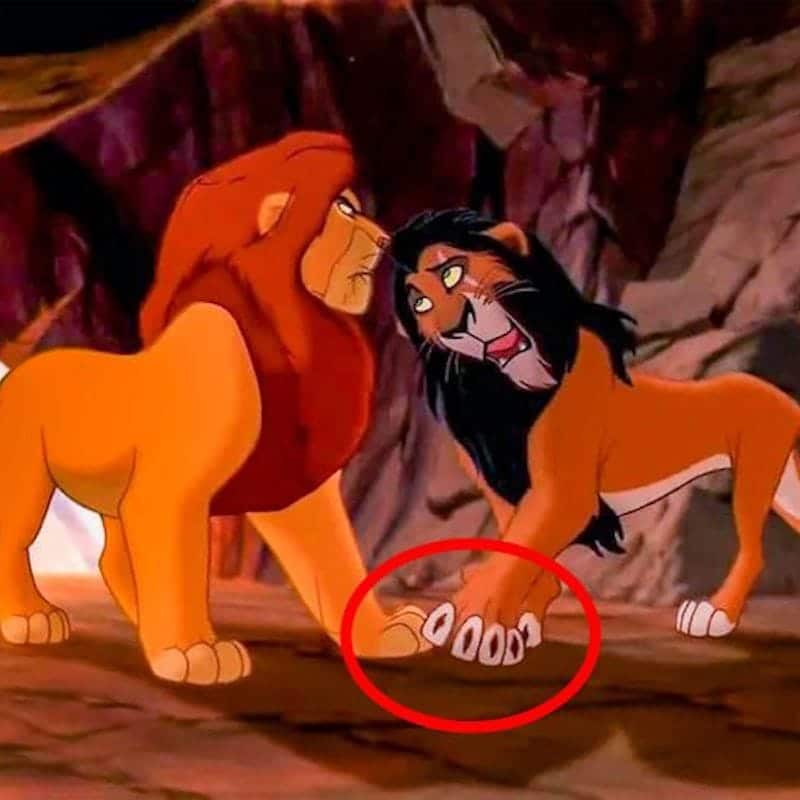 Bigger cats, such as lions, behave the same way. However, in The Lion King, you will notice that all lions have their claws hidden… with the exception of Scar. The king's scheming brother always has his claws out, as if he were about to attack.
Plotting an escape is his nature
This is the kind of meticulous attention to detail that makes Pixar fans gush over each and every one of the studio's films. Take, for example, Gill. He's the head of the Tank Gang, a bunch of fish who dwell in a dentist's office, in Finding Nemo.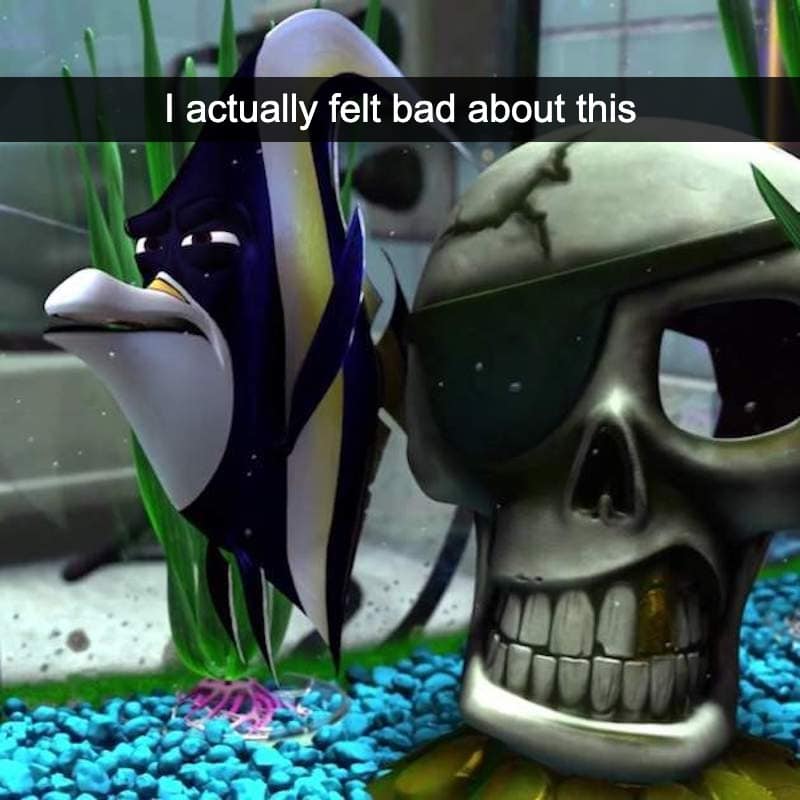 Gill is a Moorish Idol, a species that is notorious for being difficult to keep in captivity. It's no surprise that he's the one who's always hatching escape schemes – his personality is a perfect fit for the breed's disposition. The majority of them don't survive past a few months in home aquariums.
Cartoon Network does 'easter eggs' too
We're used to finding "easter eggs" in more recently released movies and TV series, but older products can sometimes contain amusing bits and inside gags. You will appreciate the one below if you grew up watching Cartoon Network.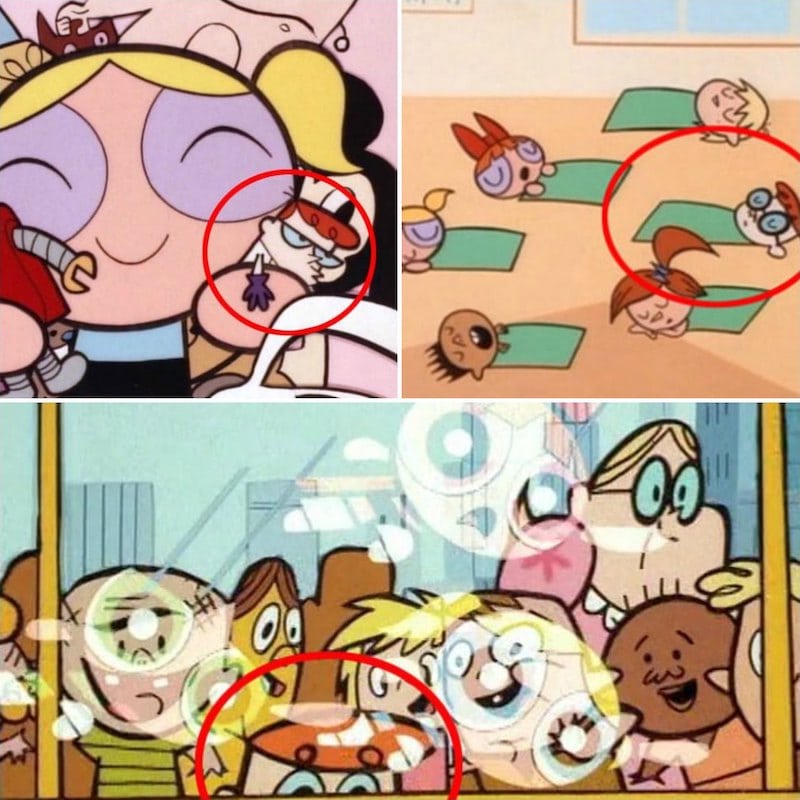 Dexter from Dexter's Laboratory has appeared in various Powerpuff Girls episodes. He was revealed to go to the same kindergarten as Blossom, Bubbles, and Buttercup, but he was also seen among the characters' toys on occasion. The reason for this is because the creator of The Powerpuff Girls, Craig McCracken helped with making Dexter's Laboratory before The Powerpuff Girls was picked up.
The true meaning of a butterfly
We are curious how much time the authors at these major studios have to devote to each script, given the amount of research they appear to conduct. This is something we were completely unaware of until someone pointed it out to us.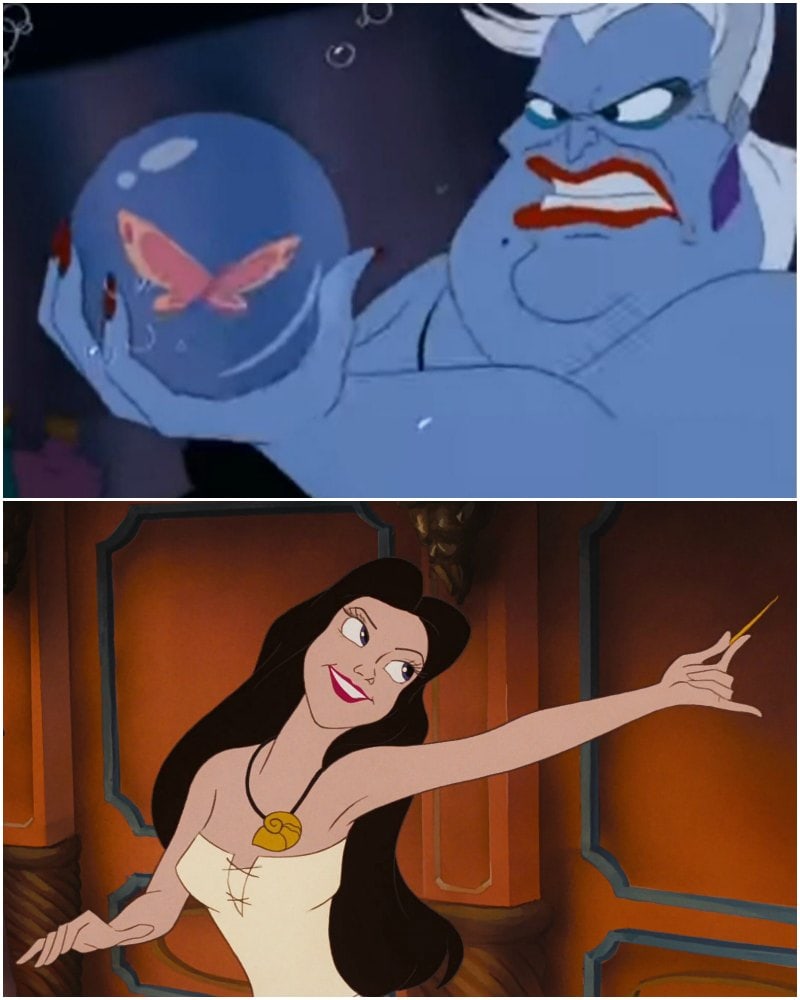 Ursula changes herself into human form with the help of a butterfly in 1989's The Little Mermaid. In many cultures, a butterfly is a sign of metamorphosis, and "Vanessa," her name on land, is a butterfly genus. Butterflies appear in the myths and folklore of people around the world, and many cultures believe in the butterfly spirit animal.
Offset blinking
Have you ever noticed how the characters in Toy Story do not appear to blink both eyes at the same time? Maybe you have paused the movie before and seen a humorous scene in which Woody has one eye closed and the other half-open?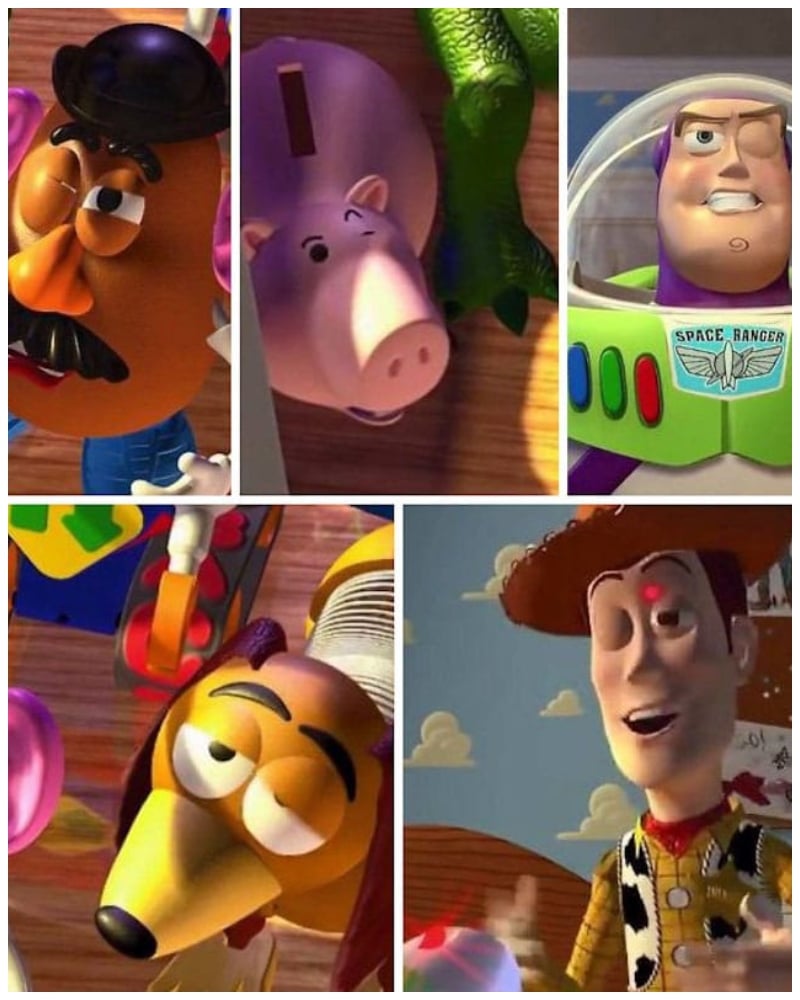 This is intentional, and it is known as "offset blinking." It is a technique used by animators to discreetly convey that a figure is out of place or unsophisticated. In Toy Story, it is likely used to remind the audience the toys are still toys. Pixar has continued using the offset blink in other films.
About that friendly neighbor
Doug Funnie has a lot of friends, and Mr. Dink, his next-door neighbor, is one of them (though some might argue he was more of a mentor figure than a friend).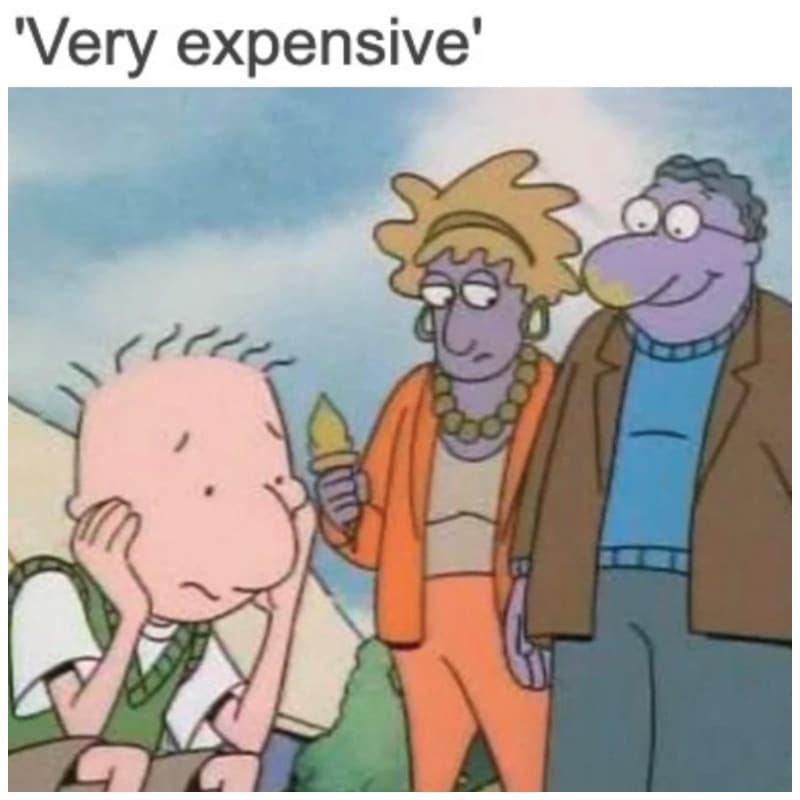 However, we ended up discovering that Mr. Dink's last name had a meaning: it stands for "Double Income No Kids," a word used to designate a couple that lives together but does not have children. That explains why the character always has enough money to acquire new "expensive" gadgets. DINKs are often targets of marketing efforts for investment products and luxury items because they usually have higher disposable incomes.
Sultan and the Beast
We can't get enough of "easter eggs," which are surprising appearances by characters from one film in another. It is like a giant game of hide-and-seek, and we appreciate those who always seem to notice the little things and share them with the rest of the world.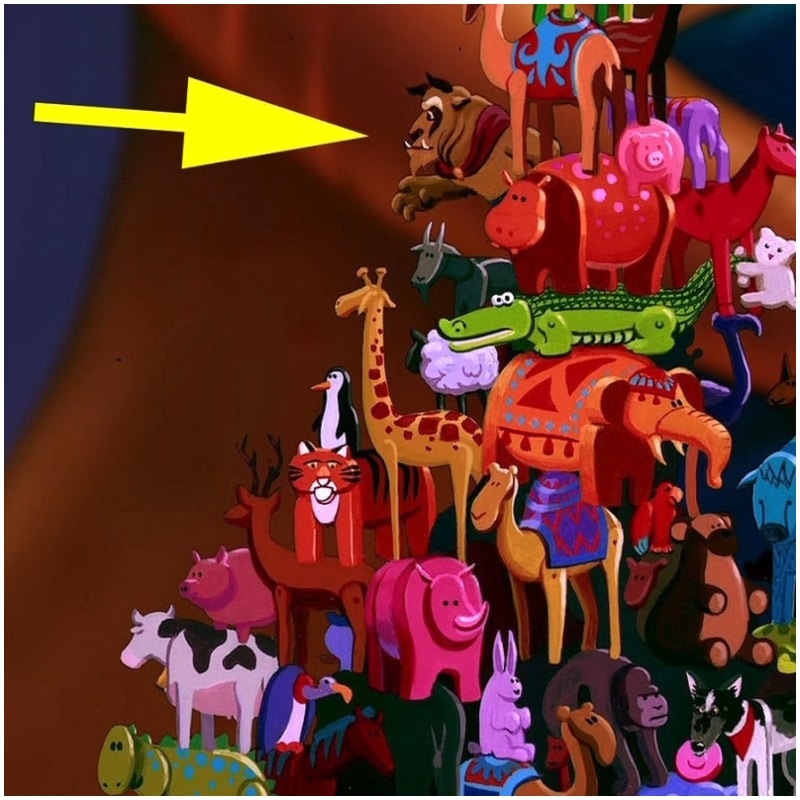 We had not seen this "easter egg" before — in Aladdin, while the Sultan is stacking his collection of miniature figurines, one of them is actually the Beast from Beauty and the Beast. Disney movies are full of hidden easter eggs that are direct winks to the fans which reference other Disney movies.
Half way through
Hercules, in our humble view, is one of Disney's most underappreciated films in the past few decades. The movie earned positive reviews from reviewers, but for some reason, it didn't fare well at the box office, which we cannot explain.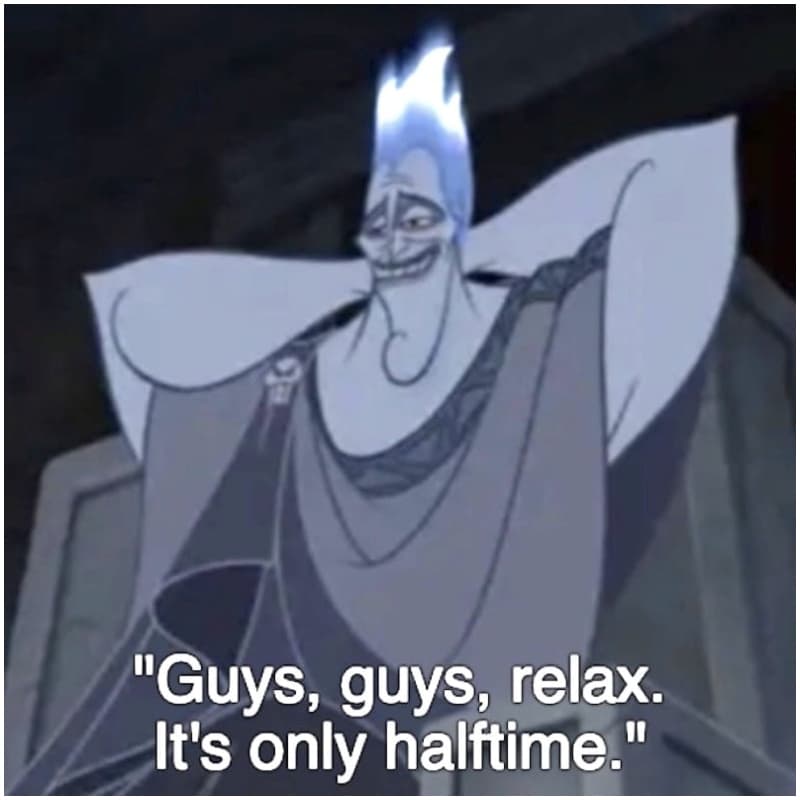 We enjoy the rapid pacing and amusing dialogue, and Hades deserves an entire film dedicated to him spouting caustic remarks. Because of the context, this is one of our favorites. When Hades says the line "Guys, guys, relax. It's only halftime," that's the exact 46-minute mark of the 92-minute movie. This is a very smart joke only a few people would get.
Edna Mode's incredible talents
We learned from watching The Incredibles, that fashion designer Edna Mode has a broad grasp of science, technology, and engineering, thus she knows just how to construct a fantastic suit that meets a superhero's needs. We also discovered that she despises capes, they're a nuisance.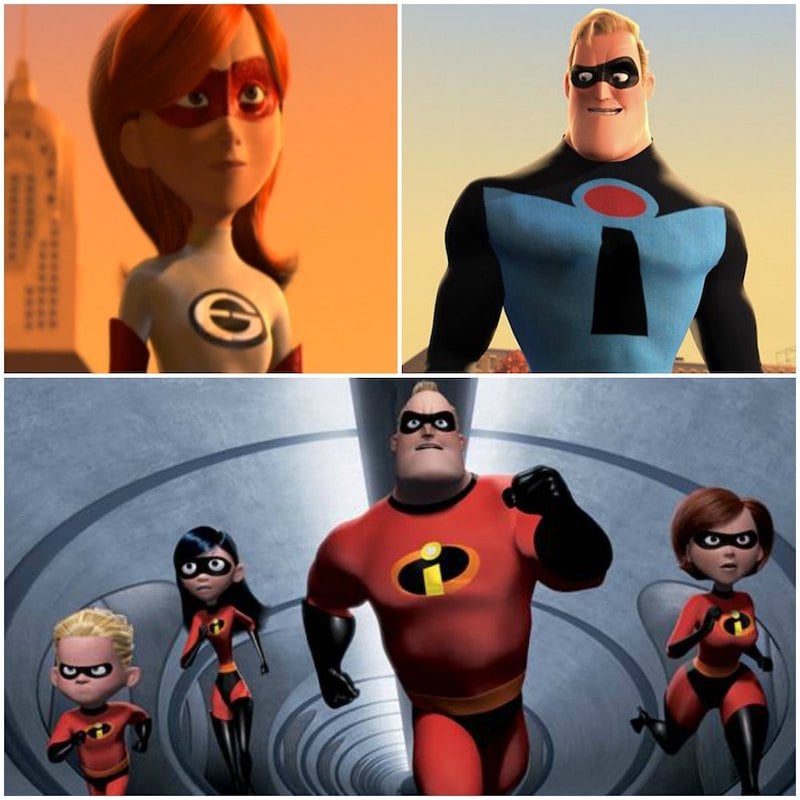 However, we missed how talented she is as a graphic designer until now. How long did it take you to realize that The Incredibles logo is a combination of Elastigirl and Mr. Incredible's suit symbols? When they got married, they decided to merge their logos to create a new logo for the family to wear.
How things change throughout time
We enjoy rewatching movies so that we can see small things that we may have missed the first time around, but we couldn't do it with Up. The movie is lovely, but the first scene struck a sensitive chord in our hearts.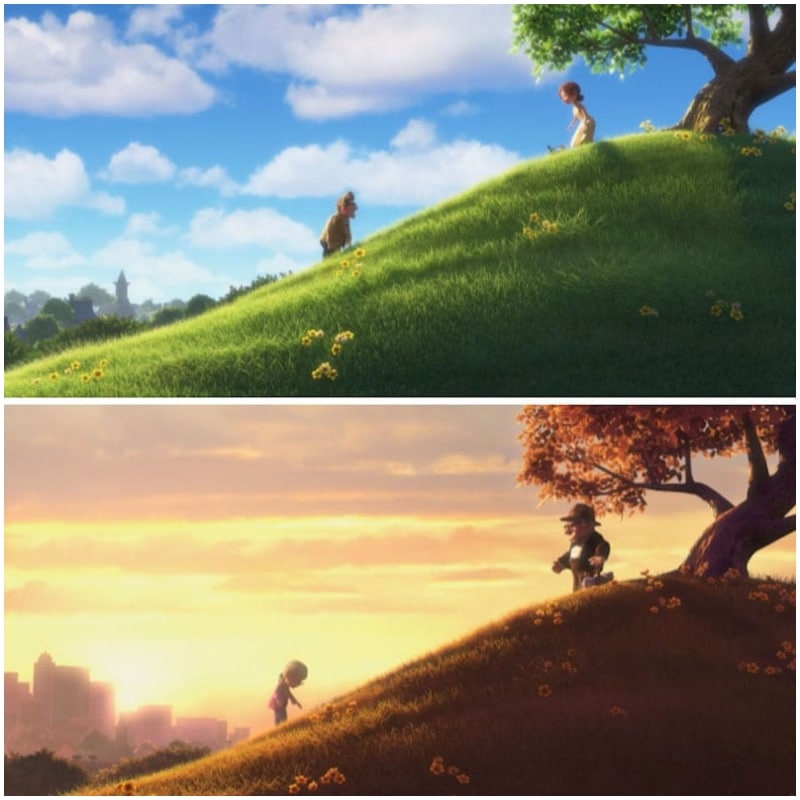 As a result, a lot of things slipped past us (as we were trying to keep our sobs in check), like this scene, where you can see how much the town structures have changed over Ellie and Carl's lifespan. We witness the passing of time seeing them having grown old and by noticing the skyscrapers in the background.
Maid Marian's familiar moves
We already knew that Robin Hood is a wanted man in Nottingham because he robs the affluent to help and support the poor, but it appears that Maid Marian is also a thief, as she has been caught stealing Snow White's dance moves.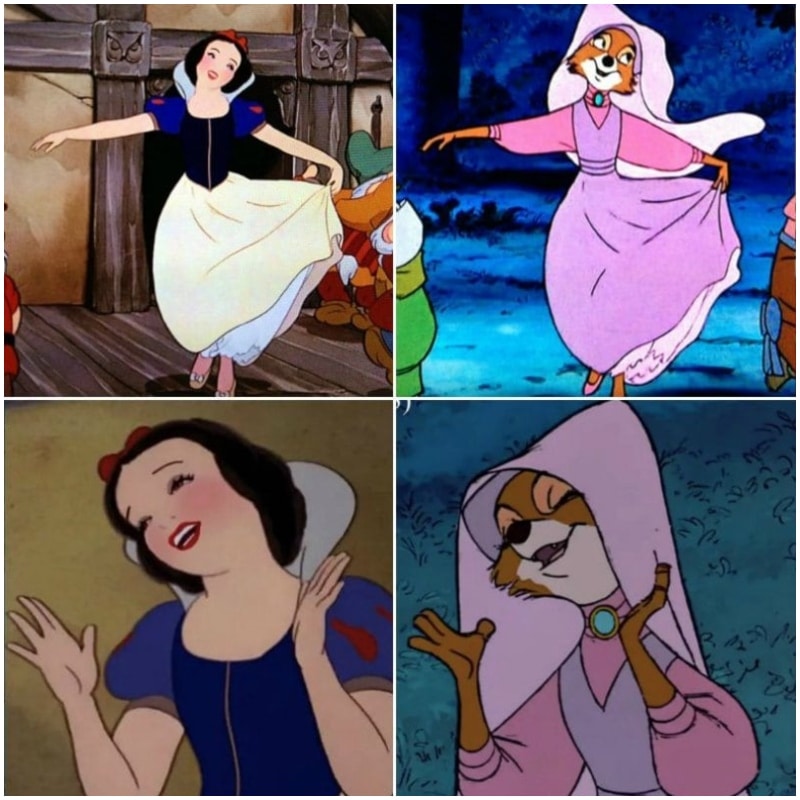 The photographs above are only a few examples of Maid Marian imitating Snow White's movements, but by now we know it is not her fault. It is quite common for Disney to reimagine scenes from earlier films for new ones, and if you want to see more, there are plenty of comparisons online, such as this one.
An unforgettable dark moment
Characters jumping around in green meadows, watched by giggling sun-babies (that's the Teletubbies) are typical of children's television shows. The bright colors and the scenery is pleasant.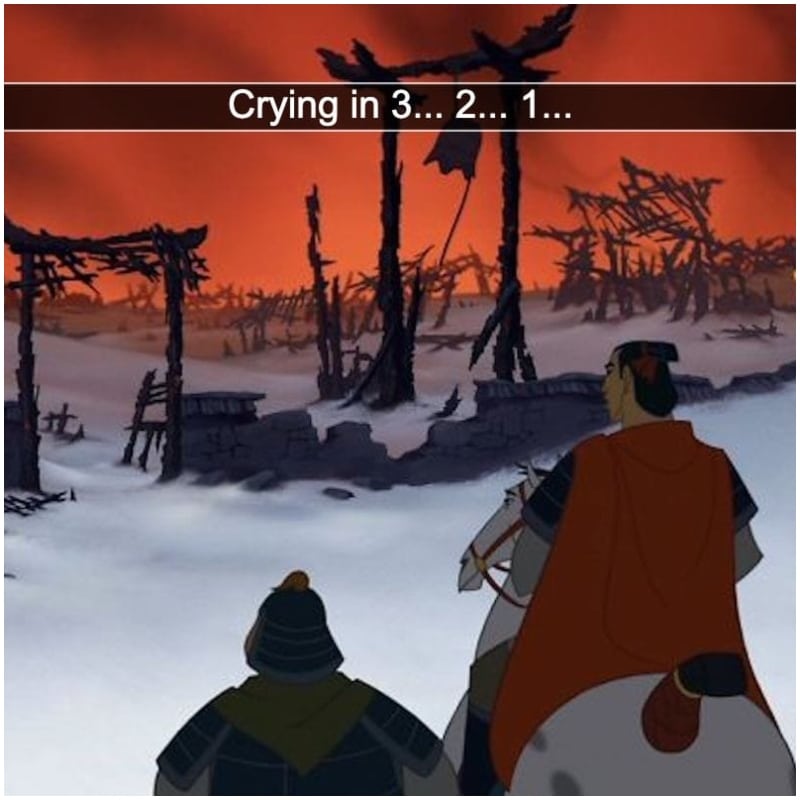 However, animated films for children tend to have some tragic moments, such as the scene in Mulan where they discover the burned-down village. Charred ruins lay in front of a blood-red sky, and all that's left of the people is a little girl's doll. The haunting scene is amplified when the heroes discover the remains of the Imperial Army. There are no more musical numbers after that because the mood has become darker.
From the Ice Age to the robot universe
We were not expecting to see this visitor from another era when we were following Rodney Copperbottom's adventures in the 2005 movie Robots, which takes place in a futuristic society of sentient robots.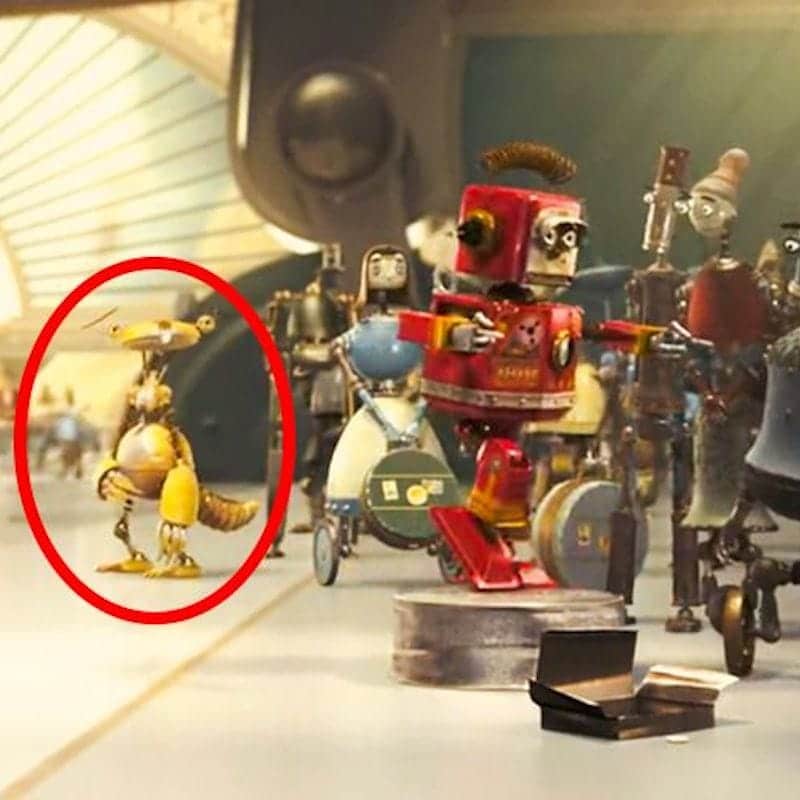 Sid, the slow but lovable sloth from the film Ice Age, is right there. That is, if his robotic version is to be believed. We are curious as to what he's up to at the Robot City railway station. We assume he is searching for robotic Manny and Diego because he appears to be lost. This is another cool easter egg for fans of the Disney universe.
An 'easter egg' for real Disney fans
The movie Hercules contains numerous pop culture references, such as when Marilyn Monroe appears in the constellation during the musical number "Zero to Hero," or when the animators pay homage to The Karate Kid during Phil's song "One Last Hope."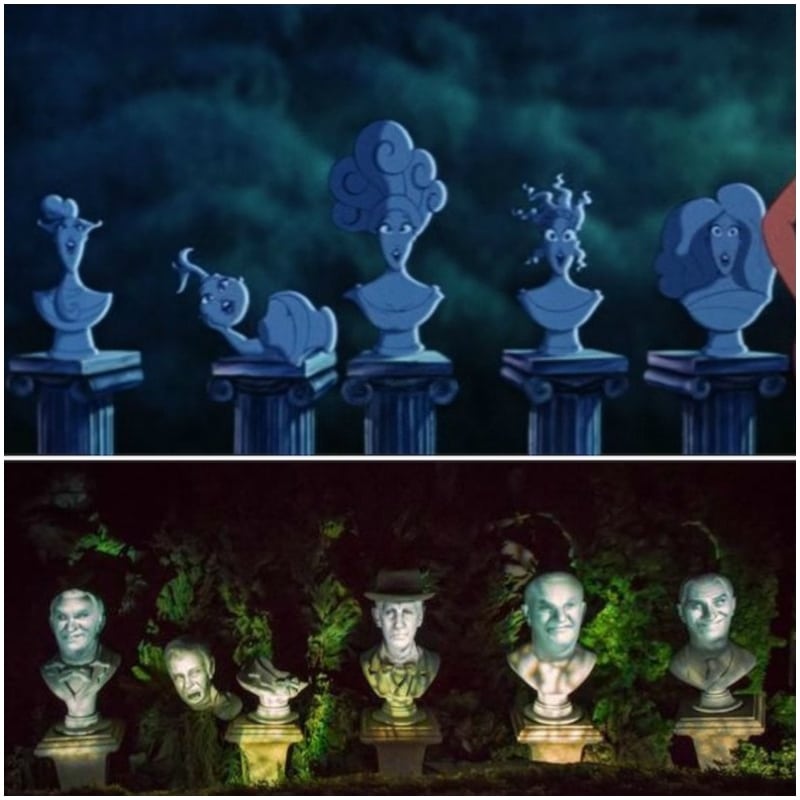 Another amusing moment occurs when Disney makes a self-referential allusion. This occurs during the song "I Won't Say (I'm in Love)," when the Muses pose like the singing busts in Disneyland's Haunted Mansion. This easter egg is meant especially for those fans who have attended Disney Park's attraction The Haunted Mansion. Once again, Hercules proves it deserves another chance.
Ancient wedding proposal
When Aladdin and Jasmine are "a whole new world-ing" above Greece, he throws an apple to her. We never thought much of that gesture until we learned what it actually meant.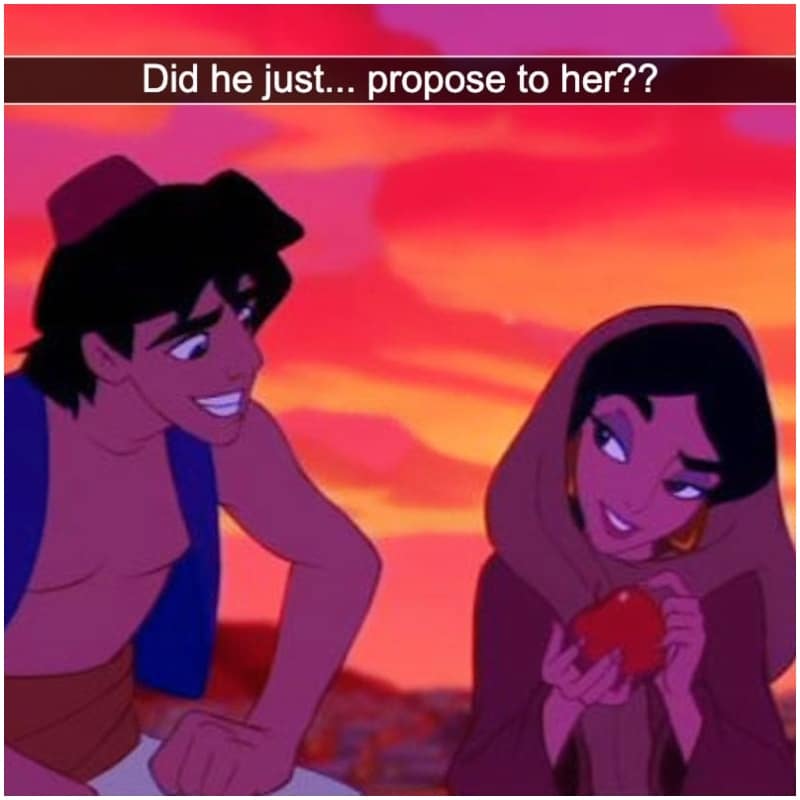 Throwing an apple at someone was apparently a method to propose marriage to them in Ancient Greece, so Aladdin was practically asking Princess Jasmine for her hand in marriage. The apple thereafter was considered sacred to Aphrodite, and to throw an apple at someone was symbolic as a declaration of love. Imagine how different those viral proposal videos on the internet would be if people still did it now!
The first of its kind since Dumbo
Lilo and Stitch is a beloved Disney film, not only because it is funny, unique, heartbreaking, and incredibly human, but also because it is artistically stunning. There is a reason behind that, it turns out. The studio had some financial failures and was doing, so they left the filmmakers to their own devices.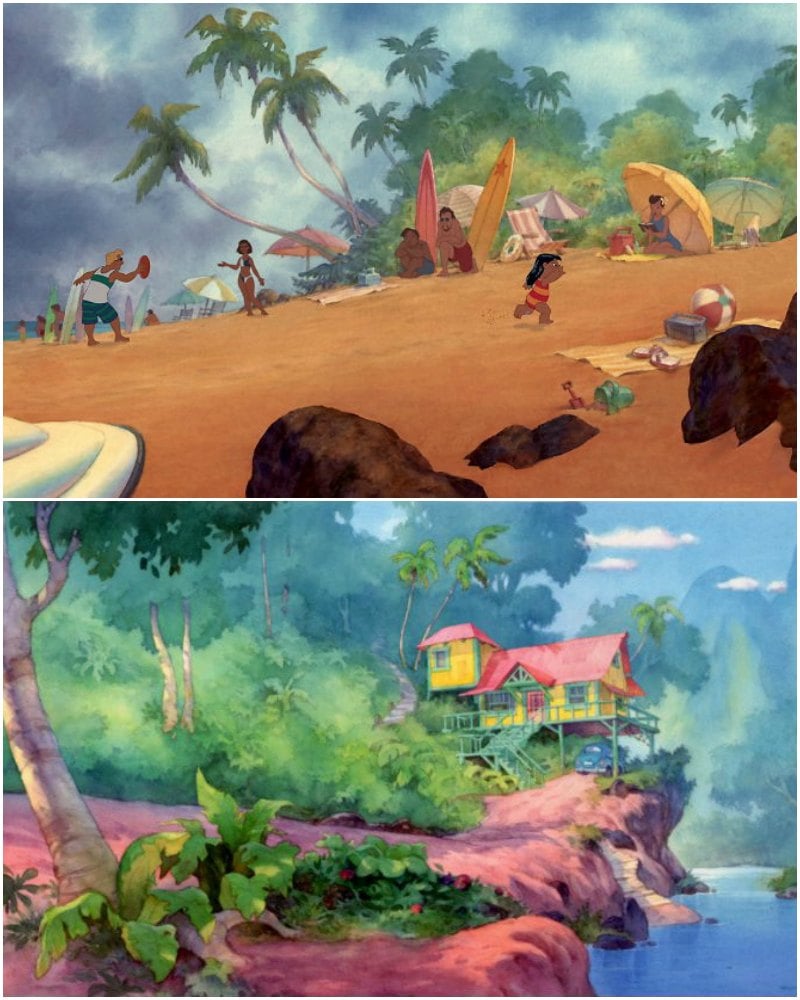 Since 1941's Dumbo, this was the first Disney film to have watercolor-painted backgrounds. The studio's backdrop painters took some time to get used to this technique, which had not been employed in decades, and they even received advice from an artist who had painted Snow White's backgrounds!
An interesting collection of books
In the opening of Toy Story, you can see a bookcase with several books behind Woody as he leads a conference with Andy's toys. We doubt many people noticed the titles on the initial viewing, but Pixar wouldn't pass up an opportunity to be creative.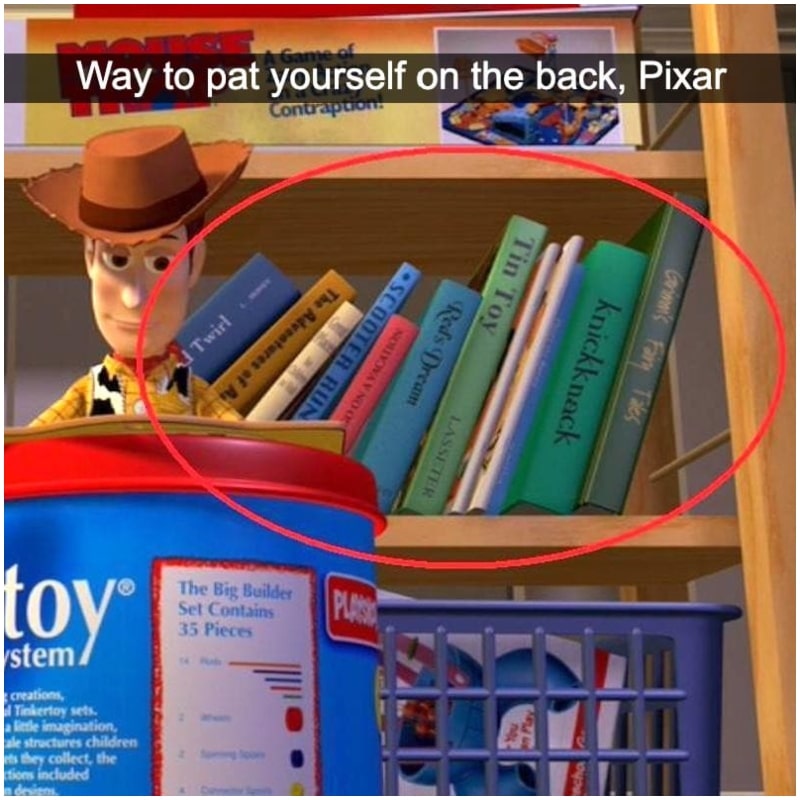 Rather than putting a whole shelf of books as you would see in a kid's room, they decided to make a reference to themselves. Pixar's short films include Knick Knack and The Adventures of Andre & Wally B., for example. It pays a little homage to the creators of these short films in a creative way.
Pumbaa in Paris
We are not sure why Disney chose such a somber scene from "The Hunchback of Notre Dame" for this "easter egg," but perhaps they just wanted to lighten the atmosphere with an appearance from one of their most beloved characters.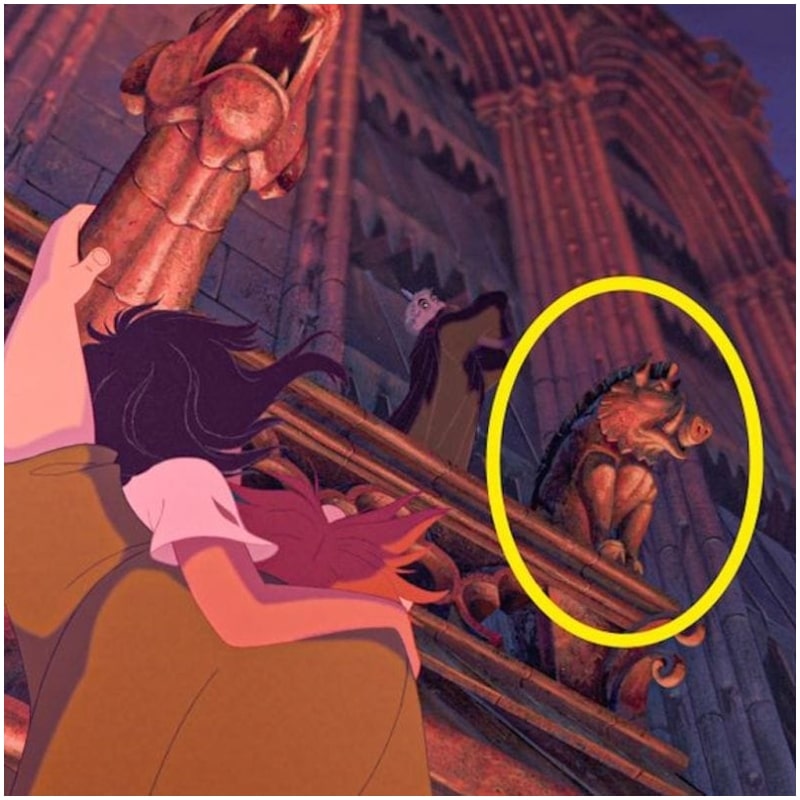 One of the gargoyles in this photograph is shaped like Pumbaa from The Lion King. However, according to the audio commentary on the DVD, the gargoyle that resembles a warthog is actually not Pumbaa from The Lion King, but it was the actual gargoyle that could be seen in that location on the real Notre Dame Cathedral in Paris, France.
From Home Improvement to Toy Story
Sid employs tools from a company called Binford in Toy Story. To identify the name of a firm that isn't even uttered aloud may seem arbitrary, but Pixar movies don't usually do "random."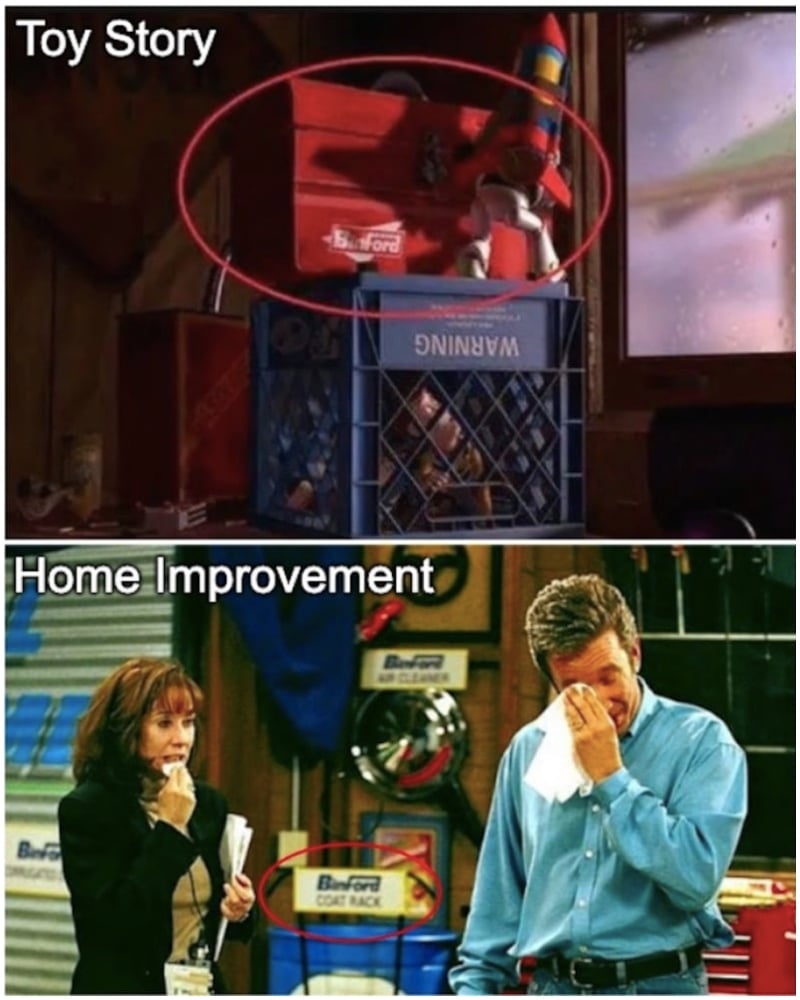 Binford, it turns out, is the fictional firm that supports "Tool Time," the Home Improvement program within the show. Along with sponsoring Tim Taylor's "Tool Time", a common occurrence involved Tim showcasing an overpowered version of one of Binford's products (usually the "Binford 6100"), leading to disaster. American actor and comedian Tim Allen, who voices Buzz Lightyear in Toy Story, is the main actor in Home Improvement.
Mrs. Potts, is that you?
The majority of the "easter eggs" we've seen in Disney and Pixar films have to do with characters from one film appearing in another. It is possible that this is the first time we have seen a cameo from a collection of inanimate items.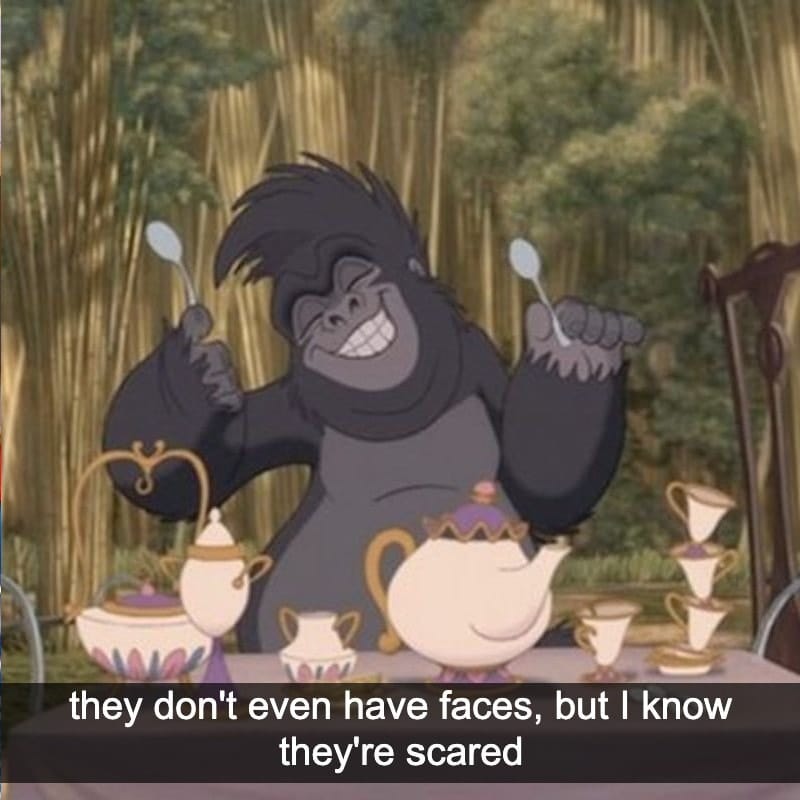 When the gorillas locate the human camp in Tarzan, we can clearly recognize Mrs. Potts and Chip from Beauty and the Beast's tea table. They appear to be less animated than in the Beauty and the Beast film, most likely due to their fear of being chipped! Crossovers of movie characters are always fun to see.