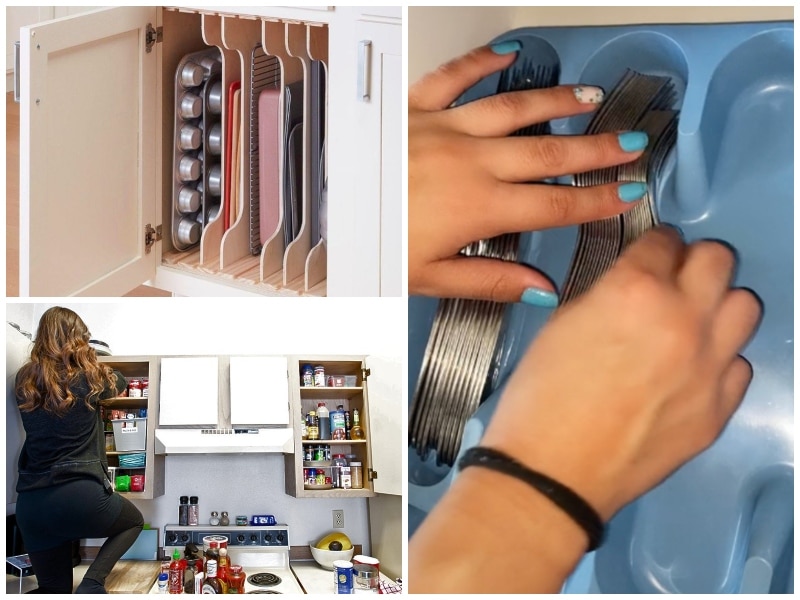 Let's say that you are looking for a cookbook to cook something special for a guest. You make your way through the shelf, rummaging through old books before putting your focus on a certain cookbook. You pick it up and sigh in defeat. While that was definitely a cookbook, it wasn't the one you were looking for.
Organizing things in your house is never easy. However, with a well-organized house, life would be a lot easier – you wouldn't have to spend hours looking for something only to not be able to find it afterward. If you are unsure about how to organize your shelves, kitchen, and your life in the entirety- we have the perfect hacks for you.
Coding the Bookshelf
While there are plenty of hacks that could be used to organize books on a shelf, coding by color is one of the most popular methods. Besides, this arrangement looks very appealing, and even children can decode it.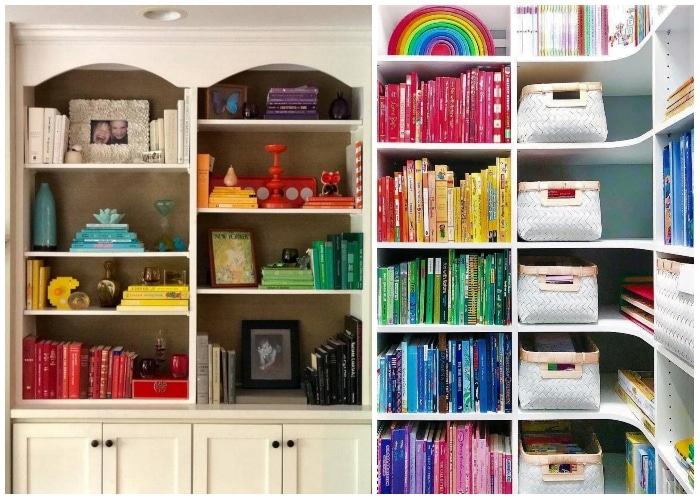 If you are not satisfied with color-coding, you can also code your bookshelf based on the first letter of your books. While this style is more professional since most libraries follow this method, you should only use this method if you have a lot of books in possession because of the complexity.
Handling Wires
Messy wires make it hard for everyone to walk around the house. What you can do to take care of the mess the trail of wires has left behind is to tuck them away neatly under your tables and furniture.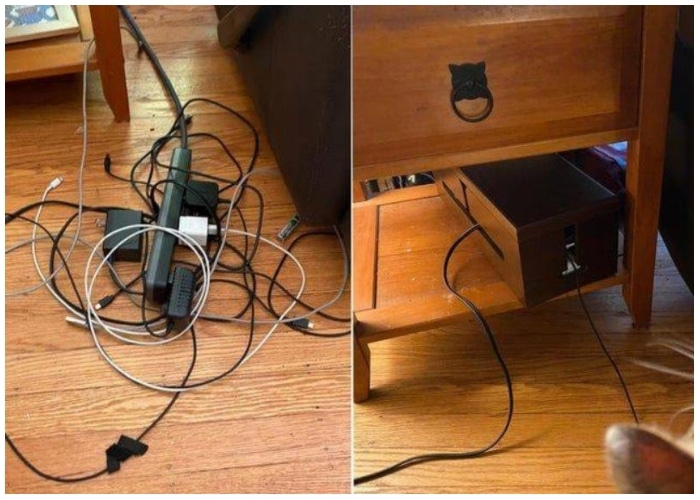 In addition, you can also get a small wooden box or simply use a shoebox to tie up all the loose wires using small rubber bands and store them inside the box. Make sure the box is well insulated so that in case the cords get torn, the current will not affect the box. If you can't find boxes made of insulation material, cover the inside of the box with woolen carpets before shoving all the wires and multi-plugs inside.
Removing Jar Labels
If you do not have any place to store all your smaller items like staples, pins, or even ingredients- small clear jars could be the solution to this problem. Just make sure the jars aren't already labeled. If you're using jars with labels, remove the labels.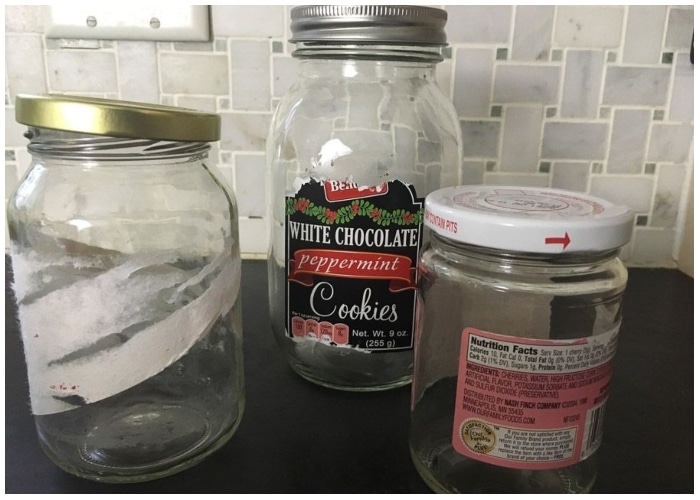 You could count on acetone nail polish remover or stain removers to do the trick for you. All you need to do is pour a bit of the chemical on top of a wiping cloth and rub the label until it comes off. In addition, you could also hide the old label by adding new labels on top of it.
DIY Flatware Tray
If you are into DIY or are frustrated with how the spoons and forks stored inside your drawer keep sliding from their places due to a weak grip, you could build your own flatware tray.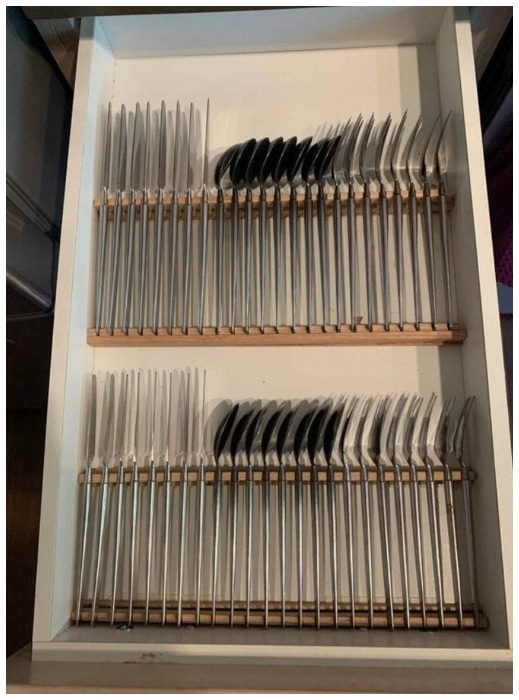 You could use some wood crafting materials and a good piece of wood to shape out a tray with a satisfying grip. Of course, you could also modify the old tray to increase the gripping strength by either technical methods or laying down mats on top of the tray to increase the grip that is applied on the small forks and spoons.
Beams Under Your Desk
If you do not like storing the cords and wires inside a box, you could also build a beam on your desk and fix the wires accordingly. While this would require you to have some basic DIY skills, you could also hire a professional woodworker to help you. It might cost some money, but it will be worth it.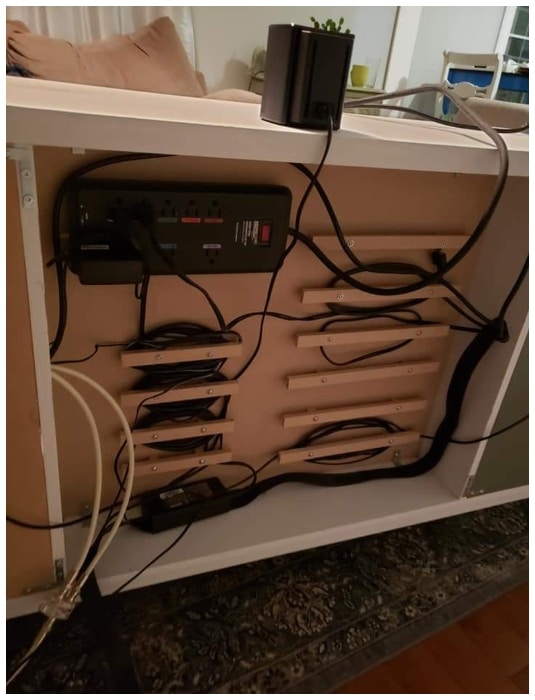 After the beams have been set up, you can attach all the trailing wires and plugs so that they do not give the messy, disorganized sight that they gave off previously.
Containers a Solution to All Problems
It is not an exaggeration when we say that containers can be used to store almost all items that were previously lying in your kitchen, bedroom, or bathroom.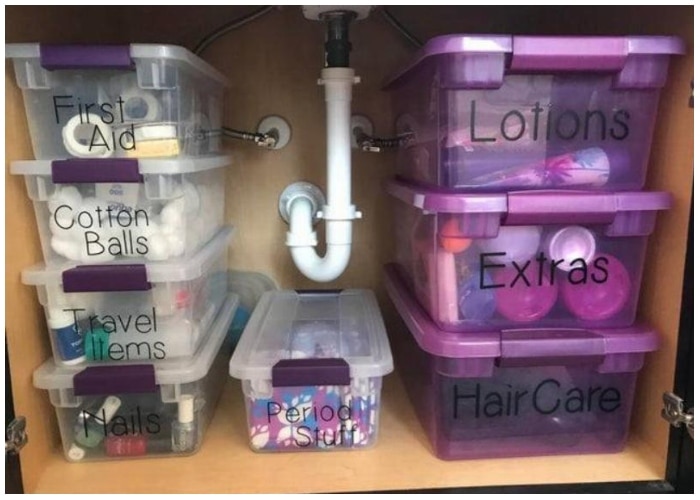 You could use large PET containers or simple plastic ones for this purpose. Label the boxes with what you are going to store inside them, like clothes, food items, packets, travel items, or even extra items that could be needed later on. With the label on, you would know where to look for an extra nail cutter if your old one breaks or find your everyday clothing items without having to look for them in the wrong place.
Baskets for Organizing
Baskets serve the same purpose as the boxes that were mentioned above. If you have an untidy closet, you can organize the clothes for different needs using large linen baskets.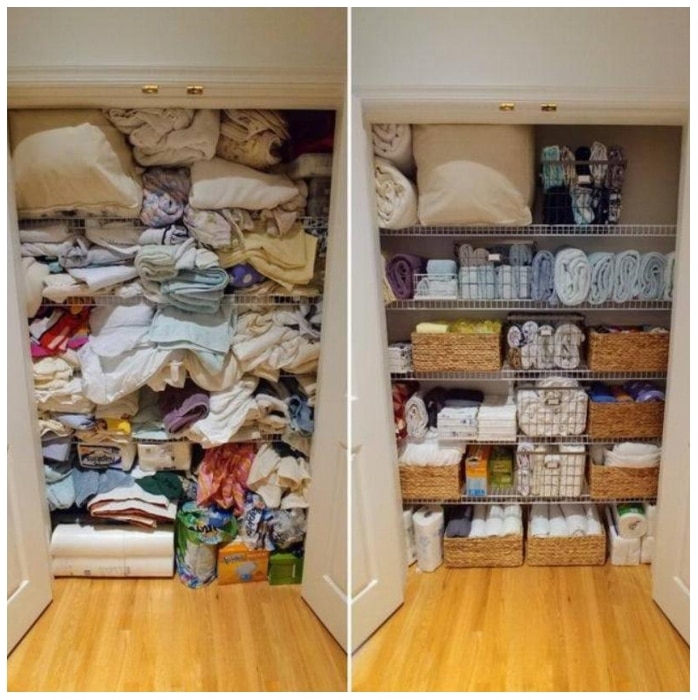 You can use the baskets to organize the clothes by the type of garment they are, the material used to make them, or even the weather when they would be needed. These baskets also come in handy if you want to store your toiletries like brushes, shampoos, etc. Packaged food and fruits can also be stored in baskets conveniently while giving them a nice look.
Tea Drawer
Having a tea obsession is common for many people. If you are also someone who is obsessed with collecting and drinking different types of teas for your different moods, you should learn to keep them organized so that you know where to look for them when you need them.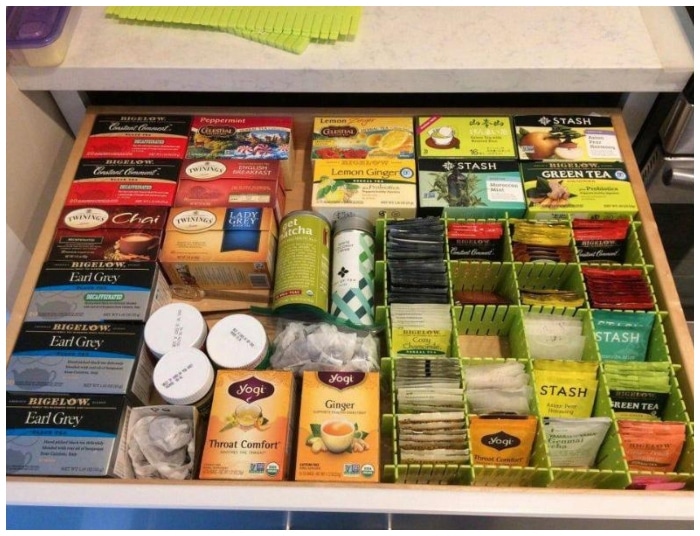 Tea drawers can be a solution to this problem. To create a tea drawer, all you need are small square cardboard dividers that can be used to create various compartments. You can place your tea packs depending on the way you want to code them to fit your aesthetic.
Keep Everything White and Clean
People will argue that white things get dirty easily. While this might be true, it is also a fact that walls that are painted white give a pristine and clear look.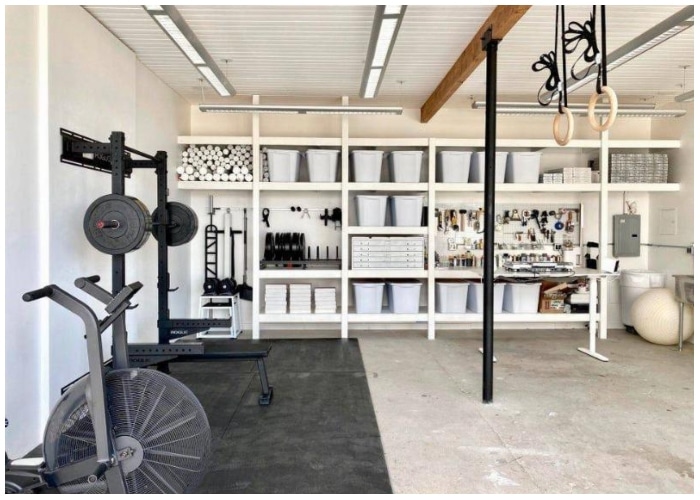 If you want to have a room which you can use to remove all the stress accumulated throughout the day, white rooms can be a good choice. White has a psychological effect on people since it shows people how clean and untainted it is. It makes you feel calm and unnerving, which makes it the perfect color for your bedrooms or your gym.
An Alternative to Plastic Containers
While plastic can serve its purpose, it is not eco-friendly. If you are worried about the environment and want to use an alternative to plastic to store all your toiletries, lidless acrylic containers can be a great solution.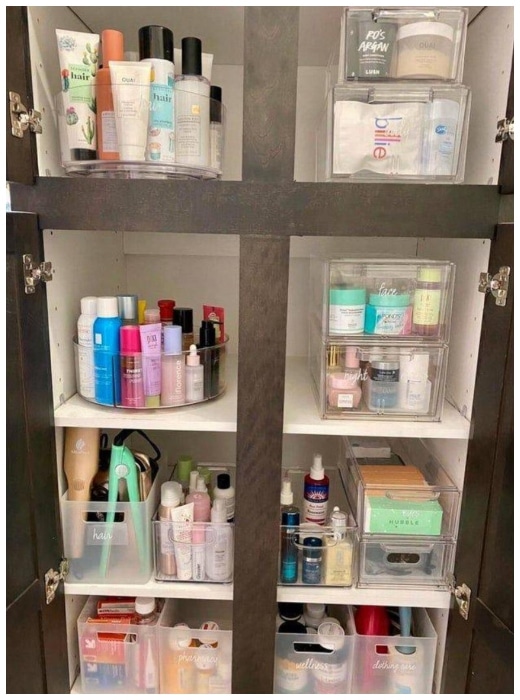 They are waterproof, so you do not need to worry about water getting inside and damaging any of the items. You can store all the hair sprays and face masks without worrying about ruining them. The items are also easily accessible since the container has no lid. If you want to, you can also store your kitchen items inside these containers.
Spice Drawer
Another product of DIY creation, the spice drawers, function like the tea drawer. If you are an experienced DIY enthusiast, you will be able to get it done in no time. All you need to do is create holes on a piece of wood or cardboard and make the base fit the drawer. With that, all the spice jars can be stored in the drawer in their own individual compartments.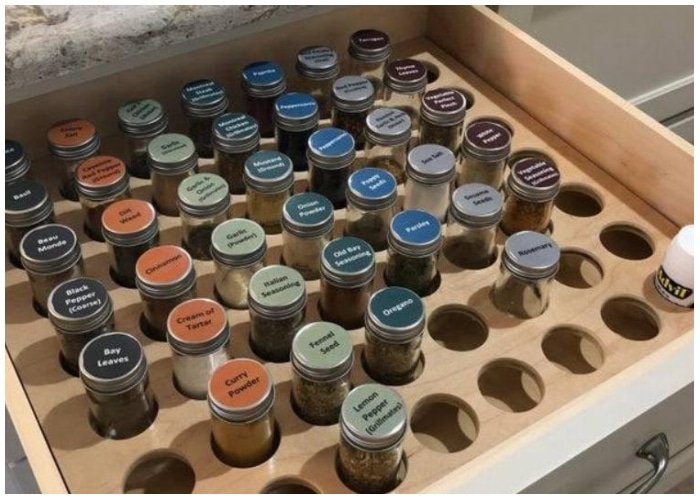 If you can't make your own, these drawer inserts are pretty popular, and so you can buy them from most handicraft shops. They even come in plastic and other materials.
Use S-Hooks to Hang Your Face Masks
With the COVID-19 pandemic still affecting people, face masks are a necessity both in your homes and when you go outside. If your entire house is filled with so many masks that you can't find the one you are looking for, try installing an S-hook in your closet or wardrobe.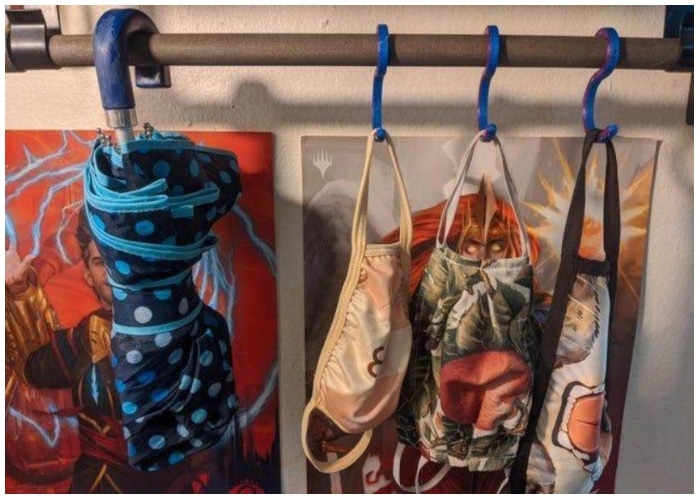 Nowadays, most closets come with their own S-hook. So, if there is an existing S-hook, you do not need a new one. With an S-hook, you will be able to hang all your masks neatly and grab the one you need conveniently.
DIY Drawer Organizer
The bigger the drawer, the more organizers it will need. So, when you are going to create or buy a drawer organizer, keep this in your mind.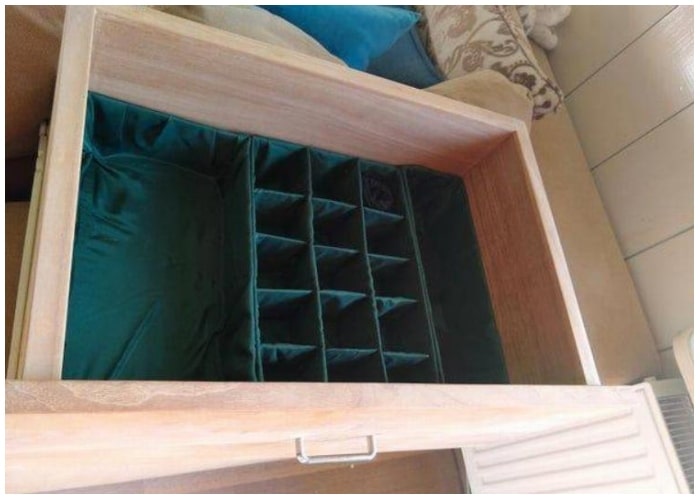 While shop-bought ones are made of acrylic or some sort of cotton material, if you decide to make them on your own, you can achieve that by using recycled cardboard covered in scrap fabric. While this isn't waterproof, it will work wonders to create the most accurate compartments to store all the items in your drawers. Besides, this setting gives a colorful and fresh feel whenever you open your drawer.
Using Pegboards
Pegboards are both convenient and pleasing to look at. So, if you are looking for a multi-purpose board that you can use to hang anything from small keys to face masks and clothes, pegboards could be the answer to this problem.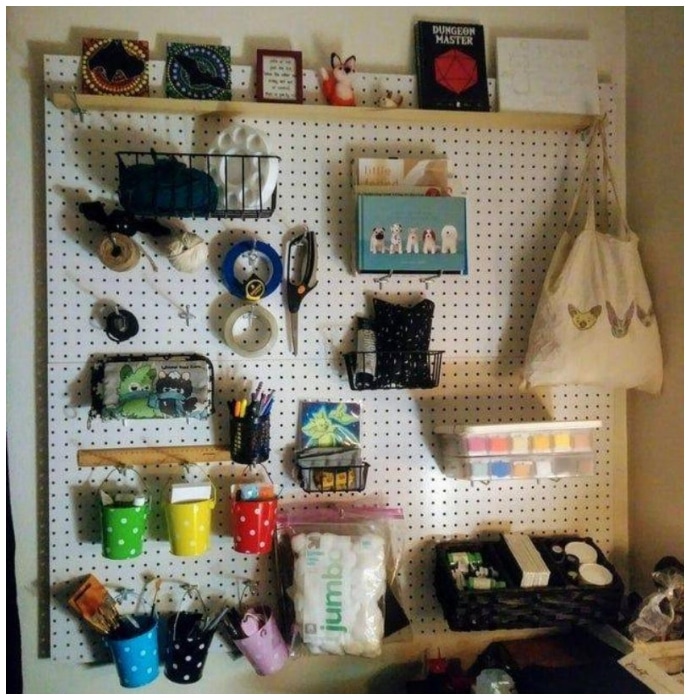 Just make sure not to set the board up haphazardly, or the entire setting could fall off. Follow a proper system when setting the pegs to the board. Now, if you're looking for something, you just need to take a quick look at the board.
Photo Albums for Storing Seeds
If you want to store seeds that you can use later on, photo albums could come in handy. Since the albums are made of plastic, it will make sure that you have the right temperature and conditions needed to ensure that the seed lays dormant and will neither grow nor rot while it is stored.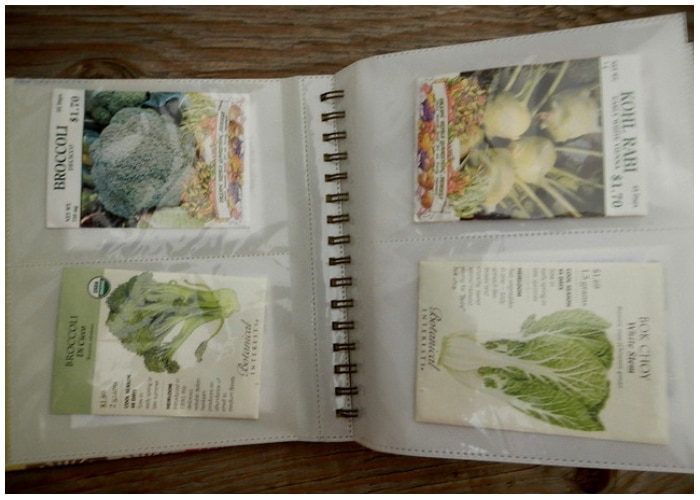 You could mark the albums beforehand with the name of the type of seed that you are storing on that page. This way, you can pick up the seed you want later on without any trouble.
Storage Under Your Bed
Old fashioned beds used to come with their own storage under the linen. All you had to do was pull the drawer and then store all the things that you want inside. Because the storage remained warm and dry, you could store almost anything.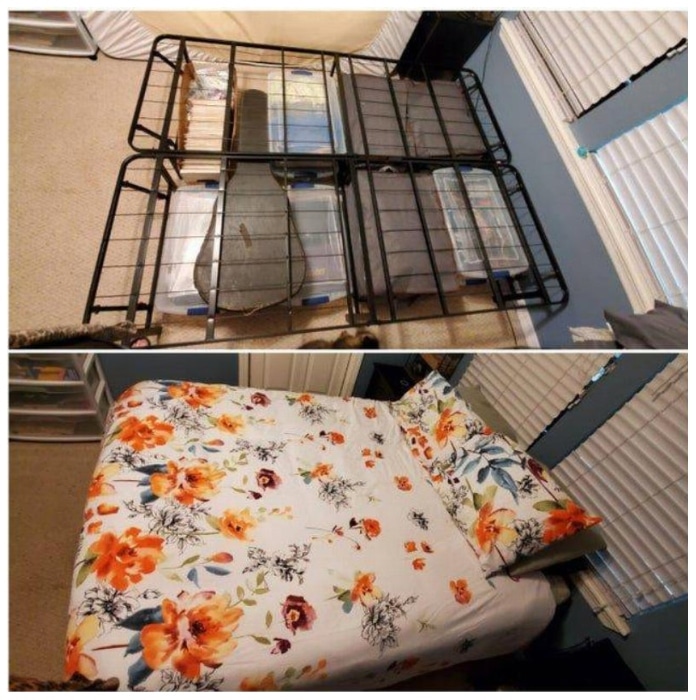 While newer models might not have these storage drawers under the bed, you can still store many things under your bed if the underside is hollow. You can even get DIY drawers to place under the bed for storage.
Baking Storage
For those who have a love for baking, storing all the measuring cups and mixers is a hassle since no one can find the right tool when they want it. If you are someone who is facing a similar problem, you could solve this by building yourself a wooden lattice with elongated hangers.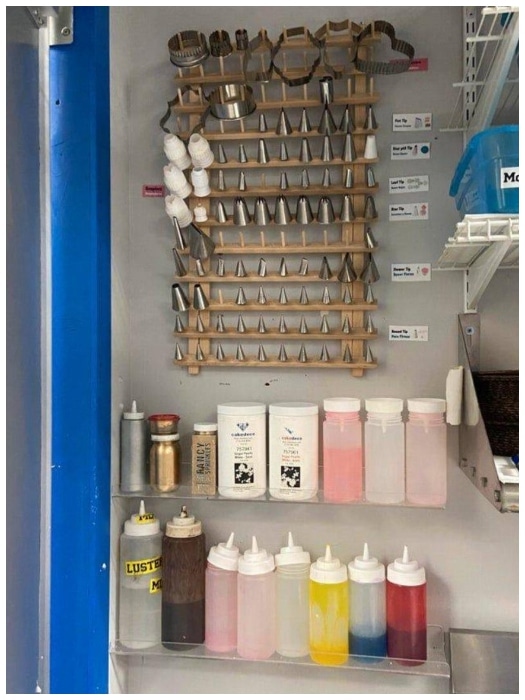 Not only does this setup look cool, but it also allows all the baking equipment to stay hung in front of you. This means that you do not need to spend a lot of time looking for the right tool.
Closets Can Go Anywhere
Many small houses nowadays do not come with closets. In such cases, what you can do is install one by yourself. You can do this easily by installing rectangular wooden bases on your wall to serve as shelves. In addition, a shoe rack and clothing rack would also look good together with this setup.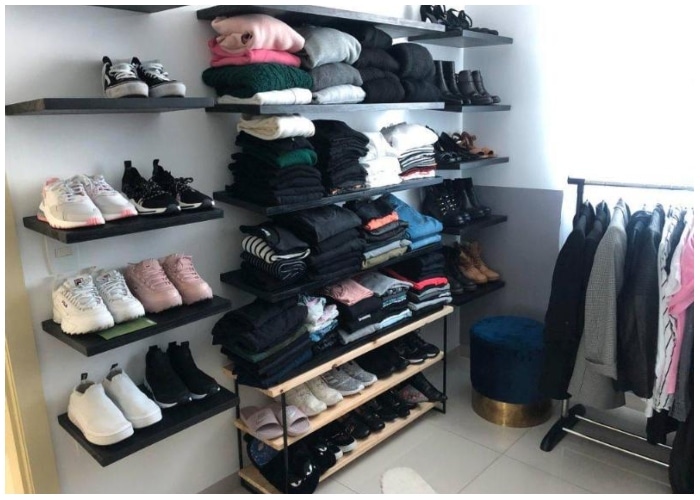 All of these items together would act as your closet. Since they can be installed anywhere, you could also decide to remove the shelves easily and install them somewhere else. The racks do not need any installation, so they have no problems with movement.
Magnetic Spice Rack
Magnets are the answer to a lot of problems that you face in your everyday life. If you do not have any drawers or cabinets to store your spice boxes, the first thing you can do is get a magnetic board and install it on a wall in your kitchen.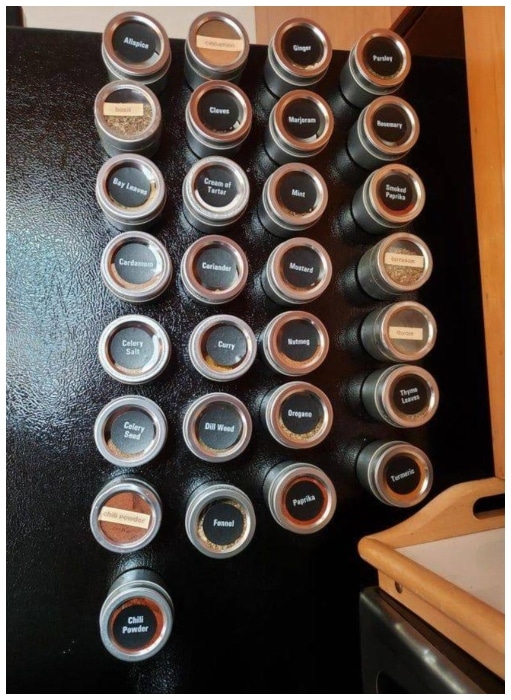 In addition, you can also install various small magnets on the wall instead of the magnetic board. With this board or unit, you can attach the top lid of the spice boxes as long as they are made of metal.
Organizing the Garage
It is important to keep your garage well organized. While most people use garages to park their cars, this place is also commonly used for storage purposes.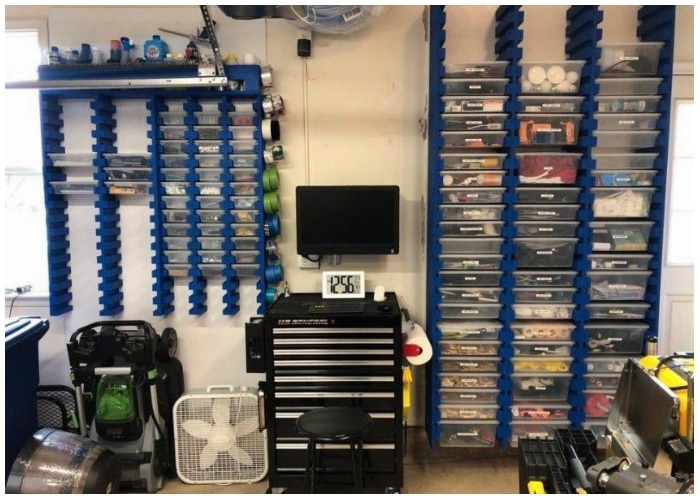 Not many people organize their garages, but they do complain about how long it takes to find what they are looking for in the garage. Such problems could be tackled by using racks and baskets, and other small boxes to store all the tools in the places they are meant to be stored.
A Solution for Cans
If you do not have any place to store your cans, instead of jamming your cabinets and drawers, use a soda dispenser rack. These racks do not come in use much unless you are going to store your soda or other racks. In addition, it provides the perfect room temperature to store the cans inside.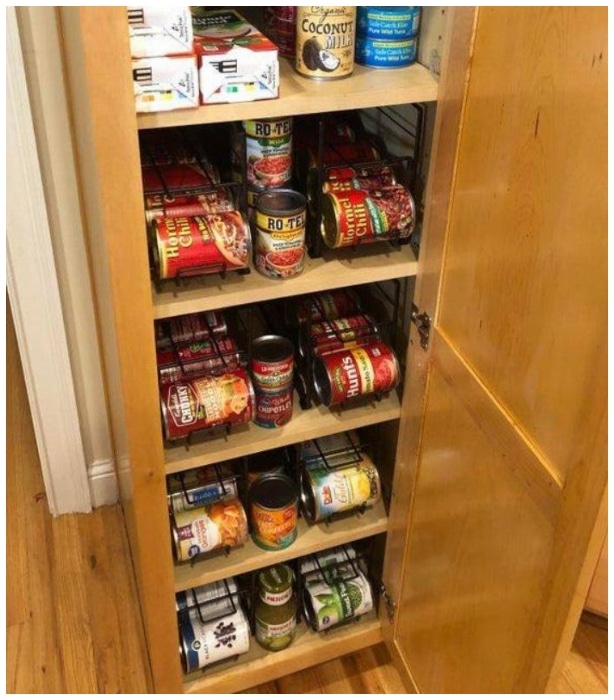 You will be able to keep all your canned goods neat and well-organized. Besides, this is a brilliant idea itself to store cans in a soda dispenser.
Another Solution for Cans
If the previous solution did not amuse you, this one definitely will. This organizer is a bit tougher to set up since you will need to attach two small pieces of wood together to a big one. However, the final product is worth it.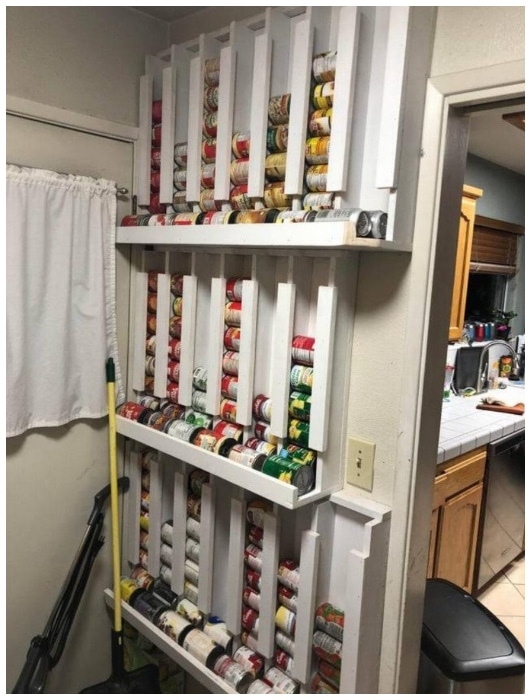 All you need to do is stock up the cans by rolling them down between the two wooden lattices that are attached to the bigger one. Of course, if you can't build it by yourself, you can hire a professional to work for you. Do note that you will need to spend a lot of money on this since this is a pretty complicated setup.
Hang Items on the Wall
For a quick and easy solution to clearing and making more space, you could consider hanging all the possible items like foldable chairs, dusting brushes, and brooms on the wall.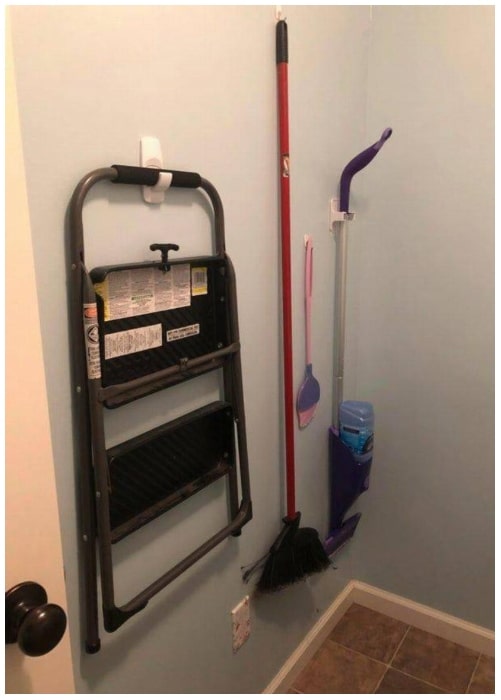 Try to drill on your walls and screw pegs or hooks on the holes. If you don't know how to drill, you could hire a professional to help you out. This won't cost you much. After the hooks or pegs have been screwed to the wall, you can hang different items, giving you more walking space while having a more organized house.
Fabric Boxes
Fabric boxes serve the same purpose as plastic boxes and other acrylic boxes used to store various items. Fabric boxes were manufactured with the sole purpose of storing all of your clothes. So, you can keep them organized inside your closet.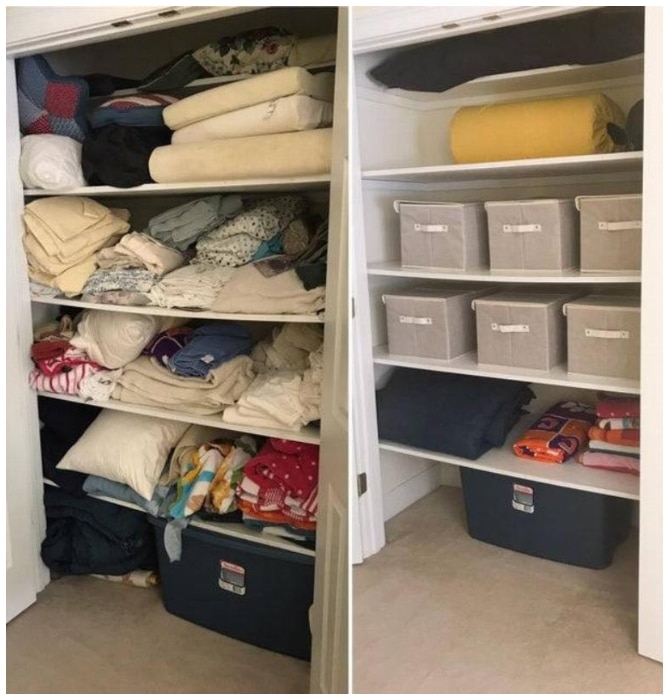 Even without the advantages that we mentioned, it is nice that fabric boxes come in various colors. This makes them nice to look at. So, it adds a touch of decor to your room.
A Smart Solution for Mats
Silicone mats and racks are useful for many different purposes. They can be used as baking mats or even table protectors. It is also important to store them when not in use. And you need to ensure that storing the mats does not take up much space.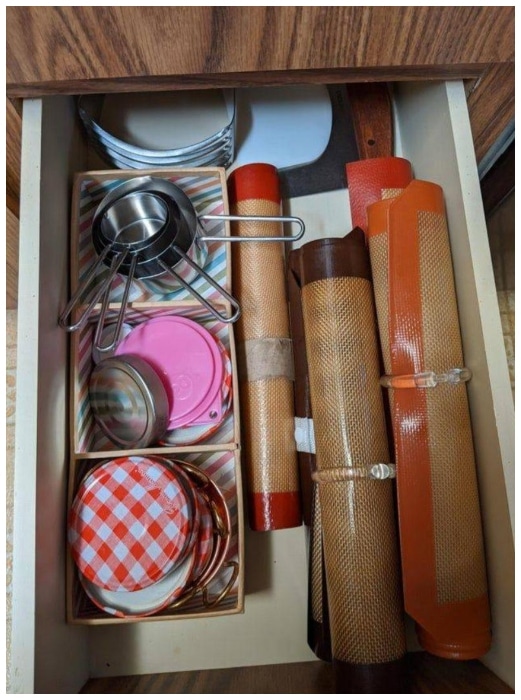 One way to properly store all the mats is to roll them and then tuck them away in your drawer by neatly using shower rings. Elastic rubber bands and small ropes can also be used to serve similar purposes.
A Trip Down the Memory Lane
Simply organizing your cabinet does not mean that the cabinet is going to be anywhere near interesting. If you want to get rid of the boring vibe that your cabinet gives off, you can stick photographs to the door.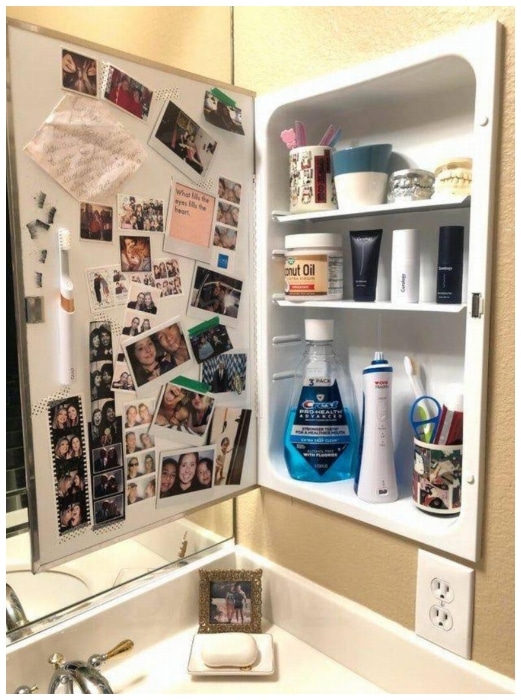 You can check on the photographs any time you want to dip into the sea of your memories to feel nostalgia. Besides, if you are a fan of retro, you will be happy to know that people used to follow this style of attaching photographs to their cabinets back in the 1990s.
Set Up the Pantry
A well-organized pantry ensures that you do not have to spend a lot of time rummaging through your stuff to look for ingredients. Make sure to organize the pantries using any item coding. This ensures that you can grab the items you need without any rummaging.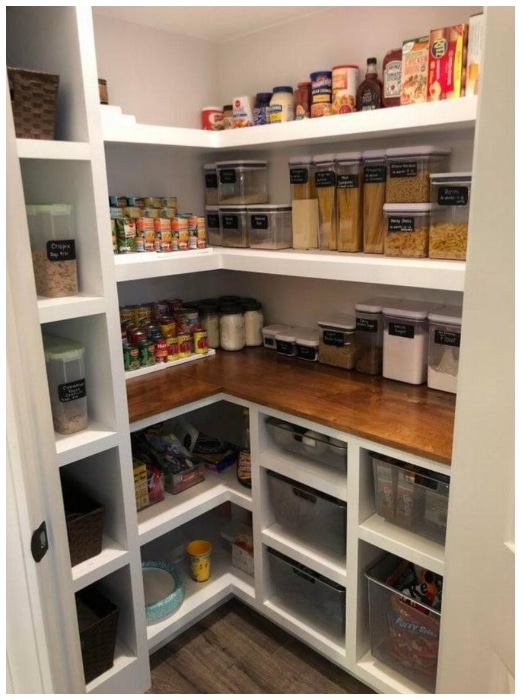 All of the dry goods should be in one place. You can keep the items that you reach for less often on higher shelves. There should be no unsightly packaging. This way, there will be enough space to fit in more stuff.
Pots and Pans
Organizing pots and pans in an organized manner can be a hassle that almost everyone faces due to the fact that they are one of the harder items to organize. This is because most of them tend to be bulky and big.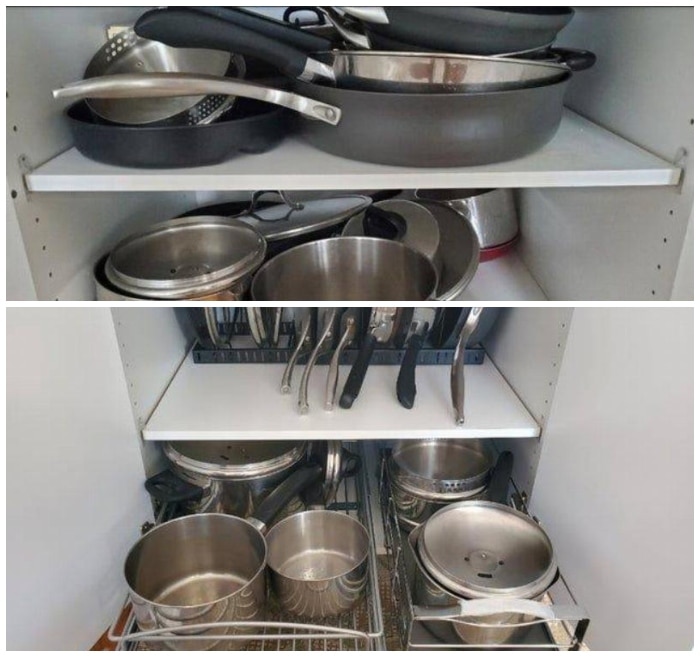 Using large baskets and drying racks could be a solution to this problem. Separate different types of pots in terms of size and purpose. Stack smaller pots inside larger ones. This can save you a lot of space.
Creating Multiple Levels
There is no doubt that storing utensils and pots in your kitchen is a hassle. You can create multiple levels in your kitchen and store all the items based on the size or type of equipment being used, just as we mentioned in the last hack.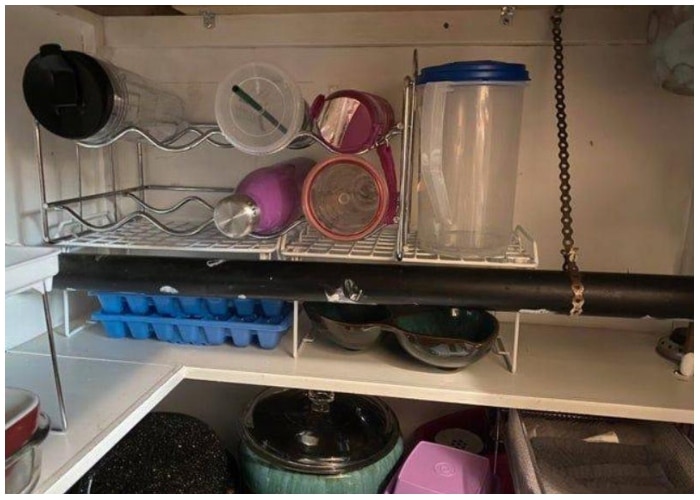 For example, you can store all the cups on one level and bottles on another. Just remember to keep them in their designated places after you've used them, and you should be good to go!
The Sewing Room
If you are an expert, a sewing room or section is a must-have for you. While all the pins, yarns, and fabric might make the room completely look distraught, certain modifications and hacks can help the room bloom.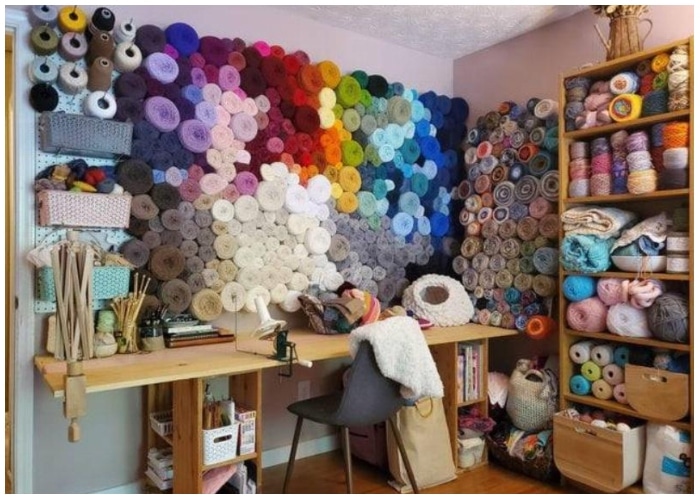 You could use hangers and boxes to keep all the loose items in place. Besides, having an organized sewing room with all the yarns and colorful fabrics make it look like a piece of art that has been molded into perfection. So, you get decor and organization both!
Vertical cabinets for kitchen
Straight shelves setup is the latest and probably most employed kitchen trend now. Certain culinary equipment, such as chopping boards and baking dishes, could be positioned straight for aesthetic purposes. No one just likes stacking up a bunch of boards and dishes on a corner of the kitchen, detracting the beauty of the kitchen.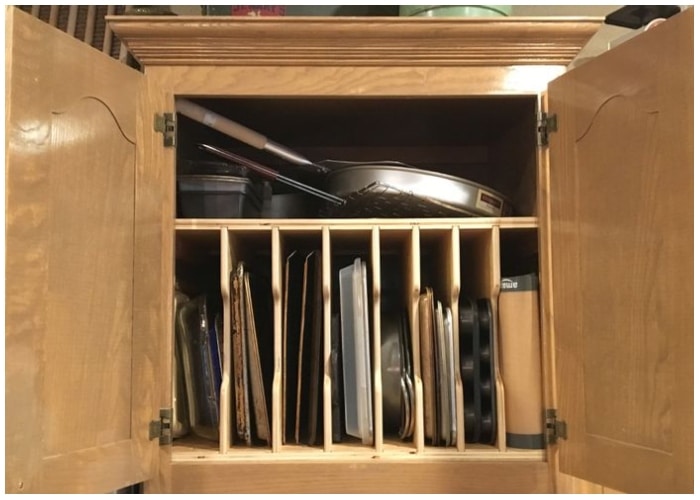 Such items are mostly lean and so take up much less space when kept vertically. Additionally, all this equipment becomes much more accessible and makes them easier to handle. This setup in general does not take away a lot of kitchen space and can be easily installed within the kitchen cabinet.
Wall-mounted dryers
It is a hassle drying clothing items without having a place to dry them quickly. Using racks with handles not only scoops out great places in the house but also makes the whole room look untidy and a mess. How about utilizing those walls with ample space and also having a ray of sunlight entering!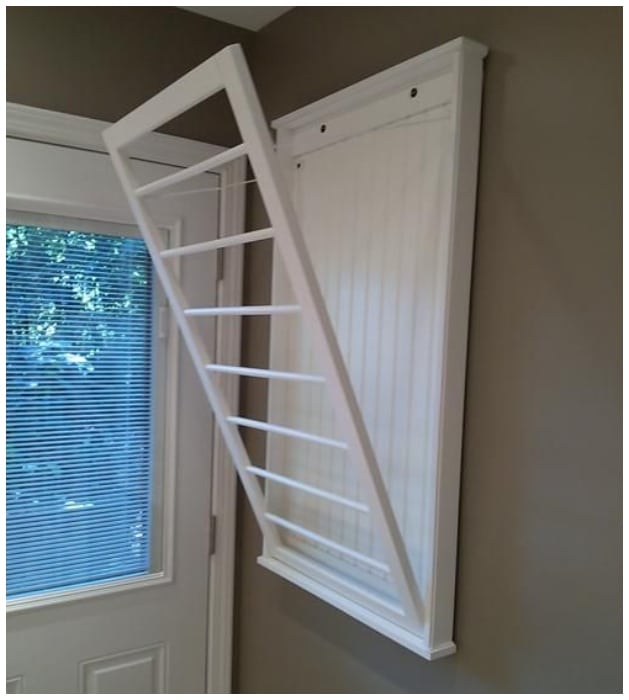 Attaching a couple of drying hangers directly to the wall would increase the utility of the laundry space. Simply roll them up if they're not in need to keep them out of the middle of laundry. This is surely a clever hack to get some more drying spaces too.
Divide drawers into sections for a dessert station
Kitchen drawers tend to get very messy when every small or even random item is being dumped continuously. These drawers could be the Bermuda triangle of the kitchen with several pieces of equipment drowning. Breaking the drawers into multiple categories allows space as well as a range of sizes to put the products accordingly.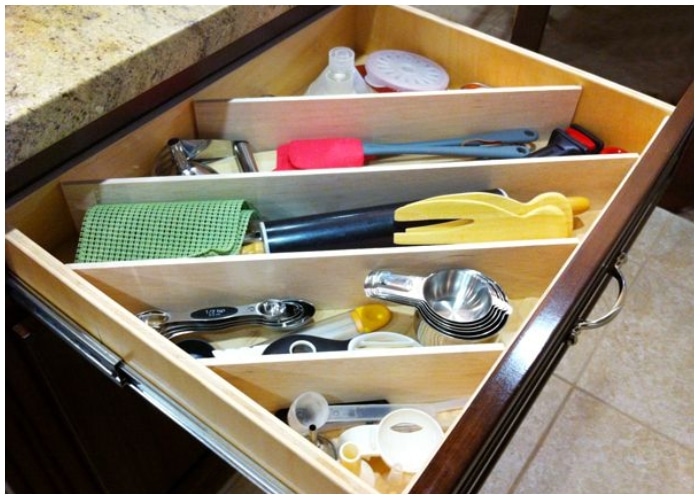 You may discover precisely whatever you require in a jiffy if by grouping related products into classes. The most-employed baking equipment, as well as a variety of garnishes such as sugar and chocolate sprinkles and candies for adorning sweet delicacies, can all be gathered and stored in this case.
Make a Book Haven Out of a Closet
If a closet door won't hinge and is somewhere everyone would notice it's a headache when all that space is being left out without being used. Turn the closets into a centerpiece and a pleasant retreat for the children if you prefer to keep the entrance open.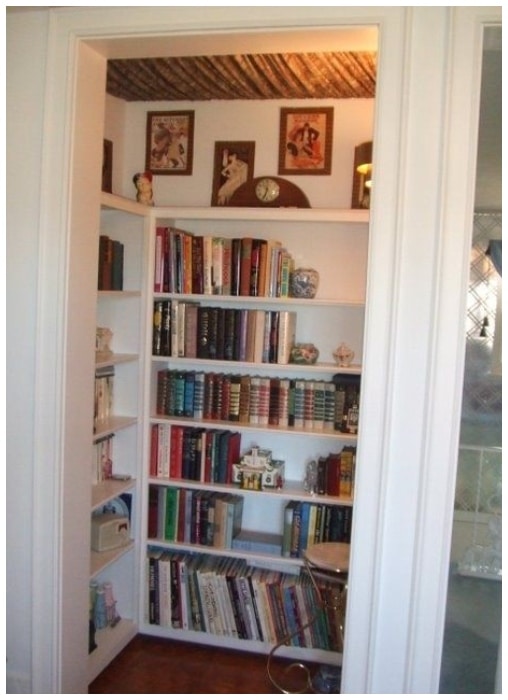 To provide a stunning framework for bookcases, repaint the walls in a bold color. This little library would keep the kids busy on those snowy or rainy days and also would become a theme when guests come over. A splash of painting and a few rearrangements make this quite easy to assemble and maintain.
A Folding-Desk Setup
If you don't have enough space for a dedicated home office, a folding workplace may be added to almost any nook of the room. By creating a few shelves, within the flip-down working area, every other stationary document could be kept for use.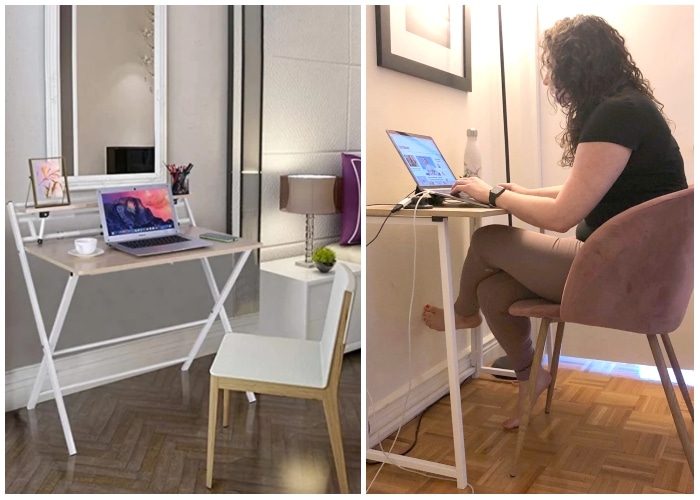 Again after the work is done, it is easier to slip the journals, laptop, and additional materials underneath, from out view and sight. With just a few tools, this desk could be easily built and assembled for use. Without hogging any extra space of the house, this desk could be organized without a sweat, with its size varying according to its use.
Shelves for Crafts & Supplies
We have all watched FRIENDS and saw how Monica saved and kept her ribbons and wrapping papers in her drawer organized. It is actually a neat trick to apply for organizing craft stuff without being all tangled or torn.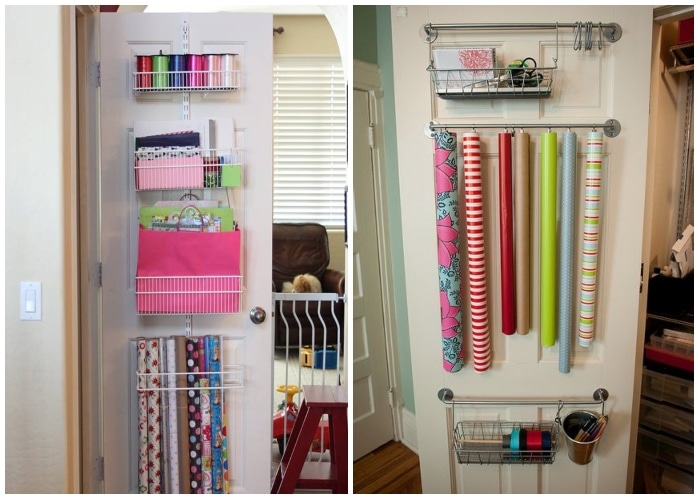 To maintain all the creative materials tidy and organized, consider using separators for reels of ribbon in shelves with pull-out rails and a slide-out arrangement for wrapping sheets in sliding-out cabinets. The number of removable rails can be used depending on the number of supplies present. The separators could be color or type-coded, allowing easy access to any particular supply.
Pet Housing in Disguise
Pet gears could sometimes use a lot of house spaces, making them look untidy. Creating a medium-sized cabinet to fit all the pet's needs seems a feasible solution.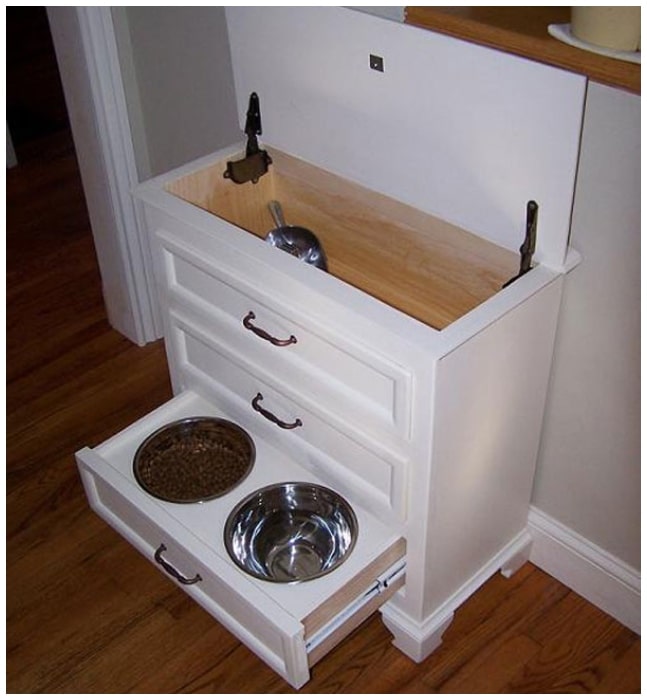 Have your animal pals close by while causing their bedding, feeding dishes, or toys to obstruct your decor. A dog pad is hidden on the inside of a bottom cabinet area and a shelf for pet food containers using a monotone design. This approach goes well with any home decoration and is extremely easy to assemble. Moreover, the pet would not mess the house as everything is in hand's reach too!
Creating a What-To-Do Board
We tend to forget certain grocery items we need. We misplace our laundry, grocery, or other important slips and run like headless chickens searching for them. By making a small space for storing these would be a clever organizing hack.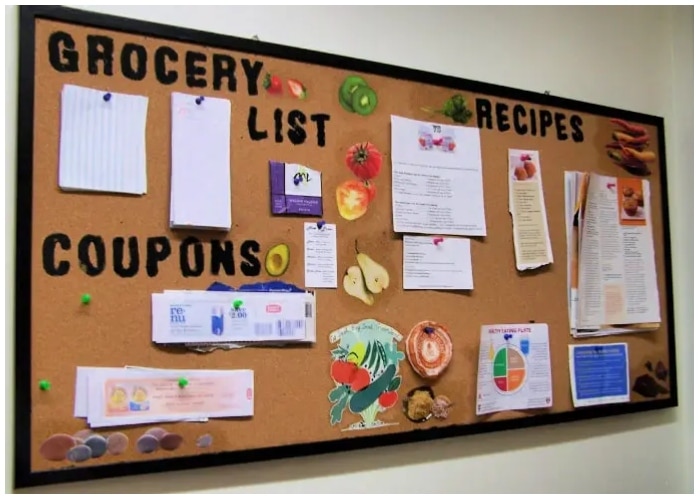 To store all of the shopping lists, vouchers, and recipes inside one place, apply adhesive pouches to the interior of the condiment rack. Put a pen string so you wouldn't have to look for it when you need to scribble down anything. Important dates marked on a small calendar kept in a pouch; even appointments wouldn't be missed this way.
Towel Hangers for the Linen Press
Linen closets give large shelves and cabinets for storing household linens. They aren't only for the restroom. Excess tablecloths, blankets, or towels may be stored out of sight with an over-the-door hanging for easy access to fresh bed sheets and towels.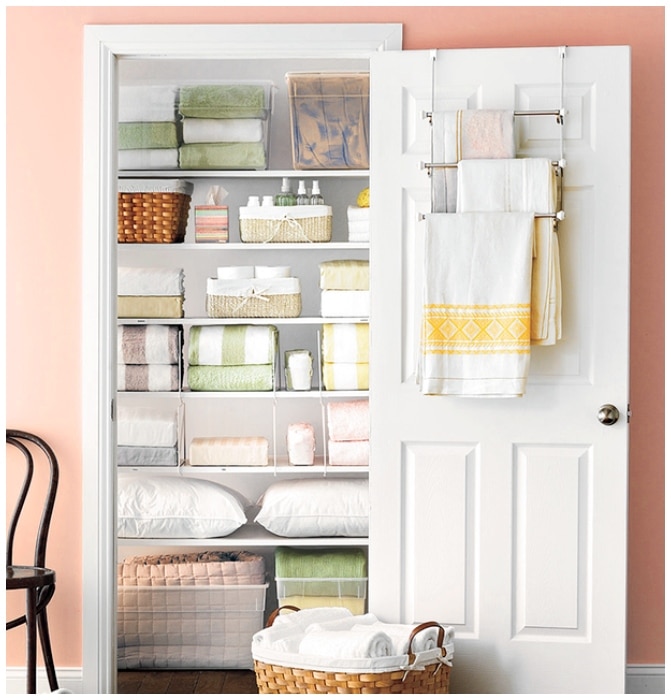 Additional racks would allow much more space for extra linens, also allowing them to dry quickly too. Extra racks allow better space in the cabinets to store delicate linens, preventing the cabinet from overstuffing. As these racks are removable, they could be folded and kept in case of its discontinuance. This is a very easy technique to use further space without massive costs.
Closet Organizers are an incredible deal
Cluttered desk storage does not aid overall efficiency, even if it is simple to imagine "out of sight and mind." A very simple inexpensive solution such as dividers would provide better space and less fuss.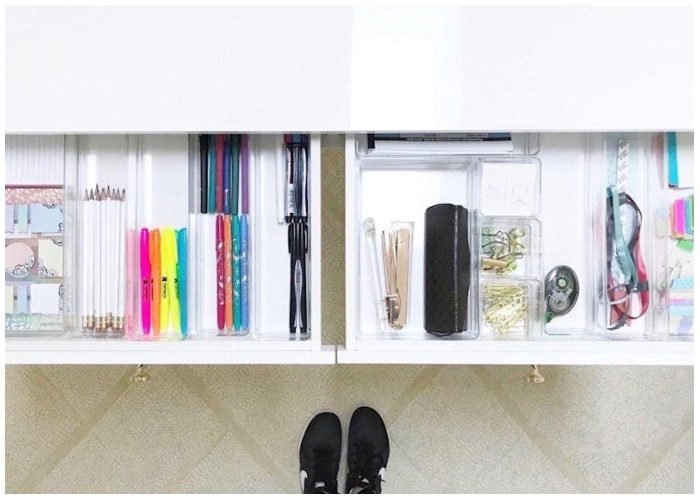 Acrylic partitions may be mixed and matched to give essential pens, pencils, and paper clips a home. The separators could be varied in size and coded according to the stationary. Further small containers could be used to store the minute essentials and kept in the cabinet. This prevents small cuts or pierces, and a drawer organized so neatly would increase the urge for its use.