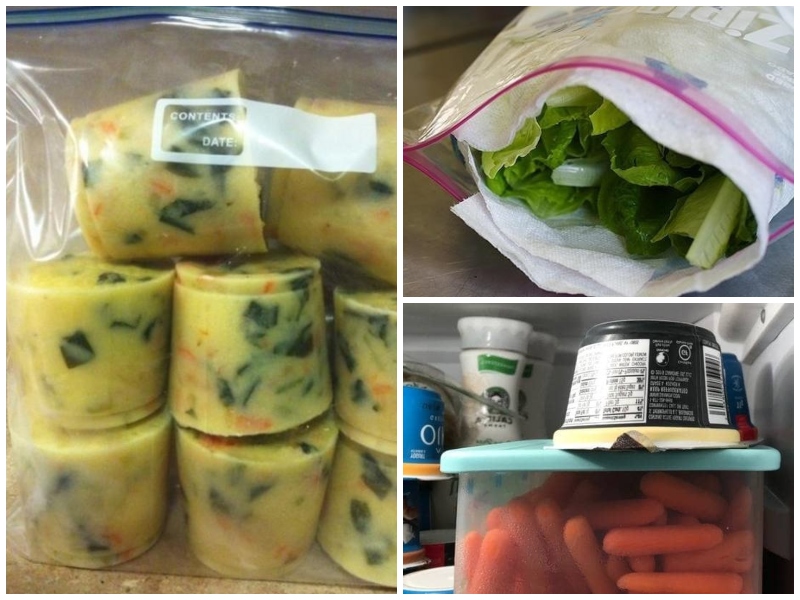 Nobody wants to waste food. Not only can it be expensive to have to buy new eggs or milk that has gone off, but it's also not kind to the planet to not use the bounty that has been provided. Luckily, there are some great ways to make groceries last longer, and stay fresh. That means that enterprising grocery shoppers can use these easy hacks to make meals out of groceries that might have gone bad, but didn't. The old saying goes, "Waste not, want not," which is very true when it comes to groceries. Keep scrolling to see some of the best hacks for preserving groceries, which will keep your food fresher for longer. That sounds pretty good to us!
An Eggcellent Trick
Eggs can last for a long time both in the refrigerator, and outside of it. In some countries eggs are not refrigerated. Unrefrigerated eggs can be stored in a container full of salt, with the smaller end facing downwards. This will keep them from creating air pockets, and it will keep them fresh for up to 10 months.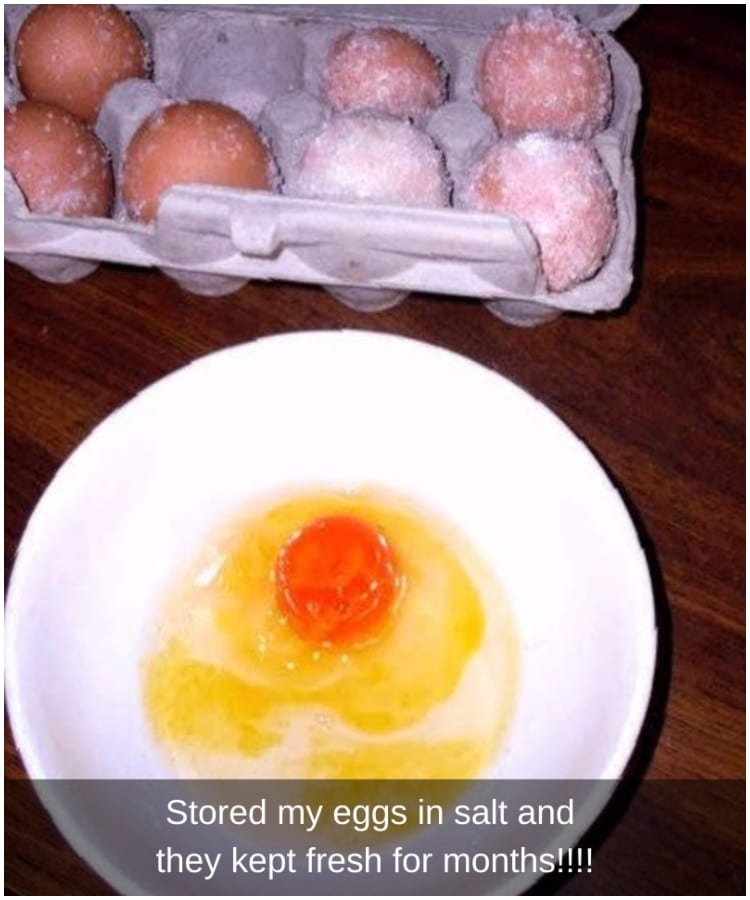 Eggs that are purchased from a refrigerator, should not be stored like this as they need to be kept refrigerated. Once eggs have been placed in a refrigerator, they cannot be stored outside of one. That will cause them to go bad, as will refrigerator temperatures that drop below freezing.
Not So Stale Cookies
Everyone enjoys eating a delicious chocolate chip cookie with a nice glass of milk. However, nobody enjoys eating stale cookies that resemble little rocks. Cookies that have gone stale are salvageable though. All it takes is an airtight container, a piece of freshly sliced bread, and some stale cookies to make those cookies fresh again.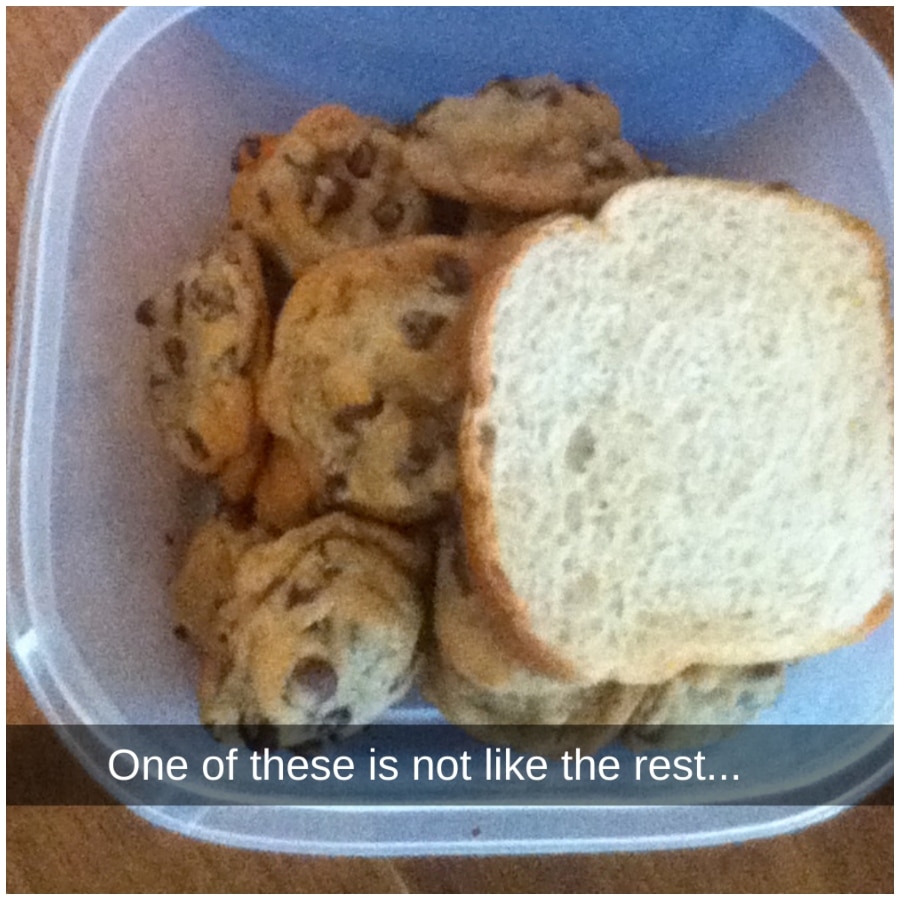 Fresh bread is full of moisture, which seeps into the stale cookies and causes a reaction that makes them soft again. There is nothing harmful in the process, just a transfer of moisture from the bread to the cookies. The bread can even be used as croutons after this process.
The Perfect Avocado
Avocados are one of the healthiest fruits out there. They are considered to be full of healthy fat, which everyone's body needs. Sometimes a meal won't use an entire avocado, which means a half is left over. Avocados have a tendency to go brown and mushy if they are stored without their pit, which can be kind of gross to eat.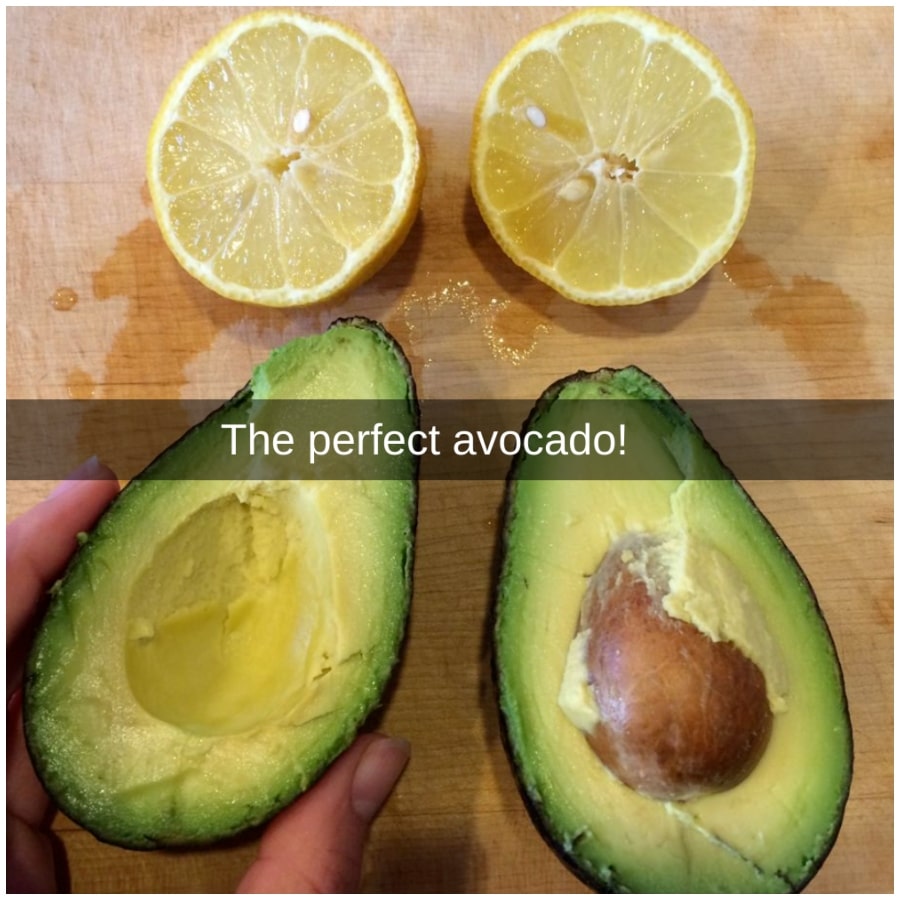 Luckily, the citric acid from a lemon can keep avocados fresh, by fighting off the ascorbic acid that occurs naturally within their green fleshy part. Simply sprinkle a few drops on the avocado, and it should be ready to eat the next day. Just be mindful to store it in the refrigerator after adding the lemon drops.
Upside Down
Most dairy items like yogurt, sour cream, and cottage cheese look like they need to be stored lid up, but that's not true at all. Sour yogurt doesn't taste good, and to avoid having these products go off, simply place them upside down.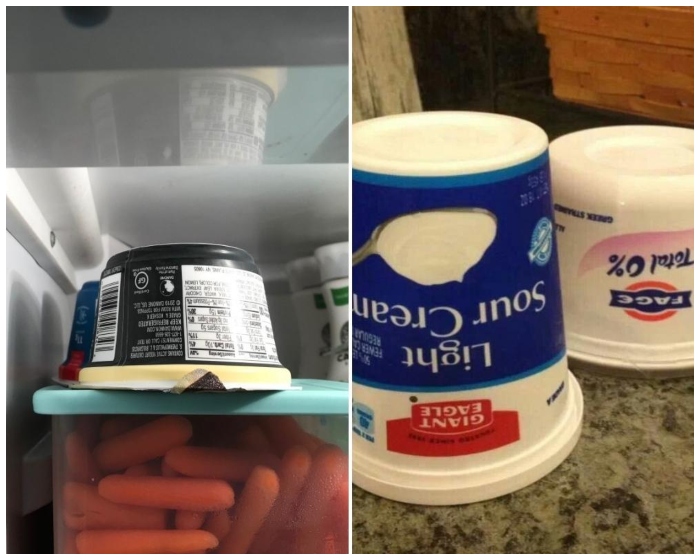 By flipping them over, a vacuum bubble is made and that bubble keeps bacteria from multiplying. However, one thing to be mindful of, is that the seal cannot be broken on the container prior to doing this.
Up For A Snack?
Vegetables are one of the best foods to snack on, especially carrot and celery sticks. One way to make sure everyone in the household is getting enough veggies, is to chop up an entire jar or container or carrots and celery.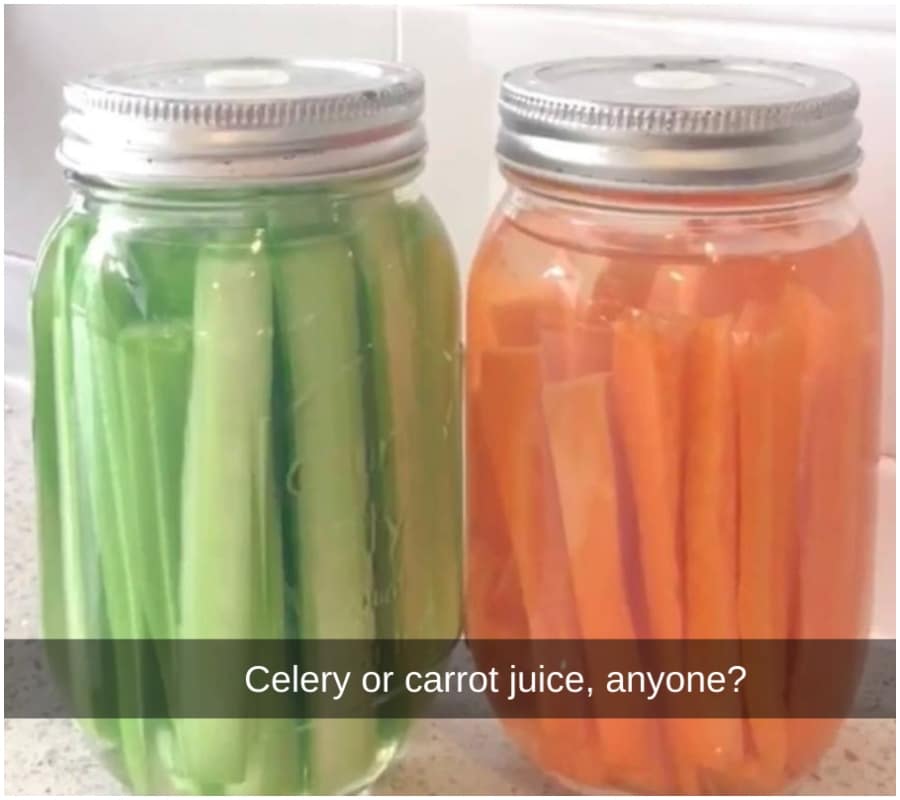 These veggie sticks can be submerged in water, and stored in the fridge to keep them from growing any mold for about a week. That means no extra trips to the store for veggies will be needed.
Icy Herbs
A lot of meals call for fresh herbs like lasagna and pasta. It's difficult to keep basil, oregano, thyme, and rosemary on hand, especially if it is not in season. A great way to keep herbs fresh, and easy to use is to freeze them into an ice cube tray.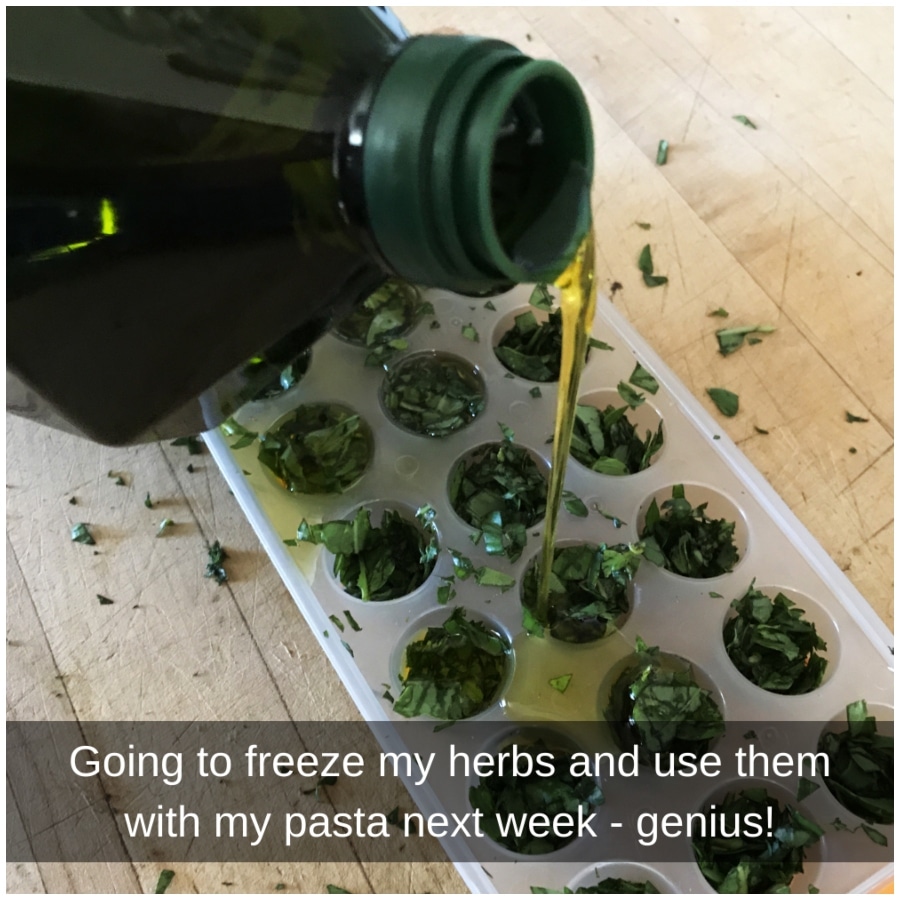 A little bit of water or olive oil, can be added to them and this won't affect the taste of future meals. Once the herb cubes are frozen, simply place them in a ziploc bag and leave them in the freezer until they're needed.
The Banana Fix
Bananas are one of those fruits that can be used in a lot of different desserts and breakfast dishes. They taste great in smoothies, and bake up into some delicious banana bread. Some bananas seem to go brown faster than others, and this is due to ethylene gas.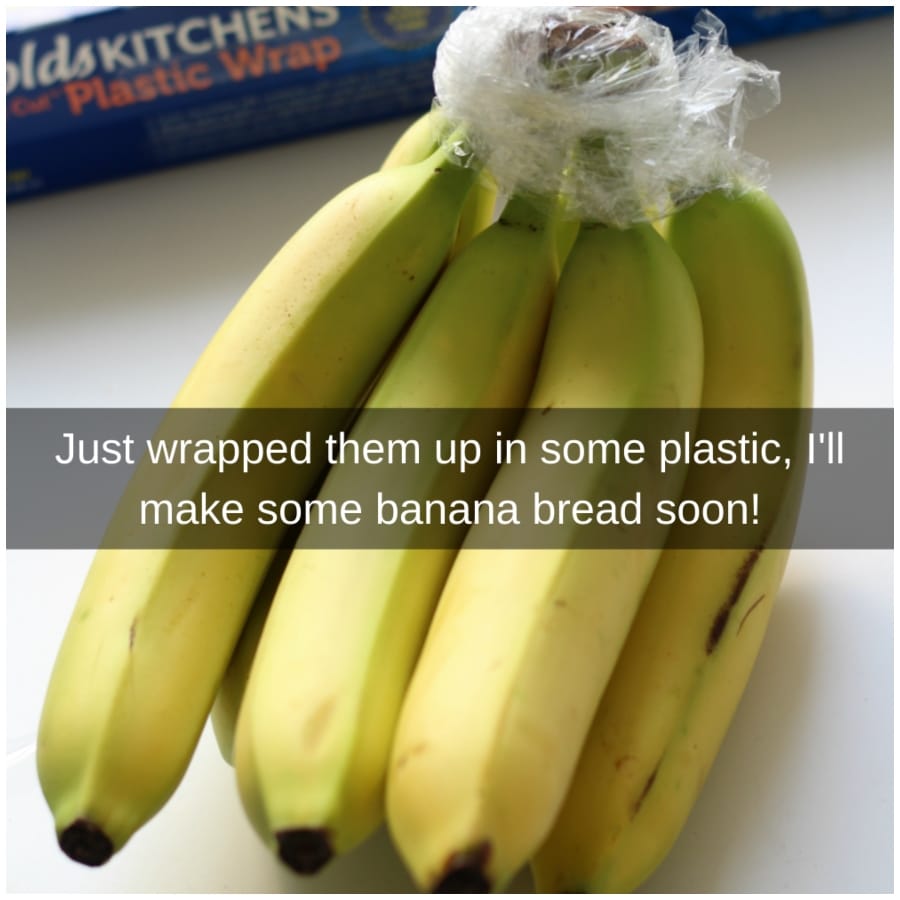 The gas that ripens apples, also ripens bananas. To avoid having bananas go brown, wrap some plastic wrap around the stem and this will slow down the release of ethylene.
A Herb Hat
While freezing fresh herbs is the easiest way to keep them fresh, some herb lovers prefer to not freeze them. Instead of placing fresh herbs in the refrigerator in the bag they came in, consider placing them in a cup of water with the bag over top.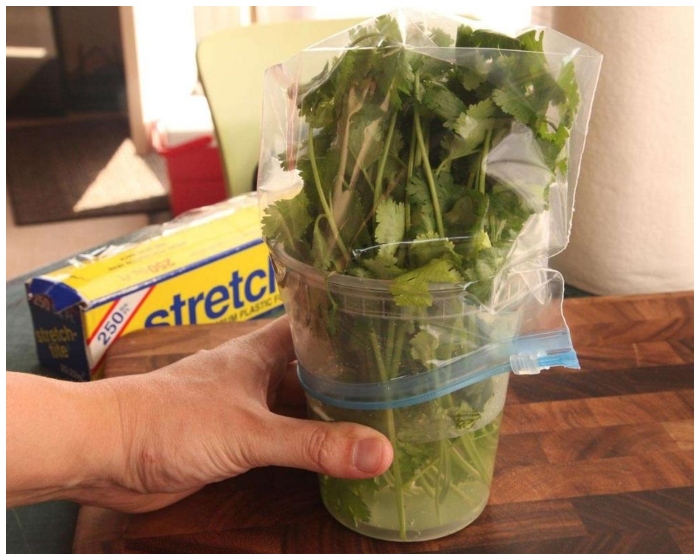 The bag will seal out air that may contain bacteria, and the water will help keep the freshly cut herbs moist. The key is to keep out air, as that is what makes herbs wilt.
Time To Re-Wax
A lot of semi-soft cheese comes sealed in wax, like gouda and edam. The reason cheese makers do this, is because the wax acts as a moisture barrier. Moisture is what makes cheese mold.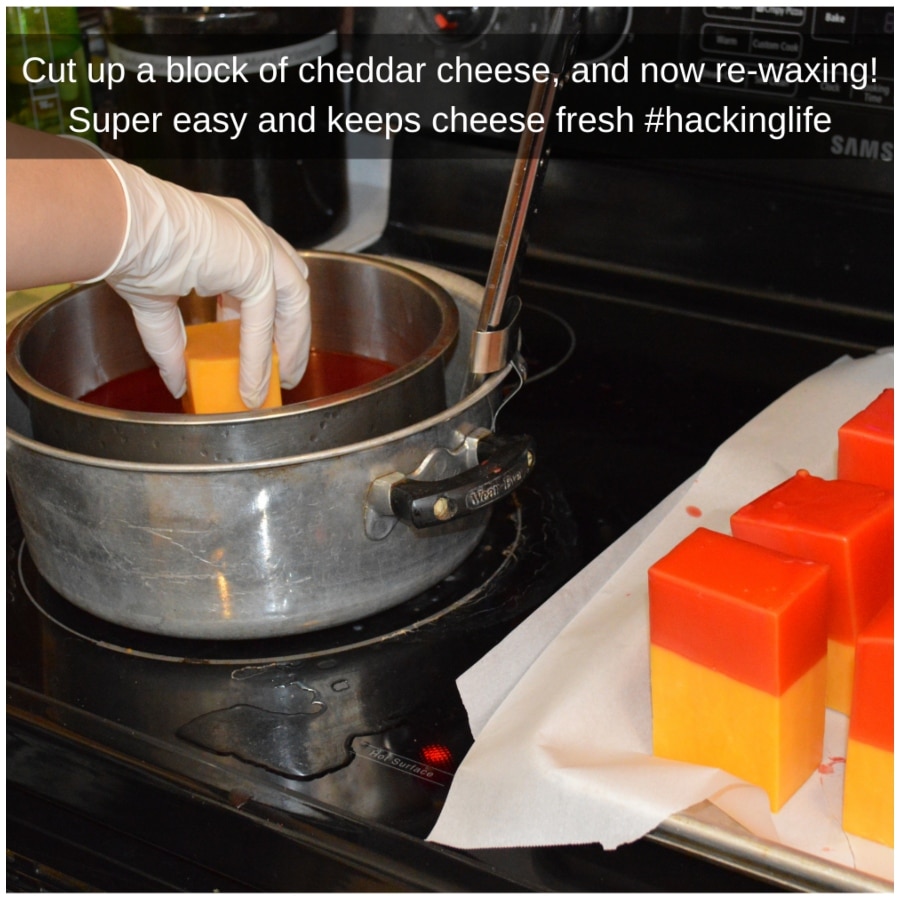 Not all hard and semi-soft cheese comes covered in wax, and if you purchase a large block or wheel you may want to wax the cheese yourself. Cheese wax is easy to find, and something all cheese lovers should have on hand. Just melt and wax!
The Ultimate Seal
A lot of people like to buy meat in bulk because it's cheaper and more efficient to just have it in the freezer on an as needed basis. There is an art to storing meat though, and that art is called vacuum sealing.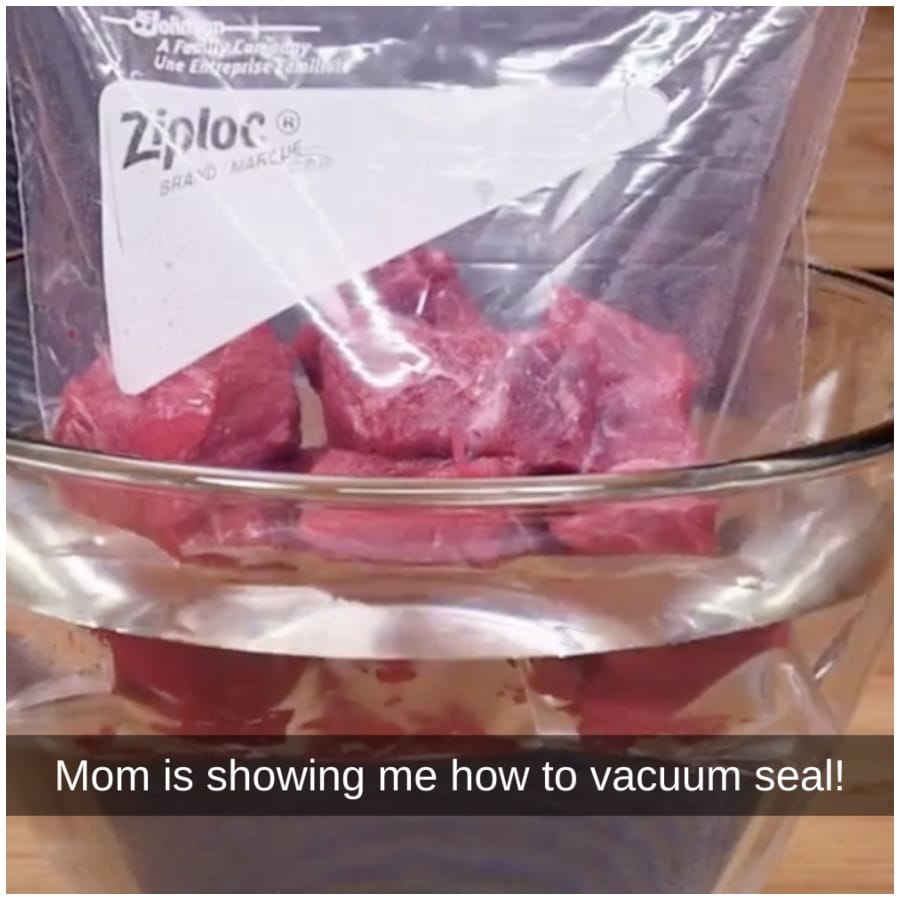 The vacuum sealer can suck all the air out of a plastic storage bag, which acts to keep the meat fresh, and take up as little space as possible in the freezer. This can also be done by placing a bag of meat in water, and pushing the air out manually.
Pineapple Express
Pineapples are exotic fruits that have one of the most unique tastes in the world. They also tend to be on the more expensive side, unless you're lucky enough to live in Hawaii and grab a fresh one off of a pineapple bush.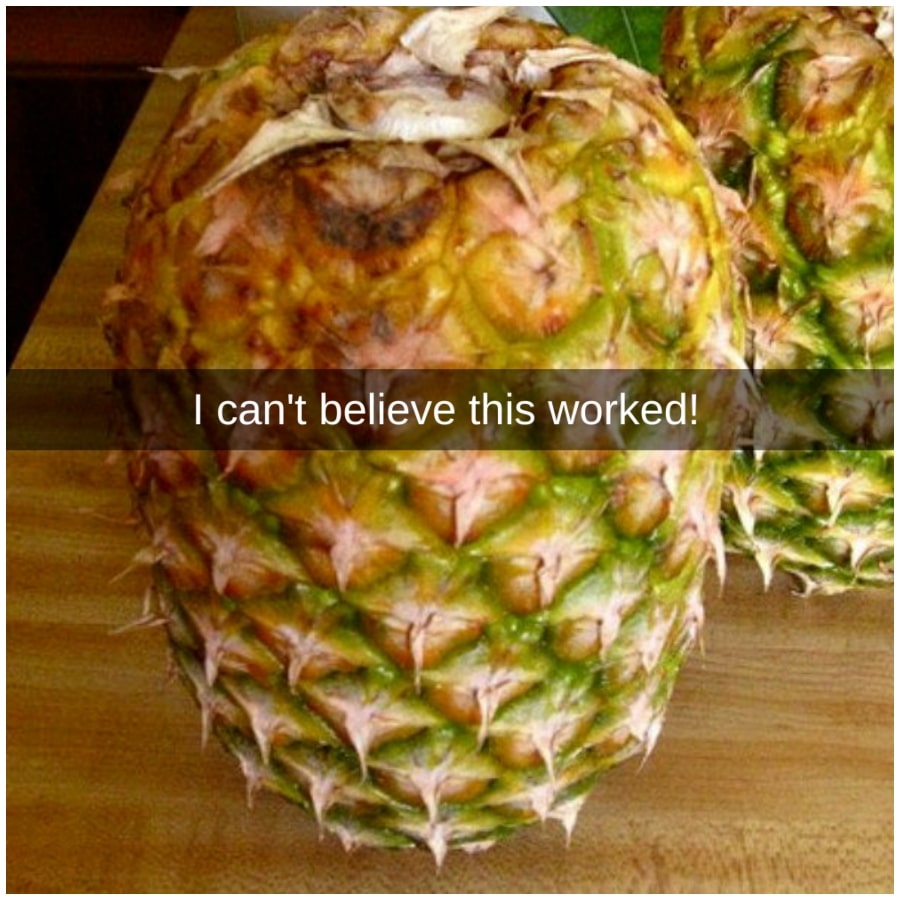 To keep a pineapple fresh for a few days, slice the top off, flip it upside down, and let the juices run down. This evenly distributes all of the juices, which allows the more ripe bits to not rot.
Divided
Ground beef is one of those meat products that is inexpensive to buy in bulk, and can be used for a lot of creative dishes – like beef tacos. Some dishes call for more ground beef than others, which is where dividing it up comes in.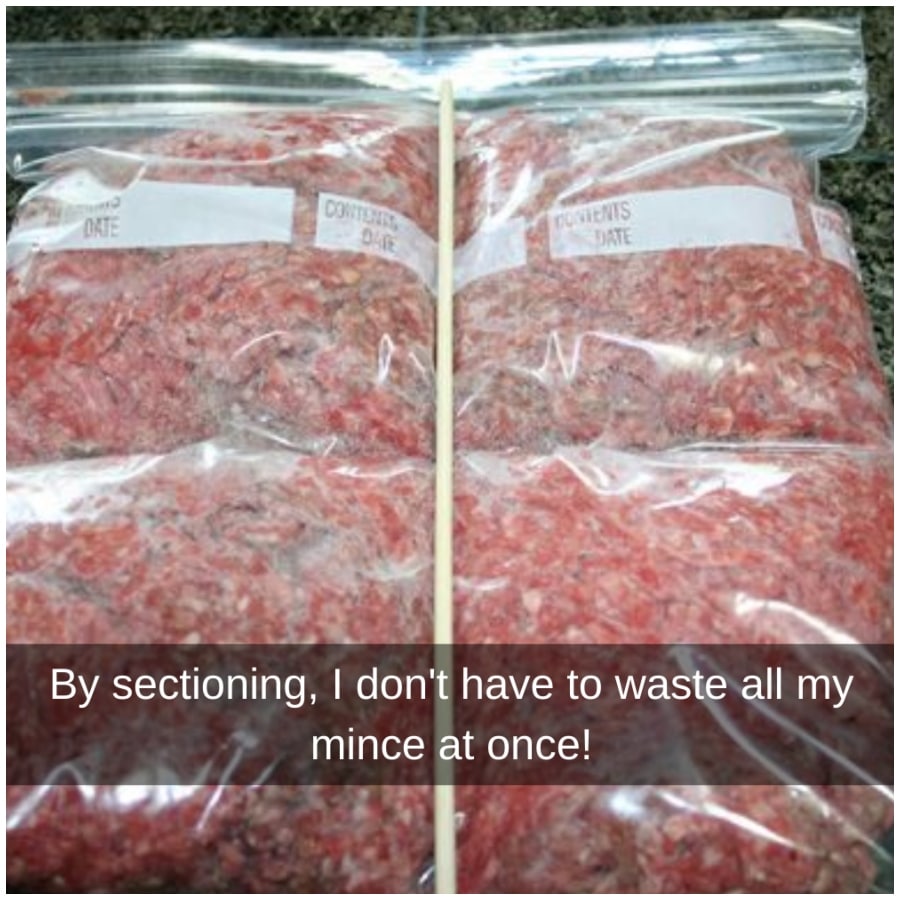 A large ziploc bag can be filled with ground beef, and then sectioned up. That way, you can simply cut out the amount of beef you need, without defrosting the rest.
Cheesy Goodness
Cheese is the way to a lot of peoples' hearts, unless they are lactose intolerant. For the cheese connoisseurs, a bit of green mold can be a turn off but fear not, there is an easy trick to keep cheese fresh.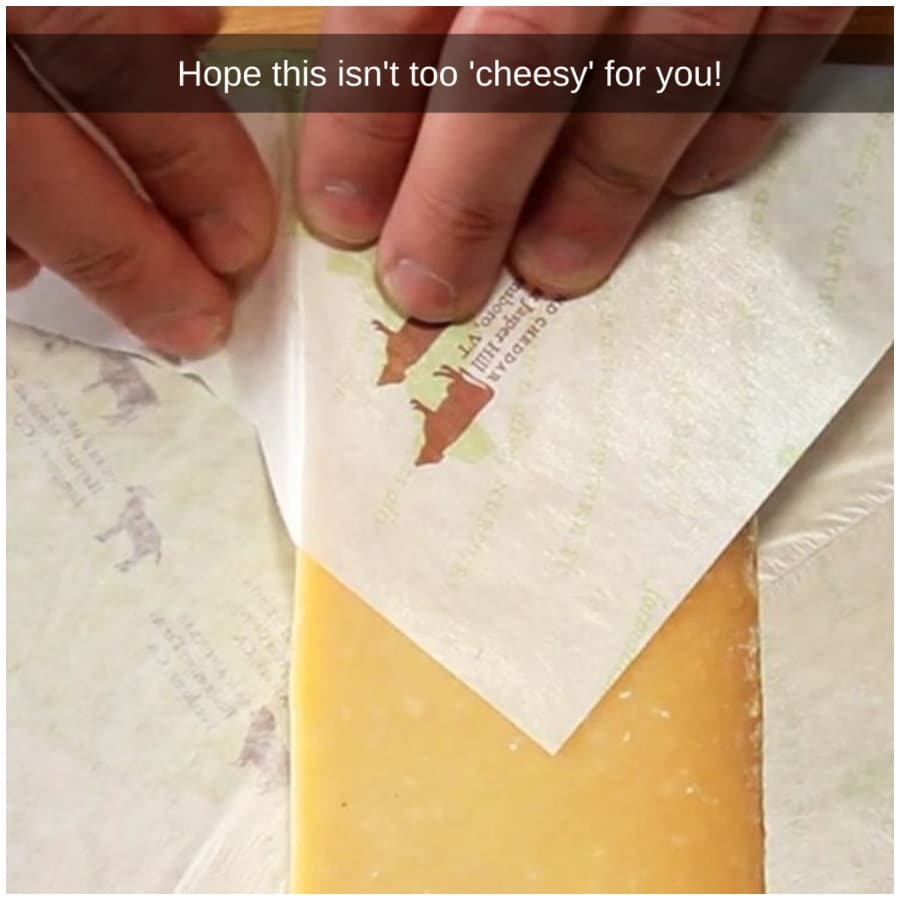 While a lot of cheese comes packaged in plastic, this packaging should actually be thrown away. Cheese needs to be wrapped in parchment paper to keep it fresh, as the paper is able to absorb any extra moisture which leads to mold.
Yogurt Pops
Yogurt tends to come in big tubs, which can make it difficult to eat, especially if it's only for one person. To avoid yogurt going bad, grab a handy popsicle container, and some straws. Pour the unused yogurt into the popsicle container, add a stick, and let it freeze.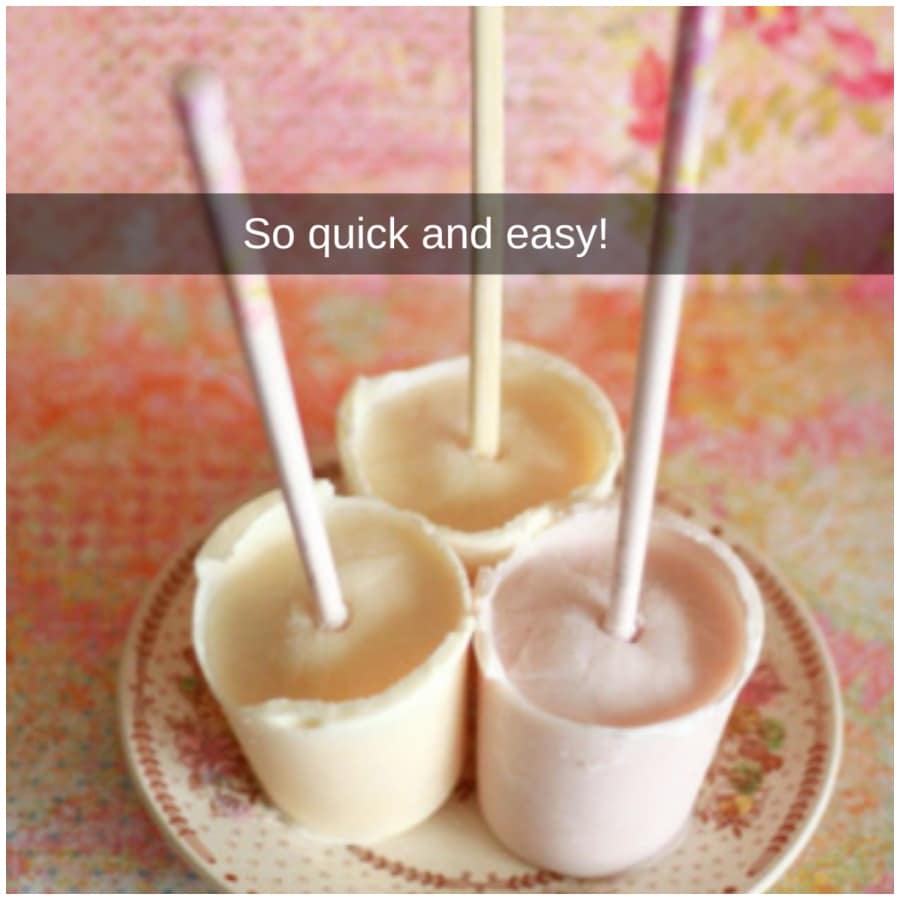 Then when you want a cool treat, just pop out a yogurt popsicle and enjoy. They last around two months in the freezer, and are much healthier than full-fat ice cream.
Keep Those Melons Ripe
Watermelons, cantaloupe, and honeydew melons are delicious treats that really hit the spot on a hot summer's day. But these different melons do have a tendency to get a bit mushy inside if they are not eaten right away.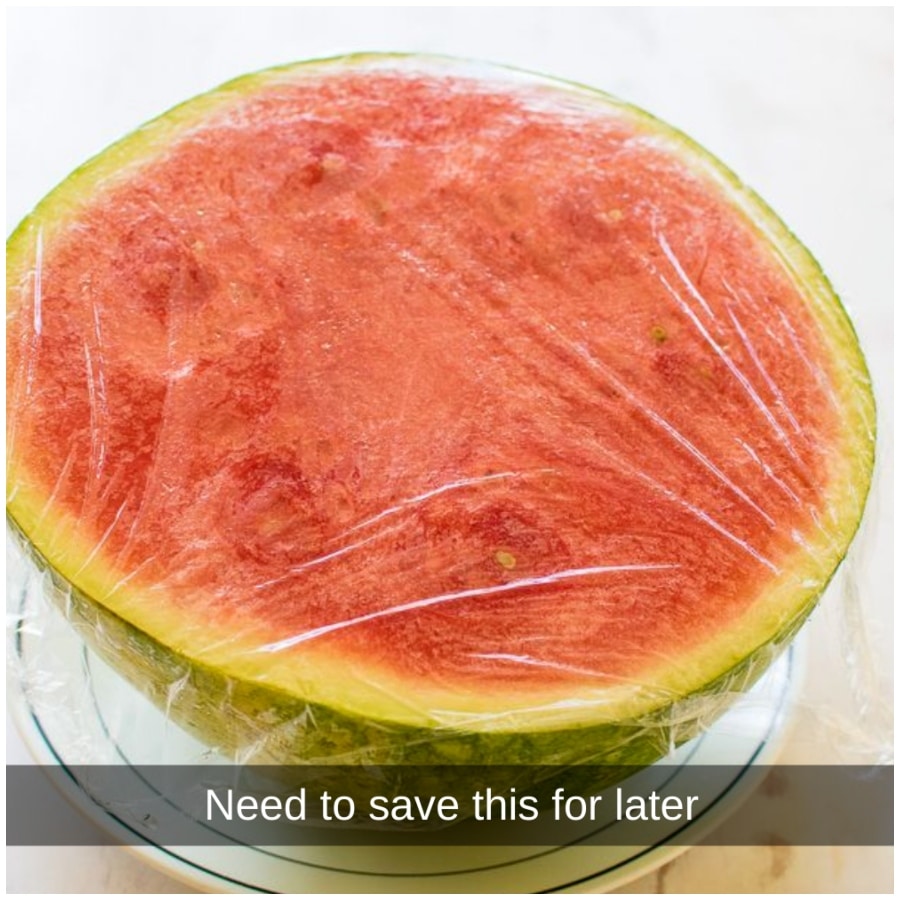 One way to prevent melons from going mushy, without eating them, is by carefully plastic plastic wrap over the entire melon. The melon should be refrigerated after it is wrapped, and should last for a couple of days.
Perfect Tomatoes
There has long been a debate over how best to store tomatoes. Do you keep them in the refrigerator or do you keep them on the counter? The rule of thumb with tomatoes, depends on how you bought them.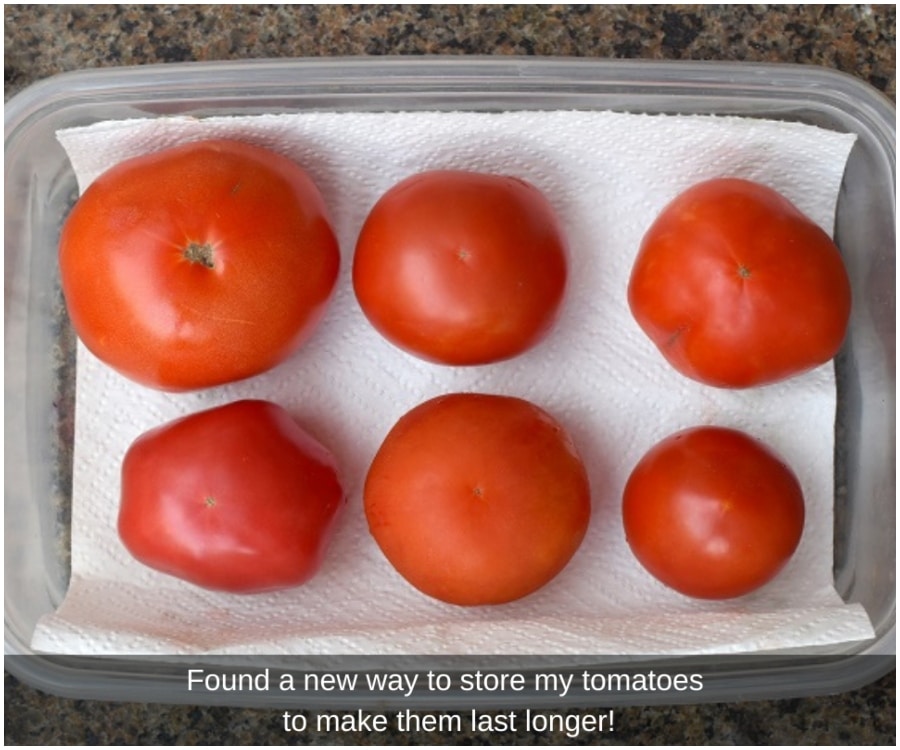 If they were in the refrigerator in the store, then keep them refrigerated, if they were not, then don't. They should always be stored with space apart in a container, as this will keep them from rotting more quickly.
Fresh Mozzarella
Fresh mozzarella tends to come in a plastic container or bag filled with salt water or brine as it is called. This brine is what keeps mozzarella freshy and spongy.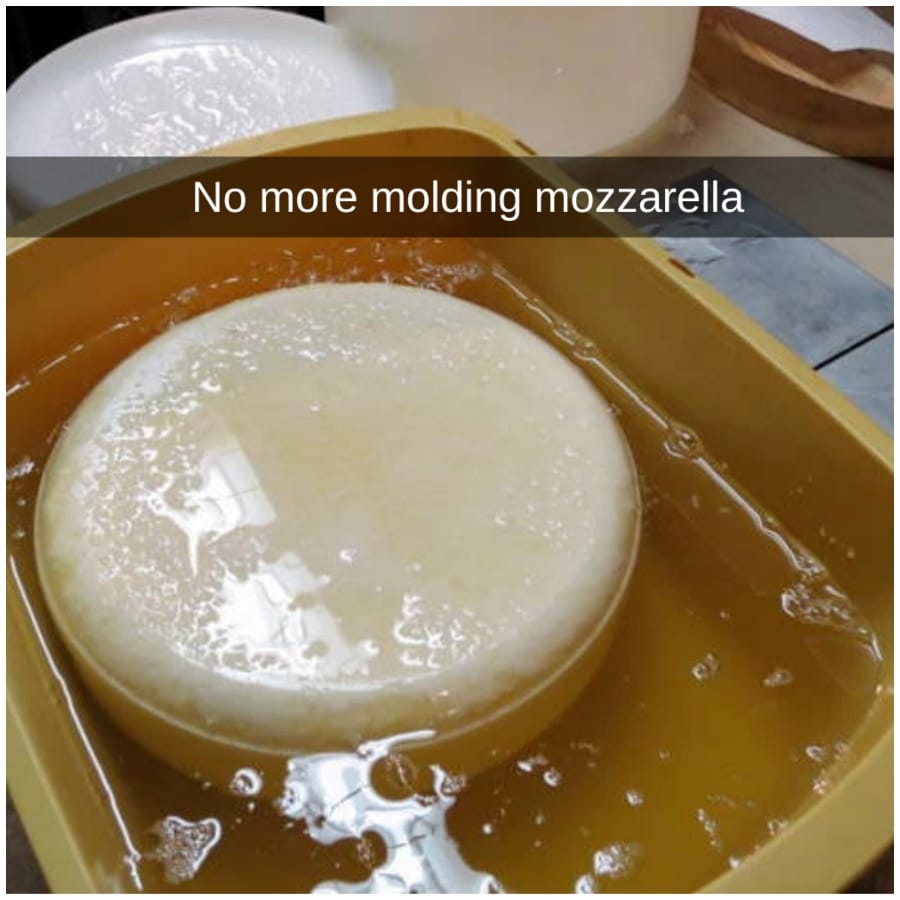 As soon as that water is removed, mozzarella may start to get some green patches of mold. Simply make your own brine, or salted water and keep the mozzarella in it until it's time to be eaten.
Keep It Together
Apple slices are a great snack for both kids and adults. They contain a lot of nutrients and vitamins that our bodies need to stay happy and healthy. Instead of putting apple slices in a tupperware container, grab a rubber band, and put all of the slices back together.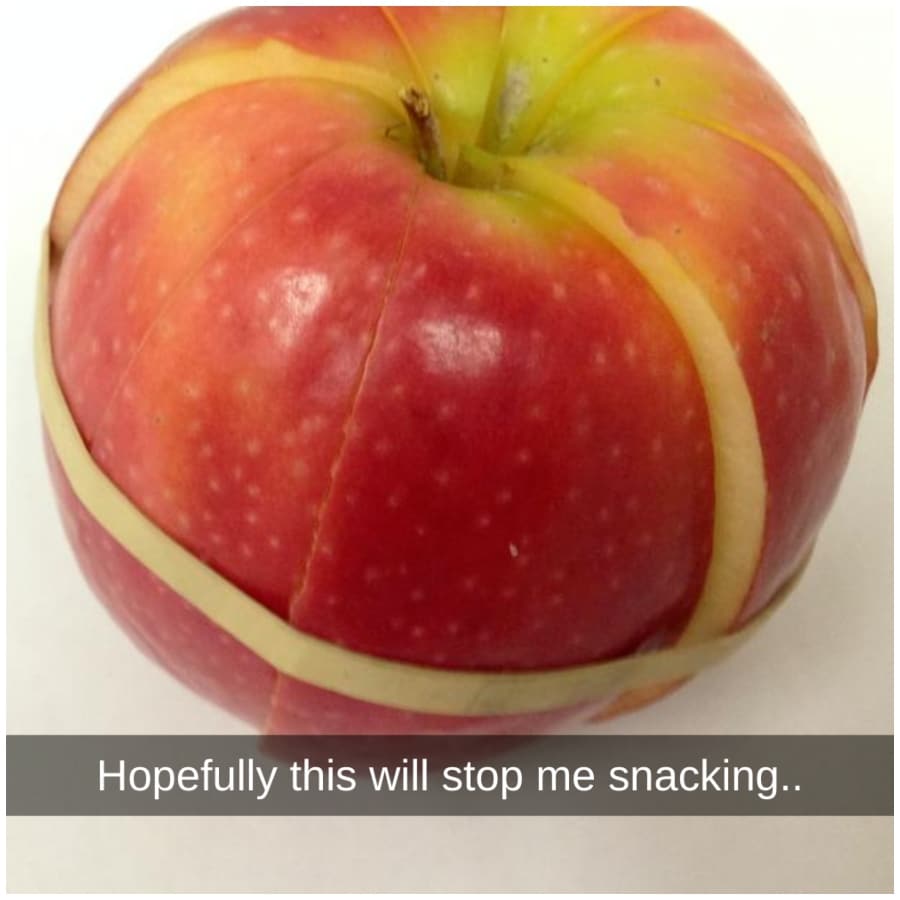 Keeping the apple together like this, will prevent the slices from browning as it won't have access to any oxygen.
Clumps Be Gone
Salt is one of those seasonings that tastes good on just about everything. When salt is kept in a saltshaker it can get a bit clumpy. This is due to the humidity or moisture in the air.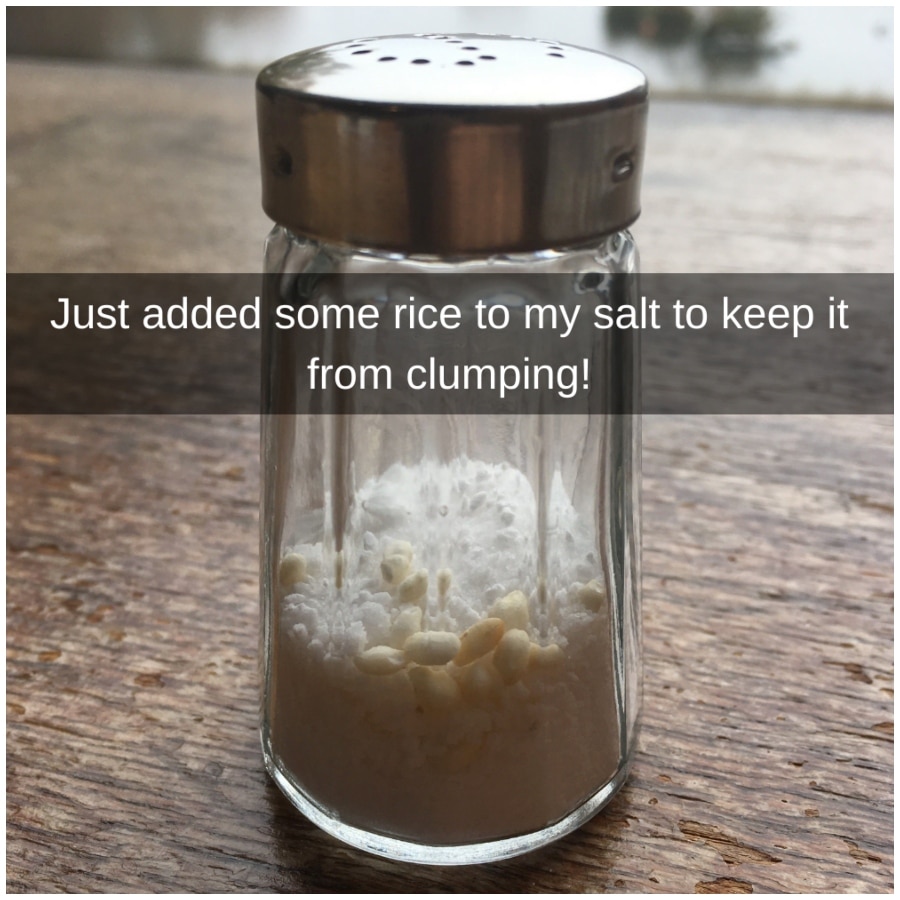 Clumpy salt can be annoying because it doesn't come out of it's shaker the way it should. Just add a few grains of rice, and the rice will absorb the moisture and keep the salt flowing.
Preserving Lemons
Lemons are always good to have on hand. They can be used in salad, delicious drinks like lemonade, and in baking. Lemons don't last forever though, and slicing them in half, and layering these halves with sugar is the best way to preserve them.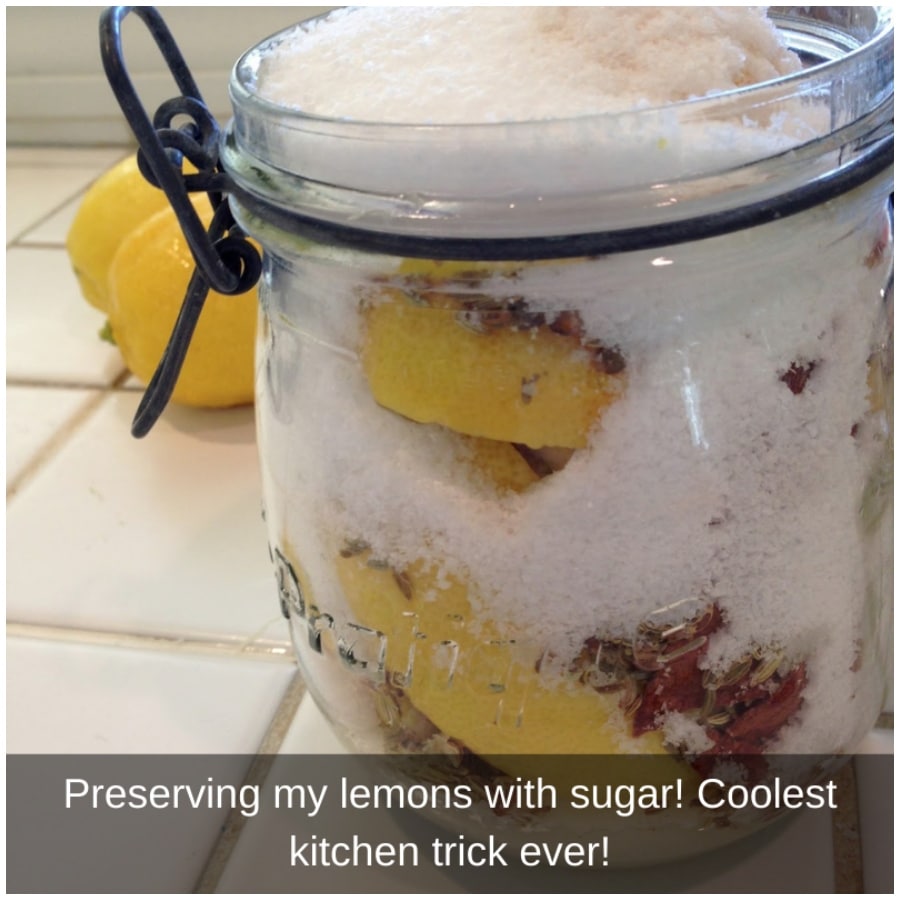 Place the mixture in an airtight container, and the lemon and sugar mixture will begin to form a syrup which can be used as a natural sweetener.
Just Hanging Around
Onions are one of those vegetables that make pretty much all dishes taste amazing. They let of a fragrant smell while frying, which fills the whole house with their smell. Sometimes onions may begin to mold, or rot quite quickly which is less than ideal.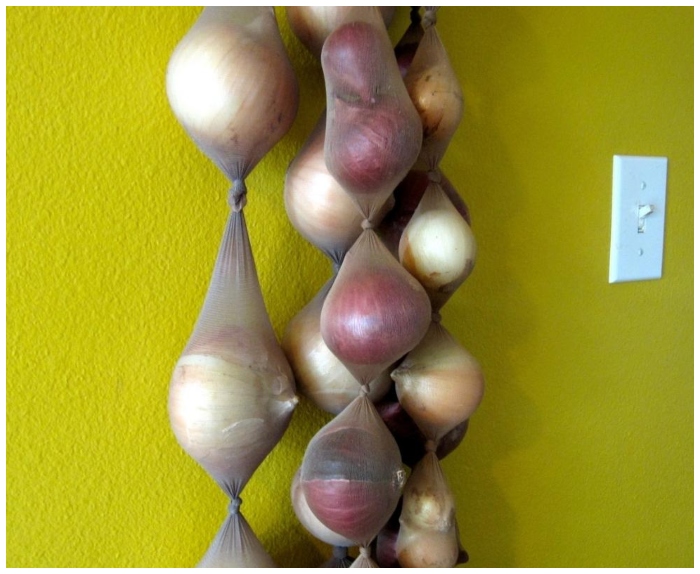 That's because they too release ethylene gas. To avoid onions ripening too quickly, grab some old pantyhose and make onion sausages. Then, hang them from a hanger in a cool dark area.
Strawberries And Vinegar
Normally strawberries are served with fresh whipping cream, which makes for a delectable dessert. Don't let the whole strawberries and vinegar sound strange though. Strawberries, along with a variety of other berries have a tendency to go bad quite quickly.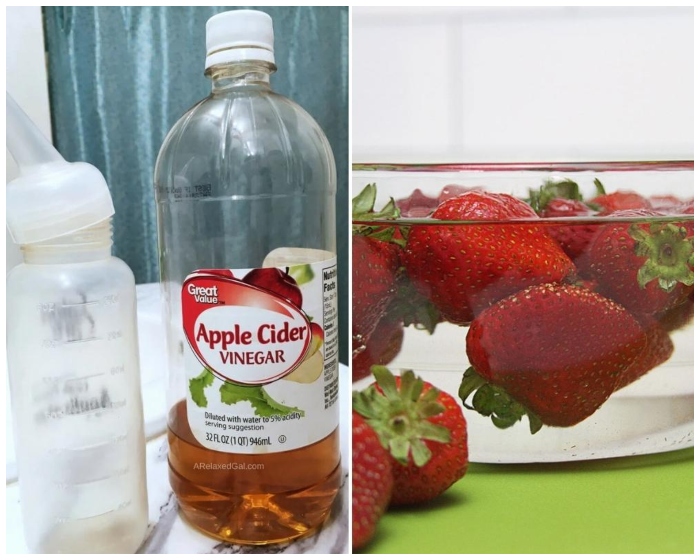 This is due to the lack of preservatives in them, which is a good thing! Simply rinsing berries in a mixture composed of one part vinegar and ten parts water, will help preserve them naturally for a couple of weeks.
Goodbye Bad Apple
There's always one apple that is a little off in every bushel. Bad apples may not seem like a big deal, but the gas produced by them called ethylene can slowly seep into the other apples. That gas causes them to ripen too quickly.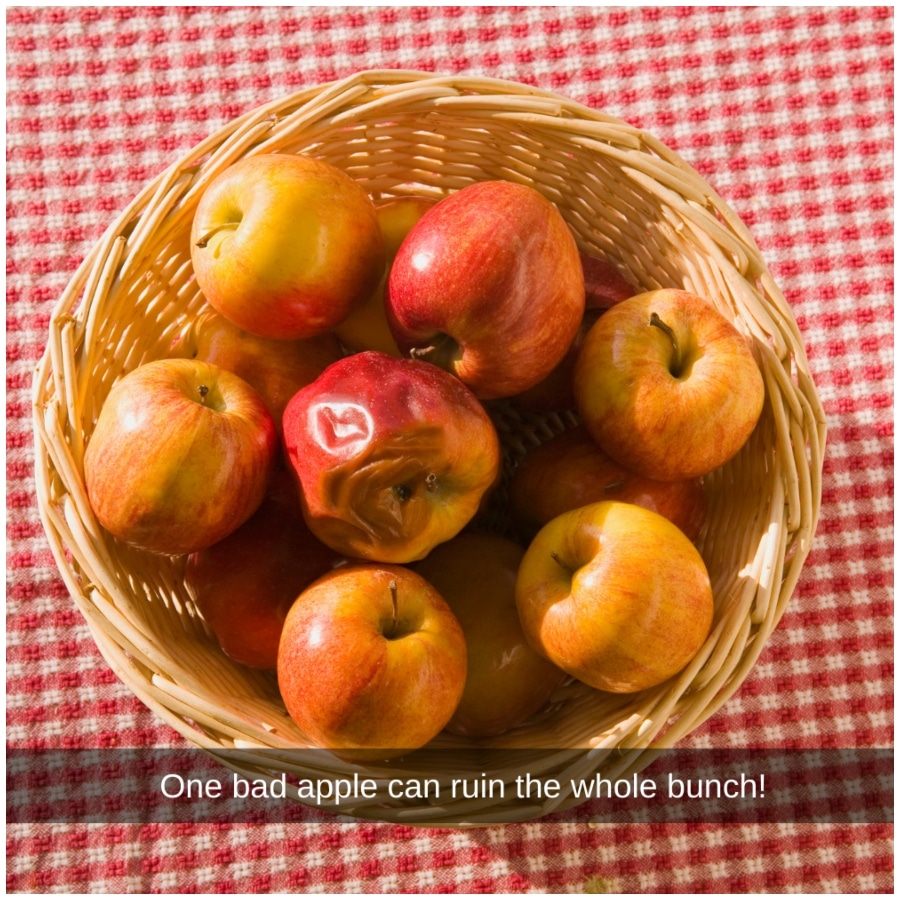 Before you store any apples, always carefully check them over for holes, or rotten areas. If an apple has some bad spots, it's time to put it in the compost, and keep the other ones fresh.
Feeling Crisp
Lettuce is one of those veggies that tends to be an add-on for a lot of different meals. Sandwiches, burgers, and salads all call for a few nice crisp pieces of lettuce. Nobody wants to eat droopy sad looking lettuce, which is where this hack comes in.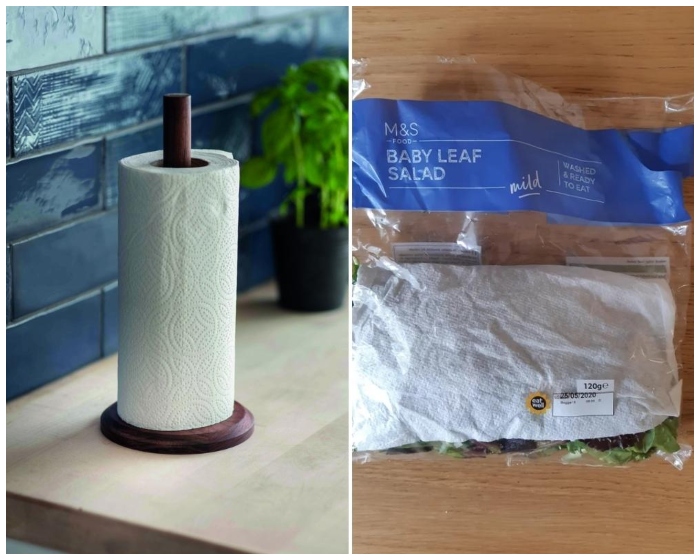 Instead of storing a head of lettuce, break off individual leaves, rinse, and dry them. Then, place them in a ziploc baggie lined with paper towel. The paper towel will absorb any extra moisture, and leave the lettuce perfectly crisp.
Going Green
Some days just call for some delicious homemade guacamole. All it takes are some avocados, tomato, red onion, cilantro, and a whole lot of lime to throw this dip together.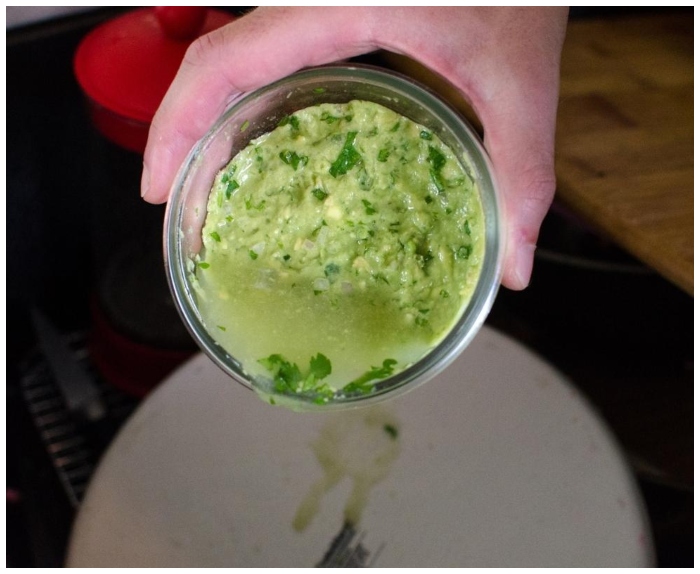 If you want to make a huge vat of guacamole, but are worried about keeping it green we have the hack for you. A simple spritz of the oil of your choice and some plastic wrap, will keep this guacamole nice and fresh in the refrigerator for about a day.
A Vase Of Asparagus
Most people think about putting a beautiful bouquet of flowers in a vase, but placing some asparagus inside is also a great idea. Asparagus has a myriad of health benefits, and it's pretty delicious as well.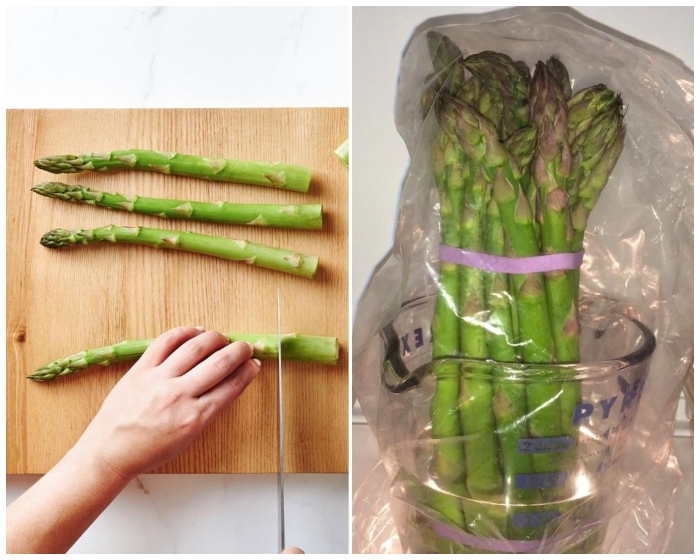 To preserve it for long, simply place the asparagus end down, as you would a bouquet of flowers in some water. The asparagus should be covered and kept in the fridge, as this will add an extra four days to their lifespan.
Magnificent Mushrooms
Mushrooms are one of those items that are love or hate. Some people can scarf them down with every meal, while others would rather push them to the side of their plate. For the mushroom lovers, always store your freshly bought mushrooms in a paper bag.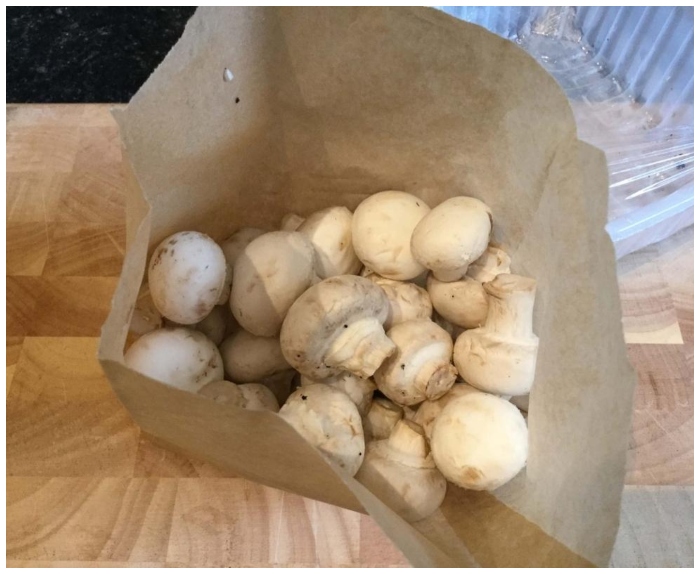 Then, place that bag on one of the shelves in the refrigerator, but not in the crisper. The paper bag sucks up all of the moisture, and keeps the fungi fresh for around a week.
Fresh Bread For Years
A lot of people buy a loaf of bread, eat half of it, and toss the rest once it gets old. Instead of wasting bread, simply take half of the loaf and freeze it in a plastic bag. If the bread is sliced, a few slices can be pulled out and toasted or the whole loaf when you need it.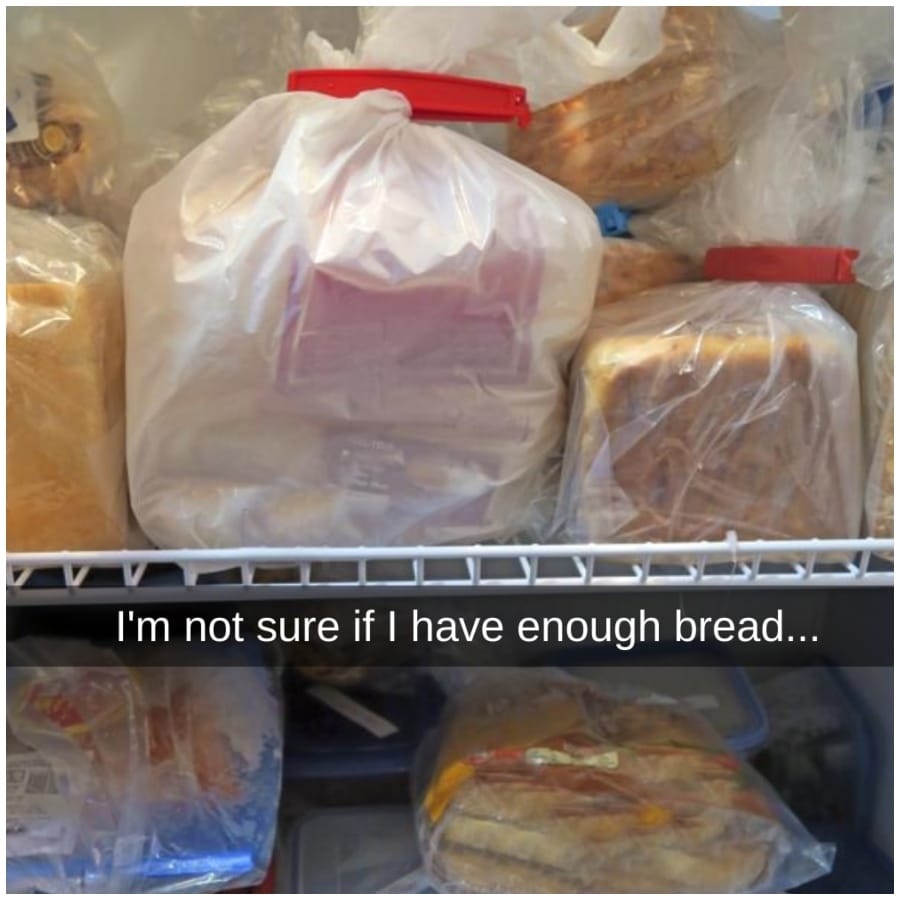 You'll never have to run to the store for bread, if you keep a few frozen loaves in the freezer.
Nature's Candy
You can extend the already long shelf life of raisins with this simple trick. Once the package is opened, raisins have a six month shelf life, but if you store them in a sealed container in the refrigerator, they can last for up to a whole year.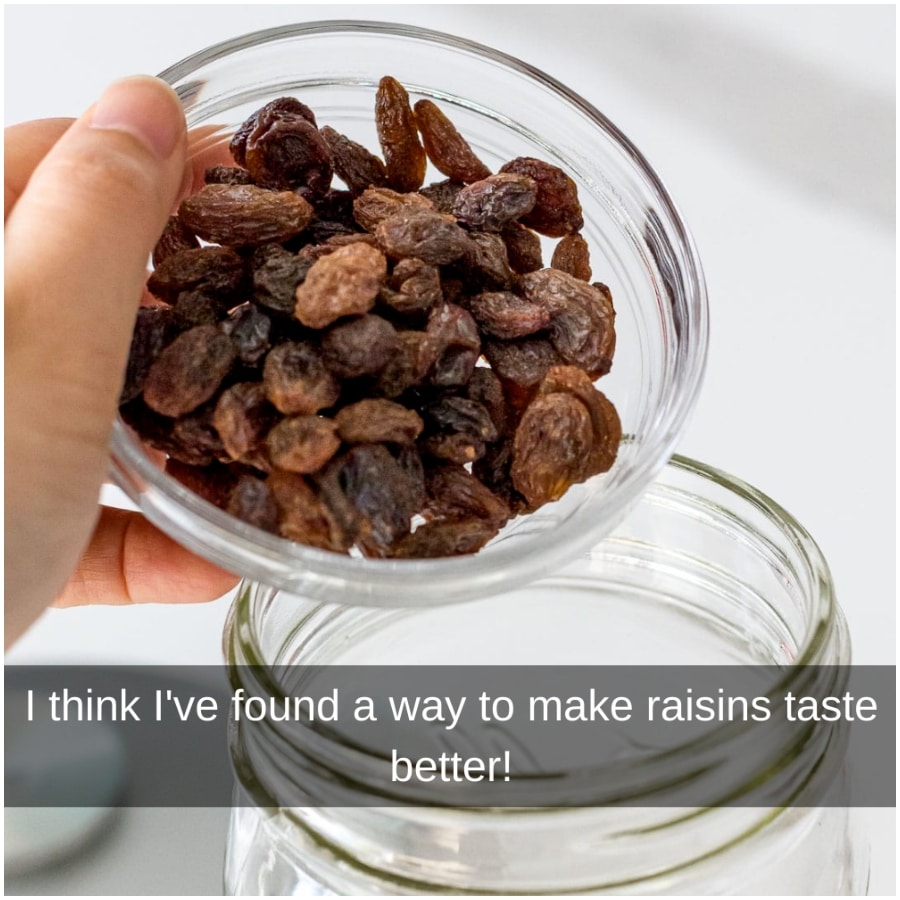 This way they retain moisture and flavor as well. What a great trick!
Crispy Chips
Soggy chips are a bit pet peeve for many people. So, before putting your bag of chips away, make sure you flatten the bag. Once all the air is out, fold the top two corners inwards and roll tightly along the bag.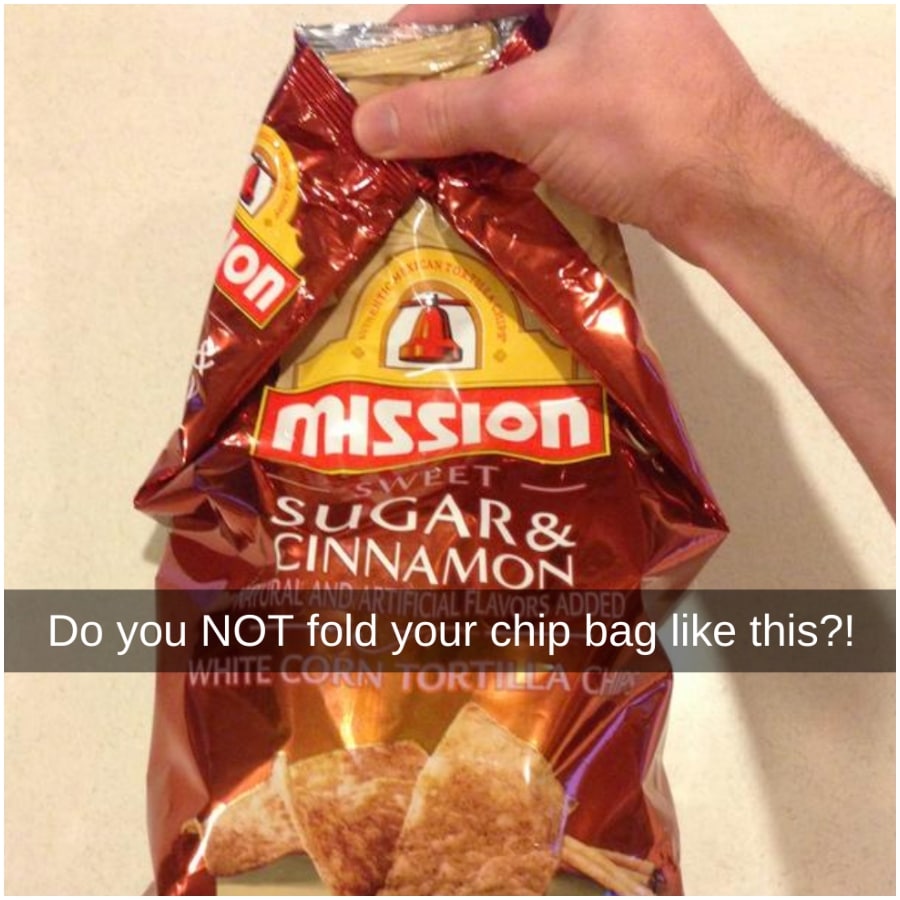 When you reach the chips, tuck the folded corners underneath. This way the bag is completely sealed.
Regrow Celery
You can regrow celery at home by following these simple set of instructions. Stick four toothpicks into the stalk before submerging the bottom half in warm water.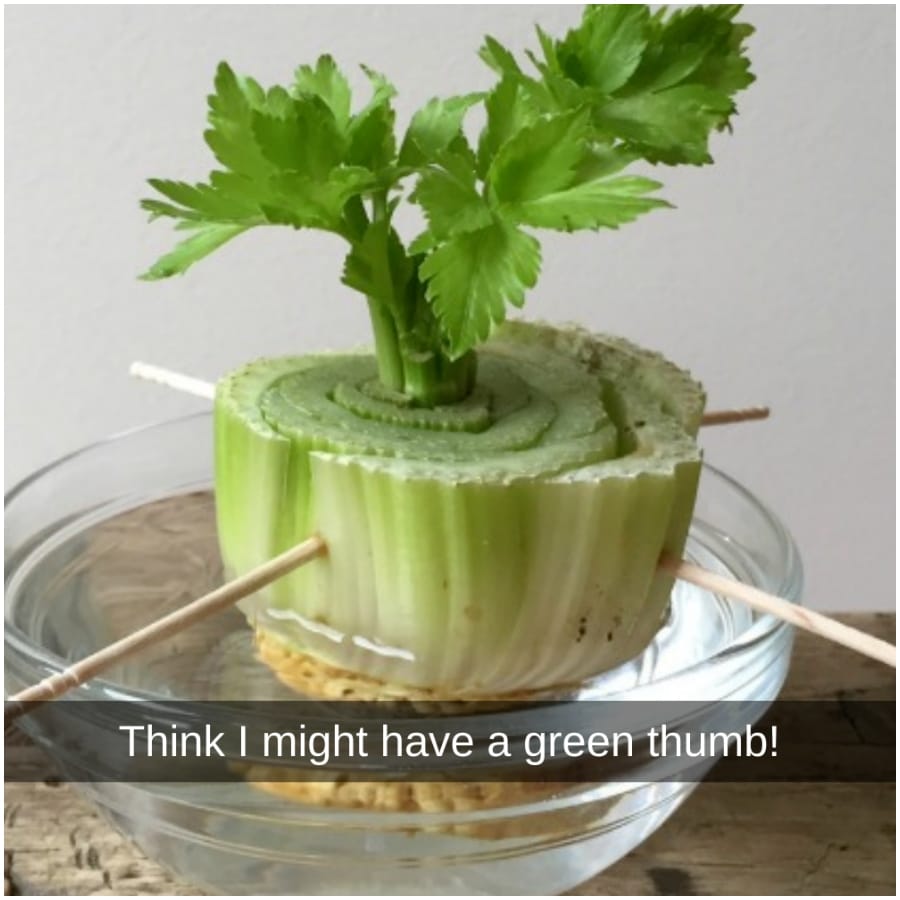 After a few days, roots will start growing and once they are an inch long, it can be transferred to soil. The celery will fully regrow in a couple of days.
Bugs Beware!
Do you want to keep insects away from getting into your cupboards? Sometimes bugs can get into the flour, sugar and cereals if not properly stored.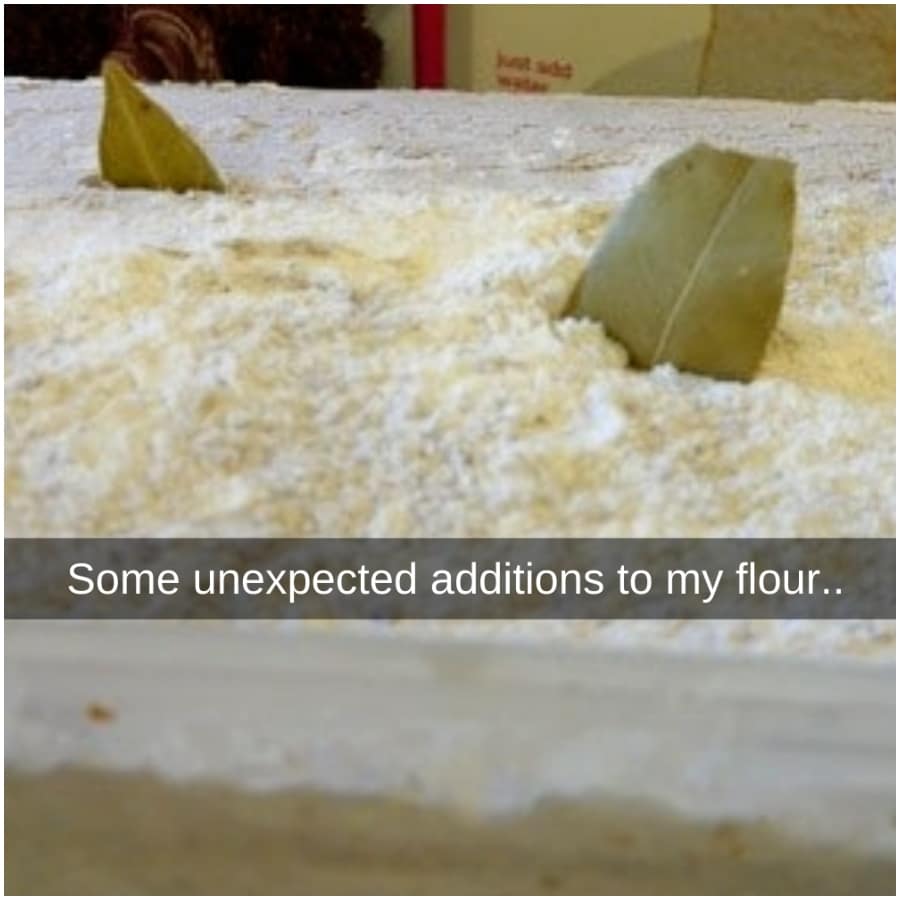 Add a few bay leaves to your flour! This will stop ants, flies, moths and other critters from spoiling your food, they cannot stand the strong bitter smell from the bay leaves.
Butter Storage!
Canning butter is a way to store butter for longer periods of time. You can take advantage of sales and get all the butter you want.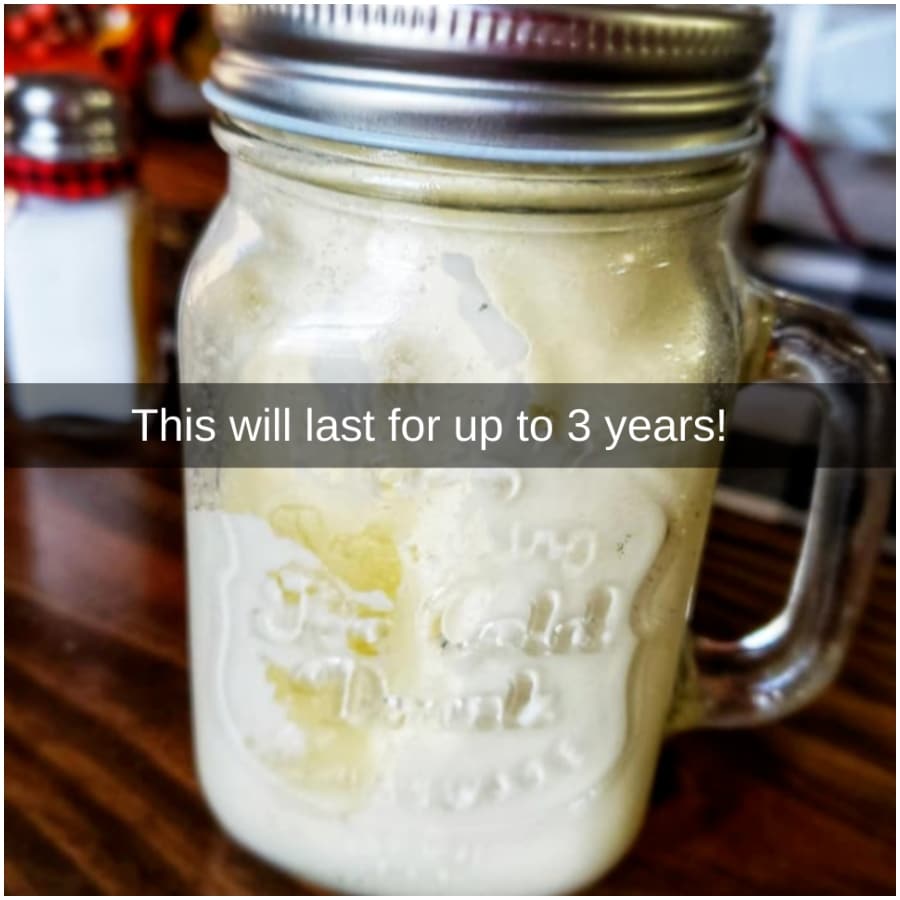 You can keep it in jars in a cool, dark place for up to 3 years. The process is a bit complex to get the hang of, but it is worth it!
Got Milk?
Milk goes sour only days after opening the carton. There is a hack to extend its shelf life for up to a week past the expiration date!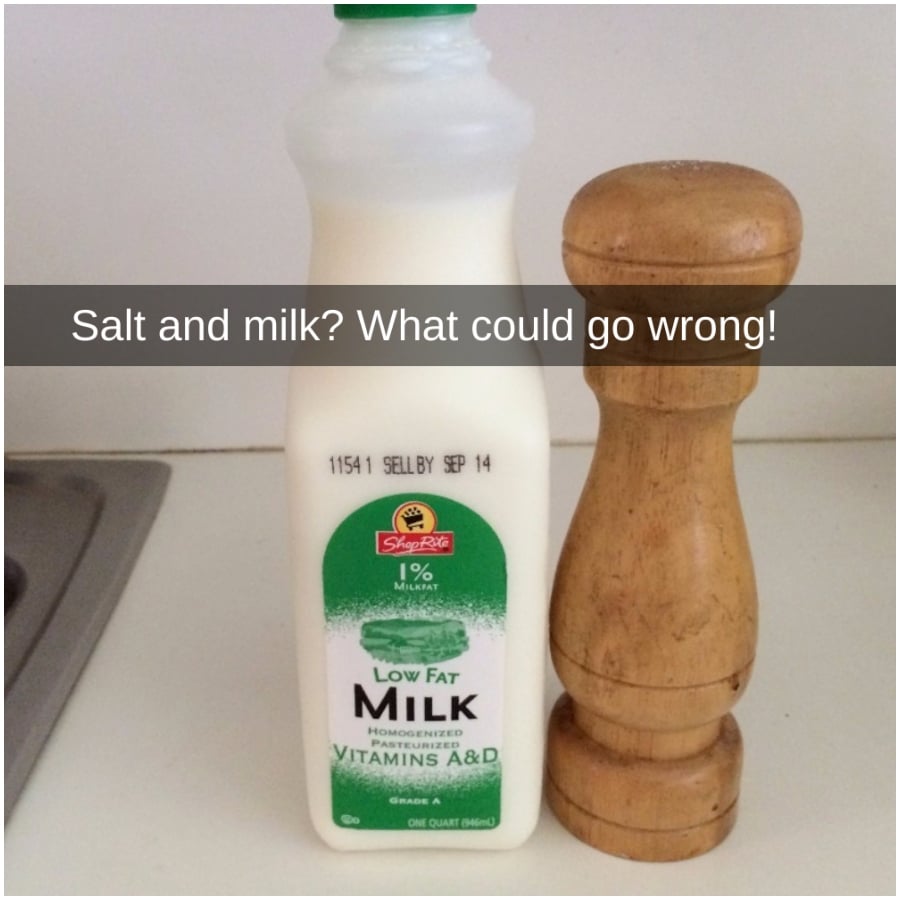 Add a pinch of salt to the milk immediately after opening. The salt will sink to the bottom, so make sure to give it a good shake before using.
Oh Honey!
Honey will crystallize during the colder seasons. However, there is an easy fix for this! Simply place the open glass jar of honey in the microwave on the lowest setting.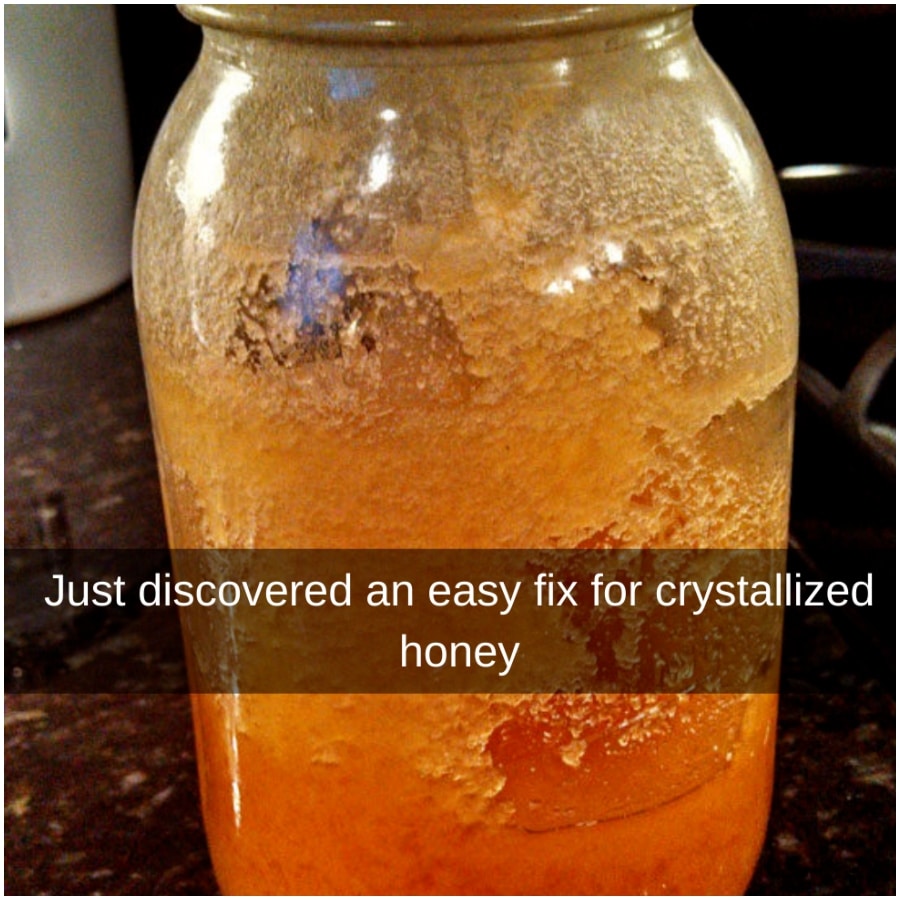 This shouldn't take longer than five minutes, but it can vary. Remove the jar from the microwave and gently stir. You will have clear liquid honey once again.
Foil it up
It's tricky to keep cucumbers fresh; after a while in the refrigerator, they can become soft and squishy. There is a quick hack with a household item that can keep them fresh for longer.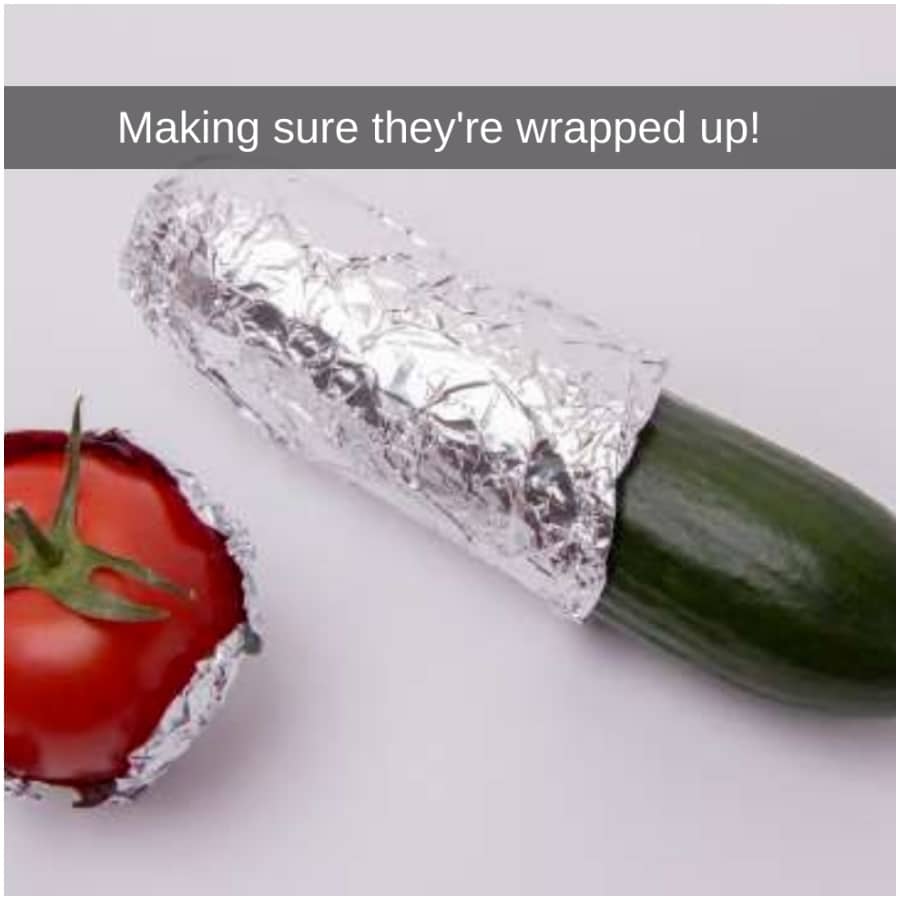 Wrap the cucumber in tin foil instead of plastic. It will keep the moisture out and allow it to stay crisper for longer.
Tomeito Tomato
If you don't use up the entire jar of tomato paste quickly, it will go moldy after a few days of lingering in the refrigerator. Here is a tip on how to easily preserve all those tomato paste leftovers.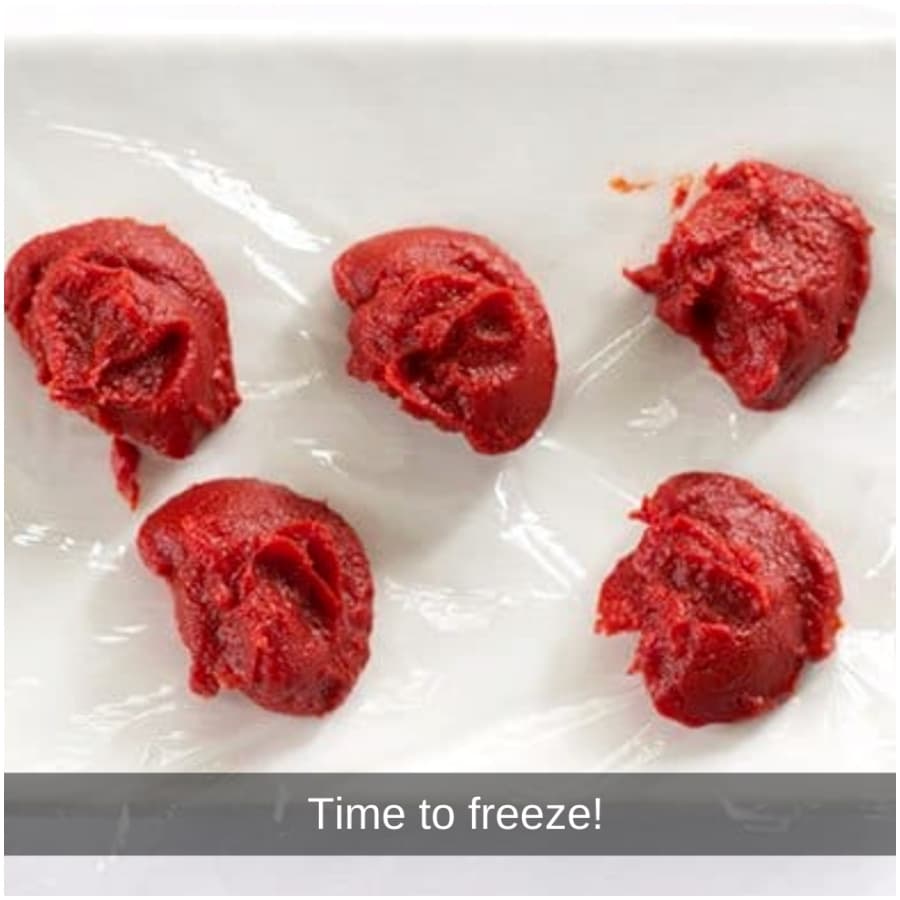 Scoop little balls of tomato paste on a plastic wrap, wrap them up and store them in the freezer.
Couple Goals
Here's another trick for avocados aficionados. To preserve and keep the full flavor of the avocado, place it in an airtight container with a piece of onion and store it in the refrigerator.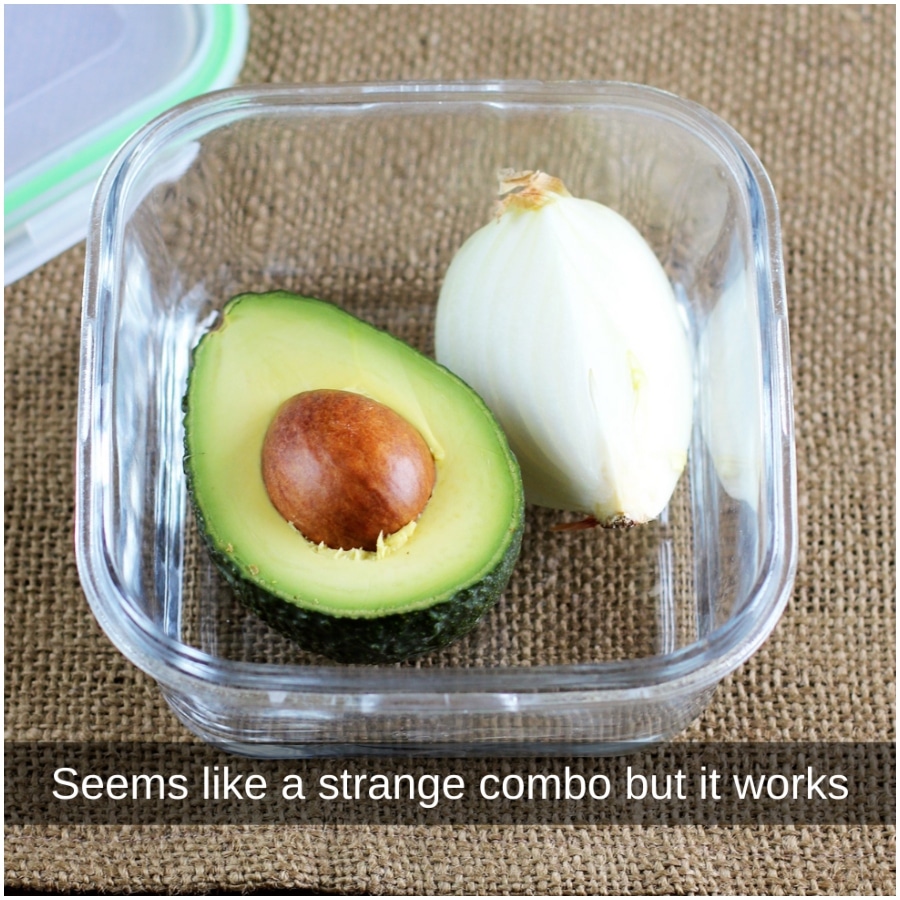 Onions contain sulfur, which prevent the enzymes in the avocado from interacting with the air. This will keep it fresh for a couple more days.
Apples And Potatoes
Apples and potatoes don't seem like they would be a natural fit, but when it comes to preserving potatoes they go together like two peas in a pod. Apples release a gas called ethylene which occurs during the time when they begin to ripen. By storing an apple in a bag or sack of potatoes, this gas interacts with the potatoes and helps to keep any little sprouts from forming.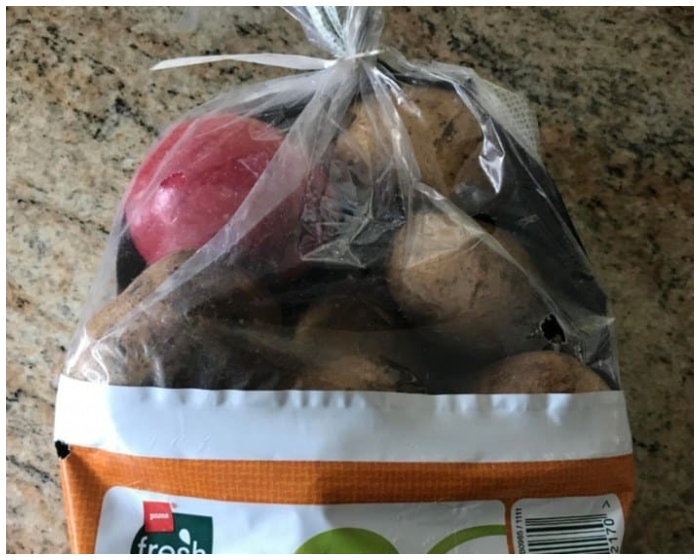 Another way to keep them from sprouting, is to keep the bag of potatoes in a dark cupboard or pantry. An area that sees a lot of light and moisture can make potatoes sprout more quickly.
Always Ready For A Stir Fry
Green onions are one of those veggies that are added to all stir fries, and a lot of other tasty dishes like chili. Most of the time, green onions come in bunches, with their long stems attached.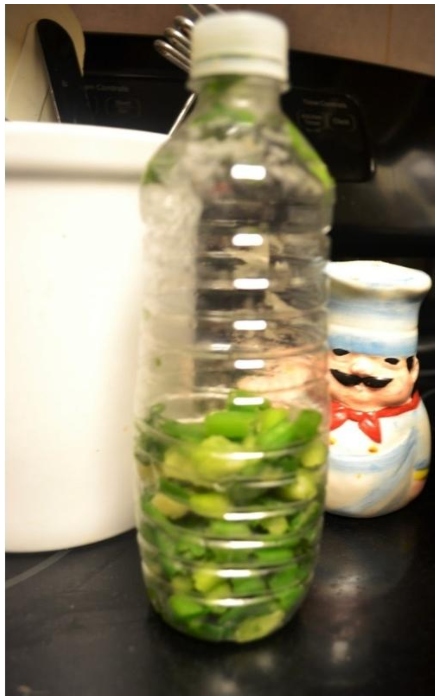 For people who often have a surplus of green onions, simply chop them up into a size normally used for cooking, and store them in a dry water bottle. The bottle can be placed in the freezer, and a few pieces of green onion tapped out into whatever yummy dish is cooking.