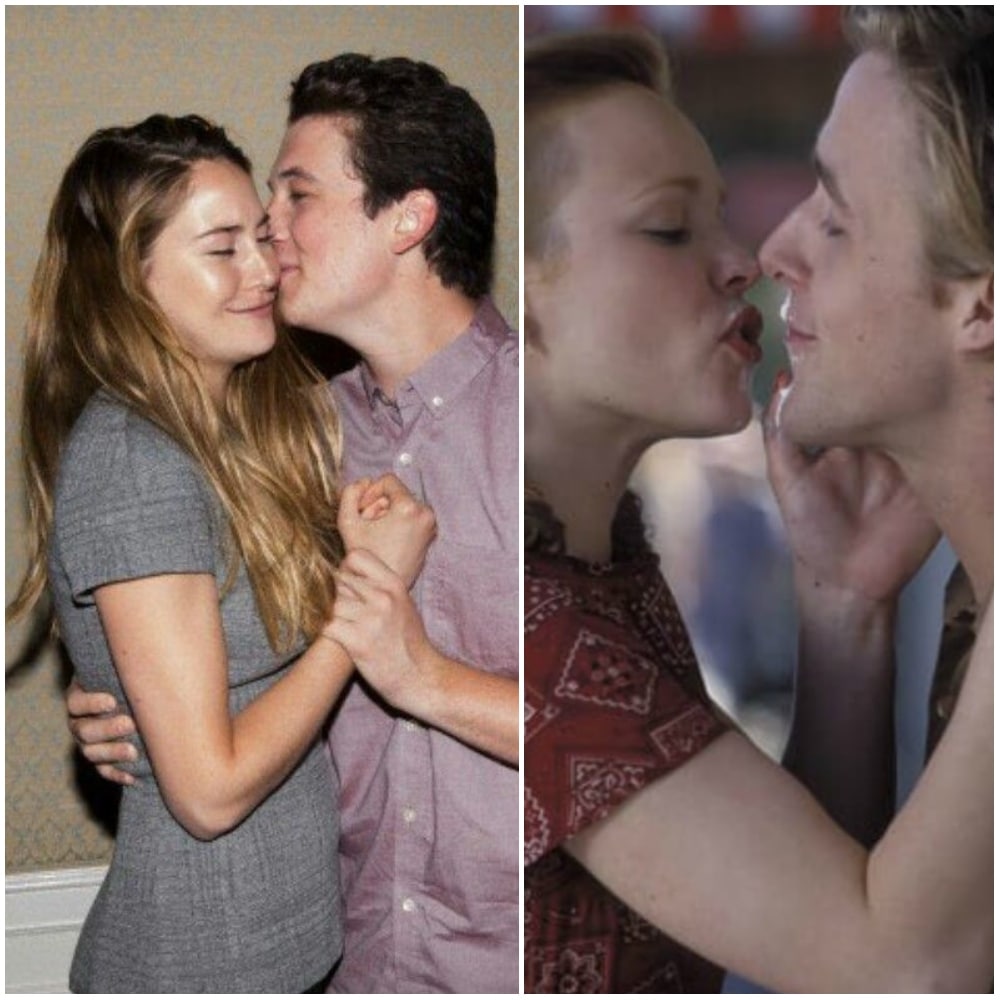 With so many movies that come out each year, it can be hard to keep track of who's in what but when a romance that really shines and pulls at the heartstrings is released we take notice. Then there are the movies that are supposed to be romantic where the characters finally reach that crucial moment and share their first kiss and fireworks go off.
We all remember the amazing love stories but on the opposite side there are those romances that totally flop for unexpected reasons, sometimes it is a bad script or sometimes the actors seem to have absolutely no on-screen chemistry. For some actors they actually refused to do some romantic things in what should have been epic tales of loves, let's see who said no to onscreen love.
Lindsay Lohan And Charlie Sheen
Charlie Sheen is something of a Hollywood legend both for his acting chops and his notorious Hollywood life, which has seen him hitting the town up and off Sunset Boulevard. He has never been quiet about his lifestyle, and when he had a cameo in Scary Movie 5, Lindsay Lohan was expected to be his girlfriend.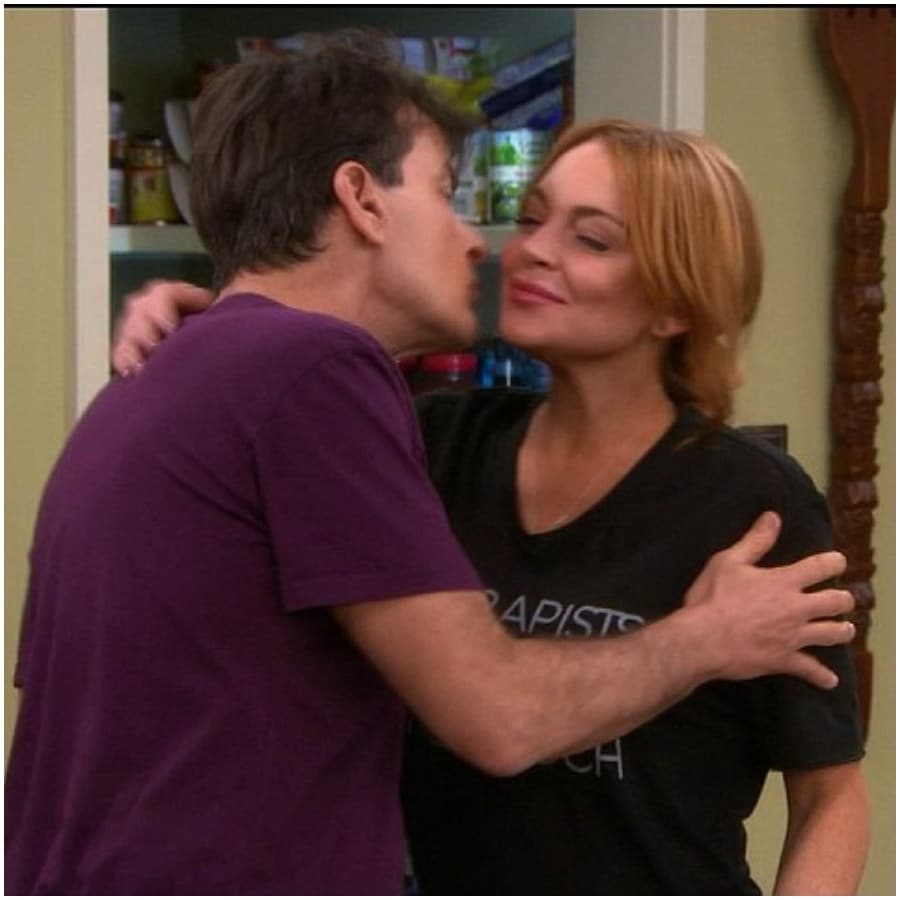 She was alright as long as the two never had to be physical with each other, as she had some concerns regarding his lifestyle. A body double was hired for any scenes that called for some kissing, and Charlie was in no way offended by Lindsay's choice.
Jennifer Lawrence And Chris Pratt
Before Chris Pratt and Anna Faris got divorced, Jennifer Lawrence and Chris Pratt made the ill-fated film Passengers together. Lawrence did not want to have any overtly romantic scenes with Pratt because she was friends with his wife and thought it would be awkward.
To overcome this, she decided that having a few too many cocktails would do the trick. This made the scene a lot funnier to watch, and Pratt and Faris split, so she didn't need to worry.
Alyson Hannigan And Jason Segal
Jason Segal used to be quite the smoker, which means that he often smelled like cigarettes even if he had brushed his teeth. Due to this, his onscreen wife, Alyson Hannigan, said she did not want her lips to touch his until he had decided to give up smoking for good.
He said she could charge him for the kisses, which she agreed to. The only problem is he found he was losing a lot of money, which finally made him make the decision to stop smoking.
Julia Roberts And Nick Nolte
Back in the day, Nick Nolte and Julia Roberts found themselves co-starring in what was supposed to be a romantic film. In reality, it was really just the two actors despising each other and making a poor attempt to do it on screen.
They both were quoted in interviews going off about how much they disliked one another, which definitely shone through in the almost painful onscreen moments; they had to be cajoled into kissing when they usually said no to even being in the same room.
Candace Cameron And Everyone
This blonde beauty may look familiar, and that is because she has starred in Fuller House on Netflix. She has been a longtime member of the Christian faith and feels it is not right to kiss multiple actors in different productions.
Her husband is also uncomfortable with it, which means he has not watched anything she has starred in for years. Maybe she will turn away from romantic roles in the future.
Denzel Washington And Julia Roberts
At the time of filming, Julia Roberts was incredibly offended when Denzel Washington said that any romantic scenes between them in The Pelican Brief needed to be rewritten. Roberts wanted a smooch with him, but he said no because he was worried that his fan base would not like it.
He outwardly spoke about wanting to have an African-American love interest because he felt that black women were underrepresented in film at the time.
Vanessa Hudgens And James Franco
Vanessa Hudgens was trying to break her good-girl image from her High School Musical days with the edgy film Spring Breakers. James Franco played a gangster with whom she and her friends get involved, leading to a steamy pool scene between them.
Hudgens was not thrilled by the idea of having to kiss James, and once the scene was completed, she asked her agent not to book her in anything that required romance for a while.
Liam Hemsworth And Jennifer Lawrence
Jennifer Lawrence is known for her practical jokes onset, and The Hunger Games was no different. Liam Hemsworth, one of the love interests, was expected to smooch her a few times, and one of her go-to pranks would be to eat something very smelly for their kissing scenes.
She wanted him to have to act through whatever she had eaten, and he managed to do it each time, much to her delight.
Jewel And Rob Lowe
Rob Lowe has always been something of a heartthrob, but his days of dating multiple women reached the ears of singer and actress Jewel right before they were supposed to film some love scenes together for The Lyon's Den.
She said she didn't want to kiss him because of this. On the day of their scene, she had her boyfriend waiting in the wings as support because she really didn't feel like she could go through with the kiss, but she did.
Samuel L. Jackson And Everyone
Samuel L. Jackson has not been one to pucker up for very many movies, if any. He likes to rely on his comedic chops to get by and the film Cell. He was supposed to be playing a character who prefers men, but he said that he would not be kissing anyone in that film, man or woman, and he stuck to that.
Jackson has always done what Jackson wants, and as one of the biggest names in the industry, he can get away with it.
Justin Bieber
Justin Bieber has never really had much of a film career. He is still a major pop star, but he did have dreams of one day being in the film. Uber Girl was supposed to be his big break, except it has him playing a character in a relationship with another man.
The backup dance role was a problem for Bieber as he did not want to kiss a man. He wanted the scene to be edited out or for the character to be replaced with a female role. Needless to say, he was not in that film.
Leona Lewis And Chace Crawford
British pop star Leona Lewis had a very famous former Gossip Girl star in her music video for the song "I will be." Chace Crawford was still starring in the teen drama when he was cast in the video, which was supposed to be chock full of romance between the two, but when it came time for any sort of kissing, Leona gave a resounding "NO."
This is because she was not single at the time of filming and did not want her boyfriend to feel any twinges of jealousy.
Nina Dobrev And Ian Somerhalder
While they may have been a real-life couple as well as an onscreen one, Nina Dobrev and Ian Somerhalder of The Vampire Diaries did not like kissing on camera. There were a couple of kisses, but they decided that was enough after the big one.
The two also went on to break up, which meant that they definitely did not want to kiss anymore. Somerhalder also got married, which may have been a factor in this decision.
Sunny Leone
Bollywood actress Sunny Leone didn't spend any time messing around on set; she made it clear beforehand just how far she was willing to go for a role. It was a shock when she introduced a 'no kissing clause' after filming Ragini MMS 2 in 2014.
She has agreed to film romantic scenes but will not kiss anyone on the mouth. She has always kept it to herself as to why she suddenly took this turn, but the producers have to respect it.
Reese Witherspoon And Robert Pattinson
Reese Witherspoon and Robert Pattinson made for a very striking couple in Water For Elephants, and they do share a kiss that stops the audience's heart when it happens, but this kiss almost doesn't. When the day of filming came for the two to film a love scene, Pattinson had a very bad cold which found him coughing and sneezing.
Witherspoon did not want to catch it, but it was the only day they could film the scene. She gave in and kissed a very sick Pattinson, but she did not mention if she got sick afterward. Now that is some true acting.
Brad Pitt And Cate Blanchett
Not one to shy away from a love scene, Brad Pitt almost did not have one with the lovely Cate Blanchett in The Curious Case of Benjamin Button.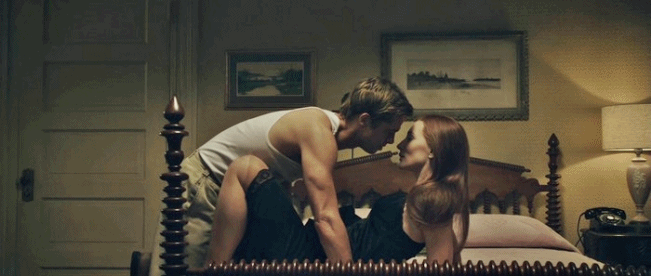 He had recently married his then-wife Angelina Jolie, and he did not want to kiss anyone but her, which was slightly shocking considering he had no problems with it when married to Jennifer Aniston. After some sweet talking from the production team, he gave in for the sake of the story.
Tisha CampbellE
We can all remember the '90s sitcom Martin, where Tisha Campbell and Martin Lawrence played alongside each other, where they portrayed a great relationship, and their chemistry shined on screen. The show was going great, but then it was in the fifth season that all of a sudden, everything stopped, and fans were left wondering why.
Campbell released a statement saying that she would no longer work alongside Lawrence and she especially would no longer be happy to film any romantic scenes with him. It was in 1997 that Campbell opened up and filed a lawsuit against Lawrence for harassment.
Miles Teller and Shailene Woodley
Actor Miles Teller and actress Shailene Woodley have worked alongside each other on more than one occasion, but during the filming of The Spectacular Now, they two came to blows. With both of them opting to take/drink certain things, the other wasn't so happy about the taste it left in their mouths.
Teller hated the smell and taste of Woodley's Chinese herbs, and Woodley hated the taste of the energy drinks Teller would have. They were both stubborn and refused to kiss each other until they both gave it up. Teller said, "She would be like, 'Are you serious? You're gonna kiss me after that?' I was like, 'Yeah, I am.' She would take these herbal supplements, these Chinese herbal supplements, and they tasted like crap. And she would always eat them right before we had a kissing scene! We put stuff in our mouths so we could just offend each other."
Will Smith And The Unknown
Actor Will Smith has been gracing the big screen in productions like Concussion and Men In Black for decades, but one movie made him feel like he had to put his foot down. The film Six Degrees of Separation found Will Smith playing a young man who prefers men romantically.
Instead of fully embracing this side of his multi-layered character, Will decided to tell the director that he would not be shooting any intimate scenes alongside other men. He later said that this was a mistake on his half and that he should have been more open to the character and who he was.
Kirk Cameron
Kirk Cameron met his wife on the set of the TV show Growing Pains. Falling in love with his co-star Chelsea Noble he stood by his marriage vows extremely well. Cameron has said that he will not kiss anyone else, even if it is part of a role. Back in 2008, he was working on the drama flick Fireproof which included a romantic scene with his on-screen love interest.
Refusing to go ahead with it, the producers had to go as far as to invite his wife to fulfill the role, which they filmed in silhouette. He said, "So marriage is a very special and sacred thing to us. In a day and age where marriage is falling apart, we want to make movies and projects that uphold and have a high view of what is beautiful and wonderful in our culture."
Neal McDonough
For actor Neal McDonough it isn't just one person who he refuses to kiss; it's everyone! This has certainly restricted his career and the roles in which he can take on, but it seems as though he is happy to stay close to his morals over his acting career. Although a kiss in a movie is, in fact, fiction, he has said that he isn't happy to blurt those lines and that he will only be intimate with his wife.
He said, "Life is about honoring God and being the best human being you can be and praising God in everything you do. Killing people on screen — that's fake. That's not real. When you're in bed with another woman on screen — guess what? That's real. I don't like that kind of stuff. Especially now with kids, I don't want to have my kids say, 'Hey, Dad, what are you doing with that lady on screen?"
William Baldwin and Sharon Stone
The significance of kissing scenes in films cannot be overstated, as they play a crucial role in shaping the believability of a romantic relationship in a rom-com or intensifying the emotional tension in a drama. But in the case of intimate thrillers, it becomes even more imperative for the kissing scenes to be executed flawlessly.
The 1993 intimate thriller Sliver was met with negative reviews. Many criticisms were directed toward the lack of chemistry between the lead actors, William Baldwin and Sharon Stone. Reports from the set suggest that the two actors despised each other initially, and their animosity reached a boiling point during a particularly unpleasant kissing scene. Stone is said to have taken her anger out on Baldwin in the scene by biting his tongue during the kiss. It was a painful experience for all involved.
James McAvoy and Angelina Jolie
While many would likely jump at the opportunity to kiss Angelina Jolie, the same cannot be said for James McAvoy. The X-Men star had a less than enjoyable experience kissing the actress on the set of the 2008 action film Wanted.
McAvoy candidly spoke about the kiss, describing it as "awkward, sweaty, and not very nice." Despite the less-than-ideal kissing scene, the two actors appeared to have good on-screen chemistry outside the kissing dynamic.
Colin Farrell and Kate Beckinsale
The 2012 Total Recall remake posed an uncomfortable situation for the film's lead actors, Colin Farrell and Kate Beckinsale, as they had to engage in a romantic scene in front of Beckinsale's husband, Len Wiseman, who was also the film's director. Despite the professionalism of everyone on set, the situation was undoubtedly awkward.
Farrell later revealed that kissing Beckinsale was uncomfortable due to Wiseman's presence, stating, "Kissing her was a little bit dodgy because the director, her husband, wasn't kind enough to leave the room. As a director, he had to watch the scene, which was a little creepy." The actors and the director worked quickly to complete the scene in as few takes as possible. While the awkwardness of the experience is not evident in the film, it was not an experience any of the three were eager to repeat.
Harrison Ford and Sean Young
The 1982 science-fiction action film Blade Runner is not primarily a romantic movie. Still, it does feature a memorable kiss between the lead character, Rick Deckard, played by Harrison Ford, and the replicant, Rachael, played by Sean Young.
However, the kiss was far from romantic, as Ford and Young had a tumultuous relationship on set, leading to a kiss that was devoid of warmth or mutual respect. Young was reportedly uncomfortable with Ford's scratchy facial hair during the kiss. At the same time, Ford was frustrated with director Ridley Scott's micromanaging approach. As a result, the producers referred to the scene as "a hate scene" rather than a love scene.
Tony Curtis and Marilyn Monroe
Decades after her passing, Marilyn Monroe remains one of Hollywood's most iconic and beautiful movie stars. Her beauty was so captivating that many leading men were eager to work with her, but one exception was Tony Curtis in the film Some Like it Hot. Curtis had a difficult time working with Monroe and especially disliked kissing her.
In a shocking interview, when asked about kissing Monroe, Curtis infamously stated that it was "like kissing Hitler." However, he retracted his statement, claiming that it was made in jest and was a response to a silly question. He explained that he had given a stupid answer to a silly question.
Alec Baldwin and Jennifer Aniston
Jennifer Aniston was a leading lady in the romantic comedy genre during the 2010s, with a string of successful films such as He's Just Not That Into You, The Switch, Marley and Me, and The Break-Up, giving many leading men the opportunity to share on-screen kisses with her.
However, her 30 Rock co-star, Alec Baldwin, did not share the same enthusiasm for kissing her. When asked about his experience kissing Aniston, Baldwin said it was "painful." He expressed his disbelief at how other actors were able to kiss her in TV and movies.
Orlando Bloom and Zoe Saldana
In 2004, Orlando Bloom and Zoe Saldana starred in the crime drama Haven. The film balances violence with romance, and Bloom and Saldana share a kiss toward the movie's end. Despite having good on-screen chemistry, they had difficulty filming the kissing scene due to Saldana's boyfriend.
Bloom revealed in an interview with People magazine that he hated kissing Saldana because her boyfriend would frequently be present on set during their scenes together. He stated, "I was like, 'Take your tongue out of my mouth, please. Your boyfriend is standing right there.' Most people think kissing beautiful co-stars must be great, but it's always awkward, man."
Dane Cook and Kate Hudson
My Best Friend's Girl received poor reviews from critics and audiences due to its absurd premise, in which Dane Cook's character, Tank, takes his best friend's ex-girlfriend on a disastrous date to get her back with her ex. The film starred Kate Hudson alongside Cook, and both were known for playing pranks on set.
One of Hudson's pranks involved making the kissing scenes as unpleasant as possible for Cook. Before a kissing scene, Hudson would eat raw onions to gross Cookout. Although it was all meant in good fun, Cook was reportedly disgusted and referred to it as his "worst on-screen kiss ever."
Tom Cruise and Thandiwe Newton
Mission Impossible 2 was released in 2000, featuring Tom Cruise as Ethan Hunt on a mission to stop a terrorist group from attacking Sydney. As a classic action spy film, it includes a kiss between the hero, Ethan Hunt, and an attractive rival spy who becomes his love interest later in the series.
The rival spy who captures Ethan's heart was played by English actress Thandiwe Newton, but she did not enjoy kissing Cruise on set. She described the experience as "slightly icky and a little bit wet." She mentioned that so many takes were required that she would go home at the end of the day, "moaning about how many times [they] had to do it."
Brad Pitt and Kirsten Dunst
Most people would eagerly embrace the opportunity to receive a kiss from the handsome Brad Pitt, especially during his peak in the 1990s. However, ten-year-old Kirsten Dunst was not impressed with the kiss she received from her co-star while filming Interview with the Vampire in 1994. Fortunately, the kiss was meant to be unromantic, so it was effective in the film.
In an interview, Dunst later reflected on the experience, saying, "He had this long hair; he was just a hippie-ish cool dude." Despite others being envious of her kiss with Pitt, Dunst felt differently, stating, "Everyone at the time was like, 'you're so lucky you kissed Brad Pitt,' but I thought it was disgusting." It's understandable, as being kissed by a grown man at such a young age, especially with everyone on set watching, could be quite unsettling.
Leonardo DiCaprio and Kate Winslet
Kate Winslet and Leonardo DiCaprio have a well-known on-screen chemistry. Their performances in Titanic are considered one of the greatest love stories in film history. However, even the best actors can struggle with an on-screen kiss if conditions aren't right.
During the filming of Revolutionary Road in 2008, Winslet had to perform an intimate embrace with DiCaprio in front of her then-husband, the film's director Sam Mendes. Winslet later recounted her experience, saying that "it was more that neither Sam nor Leo seemed the slightest bit bothered. I was like, 'Is it just me who feels a bit weird about this?'"
Kristen Stewart and Taylor Lautner
Most actresses only have to kiss one leading man per film. Still, suppose they star in a popular teen romance. In that case, they may find themselves in a love triangle, requiring them to kiss multiple men in each installment.
Such was the case for Kristen Stewart, who had to kiss her then-real-life boyfriend, Robert Pattinson, and her good friend Taylor Lautner several times throughout the five Twilight movies. Unlike many other actors on this list, Stewart's dislike of kissing Lautner was not due to personal issues but rather to her belief that it "was so against everything that Bella's always been."
Patrick Swayze and Jennifer Grey
Dirty Dancing is one of the most romantic films of all time, following Baby as she learns to dance and gains confidence under the instruction of her passionate dance teacher, Johnny, played by Patrick Swayze. The on-screen chemistry between Swayze and Jennifer Grey is undeniable. Still, surprisingly, Grey later revealed that she didn't think she and Swayze had the proper connection while filming.
Grey was the first to be cast in the movie and was paired with several potential leads. She said she was cast before Swayze, who came in to test for the role and other actors. Despite this, she said, "I didn't think we had chemistry. But you either do, or you don't. It's a weird thing, though. It doesn't have to do with whether you like someone or not. It's just you either have it, or you don't."
Dakota Johnson and Jamie Dornan
The connection between two love interests is crucial in any film genre, but some films suffer more than others when it is lacking. 50 Shades of Grey is one of the most well-known erotic romances of the past two decades. Its success relied heavily on the chemistry between Anastasia Steele and Christian Grey, played by Dakota Johnson and Jamie Dornan, respectively.
However, neither Johnson nor Dornan were particularly excited about the multiple intimate scenes they had to perform together. To cope, Johnson would drink shots of whiskey before every kissing scene with Dornan, while Dornan would make gross and silly noises to try to make Johnson laugh. These coping mechanisms definitely took away from the heat and intensity of the scenes.
Jennifer Lawrence and Bradley Cooper
2012's Silver Linings Playbook was a huge success, both with audiences and critics, due to the intense and convincing connection between Jennifer Lawrence's character Tiffany and Bradley Cooper's character Pat. Despite their undeniable chemistry, it wasn't easy to achieve, especially during kissing scenes.
Cooper had no trouble kissing Lawrence, but the feeling wasn't mutual. After a few takes of their intense makeout scene, Lawrence reportedly told Cooper he was "a wet kisser." Cooper later admitted that a comment affected him and made him feel insecure during his following few film projects.
Thandie Newton And Gerard Butler
Illness struck again during the filming of Rock N Rolla. The stylistic film directed by Guy Ritchie was supposed to have Thandie Newton and Gerard Butler in a passionate embrace, but Butler was terribly ill. Newton told Ritchie that she would not kiss someone who could give her a wretched cold which he respected.
He rewrote their scenes, and it actually made the movie stronger for it. Butler was very understanding of the situation and didn't want to get her sick, either.
Helena Bonham Carter and Woody Allen
Bonham Carter has openly shared her dissatisfaction with the kissing scene in the 1995 movie "Aphrodite," where Allen played her love interest. According to Bonham Carter, Allen was particular about how he wanted the kissing scene performed, even forbidding any liquid exchange.
This made the experience all the more unappealing for the actress, who likened it to "kissing the Berlin Wall." While Allen's strict requirements may have been intended to make the scene appear more chaste, it ultimately detracted from the chemistry between the two characters.
Hugh Jackman and Nicole Kidman
While filming the 2008 movie "Australia," Hugh Jackman had to contend with the pressure of kissing Kidman, despite both actors being married. Jackman admitted that the kissing scenes were far from comfortable, stating that making out with someone in front of a large crew was not exactly a turn-on. "It's never particularly comfortable making out with someone in front of 70 people," Jackman said, as reported by Elle. He also revealed that his wife, Deborra-Lee Furness, a close friend of Kidman, was not present during the kissing scenes.
Jackman and Kidman created a safe and supportive environment on set despite the awkwardness. "We both loved the project and created a safe atmosphere," Jackman explained. However, the experience was far from enjoyable for the actor. For Jackman, kissing Kidman was just another challenging aspect of his acting work.
Josh Hutcherson and Charlotte Ray Rosenberg
For Josh Hutcherson, his first kiss was anything but private. At 11, Hutcherson starred in the movie "Little Manhattan" and had to kiss his co-star, Charlotte Ray Rosenberg, on camera. To make matters worse, the kiss had an audience of over 50 crew members. Hutcherson's mother tried to make the situation more comfortable by flying in with his father for support. However, the young actor was still extremely nervous. He felt the pressure of performing such an intimate act with so many people watching.
In an interview with Seventeen, Hutcherson said, "It was the most non-real, non-intimate moment that I could possibly have my first kiss, I think." While the scene may have been awkward for Hutcherson, it ultimately helped launch his acting career. Although his first kiss is far from romantic, the young actor went on to star in major Hollywood films and become a household name.
Ashley Tisdale and Zac Efron
In an episode of The Suite Life of Zack and Cody, Ashley Tisdale and Zac Efron shared a kiss that was far from enjoyable for Tisdale. In an interview with Elle, Tisdale revealed that the kiss was her worst on-screen experience due in part to her close friendship with Efron. She explained that Efron was used to acting on more adult-oriented shows and tried to kiss her with his tongue. "I just closed my mouth so fast. I was like, 'This is Disney Channel. We don't kiss like that on Disney Channel,'" Tisdale recalled.
While the kiss may have been uncomfortable for Tisdale, it's a reminder that even family-friendly shows can have awkward moments. For young actors, navigating on-screen intimacy can be tricky and sometimes painful, especially when the person you're kissing is a close friend.
Ryan Reynolds and Morena Baccarin
For Morena Baccarin, kissing Reynolds on screen was far from a dream come true. In the film "Deadpool," the two played on-screen lovers. Still, Baccarin found the experience of kissing Reynolds in his costume to be anything but romantic. In an interview, Baccarin revealed that kissing Reynolds in his mask was like rubber the entire time. She also found it challenging to feel intimate with him while he was in costume, adding that it was difficult to act with the mask.
Despite the film's comedic nature, the kissing scenes were still awkward for Baccarin, and it's a reminder that even the most attractive actors can have uncomfortable on-screen experiences. For Baccarin, kissing a giant thing of latex was hardly appealing. Still, it didn't stop her from delivering a memorable performance in the film.
Will Smith and Eva Mendes
In the comedy "Hitch," stars Will Smith and Eva Mendes had to navigate this particular occupational hazard during a kissing scene. Mendes was nervous about kissing Smith and had indulged in her favorite comfort foods, which included tuna fish with lots of onions and Doritos. This resulted in the bad breath that Smith found less than appealing. Mendes then took a handful of Altoids to freshen her breath, and the kissing scene reportedly went much more smoothly afterward.
While Smith diplomatically praised the kissing scene in public, calling it "absolutely wonderful" in an interview with Oprah, it's clear that bad breath can be a significant obstacle for actors. Despite this challenge, "Hitch" has been hailed as one of the greatest romantic comedies of all time by Entertainment Weekly, proving that a bit of breath mint can go a long way.
Kirsten Dunst and Tobey Maguire
Romantic scenes in superhero movies can be particularly challenging to film, as Kirsten Dunst and Tobey Maguire discovered on the set of "Spider-Man." In the famous upside-down kiss scene, Maguire was hanging upside down in the rain while kissing Dunst, but the scene proved far from romantic for the actor.
As director Sam Raimi recalled, water was falling into Maguire's upside-down nostrils, causing him to semi-drown during the kissing scene. Maguire admitted having trouble breathing and gasping for air out of the corner of Dunst's mouth but also found some pleasure in the experience.
Rupert Grint and Emma Watson
The Harry Potter franchise captured the hearts of fans worldwide. Still, the actors behind the beloved characters faced some awkward moments on set, mainly regarding intimate scenes. For Rupert Grint and Emma Watson, who played Ron Weasley and Hermione Granger respectively, kissing in "Harry Potter and the Deathly Hallows: Part 2" was a particularly uncomfortable experience.
As Grint explained, he and Watson had known each other since she was nine. Their relationship was more like that of siblings than potential romantic partners. The kiss was "surreal" for Grint, and he could only remember Watson's face getting closer and closer. On the other hand, Watson admitted to "pouncing" on Grint to get the scene over with.
Ben Affleck and Sandra Bullock
Kissing movie scenes can be awkward for actors, and Ben Affleck is no exception. According to reports, Sandra Bullock offered him breathe mints while they were kissing while filming "Forces of Nature." Affleck also faced difficulties with a same-sex kiss in the comedy "Chasing Amy." He called it "the greatest challenge an actor can ever face" and admitted that he could have done better. Despite his efforts, he felt that the final product looked like something out of "Tom & Jerry," and he struggled to commit to the kiss fully.
Affleck's experiences are a reminder that even seasoned actors can find kissing scenes challenging, especially when it comes to same-sex or intimate moments. However, with patience and a willingness to try new things, actors like Affleck can push through these awkward moments and create memorable performances.
Ryan Gosling And Rachel McAdams
You would never know it by watching the chemistry between these two in The Notebook, which might just be the most romantic movie of all time, but Ryan Gosling and Rachel McAdams hated each other at first. This hate quickly turned to love once filming stopped, but the two could barely tolerate each other until that point.
We guess all that hate was actually an effort to avoid love, and it didn't work since they dated for a few years, and that's the end of these awkward star encounters.
Herizen F. Guardiola and Justice Smith
Netflix's The Get Down, about the music scene in 1970s New York, quickly became a hit for its dancing, but the love scene between two of the leads was anything but natural. Baz Luhrmann knew who he wanted as his leads, but the tension between the two was palpable.
He forced them to kiss each other during a script reading to get them out of their shells, and it eventually worked until they did not want to.
Luke Grimes And Nelsan Ellis
The former HBO vampire show Trueblood was known for being incredibly campy, full of blood, and having lots of romantic encounters. Luke Grime had been co-starring in it, but once he found out his character was into men, he decided it was time for him to hit the road.
His character was supposed to date Nelsan Ellis, and he simply could not bring himself to act like that on the small screen. We will let you decide whether this has affected his career.
Janet Jackson and Tupac
Pop star Janet Jackson has taken on several acting roles in her time, and during the filming of Poetic Justice, she starred alongside rapper Tupac. The romantic drama saw the pair look totally lied up but off-screen, the relationship between them wasn't as solid as it would appear.
With Tupac being a "known ladies' man," Jackson told producers that he would have to have some medical tests before she would kiss him. Feeling insulted, the rapper refused, and this caused big problems on set for everyone involved.