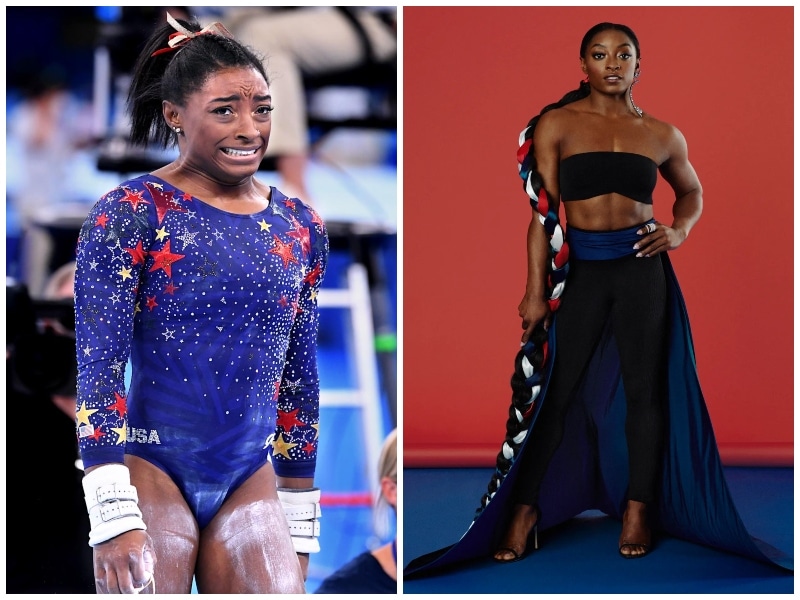 A new athlete exploded into the international gymnastics scene in 2013 and dazzled audiences all around the world. She continues to astound people with her unequaled powers many years later. However, her name has recently been in the news, and it hasn't been particularly flattering.
She has overcome adversity to continually break new ground in a very demanding and tough sport, and she is now the most decorated athlete in American gymnastics history. After retiring from all events during her second Olympic Games in Tokyo 2020, it's time to look back on Simone Biles' incredible journey. Discover what Simone has been keeping hidden from the public eye.
How It All Started
Simone Biles is one of four children who were placed in foster care as their mother suffered from addiction. Their aunt and uncle adopted the two elder siblings, while Simone and her younger sister, Adria, were adopted by their grandparents.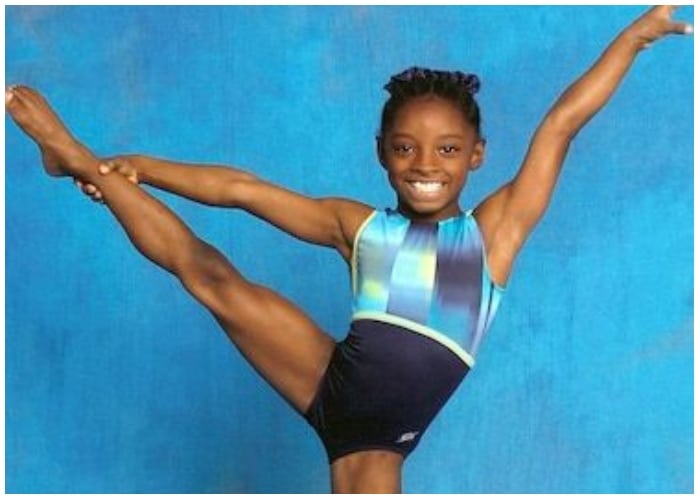 One day, the six-year-old witnessed older girls completing gymnastic routines at the day-care's gym. She taught herself how to do backflips off mailboxes in no time and began training shortly after her gym visit.
Learning Together
A coach named Aimee Boorman, discovered Simone about a year after she began training. Despite the fact that the gymnastics coach had never worked with an elite athlete before, she was so taken aback by Biles' inherent talent that she couldn't pass up the opportunity.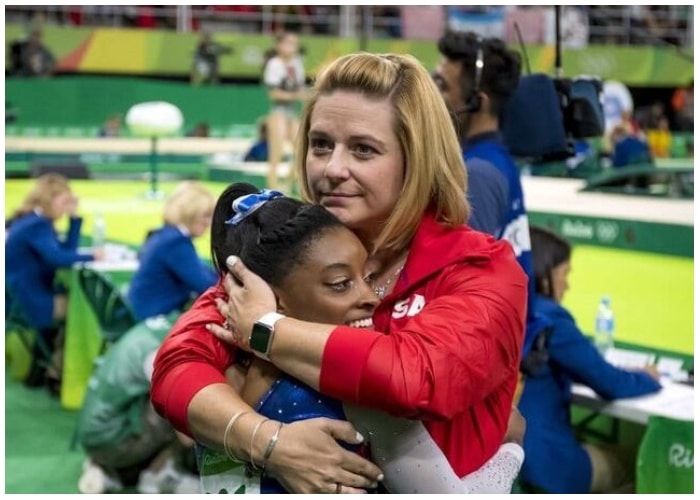 When Biles was eight years old, the two started working together and were together until 2017. Biles was never concerned about her coach's inexperience; in fact, she greatly appreciated it.
Competitive Debut
Simone Biles made her senior competitive debut as a replacement for injury in the 2013 American Cup at 16 years old. She won her first and second World Championship gold medals just over six months later.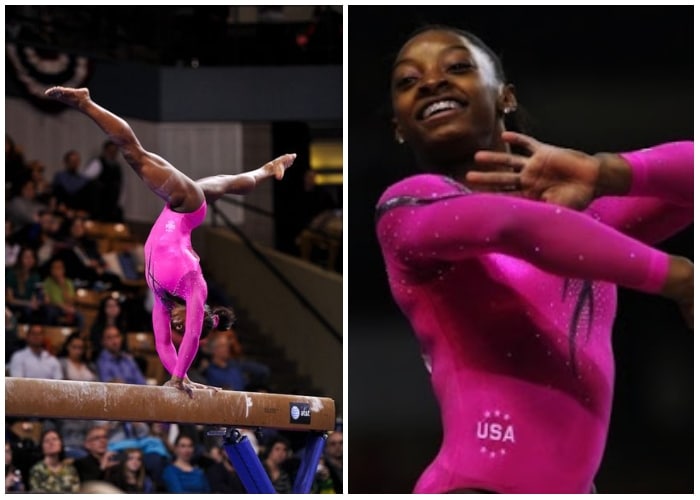 Biles became the first African-American to win the all-around gold medal in Antwerp, Belgium. She also won a second gold medal in the floor exercise, a silver medal in the vault, and a bronze medal on the balancing beam.
The Bee Attack
In 2014, the World Championships were relocated to Nanning, China. In gymnastics, the United States won the team gold once more. Biles won gold in the all-around and silver in the floor exercise, and she added a new gold to her tally when she improved her performance on the balance beam.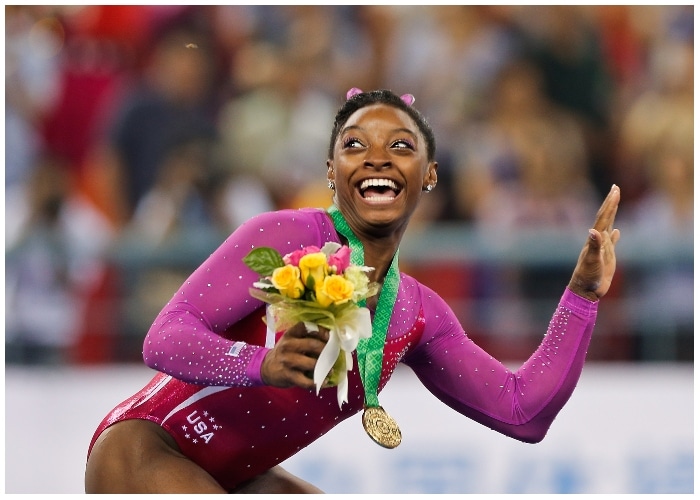 A bee was in Biles' bouquet while she was accepting one of her gold medals, which made her leap from the podium in fear.
Biles Makes History
In 2015, Team USA won their third World Championship team gold in a row in Glasgow, Scotland. Biles made history by becoming the first woman to win three consecutive all-around gold medals.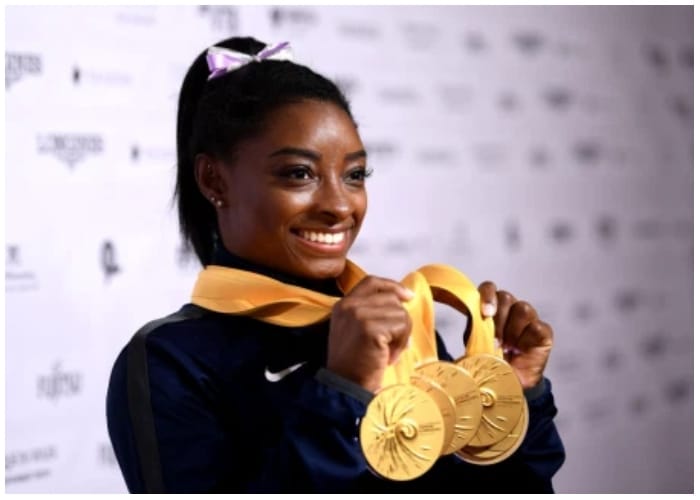 Biles also achieved more gold medals by winning the floor exercise and balance beam events, as well as taking gold in the vault. She vaulted hard in her vault final and landed beyond her limits, something she said had never been done before.
A Gold Standard Olympian
Simone Biles was picked for Team USA in her debut Olympic Games after three years of senior competition and more than a decade of training.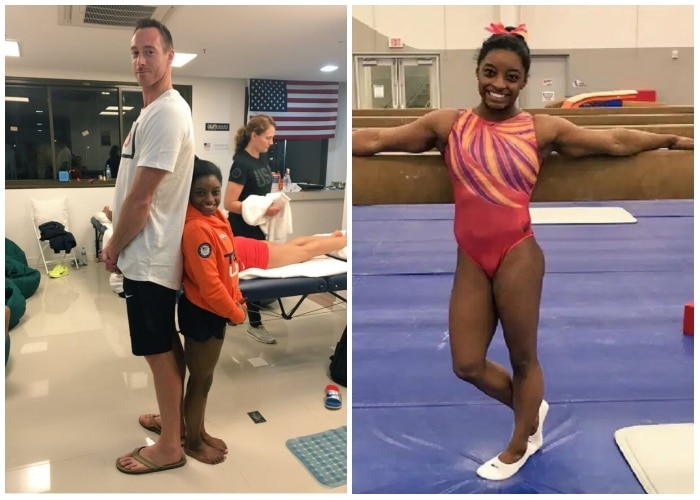 Biles was the shortest athlete in the USA team, standing at just 4'9. She returned to the United States with four gold medals: all-around, floor exercise, vault, and team gold. Her balancing beam performance earned her a bronze medal too. She had become an Olympic legend in gymnastics at 19.
Women in Power
Simone has won 14 World Championship and five Olympic medals by the end of 2016, 14 of which were gold. She's the most decorated female gymnast in America.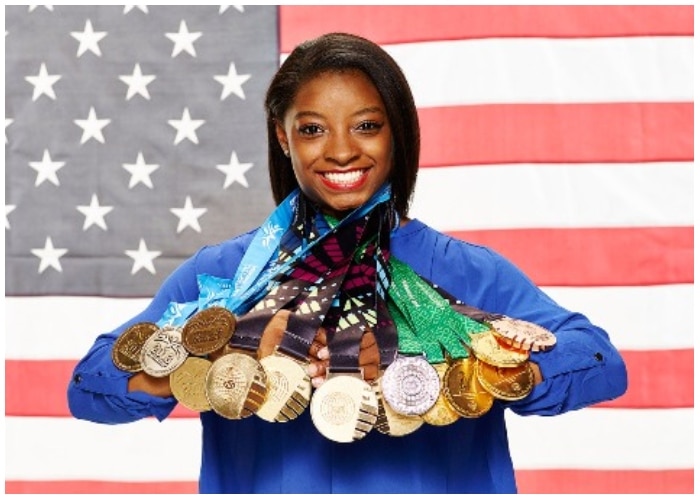 Biles said. "You only see men saying they're good at what they do, and they're praised for it, while women are scorned for it, but I think it's a fantastic thing to do because if you discover you're confident, you'll be even better at what you do."
The Beam Challenge
Simone's confidence in the event was shaken after she "only" won bronze on the balancing beam at the 2016 Olympics in Rio. "'If you hate the beam, the beam will hate you,' I've always told myself," she told USA Today.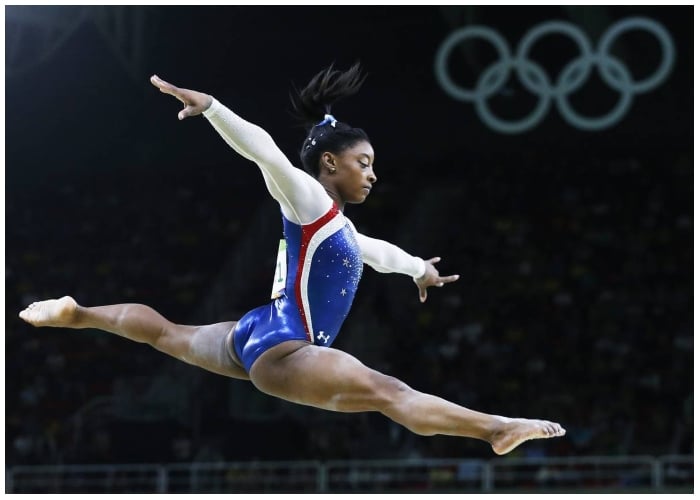 Gymnasts often do their most difficult maneuver in their initial tumbling pass, followed by a simpler move in each subsequent pass. Simone's third pass has a higher difficulty level than most competitors try in their first.
ADHD
Russian hackers leaked confidential medical information of many athletes from the World Anti-Doping Agency's archives after the Rio Olympics. According to the report, Simone had tested positive for Ritalin, a medication used to treat ADHD.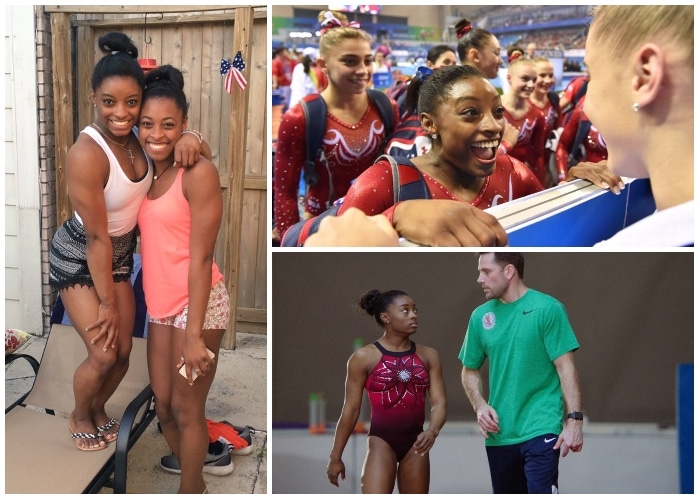 Biles responded to the news on social media, confirming her diagnosis. "Having ADHD, and taking medication for it, is nothing to be embarrassed of," she tweeted. Biles later revealed that she has never regarded having ADHD as a disadvantage.
Happiness Is Pizza Shaped
Isn't it true that being an Olympic athlete is all about discipline and sacrifice? Countless hours of practice, a grueling exercise routine, and a stringent diet are all part of the deal. Simone has been very determined throughout her career, but she also knows how to treat herself.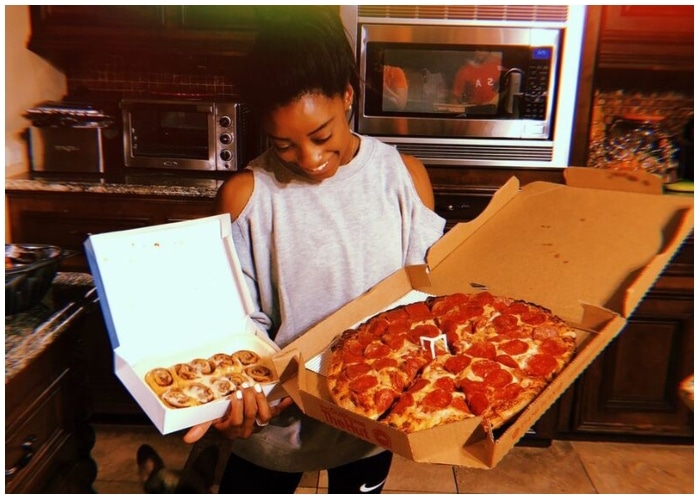 "It doesn't matter if I do not win a self-gold," she added, "I enjoy pizza after every meet." Biles' favorite pizza is pepperoni with a stuffed crust.
Writing Her Memoirs
Simone took a year off from competition after winning four Olympic gold medals in 2016. During that break, Simone wrote her memoirs.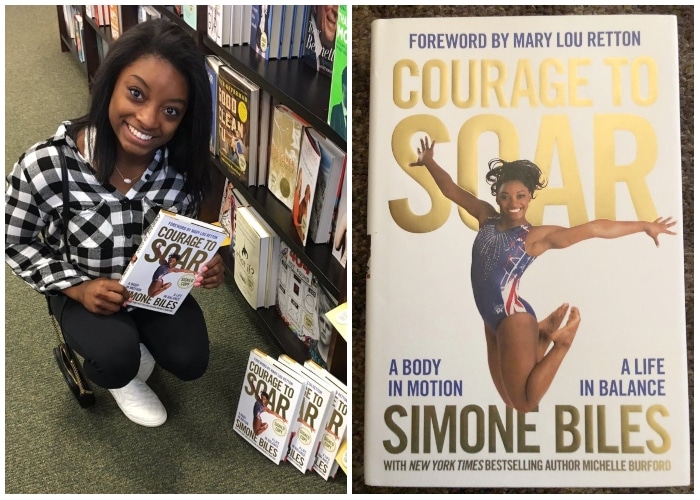 "I want others to pursue their ambitions, and there have been so many people who have inspired me along the journey, and I want to pass that inspiration on to readers," Simone said of her decision. Courage to Soar: A Body in Motion, A Life in Balance was co-written by journalist Michelle Burford.
Bravery
Simone came out with a powerful statement on Twitter on January 15, 2018 that said: "I, too, am one of the numerous survivors of Larry Nassar's abuse. I've been hesitant to tell my experience for a variety of reasons, but I know now that it's not my fault."
Team USA physician Larry Nassar was accused misuse his position and hurting more than 140 women and girls. Biles was one of the highest-profile athletes to come forward.
Back To Work
Simone returned to competitive gymnastics in 2018 and secured a spot on the World Championships squad held in Doha, Qatar. The United States won the team gold for the second time.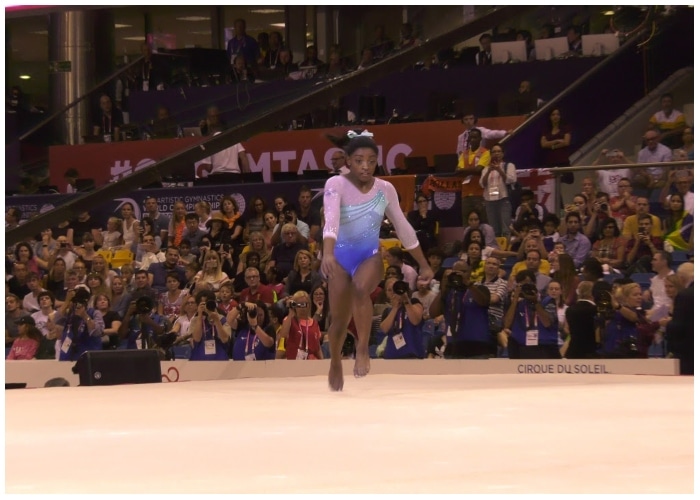 Biles added another item to her list of accomplishments when she won gold in the vault for the first time, making her the first American gymnast to win gold in all four events. That same year, she also won bronze on the balancing beam.
Too Talented To Compete
The International Gymnastics Federation clashed with Simone in the 2019 World Championships because she was, believe it or not, too talented. Every gymnast's move is given a difficulty rating, which influences how the scores are multiplied. Biles presented two new techniques that she planned to demonstrate.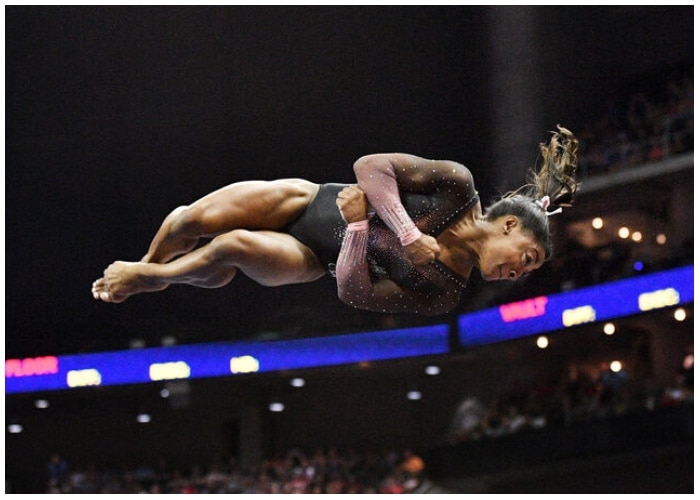 The first was a triple-twisting, double somersault in the floor exercise with a J difficulty level, the greatest attainable level of difficulty. She is a league of her own.
Unprecedented Skills
Simone flew to Germany, for her fifth World Championships in 2019, despite the IGF questioning the difficulty level of her new skills. Biles won the all-around and floor exercise gold medals, the American athletes earned another gold medal as a team.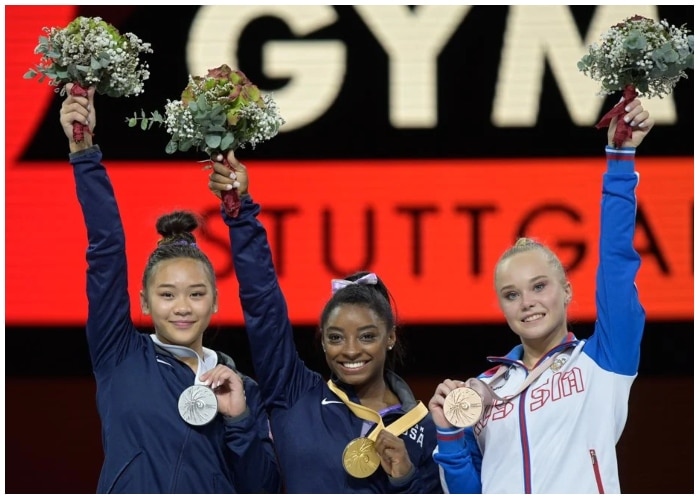 She also won gold in both the vault and the balancing beam for the first time, making it the first major tournament in which she won four individual golds in addition to her team title.
Criminal Charges Against Her Brother
Simone's life was not free of darkness after her experience with Larry Nassar. She was saddened when criminal charges were filed against her brother Tevin Biles-Thomas for a Cleveland shooting that resulted in three deaths.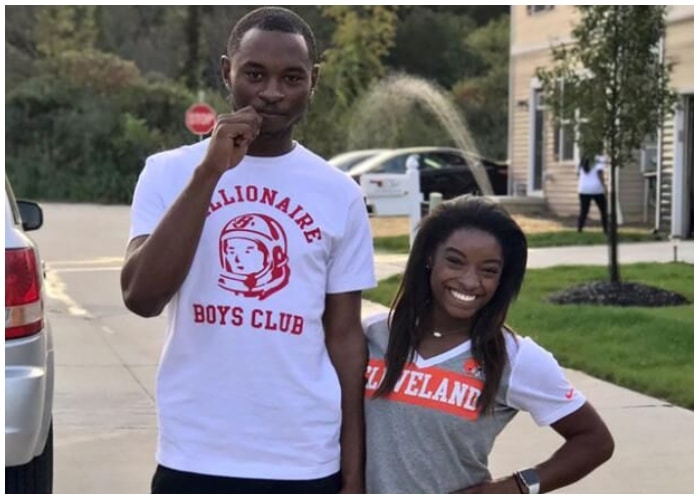 She was heartbroken at the fact that her brother was capable of doing such a thing. 26 year old Tevin ended up being released after the judge approved the defense's request for an acquittal due to a lack of evidence.
Actions Speak Louder Than Money
USA Gymnastics announced a plan to pay a $215 million settlement package to the victims of Larry Nassar, who is facing life in prison. Survivors were to be compensated based on the perceived severity of their abuse. The announcement enraged Simone and her teammate Aly Raisman.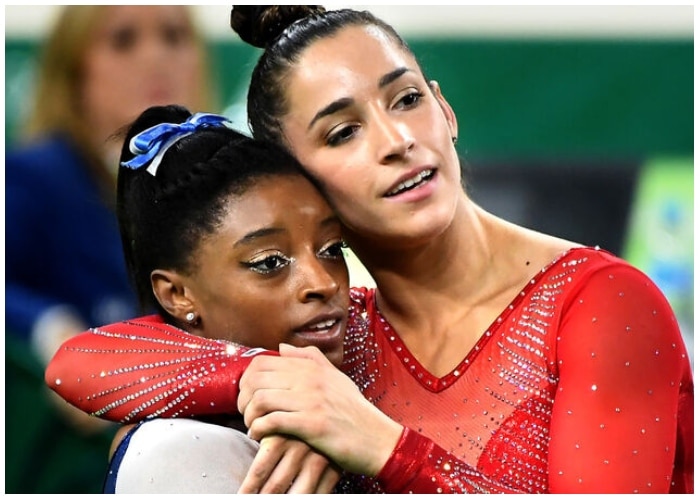 They demanded action and reform in the organization to ensure that future competitors were safeguarded from the atrocities they endured, not just a monetary settlement to end the debate.
A Voice To Be Heard
When asked how she felt about USA Gymnastics' response to Larry Nassar's assaults, Simone told 60 Minutes, "They haven't assured us that it won't happen again."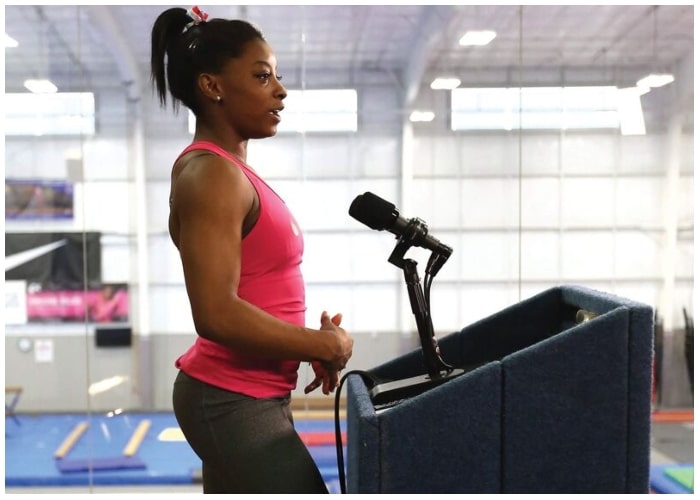 Nassar was given a maximum penalty of 300 years in prison, but Biles did not believe it was the end of the story. "It's not over yet", she told CBS Network. Biles has repeatedly called for an independent investigation into everything that occurred during Nassar's time at the university.
Vogue
The Covid-19 pandemic put international competition in all sports to a halt in 2020.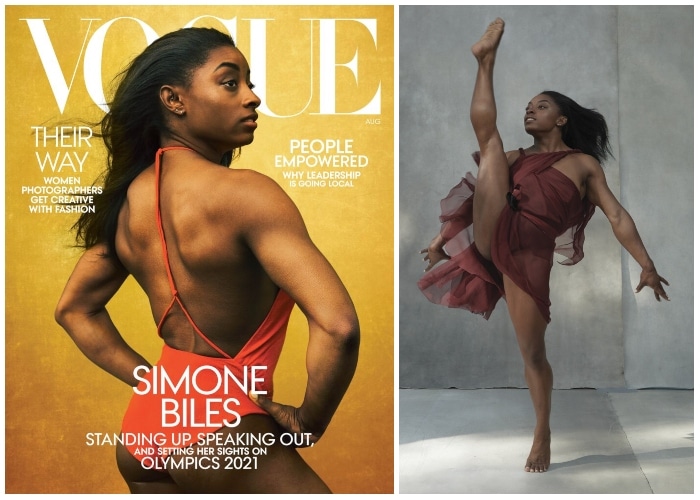 Simone was featured on the cover of Vogue magazine in the August edition where she got candid and reflected, "I didn't see many Black gymnasts growing up,I felt extremely inspired to go out there and try to be as excellent as them whenever I did."
Still Pushing Boundaries
Before going to the rescheduled 2021 Tokyo Olympics Simone was already breaking records with a Yurchenko double pike vault in the U.S. Classic.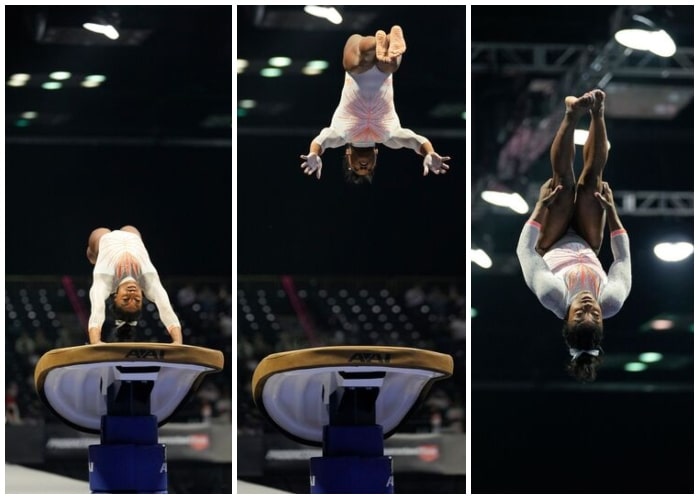 It consists of a roundoff onto the springboard, a back handspring onto the vaulting table and a piked double backflip. It became the highest valued vault in women's gymnastics, with a rating of 6.6 points.
New Priorities
Simone's profession started to negatively affect her health in 2019. "Pain is just something I have to deal with, which is unusual for someone my age, right?" she told the Daily Mail.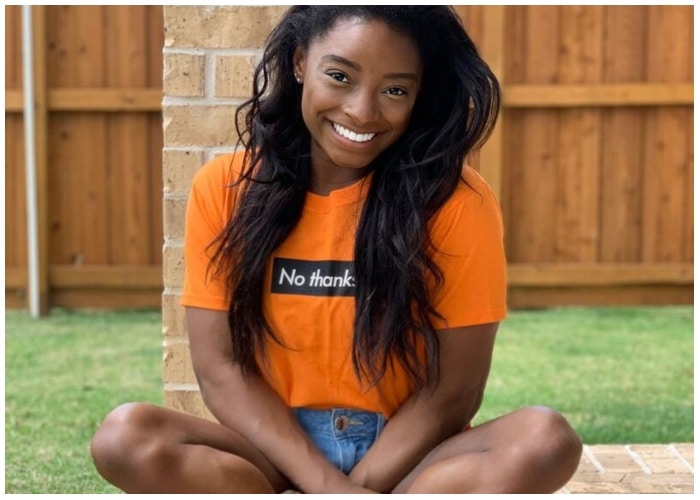 "When I'm not in agony, it feels strange." This is one of the reasons why the world-record-breaking athlete has stated his desire to retire after the Tokyo Olympics.
Tokyo 2021
Biles had high expectations for the Tokyo 2020 Olympics. Biles got the American women's team to the team finals and herself to the individual finals despite a questionable performance in the gymnastics preliminary events.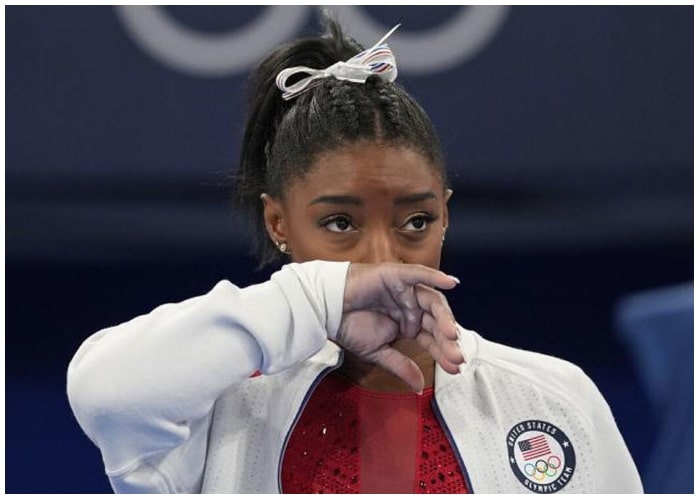 And that's when the strain began to show. After a terrible vault leap, she announced her retirement from the team competition and from all individual finals.
Body and Soul
When questioned about her notable absence, Biles responded that it was due to her mental health interfering with her overall health. "For anyone saying I resigned, I didn't quit," Biles stated. "My head and body are simply not in sync as you can see here."
Biles stayed in Tokyo for the duration of the tournament to support her colleagues.
Will She Compete in The Olympics Again?
Biles hasn't announced whether Tokyo 2021 will be her final Olympic Games. She has shown interest in returning to the 2024 Paris Games, but only in the vault, to honor her French trainers, Cecile and Laurent Landi.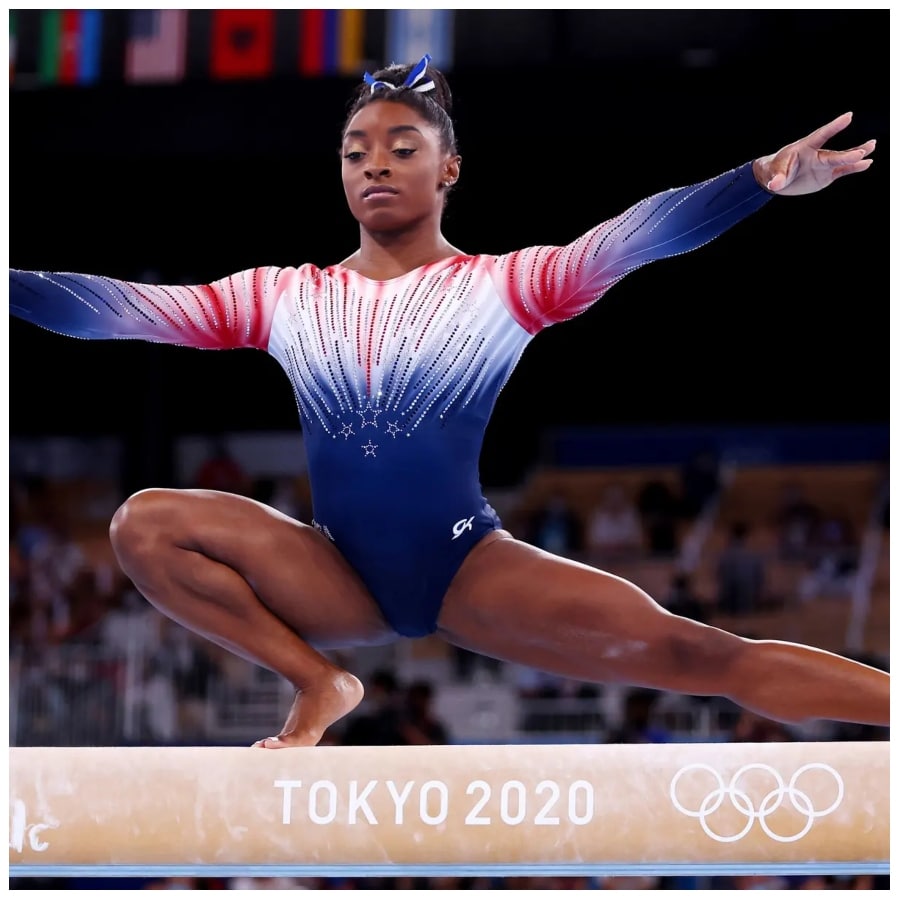 In several interviews, she has hinted that she is ready to close this chapter of her life. She claims, "I'm old, I'm exhausted."
Life Outside Competing
So, what is Simone up to nowadays? She bought a property in Spring, Texas, and decorated it in her own style with the help of a friend interior designer.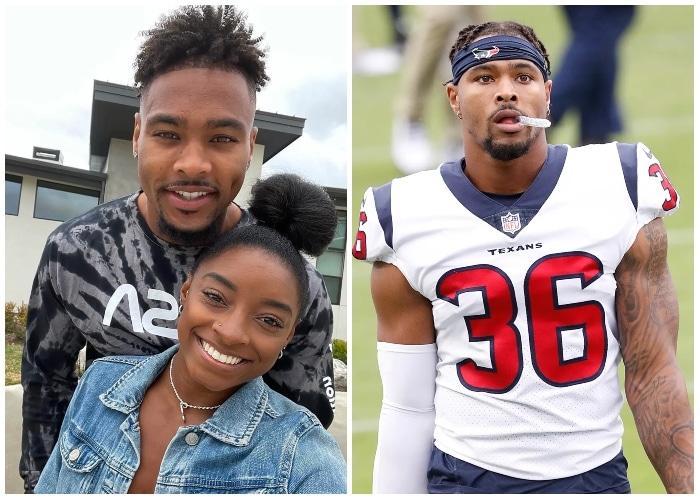 She is currently in a relationship with Jonathan Owens, a safety with the Houston Texans in the N. Football League. They met last summer through Instagram and they've been together ever since.
Contract With Athleta
When Simone's contract with Nike ended, she took the opportunity to sign with the women's clothing company Athleta. Nike had been criticized for their treatment of female employees and sponsored athletes, which included penalizing athletes who became pregnant.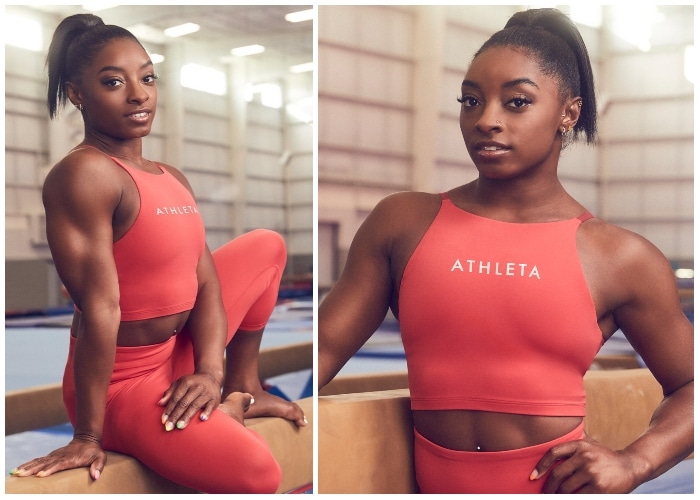 Athleta "aligned with her values" and they were also willing to sponsor her post-Olympic, all-women tour called the Gold Over America Tour.
Dominique Moceanu's Support
Dominique Moceanu advocates for girls in the gymnastics discipline and thinks that things have come a long way since she was a child. She applauds Simone's decision to step down from the competition to preserve her health.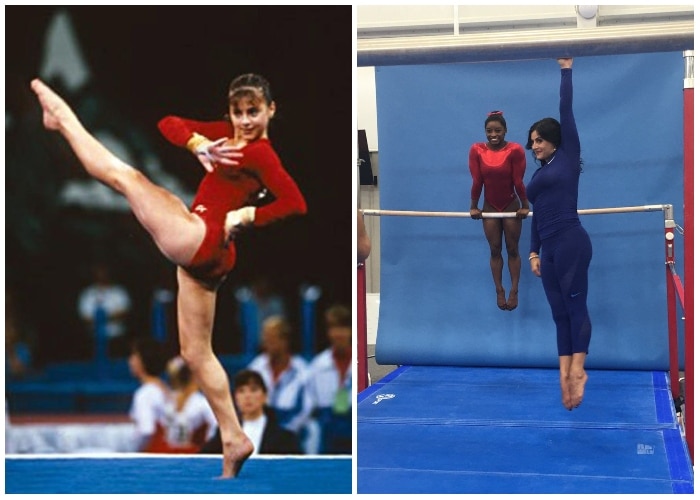 When Moceanu was 14, she had a stress fracture in her right tibia due to the nonstop practicing and the pressure from her coaches.
G.O.A.T.
The incredible Gold Over America Tour kicks off next month. Simone and other star gymnasts, including Laurie Hernandez and Jordan Chiles, will be touring 35 cities throughout the United States to celebrate female athletes.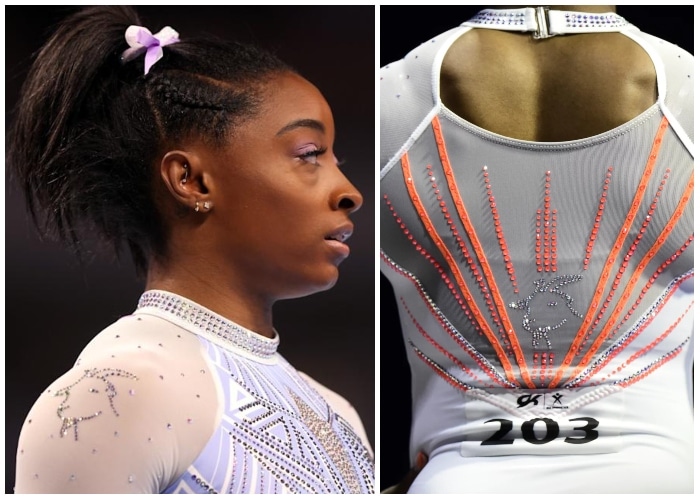 The first performance will be in Tucson, Arizona, on September 21, and the last is in Boston on November 7.Ttickets are now available for purchase.
New Makeover
After the 24-year-old athlete returned home from the Olympic Games in Japan, where she won a Bronze medal, she decided to treat herself and get a makeover. She posted several pictures on Instagram showing off her beautifully braided hair.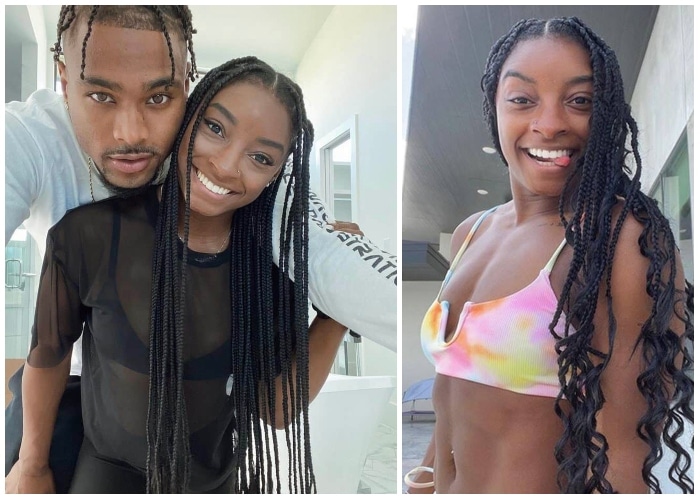 Simone is enjoying her free time before the G.O.A.T. starts. She looks very happy and comfortable with herself.
Belize
When Simone wants to go on vacation, she chooses to go to Belize. You might ask yourself, why out of all places Belize? Well, there's a reasonable explanation for it, her mother is originally from Belize.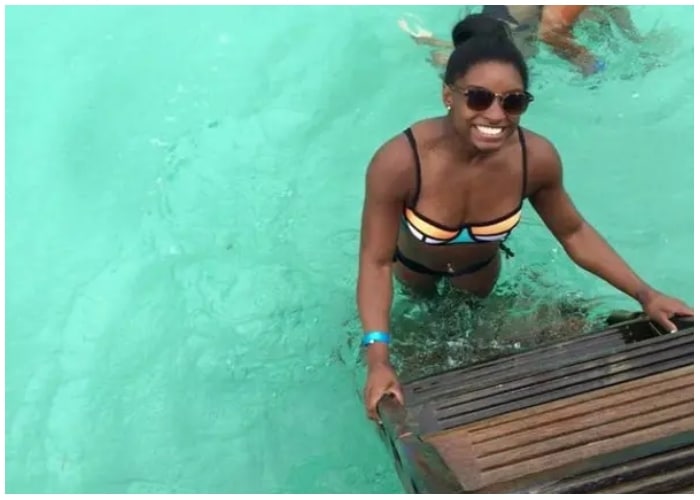 Simone is very proudly half Belizean and travels there whenever she has the chance. In her last vacations, she stayed at the Placencia Peninsula.