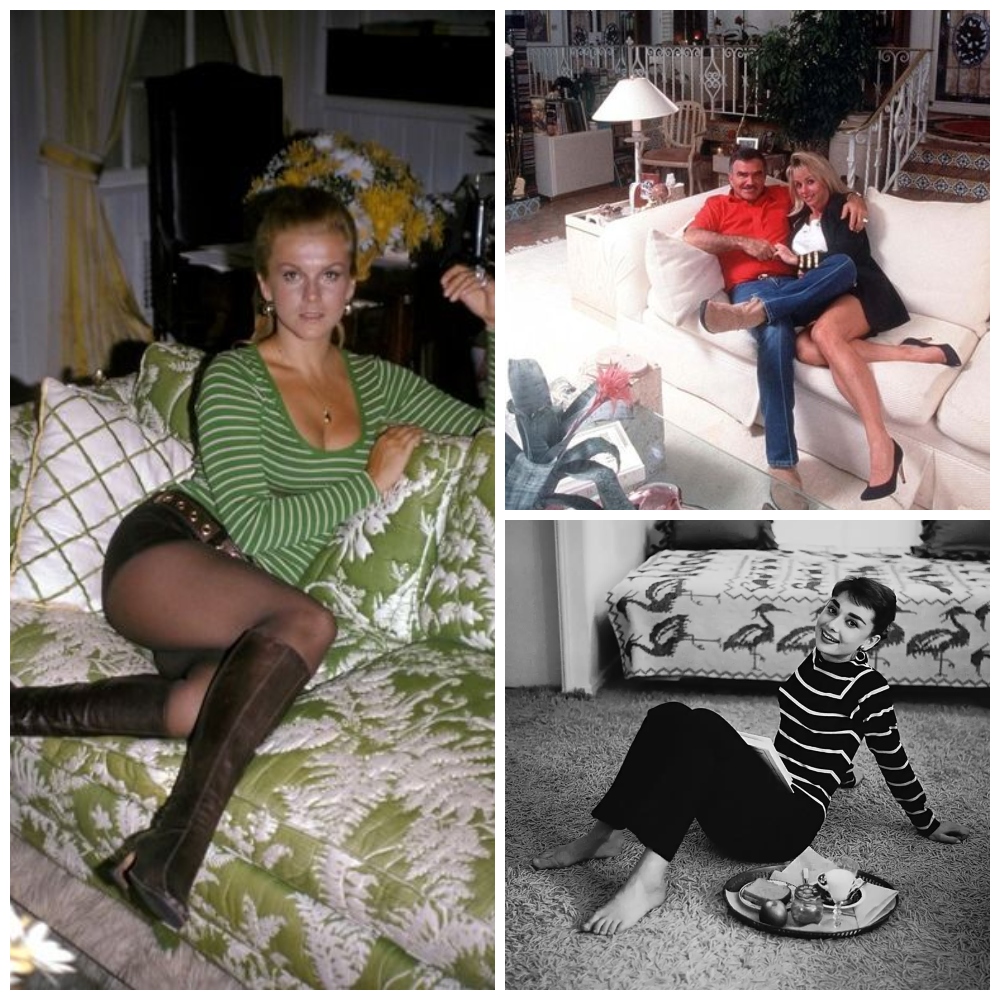 The Hollywood of this era is characterized by massive mansions in Beverly Hills, flashy cars, and wannabe content creators snapping photos for social media on Rodeo Drive. Hollywood wasn't always like this though. Back in the 1950s, when the big studios existed, and young actors and actresses made their way to Los Angeles, Hollywood had a very different feel to it. The classic stars of old Hollywood, like James Dean, Marilyn Monroe, and Elizabeth Taylor all had lives in the spotlight, but their time spent behind closed doors was even more important.
All of the classic film stars of the time had glamorous apartments in New York City, and homes in the Hollywood Hills tucked away from the flashing bulbs of the paparazzi. Take a walk down memory lane, and see some of the hottest stars of classic Hollywood's homes away from the film industry. The aesthetic of each home was tied to the style of the star that had chosen it. Some stars like a more subdued aesthetic, while others enjoyed the vibrant patterns of the 1960s and 1970s. Start scrolling to see the lavish homes of old Hollywood, and the stars who lived in them back in the day.
Sophia Loren and Carlo Ponti
Sophia Loren was known for being a siren on the big screen, and while filming she managed to meet a producer by the name of Carlo Ponti. Ponti may have been 22 years older than her, but that didn't matter.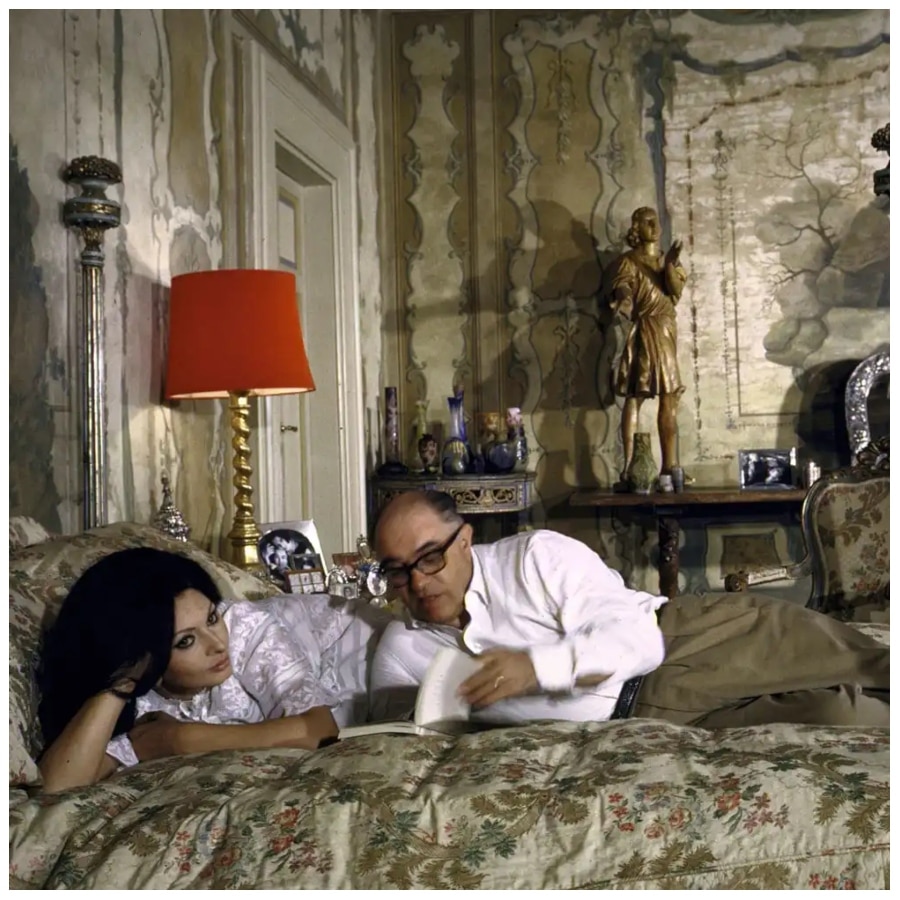 Their marriage lasted until Ponti eventually passed away in 2007. During their marriage, the pair lived in a palatial Roman home built in the 1500s. It was right in the center of Rome, and the couple were able to walk over to the Colosseum.
James Dean
As soon as James Dean starred in a film called Rebel Without A Cause, he became a household name. Dean did not let his newfound fame get to his head though. He had begun his career in a one room apartment in New York City, which didn't even have a bathroom.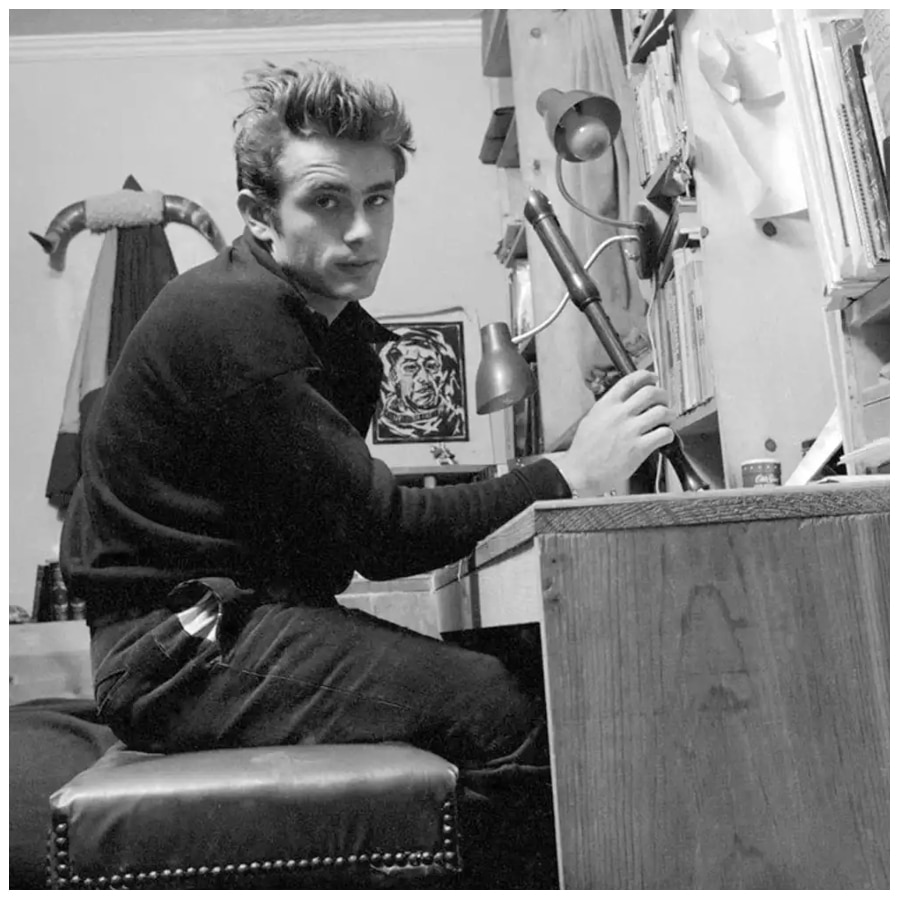 To keep himself centered throughout his career, he would return to this tiny room and get back to basics. Even the glitz and glamor of Hollywood can be a bit much for some stars.
Jayne Mansfield
Actress Jayne Mansfied was known for her platinum blonde hair and her love of the color pink. Her home was dubbed the 'pink palace' as she made sure to include pink in almost every room.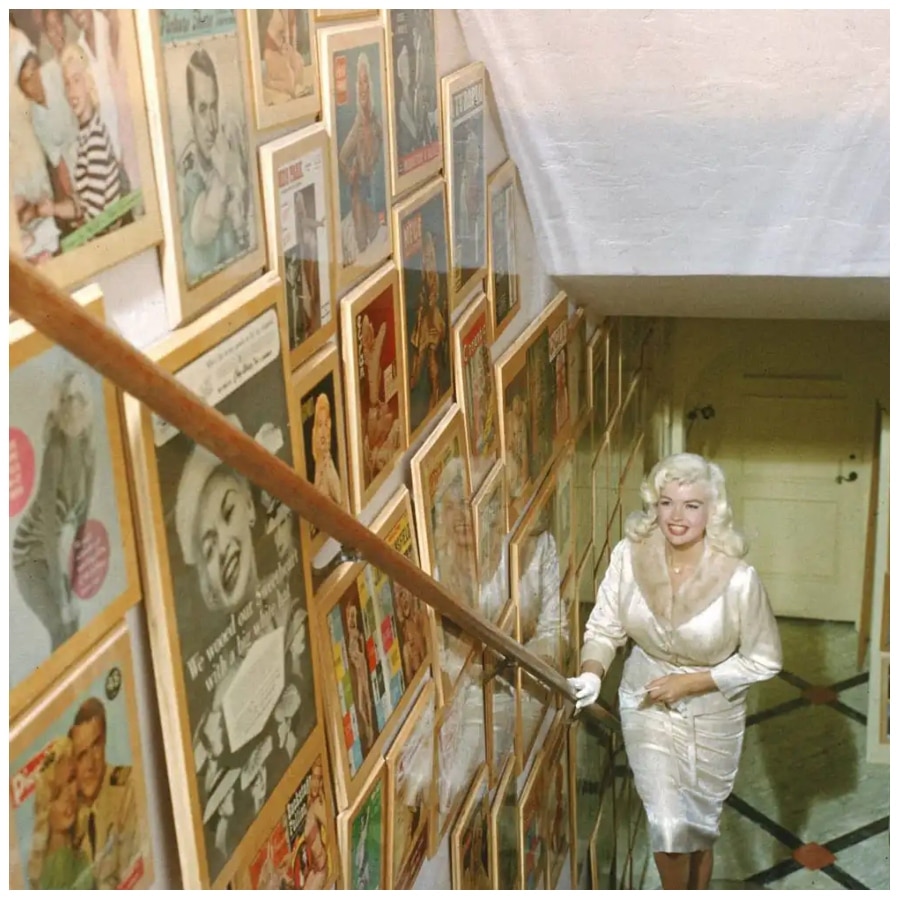 She was particularly proud of her career, and adorned the wall of her stairway with framed magazine covers of herself. Kim Kardashian has done the same in her closet, and this might be where she got the inspiration for that.
Shirley Temple
There are a few child actors that go down in history for this era, and Shirley Temple is one of them. Her angelic face and blonde curls immediately caught the attention of studios in 1935, which is when she had her first starring role.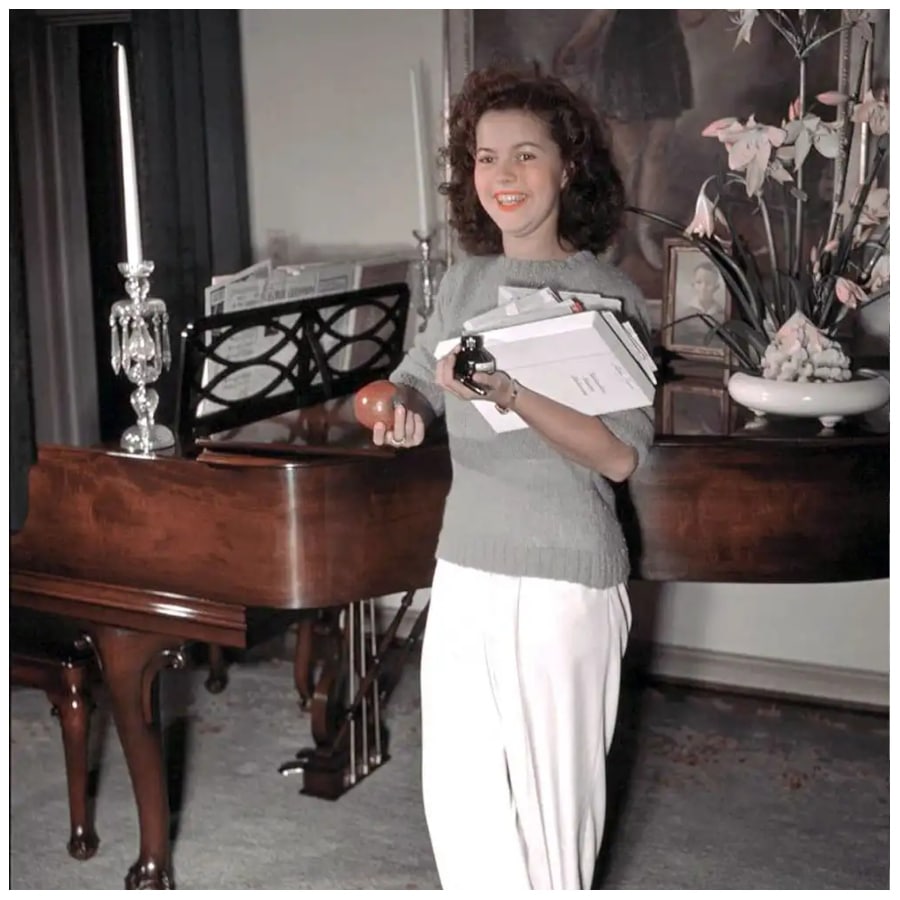 As a young woman, Temple continued acting, and here she is spotted grasping some fan mail by her grand piano. Back in the day, starlets would often respond to fans with handwritten notes.
James Stewart
James Stewart is considered to be one of old Hollywood's elite. His moving performances in films like It's A Wonderful World and The Philadelphia Story drew audiences in, in a way most actors of the time could not.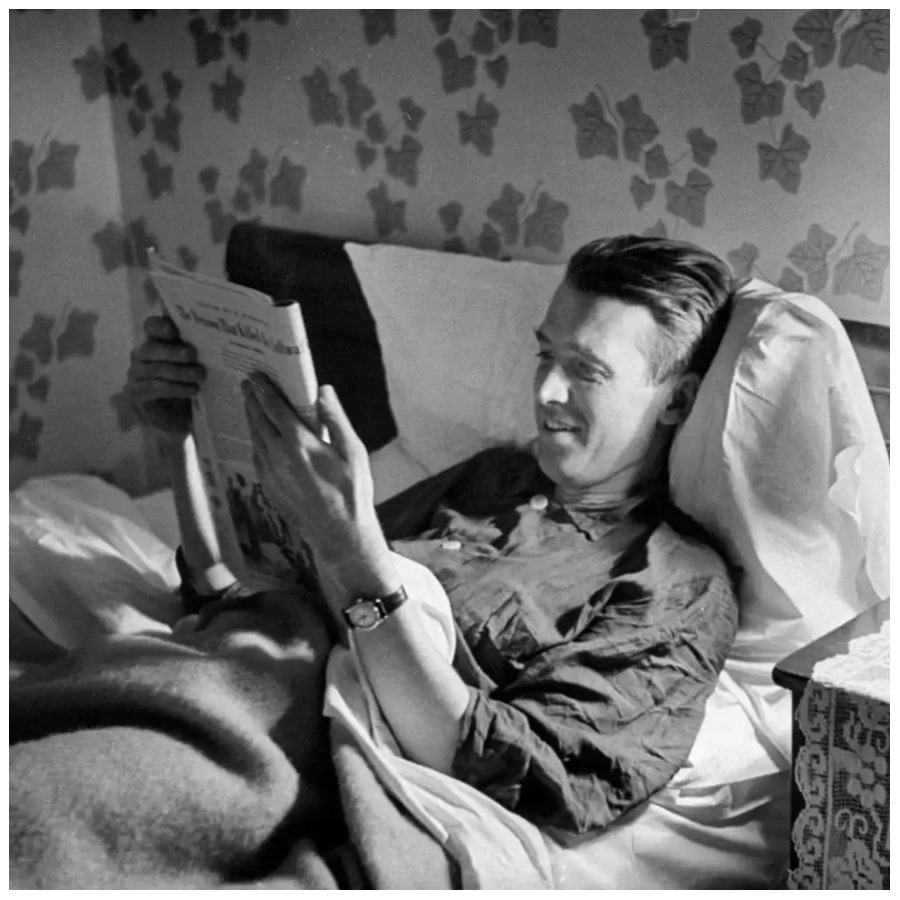 As well, he left Hollywood for a time, and joined the air force as a pilot during World War Two, which further endeared him to America. Even though he made oodles of money, he was not known for leading a lavish lifestyle, which is demonstrated by his simple bedroom.
Marilyn Monroe
There has never been another star quite like Marilyn Monroe. When this blonde bombshell first began appearing in Hollywood films, the audience could not get enough of her.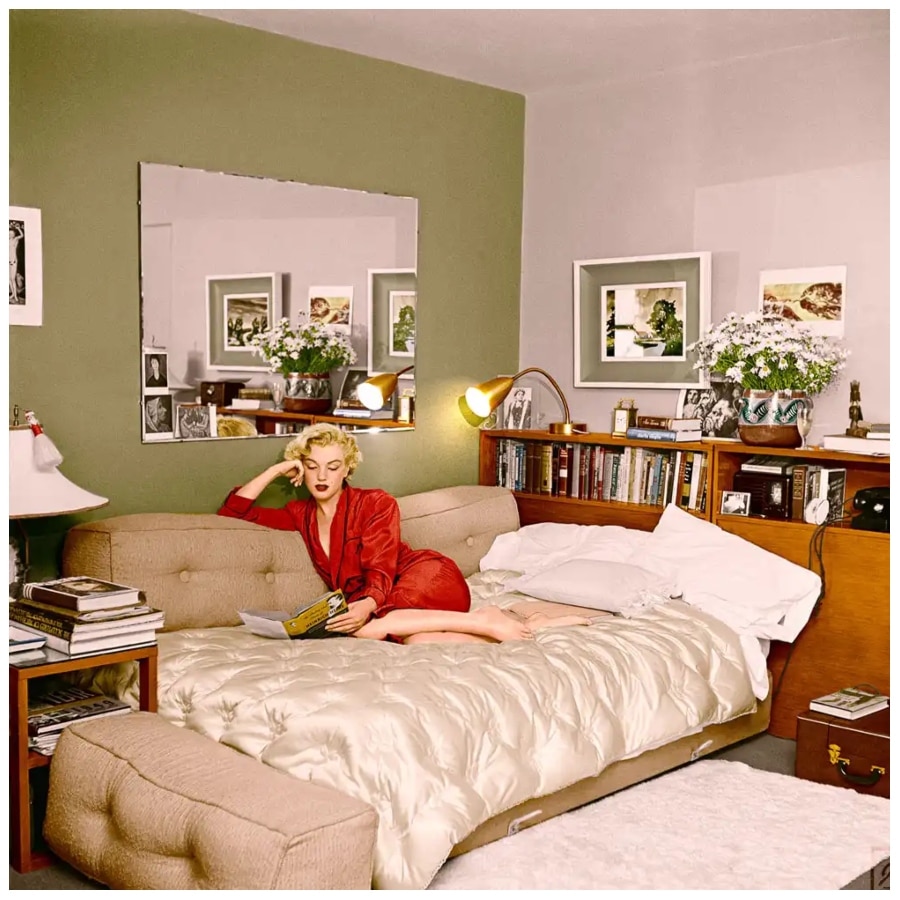 While she might have appeared to be all about the glamor, at home she preferred a quiet place and a comfy couch. Judging by the pillows, Monroe also took the occasional nap on this extra wide couch, and read her scripts on it.
Lauren Bacall and Humphrey Bogart
In the 1940s and 1950s, Lauren Bacall and Humphrey Bogart had something of a charmed life. The married couple were known for their love of one another, and Bacall was known for her affection for dogs.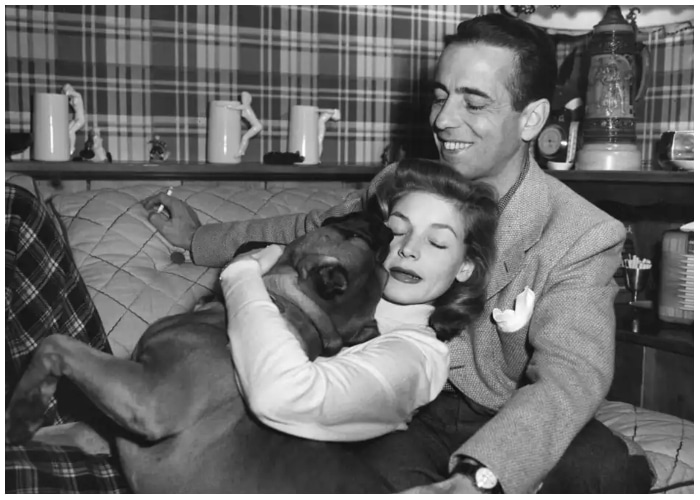 Pictured here, the three can be seen lounging on their couch together and enjoying some downtime. Life wasn't all about walking red carpets for these two. Bacall and Bogart were together until his passing in 1957, having spent 12 happy years together.
Brigitte Bardot
French actress Brigitte Bardot was all about tropical life. Instead of making her home in Hollywood, she opted for an exclusive villa in sunny St. Tropez. Like Lauren Bacall, she also had a fondness for dogs.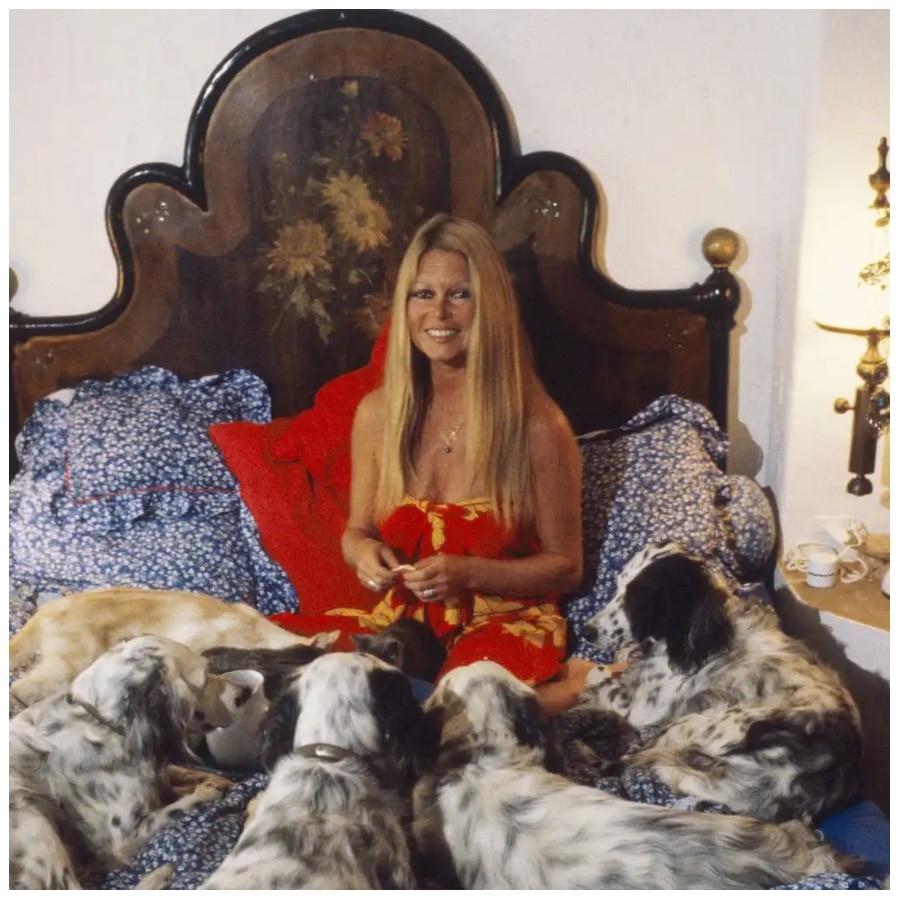 All of her dogs, and her cat have free rein of the property, and that includes her bed. Bardot has dedicated her life post-acting to fighting for animal rights, and raising awareness about treating them humanely.
Liza Minelli
Liza Minelli comes from acting royalty. As the daughter of Judy Garland, the stage was set for her to become a famous singer and actress in her own right.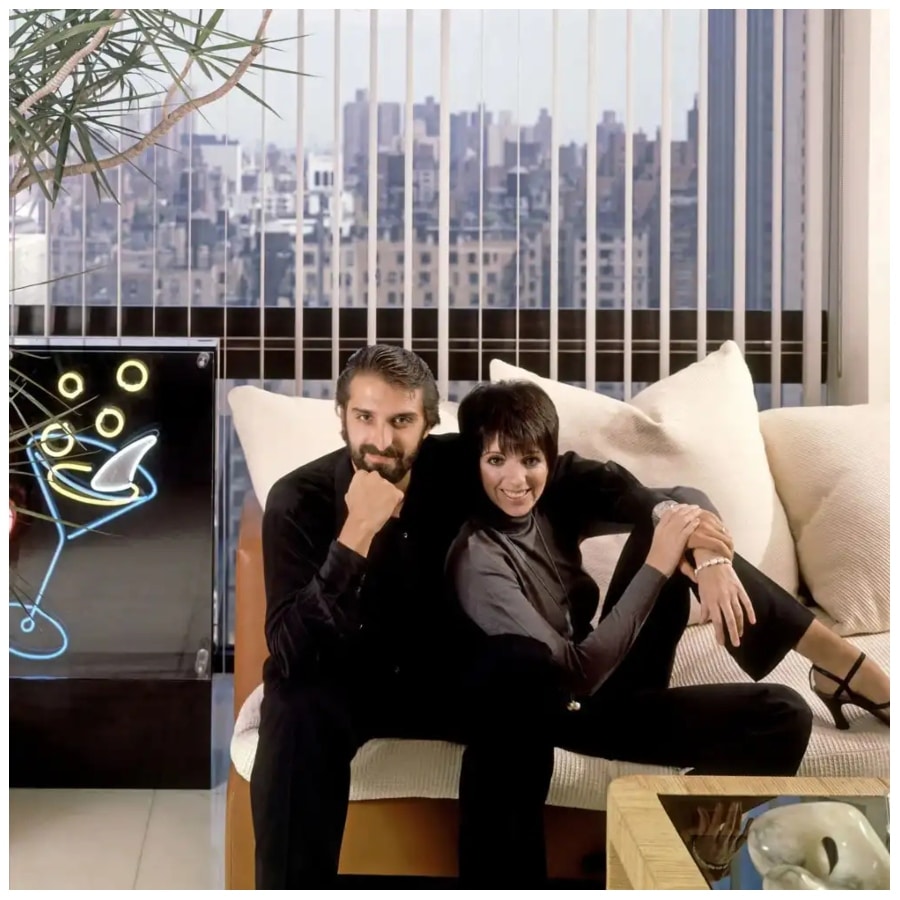 As she found success in films like Cabaret, she was able to rake in the big bucks and purchase a minimalist masterpiece of an apartment in New York City. The apartment was listed in 2015, and one lucky buyer walked away with it for a whopping $8,372,591.
Carole Landis
Many stars have had close relationships with their pets, which have become family. For actress Carole Landis, known for her striking appearance, she made her home on the beach. Everywhere she went in her home, she had her beloved Great Dane named Donner.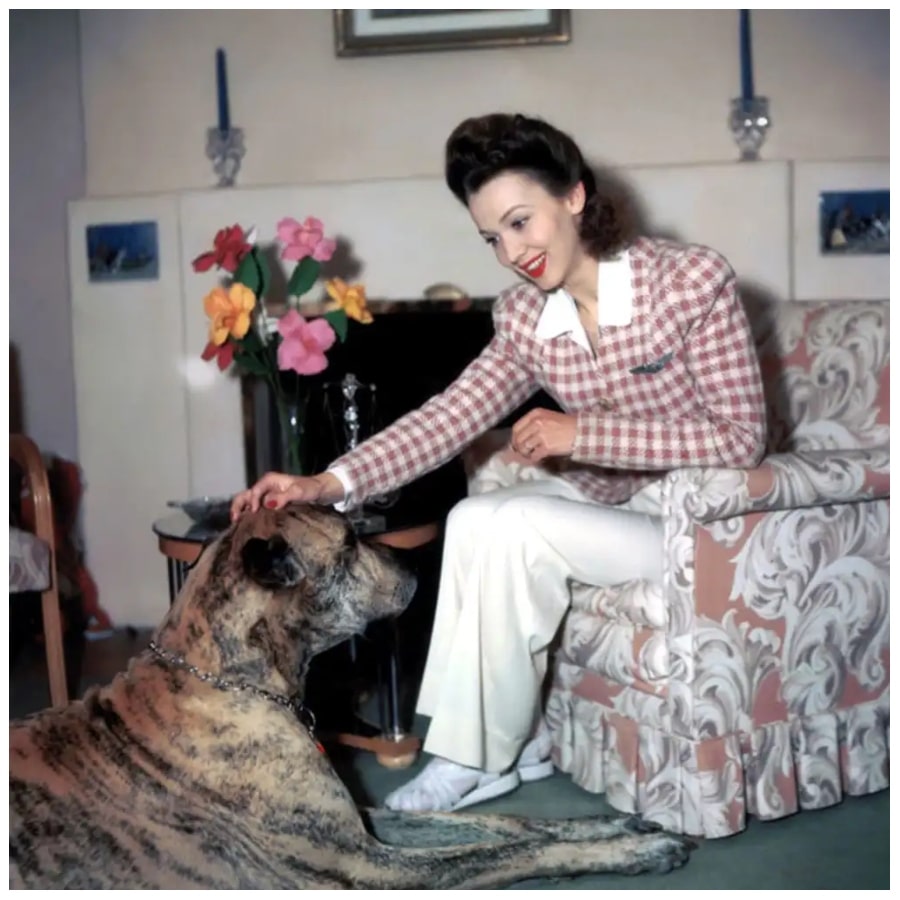 When Donner passed away, Landis decided to write an article about her love of the gentle giant, and her sadness at how clean the house is with him gone. The loss of a pet can be like the loss of a family member.
Charlotte Rampling
The 1960s were all about bright patterns, mini dresses, and great music. It girl, Charlotte Rampling embraced this lifestyle, and began starring in European art house films which quickly made her a household name.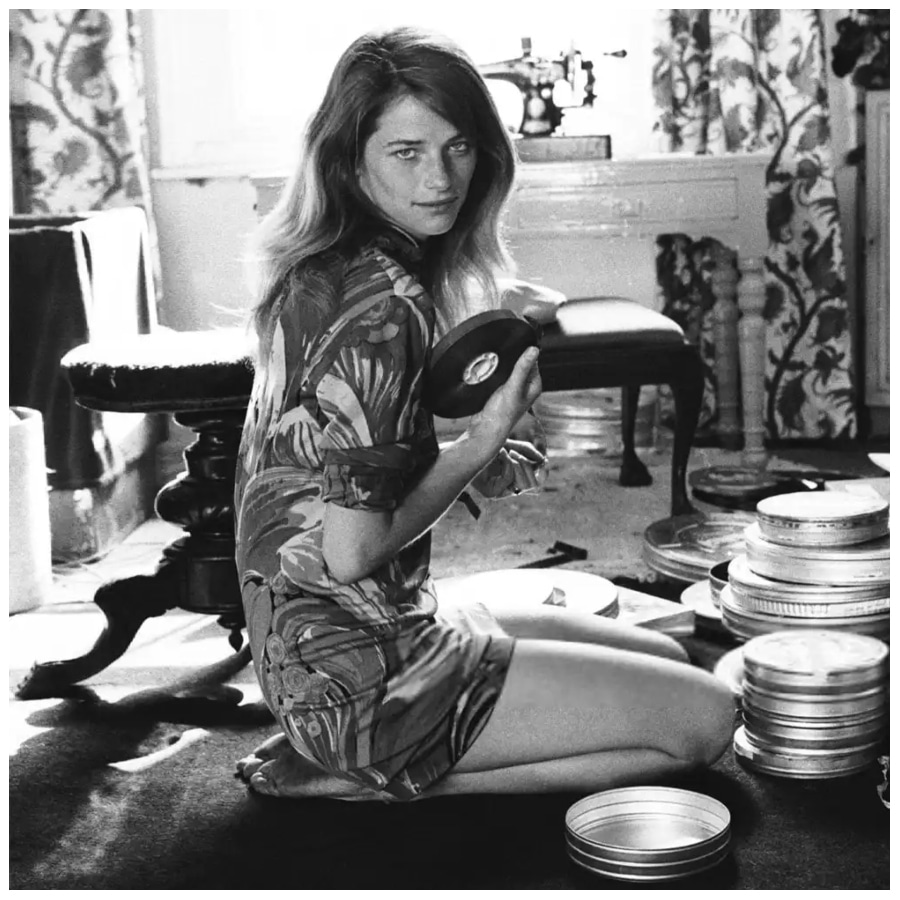 She was based in London, and her home was always full of art work. Here, you can see her surrounded by spools of film just waiting to be viewed. This is a rare portrait of the actress at home in her youth.
Elvis Presley
With an estate like Graceland, it should come as no surprise that each room of Elvis Presley's lavish home was designed to look like it belonged on the pages of Architectural Digest. Presley had a unique style aesthetic.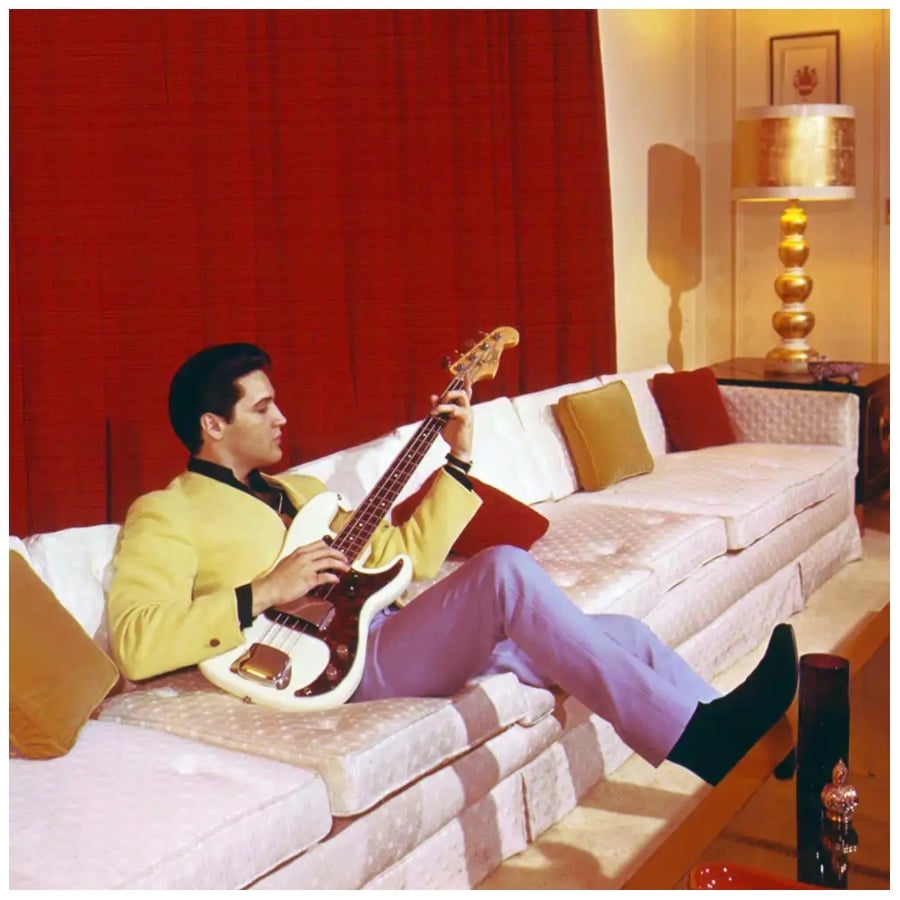 He loved bright colors, and each room featured an accent color in a vivid shade like red or green. The whole estate is fit for a king, the King of Rock and Roll. Presley could often be seen strumming a guitar in every room of the house.
Sophia Loren's Kitchen
While Sophia Loren lived in a beautiful Italian palace, she still needed the modern amenities of a renovated kitchen. Loren was known for her prowess in the kitchen, and loved creating some delectable dishes in her home.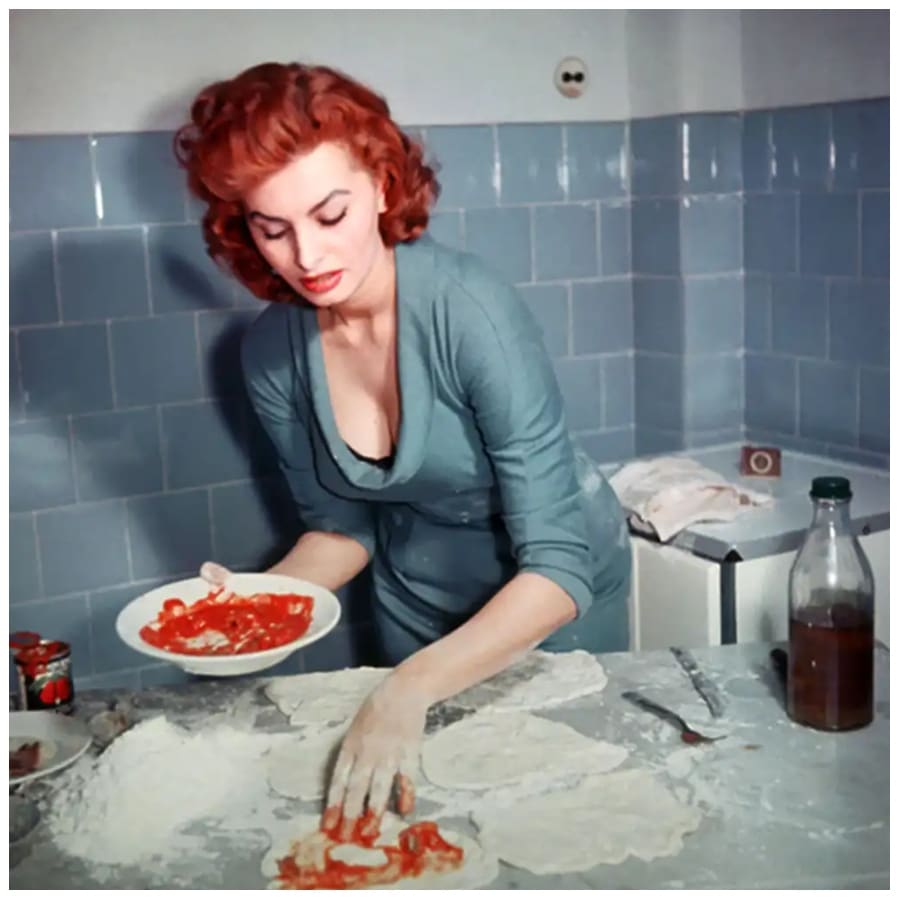 She was known for her curves, and was quoted saying, "I'd rather eat pasta and drink wine than be a size 0." Enjoying life, means enjoying food and that was something Loren wholeheartedly embraced every day.
Audrey Hepburn
Actress Audrey Hepburn is one of the most well-known faces in the world. She starred in films like Breakfast At Tiffany's and War and Peace. While she often played very outgoing characters, in real life, she was much more introverted.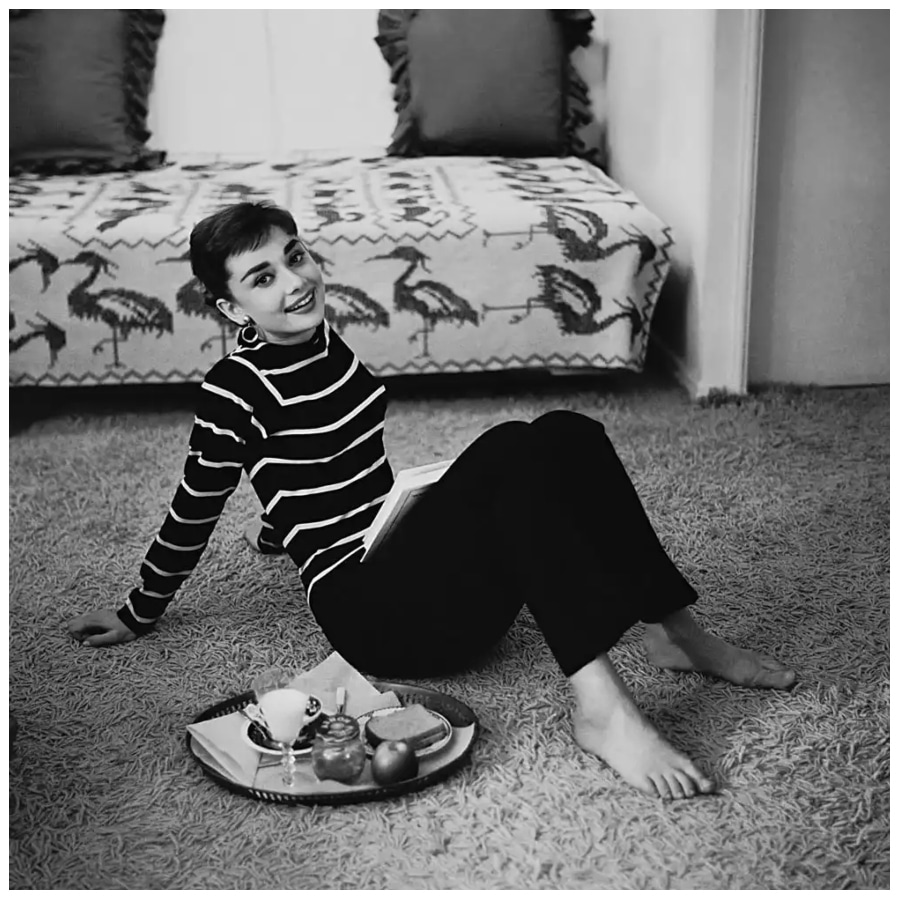 Hepburn valued her alone time, and turned her home into a sanctuary. Each item of furniture in her home was designed with comfort in mind, right down to the pre-shag carpet. Everywhere you looked, there were pillows, and little nooks for relaxing.
Mickey Hargitay
Jayne Mansfield may have been known for her 'pink palace' but her second husband, Mickey Hargitay still had his own areas of the house that were definitely not pink.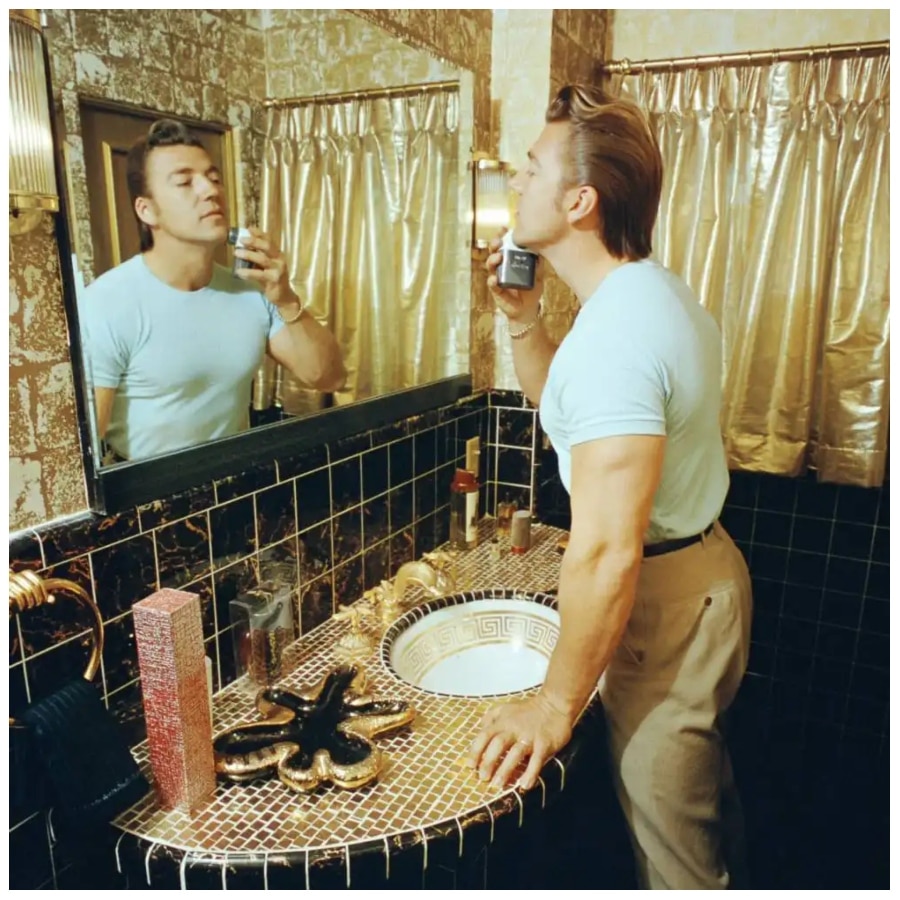 Hargitay was a bodybuilder, and took home the title of Mr. Universe before entering the world of acting. His personal bathroom, pictured here, is done up in black and gold which must have been a reflection of his taste, rather than his wife's.
Brigitte Bardot's Family Home
Acting superstar, Brigitte Bardot did not come from nowhere. Her grandparents had a home in Louveciennes, France where she would often go as a young woman. Some of her grandparents' style must have worn off on her, as this classic French aesthetic could be seen in her own home.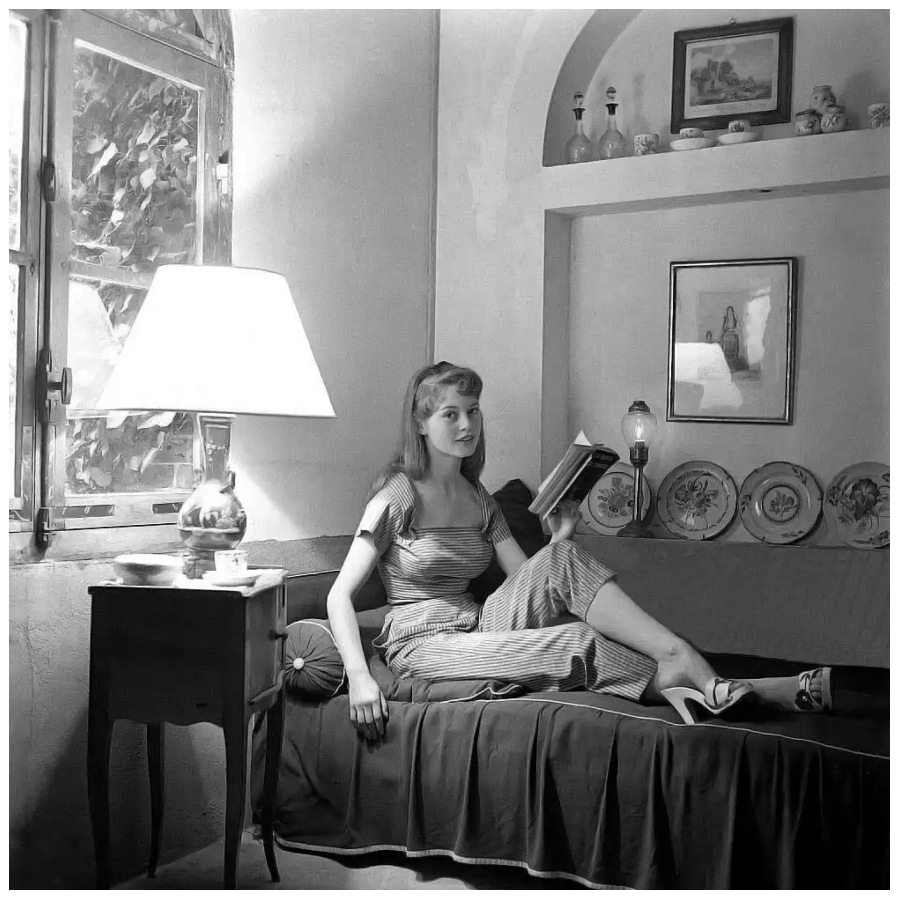 You can tell that the camera loved Bardot, even as a young woman. This would help her become many directors' muse over the next few years.
Jimi Hendrix As A Renter
Jimi Hendrix was known for his amazing electric guitar skills, but one lesser known fact about him was that he was a terrible tenant.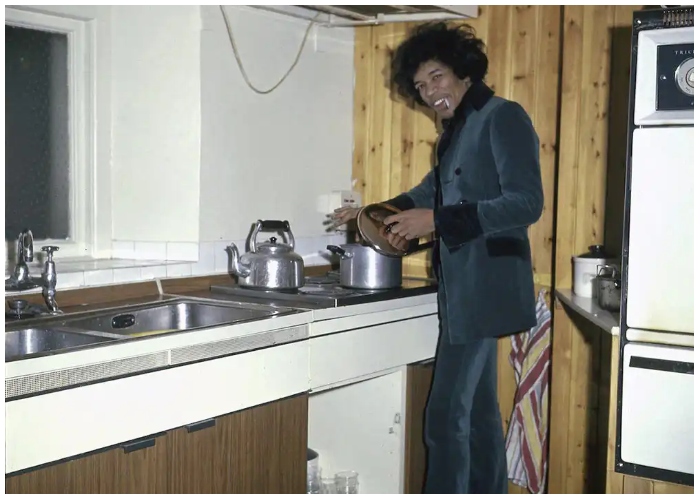 In 1966, Ringo Starr rented one of his apartments to Hendrix, but quickly found out the hard way that Hendrix did not like to keep a tidy house. That led to Hendrix needing to find a new place.
Burt Reynolds
As soon as actor Burt Reynolds showed his face in a little film called Deliverance, the Hollywood studios began clamoring for his attention. Reynolds was a real heartthrob in his day, and this Hollywood heavyweight had the perfect man cave to suit all of his script reading needs.
Those wood paneled walls are extremely 1970s, which helps to date this photo. All of Reynolds' favorite Hollywood moments can be seen on the walls behind him.
Rita Hayworth and Orson Welles
Rita Hayworth was another actress that Hollywood adored, as did the leading men of Hollywood. Hayworth managed to make it to the altar five times, along with making it to divorce court five times.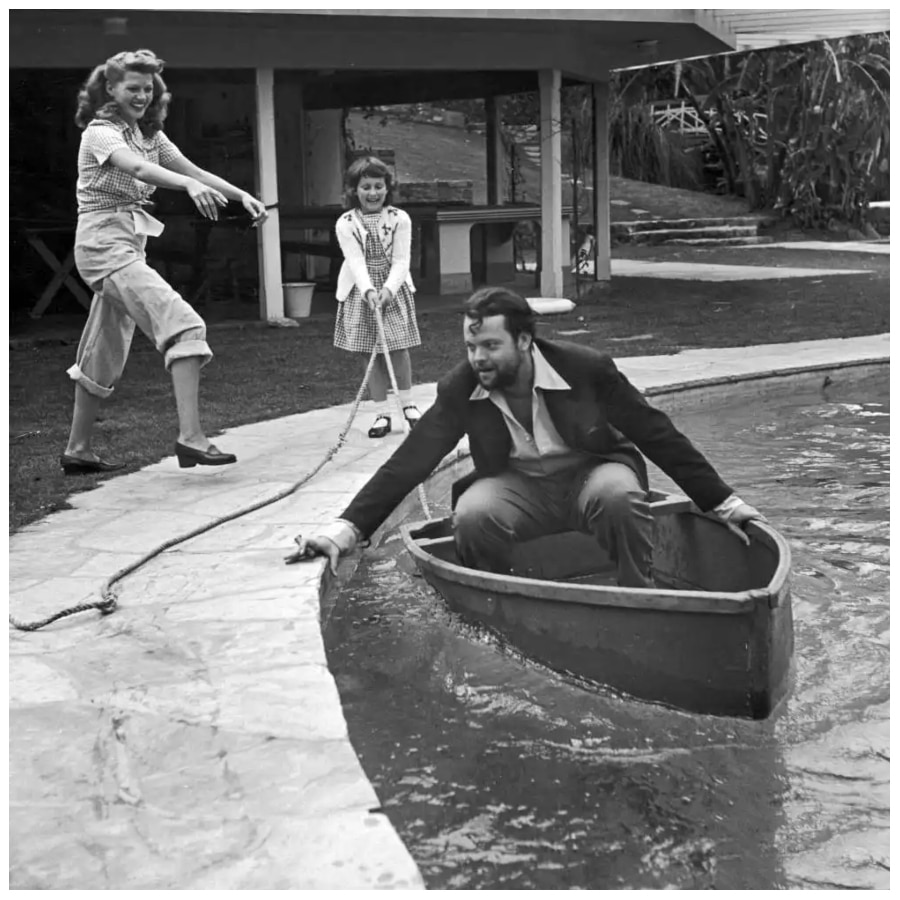 One of her marriages, to fellow actor Orson Welles, was one of her best husbands, and the self-proclaimed love of her life. The two had a daughter, and would often spend the day having fun in their pool horsing around.
Sophia Loren in the Gold Room
Italian palaces were known for breathtaking murals and frescoes, and a whole lot of gold. Loren always wanted to have one of the most breathtaking homes on the planet, and her husband Carlo Ponti certainly delivered.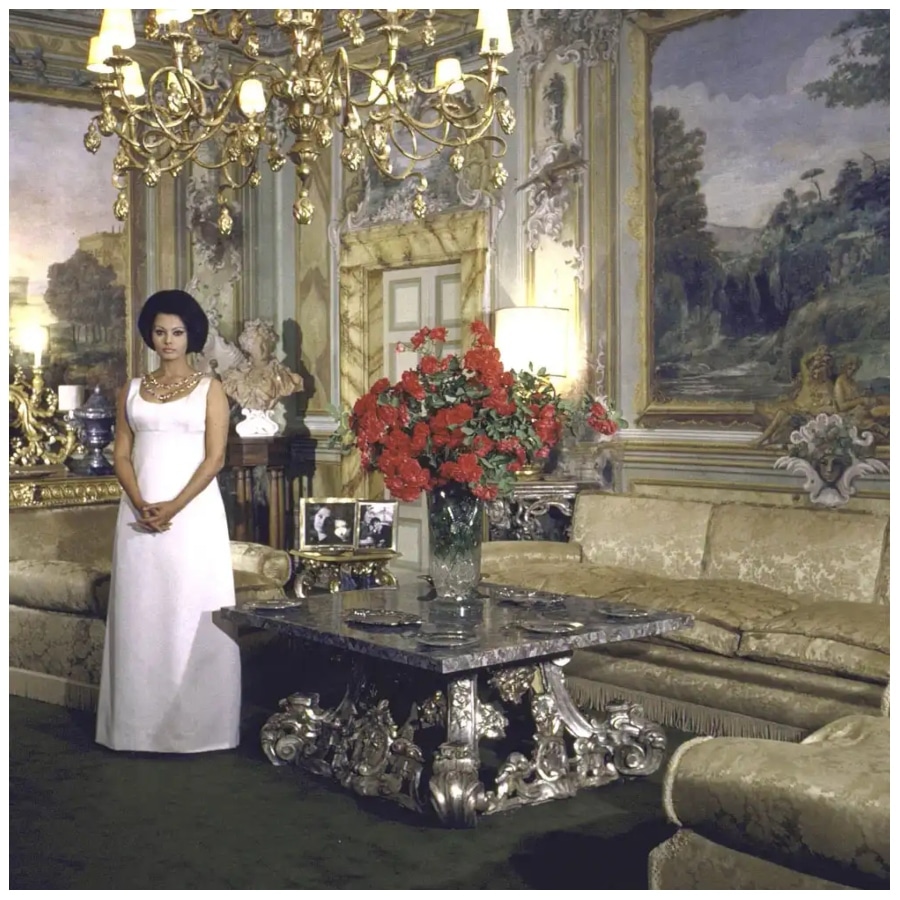 The old school elegance of her home can be seen in the gold coating every surface, right down to the gold brocade couches. Loren herself is also draped in gold jewellery, which fits with the theme of the room.
Tony Curtis and Janet Leigh
In the 1950s, Tony Curtis, and fellow actress and wife Janet Leigh were known for their unique marriage, which was often the talk of the town. The two led a relatively quiet life with their children at their sunny home in Los Angeles.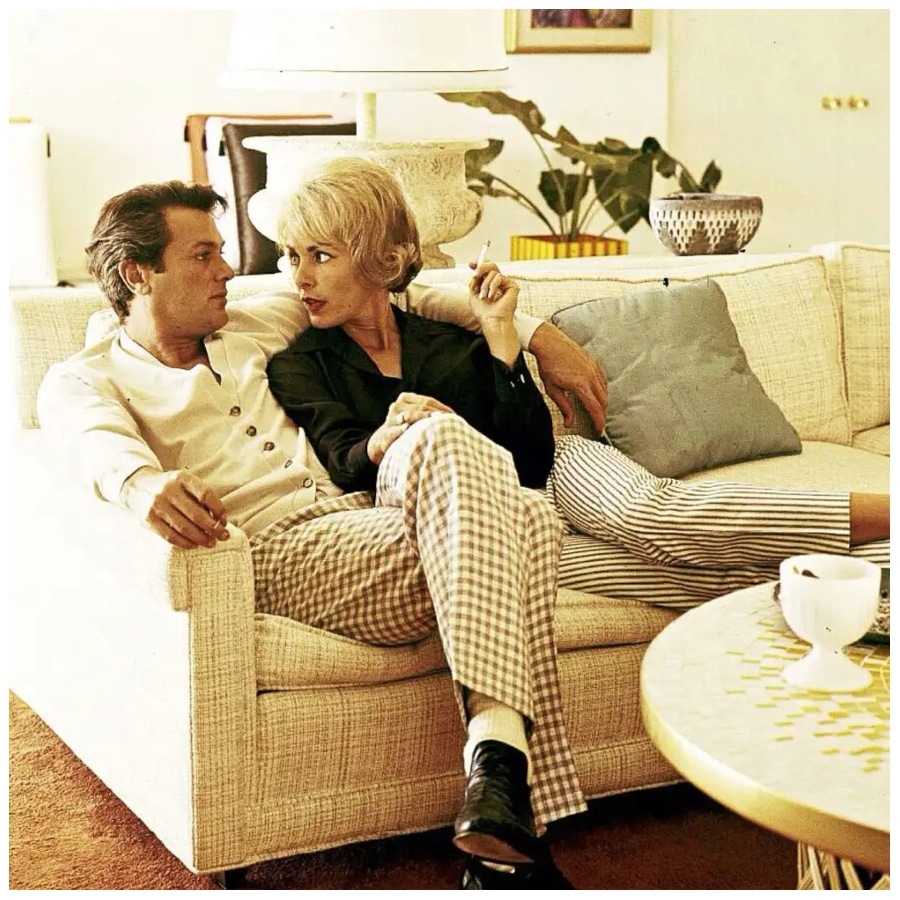 They went for a minimalist aesthetic which incorporated elements of bohemian chic. This style looks like it could be found in a lot of the homes today, which just goes to show that style is cyclical.
Jayne Mansfield and Her Piano
Most actresses can do a bit more than simply acting. Jayne Mansfield was also a musician, which she got to show off on occasion.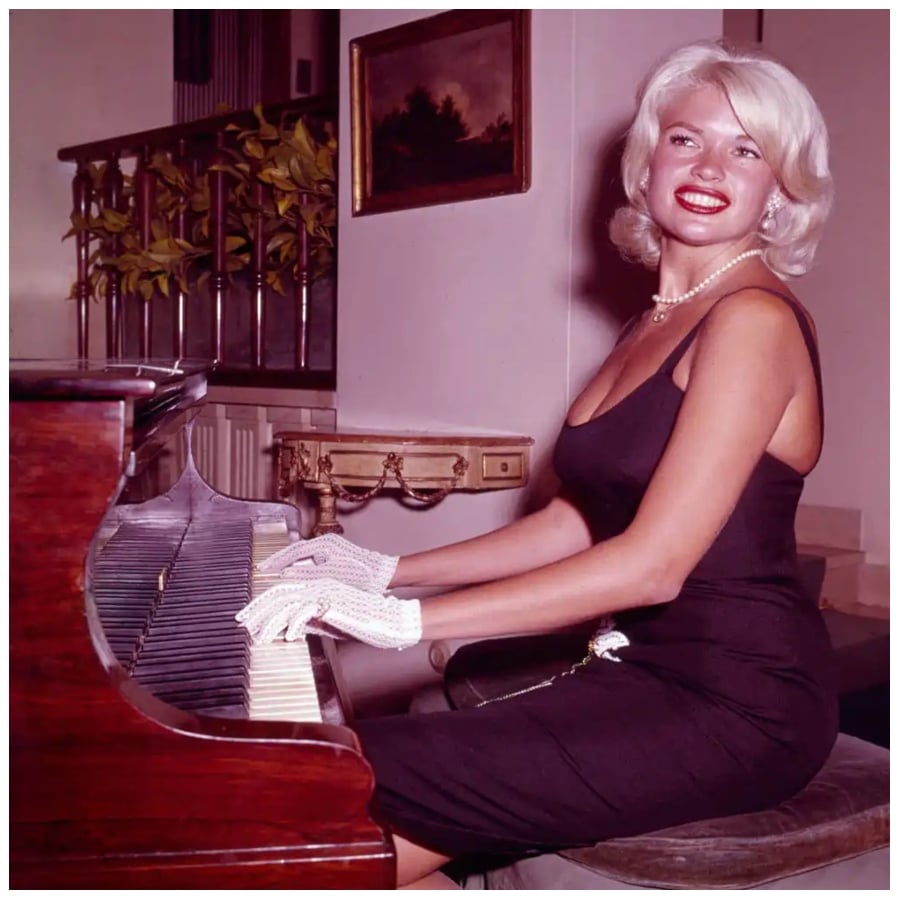 She had an affinity for musical instruments, and enjoyed playing the piano, violin, and viola. Growing up she had taken a lot of lessons, which made her a force to be reckoned with in Hollywood.
Frank Sinatra and Yul Brenner
Crooner Frank Sinatra was known for his slick suits, voice that could melt chocolate, and his opulent style. He favored Palm Springs over Los Angeles, and would often escape to his mansion there.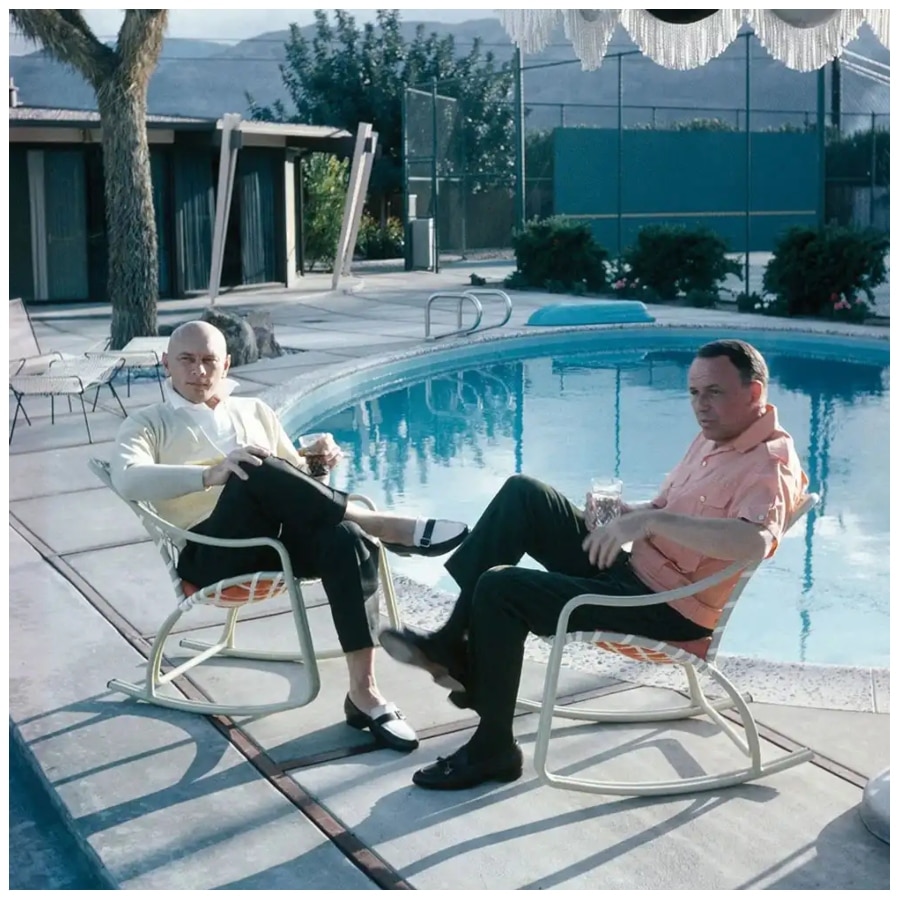 Actor Yul Brenner, from films like The King & I and The Magnificent Seven would often join Sinatra at his home for some downtime. Pictured here, the two enjoy a cocktail next to the pool.
Don Knotts
For comedian Don Knotts, he managed to find love and marriage three times, but ultimately they didn't last long. However, his first marriage brought his children Thomas and Karen into the world, and they were a constant source of joy for him.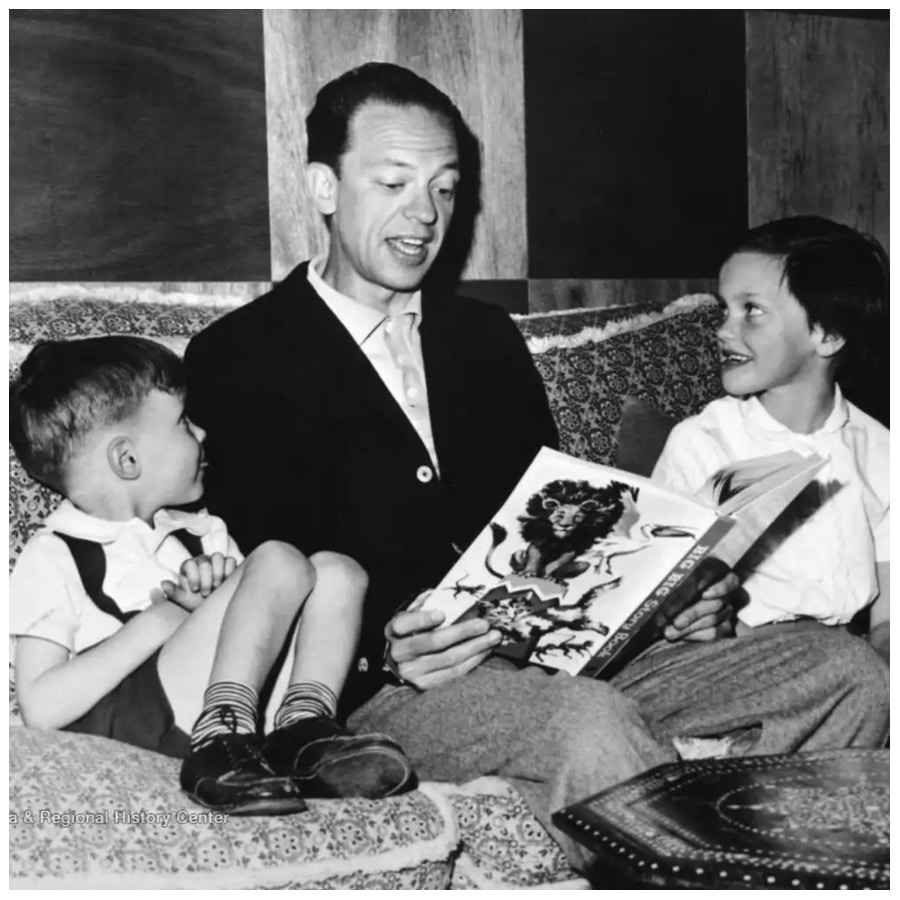 He made sure to always have a home to call his own, and his kids absolutely adored spending time with him.
Diane von Furstenberg
Before Diane von Furstenberg became the designer we know and love today, she was the wife of German Prince Egon.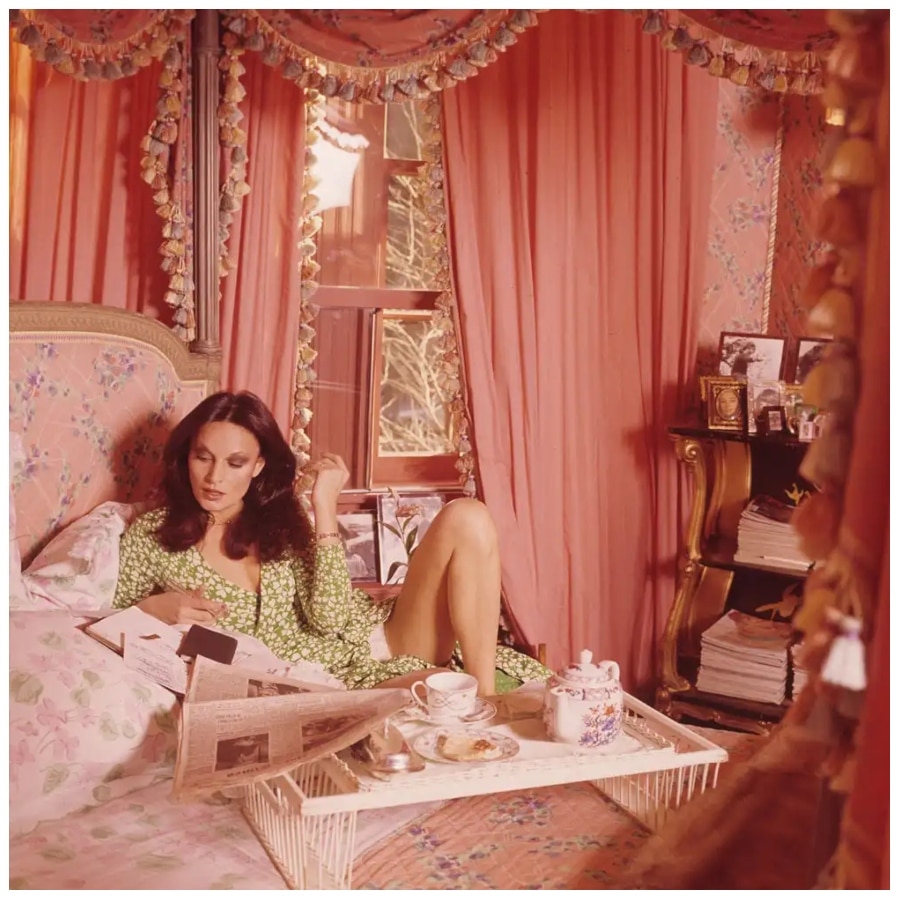 von Fursternberg loved pink like Jayne Mansfield, and her bedroom was done up in tasteful shades of bubblegum. Here she is lounging in her bed, and wearing one of her iconic wrap dresses that women around the world continue to wear today.
Judy Garland
Judy Garland was one of a kind. She could sing, act, and dance which made her the perfect choice for Dorothy in The Wizard of Oz. On top of all of those talents, it appears she also had a penchant for whipping up some fried chicken.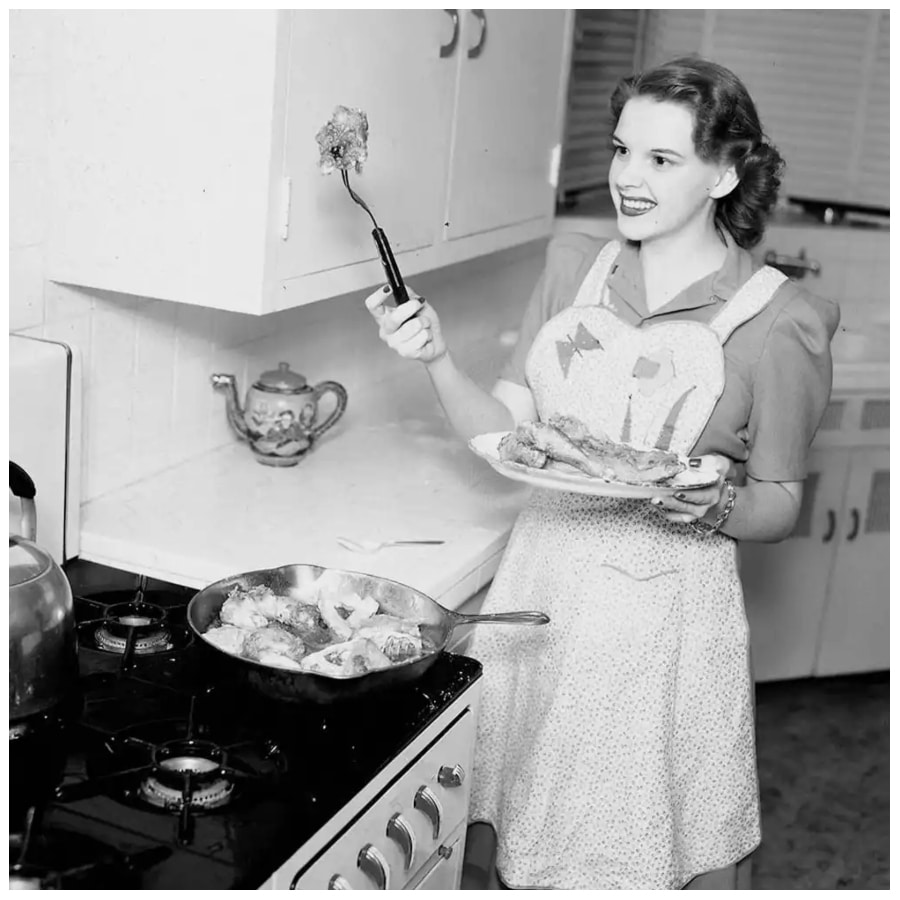 It seems like there was nothing Garland couldn't do. Her big smile shows that she is very proud of her accomplishment, and that chicken does look finger licking good.
Natalie Wood
Natalie Wood was one of those actresses that Hollywood knew would be great. In her lifetime, she would be nominated for three Oscars, which also translated to a whole lot of cash.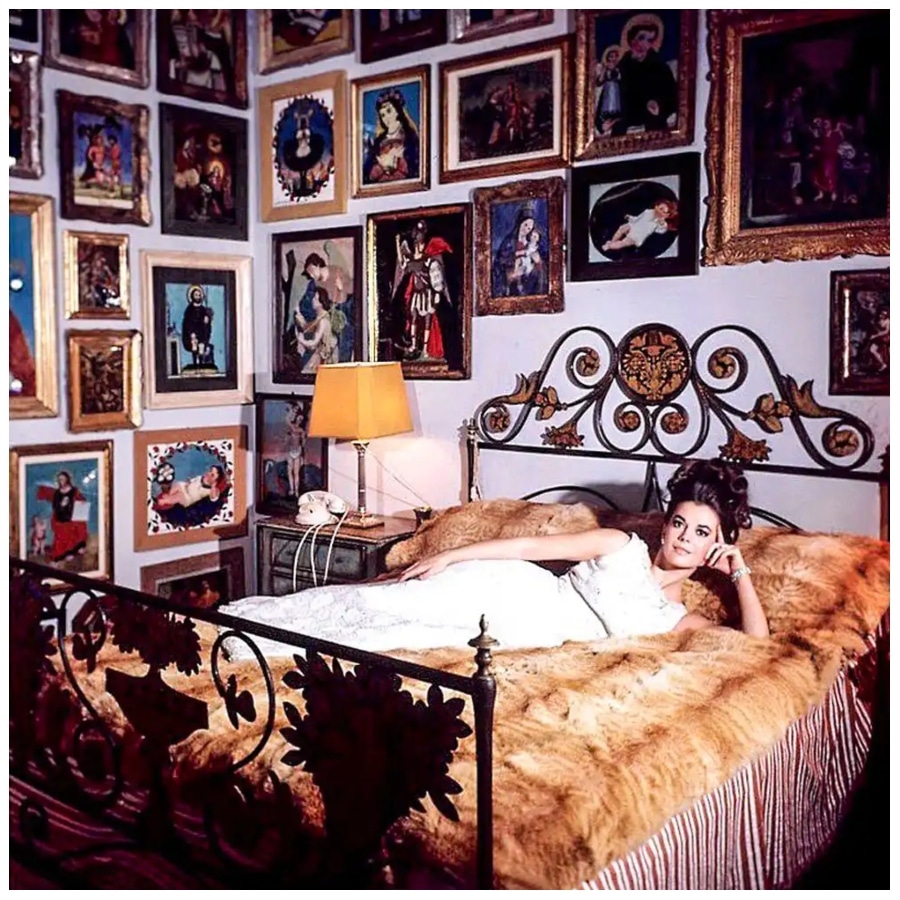 Wood can be seen lounging in her room, with her walls draped in various iconography. This is one of the most unique aesthetics seen in a star's home during this time period.
Henry Fonda and Jane Fonda
Henry Fonda is a name anyone who was around in the 1960s knows. He was a Hollywood bigwig, and his daughter Jane, is just as big of a star as he was.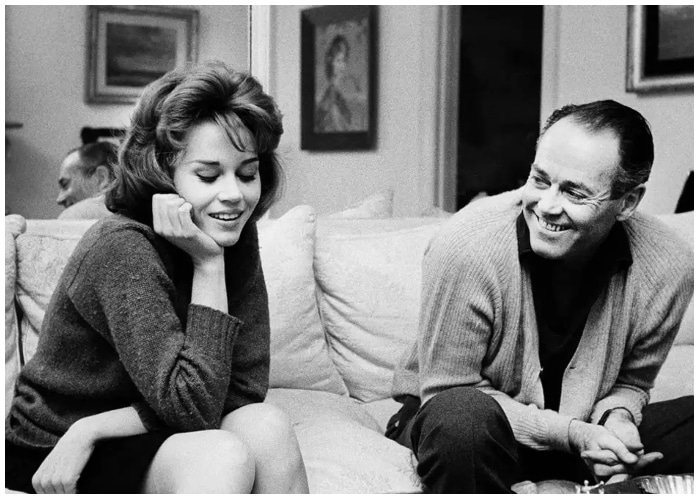 The two were extremely close, and often spent time in Henry's home going over potential roles they were both interested in taking on. This photo shows how much Henry adored Jane.
Ava Gardner
Another starlet that rose to fame and became a household name was Ava Gardner. Her smile is what made her instantly recognizable, and that iconic smile stayed with her into old age.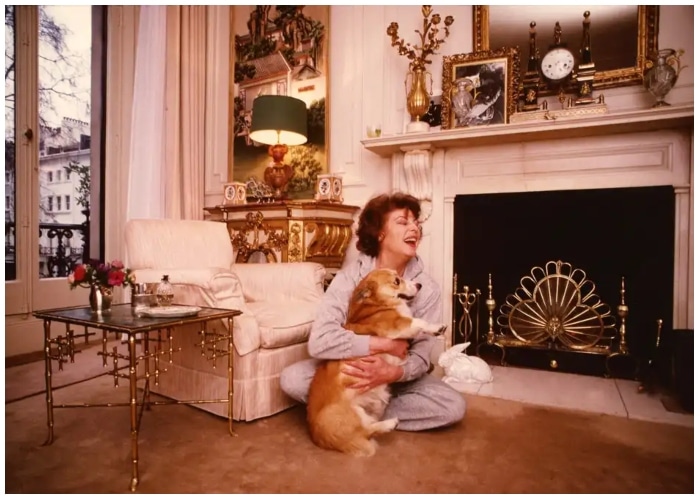 She can be seen here just hanging out with her Corgi. Gold was obviously something she liked, judging by all the gilding on her furniture and accents.
Faye Dunaway
Moving into the late 1970s, Faye Dunaway entered the movie scene by storm, and by the 1980s, everyone knew who she was. This photo isn't at her home, but it is right after she won an Oscar.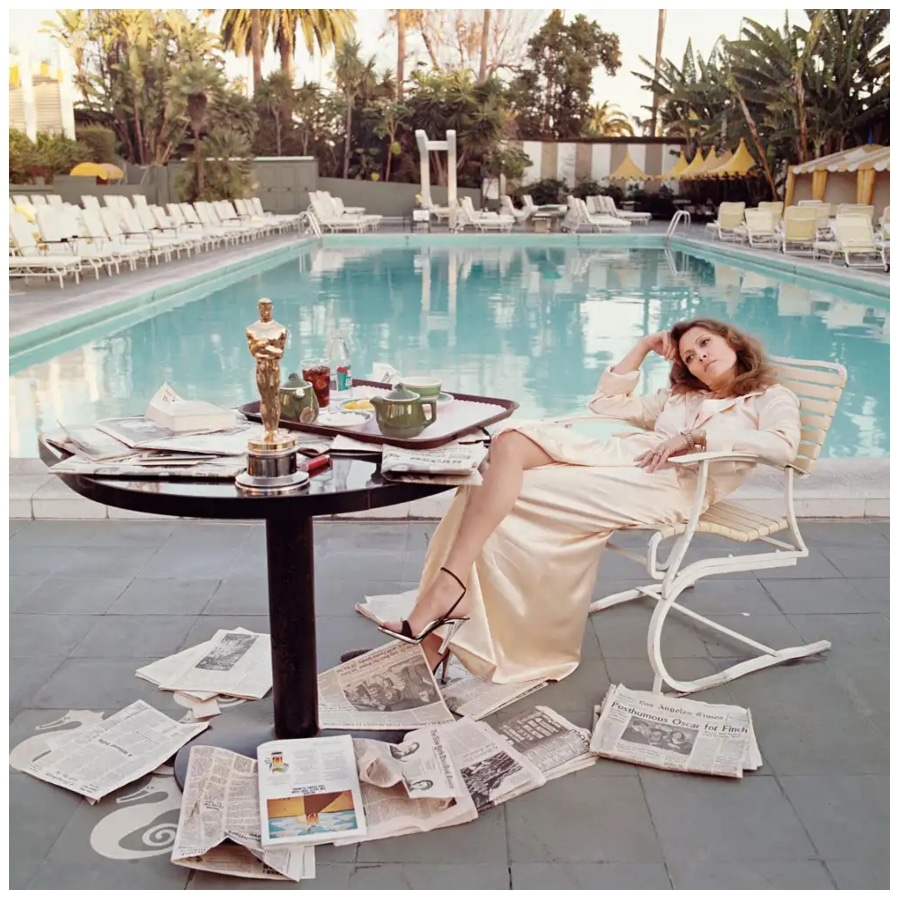 The quiet opulence of the hotel pool, and her nonchalant demeanor show that this Oscar may not have been the highlight of her life.
Judy Carne
English funny woman Judy Carne was married to a very famous actor – Burt Reynolds. Her marriage didn't last longer than two years, but that didn't stop her from getting famous.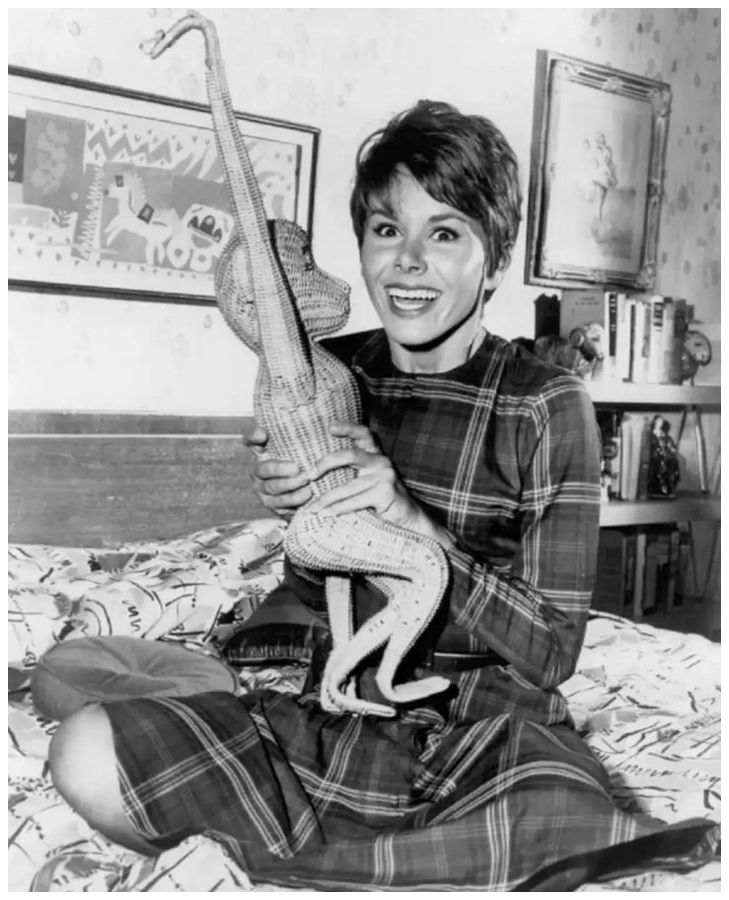 Carne lived a simple life, and enjoyed her home that was full of whimsical patterns and knick knacks. That big grin, and the toy monkey in her hands makes it look like she is preparing for a new role, maybe Jane in Tarzan?
Lucille Ball
Lucille Ball continues to be one of the most well-known actresses of all time. She starred in I Love Lucy, and that made her all the money she needed to live well in Hollywood.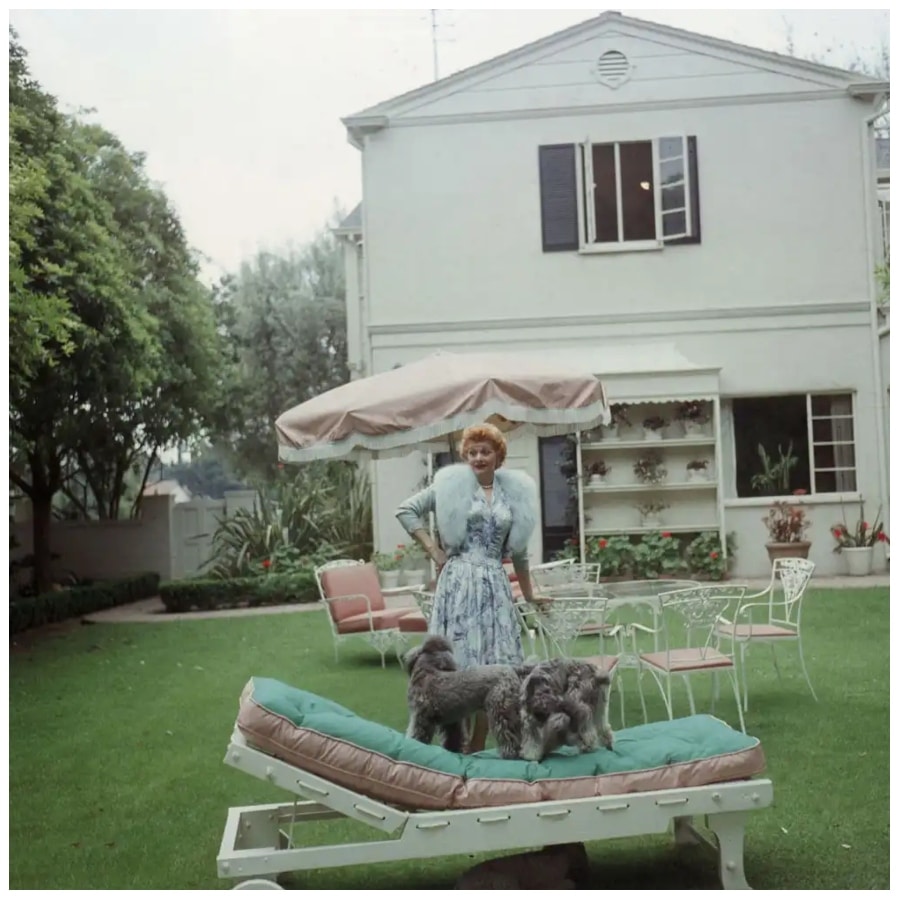 Ball always looked her best, even while relaxing at home. On top of that her home's aesthetic was very girly, which matched her character on the show.
Jayne Mansfield's Bathroom
If there was one thing Jayne Mansfield loved, it was the color pink. Her husband may have had a gold and black bathroom, but she definitely did not.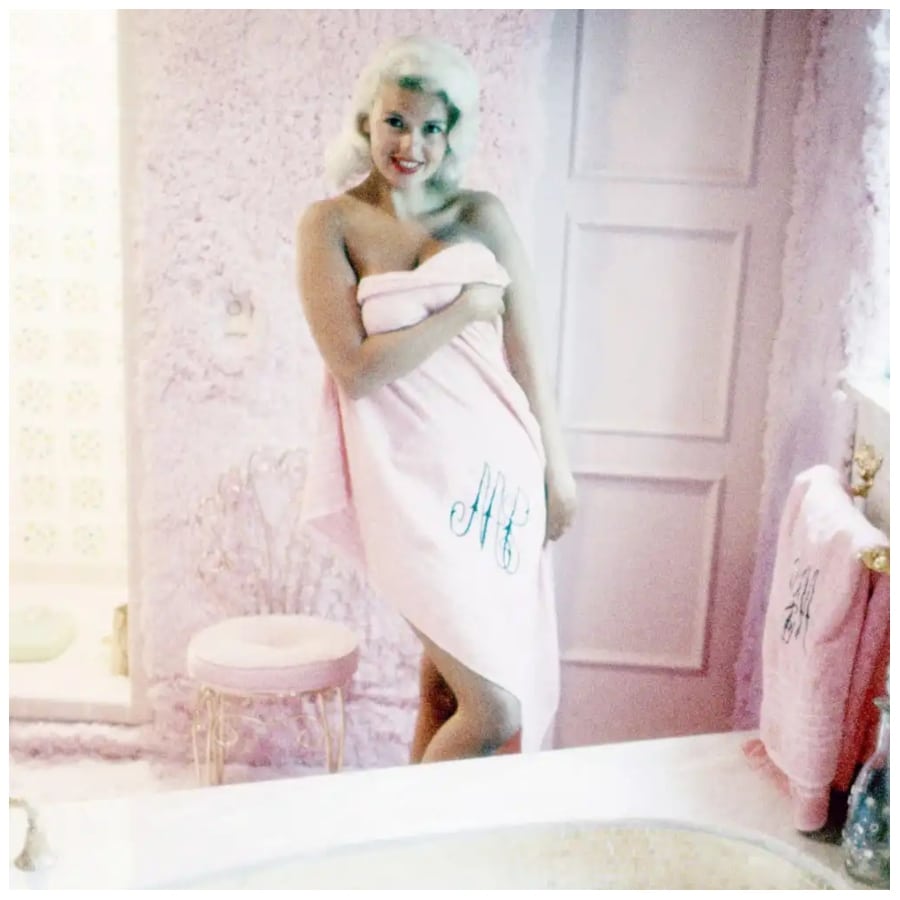 If you were wondering if those walls are pink fur, then you would be correct. There is also a heart shaped bathtub for some more girliness.
Audrey Hepburn's Style Evolves
In Audrey Hepburn's later years, she spent most of her time at her apartment in Paris. It was done up in tasteful shades of forest green, and heavy wooden furniture.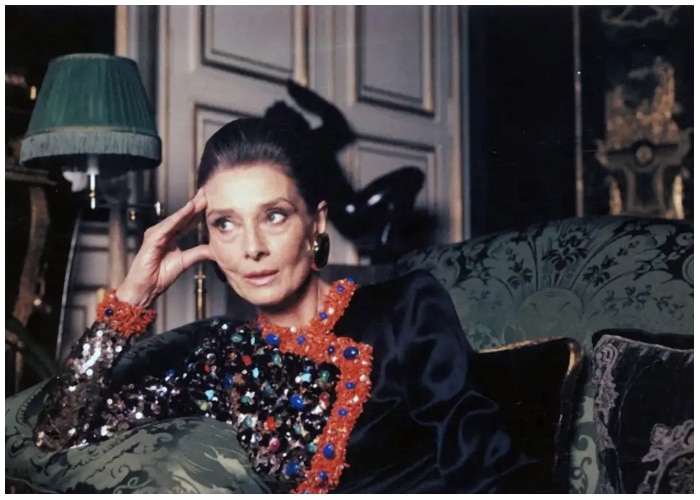 Hepburn liked to accessorize herself to match her home, and that included wearing colors that were the same as the decor.
Betty Grable
Actress Betty Grable was known for her long legs, and her impeccable appearance no matter the time of day. Here she can be seen enjoying Christmas morning with her family.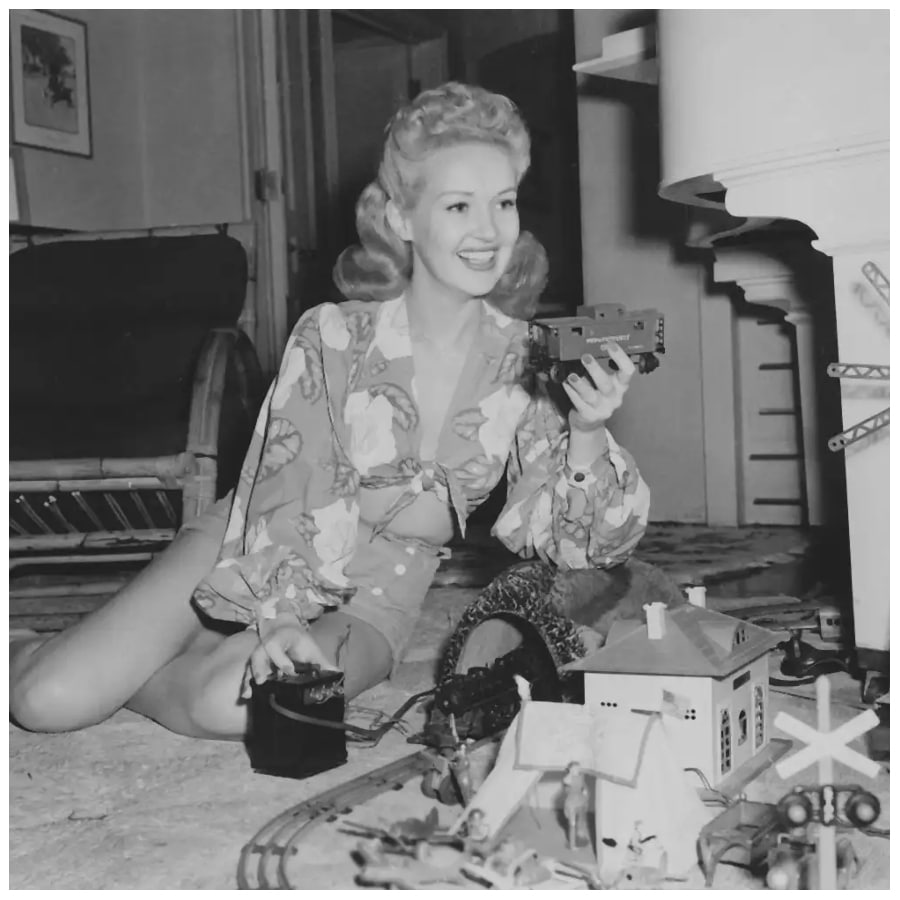 She's taken the time to get dressed, do her hair, and even dab on some make up. Appearances mattered in this household.
Duke And Duchess Of Windsor
The Duke of Windsor was one King Edward III, until he fell in love with an American named Wallis Simpson. As his family did not approve of the marriage, he eventually abdicated to marry her.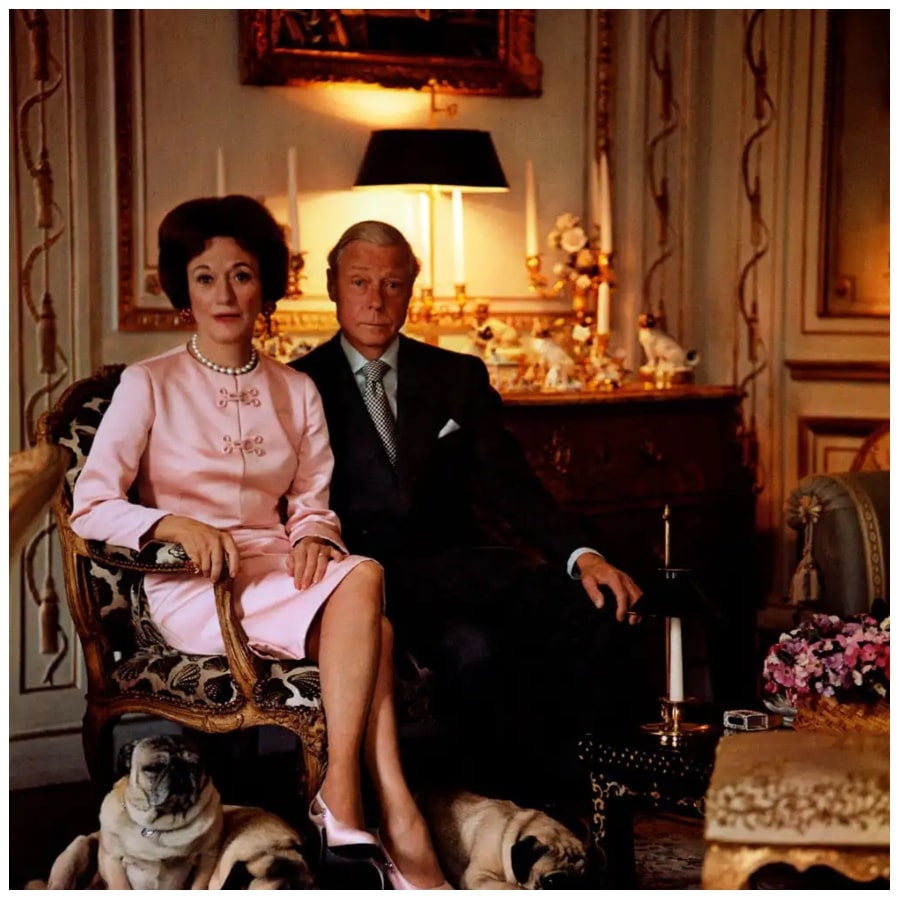 The two were forced to leave England and reside in a villa in France, which was just as royal looking as a home at Windsor Castle.
Brigitte Bardot's Home In The 1960s
While Brigitte Bardot enjoyed the sunny shores of France as she got older, in her younger years she spent more time in the city.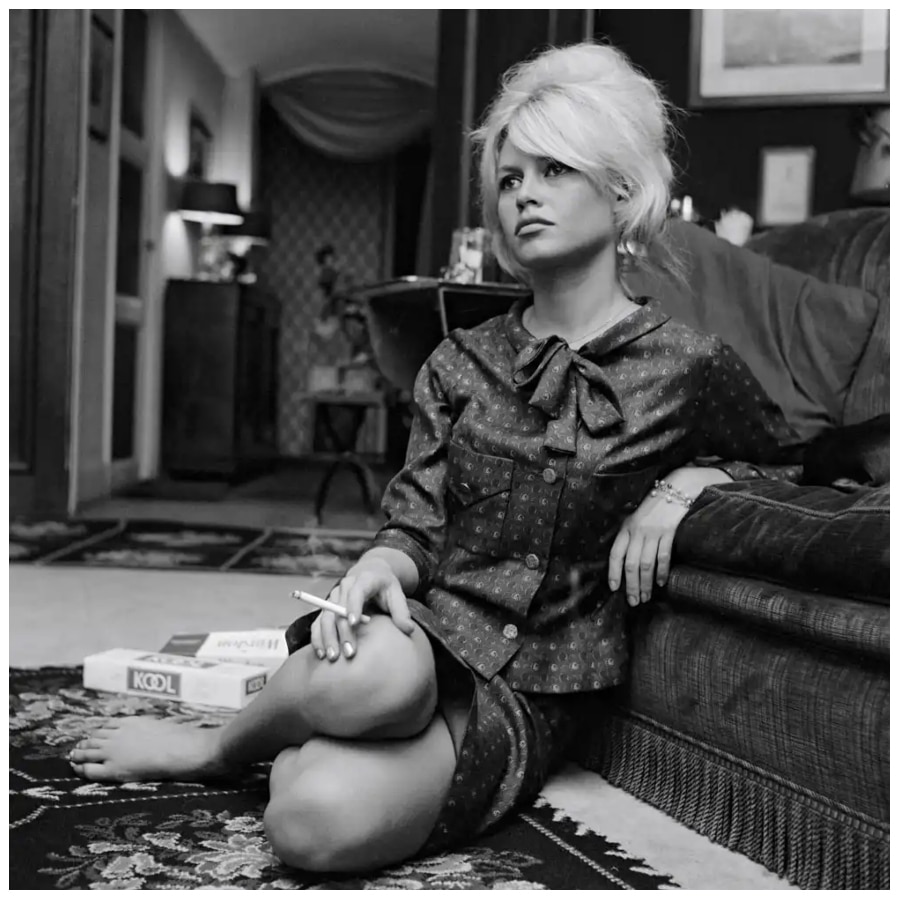 Here she is relaxing on her rug, simply staring off into space. This is a quiet moment that was captured of her at home.
Bette Davis
Bette Davis, and her famous eyes, have captivated audiences since she first started acting. During her time in Hollywood, she starred in over 100 films. At home though, she led a quiet life with simply furnishing designed for comfort.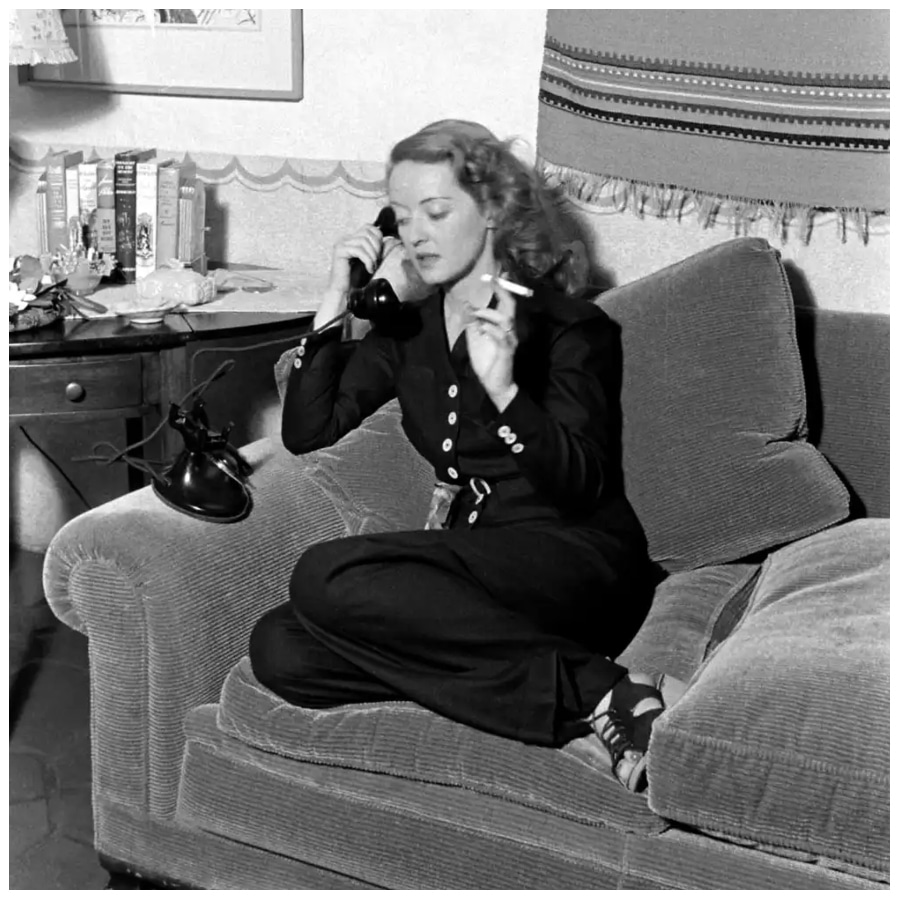 There are even some books stacked haphazardly behind her while she chats on the phone.
Doris Day And Rock Hudson
Rock Hudson and Doris Day were never romantically linked, but the two did share a close friendship.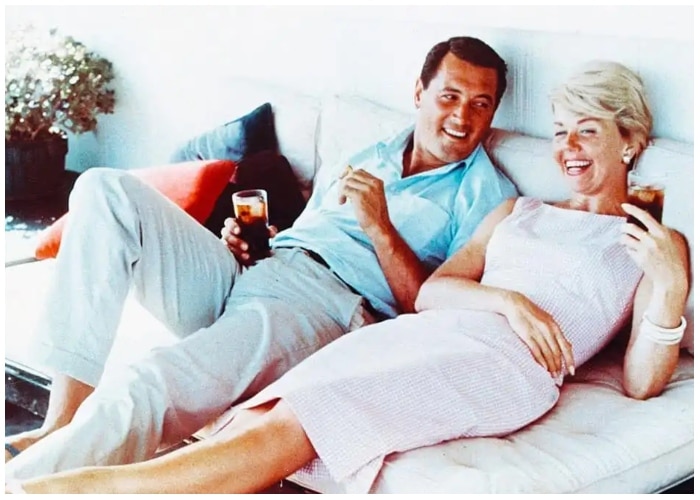 They starred in three films together, and would often be spotted lounging around and having a drink like they are here. Both were always dressed to the nines and ready for the camera.
Ann Sheridan
Ann Sheridan was very much a starlet of the time. She didn't have a career quite like Doris Day, but still made some films of note, like San Quentin.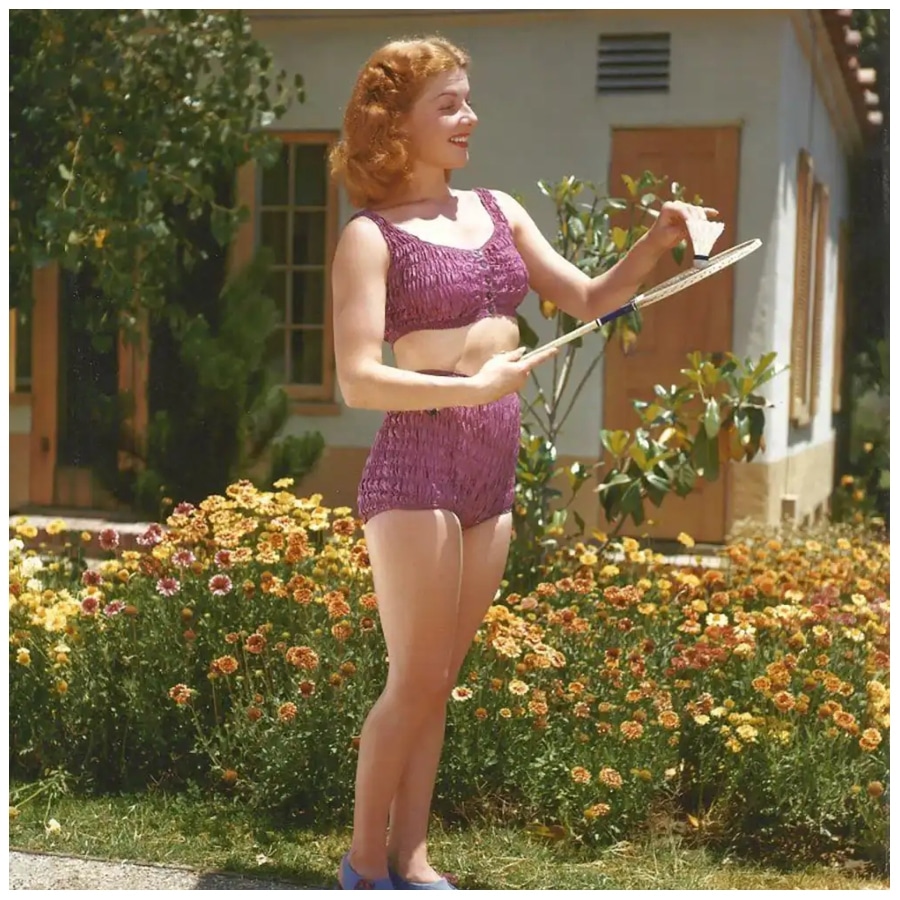 Whenever she was at home she could be found gardening or playing badminton with one of her friends. It was a simple life for her.
Dusty Springfield
The 1950s weren't just about film, singers began to rise to prominence during this time and Dusty Springfield was one of them.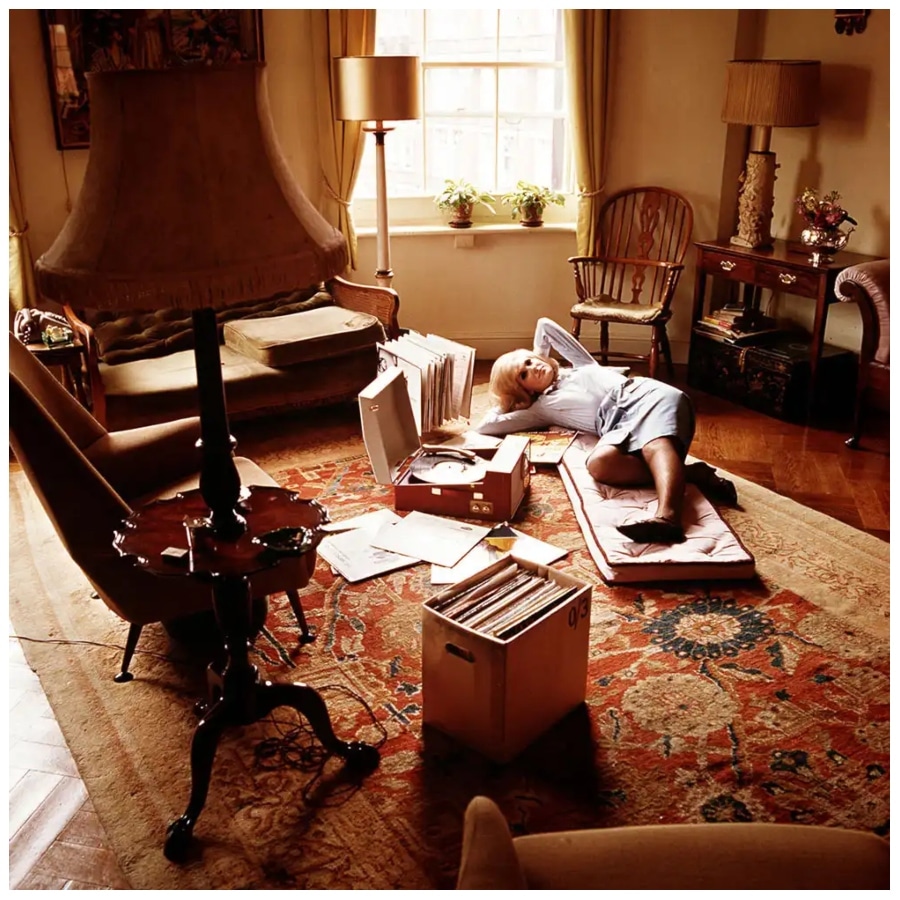 Her home was very warm and full of music, which suited her persona. Pictured here, she is surrounded by records and looks like she is getting inspired to pen another hit.
Demi Moore at 16
Demi Moore was born in Roswell, New Mexico, on November 11, 1962. She and her family moved to Los Angeles when she was 15. Moore was then signed with Elite Modeling Agency and modeled in Europe.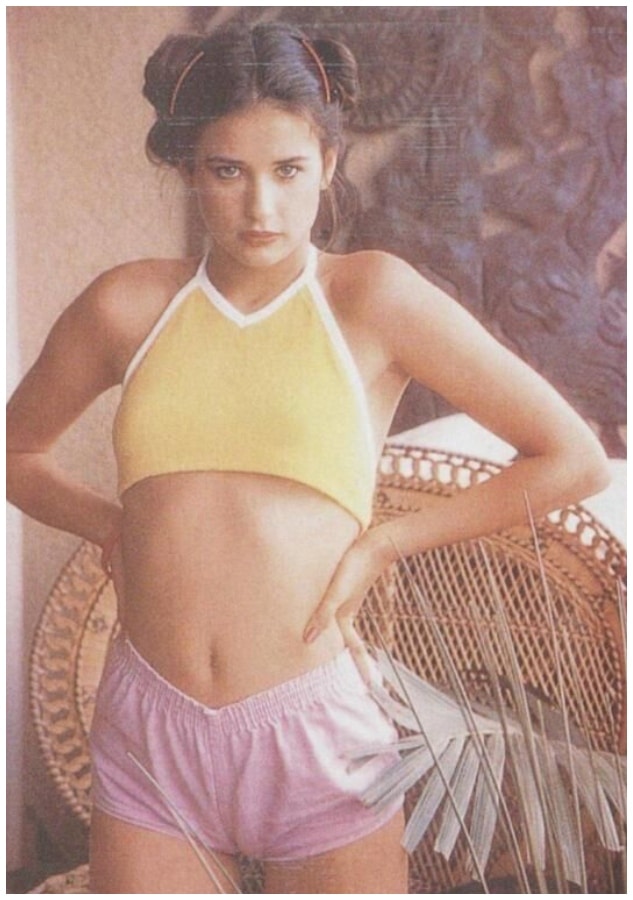 Demi poses for the cover of Oui, a French playboy magazine, in January 1981. Moore was just 16 at the time of the photos, but she allegedly told the photographer she was already 18.
Bridgette Bardot When She Was Young
Bridgette Bardot is a French model and actress best known for her work in the 1950s and 1960s with Jean Luc Godard and Louis Malle as part of the French New Wave of cinema.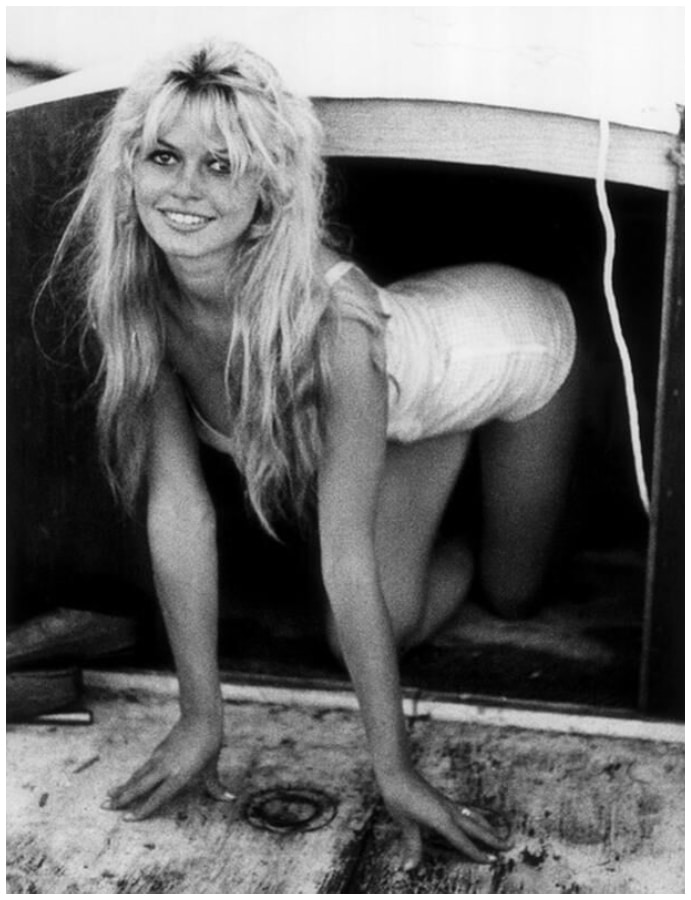 Bardot has performed in 47 films, a handful of musicals, and released over 60 songs over her illustrious career. Bardot retired from show business in 1973. From then on she became a prominent animal rights campaigner.
1952 Marilyn Monroe in Pink at Home
Her most iconic image is probably the "flying skirt" photograph, in which Marilyn Monroe's white dress flies up in the wind. However, you might have never seen this rare photograph of her in a hot pink gown.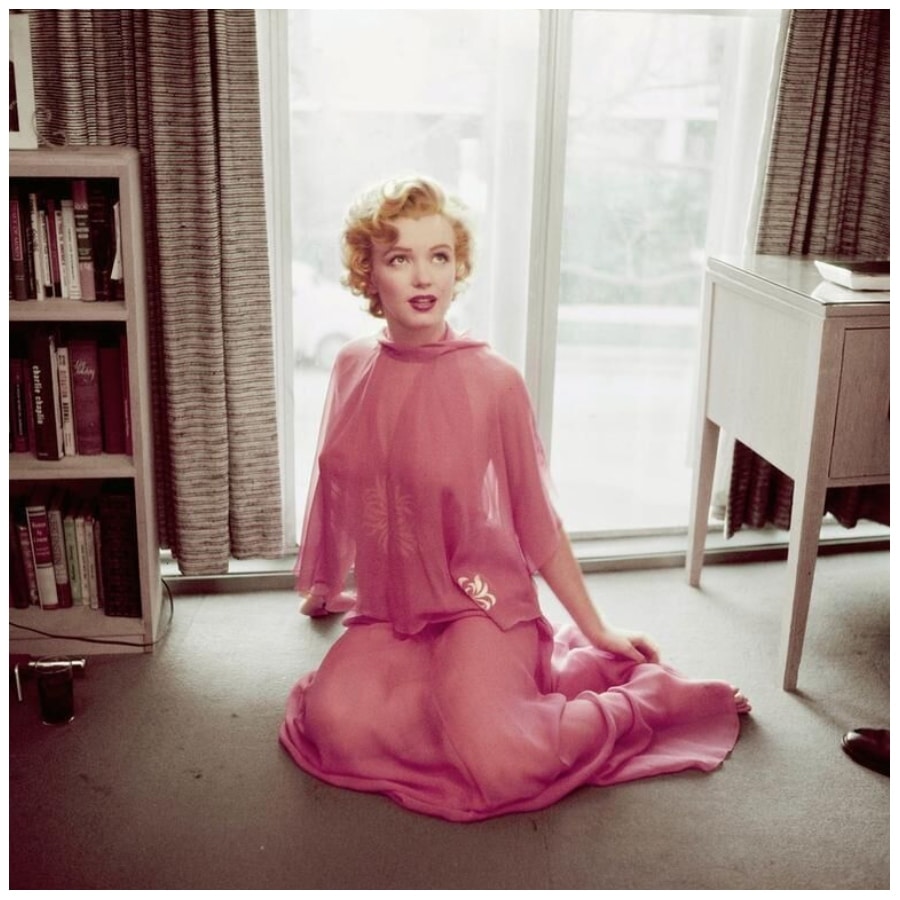 Monroe was born Norma Jeane Mortenson and had both looks and intellect – her IQ was 168, which was higher than Albert Einstein's. Marilyn passed away from a drug overdose at 36 years old.
Grace Kelly In Monaco
In the 1950s, Grace Kelly was considered to be one of the best actresses of the decade. Her movie star looks caught the eye of Prince Rainier III of Monaco which led to a lavish wedding.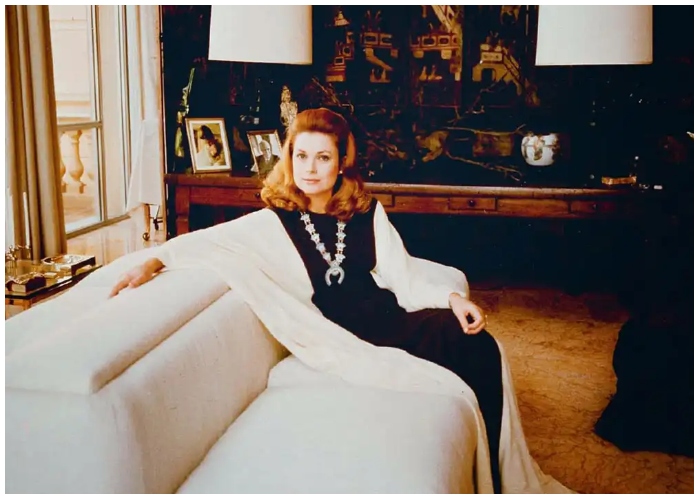 Her home in Monaco was decorated by George Stacey, who brought some of the rooms in Palais Princier to life.
Martine Carol
While Brigitte Bardot is one of the most recognizable French actresses from the 50s, she had some serious competition in Martine Carol.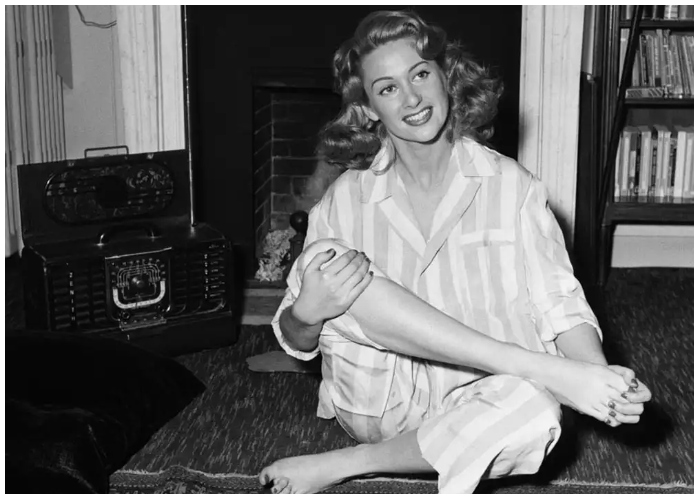 Eventually, Bardot would overtake Carol's career but for a time she was somebody. Judging by this picture she led a laid back life in Paris, and wearing comfortable clothes was important.
Cyd Charisse
In the 1950s, most actresses were able to do more than just act, and for Cyd Charisse, she was also a dancer.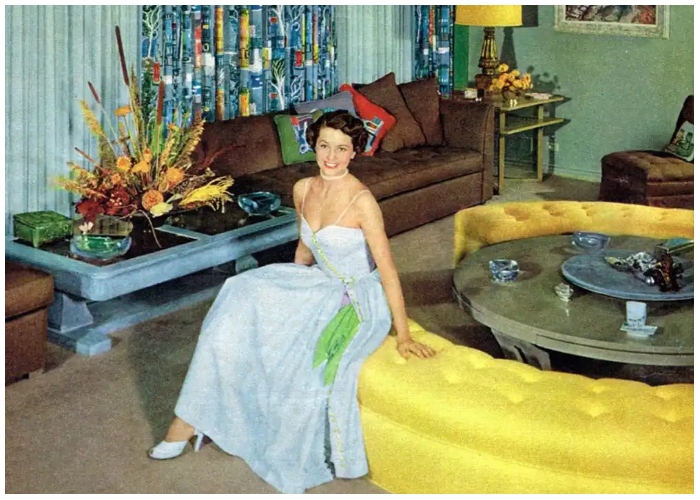 She loved to entertain, which you can see by the colorfully decorated sitting room, and her party dress. Her parties must have been a whole lot of fun, and pretty big judging by how much seating there is in the room.
Dorothy Malone
Sometimes all it takes is a change in hair color to become a big star. In the 1950s, Dorothy Malone changed her naturally brunette hair to a platinum blonde, and roles began to fall into her lap, including the Oscar winning Written on the Wind.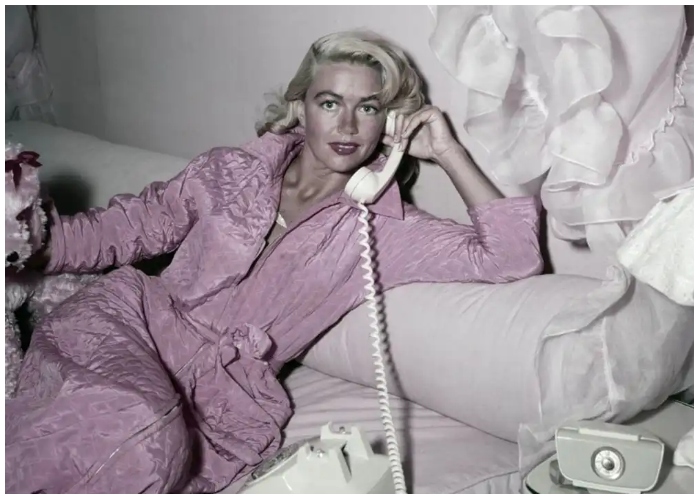 Here she can be seen reclining in a silk robe, and showing off her luxurious bedroom.
A Young Elizabeth Taylor
Before Elizabeth Taylor got married eight times and starred in films like National Velvet and Cleopatra she was just a young actress trying to make it.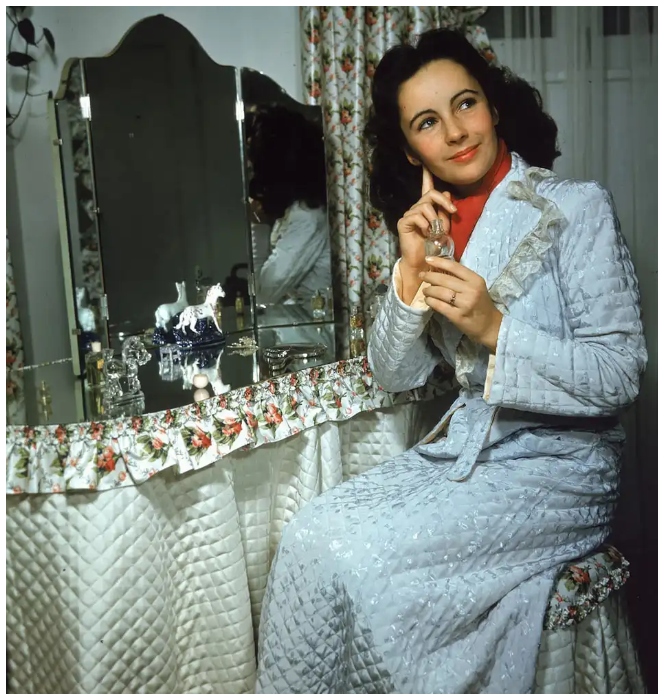 This photo shows that her life was pretty simple before she became a household name. It was luxurious, but it was definitely comfortable.
Claudia Cardinale
Another Italian great, Claudia Cardinale was in the same realm as Sophia Loren. However, she starred in more comical films like The Pink Panther.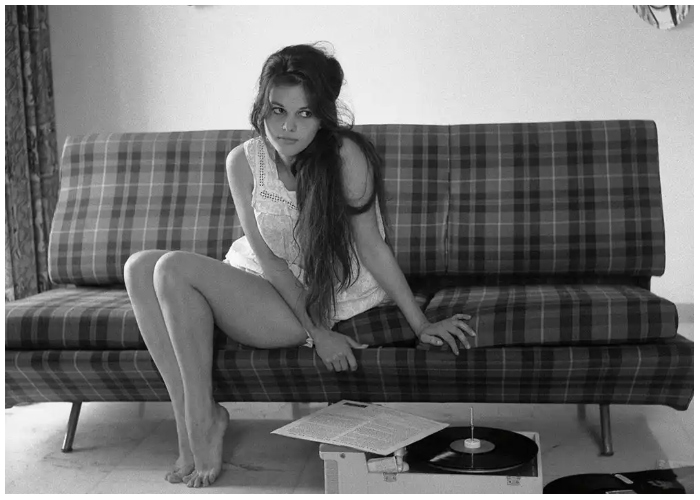 She had a love of music, which can be seen by her record player casually placed in her living room and some vinyl strewn around.
Esther Williams
American actress Esther Williams was not your typical small town girl who wanted to make it big in Tinseltown. In her youth, she was a swimmer who was on the competition circuit but the outbreak of WWII put an end to that.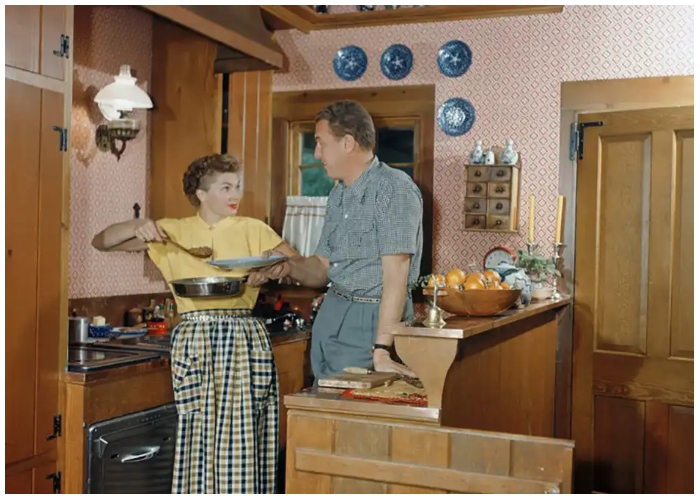 That's when she entered Hollywood and became something of an American darling, which her home also features.
Ann Blyth
Many of the Golden Age actors and actresses on this list have passed, but not Ann Blyth. She is perhaps best known for her portrayal of the titular character in Mildred Pierce.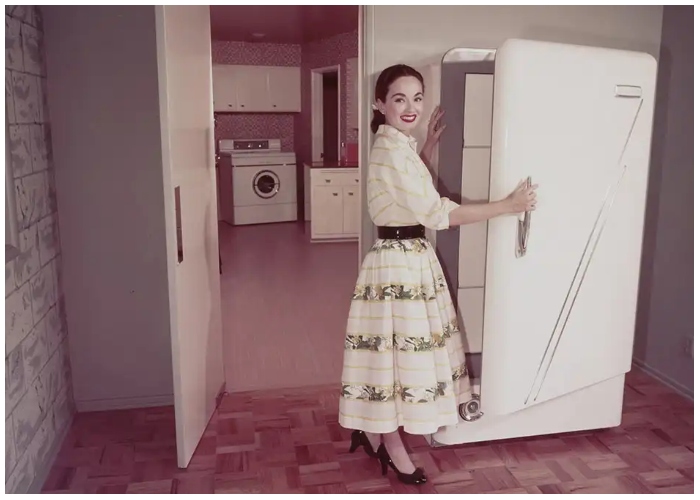 Here she is in her new home, getting ready to move in and enjoy all of the new appliances.
Zsa Zsa Gabor
Hungarian actress Zsa Zsa Gabor was known for her bubbly personality and amazing parties hosted at her mansion in Bel Air.
She came to America in 1941, and immediately began making her mark on the town, which landed her a few roles and a whole lot of cash. Everything about her home from the chessboard to the furniture was the height of fashion.