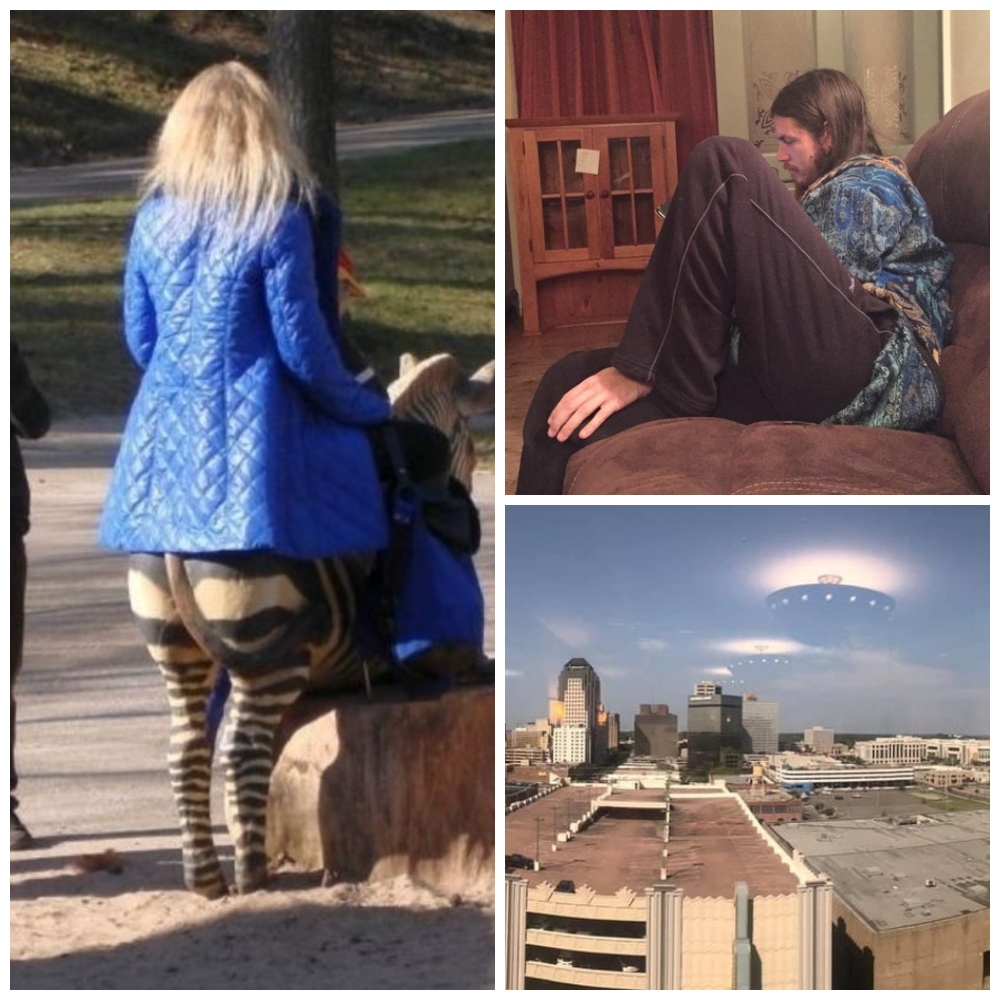 Timing is key in life. And when it comes to taking pictures or selfies, it seems a lot can go wrong. We put together a compilation of photos that prove taking pictures can be a tricky ordeal. Next time you're ready to snap, make sure the coast is clear. Depending on the light, the depth, the angle, an optical illusion can be created. Maybe we intended to take a picture of our partner holding the baby, but when we check the picture out, we see a baby with a grown man's head. In real life, we clearly see two heads, but in the 2 dimensional picture one head overlapped the other. You can't help but laugh out loud!
Photobombing is a well known phenomenon, the end results being usually hilarious. For instance, a wedding picture accidentally photobombed by a distracted delivery boy who realized a little too late they were in the middle of a picture. Or maybe you are having dinner with your friend and you ask the waiter to snap a picture for you. Who would have known that in that exact fraction of a second a cat would jump and appear to be flying in the background!
She said "yes"
Proposals. A beautiful moment between two people in love. Oh yeah, and the guy who happens to jog by in the park, just as your friend tries to capture the magical event on camera. You know he realized he messed up based on the expression on his face.
But at least he will forever be a part of their memories. This will be a great story to tell their kids one day.
You smell nice
Tim Duncan is considered one of the greatest basketball players of all time. One thing he was always known for, was giving his fans a lot of attention. But this is not what we had in mind.
This Spurs fan sporting a Tim Duncan jersey looks like he's getting a nose full of his favorite player. Perhaps even a nice little kiss on the neck. It even looks like Tim's hand on his shoulder. But of course, that's his Lakers fan buddy just posing with him for the picture. Regardless, it doesn't get much funnier than this.
Don't bother me, I'm eating
Having a bunch of casual and funny wedding pictures is always a great idea. A year later, you can look back on your big day and reminisce on the incredible beginning of your life's journey together. But this photo is probably not one to frame and put in your living room.
Aside from the adorable couple, a likely friend or family member just so happens to be stuffing her face with a tasty looking salad. It doesn't help that her face is right at the center of the photo and between the bride and groom.
Will you go to prom with me?
Every high school girl waits for her prom as if it was her wedding day. The anticipation builds as the date approaches. And perhaps most importantly, they all want to be asked to prom by the perfect guy and in the perfect way.
It just so happens this girl got a very special proposal. Her data made a spectacle out of the ordeal. Not only did he make a funny sign, but he hired a professional diver to slide her way down a cloud. It's every girl's dream.
Baby tail
Who doesn't love babies? Even if you don't, you still probably think they're really cute. Just take a look at this beautiful baby right here. But a baby with a tail? That's just all sorts of weird.
And yet, somehow it doesn't take away from the cuteness if anyway. I wonder if they got their tail from the mom or dad. You know what, it doesn't matter.
Wedding biker
Do you know that moment when you finally get all the groomsmen and bridesmaids together for that all-important photo? It's your special day, and all your loved ones are there to celebrate with you.
As you get ready to savor the moment and everyone is finally ready, the photographer yells "say cheese." It's at that moment you realize, "I sure would love it if a hipster bicyclist in shorts would join us in this epic moment." Wish granted.
Where's Mona?
This tourist was so excited to actually see the Mona Lisa in person, he decided to take a selfie with the infamous painting. But this tour guide had other ideas. Just as he snaps the photo, she decided to lift her hand, likely directing her group on where to go.
Her hand coincidentally covered the exact area of Mona Lisa's face. Hopefully, he got another one that turned out a little better.
Mythological Centaur
Now you might want to look at this picture more carefully to make sense of it. At first look, it almost looks like this lady in the blue coat is half zebra and half-human being.
But upon closer inspection, it seems it is just a lady riding a zebra. Her jacket is the perfect length and just makes it look otherwise. At least, we hope that's the case!
Flying cat
Do you remember that trip we took to the mountains last year? That place was awesome! And the best part was those flying cats. It must have been the altitude or something. We're kidding of course, as this photo is just a cool looking optical illusion.
Still, you gotta admit, you would book a trip right now, if you could go see some flying cats, while eating some good food and drinking your favorite wine.
Swan mutation
Perhaps this lake has some kind of radioactive material or something. But this is the strangest swan we've ever seen. It's a swan, with a much smaller swan growing from its head. Talk about creepy.
In all seriousness, please consider the angle from which you take pictures, so you don't end up with any other mutated animals to show for it. Unless you want to give your friends and family a good scare.
Photo crash
There's nothing worse than having an embarrassing spill in front of other people. Except of course when those people are your friends and peers. Oh yea, and when someone just happens to capture that low moment on camera.
Now they will always have a way of reminding you all about it for years to come. This one should make the yearbook, as one of the clumsiest (and funniest) moments of the year. We just hope she's all right.
The Perfect Coincidence
After a closer look at this picture, you will soon realize that this picture was just taken at the perfect moment. The camera happened to capture a unique coincidence where the person's face was covered by the magazine.
Instead of the persons face the face on the back cover of the magazine perfectly lines up to make us giggle.
Funny legs
This guy is just sitting there minding his own business. He doesn't have a clue that he's about to become a part of a highly unusual photo optical illusion. This picture was taken at a very unfortunate (for him) and precise angle, making his legs look bizarre and very small.
The woman is wearing a shirt with a wide stripe that is the same color as his pants, and the bench color looks like he's wearing tiny brown shoes. You really couldn't have scripted this one if you tried.
Extreme water sports
In the summertime, a lot of people like to take to the water to cool off and refresh their bodies. But just swimming can get boring for some people. Water skiing and wakeboarding have grown in popularity in recent years.
But this takes water sports to a whole new level. One guy appears to be shooting straight out of a bottle, while his buddy looks like he's standing on the water and preparing to take a quick dive.
What's up dog?
This initially looks like a cute pic of two young girls, just smiling and showing off for the camera. But in between their faces, there is a dog sticking out his behind and totally photobombing their picture.
He appears to have a mischievous look on his face too. It's quite a shame for them, particularly if they happened to post this across any of their social media profiles.
Cat face
You know that friend, who has a tendency to ruin people's pictures? He just creeps up from behind them and makes an awkward face, turning what would have been a great photo into something useless?
Well, this cat certainly fits the bill. This would have been a great baby pic for these parents until the cat decided to make a crazy face. Perhaps the flash is what scared it into this reaction.
Dont Get Ahead of Yourself
Wow, what is going on in this funny pic? It seems just as the photographer took the picture, the horse standing behind this girl poked his head in front of hers.
So now it looks like this girl has a horse head. Either that or this girl puts on a horse mask to feed her horses.
UFO sighting
Aliens appear to be taking over this city, and some worried people captured the scene on camera. The invasion is underway, as a group of UFOs has entered the atmosphere, causing mayhem in the streets.
But if you look closely, these round circles are simply the reflection of the lights hanging from the ceiling of this room, coming back through the glass windows. It makes for a cool photo that definitely makes you look twice.
Hand and foot
This guy is just chilling on his couch and looking pretty comfortable. He appears to have a hand coming out of the bottom sleeve of his pants, giving off the optical illusion that his feet are actually hands.
In reality, his foot is likely tucked in underneath, while he placed one of his hands on his left leg. It's an awkward photo that makes you shiver for a moment before you realize what is actually going on here.
Run, it's bridezilla
This guy appears to be running for his life, as the bride and groom of this wedding start coming down the stairs to the cheers of their loved ones and guests. We assume he's just trying to get out of their way, and not interfere with the ceremony.
But just as he attempts to avoid them, someone snapped this great photo, which makes it look as if he's running scared. It's a really funny and well-timed picture that will lead to many laughs and giggles for years to come.
Man in backpack
We've all seen people carrying their babies in various types of slings and carriers. Some are placed on the front, while others are in the back of the carrying adult. But this is something completely new.
Somehow, this guy is carrying an adult inside his backpack, which brings up all sorts of questions. First of all, how did he get in there? The guy's face and hand gesture only add to the comedic aspect of this photo.
Not so obidient
This could be an advert don't you think. When this puppy took part in his obedience training, his owners couldn't believe how well he did and they weren't the only ones.
The trainer handed the pup his first-ever certificate to celebrate him passing with flying colors. Although it looks like it didn't last for long and the dog was pictured lying next to the certificate after he ripped it apart.
Pop star
We can only guess what the driver of this car thought when he was driving behind these two trucks that coincidently read the name of one of the most famous pop stars on the planet.
The trucks, driving at exactly the same speed at the same time, read Taylor Swift. We hope for her sake that she was able to see this.
Holy Smokes
If you are not looking too carefully at this picture, it almost looks like this man has smoke coming out of his head. HIs confused expression doesn't help either because it really makes it seem like he is thinking really hard.
However, if you stop for a sec and look carefully it becomes clear that the steam or smoke is coming from the other side of the street. This would make a very funny online profile picture.
Little birdy
Just as this guy was enjoying some bird watching and checking his book for what he could see, he was stunned when the bird he was looking at in the book flew by him and landed right here on the page.
The page explained about the breed of the bird and he swooped in as if he was curious to learn about himself.
Yawn
Now that is one big yawn! Taken at exactly the right moment, this yawning pup was photographed to the side of a painting of himself.
With a shrine on the wall, this sleepy dog looks super cute here creating the exact same face to match the one of Him up on the wall.
Questionable bathing suit
When you go to the beach, you probably don't expect to see many guys wearing speedos. They're questionable at best and often considered controversial in our society. But this guy takes it to a whole other level when he decided to strut his body in a daring female bikini bottom.
Of course, that's not the case at all. A closer look reveals a woman standing in front of him, bending down to hold her child. The final result of this photo is simply unfortunate for this poor guy. It's not even clear who the intended target was for the person behind the camera.
Face Swap
Well, this is a strange sight! Looking at this picture you can be easily fooled into thinking it is a picture of a tiny old man being carried from the sea.
But in reality, it is just an optical illusion of sorts. The little boy is being carried by his father and the picture captures the exact moment their faces line up so that it looks like the dad's face is the kid's face.
Smile
This has got to be one of the cutest things we've ever seen! These owners obviously loved this smiley face that their dog pulled so much that they had a painting of him done.
Posing in front of the artwork like a proud, good old dog, when this picture was snapped, the dog happened to pull exactly the same face as he did in the painting.
Nature
Rainbows have got to be one of the most beautiful things to look at once the skies have opened and there has been a downpour. A full rainbow reaching from one end to another that happens to appear above this store that is aptly named Rainbow.
The wonder of nature curves perfectly above the building.
All you need is love
This couple's proposal got all kinds of special attention. But nobody expected a hippo to be so enamored with their special moment. As he knelt down to ask his girlfriend to marry him, a hippo in a local zoo came in for a closeup.
He must have wanted to witness love first hand. This couple likely still laughs at this, but I bet they would have rather had a picture without a strange hippo stealing the spotlight.