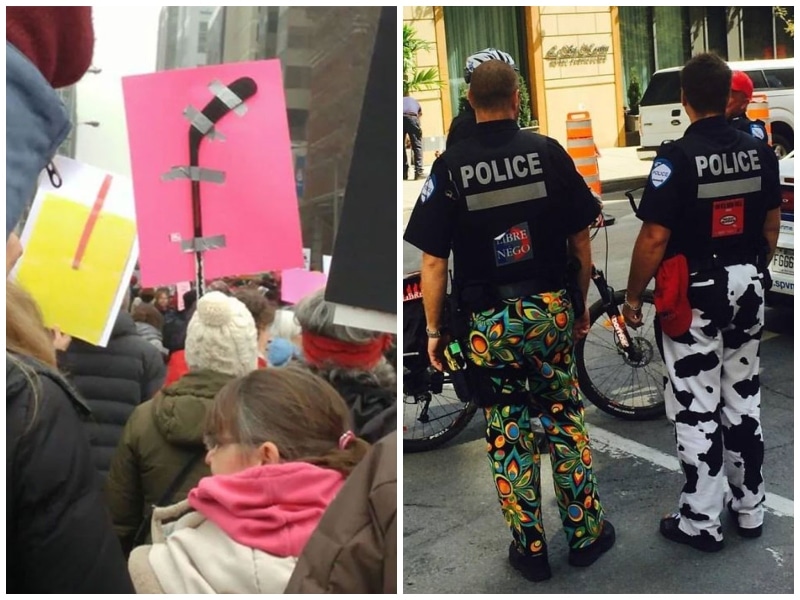 Canada is thought of like the cousin of the United States but it certainly has its own unique culture, and it is totally different from that of America. When you think of Canada, you think of people saying, "I'm sorry," Justin Bieber, and maple syrup. Maybe you also imagine a lot of people saying, "Eh" which are all of the Canadian stereotypes that the world recognizes. These funny pictures will show you just how different Americans and Canadians really are!
Bears And Hotels
This sign says it all. In Northern Canada, there are a lot of black bears and grizzlies which do not make for very good pets. This hotel decided to make fun of all the bears in the area which makes it sound like they may have had a few bear encounters themselves.
The only way to avoid bears is to make sure that they can't get into anything which means don't leave any food or garbage in your car or hotel room. Hopefully, none of the guests found themselves having a 'bear-y' friendly encounter. Also, bears just don't make great pets period.
A Fair Wage
As a welfare state, Canadians are very conscious about providing all of the services their citizens' needs and that means providing fair wages. These doctors decided to let the government know that their salaries are just fine and they want to make sure that all the sectors are just as well-funded.
In most of the world, doctors complain that they don't get paid enough and go on strike for more money. Not in Canada. This could be one of the reasons that the universal health system is working so well there. Maybe some doctors from other parts of the world should take note of this.
Water Fight
In recent years, police clashes with citizens around the globe have made it into the news. Often criminals and non-criminals alike are the victims of abuse at the hands of police. In Canada, police are often expected to monitor gatherings and during one such event, an altercation occurred.
As you can see, no harm was done and all that happened was a joyous police officer engaging in a water fight with some other Canadians armed with super soakers. Now, this is the kind of clash with police any citizen might not mind having since it is all in good fun.
Summer
In Canada, the temperatures reach such extreme lows that when the sun shines and the snow stops this count as a warm summer day. what most of us would call winter most Canadians would call beach weather.
Canadians are so used to the cold that they could walk around in a t-shirt in what most of us would call cold weather.
Labor Issues
Going on strike is never easy for any union-based organization but for these Canadian police officers, they decided to show their support in a very special manner. Instead of completely stopping work they decided that their protest would be through their uniforms.
They would not wear their regulation police pants until this labor issue was solved which means they would continue to wear random animal patterns. We have to say this does look pretty funny.
Sorry
Canadian's are renowned for their polite natures and excellent manners. In fact, their ability to apologize frequently has become the butt of many jokes. Well in Canada the people are so polite that even the signage needs to be well mannered.
It's not unusual to see a sign that has the words please, thank you, and sorry written on them. So like the people, the signs in Canada are also very polite.
Beaver Alert
If you take a look at Canada's money, specifically the 5 cent nickel, you will see a beaver just hanging out amongst some logs. These little critters are known for making dams which means they can chew through trees with their giant front teeth.
This family decided to have a Christmas time joke by having a Christmas tree that appeared to have been the victim of a beaver attack. That is one way to avoid buying an actual Christmas tree.
Changing Seasons
Most of the time when you think of Canada, you imagine the Great White North. This means lots of snow and cold temperatures and as most Canadians know this is not far off from the truth. For this family, wherever they are located in Canada, it would appear that the seasons cannot make up their mind.
Will winter finally turn into spring, or will it start to snow again? You can literally never know in Canada.
Always Be Polite
Canadians are pretty non-confrontational as a whole which means that they like to kill people with kindness rather than being outwardly mean. This person had their wheelbarrow nicked and instead of getting upset they simply asked that it be returned in a polite manner.
Once it was returned they even thanked the thief. Maybe the thief will think twice before stealing something again since it seems like they have been given a second chance.
Honesty Is The Best Policy
Typically, when something breaks down like a coin-operated turnstile or the fare collector on the bus then people refuse to pay or don't need to. This happened at a popular subway stop in Canada but instead of foregoing paying all the Canadian simply pooled their fares or tickets on top of it.
They were still going to pay for a service they were using as this money is used to pay the workers and to maintain the entire system.
Happy Accident
When a local city bus was involved in an accident the bus driver felt terrible about the inconvenience to the passengers and other road users. He also wanted to make sure that he was able to alert potential passengers that his bus wasn't running.
Luckily he was able to use the LCD display on the bus to make sure everyone was clear on the situation. Geez, Canadians are so polite even the buses apologize when they are in an accident!
One Lemonade Please
Lemonade stands are a great way for young entrepreneurs to get started. They learn how to make a product, market it so it sells, and how to save or spend the profits. For this little entrepreneur, the police decided to pay her business a visit.
She offered up some fresh lemonade and the cops could not have been more pleased to support this budding businesswoman. Canadian cops seem to be doing their part to keep their citizens happy.
Window cleaners turn 'superheroes'
A few window cleaners while working at a hospital in Canada decided to dress in superhero costumes to cheer up the kids being treated in the facility.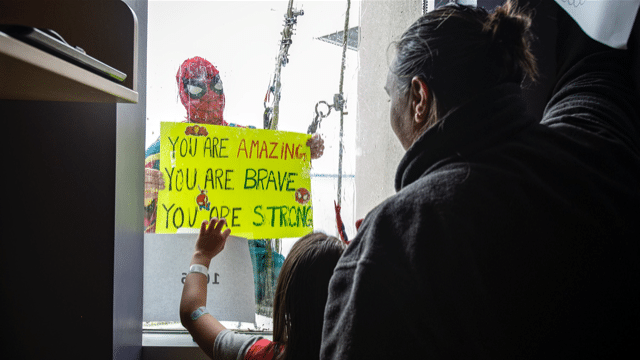 "Our #healthcare heroes received some back-up today – #superheroes brought smiles to the faces of our youngest #patients. Staff from
@EliteWindowC rappelled down the building to not only fight grime but bring much-needed fun & a distraction to patients, family and staff," read the post, which has now gone viral on social media.
No Time for Tickets
It seems that you can't even get a parking ticket properly in some parts of Canada. This person found himself on the wrong end of a ticket and instead of having to find a ticket under his wiper to spoil his day, this driver returned to his car and found a ticket and the money to pay for it. It appeared that in honor of the Canadian national hockey team winning the Olympic gold in the 2010 winter games, every pedestrian who passed the car put a 5 dollar bill under the wiper.
However, we think that this had very little to do with the gold medal and more to do with the Canadian spirit of community. On any ordinary day, this driver would have probably found the same thing with his ticket. That's Canada for you!
At Least Be Considerate
It seems like thieving is a part of life everywhere. If you have something someone wants like a wheelbarrow or in this case some tasty homegrown rhubarb than someone else will want it to. To avoid having their rhubarb stocks depleted, this family decided to instruct the thieves on how to properly harvest it for the next time they decided to stop by.
At least this way the thief can be slightly more considerate and the rhubarb can keep on growing.
Say Cheese
Working as a cop isn't easy. Sometimes you need to apprehend criminals, cart prisoners, off to jail, or investigate brutal crimes. On other days you are greeted with a dachshund dressed as a Mountie which is one of the Royal Canadian Mounted Police.
These cops could resist having a quick photo op with this little dog before they got back to the important business of policing the event they were at. This little guy is absolutely adorable.
No time for snow
The average Canadian isn't going to let a little thing like a blizzard get between them and their morning breakfast. Canadians are used to the cold and everything mother nature can throw at them so when a winter storm rolls into town its business as usual. This guy simply ditched his family car and drove his trusty snowmobile into work.
He was making a great time too because he managed to swing by the drive-in during his early morning commute. We can imagine that the traffic was quite interesting that morning.
Lost And Found
Sometimes when you are out and about you can misplace things. Mittens are one of the worst things to lose. Usually, you place them in your pocket if you are not wearing them which means it is very easy for one to fall out onto the ground.z
Once on the ground, they tend to be lost forever unless a kind soul like this picks it up and tries to get it back to its owner. This person even washed and mended the mitt in question.
Considerate Theif
Being robbed must be one of the worst experiences, but not in Canada. In Canada even being robbed and having your house broken into can be a pleasant experience. When this family was robber the thief left a considerate note explaining why he had broken in and he also apologized for breaking a glass.
The thief even warned the family that there might be glass on the floor. We don't know about you but this robbery was so polite that if it were us we wouldn't be bothered if we were robbed again. Even the robber's penmanship is friendly!
An Unexpected Houseguest
When you are out wandering in the great Canadian wilderness, chances are you will stumble across some pretty amazing animals like bears and moose. This Canadian was wandering around when they came across a giant moose.
Instead of being afraid of the human, the moose decided to follow it all the way home where it proceeded to stare through the front door practically begging to be let inside. Now that would be quite the houseguest to have over for dinner.
The Police
Unlike in other countries, the police and the community in Canada seem to be best friends, and its not unusual to see friendliness between the two.
Imagine going to a marathon and seeing police officers cheer for you instead of chasing you? They even brought cute signs and high fived people!
Staying Zen
Any work can be stressful, but for Canadian police, they have devised some special methods to keep their officers as chill as possible. No officer is going to start the day on edge, instead, they are going to come to their early morning meditation class at work before they hit the streets to fight crime.
We have to admit, this seems like a pretty good idea for any business. Maybe group meditation is something we should all adopt.
Love Not War
Montreal, a city in the province of Quebec is known for being one of the most liberal cities in Canada. The popular slogan, "Make love, not war" was brought to life by an artist who decided to design some very special signs on the matter.
No more people holding guns, this artist decided to move things to the Jurassic period, with a T-Rex holding guns with a slash through it in favor of a T-Rex holding flowers.
Postman Woes
Delivering parcels can be quite a hectic job. There are usually hundreds of deliveries in a day, and when someone isn't home the postman or woman needs to leave a note detailing why they were unable to deliver.
For this postman, they were just about to drop a package off when they noticed something rather startling: a bear at the door. Not wanting to disturb this rather large animal, the postman simply dropped this note and got back in their van.
Zamboni and Donuts
In Canada the weather gets so bad it's not unusual to see people out on the snowmobiles or with chains on their tires. However, for most people seeing a Zamboni drive into the Tim Horton's Drive-through must seem completely insane.
Not in Canada though because Canada is the home of unusual winter mode of transport. Even mounties go through the drive-through on their horse.
Please Pay Next Time
In most places, if you don't pay for parking and it is mandatory you get a massive ticket. In The Forks in Winnipeg the first time you forget to pay for a ticket you get a very polite reminder. The Forks team just want you to know how your parking contributes to maintaining the community.
In the kindest way possible they would like you to pay the next time you choose to park there. It doesn't get any more polite than that.
Sensory Friendly Shopping
Sensory Friendly Shopping is a practice that more and more big stores are putting into place. Fluorescent lights, the beeping of scanners, and all the extra noise that usually comes along with the shopping experience have been known to cause migraines for people and exacerbate some mental health issues.
In light of this, businesses now offer a darker and quieter shopping experience on certain days and times which is fantastic. Now shopping can be an even more inclusive experience.
Raising The Flag
Canada Day is on July 1st each year and Canadians love to show their pride in this great nation. Everyone wears white and red in honor of the day as those are the colors of the Canadian flag.
For these Canadians, they decided to drape a flag across the hands of this statue but they did not want anyone to think that they were defacing it in any way. A polite note let all passerby's know that they would be removing the sign once Canada Day was done.
Protesting
When making signs for a protest it can be hard to get all the materials you need right away. You need cardboard to make your sign out of, colorful paints, a strong message, and most importantly of all, stick to hoist it up.
Canadians tend to already have the perfect stick ready when it comes time for a protest, and that is an ice hockey stick. It is just the right length and the end makes it very easy to tape a sign to.
Moose on the loose
There's only one place in the world where you are warned about an angry moose on the loose and that's in Canada!
This signs even goes as far as to warn you not to even attempt at messing with this moose, he is invincible after all! Watch out for that moose folks!
Trouble makers
No one likes to see graffiti and the majority of the time, its just some kids who have taken a can of paint and tagged there name all over the place.
These Canadian trouble causers may still be out there graffiting but at least they are doing it with a nice message. Better this way than the other we suppose!
Movie remake
If there is every frost or snow on your car, you are guaranteed to see something scribbled into the snow and it is usually a rude word or picture.
Here, a Canadian wanted to have some fun and they drew eyes and a mouth on the car to make them look like the cast from the movie "Cars".
Peaceful Protest
Why the rest of the world's protest only tend to get more violent, Canadians are the ones that continue to fight for what is right but in a peaceful manner.
Standing in the cold for hours, these warm-hearted people bare it while standing there holding a sign that reads, "I am a little upset." Even the sign is polite.
Snow Go
When it comes to snow, there are countries around that world that can barely function once a little snow hits the ground but it doesn't stop anyone in Canada.
With everyone still needing to go about their day to day business, the biggest snow machine gets to works and creates this insane pathway.
Spillage
"There's a spillage on aisle 10," is something those working at this store probably don't worry about too much. Although it can be super annoying, things are easy to clean when someone apologizes for making a mess.
The free drinks machine ended up having a bit of a coffee explosion and as the person didn't have time to clean it, he thought he would write a little note instead.
Diverse Bathrooms
Canadian provinces have embraced a policy of inclusivity which means that most bathrooms are now considered gender-sensitive. This means that when you enter a bathroom there may be some women or men who are transitioning.
They deserve your respect and discretion just as anyone else does. Canadians just like to go about their business without disturbing anyone else and people can just use the bathroom which they think best suits their needs without fear of discrimination.
Graffiti
Last but not least, we come to some bathroom art. Most of the time people will write some unkind words about someone they know or put the phone number of someone they are mad at. In Canada, they simply write nice little things about family and friends and how proud they are.
This has to be the nicest bathroom graffiti we have ever seen and it just furthers reminds us of how great Canada is!
What's in a Name?
Streets in Canada are mostly named after British royalty, prominent Canadians, or something to do with nature, but there are only so many Maple Streets that can exist in one country.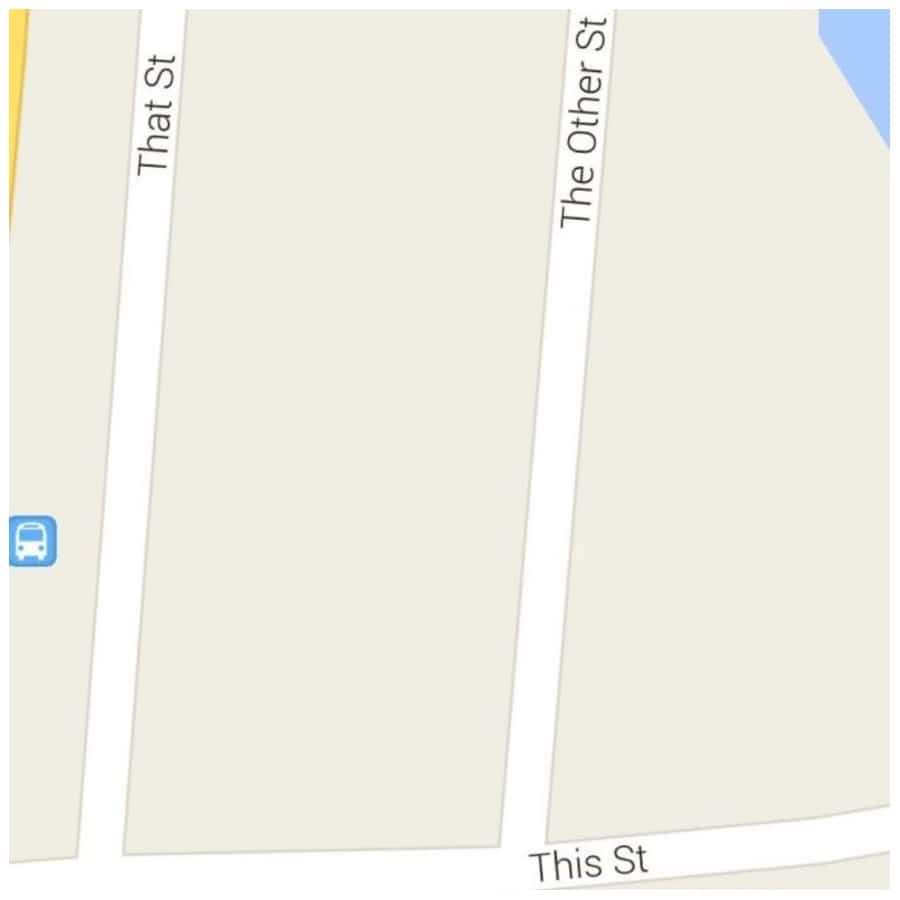 Whoever named this corner of land definitely had a sense of humour! Plus, the names are accurate.
C.A.G.E.
Donald Trump built his 2016 presidential campaign around the claim that the US was in disarray and wanting to Make America Great Again. Over the border, Canada has been great all along!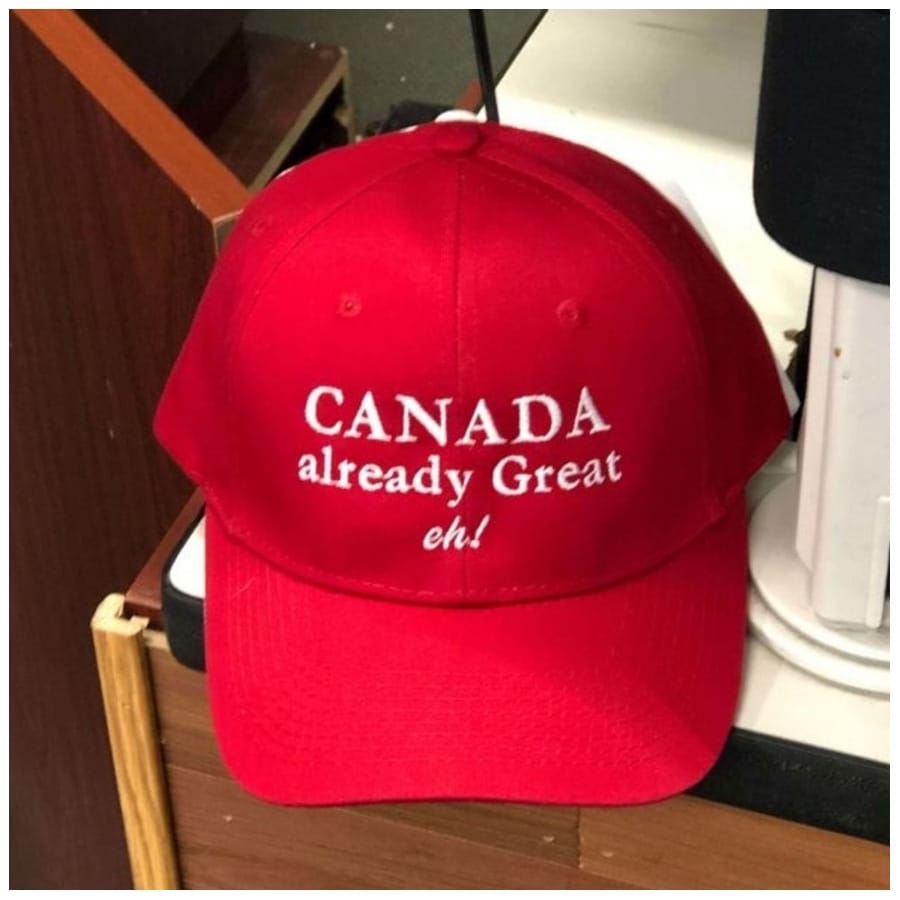 While Republican supporters donned their red M.A.G.A. caps, Canadians have their own version, stating quite simply, "Canada Already Great Ehl!"
The Best Neighbours
Living in an apartment building can be challenging — particularly if your neighbours are difficult. But it seems like Canadians truly believe in the concept of "love thy neighbour".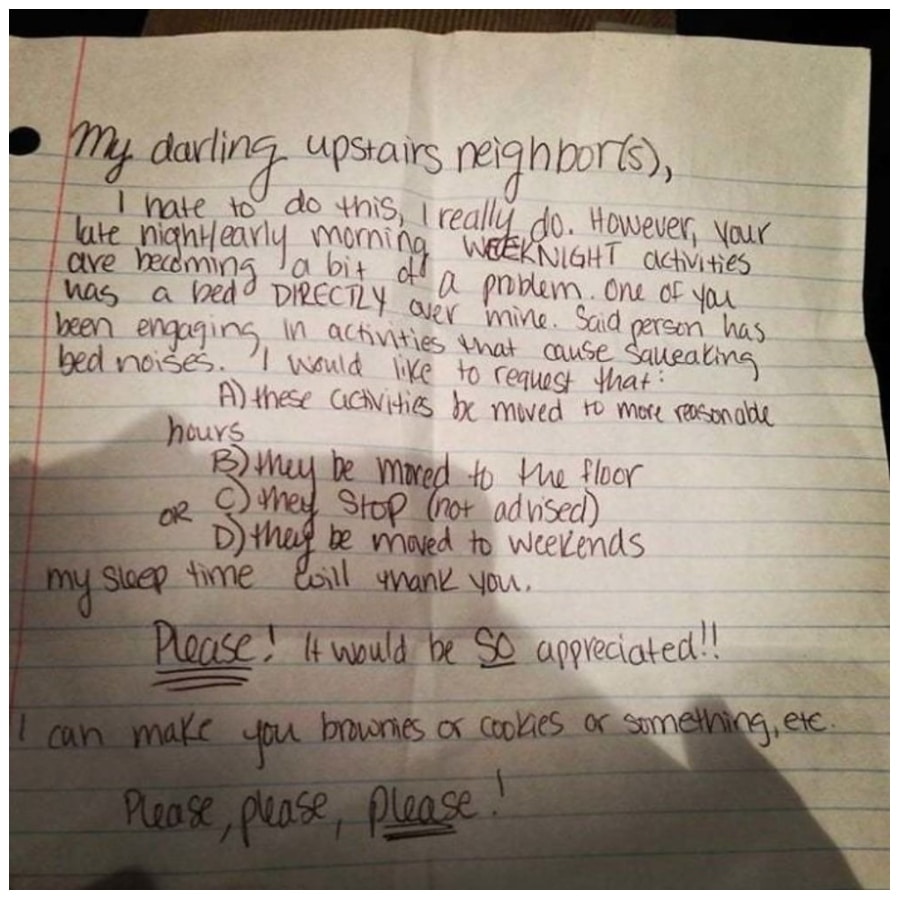 The noise from her upstairs neighbours was inconveniencing the woman below, so she kindly asked them to stop by offering to make them baked goods.
Nothing Gets Between a Man and His Grill
The trouble with cravings is that the longer you try to suppress them, the stronger they become.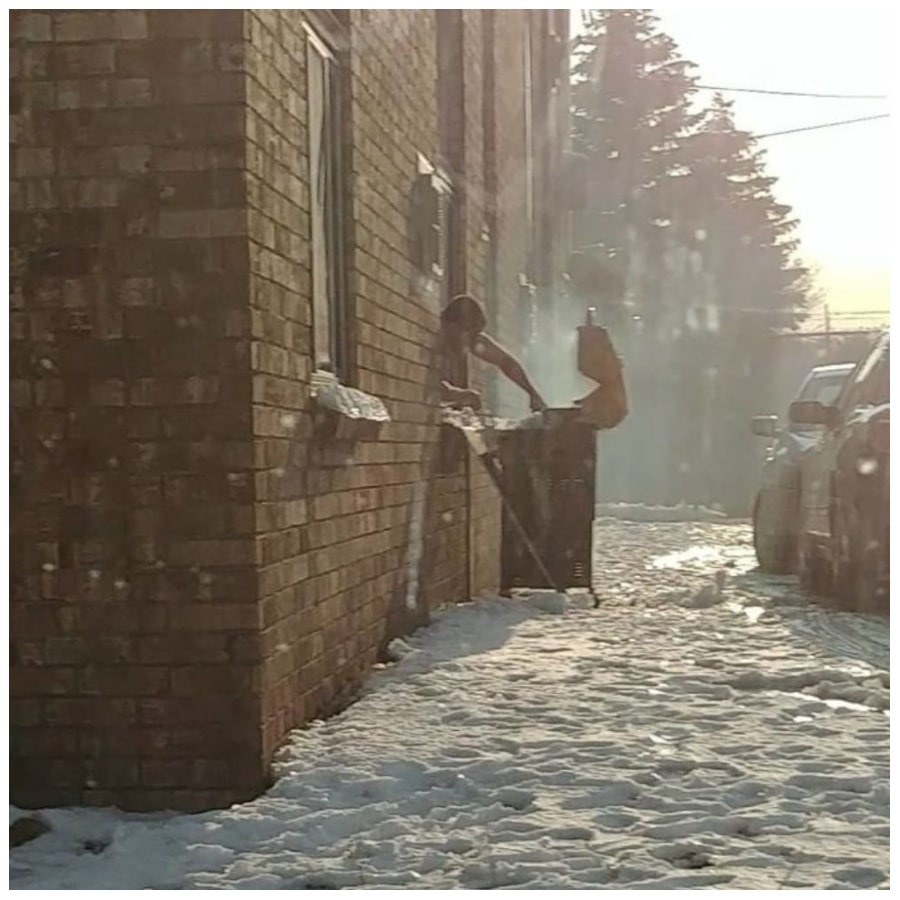 This man had a hankering for a barbecue and nothing was going to stop him from getting his meat — even temperatures below zero! Who says grilling can only be done in summer?
Take What You Need
As wholesome as Canada is, it does still have its crime. This poor person was the victim of theft as their GPS was stolen, but they don't seem to be holding a grudge.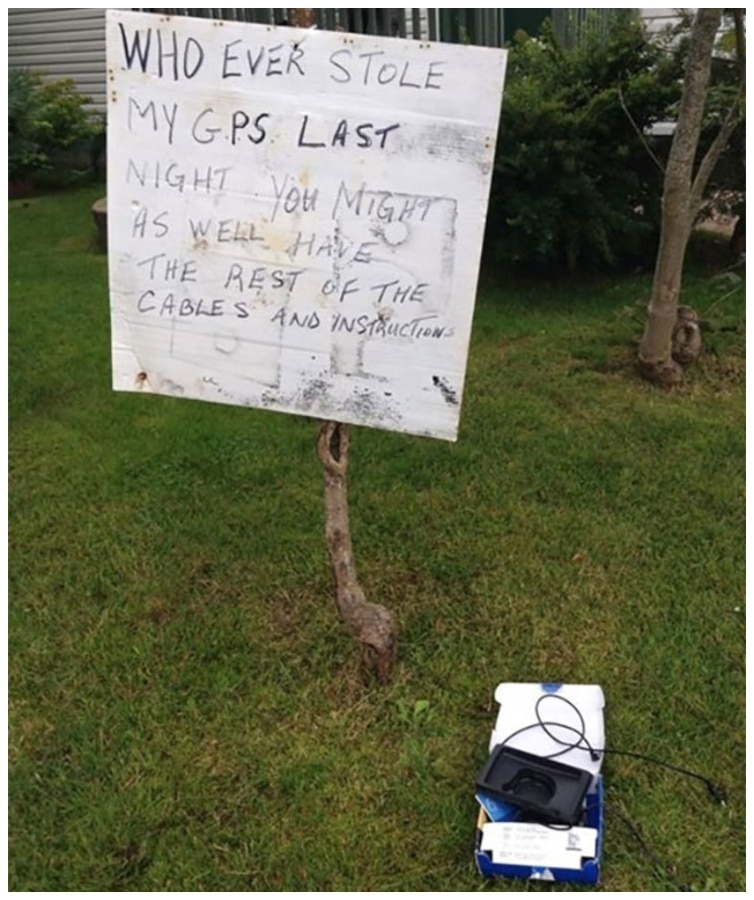 Instead, they placed the cables and instructions for the item on the lawn so the thief can at least use the device!
The Bridge of Well Wishes
Graffiti is oftentimes done in protest and typically full of curse words. In Canada, however, it seems like the wall writing is there to share positivity.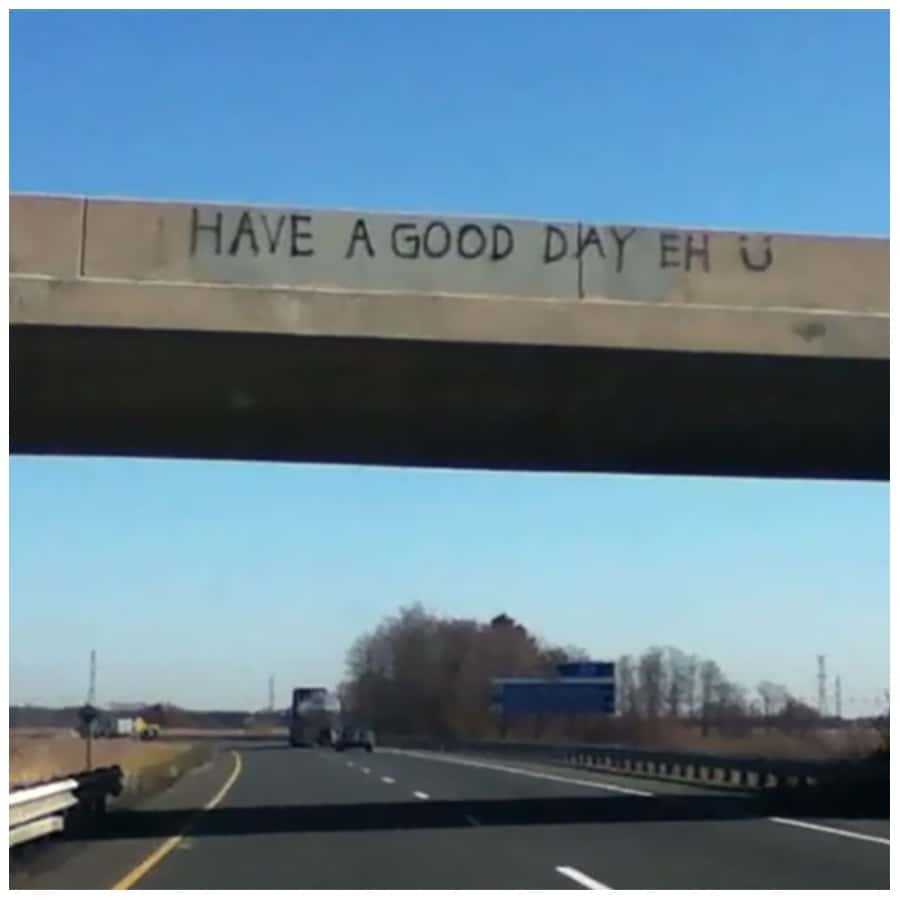 Anyone who passes under the this bridge will be greeted with well wishes for the day ahead, all with the signature Canadian "eh".
A Goose Crossing
Most people have heard of zebra crossings. Sadly, most of them don't have a single zebra in sight… But in Canada, you will at least find geese.
This gaggle decided to have a gathering in the middle of the road. Best of luck to anyone who tried hurrying them along — they're known to bite.
Rescued and Returned
Flash drives are normally used to back up all the files and photos that one's computer doesn't have capacity to store. So, losing one of these babies can feel like all is lost.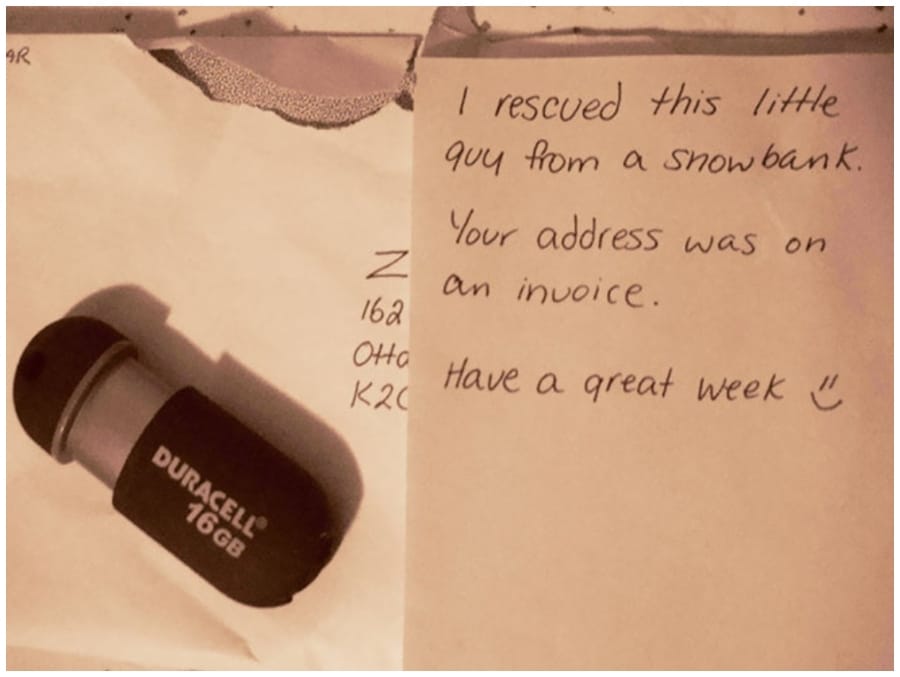 Thankfully, someone realised just how valuable these little guys are, and sent this one back home when it was found.
Adorable Spiders Fix All
When #3 arrived at their parking bay, they found that it was not empty. #15 had commandeered their space, but there was remorse as shown by this adorable note.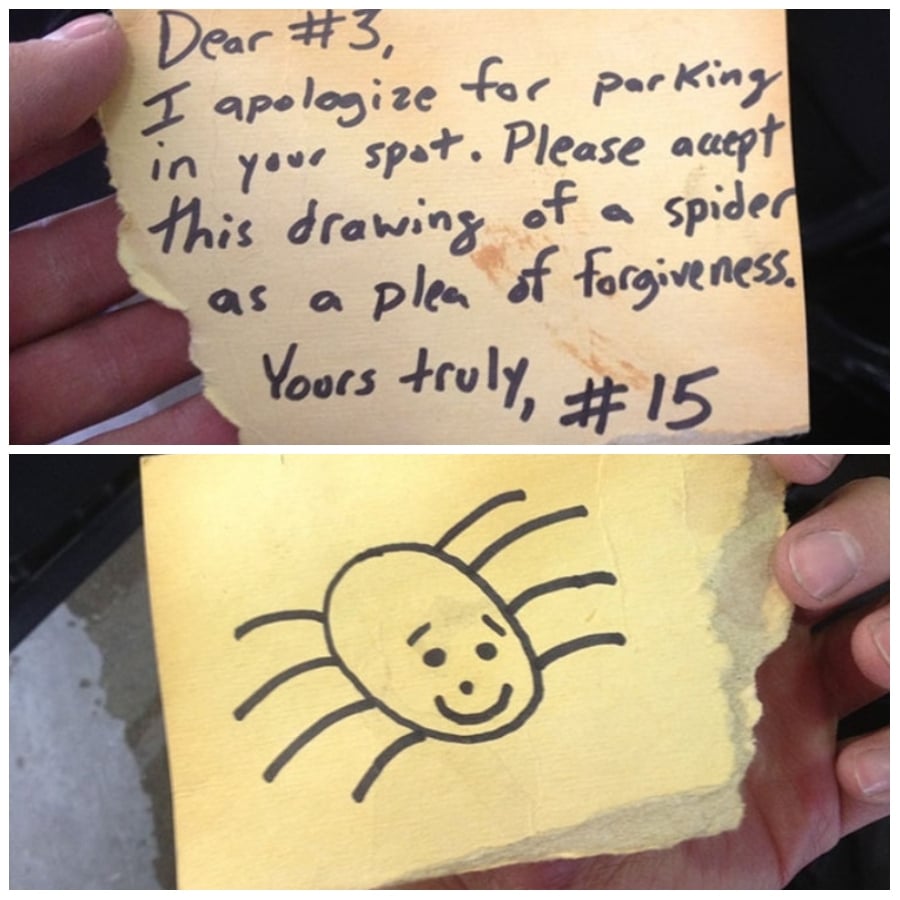 Could all the world's problems be solved with a doodle of a cute spider? Possibly. We just hope #3 isn't arachnophobic.
A Life Not in Vain
When roads are built close to where animals dwell, a few tragic accidents are bound to occur. A deceased raccoon was left on the sidewalk in Toronto, but Canadians made sure that his life was honoured.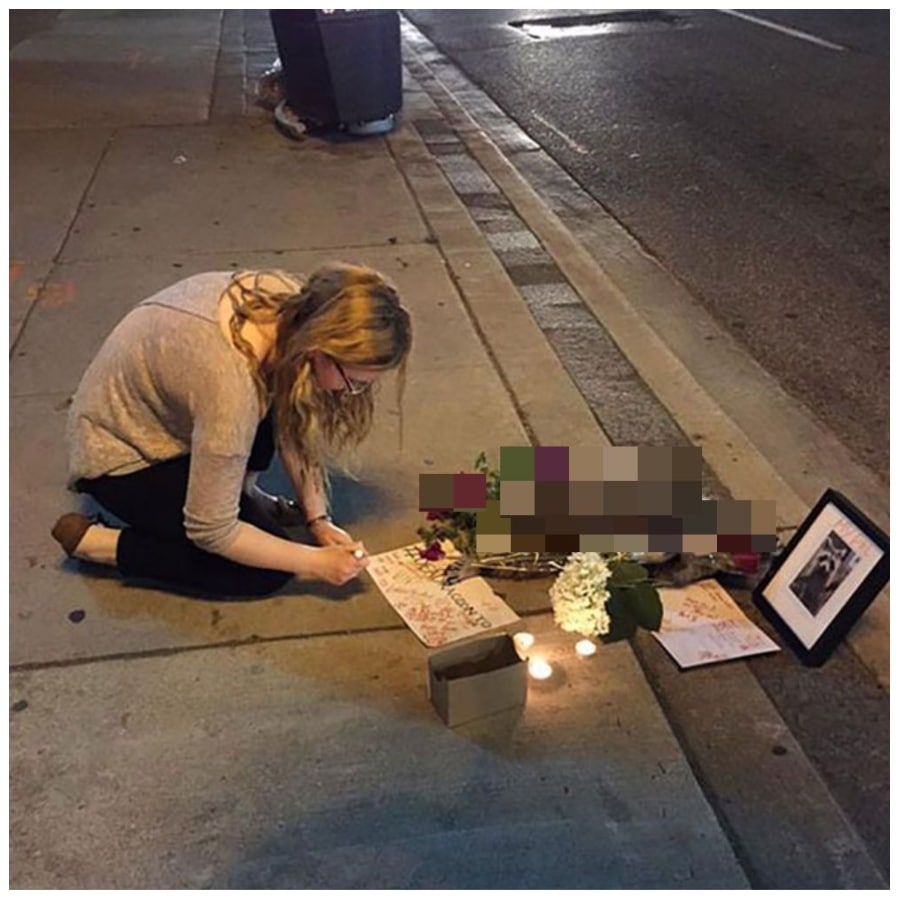 They created a shrine with notes, candles, a framed photo, and even gave the poor critter a name.
Sorry Is Not The Hardest Word
Politeness is so much a part of Canadian culture that it feels ingrained in their very DNA. A car accident is never a pleasant experience, yet the bus at fault could not help but say sorry.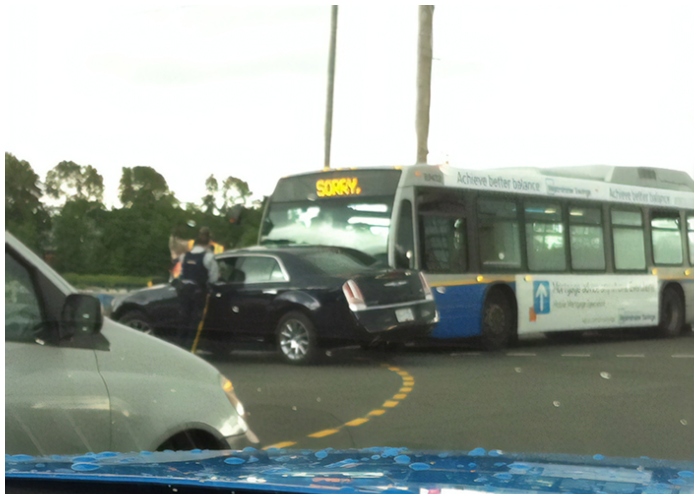 They do say an apology goes a long way…
Your Pool May Be Occupied
Australians will tell you how they have had to contend with massive spiders, snakes, and other unusual creatures in their backyard. In Canada, it's a little different…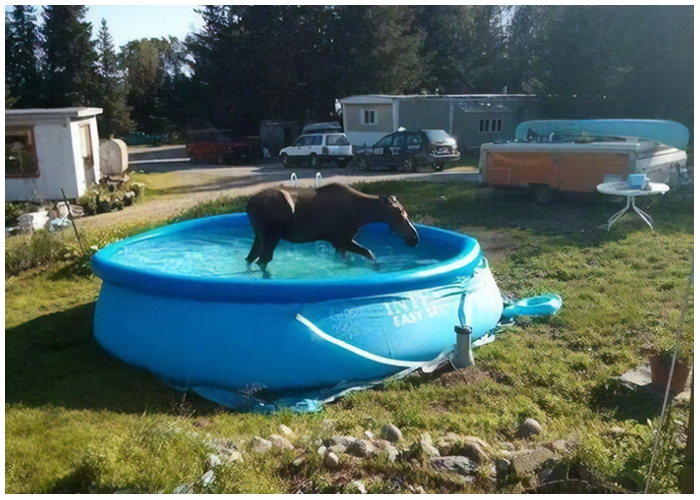 Don't be shocked if you find a moose chilling in your pool, or your neighbour asks if they can borrow yours because a woodland creature is in theirs.
A Special Kind Of Criminal
Breaking and entering is a crime experienced around the world, but in Canada, even the thieves seem to be apologetic for their actions.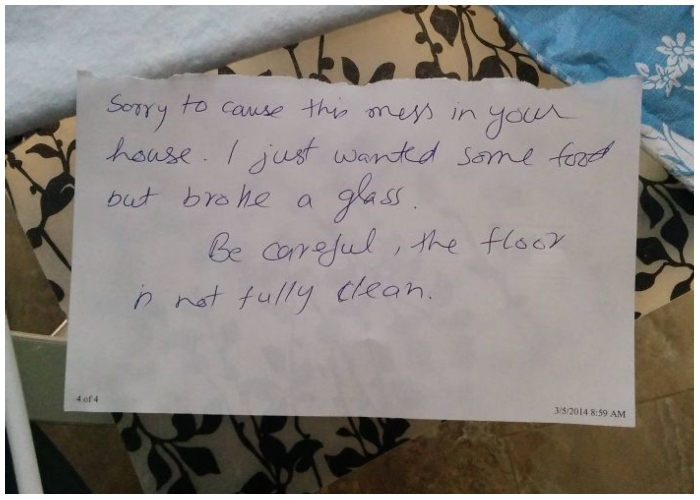 This person had their house broken into by a hungry robber who was still looking out for their victim's well-being.
Hot And Cold
Canadians are used to extreme temperatures. Summers can be balmy, while winters can easily reach up to 30 degrees below.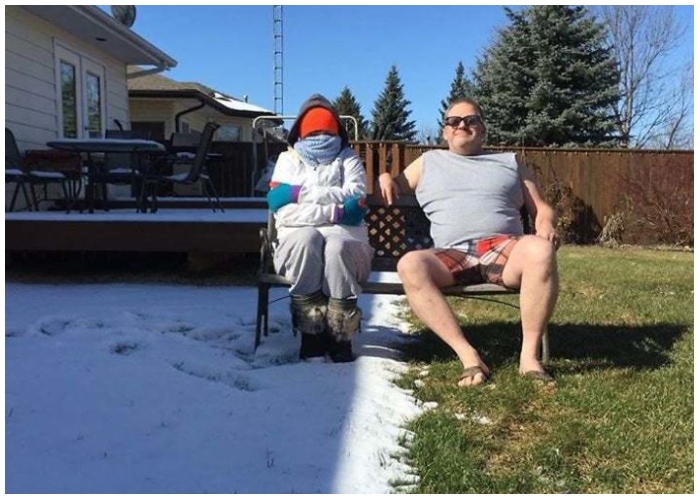 As such, the cold doesn't really faze them. Or at least some of them. And based on this picture, there is a fine line between them.
It's Never Too Early To Practice Safe Driving
Of late, police seem to be viewed more as an enemy of the public than helping them. But then you get to Canada and see this…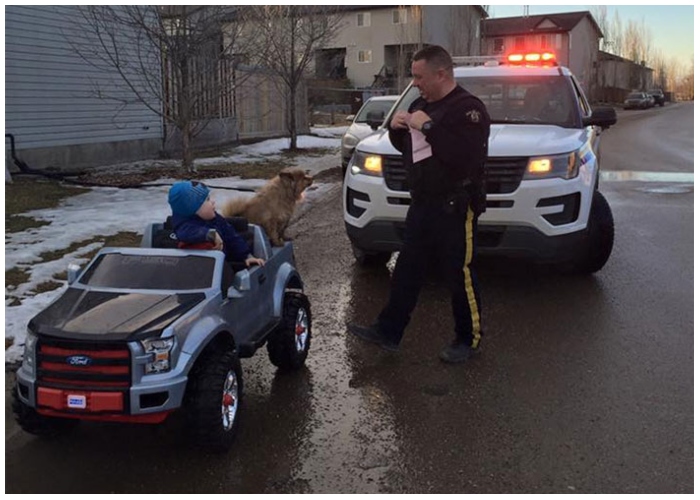 We bet this little boy will never forget the rules of safe driving after being pulled over by the cops!
Flannel Is Always In
Fashion goes through various phases, but if you wear flannel in Canada, you'll always be on trend.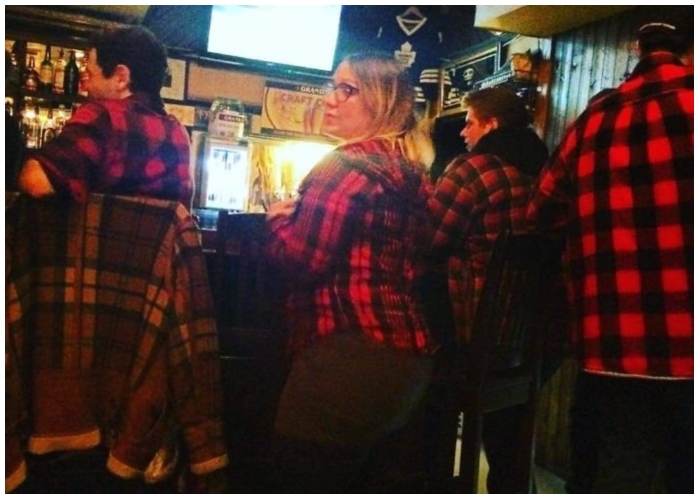 At the neighbourhood bar, flannel is the go-to look, as evidenced by several patrons all rocking the style. That, or they're all part of some musical group and are about to start singing…
Taking Orders With Grace
Police are used to being the ones who give the orders, but in Canada, the cops also have a sense of humour.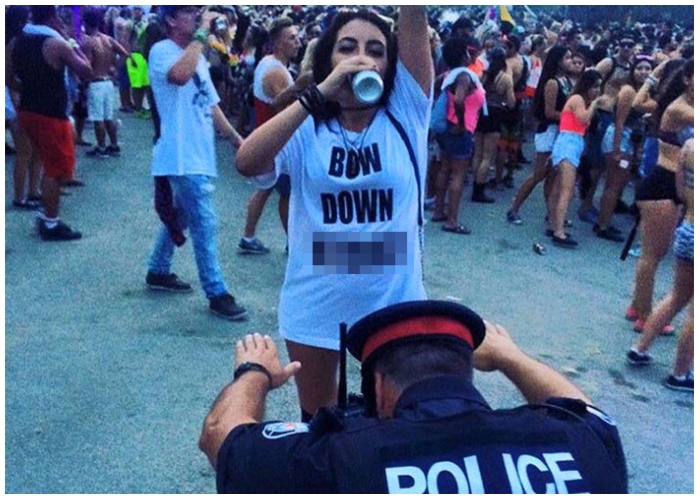 So when this officer was told to bow down by a woman with a very clear T-shirt, that is exactly what he did.
Not All Canadians Are Kind
Contrary to popular belief, not ALL Canadians are polite and kind. Case in point — these guys.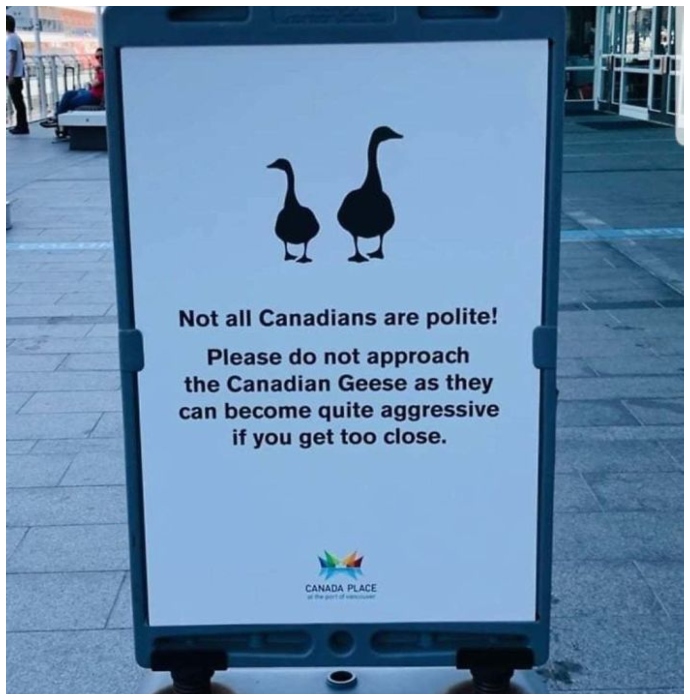 Canadian Geese have a reputation for being nasty little buggers and they are certainly not ones to mess with. Signs have even warned people to steer clear, lest they get chased down!
Kind Sign
The function of signage is to be informative. In Canada, though, the signs have an element of humanity as well.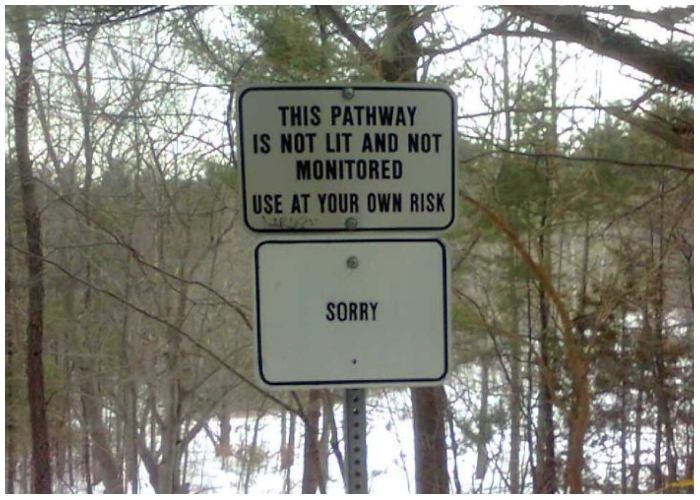 Not only is this sign letting you know that the area ahead is potentially dangerous, but it's apologising for not providing means to rectify that.
It Doesn't Get More Canadian
If you ever wanted a picture that perfectly encapsulates the uniqueness of Canada, this is it.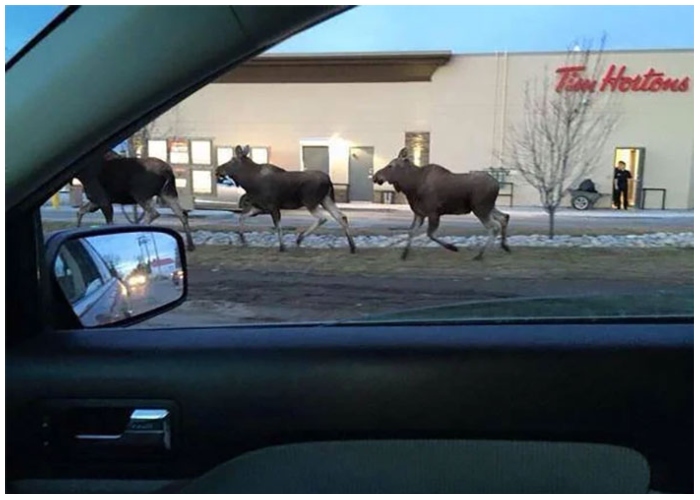 It has a bare tree symbolising how it always seems to be winter in the country; moose running wild; and a sign for Tim Hortons whose coffee is a Canadian staple.