Everyone has habits, even celebrities. There is a wide assumption that famous people are close to perfection and that there is no way in the whole world that they have bad habits. But despite their wealth and fame, they are just humans and are prone to making a mistake just like every single one of us does. From not brushing their teeth to forgetting to flush every time they use the toilet, here are the worst habits of these famous celebrities.
Brad Pitt Avoids Taking Baths
Brad Pitt is one of the most well-known actors in Hollywood, with fans all over the world. But clearly, no matter how famous and seemingly put together the actor is, he is still opposed to taking too many baths.
Fans were stunned to find out that the actor often skips bathing himself for as long as a period of weeks at a time. We are left to wonder if this is true also to showers, as we hope that the actor has at least one way of cleaning himself.
Tom Hanks Really Likes Collecting Typewriters
Having a hobby is often important for a person's daily life balance, and while there are all sorts of habits out there, collecting things is a common one. Some people collect dolls, others collect books, some collect candles, and Tom Hanks collects typewriters.
Apparently, the iconic actor is completely obsessed with typewriters and has been collecting them for years. It seems like by now he has already collected over 250 typewriters that have a special place in his house. And since we are talking about Tom Hanks, we expect him to continue doing so since he most probably has the means to keep buying typewriters for his collection.
Cameron Diaz Does Not Wear Deodorant
Cameron Diaz used to be everywhere back in the day! We got to constantly see movies coming out with her at the center, and what can we say, we loved it!
Sadly, the actress has since retired from the world of acting and is now focusing on other things in her life. But there is probably one thing that her co-stars are not going to miss about her. Some people have shared that Diaz was never a huge fan of wearing deodorant, with the actress herself once admitting that she hadn't worn it for more than 20 years.
Tom Cruise Had A Sonogram Obsession
It's completely normal for a parent to be excited about the process of gestating a baby and seeing that baby being born and growing to be an actual human.
But there are some parents who take it a little bit too far, and as it seems, Tom Cruise is one of them. Apparently, when Katie Holmes was expecting their child together, Tom Cruise bought his very own sonogram machine for $200,000, so he could take a look at the baby every single day.
Kristen Stewart Constantly Bites Her Lip
Many of us have seen Kristen Stewart's habit during interviews, and even in some of her characters. She has previously shared that whenever she gets a little bit nervous, she finds herself biting her lips in order to calm her nerves.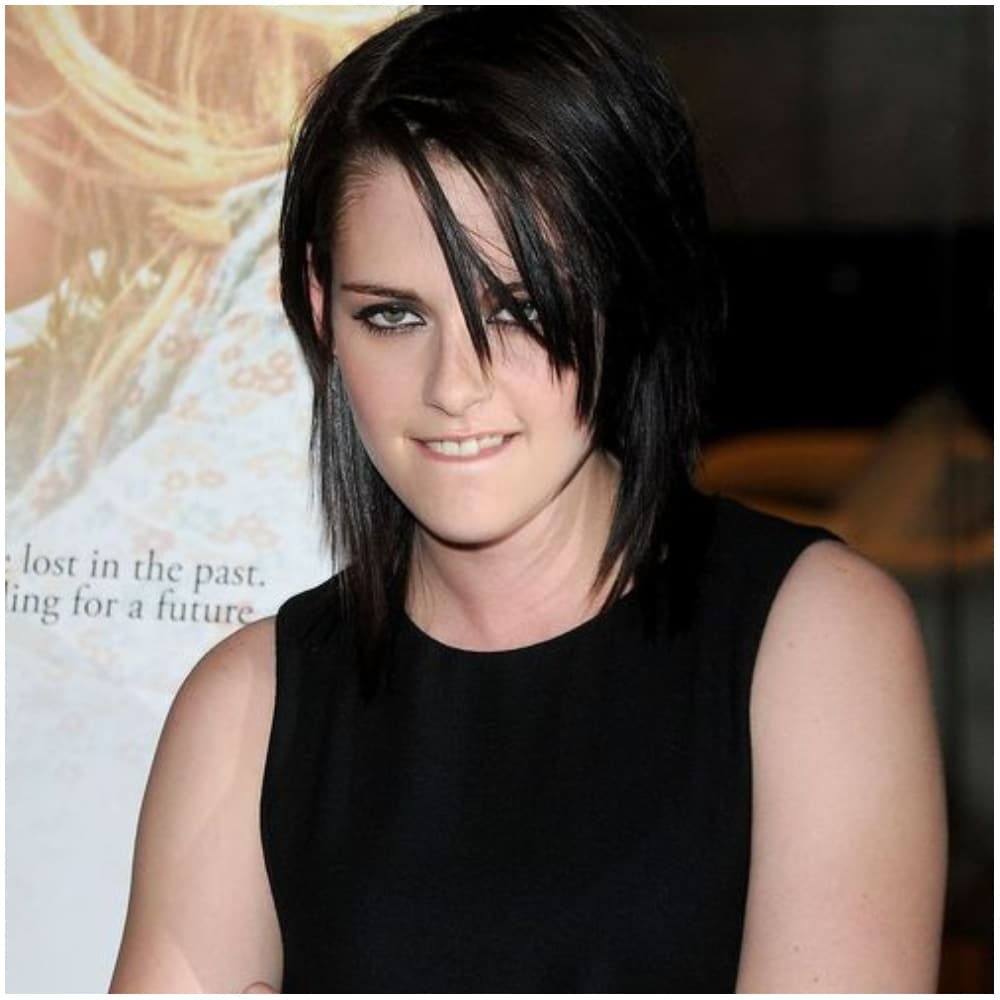 Interestingly, the character she played in Twilight, Bella Swan, also had the habit written out throughout all of the Twilight books. We wonder if Stewart lived the character a little bit too much and ended up developing the habit for herself.
Britney Spears Is The Queen Of Junk Food
Many of us love junk food, seriously, it's comforting, fast, and yummy, what more could we want? And it seems like Britney Spears is one of us!
While it often seems like celebrities are all about keeping a healthy lifestyle and hitting the gym twice a day, some celebrities also indulge in some fast-food every once in a while. The singer has confessed to often falling back on fast food, especially due to her struggle with dieting. Her love for the good stuff is just too big!
Megan Fox Doesn't Flush
Not that we'll ever go into Megan Fox's house, but apparently, if you ever do, you should be careful with the toilet. It seems like the iconic actress has the bad habit of forgetting to flush several times after she uses the toilet.
Curiously, her friends and family have warned her many times about the bad habit, but that hasn't helped. While we hope that Fox manages to change this habit someday, she has said that in no moment she does it on purpose, and it's simply something that she constantly forgets.
Olivia Wilde Is Constantly Biting Her Nails
Biting one's nails is one of the most universal bad habits ever. Still, we wouldn't necessarily think that a world-class actress like Olivia Wilde would also have a terrible habit.
To be fair, it is one of the hardest habits to overcome, as it takes a lot of strength and willpower to get over it. While Olivia Wilde doesn't actually come on screen with her nails all bitten. Apparently, the actress gets a manicure or two to get some help and motivation with her nails.
Snooki Prefers To Exfoliate With Cat Litter
Everyone remembers the one and only Snooki, one of Jersey Shore's most famous stars! The outrageous show gained popularity in several countries, and as controversial as it was, it definitely opened doors to many of the show's stars. Snooki was amongst them.
Over the years, Snooki has managed to make her fair share of confusing remarks, including one in which she shared that cat litter is an integral part of her beauty routine. The star shared that every once in a while, she uses cat litter in order to exfoliate her face and her body. Although she is convinced that the method works, experts advise against it.
Van Halen Refuses To Eat Brown M&Ms
We've all met a person who chooses the color of their candy. Some people, who are a little bit more extreme, even refuse to eat candy of a certain color. And although we never expected for a celebrity to be a part of the list, Van Halen is apparently one of them.
But while a regular person would choose them themselves, apparently, Van Halen requires that M&Ms wait for them backstage, with the important rule that brown M&Ms should be completely excluded from the mix. Imagine just how annoying this must be for the person who has to pick them out?
Christina Aguilera Forgets To Wash Her Hands
Now more than ever, we know how important it is to regularly wash our hands. We're all doing it, and we sure hope that Christina Aguilera is doing it too. According to some sources, Aguilera is allegedly a bit difficult when it comes to washing her hands.
She was supposedly seen by another person who was using the same bathroom not washing her hands after using the toilet, which is very concerning. But what is even more concerning than that, is that she went on to shake her fans' hands right after the incident. All we can do is hope that she doesn't actually do this often.
Matthew McConaughey Also Opposes Deodorant
It seems like Cameron Diaz is not the only Hollywood star that is not a big fan of deodorant. Sources share that Matthew McConaughey has the exact same habit of not wearing deodorant in his day-to-day life.
The actor has even shared in an interview before that many women love his "natural scent." Funny enough, Kate Hudson is not one of these women, as she didn't find the habit very pleasant when she worked with him.
Stephen King Is Obsessed With Cheesecake
Not that this is a terrible habit in any way, but it seems like author Stephen King has gained some fame for loving cheesecake. He is mostly known for his incredible works of horror and some very impressive films, and it seems like throughout the years, cheesecake has been one of his main drives.
The author is known to eat a slice of cheesecake before every single writing session. And while there is no doubt that cheesecake is amazing, we're not sure about having that amount of sugar so often.
Helen Mirren Says Filthy Things
We all know people with the filthiest mouths, and in fact, many of us might be one of them. But it seems like some celebs also love saying filthy things, and Helen Mirren is a regular one.
While she has played a number of characters that were synonyms to being proper and prim, in real life, she is said to be the mouth of a sailor. Mirren has surprised many people by swearing and using curse words on several occasions, becoming widely known as a filthy mouth.
Johnny Depp Has A Doll Collection
Johnny Depp has made a pretty impressive name for himself in Hollywood, but that didn't come at no cost. In fact, the actor has been involved in a number of dramatic moments that completely took the media by storm. And as it seems, that is not the only thing that makes Johnny Depp stand out.
Apparently, Depp has the strange habit of testing out many of his characters with his special collection of dolls and has collected an impressive number to this date. Sources say that he actually has versions of Paris Hilton and Beyonce in his doll collection.
Kylie Jenner Is Obsessed With Social Media
No matter how much we love or hate her, every single person knows who Kylie Jenner is. And while this piece of information might not come as a surprise for most of us, it is still worthy of a short analysis.
Kim Kardashian's half-sister has built her own empire, on top of the already crazy life and fame of the Kardashian family. But the truth is that when she was named the 2019 youngest "self-made" billionaire, social media had a big role to play in it. She has hundreds of millions of followers on social media in which she totally relies on.
Ariana Grande Likes Cracking Her Fingers
You know those people who drive us crazy because they crack their fingers all the time? Well, folks, one of those people is Ariana Grande.
The singer seemingly has the unfortunate habit of constantly cracking her fingers next to people, and she does it mostly for fun. When she shared it in an interview, she said that many of the people who are next to her when she does it absolutely hate it and almost shiver down their spine.
Adele Chews Gum
Chewing gum is a bad habit that many of us have, but for some reason, we would have never thought that Adele was one of us. Really, one of the most incredible voices in the history of music is not perfect?
The singer has several habits, and constantly chewing gum is one of her biggest ones. At the 2012 Grammy Awards, Adele was actually called out by spectators for chewing gum while she accepted her award. What was even more surprising was that that wasn't the first time she did that in front of a large audience.
Jennifer Lopez Cannot Tolerate Color
While this picture might suggest the opposite, it seems like Jennifer Lopez is not the biggest fan of color. The singer, actress, and goddess has some pretty interesting demands whenever she is about to need a dressing room.
When she is backstage, she requires a neutral space, mostly white, and demands that very little color is used at any cost. This includes furniture, walls, candles, and even flowers, no matter what it is, whoever is responsible for the event needs to make sure that the request is met.
Jessica Simpson Doesn't Often Brush Her Teeth
No matter how many times our parents would tell us to brush our teeth when we were little, we would still find ways to run away from the task.
And while as we grow up we hopefully learn that brushing our teeth is crucial for our hygiene, Jessica Simpson has failed to understand that. The singer has previously admitted to only brushing her teeth a couple of times a week, which is extremely confusing since her teeth look impeccable.
Jennifer Aniston Has An Unusual Hair Product
Famous celebrities can buy whatever they want, especially when it comes to beauty products. The fanciest beauty lines are simply affordable to them, so we don't get why any celebrity would use something other than excellent.
Apparently, though, Jennifer Aniston has a low-maintenance secret that is the reason why her hair is so flawless. Once, during an interview with a known hair-product company, she shared that she makes her own DIY hair-styler – which includes her sweat glands.
Olivia Munn Likes To Pull Out Her Eyelashes
Pulling out one's eyelashes cannot in any way be a healthy habit. It sounds incredibly painful and just really unnatural. Either way, there is one celeb that has the terrible habit of doing so.
Olivia Munn has admitted to finding herself often pulling her eyelashes, sometimes without even realizing that she's doing it. She struggles a lot with anxiety, and pulling her eyelashes has become a coping mechanism for her. She has since started wearing fake eyelashes so that no one notices her bad habit.
Nicolas Cage Spends Way Too Much Money
Seriously, if you're a big shot actor with lots of money, we don't see any reason against spending some money here and there. But apparently, Nicholas Cage has taken the art of spending money to a bit of a bad habit.
It's said that the actor simply doesn't know when to stop spending his money, especially after he spent over $100 million in what was supposedly completely unnecessary. Amongst other things, these unnecessary expenses included two private islands, a dinosaur skull, and an octopus.