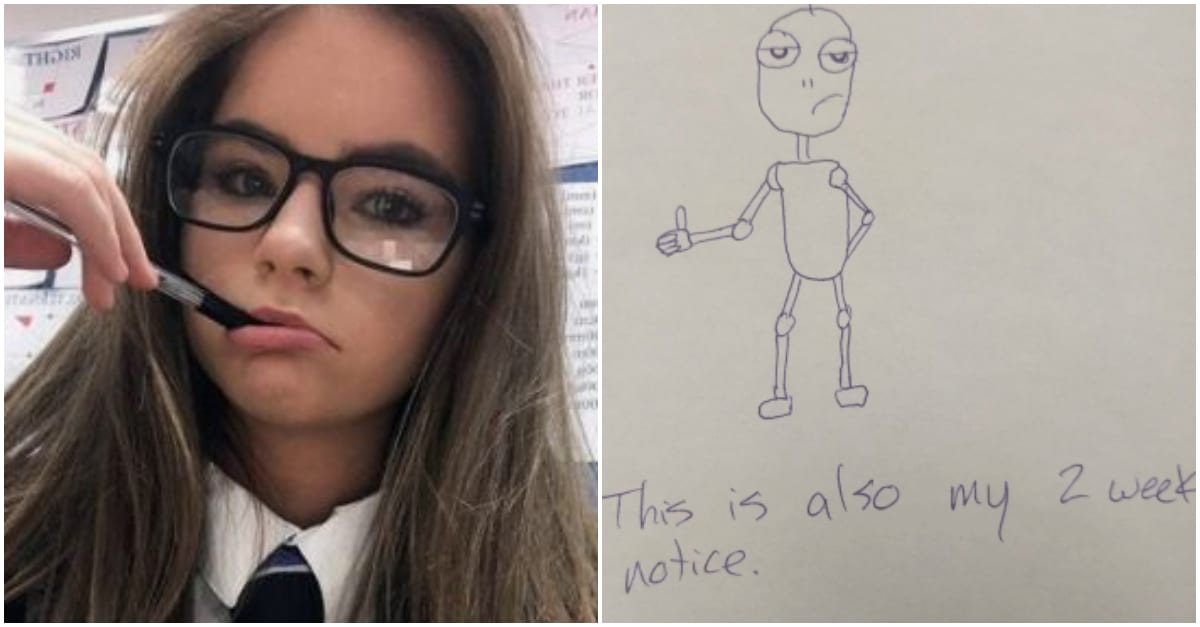 Unless you're fortunate enough to win the lottery or somehow come into a lot of money, you'll likely spend most of your life working. That can be pretty depressing to think about, especially when you consider how many years that probably covers. However, if you have a job that you love, it's not the end of the world. After all, while you might still have bad days, at least you're doing something that makes you happy. That's what these people thought, which is why they decided to hand in their resignation and get a new job. Of course, they didn't just give in any old letter when they quit. These employees all decided to get creative, and the results are hilarious.
Mic drop
Nowadays, whenever someone wants to punctuate what they're saying with some sass, they drop the mic and walk away. Unfortunately, you can't really do that when you're writing a resignation letter, although this person did their best.
In place of a real mic drop, she drew a picture of it, along with the revelation that she was leaving in two weeks. We hope her boss was impressed by the way she decided to resign because we certainly are.
Not bothered
It seems this employee was pushed to the absolute extreme since he ended up committing a crime when it came to resigning.  Spraying graffiti all over his boss' car, with the words "I quit" were heard loud and clear.
The spray-painted words were written all over the car, with some much worse than others. We wouldn't have liked to have been this guy when he rocked up to get into his car – and it must have cost some money too. Ouch!
Retaliation
When this employee was sent an email from his boss stating that he had been given a warning for his behavior, he decided that the only thing to do was quit. Replying to the email, he made several points that we're sure his boss never expected.
"that time I covered for your girlfriend when she had an emergency? Totally selfish of me. And let's not forget the fact that I only called out sick two times in the past 4 years… how inconsistent of me!" – It seems this boss lost a good employee here.
Check your stock
If you're in the market for a new oven, you might want to check the label before making any purchases. It's possible that a scorned employee may have left their boss a scathing resignation letter on it rather than the usual details. It's certainly an inventive way to go about quitting, although it's not necessarily super effective.
Imagine if no-one had shown any interest in this infrared oven that day. People would have wondered why the worker didn't show up for their next shift, unaware that they'd already quit. We're sure someone would have come across the resignation letter eventually though.
Just desserts
We're not sure what we're more impressed by – the fact this guy gave in his notice via a cake, or that he did it so neatly. We can barely ice a cake nicely, let alone write a whole resignation letter on one. Of course, given he was leaving the job to devote more time to his cake business, it makes sense he'd know how to decorate one properly.
We'd certainly buy some desserts from this man, especially if they taste as good as they look. It's nice to see that someone decided to put their own happiness ahead of a paycheck.
Enough is enough
This person isn't the first to feel overlooked by their boss, nor will they be the last. It can be incredibly frustrating when your employer doesn't value what you do for them, especially when they only ever point out your negative qualities. Usually, most employees just sit back and take it because they need the job.
However, this worker decided that enough was enough and handed in their notice. They wrote a resignation letter highlighting every way their boss was wrong about their work ethic, then revealed they were never coming back. Hopefully, they'll get more appreciation at their next job.
In loving memory
If you were to receive a little pamphlet saying "In Loving Memory," you'd probably think that someone had passed away. Thankfully, that's not the case here. Nothing fatal had happened to David, he'd just decided that he was done with his job at Five Guys.
It's amazing he managed to leave on the exact same date that he started working there four years earlier. However, it's not as impressive as his dedication to the resignation, which featured both a detailed letter explaining his departure and this hilarious pamphlet. We hope his coworkers held a memorial service for their fallen employee.
Quitosaurus
Unless this person was working as an artist, it's pretty clear that their skills were going to waste. We won't pretend that we're not impressed by their dinosaur sketch, even if it seemingly has nothing to do with their desire to quit.
Of course, it's a great distraction technique for their boss who probably wasn't expecting the resignation. The picture hopefully softened the blow and assured the manager they were going on to bigger and better things.
Priorities in order
Most jobs typically have perks that make working there more bearable. Some places let you wear what you want, others are more relaxed about working hours. One thing that most companies have to reward their employees is a Christmas party.
It's a great way for everyone to celebrate the end of a long year. Apparently, the Christmas party at this person's job is so great that they still planned on attending, even though they didn't work there anymore.
Breaking the cycle
Supposedly, this person was doing their boss a favor by resigning. It seems that they'd put a lot of thought into what would happen if they continued working there, and things didn't look too good. We're not sure if this worker is psychic or if they just have an excellent understanding of cause and effect.
Either way, they didn't leave their employer much room to argue their case. That's probably what they were hoping for.
Ready for the show?
It must be torture working at a movie theater and not getting to spend your whole time checking out the latest films. You have to sell people tickets, clean up their messes, and generally stand by while everyone else has a good time.
This person obviously couldn't handle it anymore, which is why they decided to resign. Rather than just hand in a standard notice, though, they chose to advertise it to everyone coming to watch a movie.
The last hurrah
When the boss received this resignation letter, they probably weren't sure what it was at first. Unless they were a Shakespeare buff and were familiar with ye olde language, they probably didn't know what their worker was on about. They may have worked it out once the person talked about the "ends to my employment," but we wouldn't blame them if they were still confused.
With any luck, the employee cleared up any confusion later.
The briefest of goodbyes
If you choose a paper towel to write your resignation letter on, it's pretty clear you don't think much of your job. This person apparently didn't believe their boss deserved a piece of paper for their goodbyes, instead picking something that they probably found in the restroom.
We have to wonder if that's also where they penned this brief farewell. If so, we hope they were done with any other business before they wrote it.
Out of the office
When people quit their jobs, they typically approach their boss with their intentions to leave. However, this person decided for something far more informal, which may well have flown under the radar at first.
They set their office email to reply automatically revealing that not only were they not at work, but that they also wouldn't be returning. We expect several people got quite a shock when they received this as a response, the boss included.
Sorry for your loss
Usually, people write cards for birthdays, anniversaries, and other special occasions. In this instance, Alex thought it was the best way to hand in their notice at work. They hoped it would soften the blow of their departure, which they clearly thought would have an impact.
After all, they referred to their quitting as a "loss" their boss couldn't prepare for. From the looks of it, they bought this card in the condolences section of a store.
Following their example
As an employer, you're constantly setting an example for others to follow. So, if you fail to turn up to work on time without any advance notice, everyone else will probably follow suit. Joe got so fed up of it happening that they decided to go one step further and not show up at all.
It may well have cost them their job, but they knew their boss only had themselves to blame for that.
Protecting the kingdom
Of all the reasons people have given for leaving their job, this is undoubtedly one of the most outlandish. We're not sure who Uther is or why the Burning Legion want "the light," but we understand that someone needs to help the broken realm.
This certainly wasn't a cover for the fact this employee was quitting because their boss wouldn't give them time off. We can only hope that they were successful in their quest.
The silence says volumes
Writing a resignation letter is actually a lot harder than it looks. You want to sum up everything you're feeling and leave in a dignified way, but you also want to quit your job in a blaze of glory. Apparently, this person got so stumped when writing their letter that they simply left their boss with the words "I quit."
In a way, the blank space probably says a lot about how much they liked the job.
Pushed too far
Even the nicest person in the world will snap when they're pushed too far. Different people have different thresholds for what they can deal with, and this worker hit theirs thanks to a fellow employee. It seems their coworker attacked them after having too much to drink, and the boss refused to punish them accordingly.
As a result, the person quit and left everyone else in the lurch. We can't say we blame them to be honest.
Smell ya later
It's always a good idea to make a strong impression wherever you work. As long as it's a positive one, it's bound to help you go far. We're not sure if this guy did that while he was at his job, but he certainly did once he left.
It's unlikely that his boss had ever received a framed photo as a resignation letter, especially one that looked like this. It was definitely thinking outside of the box.
Leave it to the internet
Most of the time, Reddit can be a very dangerous place to go. However, this user found it was actually incredibly useful when it came time to craft their resignation letter. They left the internet with the responsibility of writing their goodbyes, and TacoTweets came up with quite an intriguing response.
It started off perfectly normal before throwing the reader into the realm of science fiction. We hope this is what was actually handed in as the worker's notice.
Thrown under the bus
We're not sure where this person used to work, but it clearly isn't somewhere with an excellent reputation. After all, if everything they wrote is to be believed, then it sounds like a terrible company. The employee is best off being as far away from there as possible.
Of course, that didn't stop them from asking for a reference after throwing their coworkers under the bus. Something tells us that their boss' answer was no!
Life comes first
Life has a habit of messing things up. It certainly did for this person who had to take time away from their job for a relative's passing and their own unexpected illness. As much as they didn't want to miss work, they couldn't really help it.
Unfortunately, their boss didn't care about that. Rather than putting their employees first, the only thing they valued was their business. In the end, they were the one that paid the price.
The job is in another castle
Imagine being so skilled as a computer programmer that you can actually use Mario to help you quit a job. That's apparently what this person did. They adapted Super Mario Bros. into their own resignation letter, with the words "I Quit!" popping up every time the character got a mushroom.
It was a very symbolic way to say goodbye, especially with Mario walking away after the level was complete. As he left, so too did the employee.
Loud and clear
Working in a restaurant can be one of the hardest jobs, especially during the busy hours so it will come as no surprise that the industry has the highest turnover of employees around the world.
A decent salary is dependant on everyone working well and in sync to ensure that the customer leaves a tip. For this one particular staff member, it seems he was pushed way too far and so he made his resignation loud and clear!
Tastes good
If there is one way to make a resignation letter appear a little nicer then it is, it's by sending cakes along with it. The message written on the cakes is also rather sweet and very polite. Perhaps the employee was really banking on that referral letter from her previous company.
f you want to leave on a good note with no hard feelings, this is certainly the way to do, after all, "keep them sweet" is a saying for a reason.
The comedian
Resigning can be really awkward and something that most people dread (unless they have been really offended by their employer). So what better way to make an uncomfortable situation better is there, than to make it into a bit of a joke.
Mitchel's employer was obviously used to his sense of humor and so he really went for it when he announced he was leaving.
Heavy heart
This could be something that was written with a tongue-in-cheek attitude, or it could just be that the said employer is a rather eloquent one.
This store associate really went that one (or ten) steps further from the usual resignation letters which consist of s few sentences. This letter actually looks like something that could have been written in a magical land, far, far away.
Out with the old
While most resignation letters come from employees, this one was apparently crafted by the office printer who was bidding farewell after 14 years. Most companies rely on modern technology to get their jobs done quicker, which means once things stop working, they no longer have a use for them.
While this printer may have been around for over a decade, it was time for them to bow out and make way for a newer model. Goodnight, sweet prince.