56-year-old Annette Poitras, a dog walker, is well-known in her neighborhood of the suburban city of Coquitlam, in the Lower Mainland of British Columbia in Canada. She was out walking her three dogs in the Canadian woods of Eagle Mountain on an average November day when the weather turned hazardous and things took a turn for the worst.
Typical Day
56-year-old Annette Poitras earned a reputation in her neighborhood for her passion for dog walking, which she turned into a vocation. She was very familiar with the neighboring hiking trails, particularly those around Coquitlam's Eagle Mountain, and she would walk her dogs there on a daily basis. Long hikes were healthy for both her and the dogs.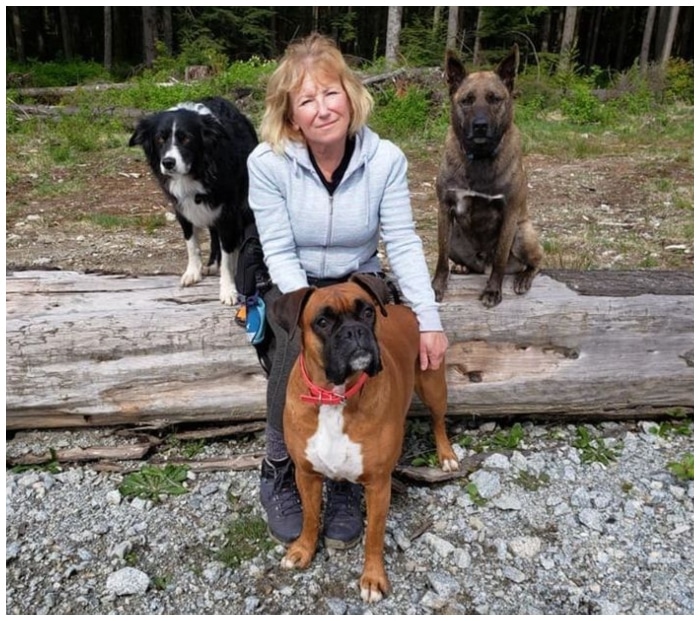 However, one day things went differently. Monday, November 20 began like any other morning, with Annette heading out to Eagle Mountain with her three dogs, but things were about to change. She would never have thought what was about to happen to her.
Heading Out
She went for a walk with three dogs: hers, a Collie named Chloe, and two of her clients' dogs, a Puggle named Bubba and a Boxer named Roxy, as she did virtually every other day. Annette said her goodbyes to her husband Marcel before walking out the door on her walk.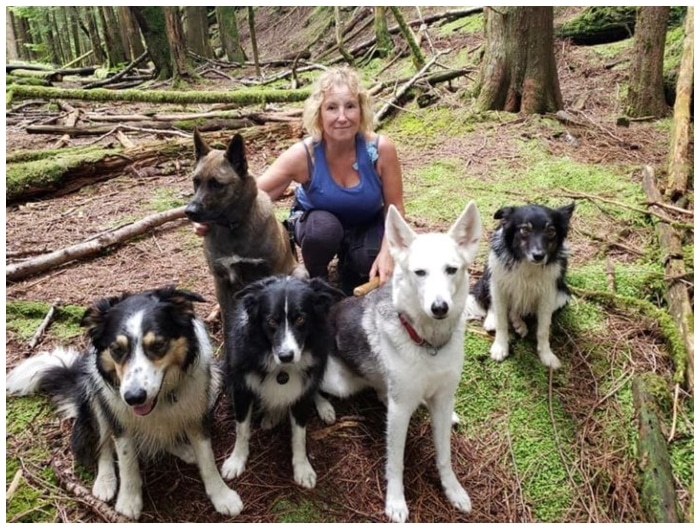 The dog walker only intended to be gone for about an hour, and she didn't tell her husband where she was going, because there was no need. When she didn't return home after a long time, her husband became concerned. What is it that is taking her so long?
Stormy Weather
Time seemed to be moving slowly for Annette's husband Marcel, and it was getting dark outside. But Annette had yet to return home, and he was growing increasingly concerned. He could not stop wondering where she was and why she was taking so long.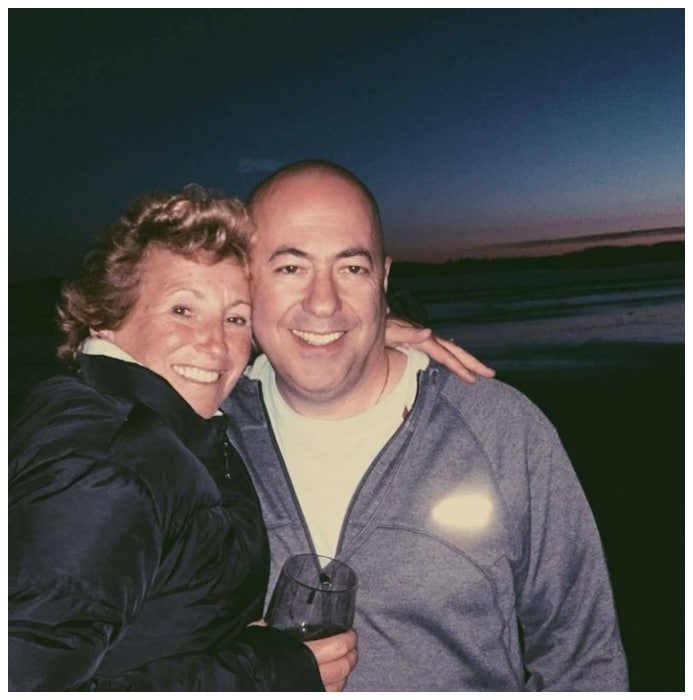 His worries were then exacerbated when the weather turned bad and a typhoon known as Pineapple Express blew in, dumping tremendous amounts of rain. His wife was still out there, and the weather was stormy and dark—no one could be safe in those extreme conditions. What had happened to Annette that she had not returned home?
Concerned Husband
So, when she had not returned home by the evening, Marcel went to the area where she normally walked and discovered something that could lead him to her location: her van. The van, however, was empty, and Annette was nowhere to be seen. Marcel started getting anxious and extremely preoccupied, so he decided it was time to ask for help.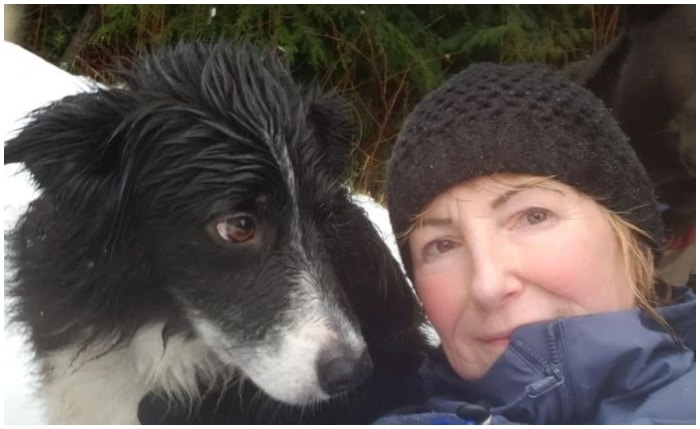 Marcel got in touch with the authorities after not hearing from his wife and discovering her empty van. He informed them that Annette had not come back home after her stroll earlier that day and that she had gone missing.
Search and Rescue
The Coquitlam Search and Rescue Team (SAR) and the Royal Mounted Police devised a plan. Marcel did his best to assist in the search, telling them about the places she frequented, but there was only so much he could do—the wilderness was vast, and there was no way to narrow down the search.
They were on the lookout for anything, including a cellphone, clothing, and dog leashes. However, they came up empty-handed. Worse yet, the storm was intensifying and Annette had yet to communicate. The dog walker, as well as the dogs, did not appear to be in excellent shape.
Sound Sweep
SAR established a command center on Westwood Plateau after getting a call from the worried spouse. They were ready to begin the search, and they needed to move fast because the region surrounding the plateau was densely forested, and night time was approaching.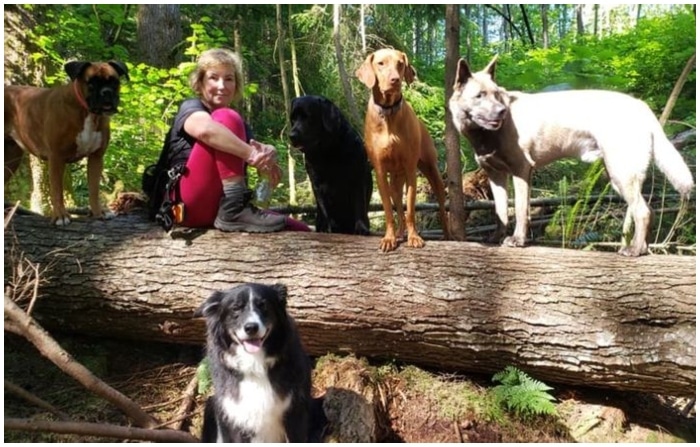 As a result, SAR began their search with a "sound sweep," in which whistles were used to produce noise in the hopes of attracting the attention of the dog walker or the dogs. They also deployed Royal Canadian Mounted Police search dogs. However, after the first night, Annette and the pets were still not found. Time was pressing.
Continuing the Search
On day two, the SAR crew continued their search in the daylight. However, they would want additional manpower because the storm had worsened, making it difficult to hear the whistles. Over 100 rescuers had been involved by this point, and it was time to ramp up the search using helicopters.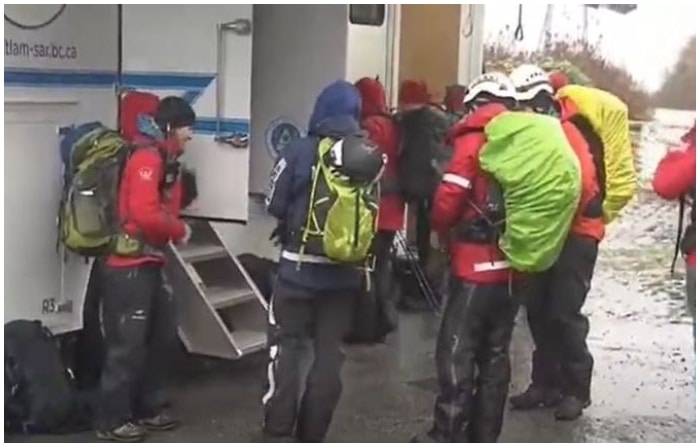 The search and rescue team was becoming weary, and the inclement weather did not help matters. Annette had been missing for 24 hours and there had been no news from her. But they were not going down without a fight. It was up to them to save Annette's life.
Increasing Manpower
The Coquitlam Search and Rescue Team combed Eagle Mountain for every known and newly discovered hiking trail. They had over 100 rescuers and helicopters available and were now concentrating their efforts in the air and on the ground.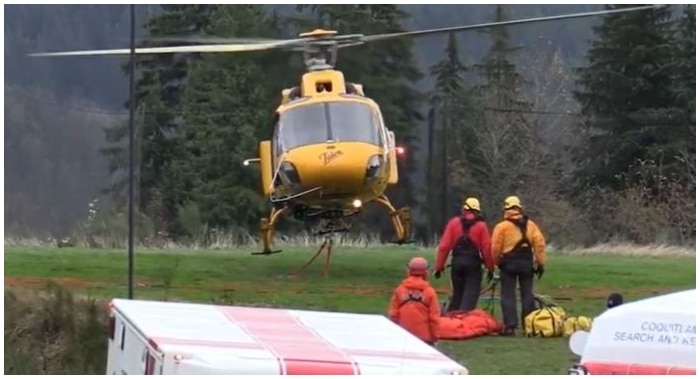 While search and rescuers searched the area on foot for Annette, an Air One police helicopter used a thermal imaging camera to scan the area from the air, hoping to detect body heat from Annette or the dogs. The bad weather made it difficult and dangerous even for the rescue teams themselves but they did not want to give up on her.
Sky and Land
However, the Air One police chopper returned empty-handed. The tree cover was too dense, and the storm wasn't going to let up anytime soon, so the helicopters couldn't pick up anything. They couldn't find any heat sources in Annette or the dogs. The odds were stacked against us, and the situation was only becoming worse as time went on.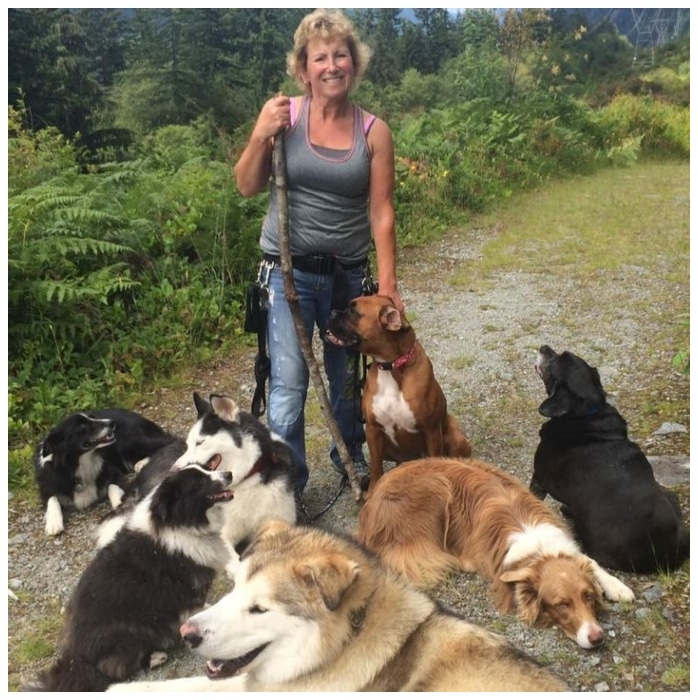 Despite the fact that this was a major setback, the search and rescue crew was not about to quit. They were not going to stop looking for the dog walker and the three dogs until they found them alive or not.
Nighttime
Rescuers had no choice but to postpone the search until the next morning as the second day drew to a close and the sky darkened. The weather was becoming more dangerous, and the terrain was rough, putting the search and rescue team in jeopardy.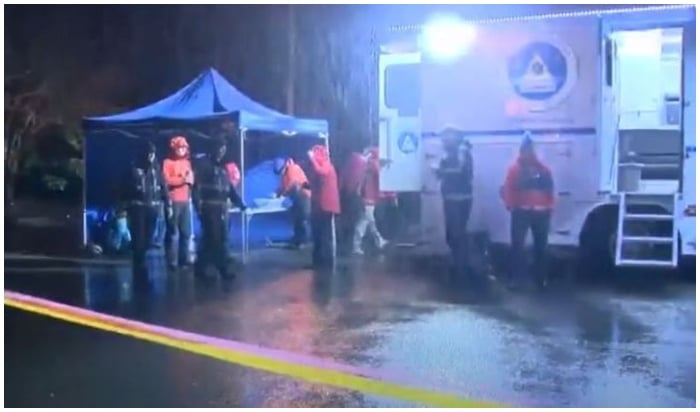 It was tough not to give up hope when the conditions were too bad to continue the search. What would Annette's condition be if she was discovered? It was bitterly cold, and the rain wasn't going to let up any time soon. Nevertheless, they were about to receive information that would drastically alter the rescue mission.
Helpful Tip
Annette had been absent for two days, and the dog walker's situation was dismal. She was at risk of dehydration and hypothermia, among other things. But then the search team and the police got some helpful advice that helped them narrow down the rescue mission.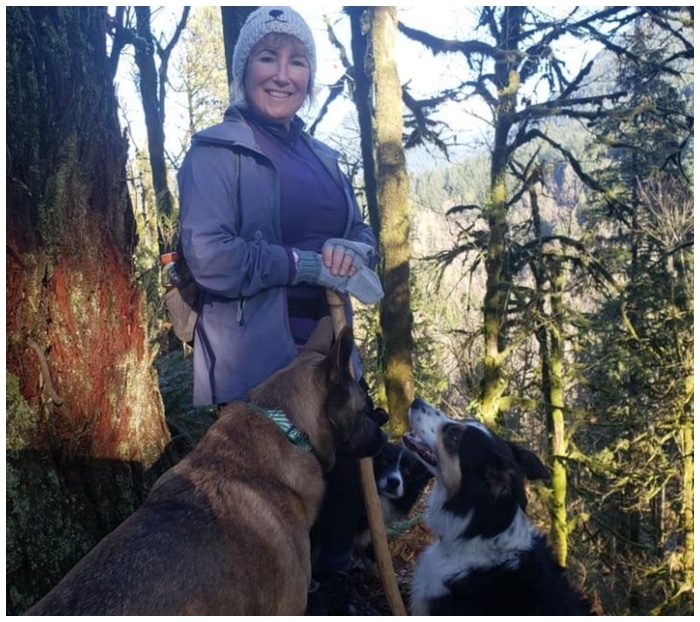 On a Monday afternoon, while traveling through the mountains, a man named Marc Herr pulled over to smoke a cigarette and happened to see Annette! He did not think much of it at the moment; after all, she was simply a dog walker strolling her three dogs, and nothing seemed unusual. So, what went wrong?
Making the News
Herr learnt of Annette's disappearance while watching the news the next day, and he recognized her. It was the woman he had seen yesterday in the woods. She was not just a woman out walking her dogs; she had gone missing and was in danger. Herr told CTV Vancouver, "I saw it on the news and [thought] oh my god, I had seen her and the dogs."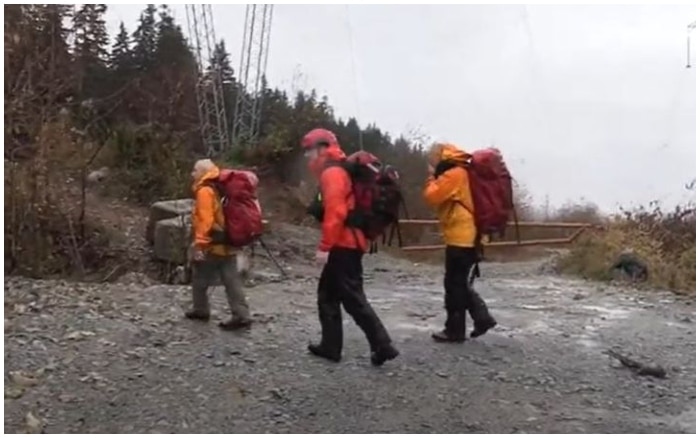 As a result, Herr contacted authorities right away to let them know about it. The tip helped them limit down the search region, but it was still a huge one with dangerous conditions.
Narrowing the Search
Nonetheless, that was not the only piece of information the rescuers had. When he first reported a missing person, Annette's husband told them that his wife carried a cellphone with her at all times.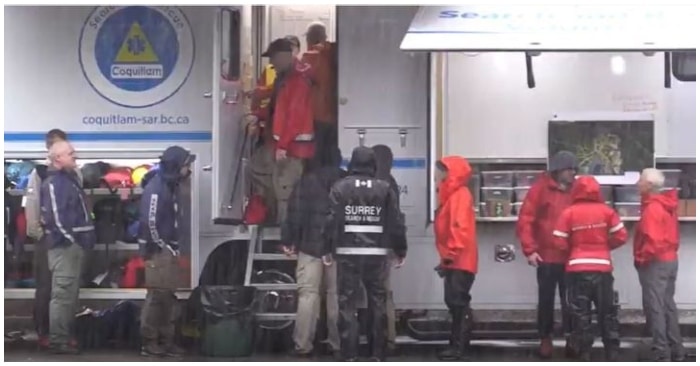 The Royal Mounted Police was able to trace her cellphone and quickly discovered that it was connected to a cell tower on Burke Mountain, which also helped investigators narrow down their search. There was still a lot of ground to cover, but they had a clearer notion of where Annette and the dogs might be thanks to these helpful hints. Things were finally beginning to improve.
300 Search and Rescuers
Annette had been missing for three days at this point, and on the third day, they added another helicopter and two more SAR dogs to the search. Over 300 search and rescue workers were involved in the operation to find Annette and her dogs over the course of 72 hours. Around 100 people were participating in the operation on Wednesday, and they were about to get a significant break.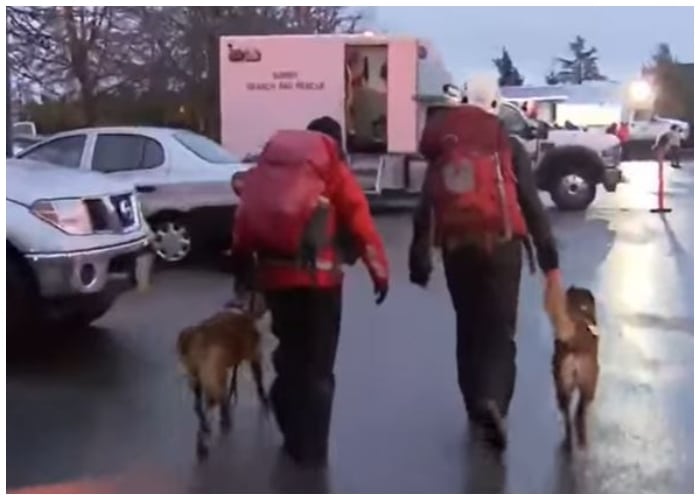 They decided to venture out a few extra miles during one of the whistle sweeps, and that is when they got a reaction. Someone replied to the sound. Could that be Annette?
Cry for Help
During a routine sound sweep at 11 a.m. on Wednesday, the SAR crew finally heard a response. They heard shouts for aid and loud barking in the distance. "We heard a big yell right away," volunteer Aidon Pyne told CTV Vancouver. "It changed from just working hard with my nose down to cheering and going over to help people."
They had no idea what to expect now that they had made contact with the dog walker because they were unaware of her health conditions. Nothing could have prepared them for what was going to unfold in front of them.
A Bad Fall
Now that we have discussed Marcel and the SAR team's ordeal, let's return to Monday, when Annette went for her regular dog walk. What could have gone wrong, exactly?
The storm started while Annette was waking up Chloe, Roxy, and Bubba, and she ended up stumbling on a log, as everything was wet and slippery.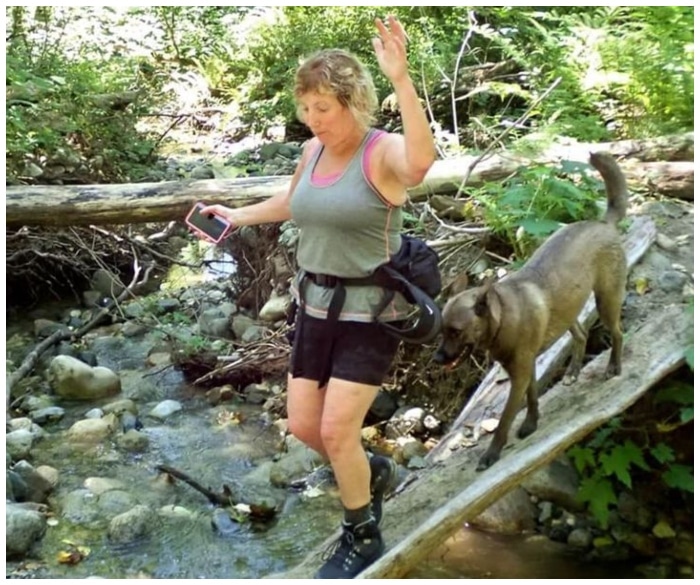 It wasn't just any slip, though—she couldn't get up. The experienced dog walker had landed so hard that she hit her head and was knocked out. A concussion is a brain injury that can cause unconsciousness. We can't imagine how terrifying that must have been!
Blacking Out
She had no clue how long she had been out when she awoke, and she couldn't find her phone or gloves. She had slept all night and it was no longer dark outside—it was now light out. Annette was disoriented and had trouble moving, but the first thing she did when she awoke was check on all of her pets.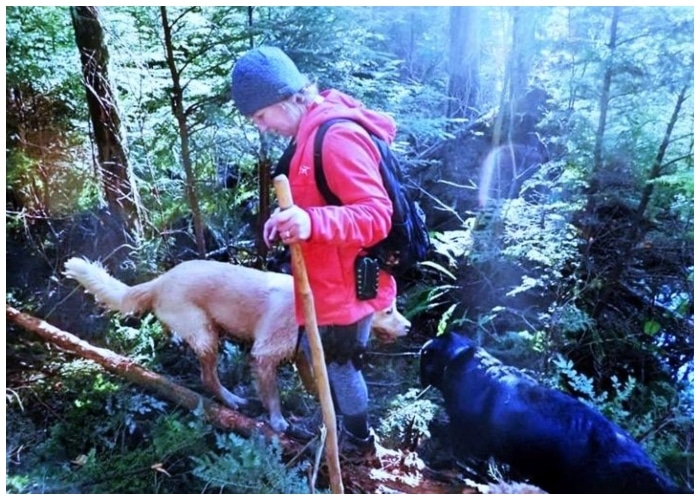 That's when she realized one of the dogs, as well as her phone, had vanished. She didn't know what time it was or how long she'd been out. But she knew she couldn't leave until the lost dog was recovered.
Lost Dog
Annette went in search of the dog, but she was hurt and had trouble moving after the fall. She eventually discovered the dog, but the weather had deteriorated to the point that she couldn't continue. Annette was hungry and exhausted, and she didn't have the stamina to keep running.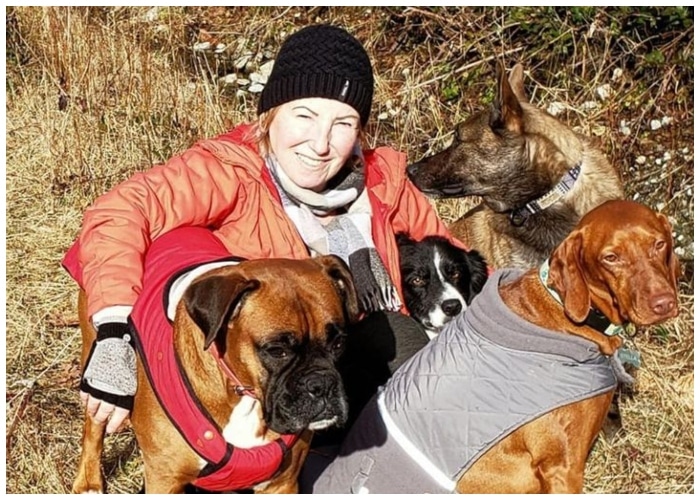 Worse, she hadn't brought any supplies with her because she assumed this would be a routine walk. She didn't expect to be gone for more than an hour. While she was chilled from the rain, the dogs were also in distress. They had to keep together if they wanted to survive.
Help is On the Way
But we have to question if Annette heard the search and rescue team calling her name or saw the helicopters in the sky during her three days in Eagle Mountain. Late on Monday, her first night in the forest and the commencement of the search, she saw several helicopters flying above her and waved her jacket in the air, hoping to attract their attention. But she failed.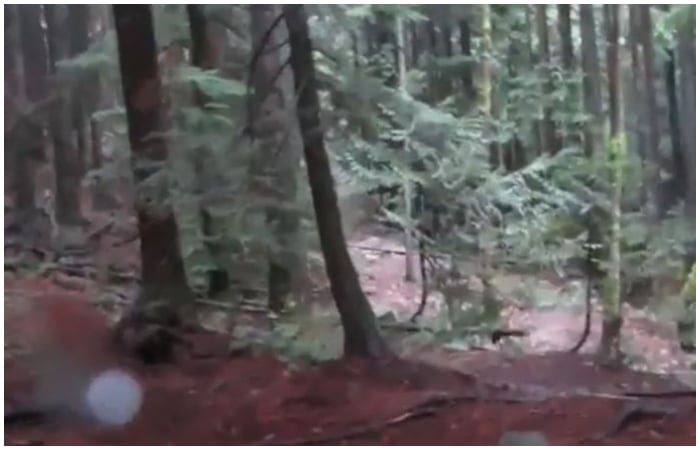 The rescuers were unable to spot her due to the dense bushes and trees of the forest. Because the vegetation was too packed, the helicopters were not able to detect any body heat.
Giving Up Hope
However, Annette heard people calling out her name in the distance on the third day and Roxy started barking loudly, alerting the searchers to their location. It could not have come at a better time because the dog walker did not think she could survive another night in the Canadian wilderness.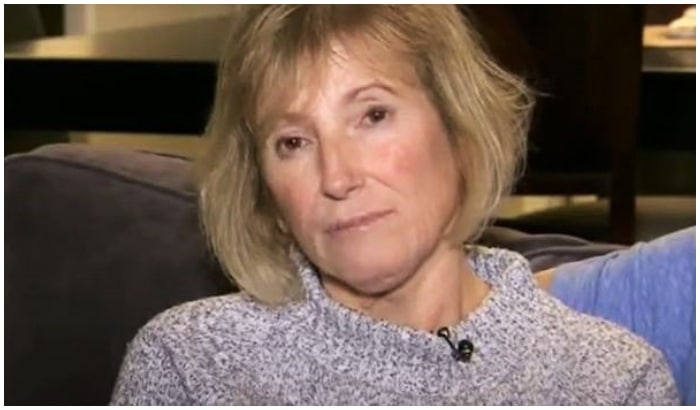 She was completely out of energy because of no food and enough water. Her body was about to give up on her. "If I had to spend one more night, I did not think I was going to make it. I really did not," Annette told Tri-City News reporters.
Off-Limits Area
The search and rescue crew was finally able to pin down the location once Annette reacted and the dogs began barking eagerly. They discovered her in a swampy basin, far north of where she had been reported missing on Monday afternoon. That area was regarded off-limits to dog walkers and hikers.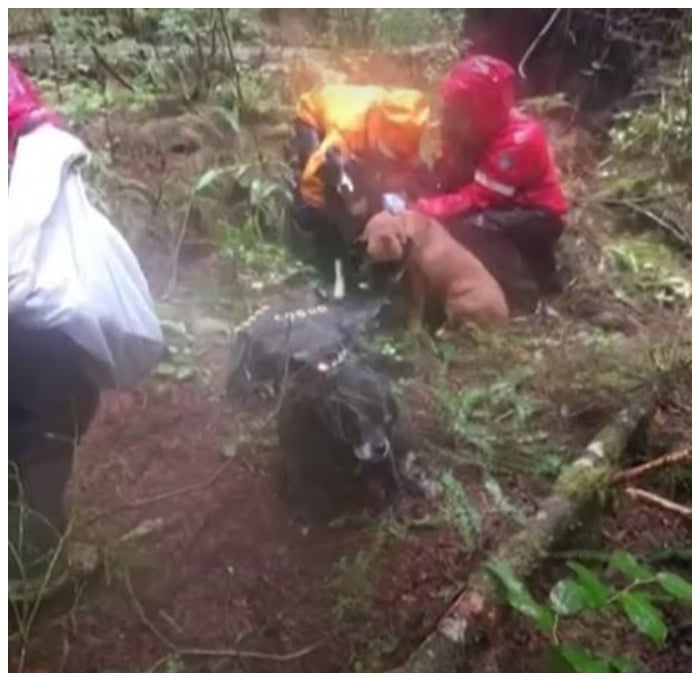 When the rescuers finally located her, they could not believe their eyes when they spotted the dog walker and her three dogs laying in a pit. Annette was covered in mud and looked very tired. The dogs faithfully stood by her and gave her comfort during the scary nights.
Survival Skills
Annette had received a survival tip from one of the dogs. "She realized one of the dogs was constructing a ditch to sleep in," Marcel told Global News. "[The undergrowth] is naturally spongy and soaks up a lot of water." So she started cleaning aside the brush and debris so she could access the dirt and dig a tiny well for herself to rest in. She learned how to do tricks from the dogs."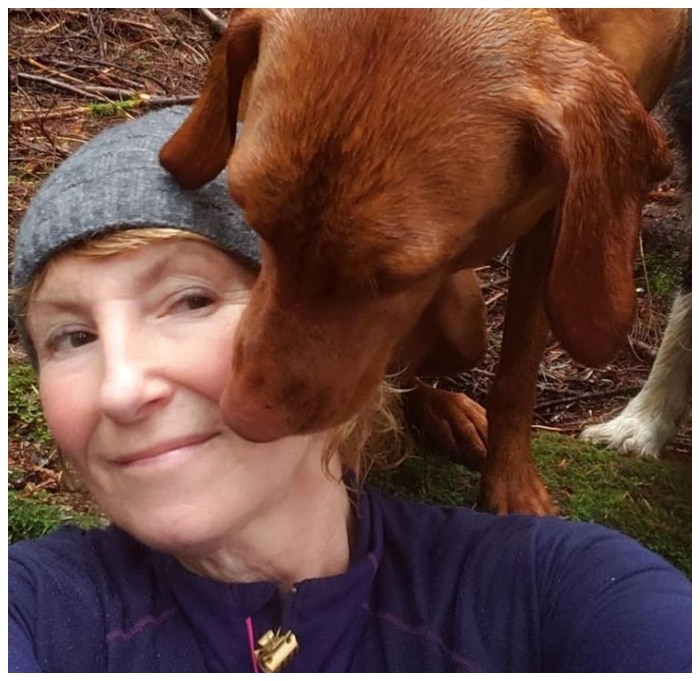 What a fantastic idea! This is most likely the reason why she managed to stay alive for three days and two nights in the freezing rain.
Working as a Team
Annette and the three dogs did everything they could to keep each other safe during their three day nightmare in Eagle Mountain—they looked after each other. Annette even offered Roxie, the Boxer, her coat to keep her warm. This was the oldest dog of the bunch and was suffering from the cold.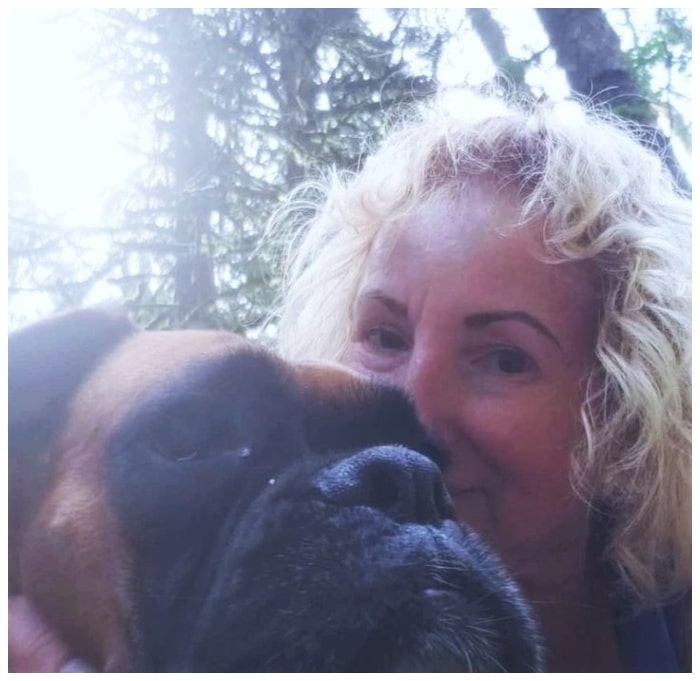 "The short-haired boxer, [Roxy], was cold at one point last night—when it was heavy rain—so [Annette] took off one of her rain jackets to place over the dog." "It's to keep it warm," Marcel told Global News to the interviewers. They succeeded in surviving thanks to team work!
Keeping Each Other Safe
While Annette was caring for the dogs, they were also assisting her in staying safe. The dogs stayed by her side the entire time, making sure she was secure. Marcel told Global News reporters, "One of the pups was cuddling [her], another one was alert and on watch, and the other one was seeking for food nearby."
While Annette and the three dogs had managed to survive till now, it was time for the rescuers to step in and remove them out of the woods. They needed immediate medical assistance and their families were eager to finally reunite with them.
First Aid
Thankfully, Annette was conscious and talking when the rescuers found her. They saw that she had slipped and received minor injuries that kept her from completing the walk with her dogs. The mystery of why she went missing was finally solved.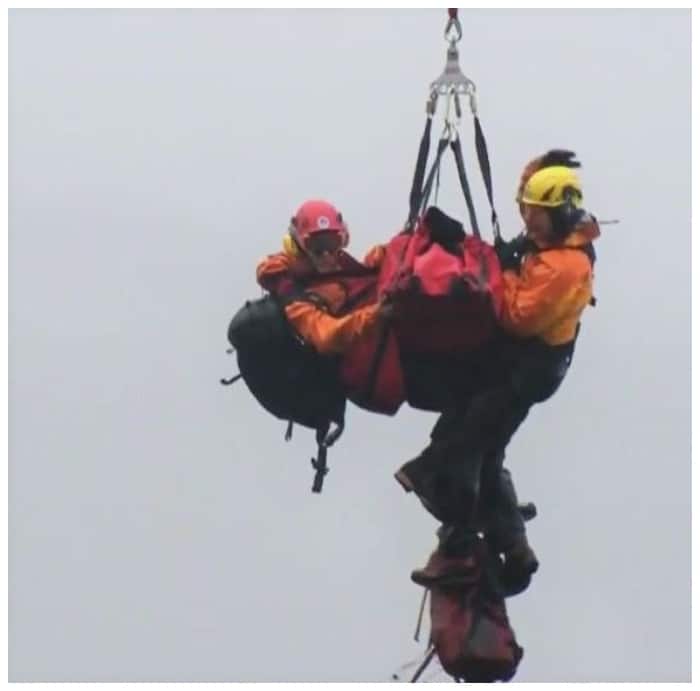 However, even though she had been located, they would have to wait a bit longer to retrieve her out of there safely. The helicopters had yet to arrive to lift her up and fly her to a hospital. Meanwhile, the SAR team provided her with dry clothing and first medical assistance. Annette Poitras' horror was coming to an end.
Life-Saving Operation
Teams prepared for a helicopter longline rescue to retrieve her and deliver her to safety around midday. On a golf course at Westwood Plateau Golf and Country Club in Coquitlam, excited neighbors and members of the media gathered to observe the rescue. Annette's husband Marcel, as well as his brothers Andre and Gerry, arrived to witness the life-saving procedure.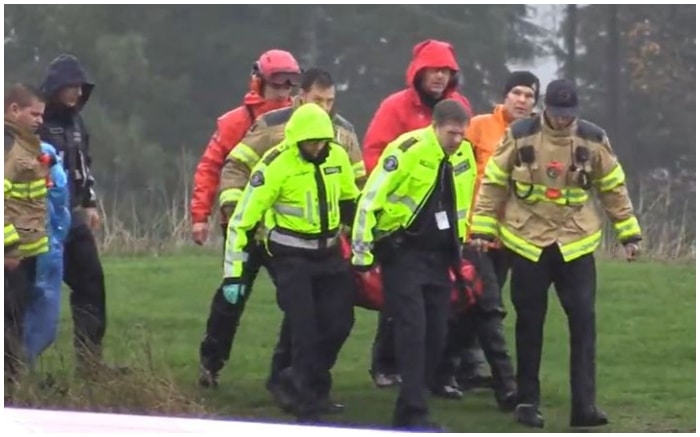 As the chopper lifted off, strong winds and heavy rain blew in, but Annette reappeared 20 minutes later, hanging from the cable in a special stretcher before being taken to the hospital by ambulance. But, what happened to the three dogs?
Bubba, Chloe, and Roxy
After Annette had been rescued, there was only one thing left to achieve: rescue the three dogs who had assisted in her survival! Two more chopper trips were required to remove the dogs from the woods. Bubba the Puggle was the first to be saved, followed by Chloe the Border Collie and Roxy the Boxer.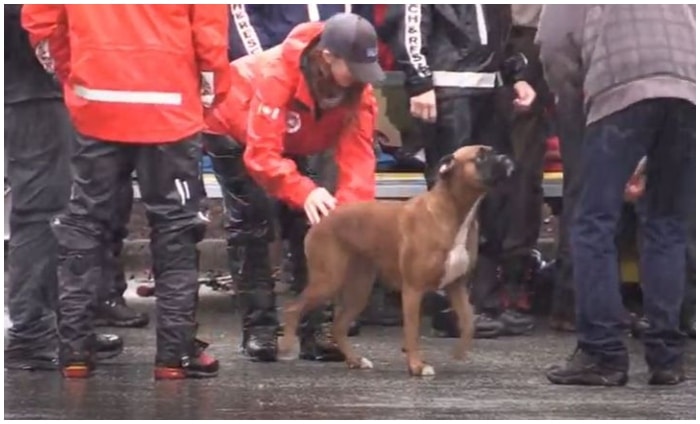 Annette and the dogs escaped with only minor injuries. It was no less of a miracle that they were all alive after being lost in the bush for three long days in the middle of a pineapple express event. Now it was time to heal.
Happy Reunion
The dogs were eventually reunited with their frightened owners, who were endlessly grateful beyond words for Annette's efforts to keep them alive and safe during the storm. Janet Kilberg, one of the dog owners, told CTV Vancouver, "I truly appreciate everything that has been done and all the efforts." "Annette is a wonderful friend of mine, and I wish her well. I hope she is able to resume walking soon, because all the dogs adore her."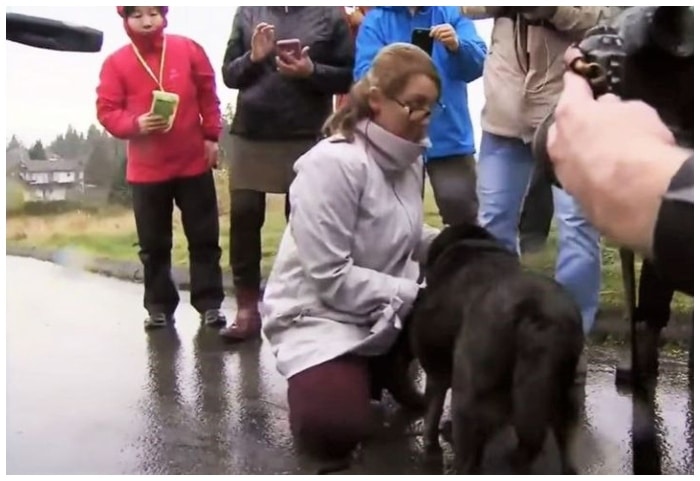 Tina Presley, Bubba's dog owner, told the news organization that Annette is "a dog whisperer," and that "you see the love in her eyes."
Keeping Hope
Did Annette's husband Marcel ever lose faith that his wife would return home? No, he never gave up hope that she would be discovered alive. When asked, he told the Vancouver Sun, "She is a tough cookie." "I had a feeling. There was never a doubt in my mind." While the circumstances were difficult, Marcel had a gut feeling that she would be returning home the day she was rescued.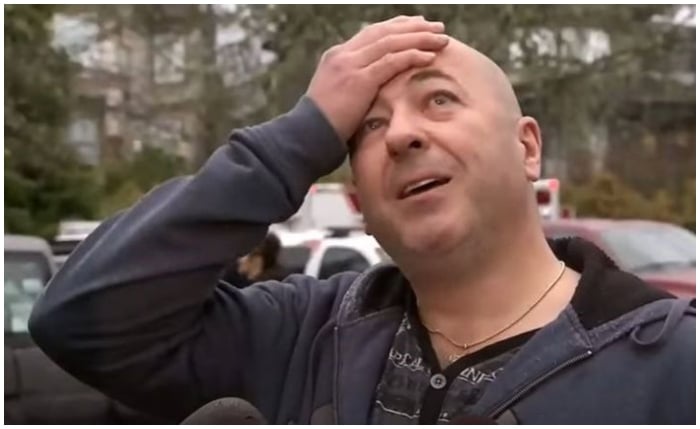 "Here, I have had a few dark days. [However], when I awoke this morning, I knew she was coming home today "CBC News received the information from the happy spouse.
Giving Thanks
Without the help from 300 search and rescue workers who spent three long days relentlessly hunting for Annette, this joyful ending would not have been possible whatsoever. Annette thanked them from the bottom of her heart for their hard work and devotion right after she was released from the hospital.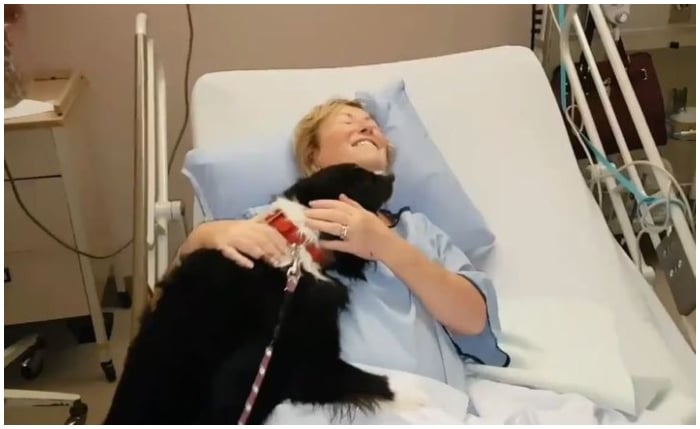 "I would like to express my gratitude to the first responders. Search and rescue everybody in the community, just strangers. I am simply grateful to be alive." She told CBC News after leaving the hospital, "I'm just so pleased." The brave dog walker was finally going home to her husband.
Nightmare Experience
Annette is still haunted by the events of November of that year, and sometimes experiences nightmares. She made a full recovery and has resumed walking dogs.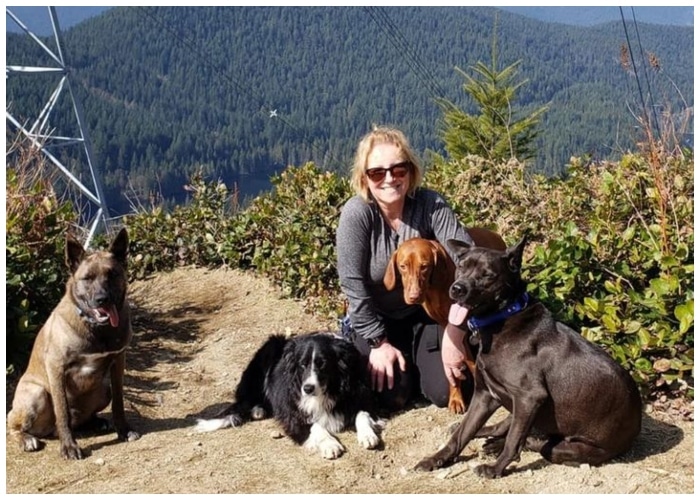 Annette cobbled together a 130-page account of the ordeal with the help of her husband and author Anne Bruinn, titled Three Dog Nights: The Search and Rescue of Annette Poitras. Some of the book's revenues were donated to the Coquitlam Search and Rescue organization.
Local Celebrity
Annette's story reached the news and went viral. She has since become a local celebrity in her hometown. Everybody knows her as "The dog walker."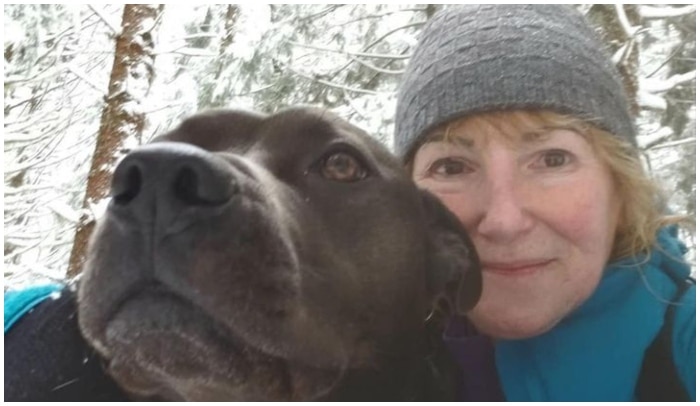 Annette can no longer run errands or take her dogs for walks on the trails without being stopped. They want to congratulate her for her bravery and resilience. The dog walker told The Tri-City News, "People come up to me and want to hug me."
Being Prepared
Despite Annette becoming a local celebrity, she hopes that her story will serve as an example to teach others the value of being prepared when exploring nature. The weather can change in a second, and it is critical to be prepared for any eventuality while trekking.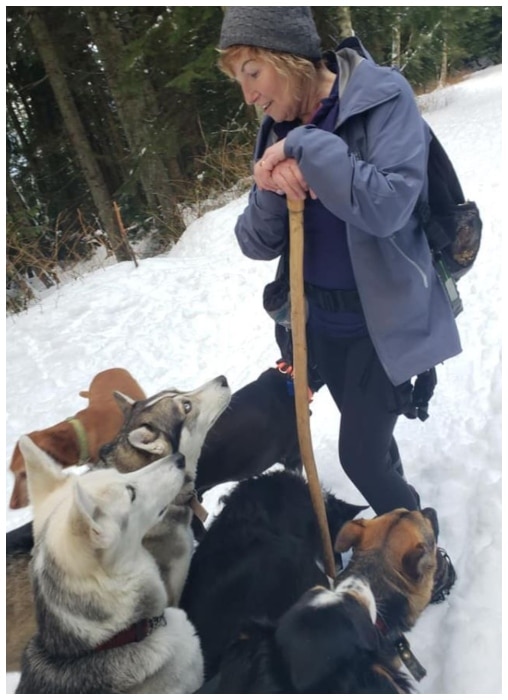 "Anyone could be affected. The dog walker told Tri-City News that "many can benefit from my experience and be more prepared in the bush."
Happy Ending
Annette Poitras went on a hike with three dogs in November, but things rapidly turned sour when she did not return home.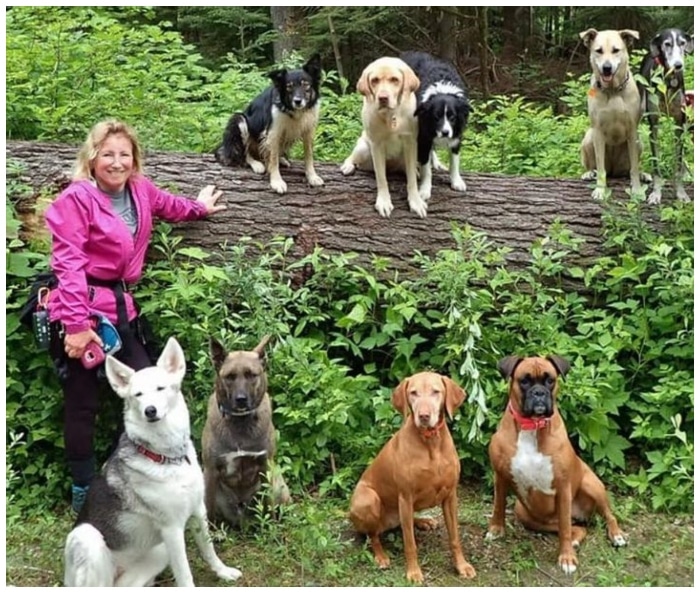 The Coquitlam Search and Rescue team put in numerous hours and effort over three days to locate her. If there is anything you can take away from this, it is to always notify someone where you are going and to always be prepared when going on a hike.
Another Incredible Rescue Story:
Bus Driver Has a Gut Feeling About a Toddler on The Bus and Takes Action
Every week, bus drivers see hundreds of passengers. While some appear to be joyful, others seem a little depressed. Some people appear to be always in a rush, while others appear to be distracted and lost. Tim Watson, a Santa Clara Valley Transportation Authority bus driver, had a suspicious about the calm young guy cradling a child tightly in his arms.
A Day in the Life of a Bus Driver
Tim Watson is the type of bus driver that observes the passengers boarding and disembarking from his bus. He's gotten to know his frequent riders over the years. He's familiar with their drop-off locations and has been accustomed to their regular schedules. Some of them had even grown to be friends with him.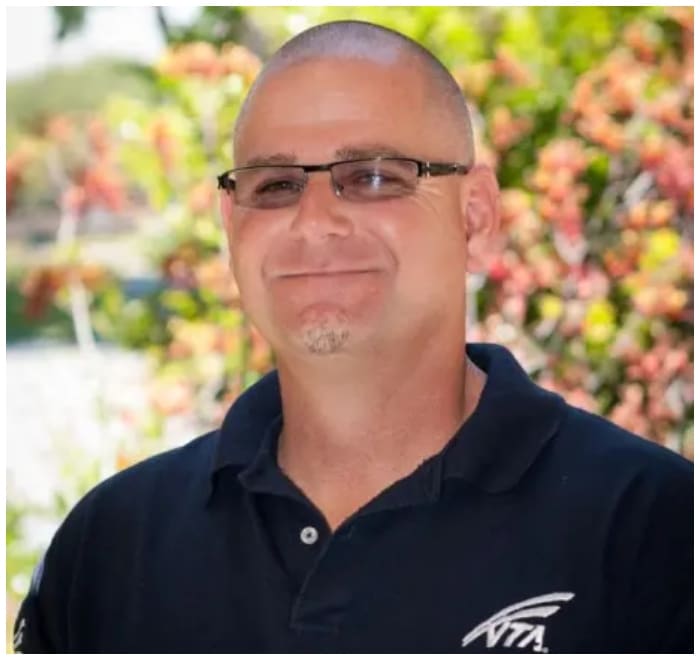 They normally have a quick talk when they get on and off the bus. Tim frequently tells them things like "take care" and "enjoy your day." They would hope for his safety on the road in exchange. Every day has been the same until one particular morning.
First-time Passengers
Tim was driving his usual route on that fateful day. The day was going well, and he was doing everything he could to keep things running smoothly. Then a guy and a kid boarded his bus at one of the bus stops.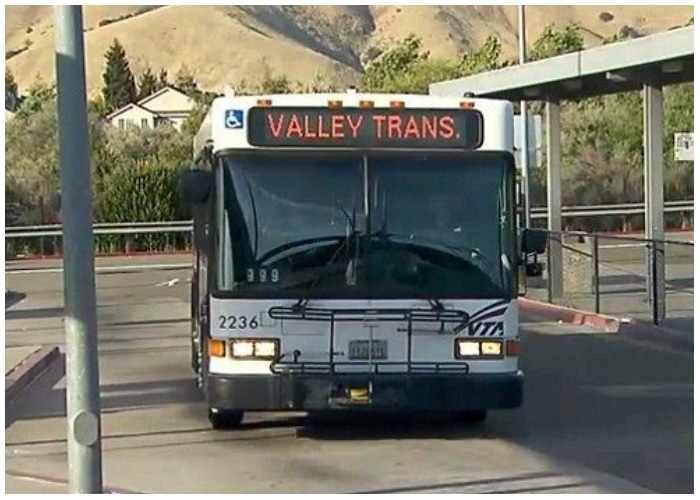 Tim was certain they were not one of his regulars because he didn't recognize them from the previous bus rides. The man appeared to be in his twenties and appeared to be inattentive. He was visibly restraining the little boy who was definitely not in the mood as they took a seat in the middle of the bus.
Unusual Tantrums
When this small boy boarded the bus with a young man, the young boy began to sob. It's not uncommon for children to hop on a bus in the middle of a temper tantrum, which Tim has seen many times.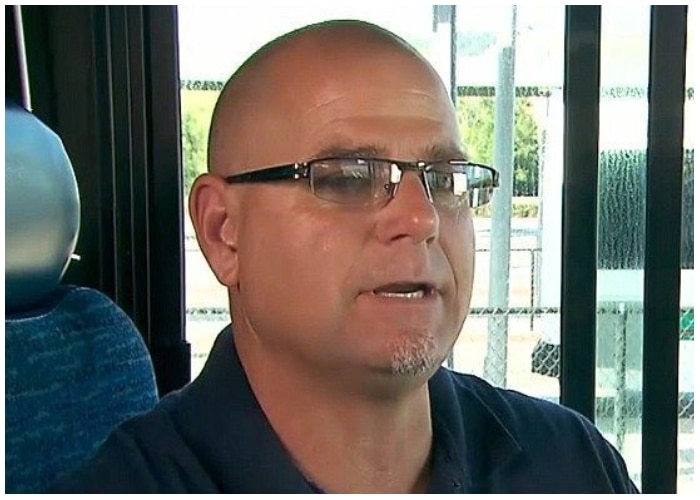 The bus driver, on the other hand, thought the little boy's crying wasn't average of a temper tantrum that day. His eyes were filled with apprehension. It wasn't the typical way a child would react with a family member, even in the middle of a temper tantrum. It was enough to make this bus driver tap into his paternal instincts.
Odd Feeling
Tim could not help himself to stare at the new passengers from time to time, no matter how hard he tried. Despite the man's commands, the tiny kid continued to weep inconsolably. The man appeared to be pushing the child to sleep or remain quiet.
Tim's checking on his passengers in his rearview mirror was not the norm. However, something in his gut was compelling him to pay attention to these two. The father of two had a peculiar feeling, but he could not put his finger on it right away. But something drew his attention as he looked again.
Remembering the News
Tim suddenly grasped where his gut instinct was coming from as he looked back in his rearview mirror. He recalled the missing persons story he had read earlier in the day. It all started to come back to him.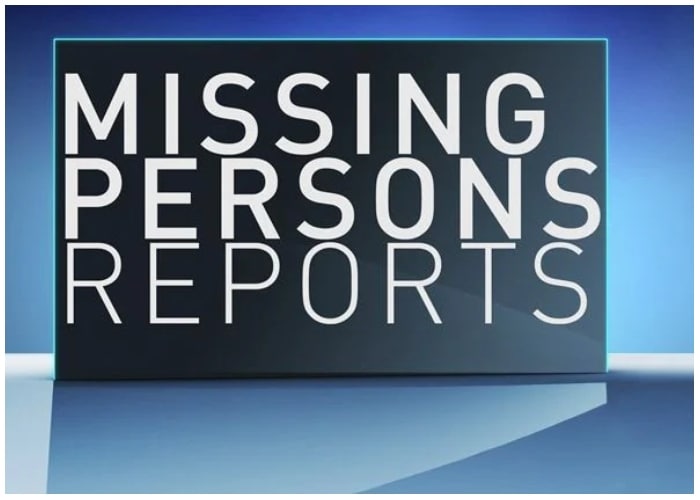 A three-year-old kid was reported missing from a library in San Francisco, according to the newspaper. Tim struggled to recall the rest of the information he had read. In his mind, a suspicion was rapidly forming. He tensed up and started calculating the possible courses of actions in his mind. He was the only one in the bus with this knowledge.
Helpful Description
Tim, who is the father of two young kids, was convinced that his instincts were telling him something was terribly wrong. It was possible that the little boy on his bus was the one the police were looking for. He was aware, though, that he could be mistaken.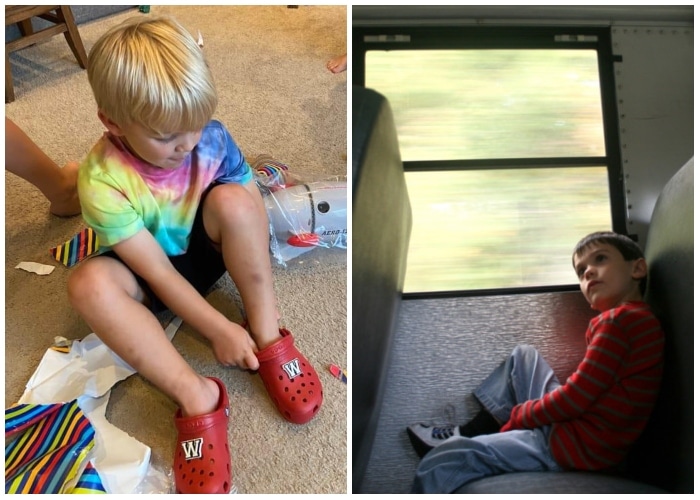 So he tried to recall the other important details from the missing-persons report. He was fortunate in that his memory cooperated and some details came back to him. The three-year-old child was last seen at the library wearing a blue shirt, checkered shorts, and red Crocs. He needed to corroborate this somehow.
A Parent's Intuition
Tim envisioned the young boy's parents' feelings at that moment, not knowing where their little boy was. He began to consider his own children and how he would feel if one of them went missing. He felt their despair and worrying. He had to come up with a plan immediately.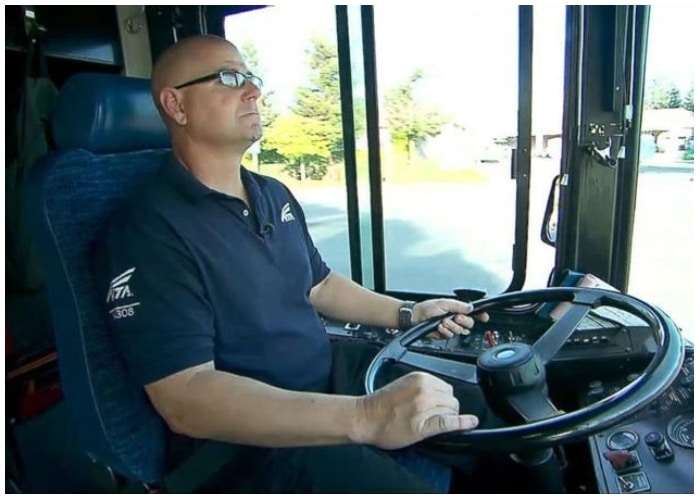 Tim remembered the data from the newspaper and devised a plan to get a close look at the youngster so he could be certain. He could not just pull over to the side of the road and confront the man. He had to think about the other passengers as well.
Trying to Mask His Suspicions
Tim didn't want to tell the man that he was suspicious of him, because he did not want to scare the man away if it was a kidnapping situation. He was also concerned for the boy's wellbeing and didn't want to risk him getting hurt.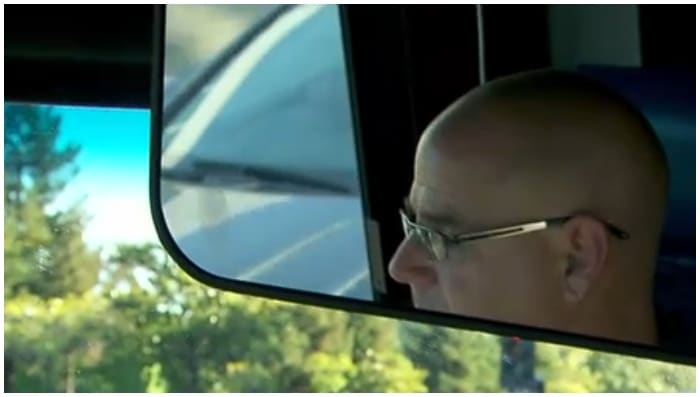 So, he kept driving at his normal speed, resisting the impulse to check his rearview mirror. The man's eyes had gotten attentive at that point, and he appeared impatient to get off the bus, according to the bus driver. But if the man got off the bus, it would be more difficult to apprehend him.
Genius Idea
As for the rest of the passengers, it looked like no one else had noticed. They were preoccupied with their own affairs; reading, listening to music, on their phones or looking out the window.
Tim feared that the man may change his mind at any time and get off the bus with the kid. Tim started to realize he was running out of time. He tried to clear his mind by looking at the road ahead. All of the sudden, he had an Eureka moment and knew exactly what to do next. It was time to act. Now or never.
Playing It Cool
To keep things casual, Tim informed the passengers on the bus that one of the passengers who had boarded the bus earlier had left a green rucksack. He said that before they could proceed to the next stop, he wanted to inspect the bus.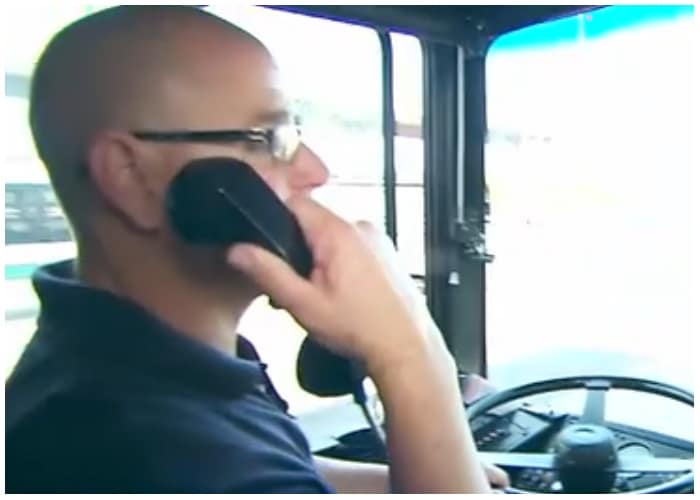 Tim even pretended that the passenger who had left the backpack was adamant about whether or not it was still on the bus. He parked the bus and then, in an attempt to act unconcerned, he rose up and began his "search." Everyone seemed to believe him and just stayed put. These things do happen sometimes.
Approaching His Target
Tim instructed the passengers to look under their seats gently, and everyone complied. He was able to get a good look at the little boy when he went to the spot where the strange man and the boy were sitting.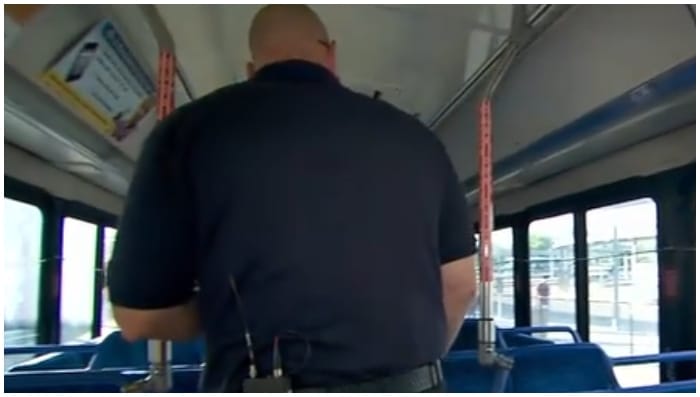 Like the missing kid on the news, the boy who had gotten tired of sobbing was dressed in a blue shirt, checkered shirt, and red Crocs. Tim was certain it was the small boy he had heard about at this point. The description given by police matched and the distressed attitude of the child was expected in such a situation.
Before it's Too Late
After searching for the inexisting backpack, Tim sat back in the driver's seat and pondered the next course of action. He realized that dealing with the matter on his own wouldn't be a good idea, so he devised a better strategy. He was not trained to handle the situation on his own.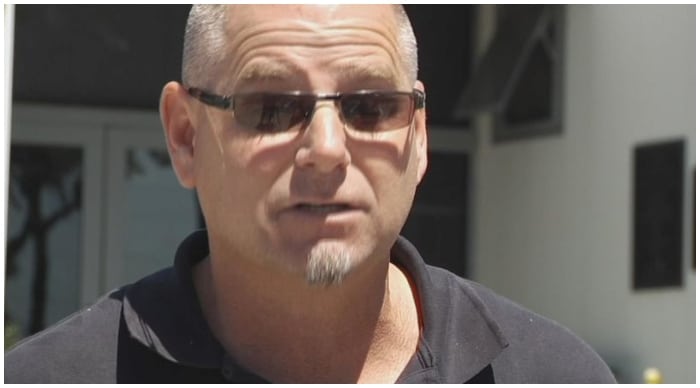 The man and the boy were sitting in the bus's center, where the engine was loud enough to drown out sounds. Furthermore, they were both staring out the window, the child clearly exhausted by his tantrums. Tim reached for his phone with shaky hands and dialed the number.
Warning the Police
Tim began driving while also making a covert call to the police. He informed them that a boy on his bus matched the description of the missing child. This was excellent news for the police who were looking for leads on the case.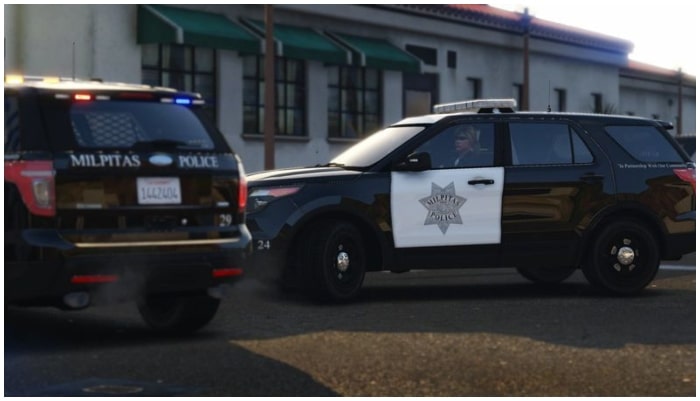 Tim was given clear instructions by the cops on the other end of the call. He paid close attention to the strategy they drew out for him. Despite his fears and worries that anything would go wrong, he pulled himself together because he was determined to do whatever was in his power to save this scared kid.
The Plan
Tim was told to just continue driving to his next usual stop as planned by the police. Things were set in motion, and he was assured that police officers would be waiting for him. Tim double-checked to see if the alleged kidnapper was aware of the situation. He did not appear to have done so, he never saw it coming.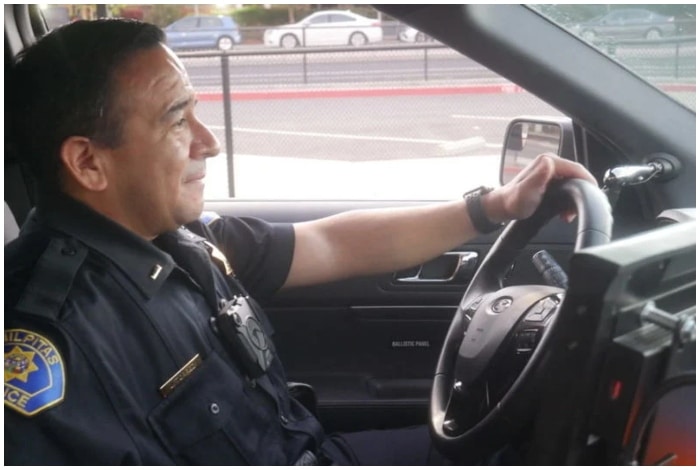 He never thought a bus driver would recognize him from the news and report him. At the very least, the young boy was on his way to being found and reunited with his family. The critical moment was coming up.
The Crucial Moment
When Tim arrived at the next stop, he stopped the bus, while two police officers immediately surrounded the bus's rear. A number of officers were waiting at the front of the vehicle. Police cars were everywhere.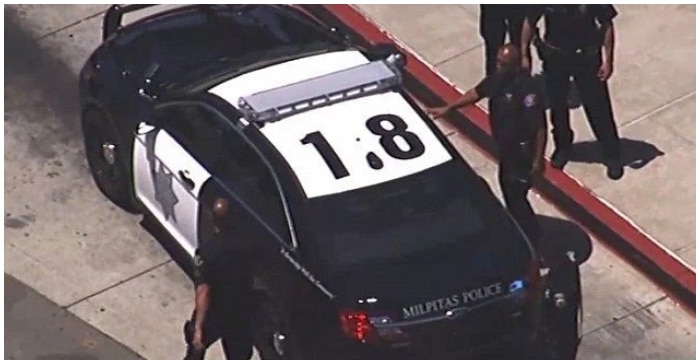 The officers let the passengers off the bus one by one to avoid panic. While several of the passengers were perplexed as to why they had to get off the bus and why police officers were present, no one dared to inquire. The authorities were all looking for the man and the young kid aboard the bus. Finally, the man carrying the kid appeared.
Getting the Kid to Safety
As soon as the two stepped off the bus, police officers yanked the boy from the man's arms and proceeded to arrest him. The suspected kidnapper attempted to fight back but was unsuccessful and then remained compliant. The officials were dead set on rescuing the young boy.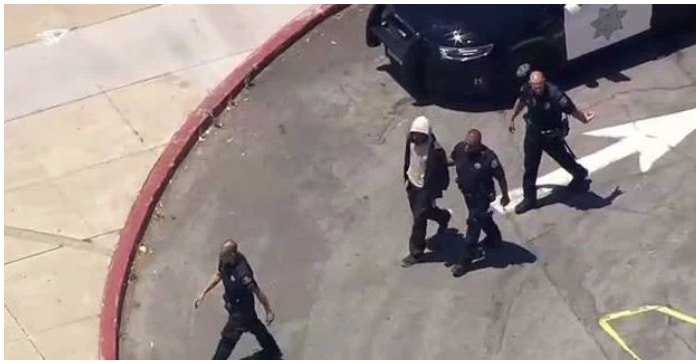 The three-year-old appeared to recognize that he was being rescued. He clutched an officer's hand, and his innocent face revealed a look of relief. They were then escorted to the police station to be investigated further. This kid's ordeal was finally over, he was finally safe. Soon he would reunite with his family.
Informing the Parents
As all of this was happening, the parents were informed about the probable lead. The happy call was made when the officers returned to the station. They told the parents the boy was not hurt, only a bit scared. The parents were overjoyed, and they were quickly on their way to collect their son.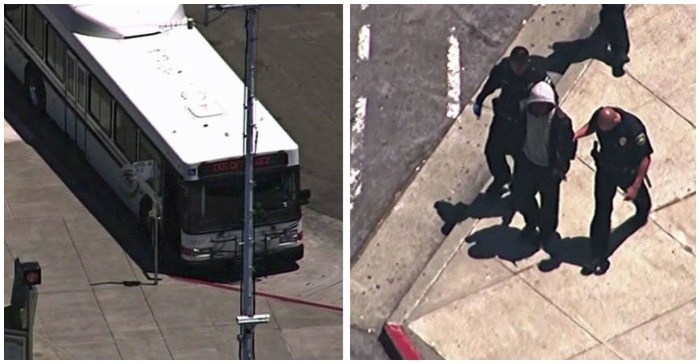 Tim could only imagine how relieved they would be to learn that their son was okay. When asked about this extreme situation he was embroiled with, he said, "This could have been my child that was abducted… I feel I did what any father would do."
A Heroic Act
Of course, the missing boy's parents, as well as the police officers, were grateful and pleased of what Tim Watson had accomplished. Who knows where the innocent boy might have ended up if not for his outstanding recall, keen instincts, and alertness? Not only that, the way he kept his cool and handled the situation was exceptional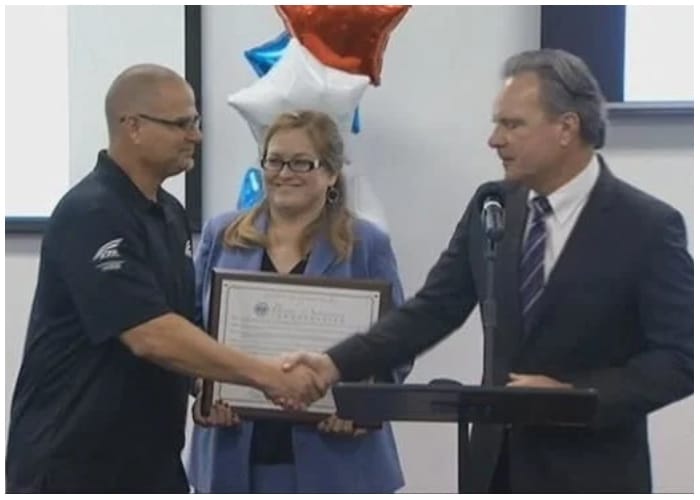 This story was worth telling, and Tim became an overnight superstar in the community. When questioned by local TV stations, the brave bus driver simply stated, "I feel like I just did what any father would do." Tim's humble reply earned everyone's admiration.
An Important Piece of Advice
There is a high chance that boy might never have been located if Tim had not trusted his instincts on this. Tim believes that there is one thing that everyone should understand: if you have a gut feeling, you must act on it. Hesitation may lead to regrets in the future. If you see something odd or that it doesn't add up, stay alert and contact the authorities.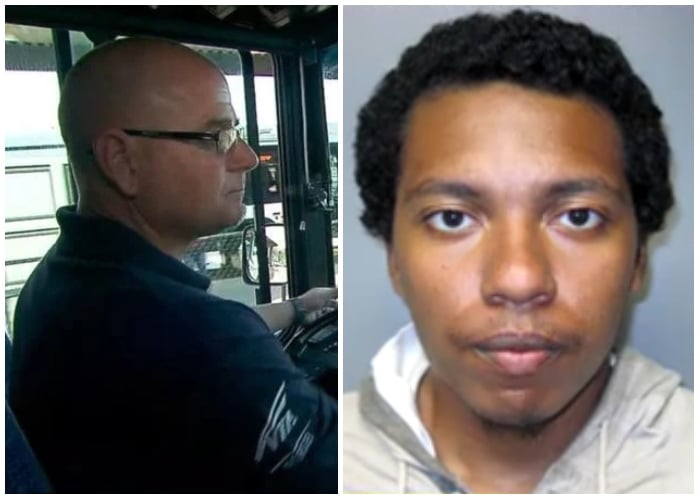 Unusual behavior usually indicates that something is not right and maybe the person in distress is scared to speak up. Report the situation to your local authorities and let them handle it.
Recognition for Watson
Watson told reported that the he received training on how to deal with suspected human trafficking in the VTA. "I don't feel that I'm the hero; I just responded to the situation," Watson said, adding he was just a part of the effort led by Milpitas and Fremont police to recover the abducted boy. "They're really the heroes in this."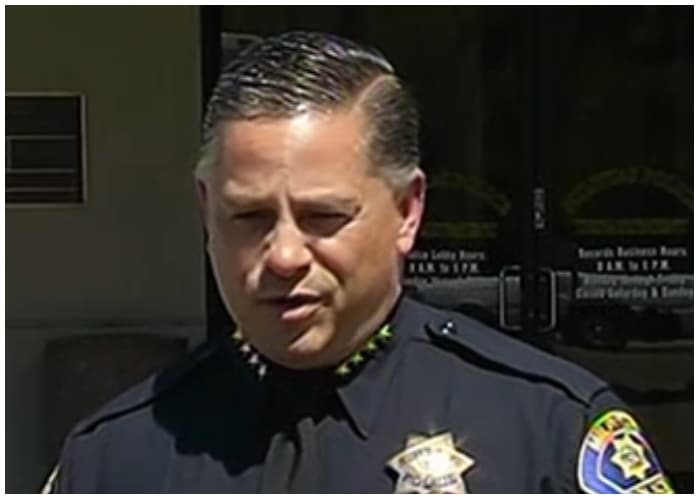 A VTA spokesperson said they're working with the City of Milpitas and law enforcement to hold a recognition event for Watson. The kidnapper appeared in the San Jose Hall of Justice a few days later, facing one count of kidnapping.