It's not a secret that cats can be pretty evil. The furry animals are cute and all, but when they want something, they can go to great lengths to get it, no matter what they break and who they scratch on the way. As a result, every cat owner probably has a horror story or two about their cat, and some of them were kind enough to share some of these stories on social media. Check out some of the most hilarious and terrifying cat tales on the internet.
Getting Comfy
This cat owner works from home so each day they set up their laptop on the dining room table. Every time they get up from their seat their cat insists on sitting on the table.
Not just sitting on the table but sitting on the screen! As you can imagine this is their fourth laptop this year.
The Most Perfect Cat
Now isn't this cat just the most perfect cat alive? It seems like he literally breaks, scratches, and kicks everything while making noise in the middle of the night while also having some particular needs. When cats act like total jerks, we might not realize it, but they're often just trying to say something to us.
For example, when cats suddenly started peeing and pooping everywhere, even though they've already been potty trained, that might be happening because they either have a medical issue or something is upsetting them, like their litter box.
The Meanest 6-Month-Old Kittie
Apparently, this 6-month-old cat is just wild, and he has only been on this earth for 6 months. Clearly, his owner doesn't really know how to deal with it. But in many cases, if your cat starts tearing and ripping everything around the house like your furniture and belongings, he might not just be possessed by evil forces.
It is simply a fact that cats need things to scratch to survive – they need to sharpen their claws, mark their territory, and stretch their muscles. So the best solution for this, instead of hating your cat forever, would be to simply get proper toys and devices that will allow your cat to scratch in peace.
Knocking On The Neighbor's Door
Some cats are pretty good at living in several houses at the same time. No matter where they live and how much love they get from their parents, they can leave the house for weeks before returning. And even though some cat owners may go crazy looking for their fur babies for days and weeks, their fur babies are out on an adventure.
Take this cat, for example, apparently, he basically lives with his parents' neighbors. He actually goes to the neighbor's house and finds a way to knock on the door exactly as a human would do. Lovingly, the neighbors have simply accepted that they share a cat with their neighbors at that point.
The Evil Genius
This tiny evil genius has figured out a way to literally drive his parents crazy. Although he and his siblings are indoor-only cats, he thought that he needed to explore the world a little bit more. So he found out how to open the locks of every door in the house, to the point that his parents had to apply child locks to every single door.
Unfortunately for them, the cat wasn't happy with that. So he found another way to drive them crazy. He learned how to open all water taps while they sleep so that they're forced to wake up every night to prevent the house from drowning.
Dining In
Meet Gypsy. Gypsy was recently adopted by a family who found her along their fence. Instead of the fancy cat bed, they got her Gypsy likes to sleep in her food bowl.
Whenever she is hungry she wakes up and grabs a bite to eat and this way she can protect her bowl from the other cats. Problem is that Gypsy keeps getting bigger and one day she is sure to get stuck.
The Pro Wrestler
This tiny pro wrestler absolutely loves diving off the door frame in the middle of the night. Apparently, he doesn't do it during the day, he literally waits until everyone goes to sleep so he can get the party started. It seems incredibly mean, but maybe the concept that cats are inherently mean and evil is not that accurate.
According to Dr. Lorie Huston, cats don't have it in their nature to be evil and vindictive. According to her, cats are similar to humans in the sense that they have very particular needs, and they are aware of them. If they don't manage to get those needs met, they are not scared of causing some trouble to get there.
A Loyal Cat
Arguments are hard, but they are mostly inevitable in any relationship. But this woman got herself the most loyal cat she could ever get since she literally has her back after every argument with her husband.
She shared on her social media page that after almost every single fight she has with her husband, her cat simply walks to his laundry and pees on it. And as much as this woman wishes she could reprehend her, it is nice to have a cat that backs her up every time.
Oh Christmas Tree
Cats mus really hate Christmas because every time they see a Christmas tree they can't help but destroy it.
Take these jerk cats for example. They Didnt even wait for their owner to decorate the tree before they attacked it. Obviously this was a joint, panned attack executed by these ginger kitties. Don't they just look adorable when they are guilty?
No Place To Go
This is Ginger, an extra-large kitty who lives with a nice old lady. Each day Ginger forgets that he is not as nimble as he once was and tries to climb the tree outside the house.
Every day without fail Ginger gets stuck. On this day, in particular, Ginger managed to get stuck like this. He couldn't go up or down so instead he yelled for everyone in the neighborhood.
Uncontrollable Stares
Some of us can get pretty hangry after hours without eating. And it seems like cats feel the same, and they are ready to let their owners know just how annoyed and hangry they are. This cat though has a particular way of communicating his unhappiness.
Instead of breaking the whole house and scratching every single piece of furniture, he makes use of some silent therapy. He just sits down and stares uncontrollably for hours until someone feeds him.
Emotional Blackmail
Every morning this cat takes her owner's shoe and throws it in the toilet until he gets attention.
It doesn't matter what shoes are available, this bossy kitty will grab what he likes and chuck it in the toilet until he feels noticed. Luckily this cat doesn't know how to flush.
The Cat Who Wakes Up The 2-Year-Old
Cats are pretty smart. And his cat has shown his owners that when it's time to wake up, it's just time to wake up! But since his tactics didn't work as well in the beginning, he decided to try something else.
Instead, the evil cat wakes up the couple's 2-year-old by pounding against his door, until he scares the poor baby to the point he wakes up. The toddler then starts screaming, and the grown-ups in the house have no other option but to wake up too.
Scaring The Guests Away
It's a fact, cats can be pretty scary looking, and the fact that they're often unpredictable makes things even harder to swallow. So when this person's friends went over for dinner, they were a little bit scared of the house cat.
And then the cat made things much worse when it scratched the life out of the guests, probably resulting in them never coming for a visit again. But after a couple of years, she got older and probably a little bit more mellow.
Pizza Night
Every Friday this family orders their favorite pizza and watches a movie together. Its fun and the kids really enjoy it.
However one night their cat Max decided that if he didnt get a treat then no one would. When the kids come back for their second slice they found the cat sitting on the warm pizza. The cat wasn't cold, he was just being a jerk!
Hide and Seek
Anyone who has ever had a cat will know that when they are feeling playful they tend to stalk you and run up and down. You could be walking along when suddenly your cat will jump out and attack you before running away at full speed.
Well, this owner got a surprise when their playful cat charged off and climber the door. Now, every time she gets in a playful mood she likes to climb the doors. Cats can be super weirdos!
Marking His Territory
A fun fact that you might not know about cats is that when they massage your face or body, they might just be finding a way to mark their territory.
Scientists have come up with different theories as to why cats love rubbing themselves on their owners and putting their faces on their owners' faces – and they haven't really reached any conclusions yet. Mr. Baps might be one of these cats that love making sure their owners know exactly where their territories are.
A Cat Who Locks Her Owner Out
Getting locked out of the house is never fun, but getting locked out of the house because your cat locked you out is even worse.
In fact, this cat did so in such an evil way that as she locked her owner out, she stared at her in the meanest way possible. We're sure she doesn't necessarily do it on purpose and to be mean, but it must surely feel hurtful to have your cat do something like this to you.
Mine I think
Sometimes cats can be extremely inconsiderate. Take for example this cat, the minute her owner got a new computer chair she decided to make a scratching post out of it.
She ruined a perfectly good leather chair even after her owner yelled at her. We guess her owner really regrets wasting the money they paid for the large cat scratching post!
The Cutest Cat Eyes
Cats are notorious for waking their owners up in the middle of the night. Take, for instance, chuck. When his owner sleeps, he gets bored. When that happens, Chuck decided to wake his owner up to get some attention.
However, his owner can never get mad at him because Chuck has the sweetest little meow anyone has ever heard.
Meet Chandler
This cat owner is pretty sure that there isn't any other cat in the world that is worse than his cat Chandler. Apparently, Chandler loves grabbing on to everything and anything he sees and starts bouncing around.
He hangs off the TV, the curtains, the walls, and any other random object he can find. But maybe he is not such a bad cat, he is just constantly trying to find new ways to entertain himself.
Don't Name Your Cat Chewy
When naming a pet, especially a cat, it's probably a good idea to consider what that name means, and if it anyhow influences the cat, he or she will be in the future.
This person named their kitty Chewy and never thought that the cat would end up growing up to live up to that name in a way that they never thought about. Apparently, Chewy absolutely adores chewing everything in the house, including the CPAP that clearly makes the most wonderful toy.
Strategically Placing Objects
Just like humans, cats also like to find some comfort in things and in places. And this cat has mastered the art of making himself feel safe and comfortable by taking any object around the house and placing them on him.
She keeps finding the cat resting under personal belongings such as books, the cellphone, and any other thing he can find, but then she gets stuck because she can't actually use her belongings. And because she is scared of waking up the cat, she ends up depriving herself of her belongings.
A Bit Too Spoiled
Another fun random fact about cats is that they don't really understand what's the real meaning behind the word 'no'. It's tough to train a cat and almost impossible to gain their unconditional loyalty the same way it happens to dogs, for example.
No matter how many times you tell them 'no' after they mess up, that's most probably not doing anything to the cat, and he'll just repeat it. So this guy decided to find a perfect way to distract his cat with a little house and an iPad, and it seems that it has worked pretty well for them.
Denied A Second Breakfast
Now, this guy is one of those cats that go absolutely insane if they don't get what they want. The clever cat simply wanted another breakfast after his parents gave him his first meal of the day.
But it seems like he didn't get what he wanted, so he was determined to show them just how not okay it was to refuse him that second breakfast. So he decided to break their TV instead, and we're pretty sure they've learned their lesson.
Cry Till You Get It
Again, in many ways, cats have feelings just like humans do. They feel hurt, they feel angry, they feel happy and loved.
And in some moments, they also act upon it, and this cat does so whenever he feels like it. For instance, if he isn't allowed in a room with his parents whenever he feels like it, he just cries (or squalls) like a baby until someone opens that door and lets him in.
Cutest World's Worst Cat
Some cats absolutely love snuggling in bed, and some cats hate any sort of contact or cuddling. It seems like this person's cat loves cuddling in bed a little bit too much because, according to them, they haven't been able to sleep properly for the past year.
The cat just literally feels like he owns the entire bed, and doesn't let this person really have a full night of sleep without any interruptions. We can only hope that things get better soon.
An Agile Cat
This cat literally stands on top of her litter box and then does her needs next to it instead of inside of it, easily making it to our list of the worst cats ever. But still, cats have some pretty nice skills.
For instance, some people might wonder why cats love cuddling up in small boxes so much, and experts think they might have some sort of an explanation. According to them, enclosed spaces might make cute kittens feel like they are more protected and important. In a sense, it almost makes them feel like they're all the way back in the womb.
An Early Bird
So after this cat kept waking up at 4:40 in the morning, this cat owner decided to try and find a solution. She decided to buy a timer dish that took out the food at 4 am so that the cat would be fed and happy.
And while that worked for a couple of days, he eventually got tired of it and got back to his old ways. Sadly, because of that, this person has not had a good night of sleep for a very long time.
Worst.Cat.Ever
So here's the thing, cats love throwing and kicking things, and this cat is no exception. His owner really feels like he has got the worst cat in the entire world after he knocked over a cup of coffee and a whole bag of sunflower seeds.
Any pet owner knows how much it sucks to get home and find something completely knocked over on the floor, especially food. Although most times it's not necessarily personal, it's hard to not feel like our cats are personally attacking us at that moment.
The Indoor Cat
Some cats are just not made for the outside world, especially cats who have been adopted or bought very little, without ever experiencing going outside.
This might be the case of this cat. So when he finally got the chance to go outside and experience the fresh air, it didn't seem like he was pleased with what he found out. According to this picture, he is never going to adventure into the outdoors again.
The Garfield Cat
Cats are stongwilled like no other pet, you might try to put them on a diet for their best interest but celery ain't lasagna!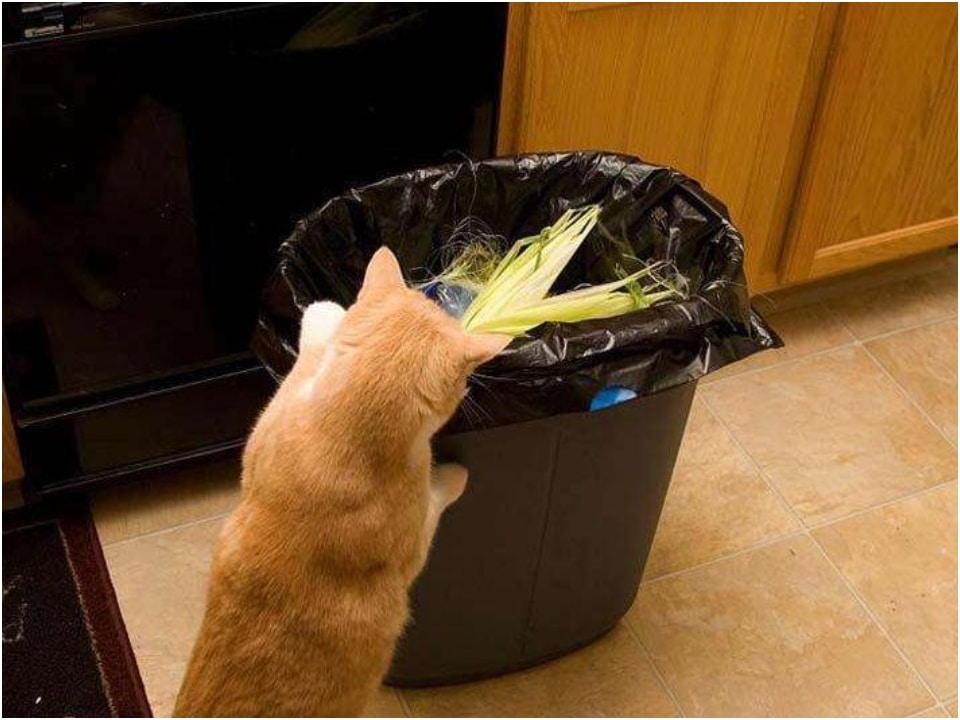 This chonkers from the US got really angry because they were put on a diet. They rampaged through the kitchen throwing trash all around! That cat refuses to go on a diet without a fight!
The Authentic Salad Cat
Cats are notorious for making a bed out of anything. Imagine the surprise of this cat owner when they found the cat cuddled up on top of the salad sound asleep!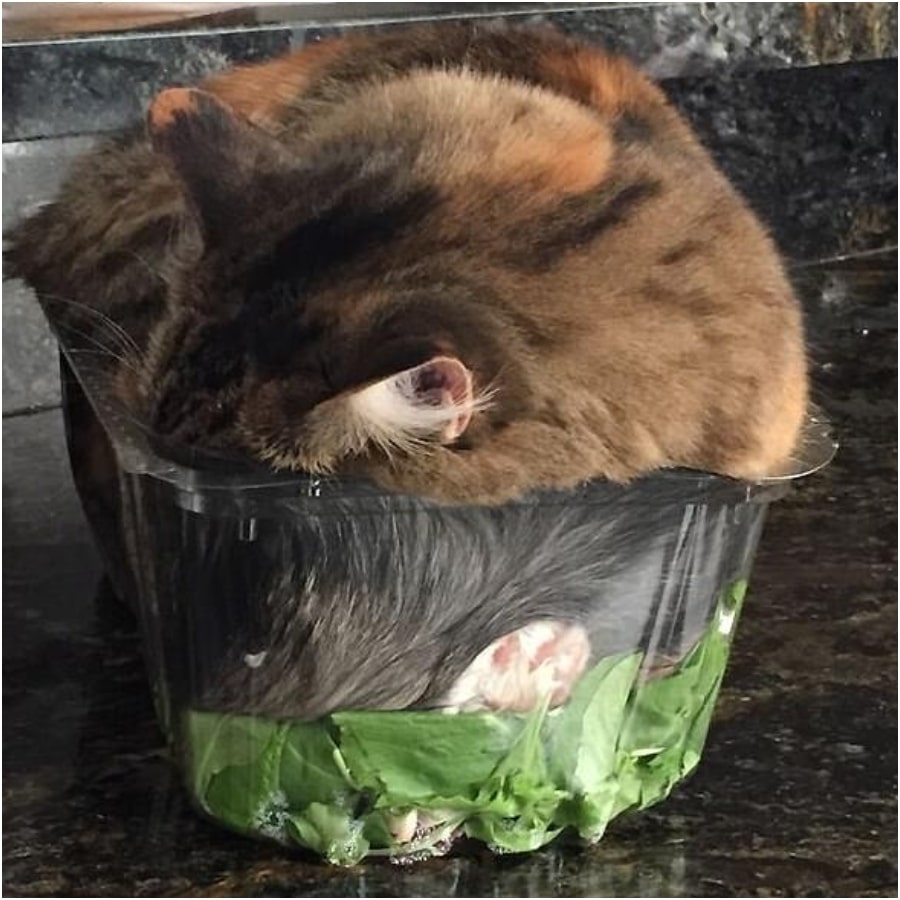 This little fella just went for it on that cushion pile of lettuce leaves without paying no mind that it could be their owner's lunch. It's just too funny!
Excuse Me Sir!
It is known that cats are territorial and they rarely like to share. This poor bunny seemed really confused after finding the house cat defiantly resting in their cage.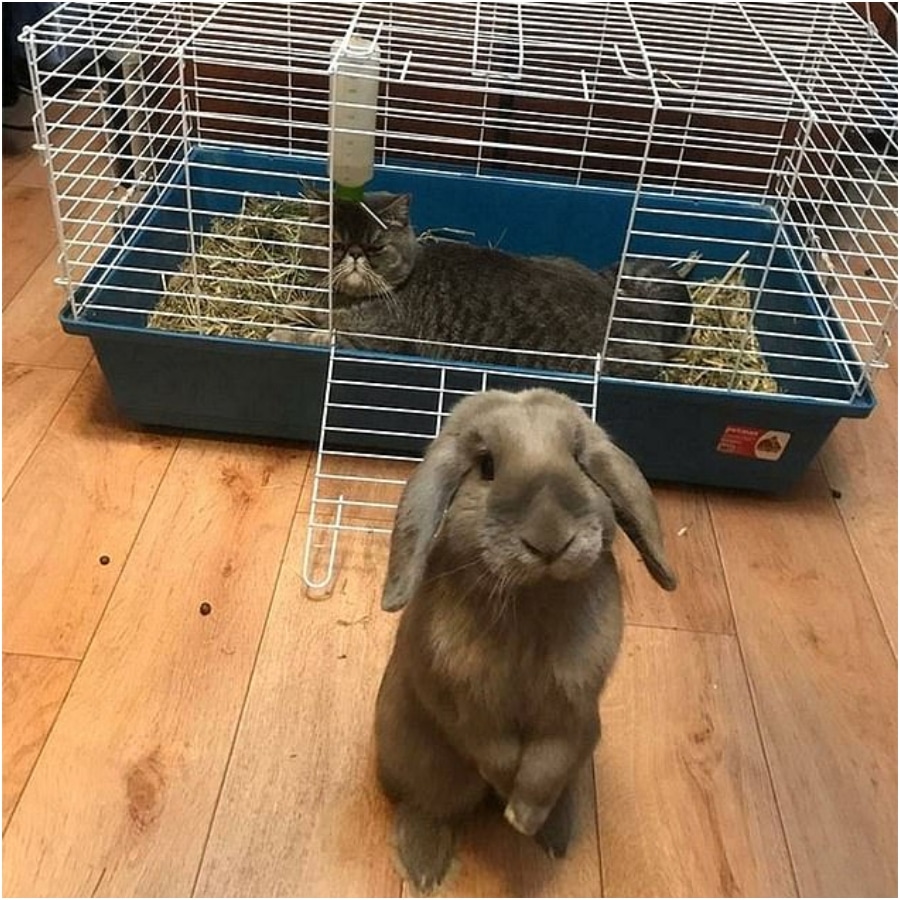 Imagine after a long day of jumping around, you come tired to your room to take a small nap to find a huge cat on your bed. Fear intensifies!
The Hitchcock Cat
Felines are natural acrobats. This cat owner attempted to take a shower and the cat decided it was a great opportunity to recreate the iconic Psycho shower scene.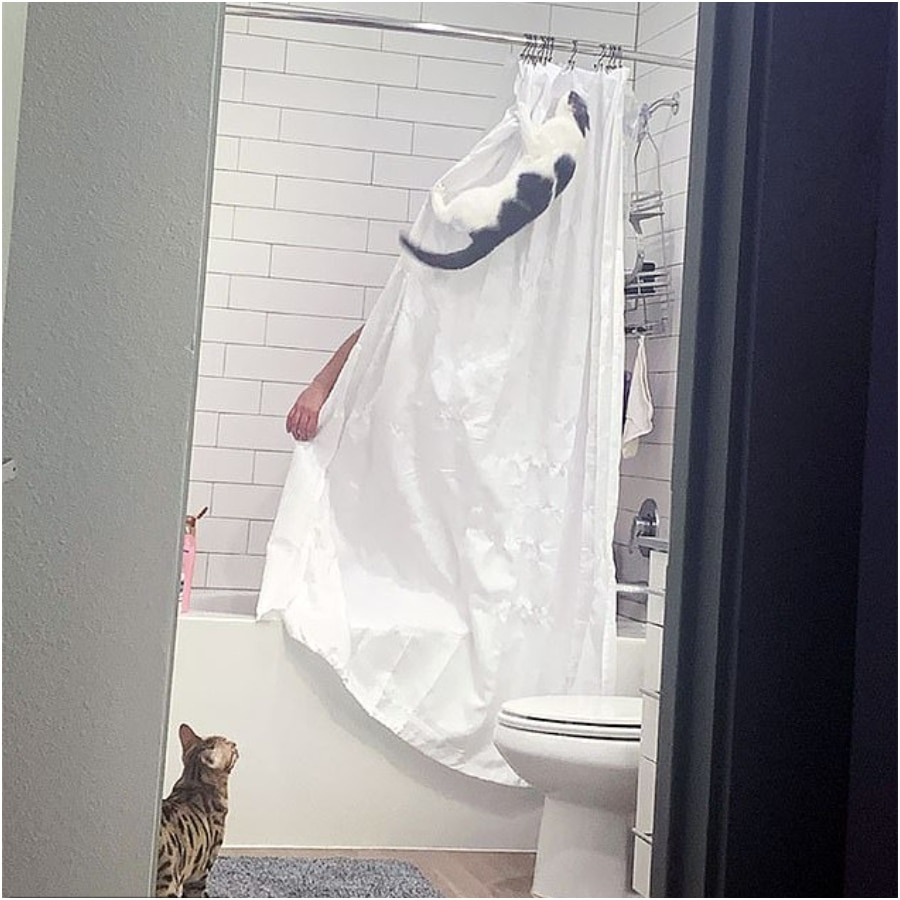 It appears they were trying to impress the other cat with their acting and acrobatic abilities. No double stunts were used in this scene. It's just such a good actor!
Stay in School Cat!
A parent from New York City uploaded this hilarious picture of their house cat shamelessly interrupting their daughter's online class.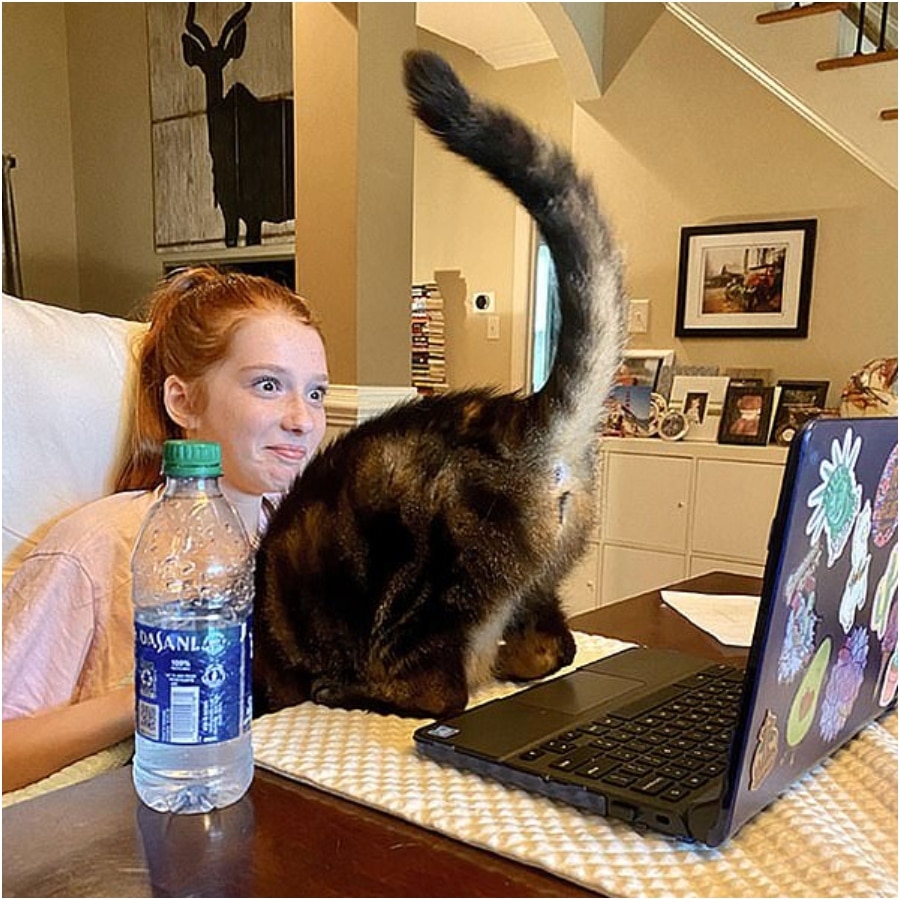 Imagine the teacher and the other classmates' reaction when instead of their fellow classmate's face, they saw a cat suddenly take her place. Maybe this is Hogwarts online school and she can transform herself into a cat!
The Street Artist Cat
Who said cats can't be graffiti artists? This cat thought they would jump to stardom after adding some feline flair to this freshly painted pedestrian crossing.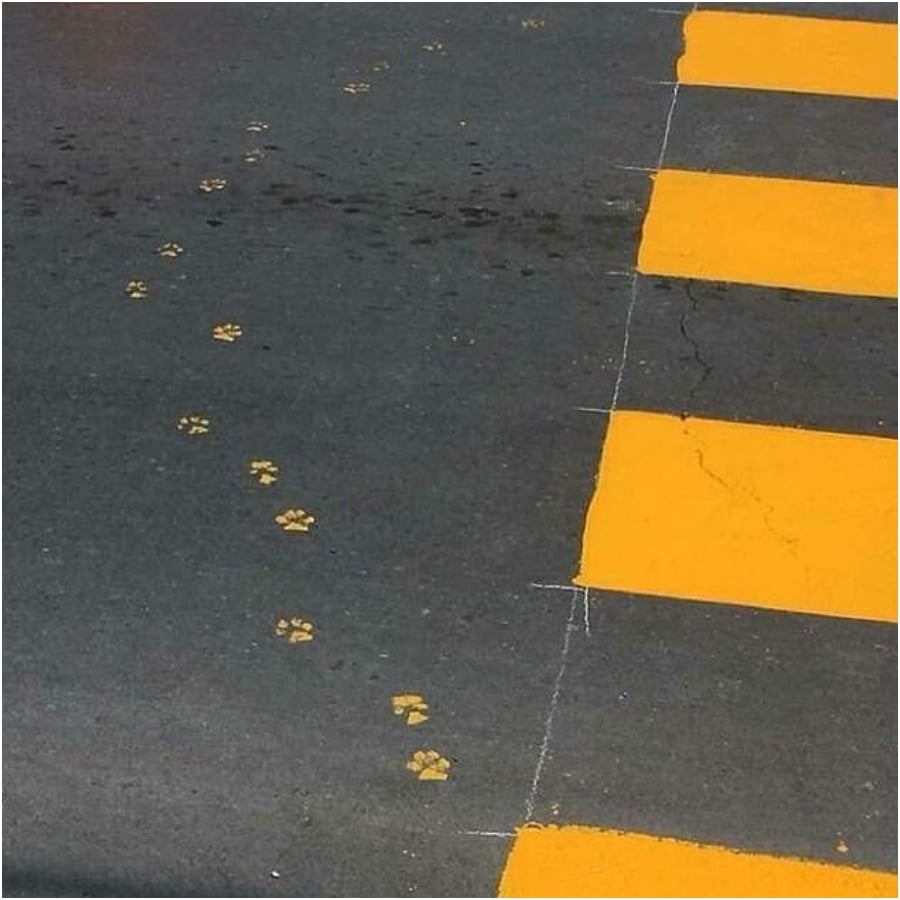 The little trail of yellow footsteps could be easily mistaken for an original Banksy graffiti artwork. We are sure that this cat has a future in contemporary art!
Cat, You Got Some Explaining to Do!
Confronting your cat after they destroyed a precious item can be challenging. This small cat didn't seem at all bothered when their owner showed them the headphone they had bitten off.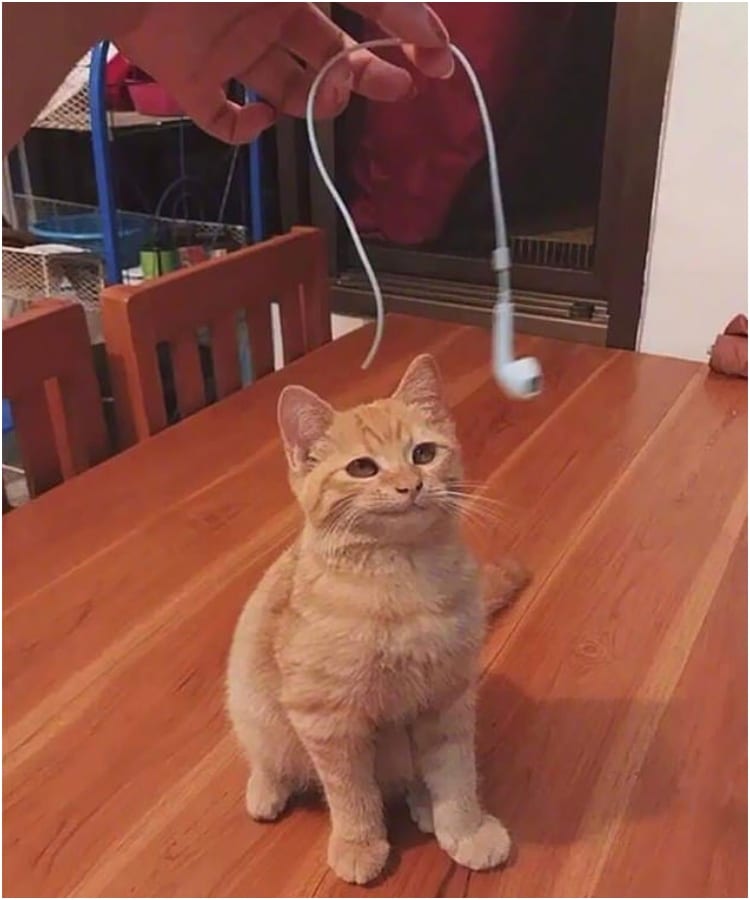 The snarky smile on this feline's face while their owner is asking for accountability is so hilarious and yet cute. It must have been hard to stay mad at him.
Little Pastry Thief
This adorable little baby thief pursued the hit of the century on some pastries but all the hard work made them so tired that they just laid down half way.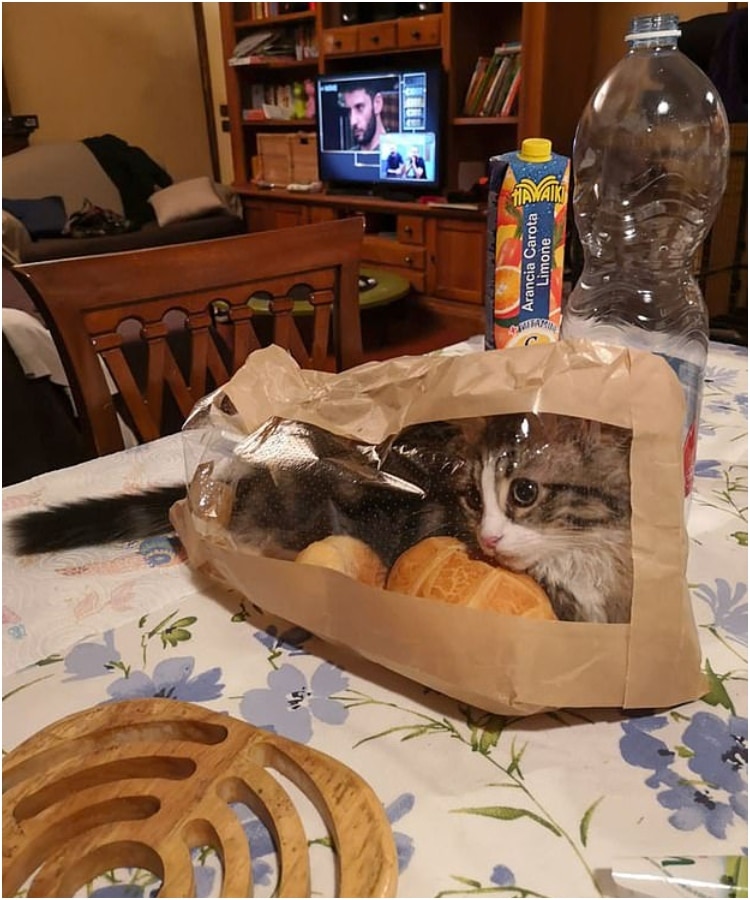 Freshly baked bread is soft and warm, doesn't this remind you of a cozy bed? This kitty snuggled in between the buns and played cute for the picture.
Sorry Not Sorry
Nothing is off limits for this tuxedo cat who unapologetically sat on this cake strategically placed at the top of the vending machine.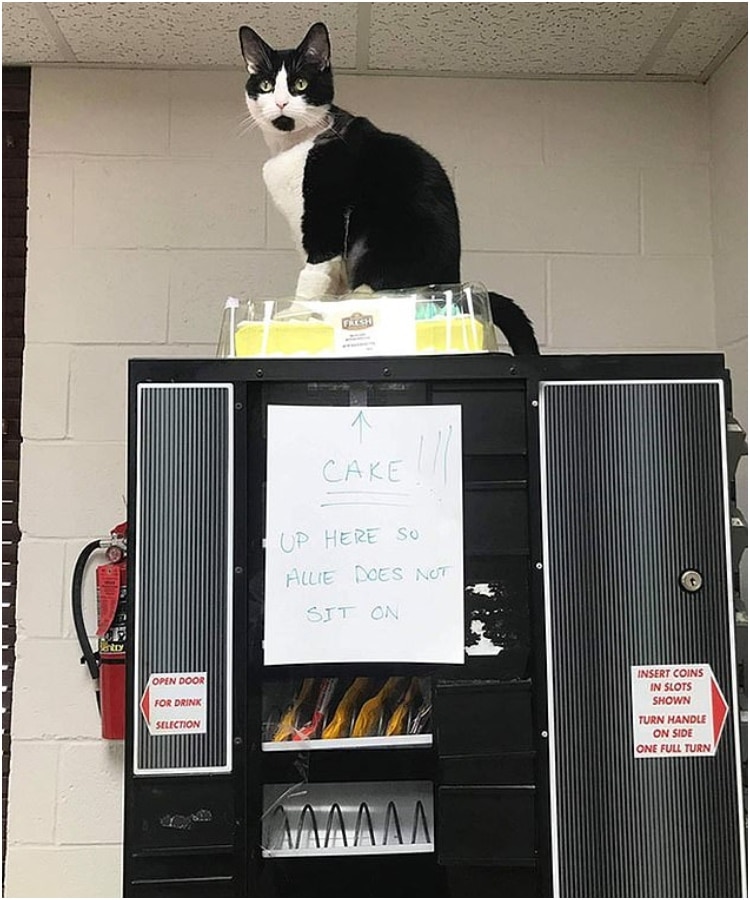 The owner thought the cat would never reach it and even left a note to keep the cake up there so it wouldn't find it. But this cat outsmarted everyone at the office as they usually do.
The Smothering Love of a Cat
This cat owner from Bangkok was having a hard time sleeping so he put a camera to finally find out what was going on while he was asleep. The results were shocking!
The footage showed that during the night his frisky cat would peacefully sleep on top of his face keeping him from breathing properly. Talk about sleep paralysis!