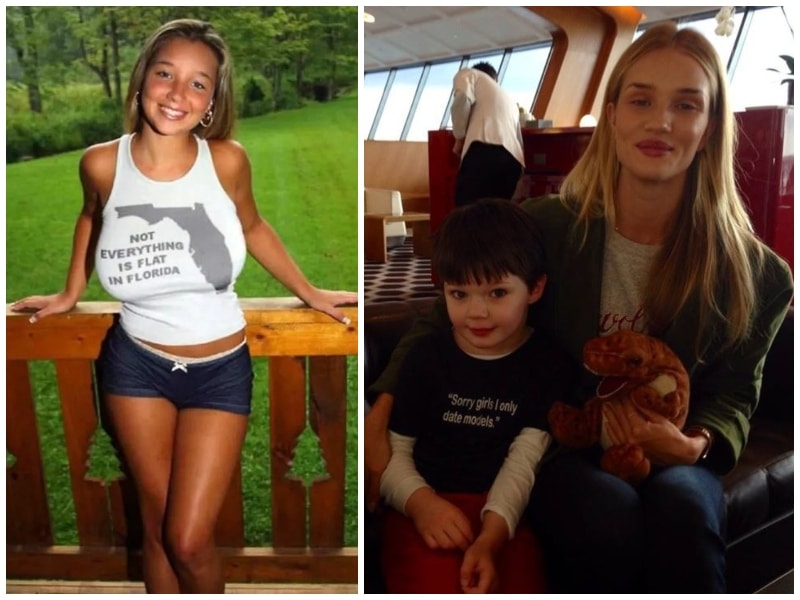 Isn't it fun when the universe aligns our attire with a complimentary incident, and we are left thinking, "No other outfit choice could be better than this!" Wearing generic, bland clothes is not in fashion anymore! After seeing this list, we were convinced that one should wear only what speaks their truth. Maybe an incident half as awesome as these will happen to us.
Cosmic Connection
Cosmic patterns on clothes have been quite the hyped item. People cannot get enough of galaxy patterns, starry themes, and dark hues. Neither of these men could imagine that they would find someone wearing a t-shirt that compliments theirs perfectly. Look at the matching cosmic designs and tell us this wasn't a universe conspiracy! One man mentioned that he had this t-shirt in his wardrobe for two years and was always doubtful of the galaxy sleeves.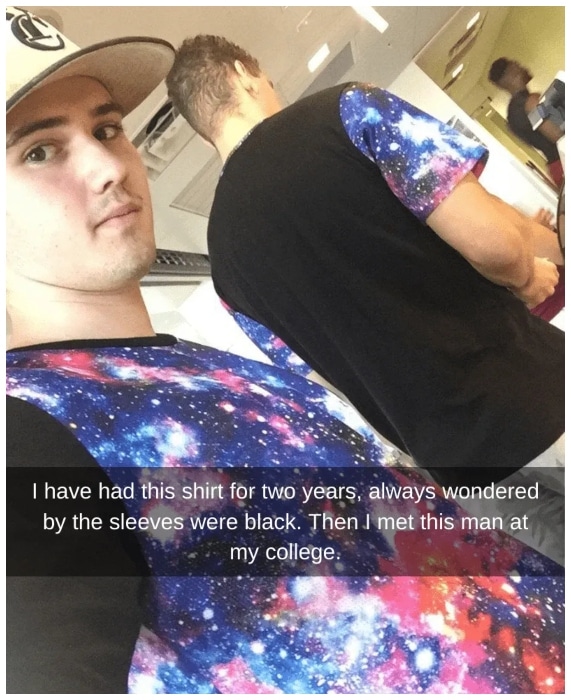 Coincidentally, he met a man at his university with a galaxy t-shirt which would be the missing piece. The sleeves on his shirt were taken out and stitched onto the other's shirt!
Dream Come True
Growing up, celebrity crushes define a big part of our lives. While a bit problematic, this t-shirt could not be pulled off by anyone except this little guy. And what better day to be wearing it than the day he heads to the airport. The little guy was not interested in dating just any other girl because he had his eyes fixated on supermodels. Lucky for him, models feel the same.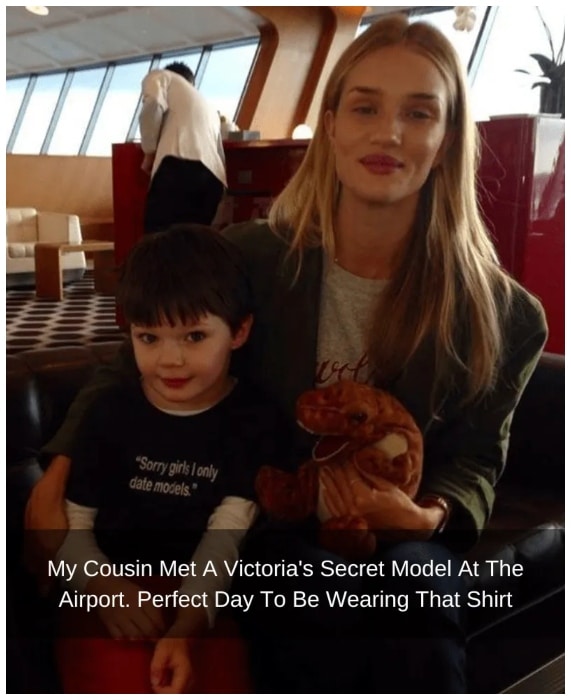 Not many people can say they met Rosie Huntington-Whiteley while having their admiration for models on full display! This Victoria's Secret model was more than happy to pose with him. Sadly, for him, growing up will bring unprecedented realities.
T-Shirt Luck
Most of us have that one piece of clothing that we wholeheartedly believe would bring us good luck. For those who don't, they are normal. Perhaps this man will always hold this t-shirt in high regard. After all, it seemed to have worked its magic. This Steven Spielberg superfan just wanted to meet his hero and thank him for bringing fictional magic into his life. It's right there on his t-shirt. He was smart enough to wear it at the right time.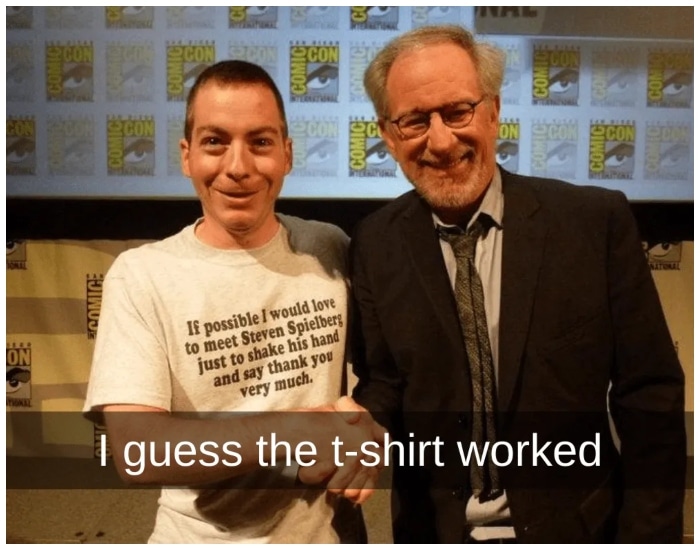 Snapped during the 2012 Comic-Con, this photo shows an elated fan sitting next to an even happier Spielberg. The author was there for a signing of TinTin, one of the world's most famous comics.
Blend Into the Background
When life gets hard, we may want to blend into the lockers. Being seen all the time is far from a blessing. However, when we speak of being seen with the environment, we don't quite mean this. This lady checked into a hotel and immediately noticed something funny about the halls. It's as if her t-shirt could be worn by one of the employees there.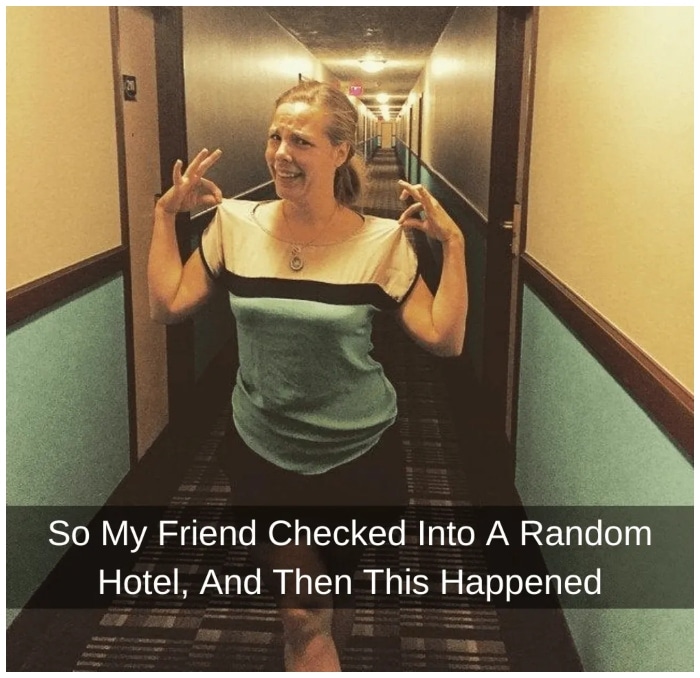 The stripes along the middle of the wall and the long black stripe on the lady's t-shirt tie the entire incident together. Photos like these make us debate who wore it better: the lady or the hotel.
I Am George
Many people like to have their idols quite close to them. They act as a constant source of inspiration, motivation, and willpower. We will have at least one person in our life who will make us think, "If your face were printed on a shirt, I would wear that shirt every day of my life." Celebrities must feel amused when they see their fans sporting their faces on their clothes.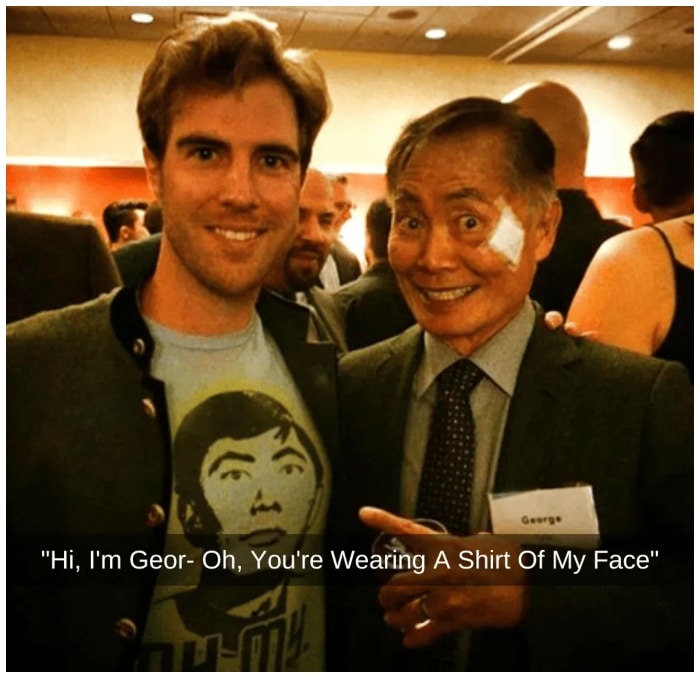 George saw his face on one of his fan's shirts and was tickled. He seems rather happy to come across such a dedicated fan and even stopped to take a photo with him.
Think Safety
This entire photo screams irony. Sitting on the back of an open truck, a man sports a bright t-shirt preaching what he was doing the exact opposite. Safety would surely not be the top concern of someone sitting on a truck bed. But this may be a case of "Do as I say, not as I do." We hope we all take the advice on the back of the guy's shirt and stick to that.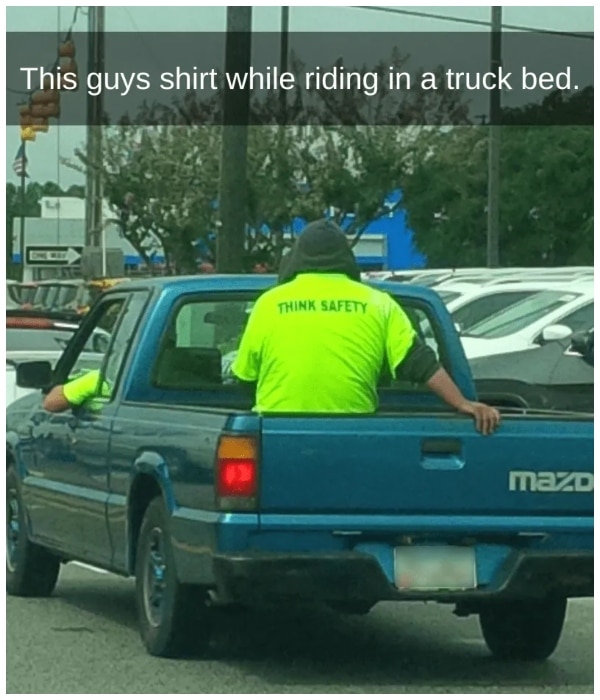 On a serious note, this position is quite unsafe. We could end up injured if the car hit a hard brake or accelerated too fast. The risk is not worth the vibes.
Wearing a Face
Declaring love for someone by wearing their face on clothes seems like overdoing it, but there's nothing wrong with it! Yes, we should buy a t-shirt with our favorite celebrity's face printed on it. We can't guarantee this guy's luck when he wore his, but it's worth a try. As the man walked into Tel-Aviv wearing his Basic Instincts t-shirt, what he saw became a core memory.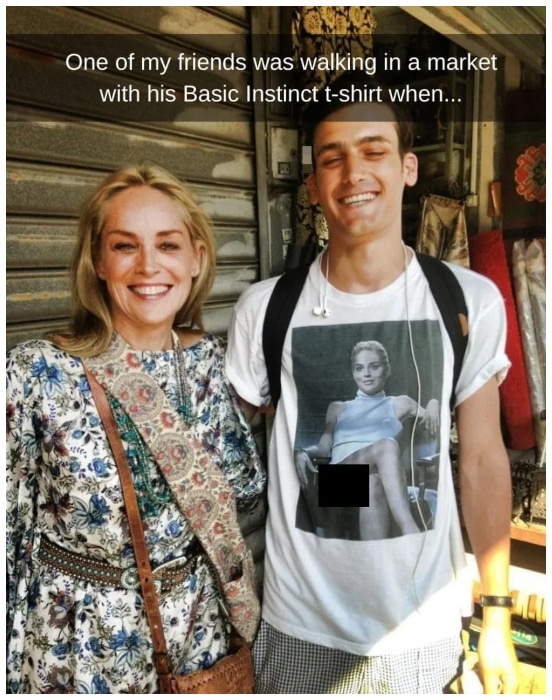 The 1992 neo-noir adult film stars Sharon Stone in the leading role. She won hearts with her alluring looks. When she spotted a fan at Tel-Aviv, she happily posed for a photo beside him.
Genes
Genetics passes down a lot of traits and physical features. It's debatable whether the love of video games passes down through generations, though. The Legend of Zelda is a cult-favorite video game running since 1982. Given how addictive the game is, we understand two generations finding enjoyment in it. The uncle and the nephew chose to wear shirts that flaunted their love for Zelda.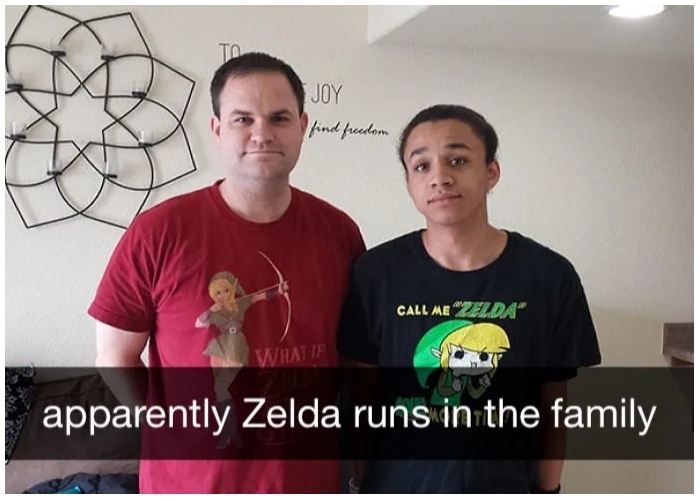 Perhaps they can sport matching t-shirts next time on purpose and be the perfect family of Zelda-lovers.
Model Coincidence
Let's be real; we have all been a little disappointed at how we look in something versus how a model looks. The supposed fitting of clothing looks so different on models with their generally chiseled bodies that the average human can rarely compare. But that did not stop this man from posing like a model when the opportunity presented itself.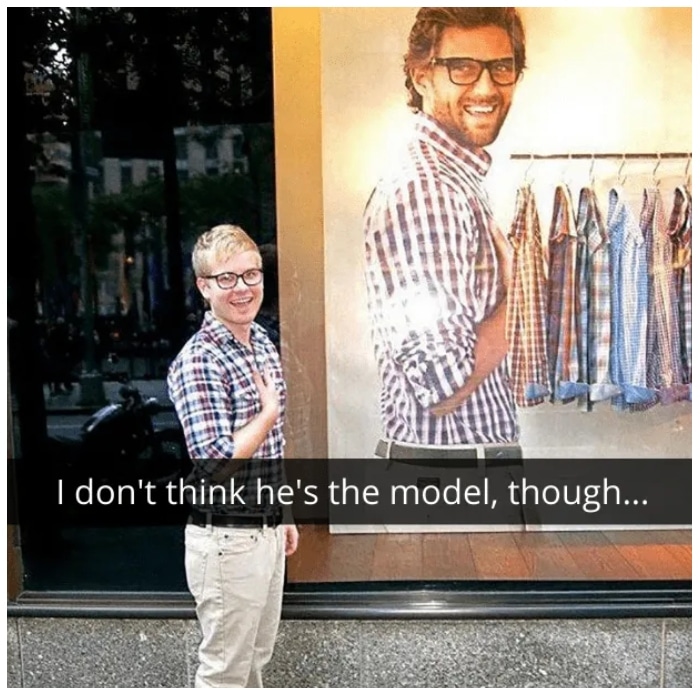 The point is he was in the same attire as the male model showing off those checkered shirts. He had to notice the differences between expectations and reality in this case.
Chance Encounter
It's funny how we don't even think something is possible before it happens to us. As many would term it, that's the power of miracles or a happy coincidence. Now that we know any of our wishes may come true at any point, this is our chance to think more deeply about our wishes. Fantasies only remain fantasies till they come true. Trying to make them a reality takes guts.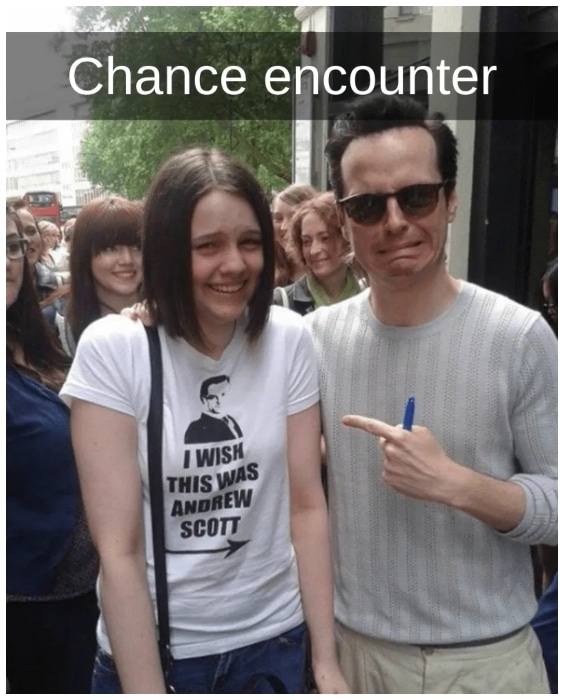 We have all seen mobile screensavers saying, "Don't touch my phone unless you are [celebrity name]." Wishing the person next to us were Andrew Scott is completely understandable. He seems to respect the fan's wishes too.
Flock of Birds
The popular mobile game Angry Birds has a funny premise. The idea is to release many birds from the clutches of evil pigs who wish to have them for lunch. Players have to shoot different birds with unique powers to break open the cages. Technically, birds wouldn't be strong enough to break through glass, let alone steel cages. One bird, however, decided to break the stereotypical weak image they have and crash through a windshield!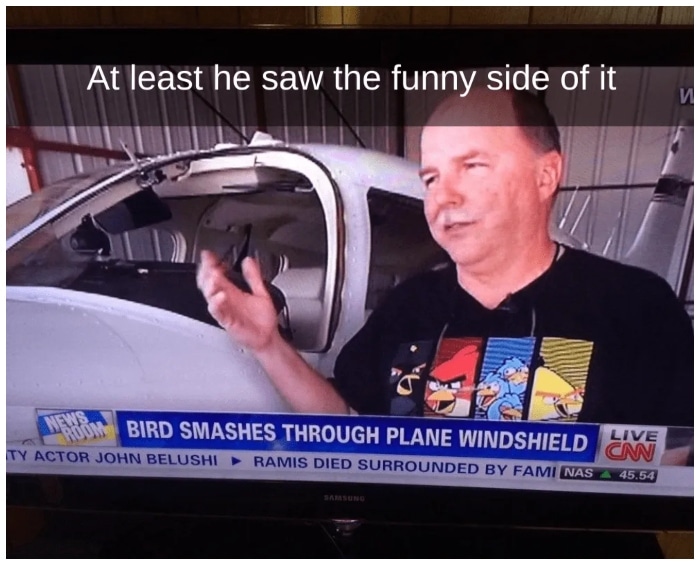 Hilariously, the man speaking on the topic was sporting a t-shirt of the famed Angry Birds, reminding people that birds are stronger than we think.
Perfect Timing
For these two men, their entire lives led up to this moment. Think of how different they are in real life as one is sporting a hoodie that says "Cookie" while the other is in a Monster Energy Drink hoodie. Whoever was behind the lens is a photographic genius. To capture a moment so perfect is anything but easy.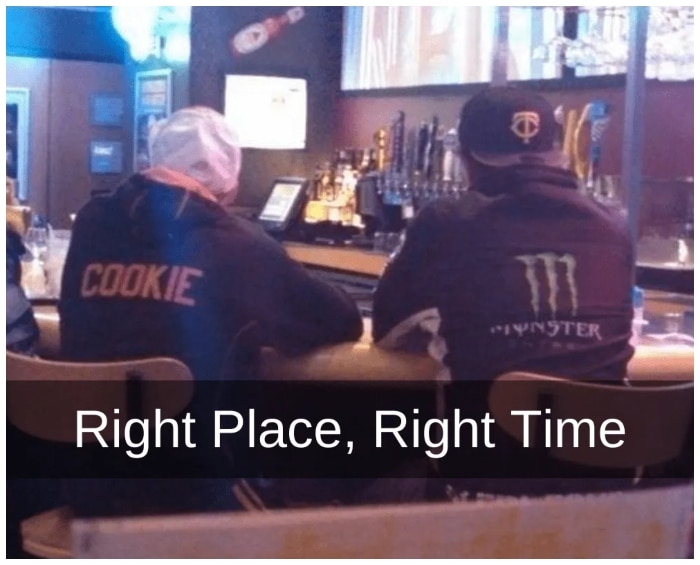 The two hoodies came together to form "Cookie Monster," one of the beloved characters of Sesame Street. It's impossible to not love the big monster who always craves cookies.
Sweet Cravings
Gene Simmons from KISS surely craved ice cream because it seems like the universe is trying to feed him some on all platforms. When the boy decided to wear his favorite celebrity's t-shirt to school, he surely did not think something like this was possible. Lucky for him, this wasn't in high school, or he would have been torn to shreds.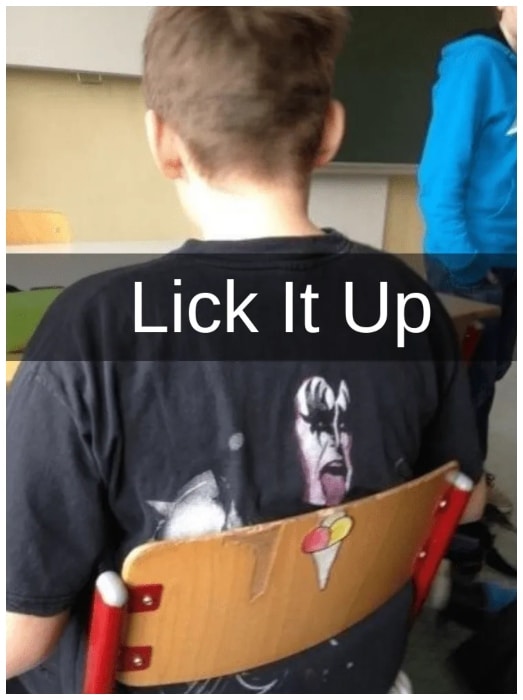 Simmons' tongue hung out and aligned perfectly with the ice cream drawn on the chair. Either the ice-cream was always there or someone drew it on last moment to take the perfect photo.
The Egg Equivalency
White t-shirts can be a menace. While they look flattering on almost anybody, maintaining them will drain the life out of people. One stain and the entire thing is ruined, and the marks refuse to get off! However, if the stain was placed as perfectly as this one, we doubt anyone would want to take it off.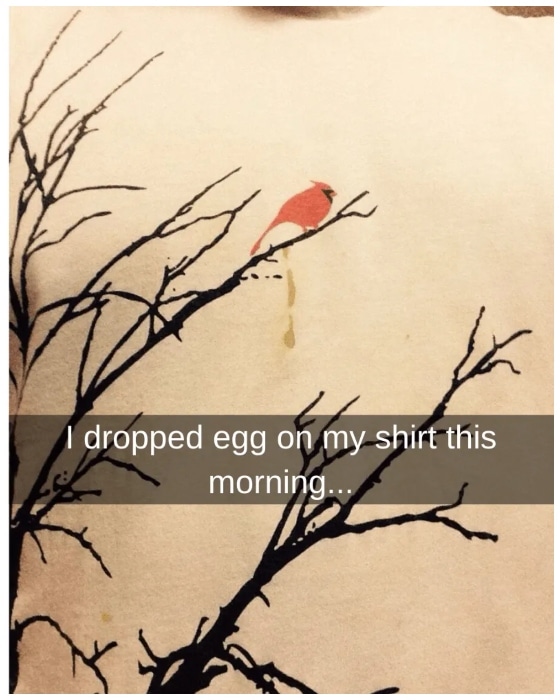 After someone dropped an egg on their white t-shirt, they were thankful for the little cardinal sitting on the branch. At least now nobody would bother asking what that yellow mark is on their shirt. The design seems intentional.
The Usual
Something tells us this guy often tends to get stuck in messes like this. We must ask how he even managed to crash a speedboat into a grassland like that! Of course, he can say, "Speeding seemed like a good idea at that time." Alternatively, people can take one look at his t-shirt and know what he is feeling about the situation. This is why we should always take a moment to think before doing something.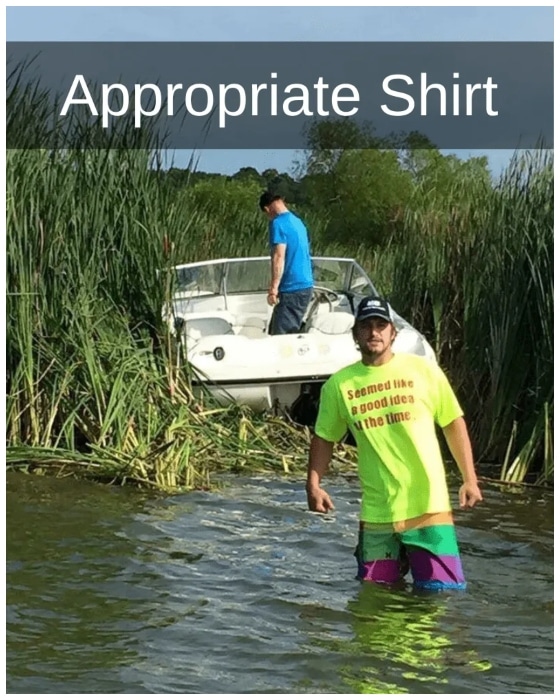 Since his ride was stuck on land, he was forced to get into the water and wait for help. Help arrived but not before taking a picture of him in that position.
Stripes
In all honesty, black and white striped shirts are common. Everyone owns at least one item of clothing with this pattern on it. So, chances are, we will find someone wearing clothes similar to us when we wear something with black and white stripes. Finding four people wearing the same shirt is a matter of sheer luck and something we wouldn't see every day.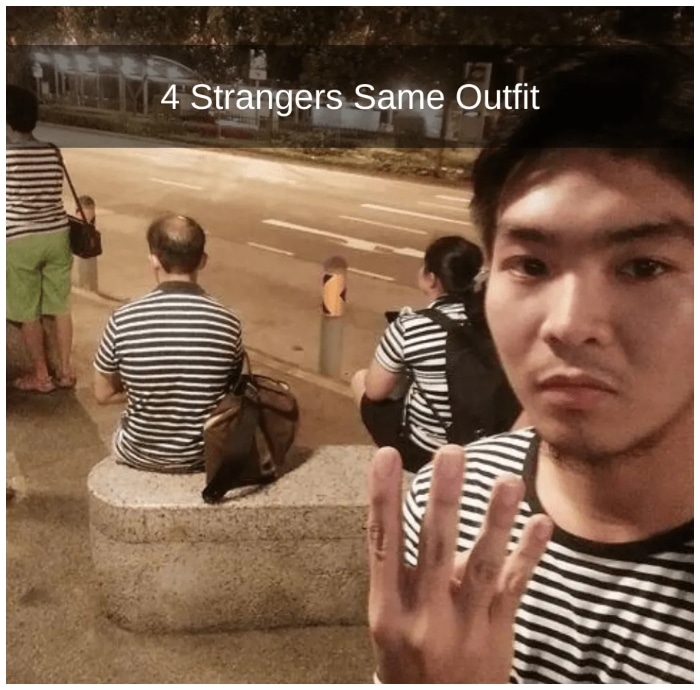 The odds that four strangers with the same look will show up at the same bus station is low, but never zero. This is worse than the 80s when everyone wore low-cut jeans and flared bottoms.
Accepting Thyself
Breaking a finger on a hand is understandable. Fingers are fragile parts of our body susceptible to damage from the smallest collisions. We know something is wrong when a person walks in with multiple broken fingers on the same hand. This is a glaring sign that they were up to no good. Nice to see the kid owns up to the dumb antics he pulls.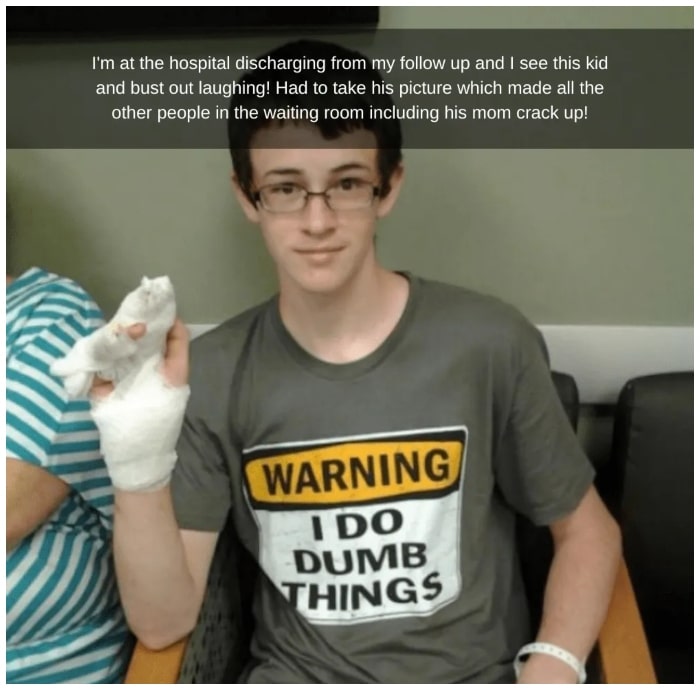 Sitting proud in his warning t-shirt, the spectacled boy doesn't seem apologetic about having four broken fingers. His reaction tells us he does things like this often and needed to tell people if they saw him doing questionable activities ever so often.
Love My Fans
Big celebrities are used to seeing their fans scream their names so loud, and the entire city fazes out. Seldom do they share their happiness meeting fans like Justin Verlander did on one post. The basketball pitcher had walked into Starbucks on a regular day to enjoy a cup of coffee when he came across a supporter so cute he couldn't contain his happiness.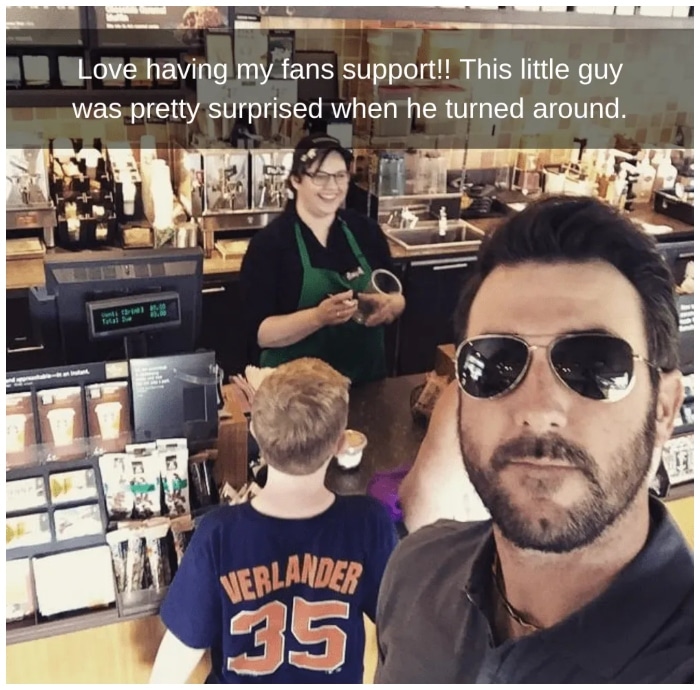 One little fellow was wearing a shirt with his name and digits on the back. Verlander, beaming with joy, took a photo and posted it to his social media. The barista, too, seemed to acknowledge the spark at the moment. Too bad we couldn't see the boy's face when he turned around.
Inappropriate Shirt
Choosing the right clothes seems like quite the task when our brain won't cooperate. Disneyland is where we show our love for the famous Disney characters, which is why poor Minnie must have gotten the shock of her life when a man showed up in this t-shirt. The mouse points to the man's shirt and hides her face in shame.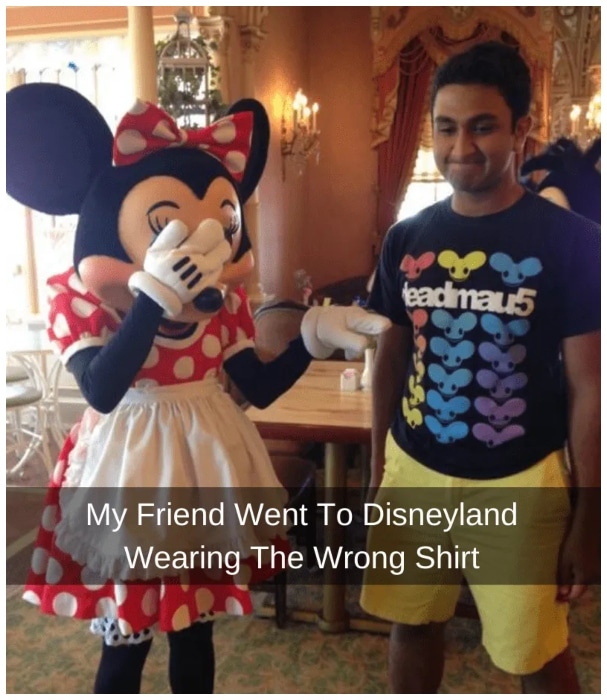 It's obvious that the man did this to get some hilarious reactions out of his surroundings. Perhaps he prioritized comfort over fashion for this one.
Supermarket Showdown
Human emotions are powerful, and a good way to experience that is when they go out of control. Unfortunately, negative emotions can quickly overpower positive ones. If anything, a drop of insecurity is enough to shed through a wall of confidence. There is a line where the two feelings meet and finding that is certainly one of the higher tasks of human life.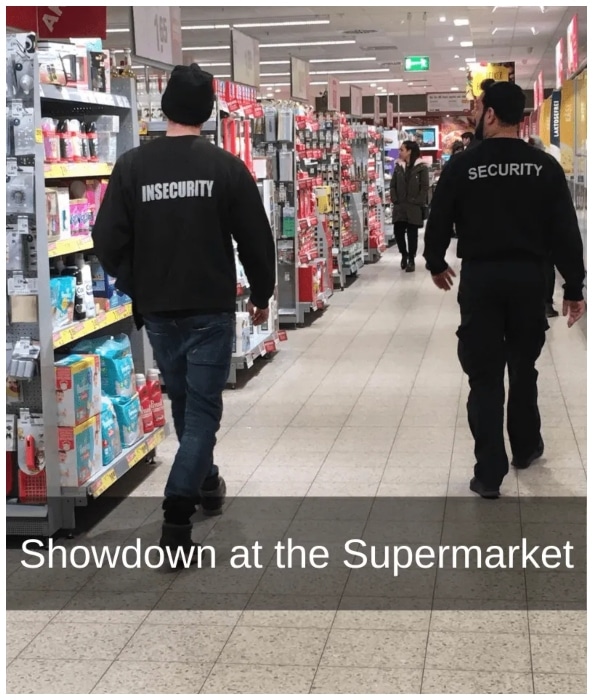 This is why it's funny to think that this serious connection could be found at a local supermarket. We can see insecurity co-existing beside security just as it has forever.
Do It Better
Everyone has that one person in their life who strives to one-up anything. These infuriating entities find it entertaining to turn small things in life into a challenge. We can fly instead of walking! One t-shirt asks a question, and the other answers it with many styles. The man on the left asks people if they can walk the walk. On the other hand, the man on the right says that while everyone walks, he flies.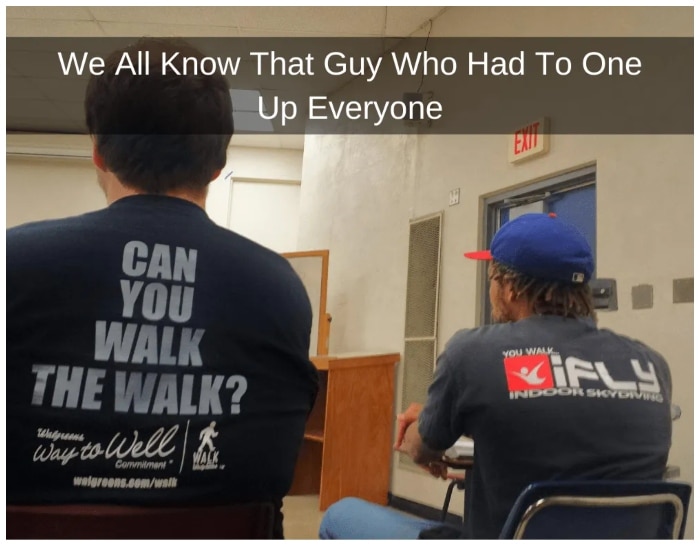 When these two met, they knew they had to sit strategically next to each other to take the perfect picture.
Happy Coincidence
Movies and books are inspired by real life. Dogs may be the only creatures that always live up to the expectations built around them in fiction. Termed man's best friend, canines are known to spread happiness wherever they go. When a man purchased a Fallout t-shirt, he had a particular theme in mind. A t-shirt of an adorable puppy cuddling its owner is a yes from us.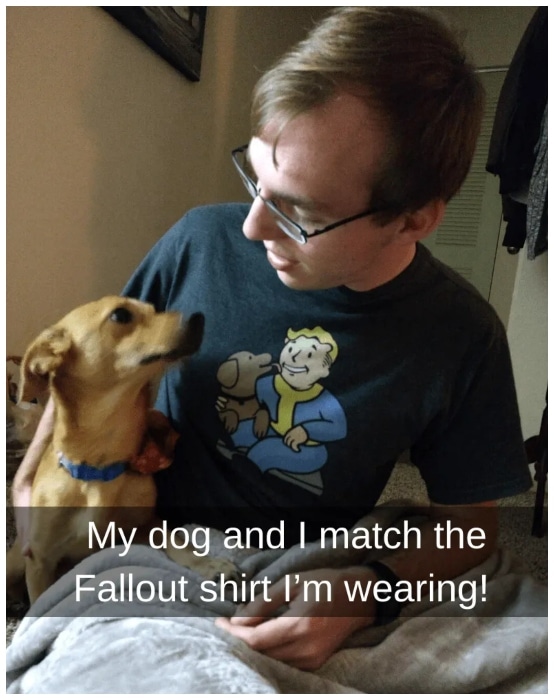 This is why it was even more meaningful when he was able to snap a picture of himself and his dog in a similar position while he was in the t-shirt. Next time we find clothing that matches how we and our pets look, we should buy it.
Chicken Bros
There are more than seven billion people in this world. Naturally, the chances of unique situations decrease daily. Note to self: if we ever find someone wearing a Los Pollos Hermanos t-shirt, we have to consider them our fellow chicken sibling and get a picture with them. We aren't sure if the name "Chicken brothers" will be one the duo will be proud of, but it's worth remembering.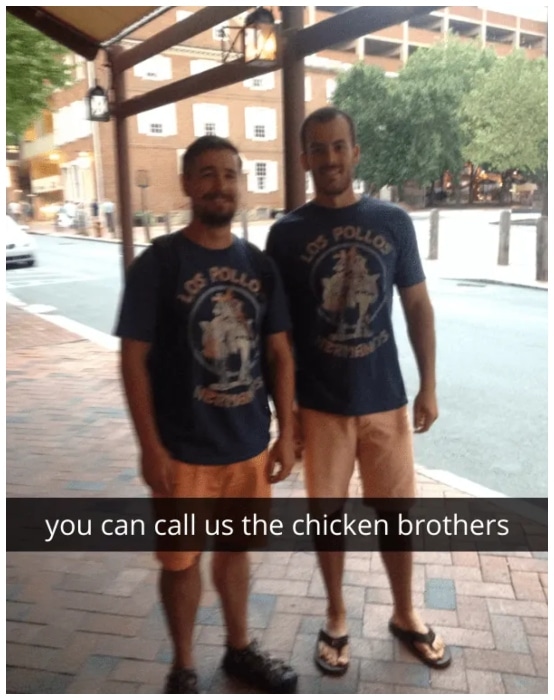 For those who don't know, Los Pollos Hermanos is a fictional fast-food chain popularized by the TV shows "Better Call Saul" and "Breaking Bad." Unfortunately, we cannot taste their delectable chicken. However, feel free to wear their merch.
Orange Country
This photo had us convinced for a second that the local colors of Milwaukee are white and orange. The environment is painted in stripes of orange and white, from the traffic cones to the man walking the streets. It's unclear why the man chose to wear something that would act as camouflage on the streets. Chances are, he is an introvert who simply wanted to avert the public gaze. No better way to hide from the world.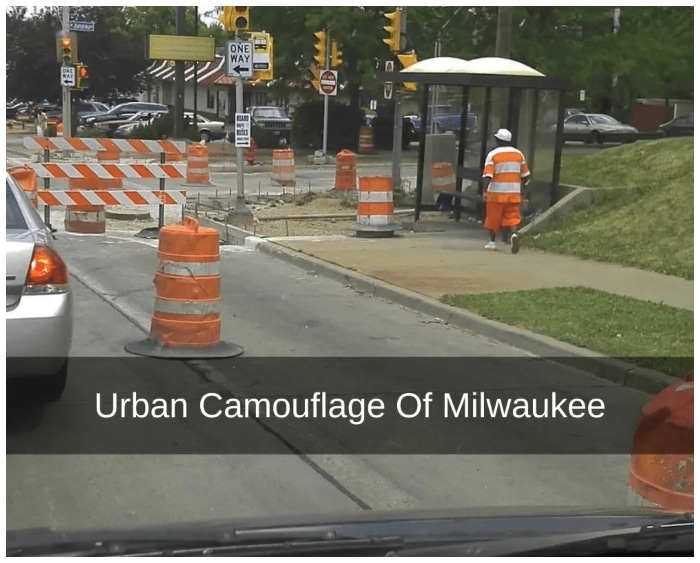 It's easy to think that Milwaukee has two sides: Construction and spring.
Best Friends for Life
As it turns out, we don't need to build a strong bond with someone to become their best friend. From our experience, it takes the right t-shirt at an opportune moment to make a friend for life. These two girls must have surely talked to each other once they saw what they were wearing. One girl dons a gray shirt with a cat's face on it, while the girl sitting next to her has a t-shirt declaring every cat is her best friend.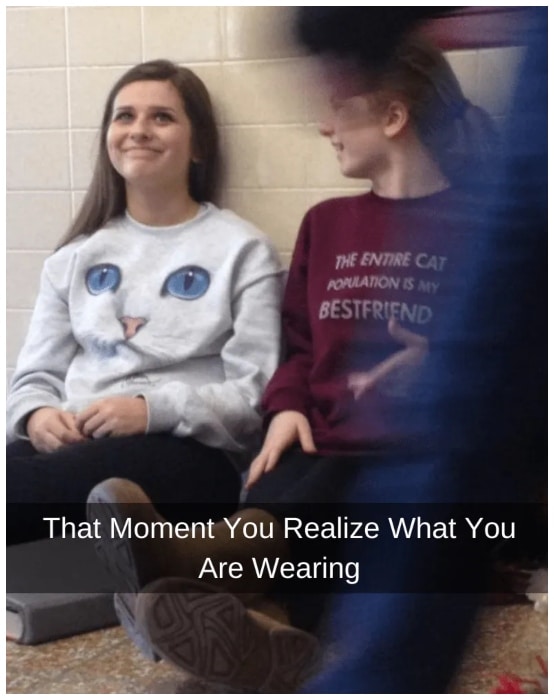 It's only natural for these two cat-lovers to hit it off. They were destined to be friends, and this is hard proof!
All Dolled Up
(100 word)
Dolls have evolved over the years. From stick figures and hourglass bodies to models from different cultures, races, and nationalities, dolls today are much more than "play-things." Customized toys are all the rage right now. They are perfect for showing our favorite little one that we care. The little girl who got this Ken doll must have been over the moon because now she had a miniature version of her uncle.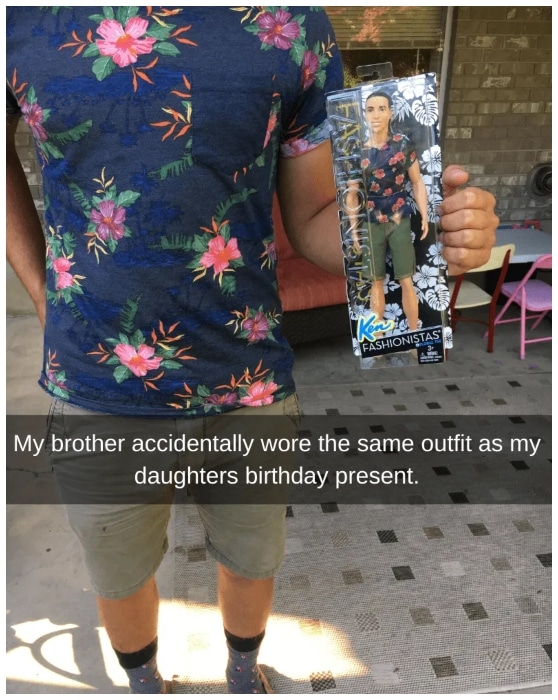 Her uncle mistakenly dressed up in a Hawaiian shirt, extremely similar to what the doll is wearing. Safe to say, the girl will spend restless nights wondering how her uncle got a doll that looked just like him.
Say No to Selfies
Many don't know that there is a medical term for people obsessed with taking selfies. It's true; we might have a problem if we cannot do anything meaningful without taking a selfie. Some people hate selfies so much that they show them through t-shirts, like this man. His t-shirt says "Stop Taking Selfies" in bold font, and for someone to come in front of him and take a selfie in that condition!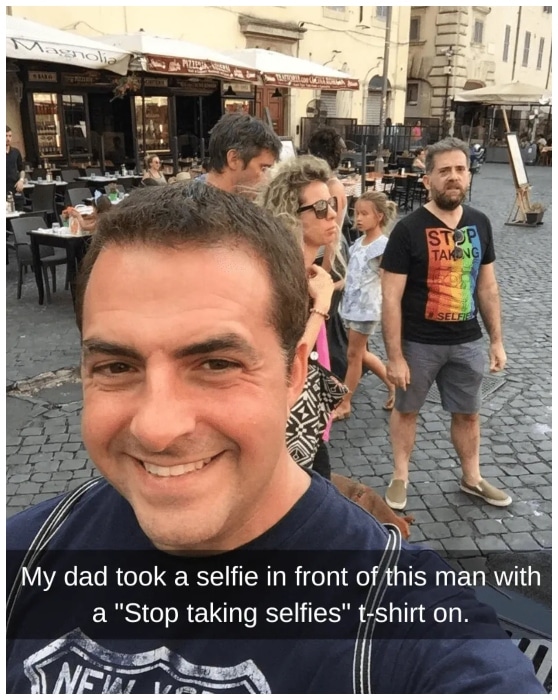 A girl's father took the t-shirt personally and decided to make the man mad with a selfie. His distraught expression says what his words couldn't.
Out of Context
We get why the waitresses serving him were insulted. He can consider himself lucky if they didn't spit in his food. The man worked in IT and went out with his daughter for Father's Day wearing that. For someone in his profession, that t-shirt is completely natural and has a completely different meaning to what could be perceived at a restaurant.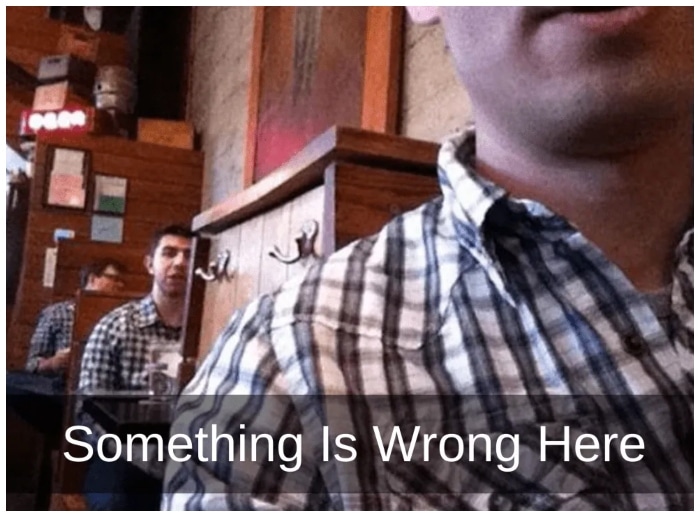 By dead servers, he means unresponsive computer nodes, not waitresses. A harmless joke about computers could turn destructive in the wrong contexts. It's nice how he still smiles in the picture.
Twisted Manek
Brady Manek must have had a little laugh when he saw this. The person who came up with the picture is a pun lord. While playing for the Oklahoma Sooners, basketball player Manek slightly sprained his neck. To relieve the tension, he rubbed on the muscles with his hand. The camera captured the moment this happened, leading to the birth of this moment.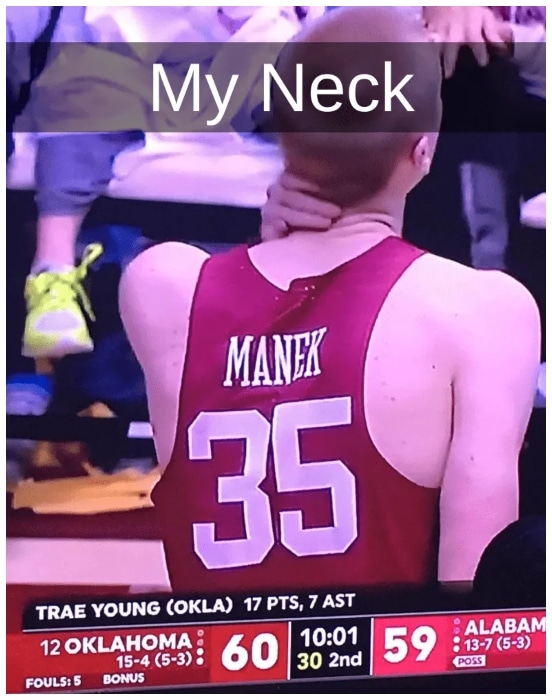 Suffice to say, the primary reaction of regular people to an ache on their neck is, "Ouch, my neck!" It sounds similar to the player's brand name, Manek. Our sense of humor would have to be pretty rotten for us to laugh at this.
Looking Into an Angry Mirror
Nick Offerman has done quite a few iconic roles in his lifetime, but few of them are as good as his portrayal of Ron Swanson in NBC's Parks and Recreation. Get a friend who makes t-shirts with Ron Swanson's face on it. The iconic angry face with the bunched eyebrows and crinkled nose could not have been done better by anyone else. Looking at Nick Offerman is like looking at an angry mirror.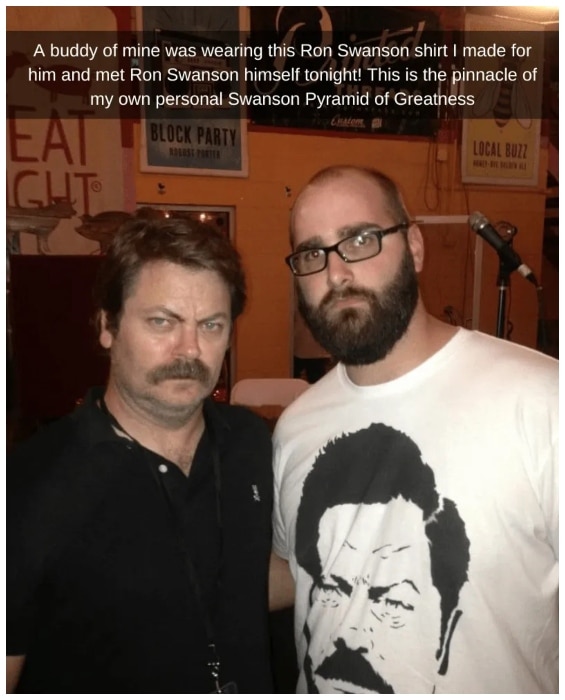 Fans can think of many reasons Offerman is such a versatile actor, and this has to be one of them.
Another Old Lady
One would casually assume these two older women are sisters wearing matching clothes. While that certainly is an adorable moment, that isn't the case. These two don't know each other but are wearing the same top as they walk along a bridge. What's spookier is that they are close in age. It might be that this top and design are popular among older women, but that still does not make this event any less special.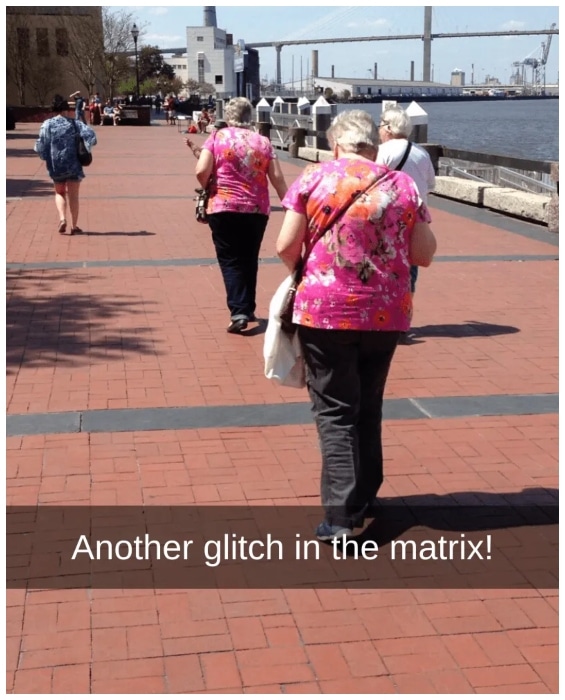 It would be rather endearing if all the women in a retirement home wore these colorful clothes and sat down for a picture while they played bridge. Every grandma deserves a pink floral top.
Local Legend
People who stay connected to their roots always have big hearts. It's easy to forget where we came from once we have experienced what high life is like. This racer, however, cannot forget about his hometown even if he tried. For his race, the number he got is the same as his hometown ZIP code. Moreover, the race number, t-shirt, and finishing time are the same: 33607.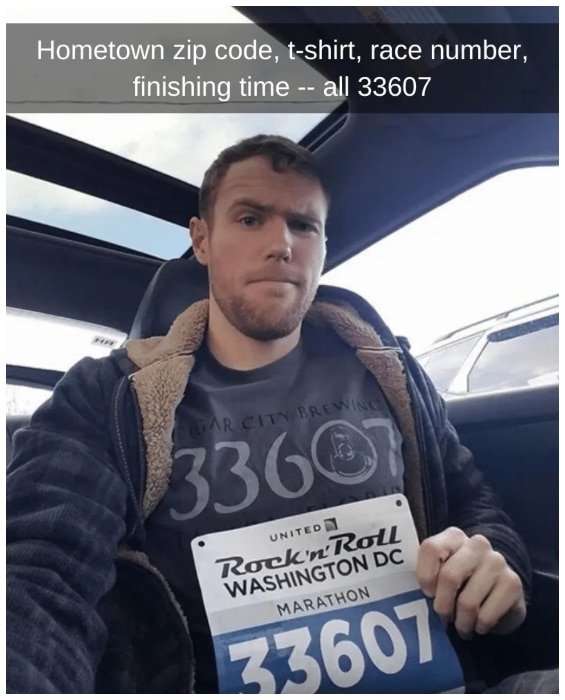 There seems to be an interesting pattern going on. What would be super cool is if he won the race with those numbers. Even if he didn't, this memory would be one he can cherish forever.
Not Food
People who grew up on farms had to have strong hearts. Their pets were often served to them for lunch or dinner. Farmers will have a pig as a pet while nurturing a dozen to sell their meat. This doesn't take away any sentiment of having a pet. As long as we are sure we don't want to eat our pet pig at any point, it's fine.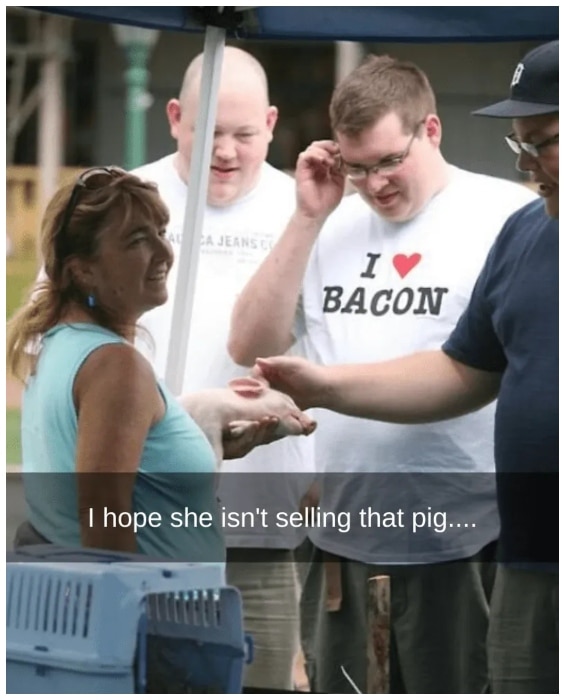 The woman carrying the sleeping piglet must have been taken aback by the man wearing the "I love bacon" t-shirt. These guys should stop staring at the piglet like it's their breakfast – unless they plan to buy it.
Double Trouble
Imagine sitting down for a quiet meal only for a stranger to walk up to the table and claim that the animal on their t-shirt resembles a human. One man had the luck of coming across a t-shirt with an unlikely doppelganger. The man in the t-shirt stood next to him as someone else clicked a picture. Whoever drew this is an actual genius. They incorporate a man, a bear, and a pig into the same image.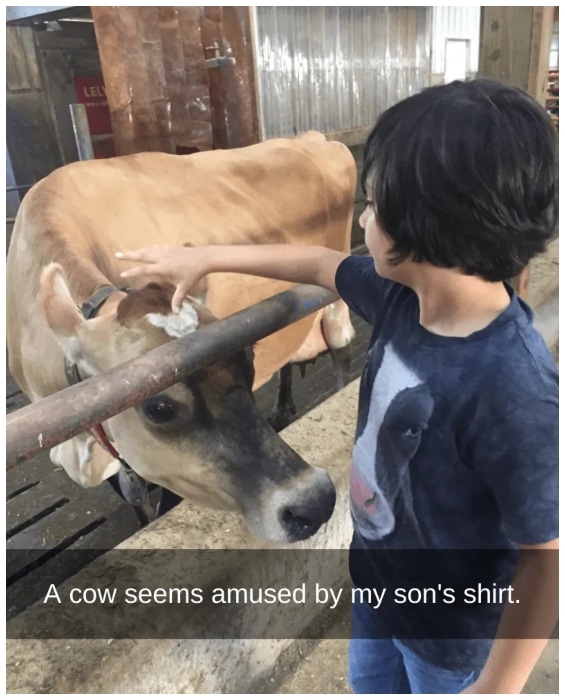 The cap ties the entire look together. Luckily, the man that looks like the human-animal hybrid was kind enough to bring the resemblances to light.
Not Vibing
We all know those pictures with captions like "Moments before the disaster." This snippet is from moments after disaster struck, but it is equally funny. A man stares ruefully at his car, which has crashed into a crevice. He's wearing a "Damn, and I'm good" t-shirt does not help the situation. Suffice to say, he was doing anything but good at that moment. In fact, if someone asked, he might have had a meltdown.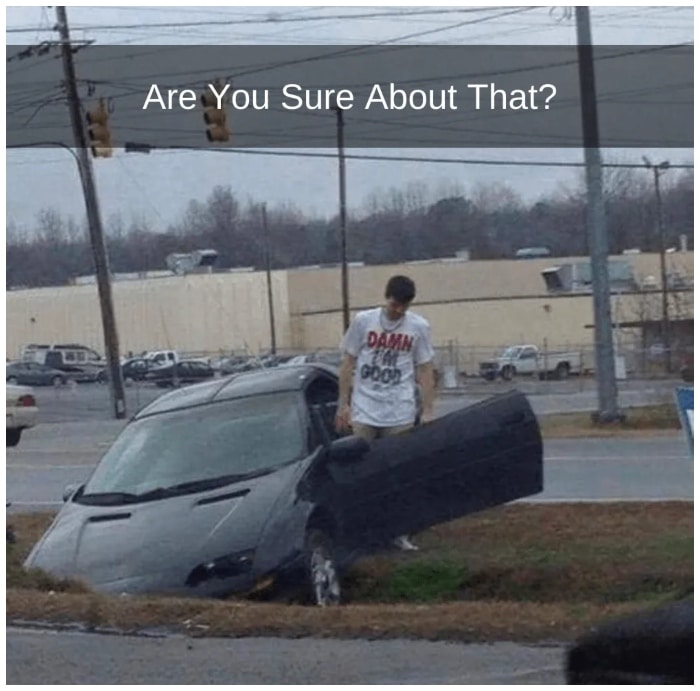 His car may vehemently disagree with the statement on his t-shirt, but since he has declared his feelings already, it's only fair that we give him a break.
Sonic Fandom
The Sonic fandom has garnered a reputation for being "weird." From the fetishizing of anthropomorphic to the stemming of "furry" culture, Sonic the Hedgehog holds different memories in the minds of different people. But within these moments of chaos, these pockets of wholesomeness bring joy. A man got stopped on the streets for donning a Sonic the Hedgehog t-shirt.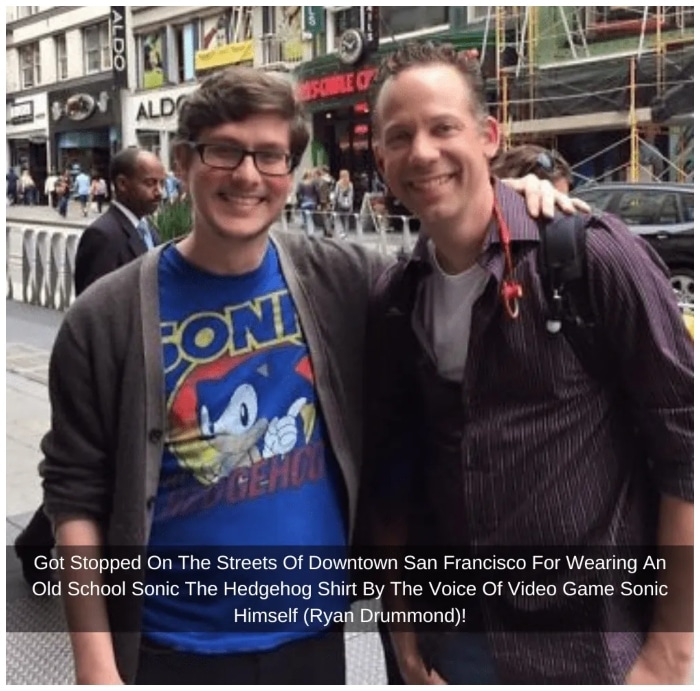 It was John Drummond, the voice behind the original Sonic. He must have been elated with such a devoted fan and had a word with him. The fan took a quick photo to keep it in memory forever.
Winterfell Magic
Winterfell is a part of the popular series "Game of Thrones." The capital of the Kingdom of the North is considered to be the Starks' stronghold. This must have been strong enough to summon Arya Stark. Played by Maisie Williams, Arya Stark is trained as a powerful Faceless Man. This makes us wonder whether this was Arya or some Faceless Man.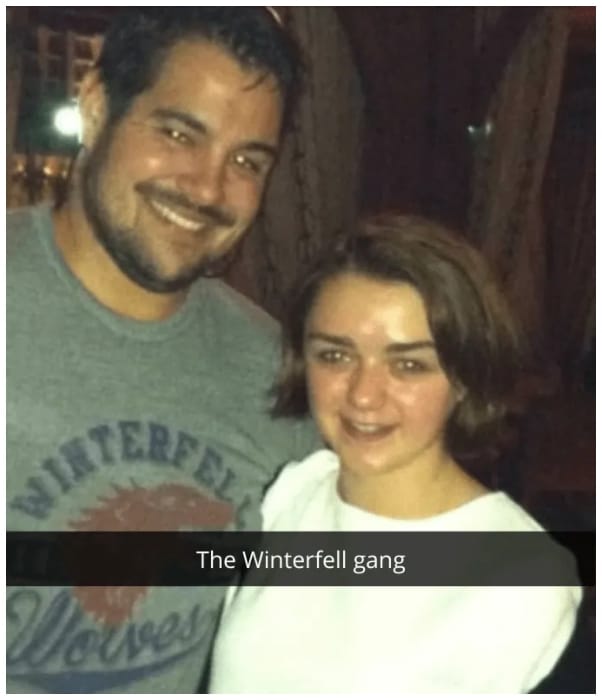 Either way, the Game of Thrones must have been nothing but ecstatic to see one of the characters of his favorite show up close. Nothing is better than the Winterfell gang!
Bad Timing
High school picture day brings many memories – sweet, bitter, sometimes bittersweet. But how the day will go depends on how good our yearbook photo turns out. Apart from the quotes and one-liners, people put in a lot of effort to look decent in these photos as they are distributed to everyone in the class. Many tend to hold onto this book for years!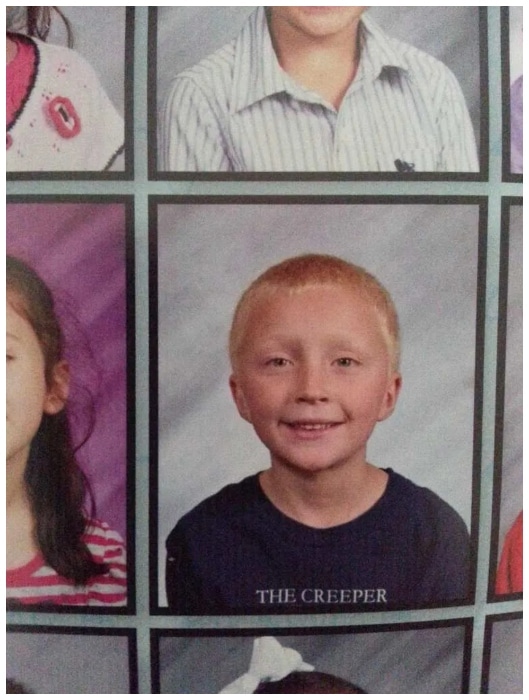 Out of all the clothes he could have worn that day, he chose one that screams his truth to the rest of the world. It's okay to suffer from underconfidence, but there was no reason to label himself a failure like that. His wide smile makes the picture worse.
Tattoo to Shirt
Getting a tattoo takes guts, and keeping one takes patience. Tattoos are expensive, but they are also permanent and pricier to remove. Many people take the risk of tattooing their favorite celebrities on their bodies. Bill Murray is so popular that we see him almost everywhere in the U.S. Upon walking into a pub wearing a shirt with Murray's face on it, a man found a fellow fan.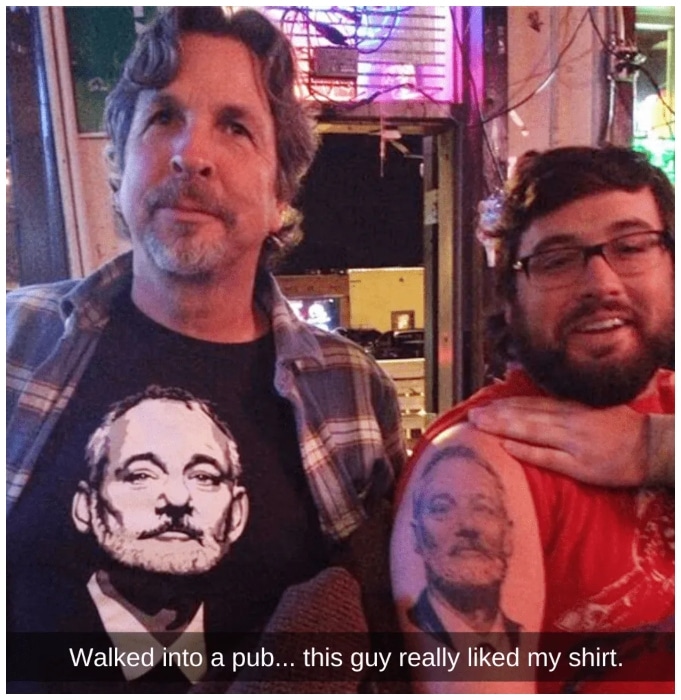 However, this fan showed more dedication and had Murray's face inked on his right arm. The two fans posed with big smiles to show off their love for the acting legend.
We Only Live Once
TikTok is proof that people will come into the emergency rooms for about anything. And then some people flaunt questionable fashion. Arguably, this is the last thing they should have worn to an ER. We don't want to be a messenger of death to this place, reminding them that they only live once.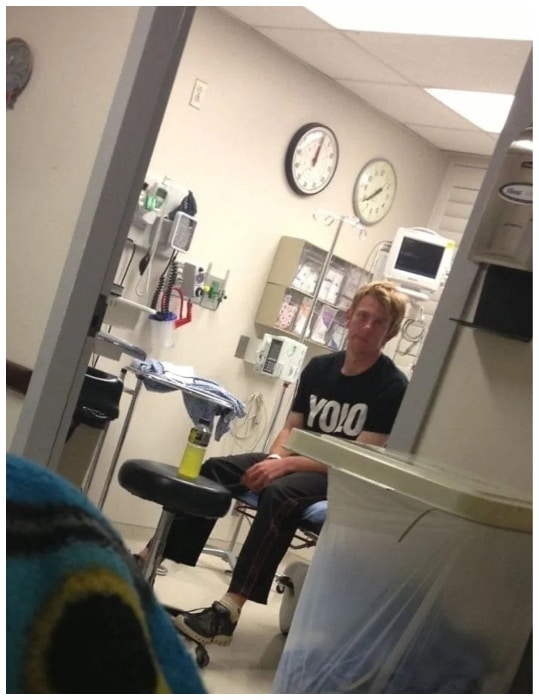 People struggle to stay alive in ERs, so wearing a shirt like this to a place like that is insensitive. We don't know if this man did it on purpose, but he sure looks guilty in the picture.