In a world where celebrities often keep the details of their personal lives closely guarded, the recent revelations by Travis Barker about his and Kourtney Kardashian's unborn son have been refreshingly open. In a candid discussion on the One Life One Chance podcast, Barker shared the chosen name for their son and the anticipated arrival date, a move rarely seen among high-profile personalities. These insights not only reflect the couple's excitement and readiness to embrace this new chapter but also offer a glimpse into their unique approach to parenthood.
A Name with a Musical Resonance: Rocky
The chosen name for their son, Rocky, as confirmed by Barker, is not just a mere collection of letters but carries a significant tribute to a figure from the musical realm. This name is a homage to Suicidal Tendencies guitar player Rocky George, showcasing the couple's deep-rooted love and appreciation for music. Such a tribute reflects an intention to imbue their child's identity with a sense of musical heritage and the inspiring stories of musicians who have made a mark in the world. This choice of name also hints at a legacy of musical appreciation and potential talent that young Rocky may inherit and develop as he grows under the guidance of his musically inclined parents.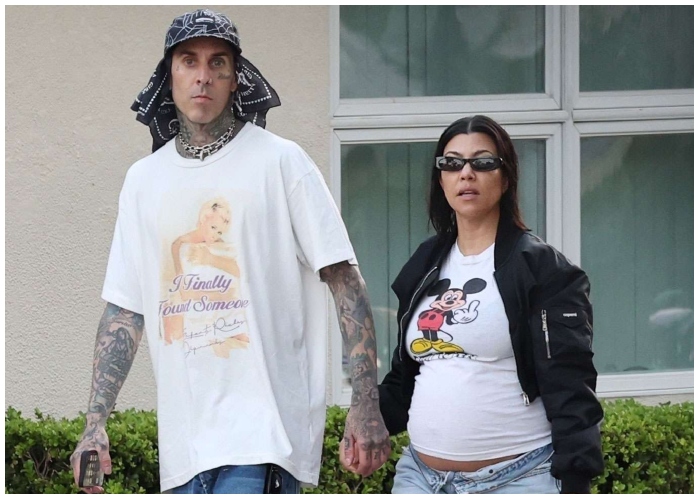 A Natural Journey Towards Parenthood
Going against the norm, especially when compared to other members of the Kardashian-Jenner clan, Barker and Kardashian have chosen to share aspects of their fertility journey with the public. They revealed the sex of their baby soon after announcing the pregnancy, a contrast to the more private approach taken by Kylie Jenner during her first pregnancy. Additionally, Kourtney's candid discussion about fertility treatments and eventually conceiving naturally showcases a level of openness rarely seen in celebrity circles. Their narrative of stopping fertility treatments and allowing nature to take its course until conception happens naturally depicts a couple embracing the unpredictability and beauty of life. This story serves as an encouragement to many facing similar fertility challenges, portraying a message of hope and the joy of embracing life's unexpected turns.