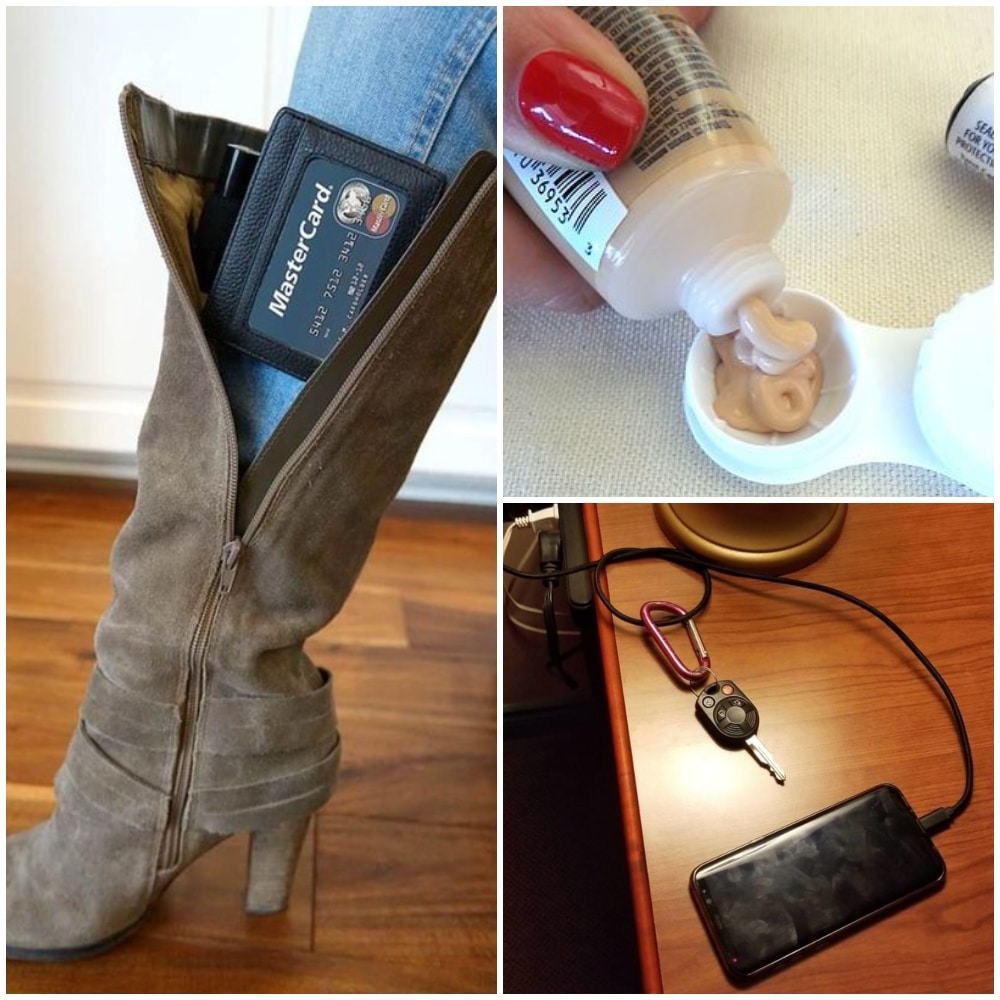 Some of us head off on vacation whenever we get the chance. Others need to dust off the suitcase before we head off to the airport. Whatever the case, there is usually the same routine. We pretend that we have everything organized before we cram everything into our case and rush to the airport with moments to spare. However, there are great hacks for your vacation that could turn your travels into the trip of a lifetime.
Roll your clothes
Of course, going on vacation means that we need at least three outfit changes a day, right? All of those clothes can take up a lot of space, but rolling them helps to fit more in your case than stacking them in piles.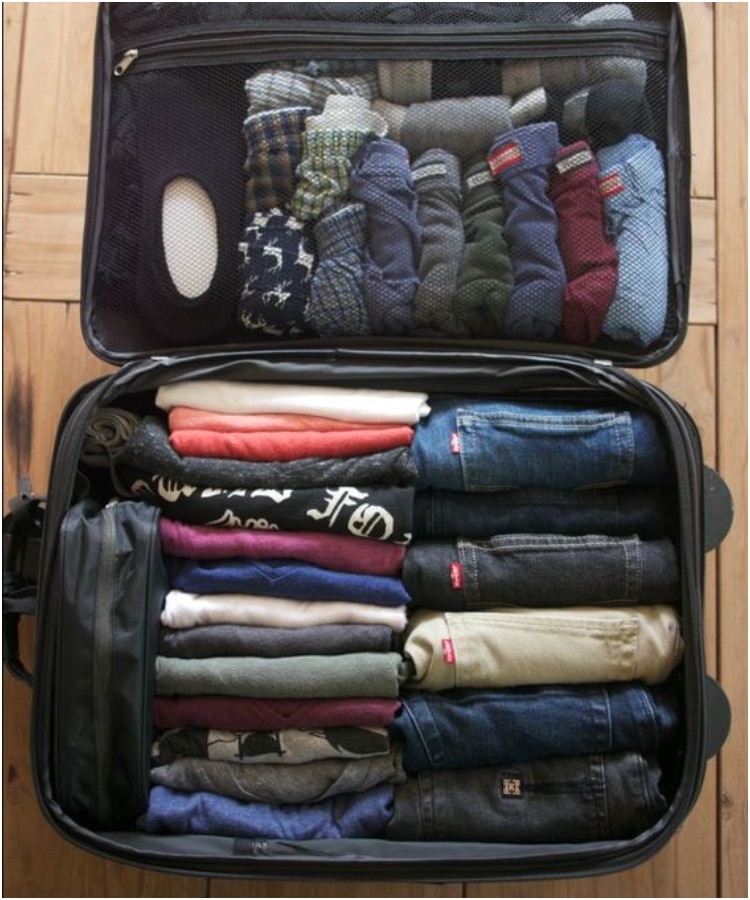 Plus, rolling up your clothes also helps to make sure that your items have fewer creases, meaning you hopefully shouldn't have to find an iron as soon as you arrive on vacation.
Clear internet cookies
Have you been searching for vacation tickets and noticed that the price has started to go up and up? It might not be in your imagination, after all. That's right; some travel sites use cookies that track what you are searching for and therefore hike up the price to make sure they are getting the most for your money.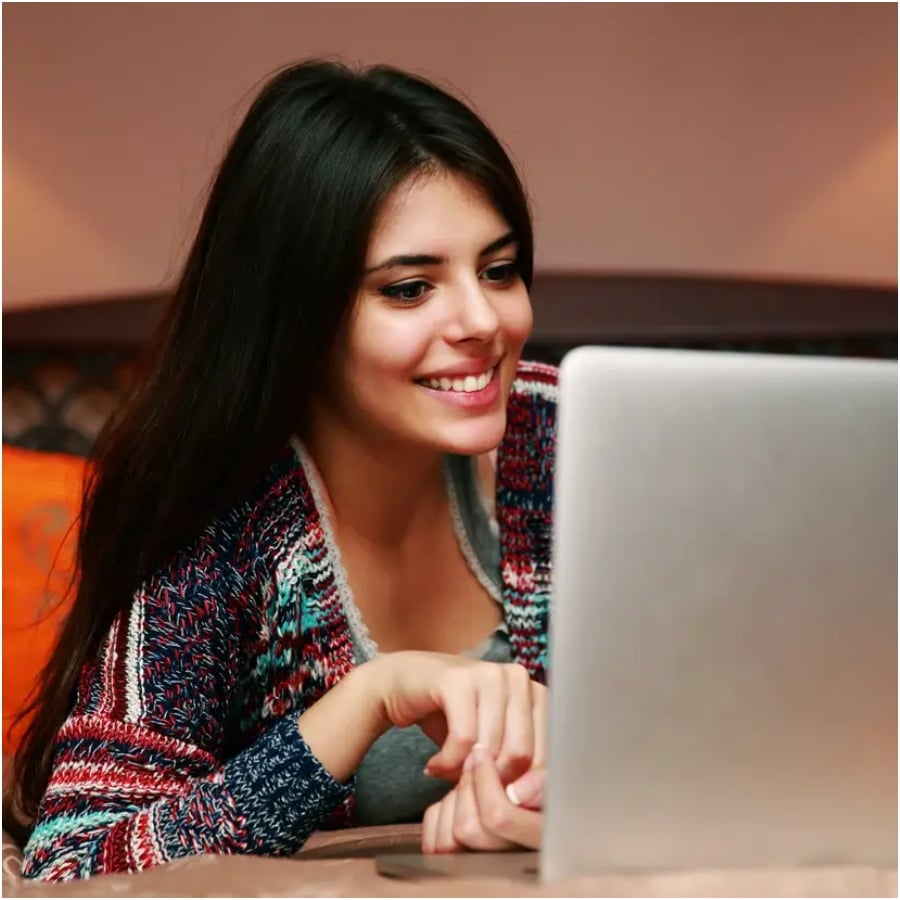 Sometimes, all you need to do is clear your cookies to make sure that you are safe or reset the price. Plus, searching in a hidden window means you should be protected without having to worry about your data being monitored.
Protect your phone
Heading on vacation often means one thing: plenty of chances to take some envious snaps. Many of us want to take our phone with us wherever we go, but all that water and sand can be quite the worry. Have no fear; all you need is a simple ziplock bag to make sure that your phone is kept nice and safe.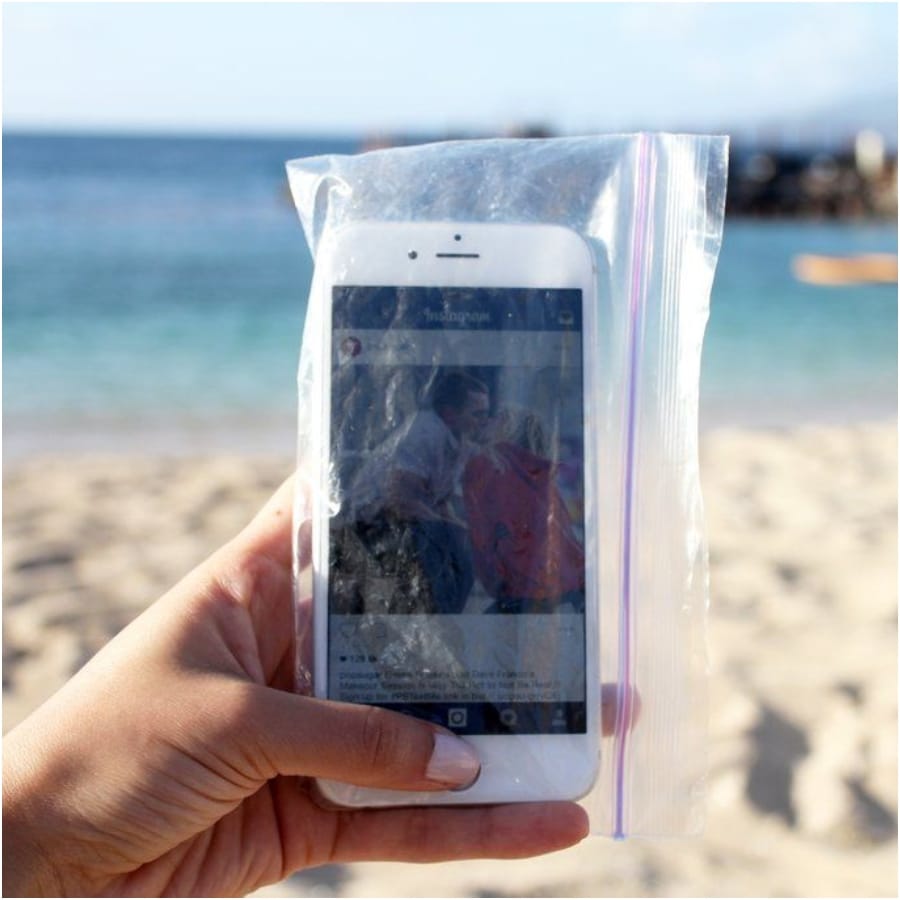 Sure, you could fork out on an expensive case to keep things protected, but why waste your money when you could use a vacation hack instead? You'll still be able to use your phone while it's out of harm's way.
Wrap your shoes
Many of us love to get out and explore the local area when we head off on vacation. However, it might not be long before those dirty shoes leave marks in your hotel room or wreck your entire suitcase of clothes as you fly
home. What is there to do? Thankfully, it seems as though there's a vacation hack for all occasions. All it takes is a simple shower cap.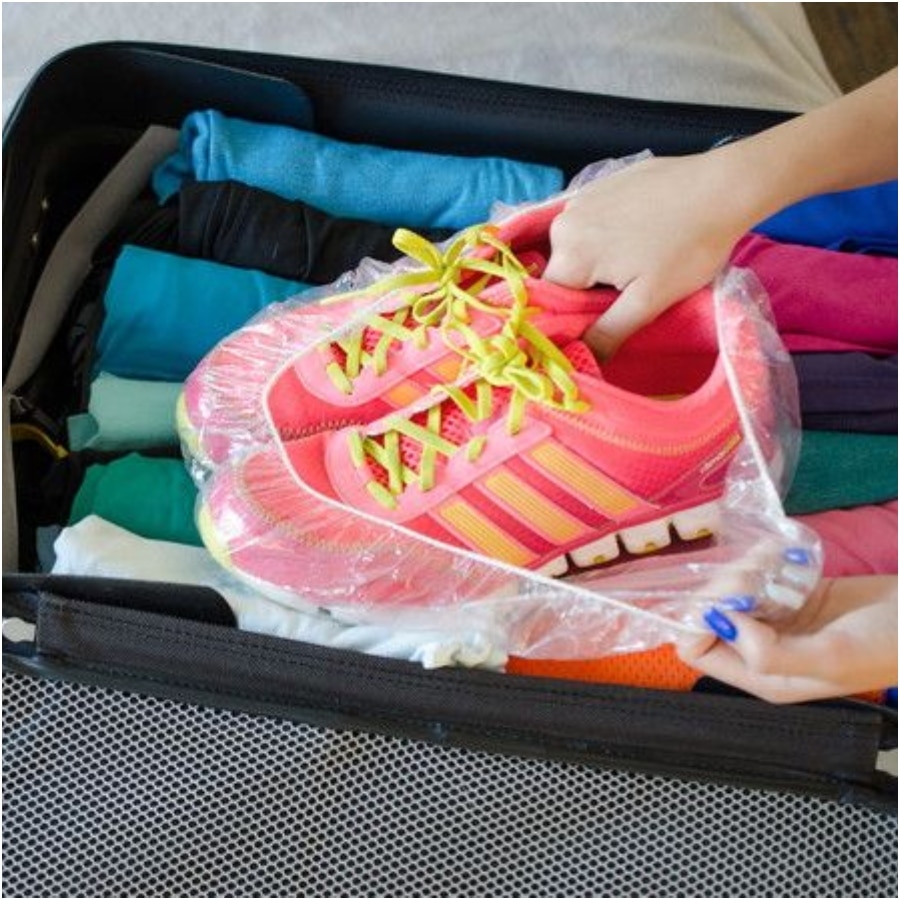 That's right; wrap the cap around your shoes, and everything should be kept safe from the mess. The best bit? Most hotels give them out to their guests for free.
Use sunscreen bottles
You don't have to be James Bond to go undercover on vacation. All you need is a sunscreen bottle, and you'll soon be good to go. Make sure that the bottle is empty and clean before you cut a small hole in the back or unscrew the lid.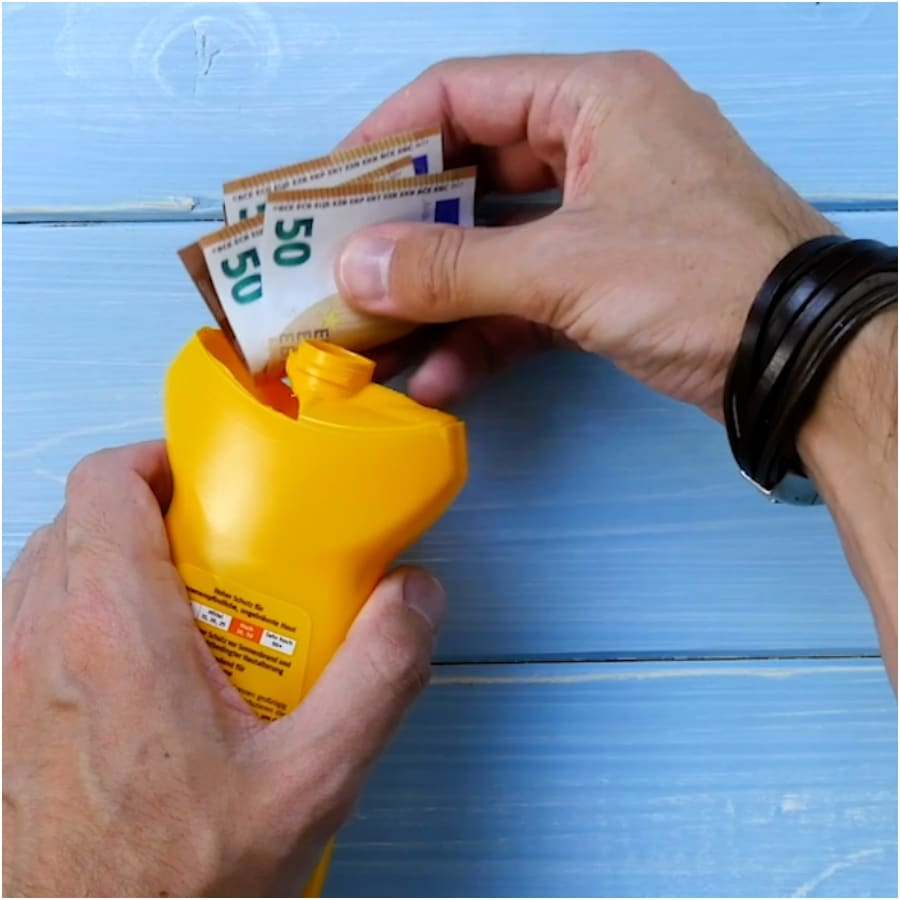 This can be the perfect place to store all your important items, such as money or your keys, without anyone ever realizing your valuables are hiding in plain sight.
Bring a spare bottle
Airports have strict rules about any liquids that can and can't be taken on a plane. However, there is nothing about taking an empty bottle with you on the journey. At last, there could be a way to stay hydrated without getting in trouble.
As well as skipping out on paying the high airport prices as you wait for your flight, you will also have a way to take water on your vacation adventures on the other end.
Steam your clothes
Not all of us take iron when we head on vacation. So what happens when your clothes come out of the case looking a little creased? It turns out there could be an answer. All you need to do is hang your clothes on a hanger and prop them on the back of the bathroom door or the shower rail.
The steam from the shower is usually enough to drop out all those wrinkles.
Photograph your parking spot
Some of us hire a vehicle when we're on vacation. Although we might be used to the parking spots around our house, things usually look pretty different while we're away.
If you want to make sure that you can find your car, then be sure to take a photo of the spot or any memorable landmarks in the area before you leave. You could also drop a pin on your smartphone's map to be doubly sure.
Make your own kindling
Maybe you're heading off camping for your next vacation? There are usually many things that we need to take along with us, and it might be easy to forget a couple of items.
If you find yourself without any kindling, then it could be time to rip open that bag of chips as Doritos can also be used to start fires. The best bit? Dry spaghetti also burns slowly, meaning it can be used as a long match.
Wrap your toiletries
Opening your case and seeing a shampoo mess can be many a nightmare. We wrapped them in our bag and double-checked the lids. How has it exploded over everything we packed? This vacation hack could save your entire suitcase.
Simply unscrew the cap, place a piece of plastic wrap over the hole, and re-screw the lid to help avoid any messes in the future. Hopefully, all those toiletries should stay in their place once and for all.
Silece Please
Outside noise can be really frustrating when you are trying to have a nice and relaxing time but the people next door are celebrating a birthday with friends on another floor. Their late nights and noise can certainly become annoying and this is where this genius hack certainly comes in use.
Take one of the floor or hand towels from the bathroom, place it on the floor in front of the door and seal the gap. This will help to rapidly seal out most if not all of the noise from the hallway.
Get rid of sand
Ah, there's often nothing quite like heading to a sandy beach while on vacation, right? That is until we end up a sandy mess. Sand somehow has that magical power that means it ends up just about everywhere.
That is until we try using baby powder. Merely pour a little wherever you have sand to watch it suddenly fall off. This is because baby powder removes all the moisture, so the sand has nothing to hold onto.
Repurposing a Pill Container
The daily pill containers you can find at your local drug stores are amazingly useful when it comes to packing. With multiple tiny compartments, these containers are perfect for packing small items that get lost easily in your luggage.
From jewelry to hair clips and accessories, these tiny items can all be stored in your trusty pill container and the tiny compartments are perfect for keeping things organized and separated. This is extremely important if you are packing chains or necklaces and each necklace can fit in its own compartment. With this genius hack, you will never lose another earring or hairclip again.
Easy Packing
This is a great idea if you intend to live out of your suitcase for more than a few days. Normally when you pack everything in your suitcase things can get a little disorganized over time. Constantly digging in your bag can unfold and unsettle things and pretty soon it will be one big mess.
However, by placing your outfit for each day in a separate baggy, you can keep your suitcase better organized. This way each day's clothing goes into its own little bag and you can easily rummage through the bag without unfolding and disorganizing things. It is also a great way to make sure you have packed enough clothing for each day of your trip!
Don't forget your things
One thing that always happens every time you leave your hotel room is that you frantically check that you have some important things such as your cell phone, car and house keys, phone charger, and your hotel room card.
While being excited for your break, it's very easy to misplace these things so where can you put your them so that they are safe, but you can actually remember where you put them and take them with you? Try tying your keys to your phone charger, it highly unlikely you will forget to leave without both of them.
Create air conditioning
Heading off on a sun-filled vacation might have seemed like a good idea at the time, but it might not be long before your body is craving some air conditioning. As long as you have a floor fan, then you could make your own.
Merely place a damp towel in front of the fan to help cool things down another level. If you don't have a fan, then cooling mist could soon become your best friend instead.
Beach Money
Going to the beach with your wallet is a bad idea. Not only is there a good chance of losing it in the sand, but it can also be stolen while you are enjoying the water. So instead, fool those thieves with this genius vacation hack.
Simply clean out an old lip balm tube and place the money you will need for the day inside. You can then keep the tube in plain sight because no thief will think to check your lip balm for your moolah. It is also pretty waterproof and will keep your money protected.
Wake-up call
When you go to a hotel it is usually for a special occasion or a holiday so there is nothing more annoying than when your curtains don't close completely. Hotels often have an annoying habit of having a little gap that can pull the outside light through.
Luckily we have found a way to solve the problem, find a coat hanger in your room and then use it to attach either side of the curtains. This will pull them both together, resulting in the light being kept out and no wake-up call in the morning.
Make Your Own Vanity
Some hotel rooms have desks that can be turned into vanities, some don't. If you see an ironing board in the closet, take it out, and set it underneath the mirror in the room.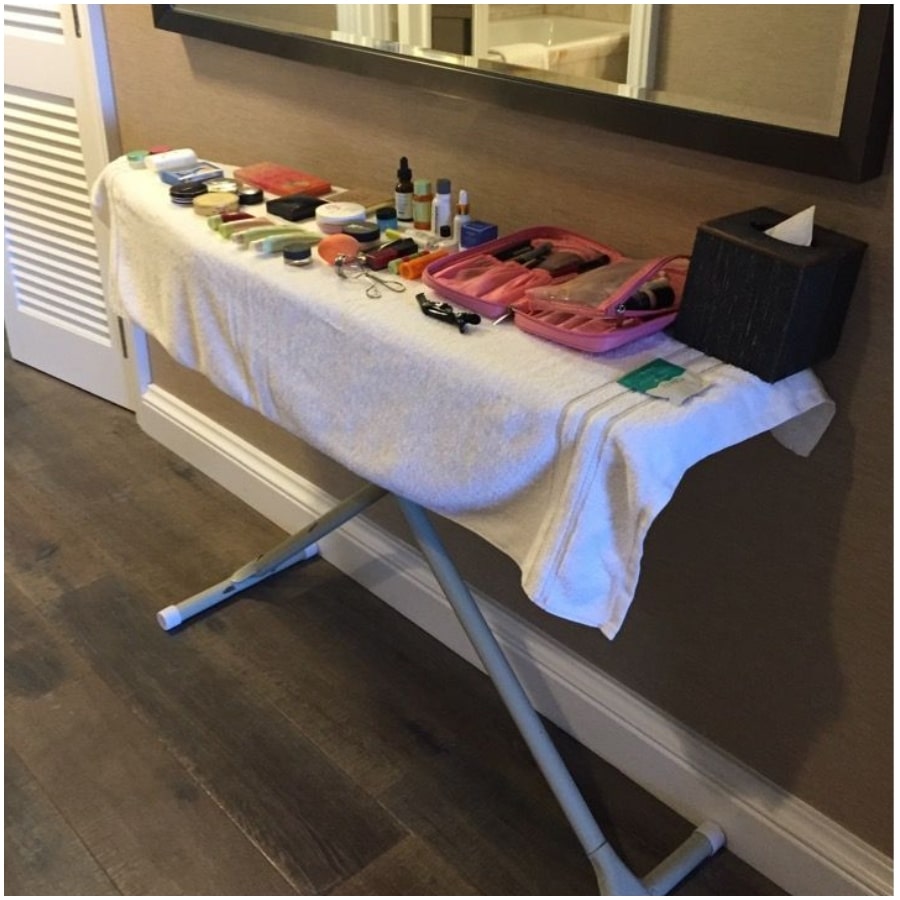 Place a towel on top of the ironing board, and voila, you have a vanity! Now, all you need to do is place your makeup and accessories on top of the towel.
Packing Earrings
You don't have to abandon your fashion style when you go on vacation. Normally packing earrings can be a little risky.
Earrings, especially studs, are small and it is very easy to lose one and be left without a pair. But by putting your earrings through the hole of a button you can keep your earrings safely together. Place these in your toiletry bag and you will be good to go and guaranteed returning home with both earrings.
Travel Toothbrush Holder
A toothbrush holder is important as it keeps your toothbrush from touching germ-filled surfaces and also allows the bristles to dry. When we travel you may not always have access to a toothbrush holder or cup, so instead just pack a clothespin with your toothbrush.
You can use the clothespin to prop up your toothbrush up and keep it away from dirty countertops. It also allows your brush to dry so that you don't pack it when it's wet.
Foundation on the Go
Every girl will know that traveling with toiletries can often be a nightmare. With fluid limits and weight restrictions, carrying a full bottle of a liquid foundation may not be an option. So instead, get yourself a new contact lens case and fill one side with foundation and the other with primer.
This way you only have as much makeup as you will need and you don't have to drag around half-empty bottles wherever you go. If your foundation comes in a glass bottle, this hack also means that there will be less chance of your foundation breaking in your luggage.
Portable Leg Rest
If you are planning to travel for extended periods on a train, in a car, or on a plane then you may want to consider a portable leg rest. These inflatable leg rests are easy to pack because they take up so little room when uninflated.
Once they are inflated they allow you to extend your legs and put your feet up in a more comfortable position. They are also great for the beach and for use in hotel rooms.
Trouble with Toiletries
There's nothing more annoying than when you get your toiletries out of your bag and they have leaked all over your clothes, even though you swear you screwed the lids on as tight as possible. So if you are one of those people who are dedicated to a certain shampoo, condition and/or shower gel, then this tip can change your packing anxiety.
You can either reach for an old shower cap, plastic bag or even some cellophane, unscrew the bottle lids, cover to hole with the plastic and then screw the lip back onto the bottle. This will give the liquid extra protection by creating a seal.
Bobby Pin Dispenser
Now, this hack is so useful it's not just for travel. If you need bobby pins to keep your hair up then try using an old tic-tac container to store your pins. Normally packing bobby pins can be a nightmare, by the end of your trip you may end up with lose bobby pins at the bottom of your suitcase.
By using an old tic tac container as a bobby pin holder you can keep these tiny pins together and make sure that none of your pins get lost along the way. This makeshift dispenser keeps your hairpins handy and by flipping the lid open you have easy access if you need one in the middle of styling your hair. This way no loose pin will get lost in your luggage and your hair will always look good.
Email yourself information
There is often a lot of paperwork that comes with heading on vacation. Insurance documents, travel tickets, and your passport are just some of the things you'll probably need as you jet off. Sadly, our relaxed minds can sometimes misplace things, or they get lost along the way.
All you need to do is take a photo of everything you need and email it to yourself. This way, you'll always have a copy of everything – even if it does get lost. At last, all of those worries can leave your mind free to unwind as you soak up your vacation.
Save your location
Believe it or not, but you can use some smartphone maps while offline. Yes, you can avoid those expensive data charges and still know your way around while on vacation. Google Maps allows users to type "ok maps" to save an image of the map on the screen.
You can then name your map and pull it up whenever you like without having to find somewhere with wifi. Who said traveling had to be complicated?
Boot Cash
Any experienced traveler knows that travel safety needs to be your number one priority. For all those ladies expecting to travel cities where pickpockets are a problem, why not keep your cask safe with this handy boot wallet.
This slim travel wallet fits seamlessly inside any boot or under your pant leg. The wallet attaches with a secure elastic band and even has room for you to carry your perfect shade of lipstick and up to 4 cards.
Check the TV
Passport? Check. Tickets? Check. Clothes? Check. It seems as though we have everything packed. That is until we get to the hotel and realize there was one thing we forgot to add to the bag: our phone charger. Sure, we have the cable, but what good is that without the charger?
Have no fear; most hotels now have TVs with USB ports that means we can charge our electronics without the complete charger. Phew – crisis averted.
Help any insect bites
What is it that makes us taste so great to those biting insects? If you're unlucky enough to get bitten and don't have any soothing cream in your bag, then all hope might not be lost. All it takes is a little bit of soap, and you could soon forget all about that painful addition.
Just rub a little onto the bite and leave it to dry to help soothe the itching and calm the irritation.
Carry a pen and paper
Some of us make sure that we have a pen on us at all times while others like to travel light. However, heading on vacation could be the perfect chance to start carrying a pen and a small notebook. Why?
To make sure that we have a way to write down any directions or important information, of course. Many hotels have pens and paper available in the rooms, just in case you forgot to pack some.
Boost your immune system
Sadly, jumping on a plane means we're forced to get a little too close to everyone else for hours at a time. We can almost see the germs floating around in the air.
Thankfully, all you need to do is make sure that you start drinking plenty of water, getting enough sleep, and taking your vitamins a week before you leave all the way to a few days after you get back to boost your immune system.
Brighten your suitcase
That plain bag might have seemed like a good deal when you bought it, but it might not have been just you that spotted the bargain. That's right; those plain bags can soon blend into the background.
It's time to get creative to make sure that your suitcase stays with you the entire journey. A small piece of ribbon, some colorful tape, or even splashing out on a bright patterned bag helps to make it easy to spot.
Store your cables
Many of us need a cable for all occasions to make sure that our electrics are fully charged throughout our vacation. It could be anything from phone chargers to headphone cables. Whatever the case, it might not be long before they turn into a tangled mess in our bag.
Thankfully, an empty sunglasses case could be all you need to save the mess. Simply put your wires inside to keep them out of the way.
Stitch your beach towel
If you're heading to the beach on your vacation, but you're worried about your things getting lost in the sand, then it might be time to get sewing. Thankfully, it shouldn't take too much work. All you need to do is sew a small pocket to the corner of your towel.
Now, you'll have a safe place to store your valuables while you sit back and relax under the sun. Plus, they help weigh down the corners, too.
Invest in a multi socket
Sometimes, it can feel as though you need 100 plug adapters to make sure that you can use all your electronics at once. That is until you start traveling smarter – not harder. Yes, a multi-socket could be the answer to all of your prayers.
Now, you only need one plug adapter for the multi-socket while the rest of your electronics can be used at once. The best bit? You could save yourself a lot of worry and room, too.
Night stand problems
Back in the day, a nightstand or bedside table was almost guaranteed when staying in a hotel however as the decor has evolved, the funkier hotels don't tend to have them, or they have one rather than two.
It may look aesthetically pleasing but let's be honest, it can be rather annoying when you want a place for your phone and glasses. Hotel maids tend to have a special way they make the beds and on each corner, there is always a certain 'tuck of the sheet'. This is the perfect area for you to put your things while you sleep.
Soften that butter
Having the added bonus of an all you can eat breakfast included in your hotel package is the perfect way to start your day, but one thing that can be very annoying is that the butter always comes in these tiny foil packs and they are always rock hard.
Let's face it, hard butter on a soft piece of bread is the last thing you want. A genius idea to help with this reassuring problem is by placing the butter on the toaster while it's warming the bread. By the time the bread is toasted, the butter is ready to be spread easily onto your breakfast.
Smelling fresh
Although your hotel room can be nice, after some time, they can begin to smell a certain way. The smell isn't a partially bad one, but one that certainly needs freshening up. If you are out and about on the road, be sure to steal the air freshener from your car and take it to you're hotel room.
Once you have located your AC or heating unit, place the air freshener in front of it. That way, when it's working, it will be pushing the scent around the room resulting in a much fresher smell.
Ice Bucket Challenge
When it comes to logging by the pool all day, it is very easy to rack up your bill tab. Sipping soft drinks and eating ice scream's all day may sound like a good thing at the time but that can quickly change when you see the bill.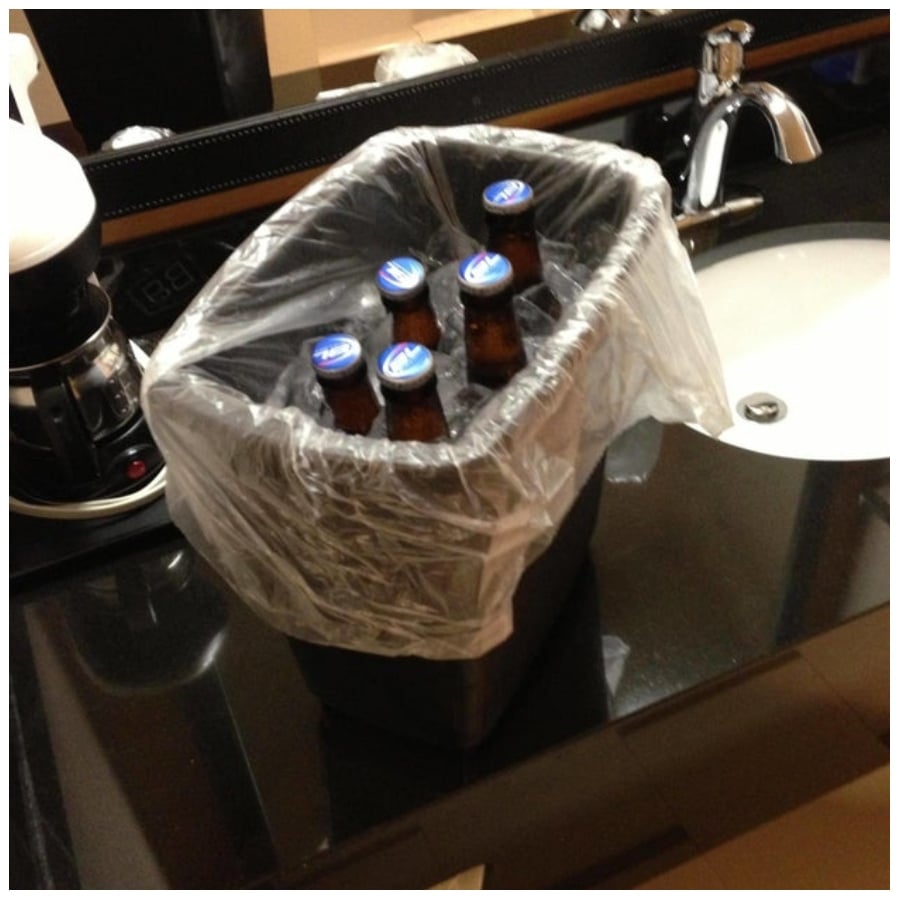 Actually, although hotels won't allow you to bring your own alcohol, you are certainly allowed to bring soft drinks and snacks into the hotel. Using the ice bucket in your room, ask the bar person to fill it, go to the supermarket and top it up with soft drinks for half the price.
Call your bank
There are some things we don't want to happen while on vacation. Having no access to your money is probably one of them. Thankfully, many banks now offer low charges for using our card while abroad.
Plus, it can sometimes feel safer than trying to carry a lot of cash. Just be sure to call your bank and tell them that you are traveling before you jet off to make sure your card isn't blocked.