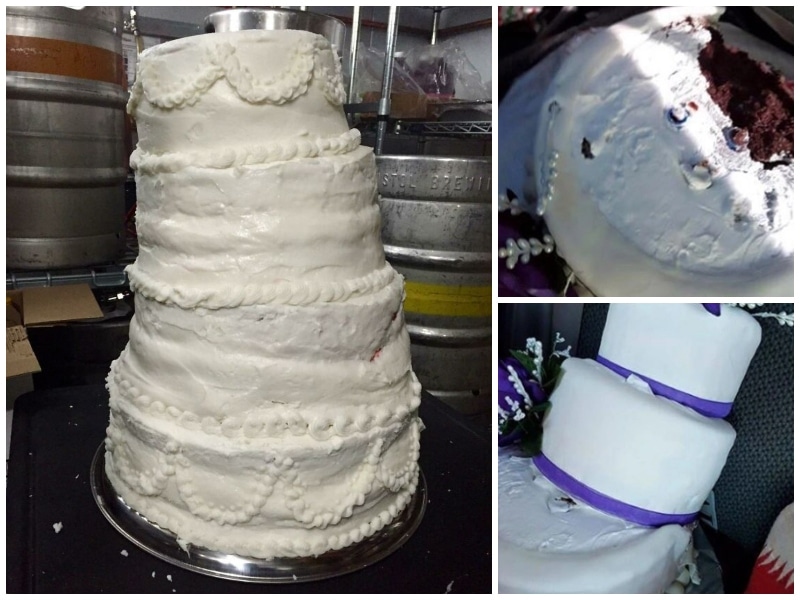 For most brides and grooms, the highlight of their wedding day is the moment they see each other on the aisle. The wedding reception is also a pretty big deal and the wedding cake is always a focal point. Some couples try to save a few bucks by making the cake themselves, while others look for discount bakers. You know the saying, "You get what you pay for"? That saying definitely applies to these iced fiascoes.
When planning a wedding, take some time to taste different cakes and view the portfolios of cake makers. Not all cakes are baked and decorated the same, which means some major cake fails can be avoided if a bit of research is done. Start scrolling to see some cakes that certainly did not live up to the happy couple's expectations.
Gone Hunting
Whoever said wedding cakes need to be white and frilly, did not meet this couple. After deciding on a forest theme for their wedding, they decided to incorporate a woodland animal into their wedding cake.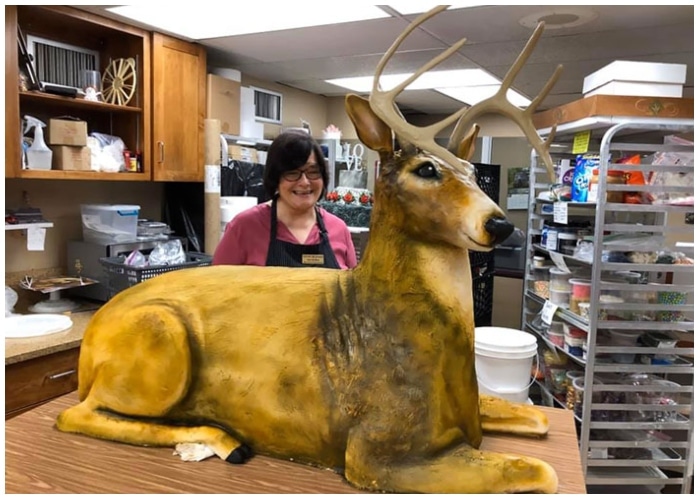 What they didn't realize was that the entire cake would be a woodland animal. Hopefully there were no vegans at this wedding because even though this is a cake, it does appear to be pretty life-like and each piece will be a cut of meat.
Scottish Weddings Call For Plaid
Anyone who has worked at a bakery knows that decorating cakes is an art form in itself. Selecting a cake, especially one with a pattern takes some serious skill, and is not easily created at home.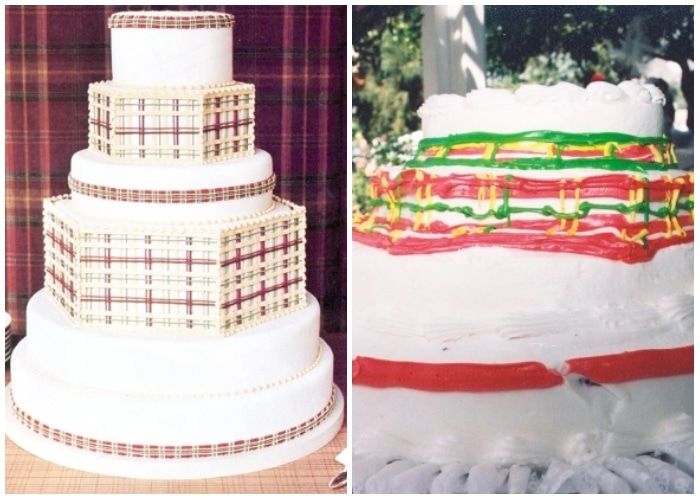 This bride and groom thought they could craft a nice plaid pattern with some tubes of icing, but the effect was definitely not the same. From afar this cake looks like it has melted just like the snowman in 'Frozen.'
Hold On To The Cake
There are lots of wedding fails, but when it comes to the wedding cake, these fails tend to be spectacular. After carefully preparing to cut the cake, and shove a piece of cake into each other's mouths this couple experienced something no bride and groom ever wants to.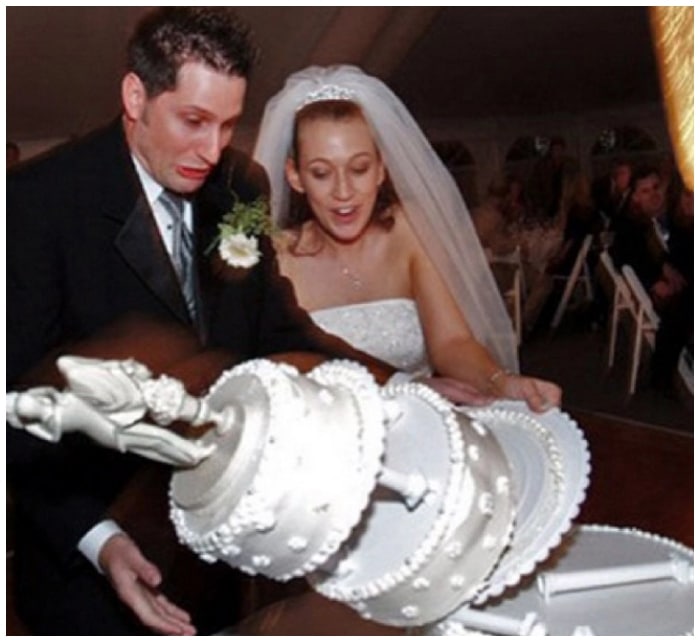 As they went in for their cake cutting ceremony, the whole tiered confection began to lurch to the side, and proceeded to tumble down to the floor.
Til Death Do Us Part
There are lots of reasons couples get together. Some share a love of all things outdoors, and others share a love of… zombies. This couple decided to embrace their love of zombies by having a wedding cake crafted with the undead climbing up the sides of it.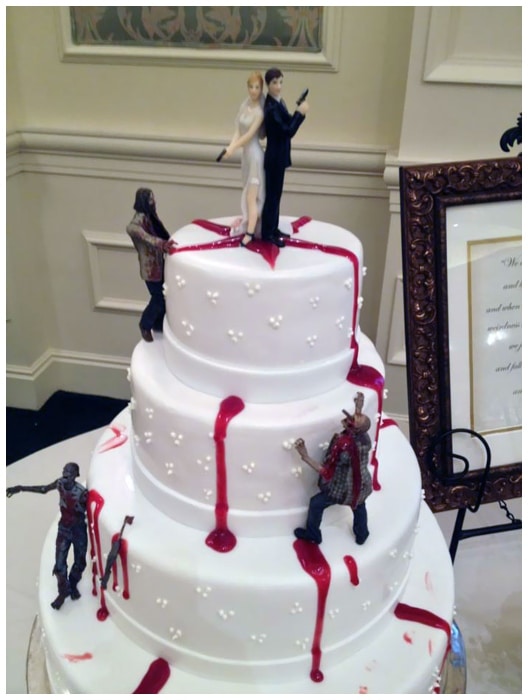 While the cake itself is very creative, it is a tad on the gory side for a wedding. We wouldn't be surprised if a couple guests went home with nightmares after seeing this one.
Put A Bird On It
Peacocks are beautiful birds. The male ones have tail feathers that are iridescently beautiful. The colors that make up the tail feathers are an unusual choice for a wedding cake, but if you really love birds, and peacocks specifically, then it's a good choice.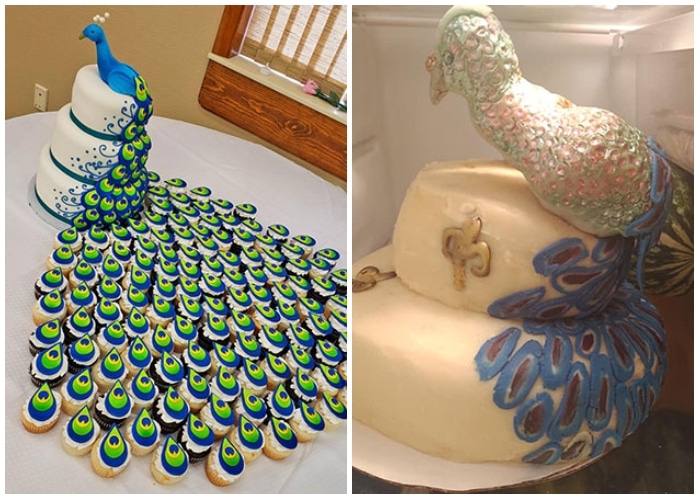 That being said, you likely want a baker who knows how to use fondant if you want the peacock crafted to perfection. This cake looks like it has a sad phoenix on it.
Just A Quick Bite
Some weddings are adults only, and for good reason in the case of this cake. Those two little indents on the side show where a little child's fingers scooped some icing out. Unfortunately, they also snagged a bit of the cake itself, and now it looks a bit topsy turvy.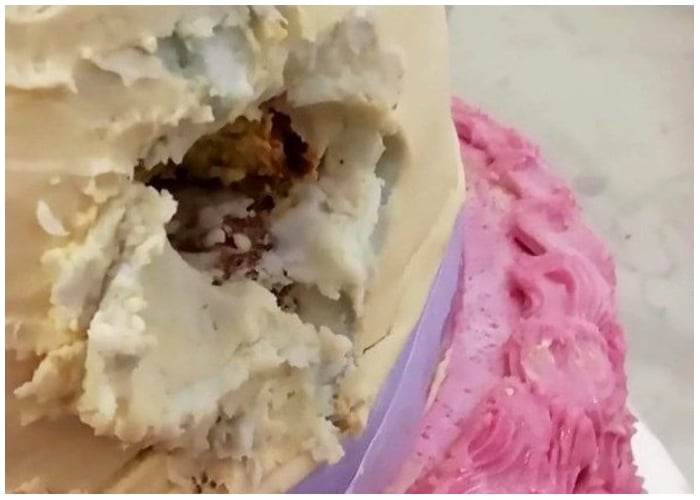 The bride and groom would not have been pleased if this cake went crashing to the ground. Always keep an eye on where the children are at a wedding.
Action Figures Are Better Than Fondant People
Most bakers and decorators know their limits when it comes to wedding cakes. The expensive ones can create wonderful confections fit for a princess, or a super spy.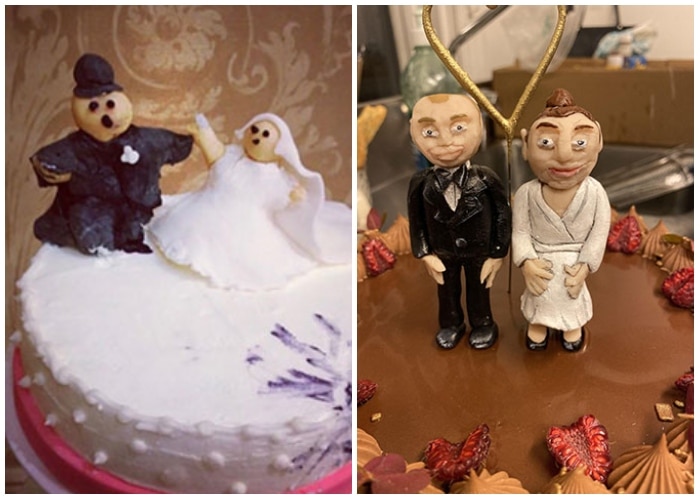 We're not sure why this groom wanted a cake that showed him saving his bride, but the cake they received was not exactly up to snuff. The fondant people look like they were made by some kids in an art class.
Love In 2021
Everyone around the globe will remember the great toilet paper craze of 2021, when people stocked up on it like the world was ending. This couple decided to commemorate this special time, which is when they initially met through their wedding cake.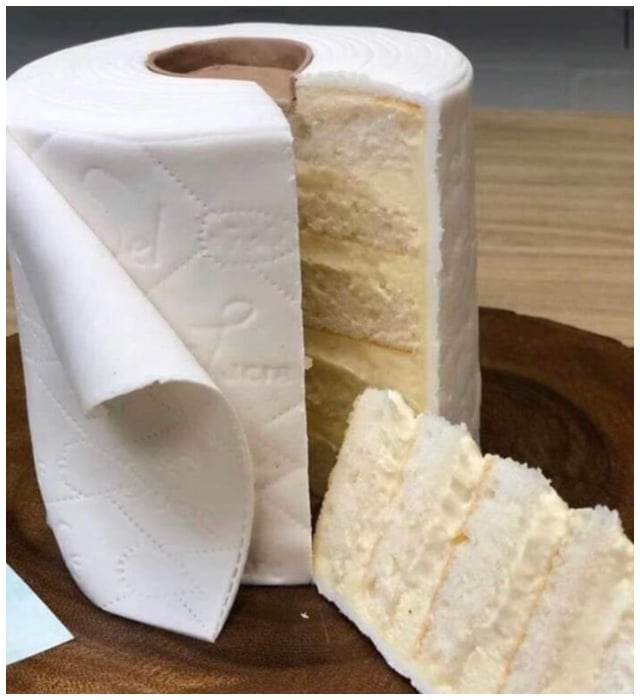 Whoever made this one is a master cake maker, because it looks like a real life roll of toilet paper ready to be unraveled. We can't help but wonder what flavor they selected. Would toilet paper be vanilla?
A Lot Of Gold Drip
When it comes to choosing the color palette for a wedding, gold or silver tends to make the cut. Metallics are important because they tend to feature with the cutlery at the reception, the centerpieces, and even the wedding rings themselves.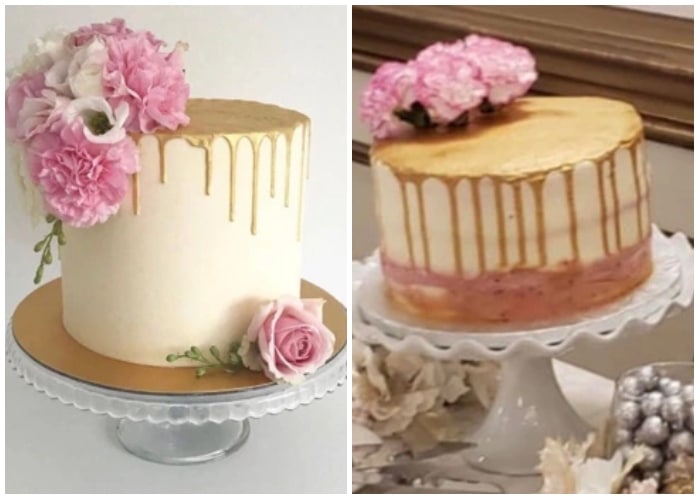 This bride wanted a lovely gold drip on her wedding cake, but instead ended up with a cake literally drenched in cold. Learning how to do the drip does take some time, and this baker must not have had it.
The Leaning Tower Of Macarons
Some couples like to get creative and have a sculpture or cupcakes, or in this instance, a tower of French inspired macarons. These scrumptious little cookies are melt in your mouth good.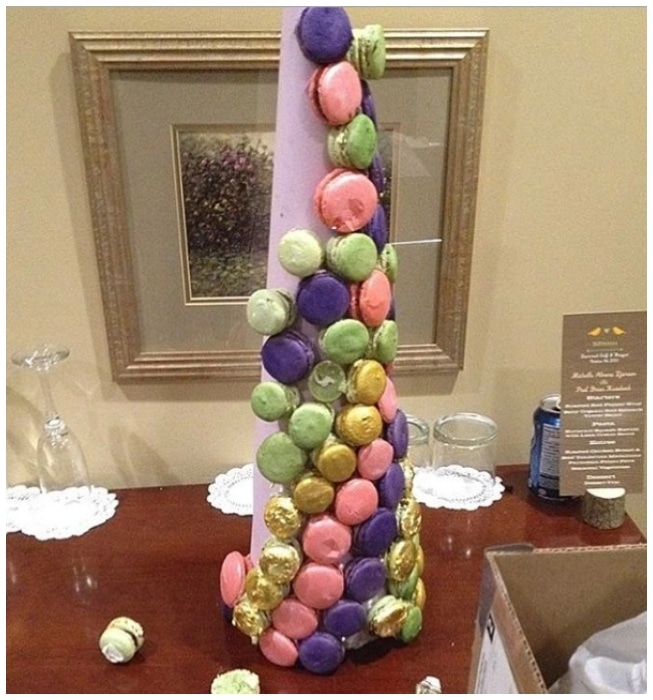 Thus, it comes as no surprise that some children had a macaron feast before the bride and groom even made it onto the dancefloor. Hopefully some of the adults got to enjoy a few macarons before they were all gone.
The Ramen Cake
We love untraditional cakes but this one literally takes the cake or the ramen. Instead of having a nice vanilla cake with buttercream icing created, this couple opted for sculpted ramen.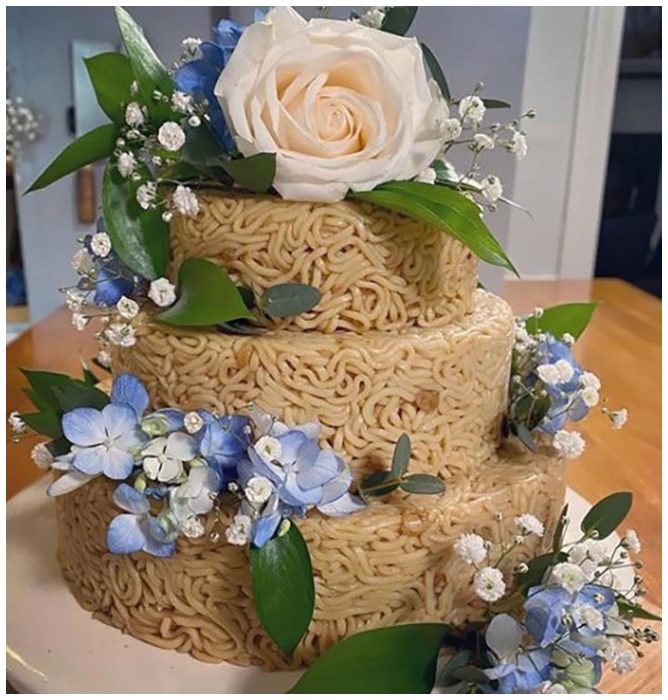 This is definitely a new kind of cake, and sculpting cold ramen into the shape of cake is no easy feat. Somehow whoever created this 'cake' managed it. We're not totally sure how this one would taste. Perhaps it tastes like spicy ramen, or maybe beef and vegetables.
A Cascade Of Blobs
Anyone who has watched a reality baking show, knows that decorating a cake is not as easy as simply slapping some icing on it. Making fondant flowers takes a lot of skill, as the fondant needs to be dyed or painted, and then carefully wrapped into the flower shape.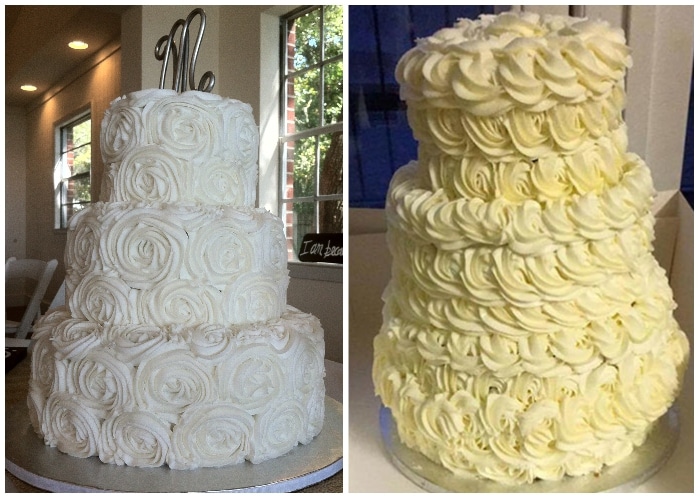 This cake decorator decided that blobs of icing look almost as good as flowers and figured nobody would notice the difference. Let's just say, everyone noticed.
It's Getting Hot In Here
What happens to butter when it is exposed to high temperatures? Butter turns from a solid state into a liquid one, which normally isn't a big deal. It does become a pretty big deal when that butter is in the form of buttercream icing, and begins to ooze off of the cake.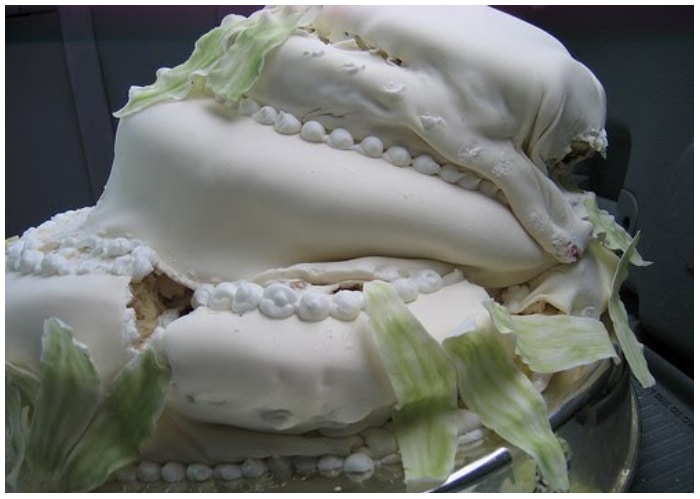 For the guests at this wedding they got to enjoy the charcuterie platter with a side of sugary icing. Anyone with a sweet tooth would have loved this.
A Little Too Life Like
There are a couple of ways to stand out from all of the other brides and grooms out there. One of these is through the use of a unique wedding cake topper. These can be customized to show the bride and groom in great detail, but sometimes there is such a thing as too much detail.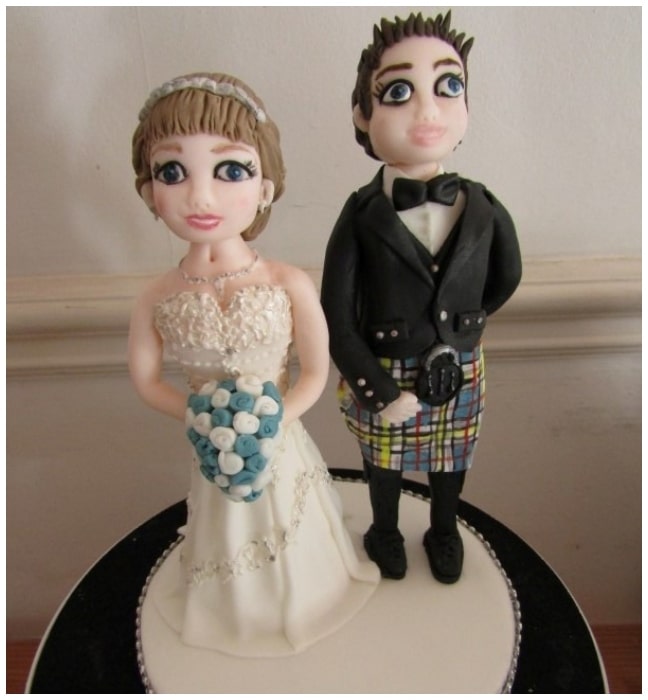 This bride and groom look like they have had a few sleepless nights, and the bride resembles a Jedi from the 'Star Wars' franchise.
Something Blue
Many brides have been going for that unfinished look for their wedding cakes and others want some simple swooshes of color. If a cake is iced with fondant, it is easy to dip a paint brush into and add a swoosh of color.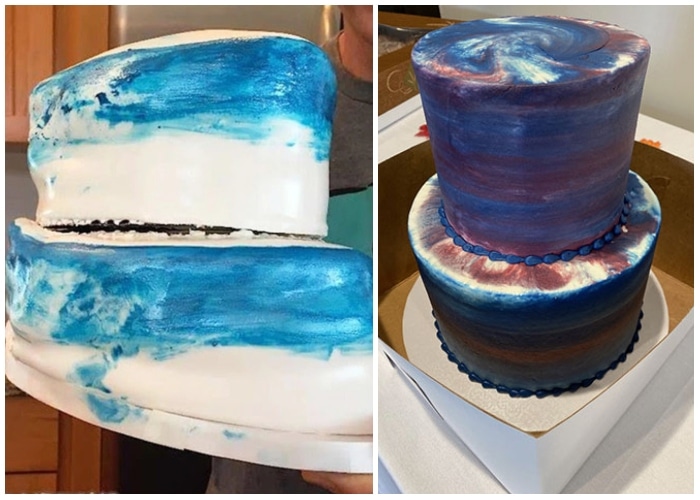 Someone must not have gotten the memo on how to properly paint a cake, because this blue edged wedding cake looks like a child might have done the job. Less is always more when it comes to adding glitter paint.
The Backside Of The Cake
It is impossible to be perfect, and for wedding cakes, there will always be a part with slight imperfections. This is known as the backside of the cake. Most cakes are not displayed with a full 360-degree view, and that is one of the reasons.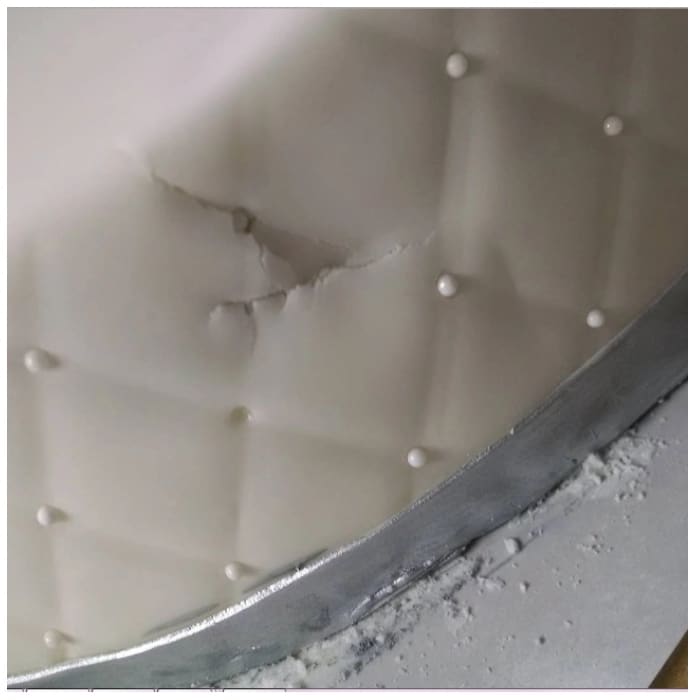 On this cake, there is a small tear in the fondant, which is why this is now the part of the cake that will face the wall. Other than that this cake is perfect.
Time For A Refund
When it comes time to select the style of cake you want for the big day, you should always have a few reference photos ready to share. These photos show the style of cake you want, the icing, and the colors that should be used.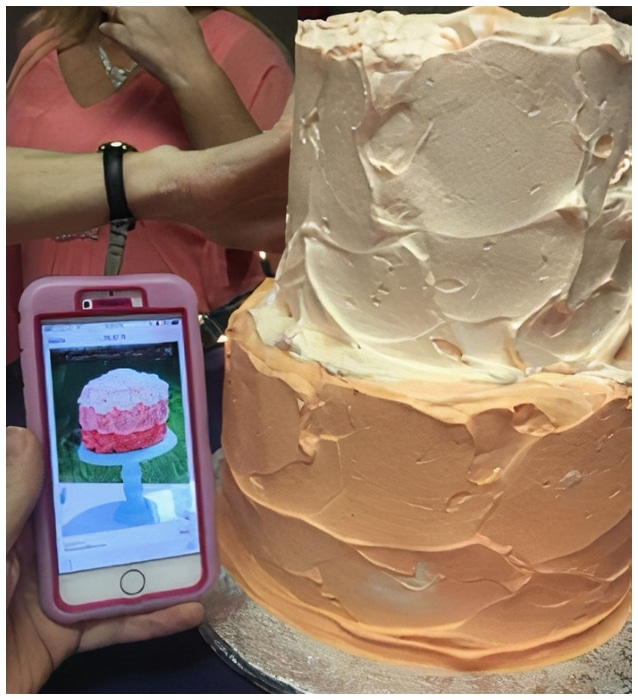 After showing a lovely wedding cake with pink icing to the baker, this bride thought she was good to go. The reality was rather different, but luckily, a full refund was provided.
The Charred Cake
The inside of a wedding cake is just as important as the outside. Yes, the icing is creamy and delicious but the cake itself can come in a wide range of mouth watering flavors like black cherry, lemon, chocolate, and raspberry just to name a few.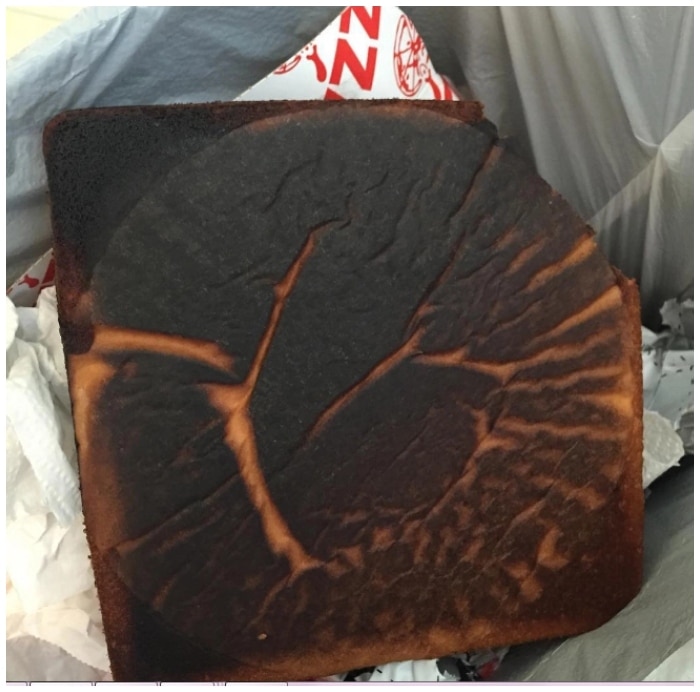 A burnt cake is not a tasty one, no matter how much icing is placed on top of it. This cake needs to be redone, because wedding guests can definitely taste the difference between a good and a bad cake.
The Mad Hatter's Cake
Lewis Carroll's book 'Alice's Adventures in Wonderland' features many unforgettable characters, but the Mad Hatter might just be the most memorable. He loves a good tea party, and fantastical desserts, which includes funky looking cakes.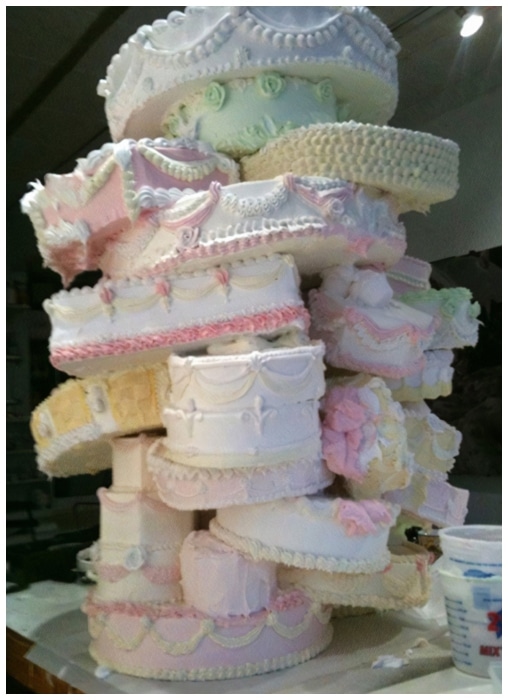 If we had to guess, this wedding cake looks like it might be an ode to him. This is many cakes mashed together, and the design seems to have gotten lost along the way. It definitely gets points for creativity.
Perfectly Trashy
Most of the time wedding cakes end up in the trash because they are burnt, accidentally made with salt, or the decorating didn't go quite according to plan. At first glance, this cake appears to be perfect. The fondant is a lovely blue and the piping has been done well.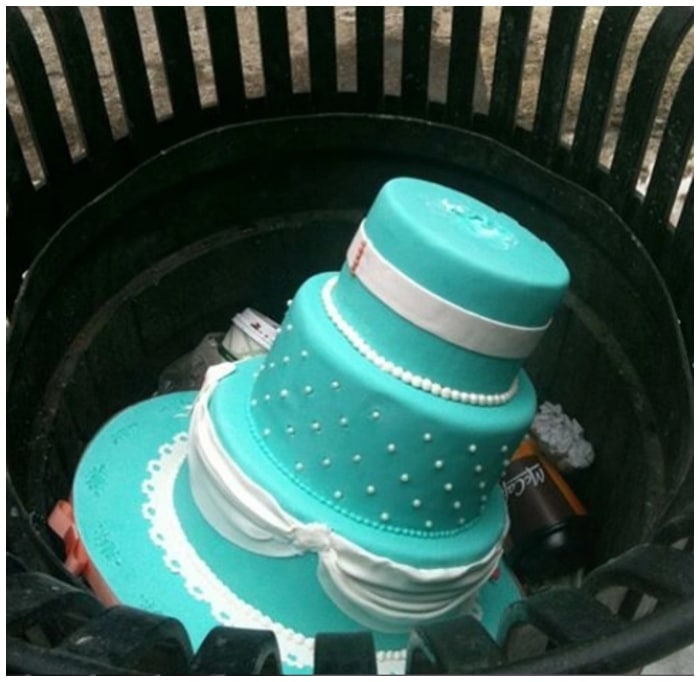 Something must have happened on the day of the wedding and the cake was no longer needed. Unused cakes can be donated to those in need though, so think twice before throwing them away.
Best Wishes To The Weeding Man
Not all wedding cakes are for the reception. Some are for the engagement party or rehearsal dinner. An enterprising friend of the happy couple decided to show up with a sheet cake for one of the events.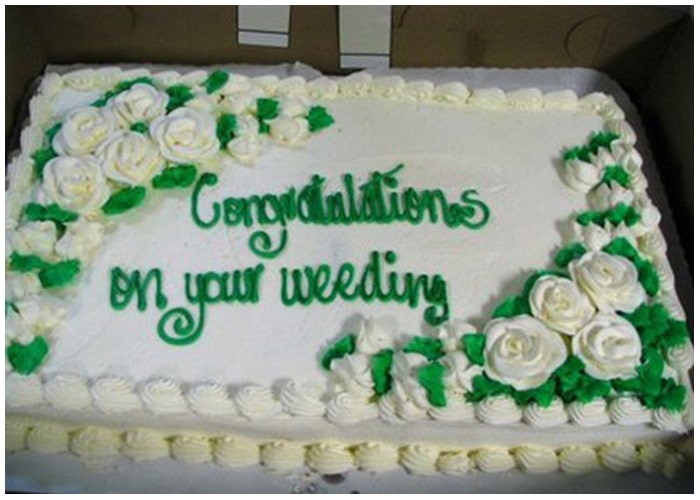 It is an incredibly thoughtful gesture, but last time we checked it is called a 'wedding' and not a 'weeding' ceremony.
Call The Police
We love seeing novelty wedding cakes. Most people opt for the standard white affairs, but this police loving couple got a cake shaped in like a police office. The reference picture is very precise, but the reality is not.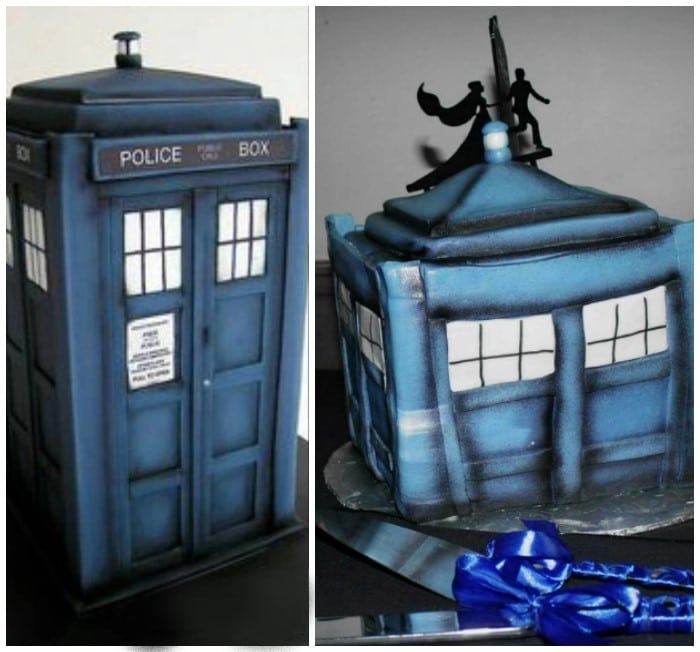 If police offices were kind of droopy looking like a Gaudi building, then this cake would be spot on. This happy couple must have been a tad unhappy with this cake.
Don't Judge A Book By Its Cover
Cakes with minimal icing and natural floral arrangements are definitely becoming the go to for hipster and bohemian weddings The picture on the left shows a beautiful cake with fruit, the picture on the right shows a pretty terrible imitation of it.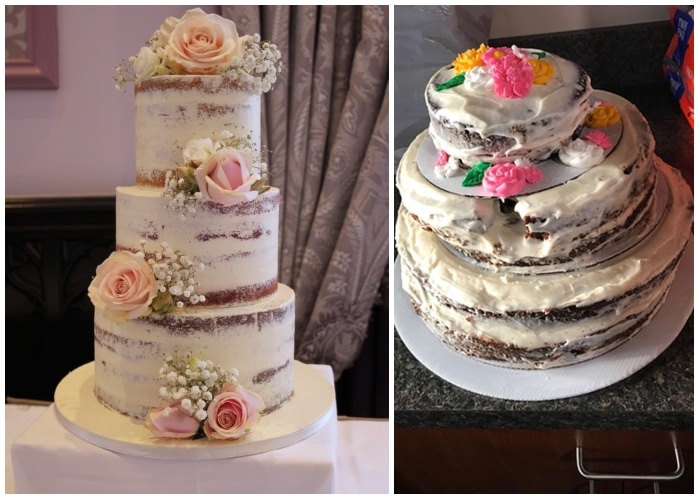 Why were icing flowers included? Also, why can you see the cardboard cake bottom on the top tier? This is a case of poor cake-manship.
The Box Was Too Small
Any baking show that makes wedding cakes shows how the cakes are stored and transported. Most of the cakes are stored in large refrigerators and then transported in a refrigerated truck.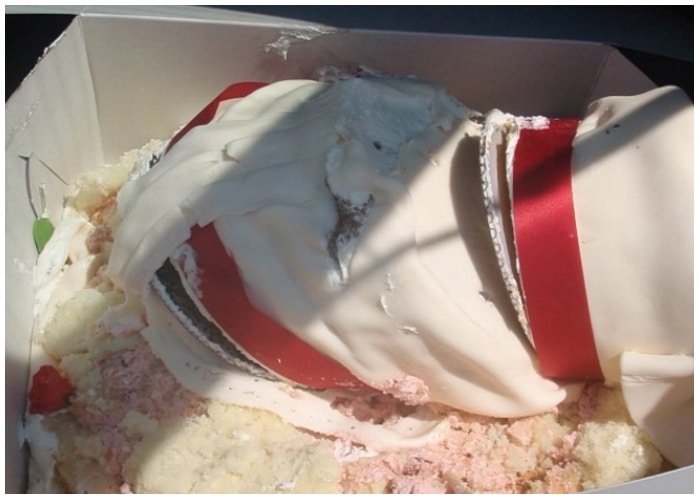 Rarely, are they placed in a large wedding cake sized box and for good reason. Boxed wedding cakes can turn into a cakey mess, and the tiers can topple like this one did.
Yellow Is The Color Of Love?
Last time we checked, yellow is the color of friendship, or at least that is what yellow roses means. Red is the color of love and desire. Somehow, the whole yellow is the color of friendship meaning was missed by the cake decorator.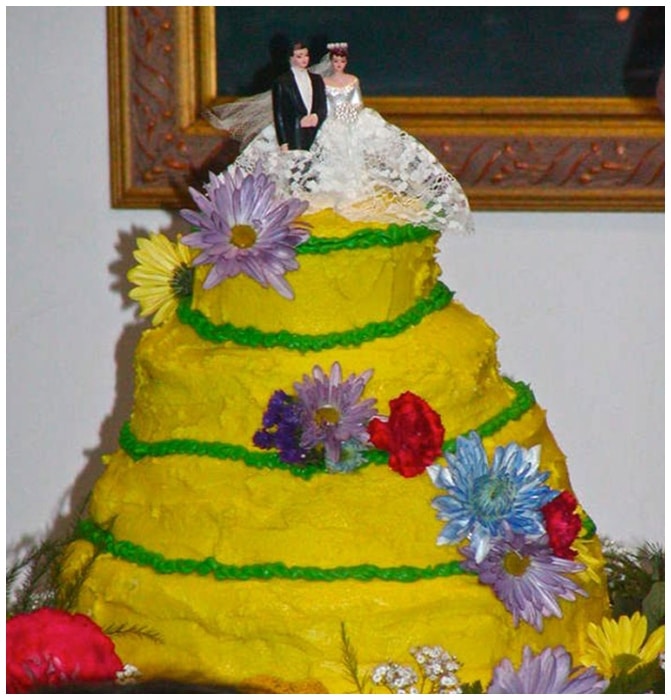 The cake looks edible, which is all that matters but we do wonder if this was actually the color the happy couple wanted.
Cake Topper Woes
Every cake decorator and cake topper creator likes to get outside of their comfort zone. That sometimes means taking on projects that are a bit too advanced for them. These fondant figurines were kept a secret until the wedding day, and it is pretty obvious why.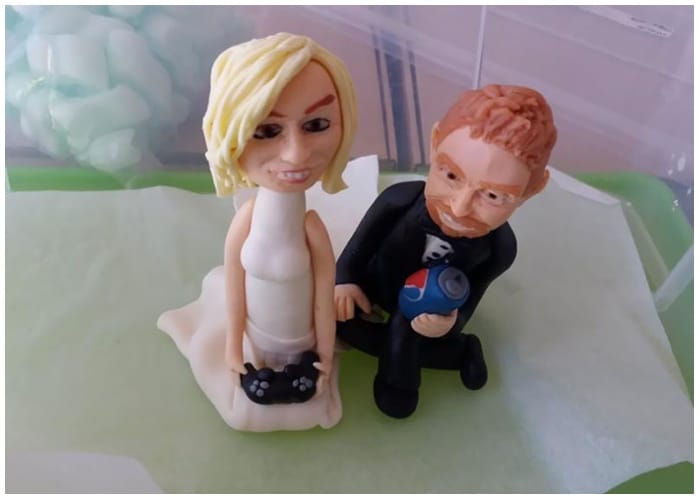 These little fondant people are pretty creepy and look like they belong on a Halloween themed cake.
A Tower Of Tires
In yet another novelty cake, we have this tower of tires. There is something decidedly unwedding like about black icing but it works for the one cake. The cake that was made to look like the perfect version did not live up to expectations though.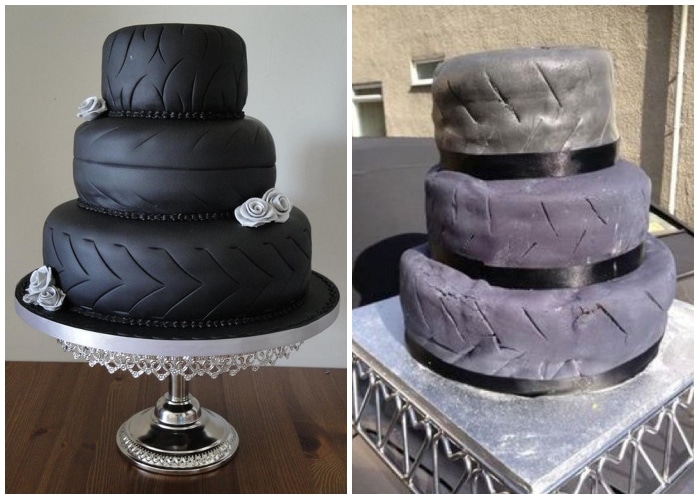 For one, the icing isn't even black, and it is hard to tell if those are tires or just icing that has been slashed with a knife.
Like Looking In A Mirror
This is the first time we have seen a cake created to look like the bride. The baker must have been provided with an image of the bride in her wedding dress because all of the colors are correct.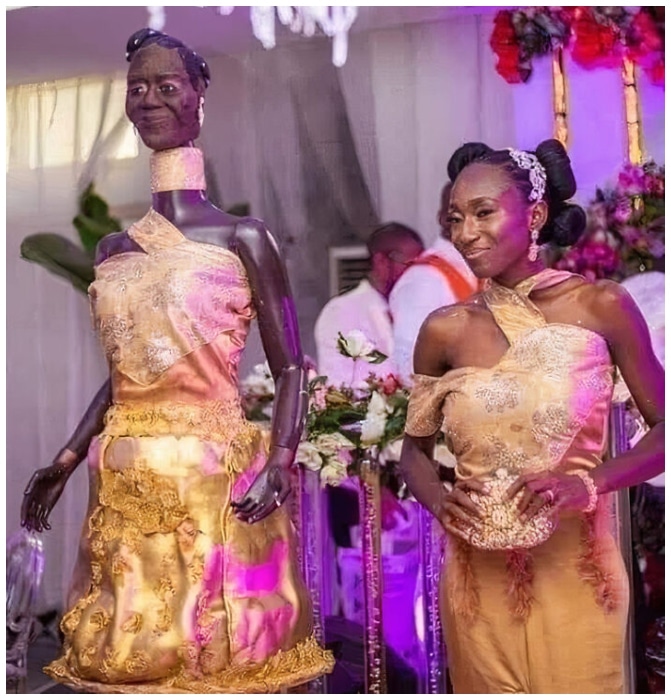 However, using a mannequin with an extra long neck for the body of the cake was probably a bad call. This looks a little bit freaky, and the wedding guests must have watched it watch them.
Just Put A Bow On Top
There are quick fixes for certain cake related items, like dabbing on a bit of icing to cover an imperfection, or using some icing to hold the cake in place.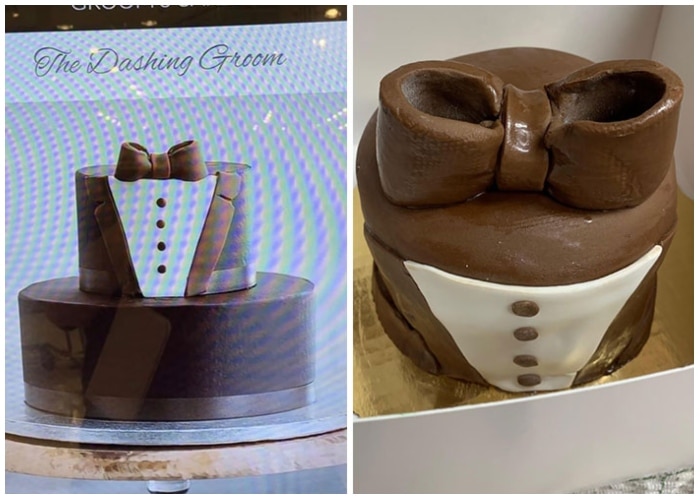 Sticking a giant chocolate bow on top of a cake is not going to make it look better if the icing job has been done poorly. That's what this bakery tried to do when they made a special cake for the groom.
The Seafood Cake
Oysters are an aphrodisiac, which makes them a good food to eat at weddings when love is in the air. Maybe this bride is like a rare pearl for her groom, and that is why oysters were chosen as the cake's theme.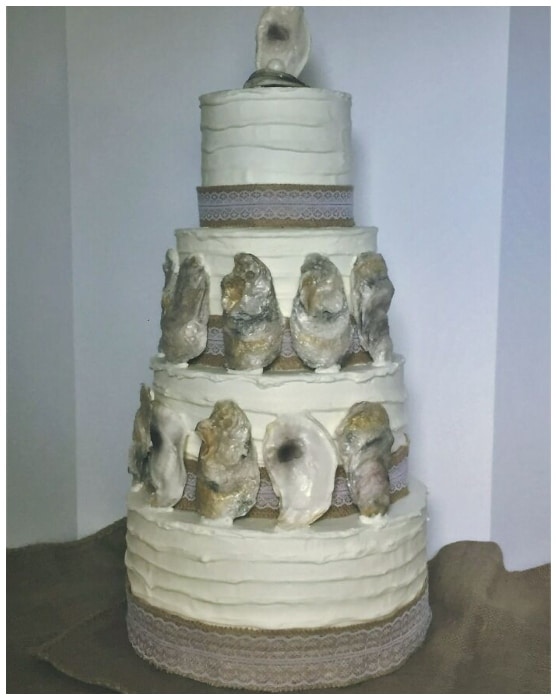 It is not one of the most appetizing looking wedding cakes on this list, but it is one of the most unique.