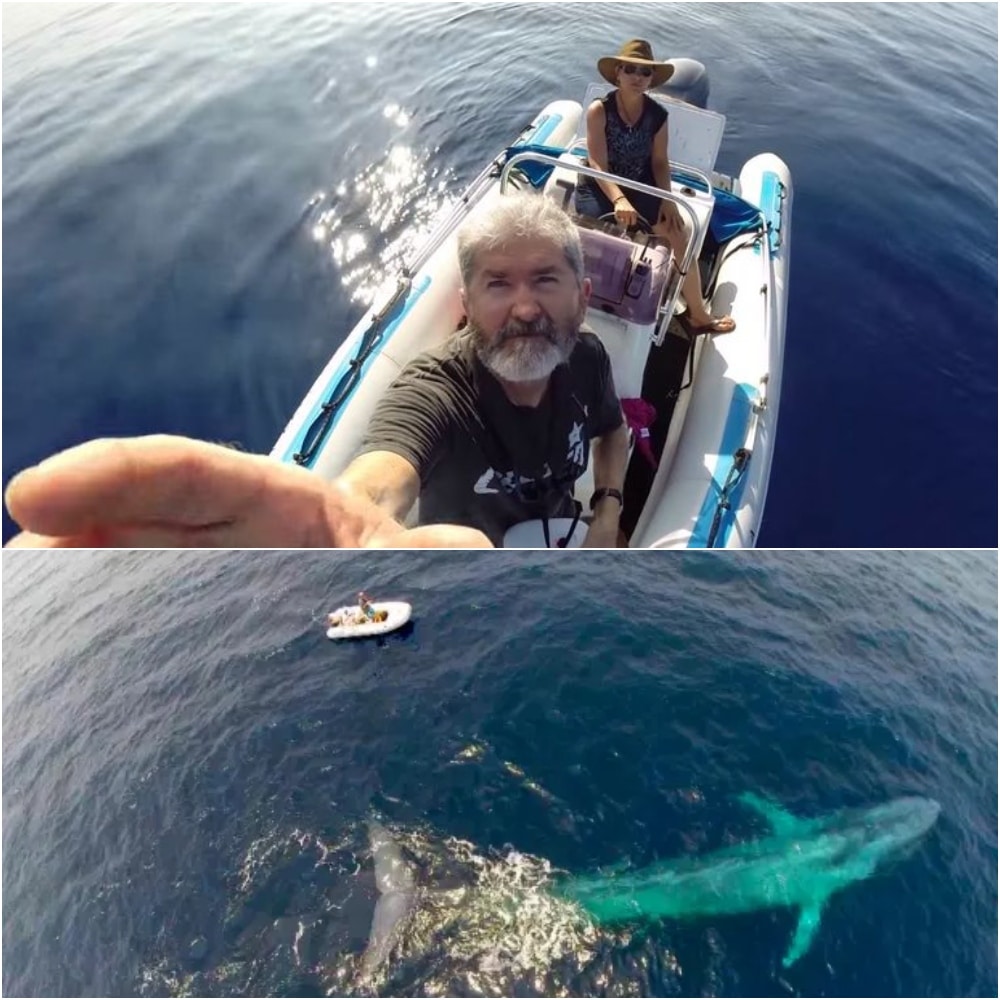 When it comes to marine conservation and exploration, it can take a lot of time and patience to get the information you need. For one marine conservationist and filmmaker, he knew that he was going to capture something pretty magnificent if he kept heading out onto the Pacific Ocean. All it took was the use of his handy drone to photograph something special and share it with the world.

Drones
Drones are what are known as unmanned aerial vehicles. A human or a computer sends the signals for where the drone should go, when it should land, and what it should take images of.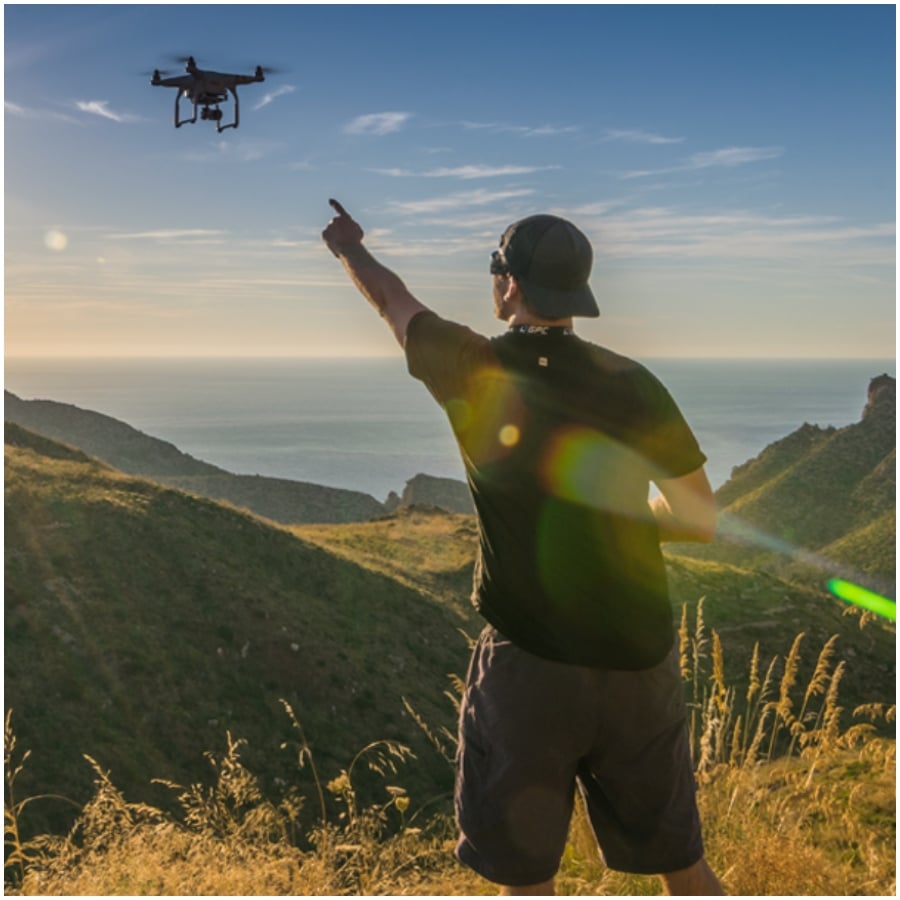 The reason this technology has taken off, is because it is portable, easy to use, and has the ability to capture high-quality images and videos. Obviously, it has a number of other uses but when it comes to the marine world that is what it is used for.

The Inventor Of Drones
While drones seem to be popping up all over the place, they were actually invented in the 1970s. Abraham Karem, an Iraqi-Israeli-American inventor is the one largely responsible for inventing modern day drone technology. He attended the prestigious Israeli university called the Technion, which is Israel's Institute of Technology.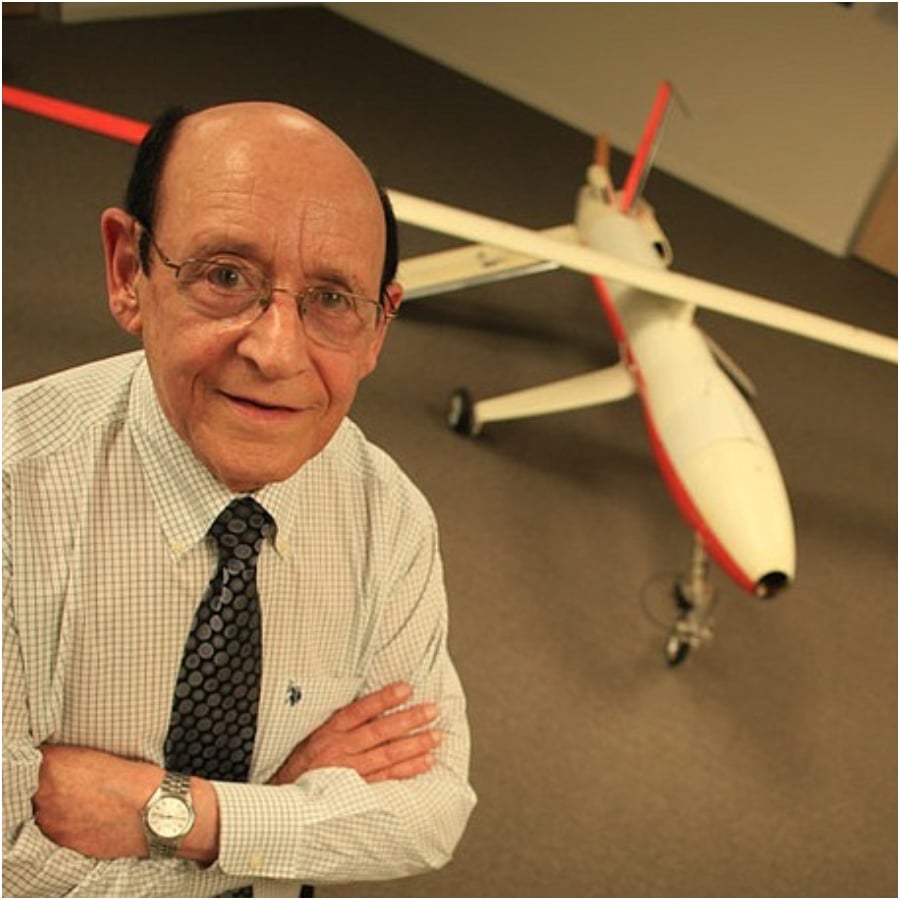 After completing a degree in aeronautical engineering, he worked with the Israeli Air Force to build his first drone. He eventually left Israel for the United States, where he has continued to build drones. Currently, Karem is a subcontractor for General Atomics, and his original drones are what have been adapted into the more common drones used for photography.

Drone Photography
Drone photography was initially used by the military. Whenever there was a person of interest in a country that had drone technology, the military would deploy one to monitor the person. The first examples of drone photography came out of the 1980s, but now drones are used by anyone who can afford one.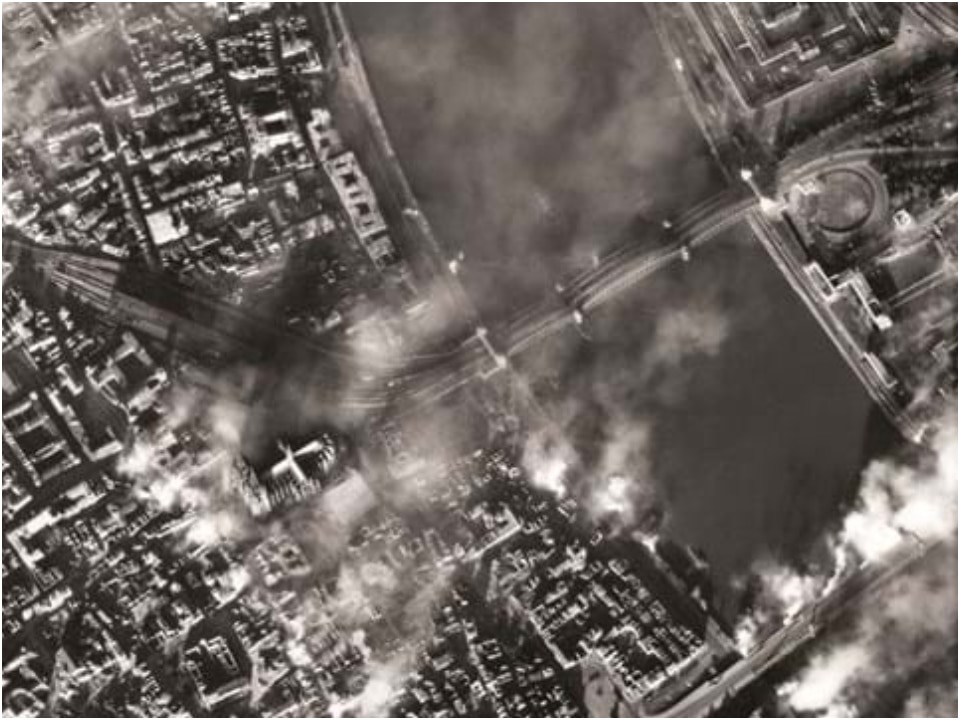 As they are very portable, and equipped with high-resolution cameras they can fly into far off places that humans have trouble accessing. They are an especially handy tool for wildlife and marine photographers, who don't want to scare off their subjects. This was very true for marine conservationist Captain Dave Anderson.

Meet Captain Dave Anderson
Captain Dave Anderson is well-acquainted with the Pacific Ocean. After all, he has spent his life zipping around it, and exploring the wonders hidden right underneath his boats. Captain Dave runs his own marine business, which offers tours or 'ocean safaris' as he calls them. Whenever he takes a group out for a tour, he brings his drone along with him.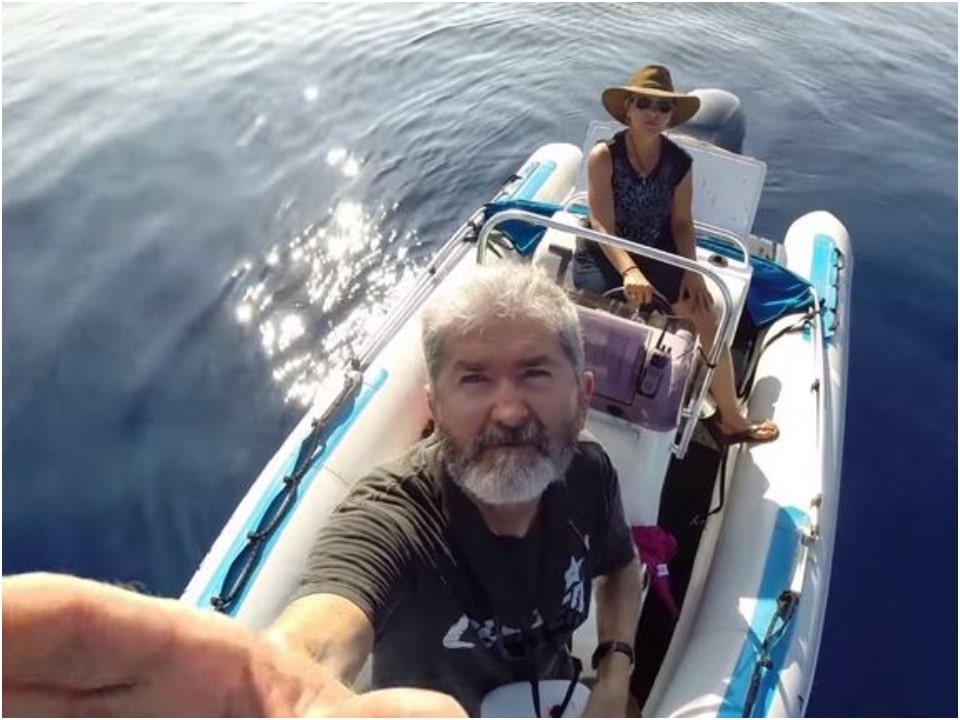 He always tries to capture everyone's glee when they spot their first dolphin or whale. We can understand that, it is a pretty magical moment if you have never seen one of these giant mammals before.

Why Is The Ocean Important?
While Dave understands the importance of the ocean, a lot of people don't know that it is something truly unique to our planet. Cosmologists and astrophysicists have searched far and wide across the universe to find a planet like earth's – specifically one that has a body of water like the ocean.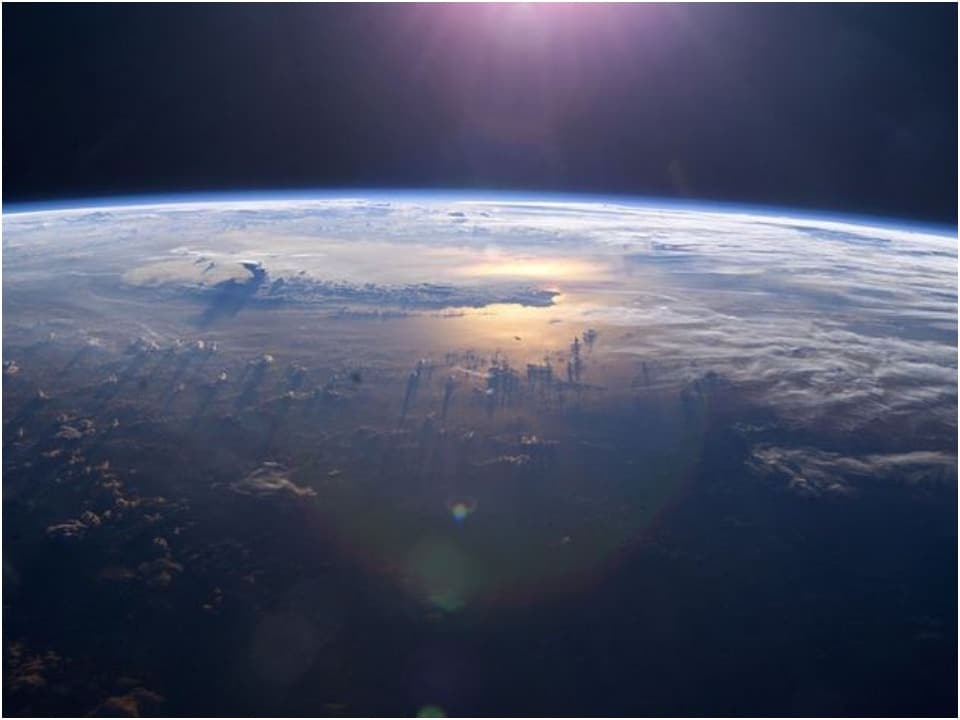 So far, they have been unable to find one, and that makes our home planet very special. If you look at the evolution of the human race, we would never have existed if it wasn't for the ocean. The first life forms to exist on Earth, were simple ones that formed within the oceans.

Everyone Needs Oxygen
There are two molecules that are in the composition of water, and they are hydrogen and oxygen, or what is known as H2O. Besides needing water to live, what is another substance or vapor that our bodies need?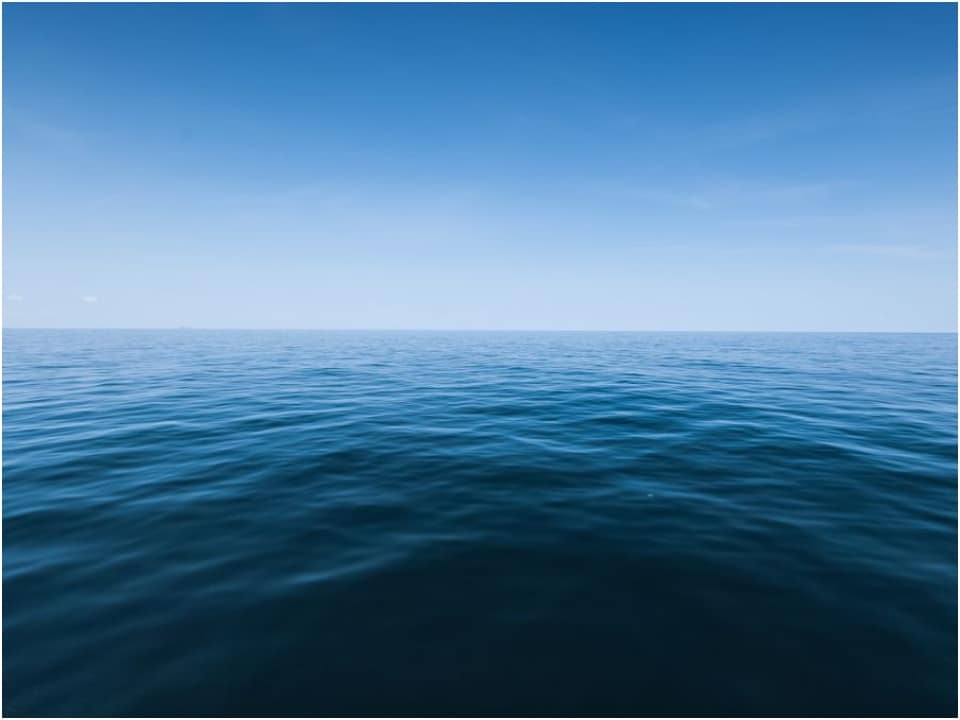 The answer is pretty simple – oxygen! Since oceans cover about 70 percent of the Earth, about half of the oxygen needed for human life, comes from these waters. Not only were we created in the ocean, but we also need it to sustain us.

Exploring The Unknown
Captain Dave knows all about exploring the unknown that is the ocean. Researchers and scientists have been mapping the ocean floor, and they've still only explored roughly 5 percent of it. There is literally a whole other world underneath the sea, just waiting to be explored.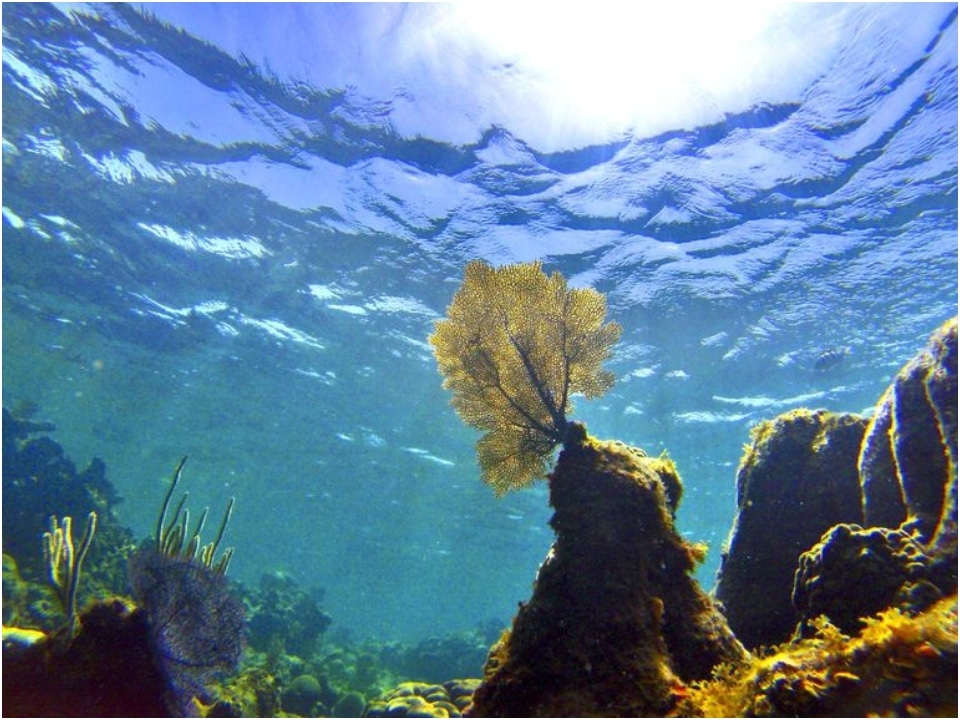 That's why we need to focus on preserving the ocean, and all of its wildlife. Captain Dave is helping with this effort. Each time he takes a tour out, he provides some much needed ocean education.

Open Water
Researchers, especially marine biologists, have been trying to discover new aquatic species each time they head out on an expedition. While Dave heads out in little zodiac boats, scientists often charter massive research vessels.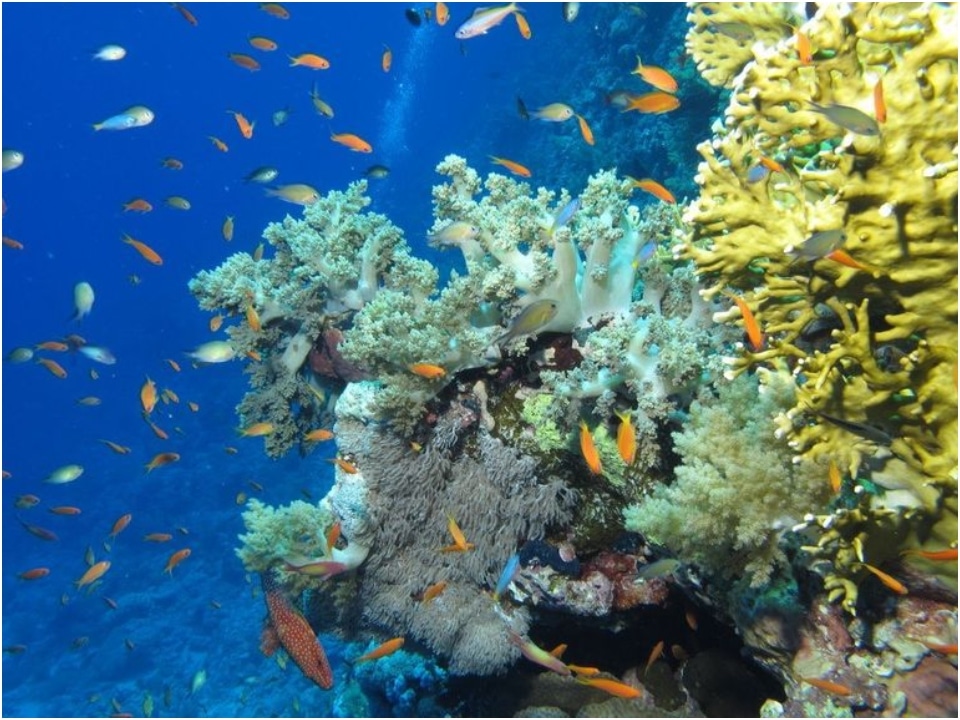 That way they can head out to study marine life for months at a time, and just put into port when they need to stock up on additional supplies. If you're looking for a career on the high seas that's not piracy, you should consider becoming a marine biologist.

Dolphin Safari Time
Captain Dave's Dolphin and Whale Watching Safaris are just one of the ways that Dave is working to conserve the ocean. A portion of the money he makes from it goes towards cleaning out parts of the sea near his home port of Dana Point, California.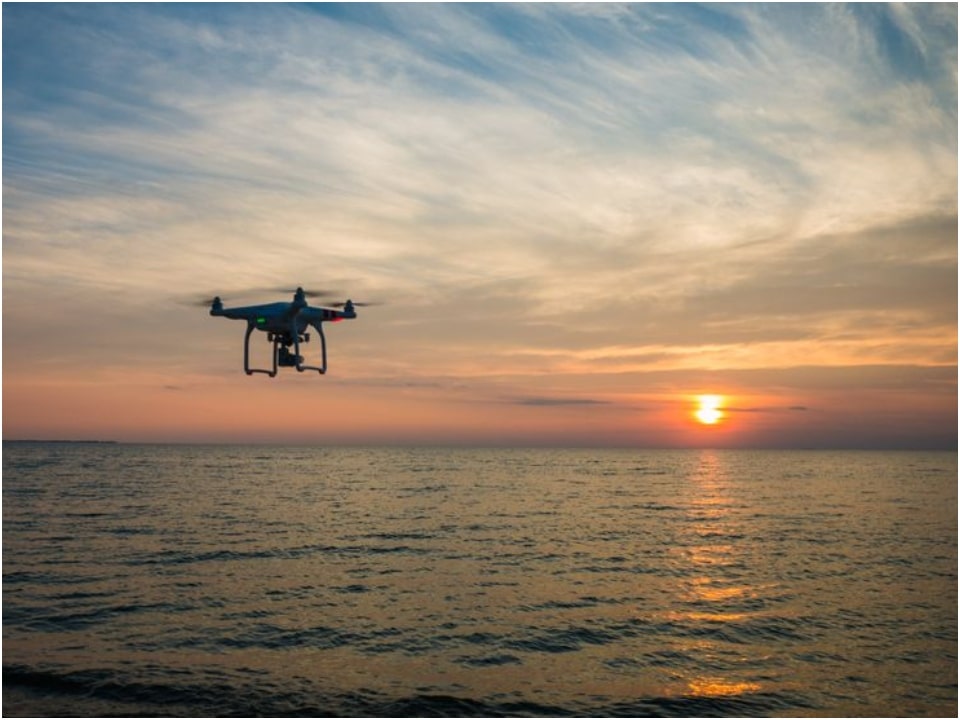 The images he captures with his drone, also aid raising awareness about the conditions of some of the areas he works in. He does all of this with his handy drone, but what he saw one day would shock him.

Ahoy Dolphins
There is a good reason for why Captain Dave has decided to make his home and business in Dana Point. Southern California offers the perfect ecosystem for aquatic life, especially dolphins. In fact, Southern California has the most dolphins in the entire world.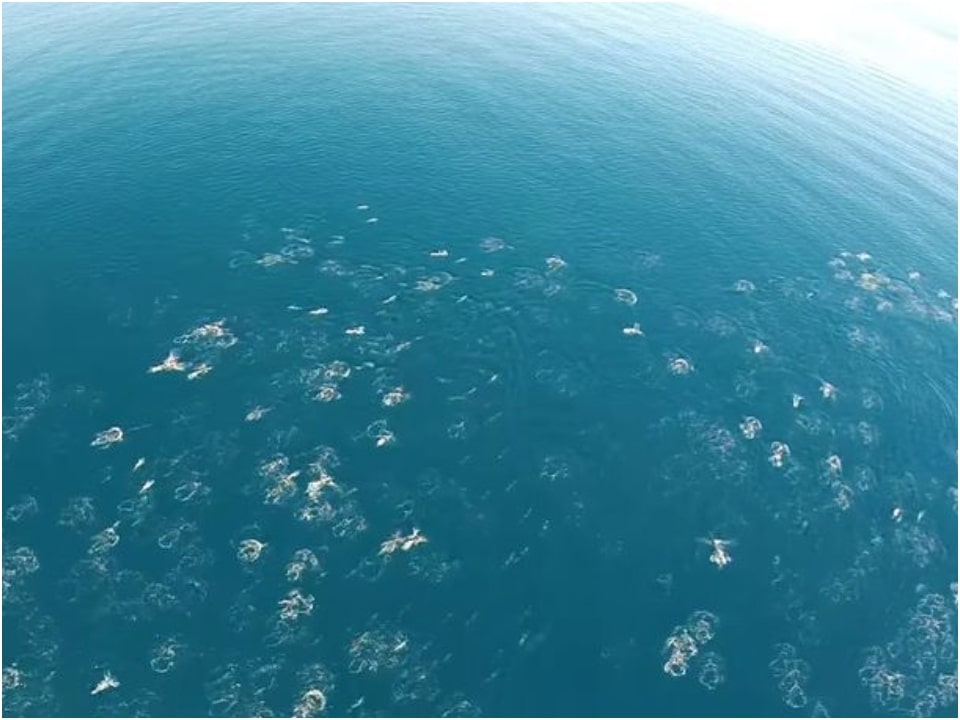 Dolphins live in units called pods, and will travel with their pods for hundreds of miles. At any one time, there can be thousands of dolphins in a single pod. Scientists have documented 10,000 as the largest pod ever seen.

The Video Of A Lifetime
In 2014, Captain Dave was out on a dolphin safari. As his guests looked around themselves with awe at all of the dolphins, Dave decided to launch his drone into the sky and see how many were around them.
As his drone whirred overhead, Dave stared down at the small camera screen. He could not believe what he was seeing. The drone was flying over a massive pod of dolphins. There were so many dolphins that they needed a special name.

The Stampede
Instead of simply a few hundred dolphins jumping around his zodiac boat, there were thousands. On top of that there were even a few humpback and gray whales traveling with what Captain Dave dubbed 'the stampede.'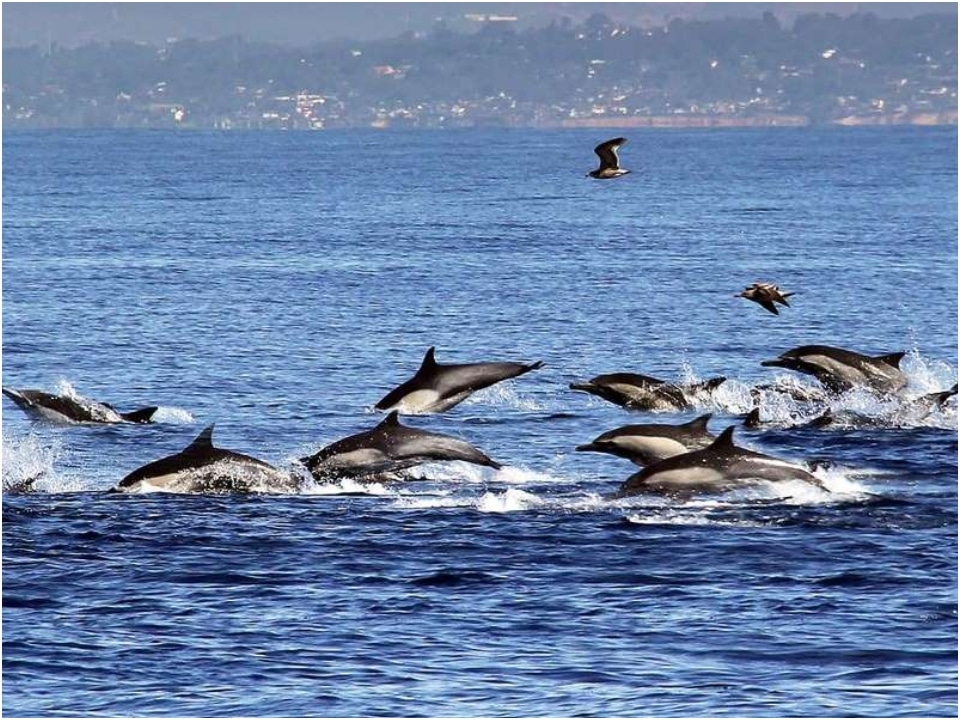 The reason there were so many of these marine mammals traveling together, was because it was time for their annual migration. With summer coming, it was time for them to migrate to warmer waters which California has in abundance.

Dolphins
Captain Dave had never seen a stampede of dolphins like this during his entire career. His drone managed to capture the entire stampede on film, which he would later splice together into an epic YouTube video.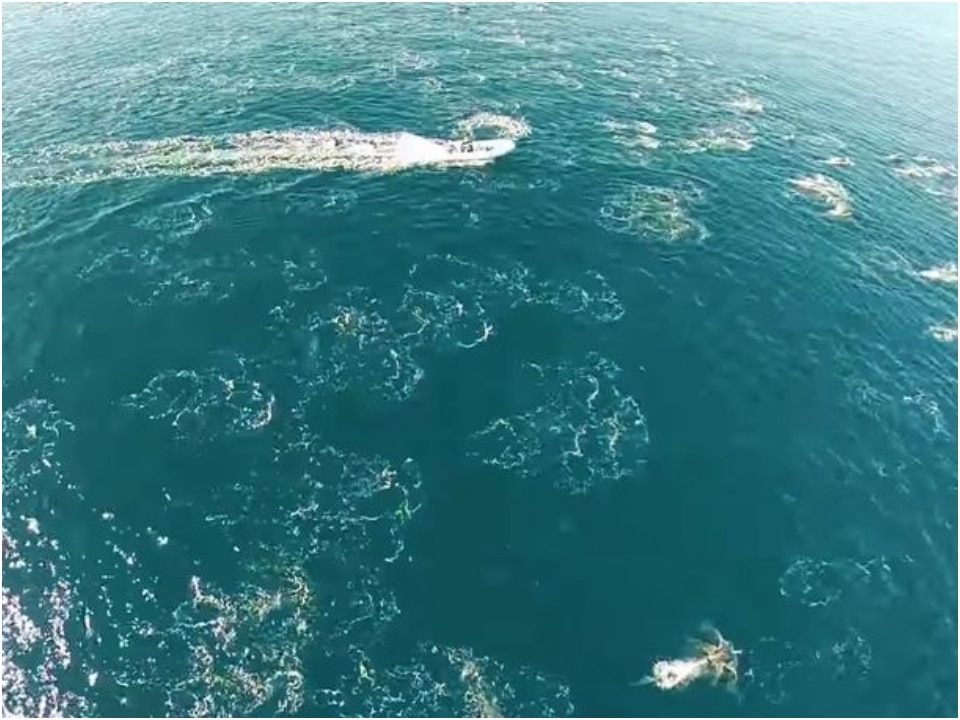 However, this video was important to Dave for some other reasons. It allowed him to learn more about dolphins, and their migratory patterns and behaviors. That's why he decided to share the video with the world.

Fastest Marine Animal In The World
It can be hard to capture dolphins in the wild, because they are the fastest marine animal in the world. They can swim over 60 kilometers an hour, and launch themselves into the air.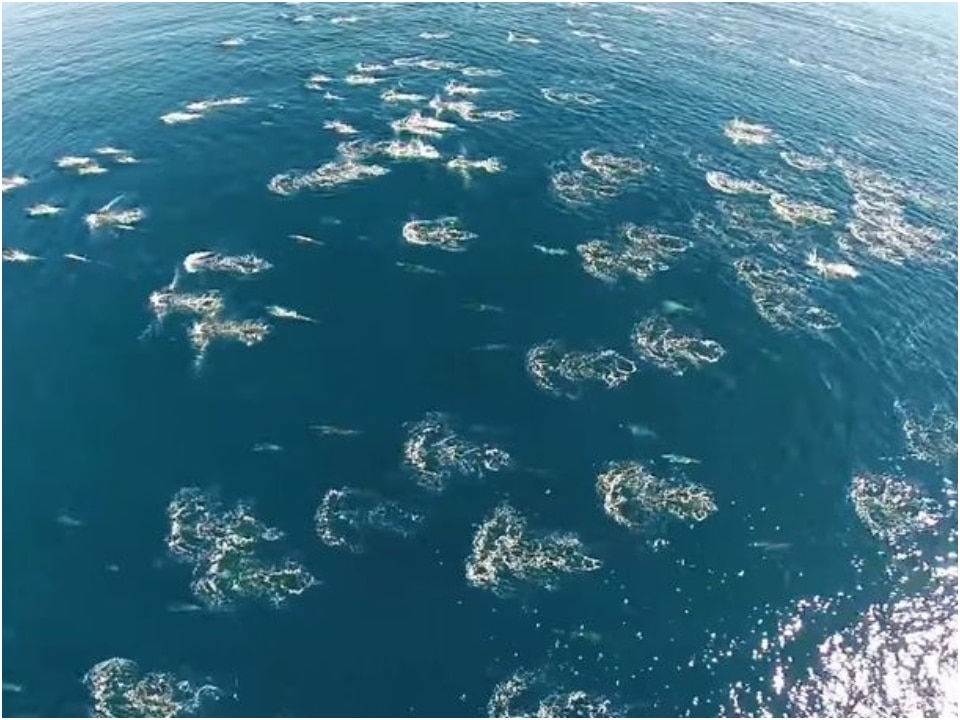 When they launch into the air, it's called porpoising and actually is a faster way for them to get from place to place. Water takes a lot more energy to swim through, and air offers little resistance, which means dolphins tend to leap a lot.

Gray Whales
Swimming off to the side of all of those dolphins were three gray whales. Captain Dave spotted them with his drone, and included them in the footage of the dolphins. What's cool about these gray whales, is that they actually enjoy the cold temperature of the Arctic Ocean.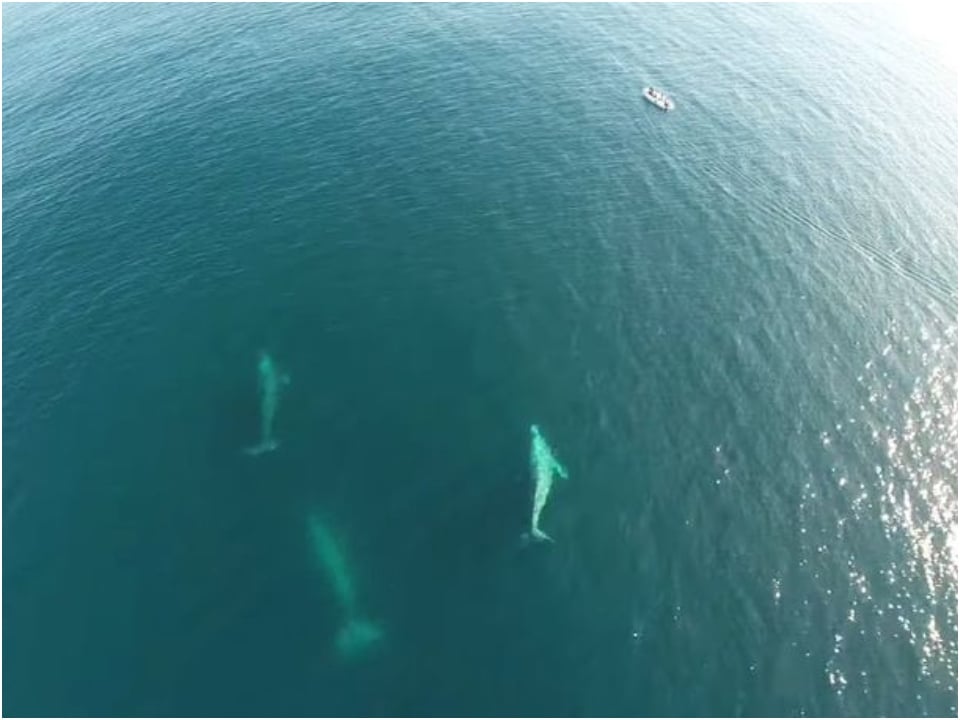 They tend to migrate to the warm waters of California when they are ready to give birth to their calves. It takes anywhere from 11 to 16 months, for a whale to carry their calf to term.

Heading To Hawaii
Just because Captain Dave lives in California, doesn't mean he doesn't go on tours himself. As a marine mammal enthusiast, Dave heads to Hawaii to check out the humpback whales.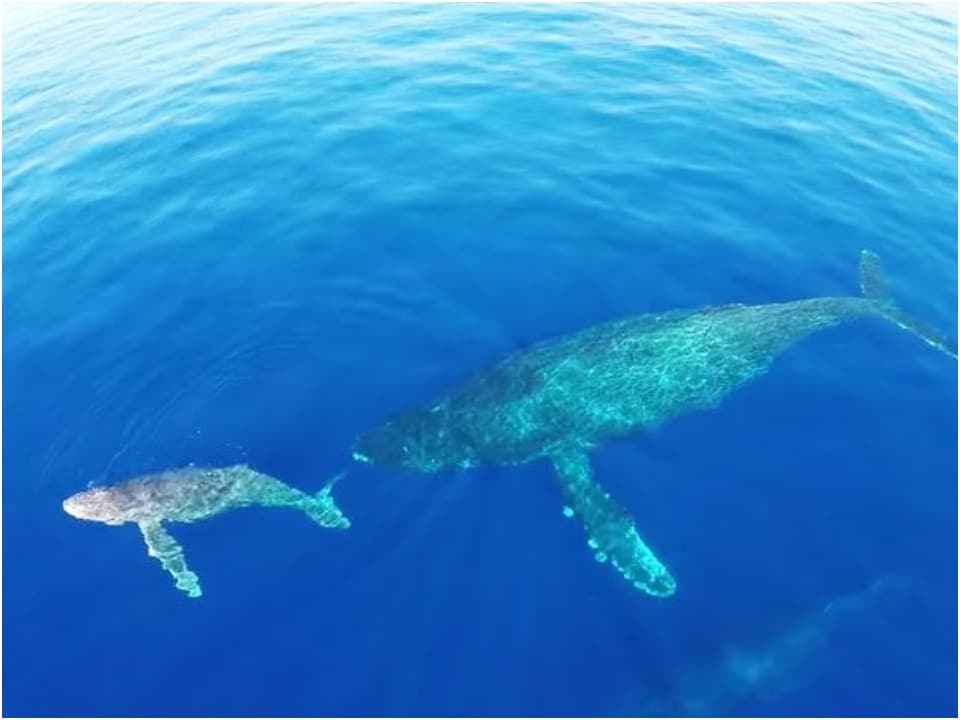 Armed with his trusty drone, Dave flew to Hawaii in 2013 after witnessing the dolphin stampede in California. Once he arrived on the island of Maui he set out to find some humpback whales. He found a mother with her newborn calf, and a male humpback whale.

A Bit About Humpbacks
Humpback whales are easily recognizable for their humped appearance, but they are also unique in their migratory patterns. The route they travel is one between the Alaska and the sunny islands of Hawaii.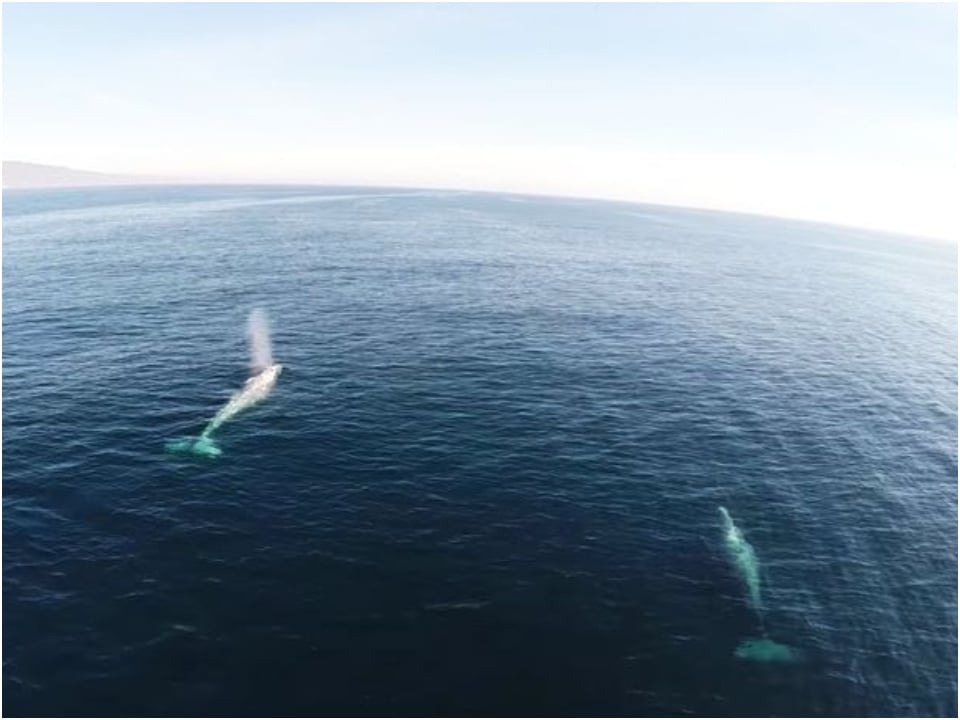 You can always find them, because the time of year determines where they will be. They always want to be in warm waters when they have their offspring, which means summer is spent in Hawaii. That's a lot like humans!

Mating Season
It might sound a bit odd that there was a mother, her calf, and a male humpback whale but it's actually not. Whenever a mother heads to Hawaii to give birth, or to mate she tends to have a male companion.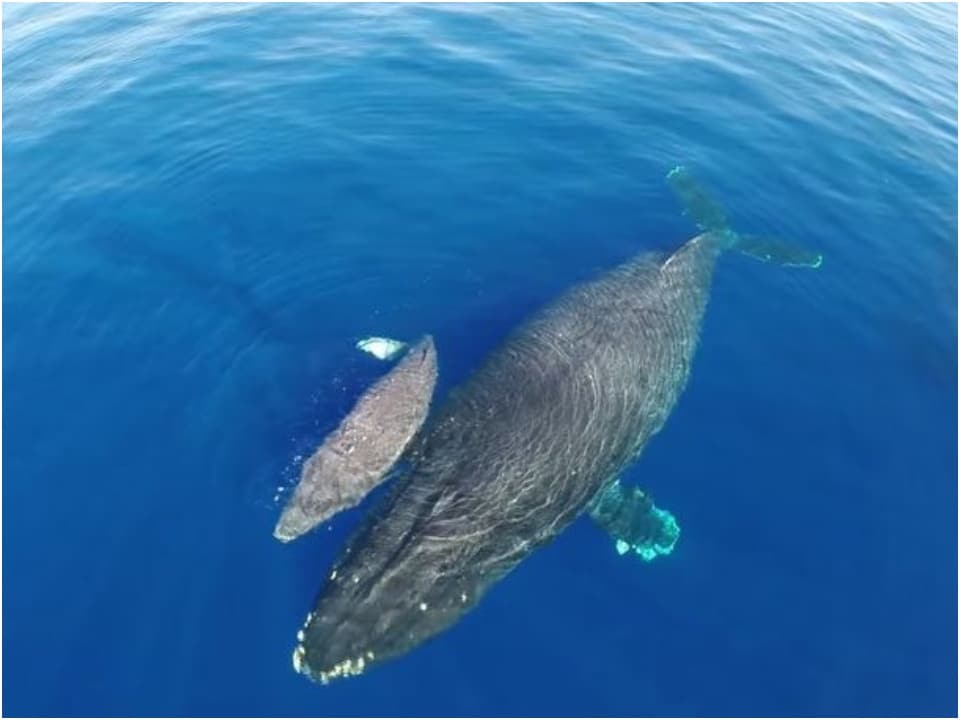 These companions protect her from other whales, and sea creatures that might harm her or her baby. The male whale is literally her knight in shining armor, how sweet is that?

Writing A Book
Captain Dave was ready to share his love of the ocean, and all of the beautiful animals in it by publishing a book. In 2013, the same year he saw that stampede of dolphins, he wrote Lily, A Gray Whale's Odyssey.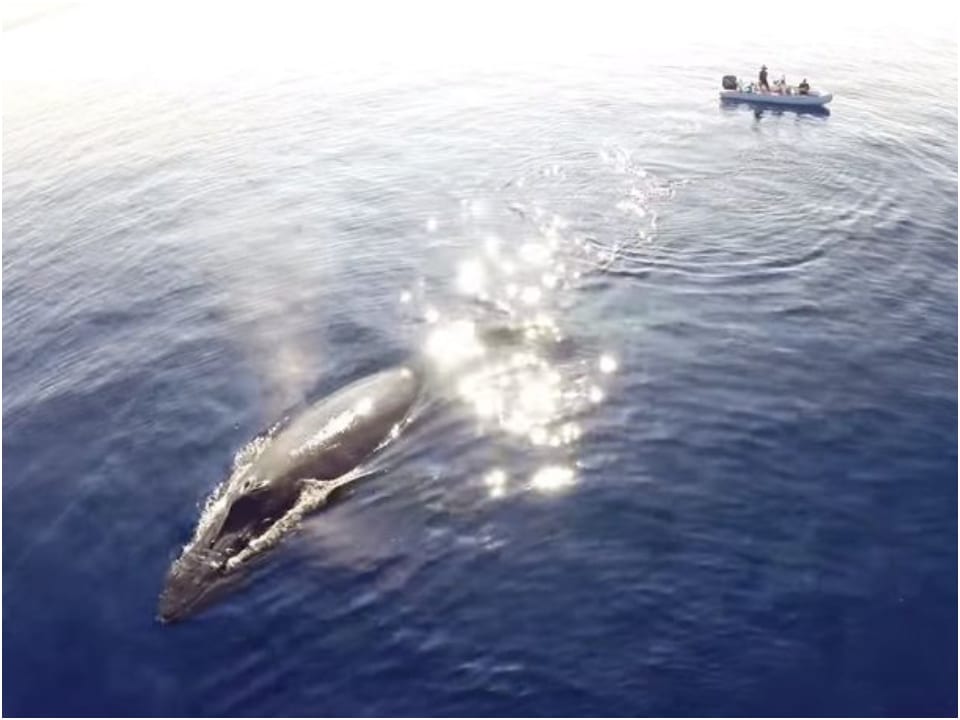 The book is a work of nonfiction, and it details the life of Lily, a gray whale who got caught in some fishing line. Captain Dave found her, and freed her which formed a very special bond between him and Lily.

Marine Life And Fishing Boats
Sadly, every year dolphins, whales, sharks, and other marine mammals get entangled in fishing line and fishing nets. They like to eat the same seafood that humans do, which means their hunting grounds tend to be the same as fishing boats.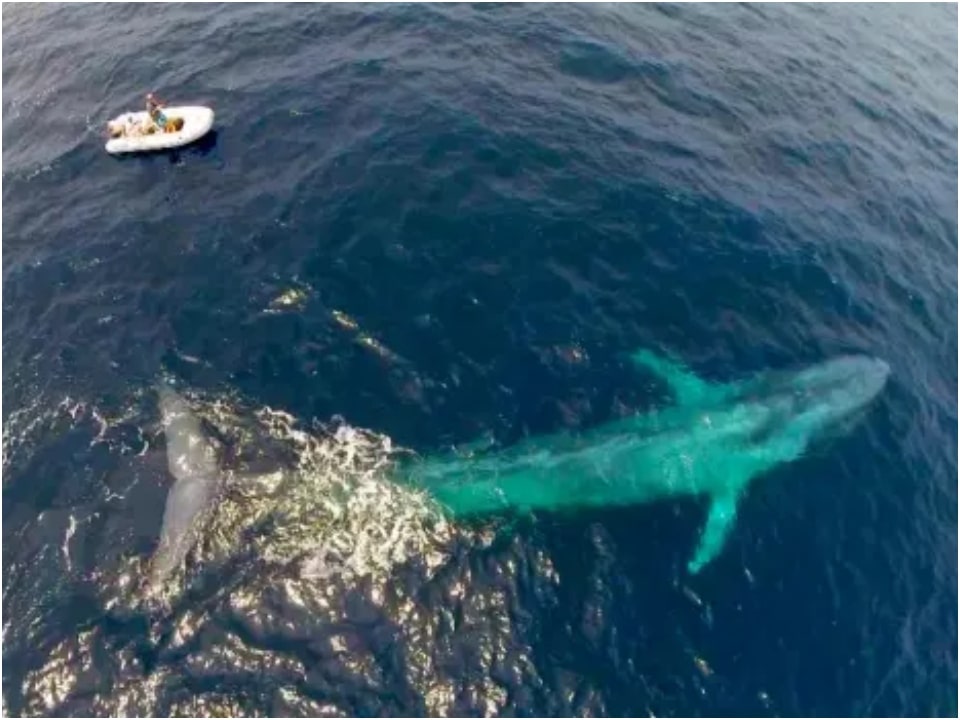 Fishermen must be vigilant to ensure that no marine life is harmed during their fishing trips. Unfortunately, it still happens which is why people like Captain Dave are needed. Marine life needs to be freed from nets, if they're going to survive.

A Love Of Drones
While Captain Dave has gone viral on social media with his many YouTube videos, and best selling book he still heads out to the ocean to capture drone footage. Dave has been flying drones for awhile, but just seven years ago the technology was not as good as it is now.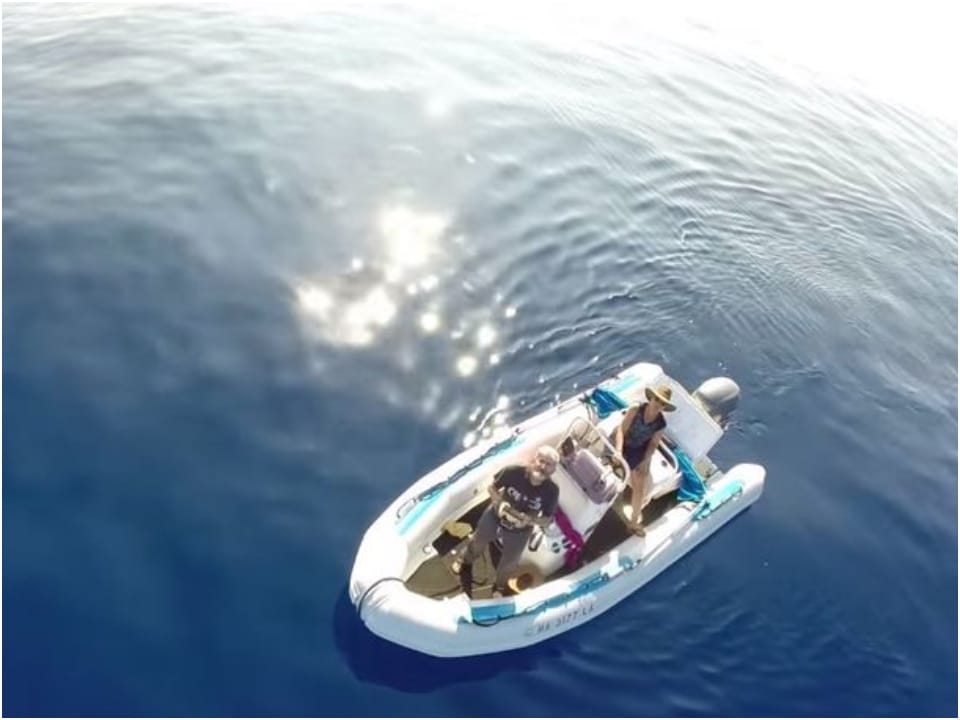 He reportedly paid around $10,000 for his first drone, which was rather hard to fly. Now, he's happy that the newer models of drones are both cheaper, and easier to use.

Jumping In
A good drone still costs about $3,000, especially if you want one that takes clear images. Captain Dave has one of these newer models, but he said that he almost lost it one time. He had been filming some whales, when he saw the battery was getting low.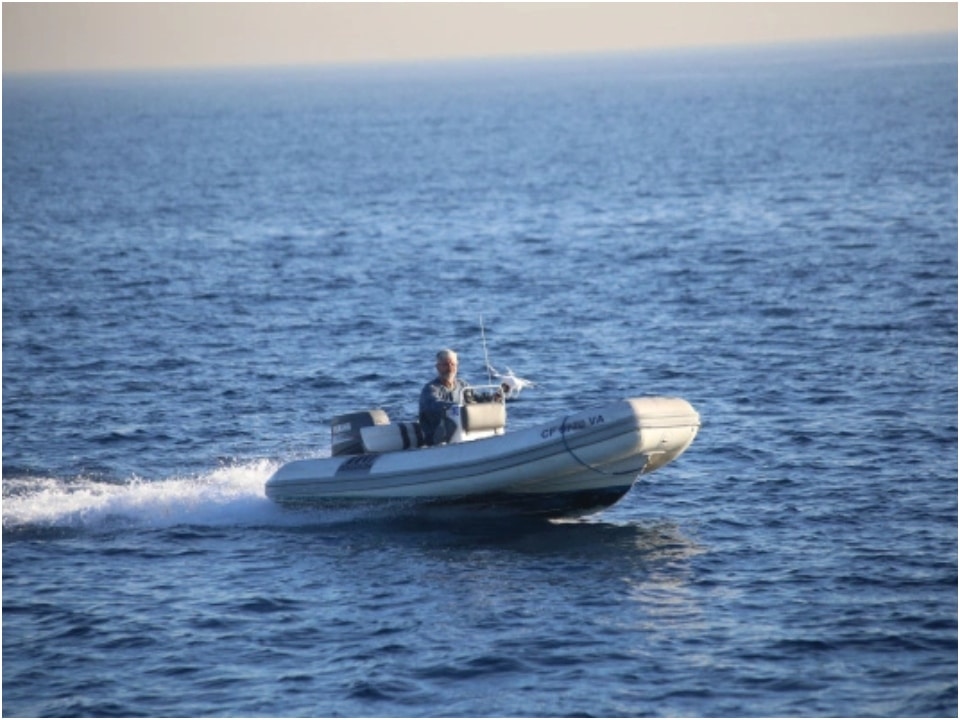 Carefully, he flew the drone to his zodiac, when all of a sudden it began to dip towards the water. Dave dived into the ocean, and swam out to his drone to get it before it sunk. There was no way he was losing one of his precious devices.

Leave It To The Experts
While anyone can go out and buy a drone, and fly it over wildlife to make videos, Dave says people should be careful. Marine life, and wildlife are very sensitive, and any disruptions can greatly harm them.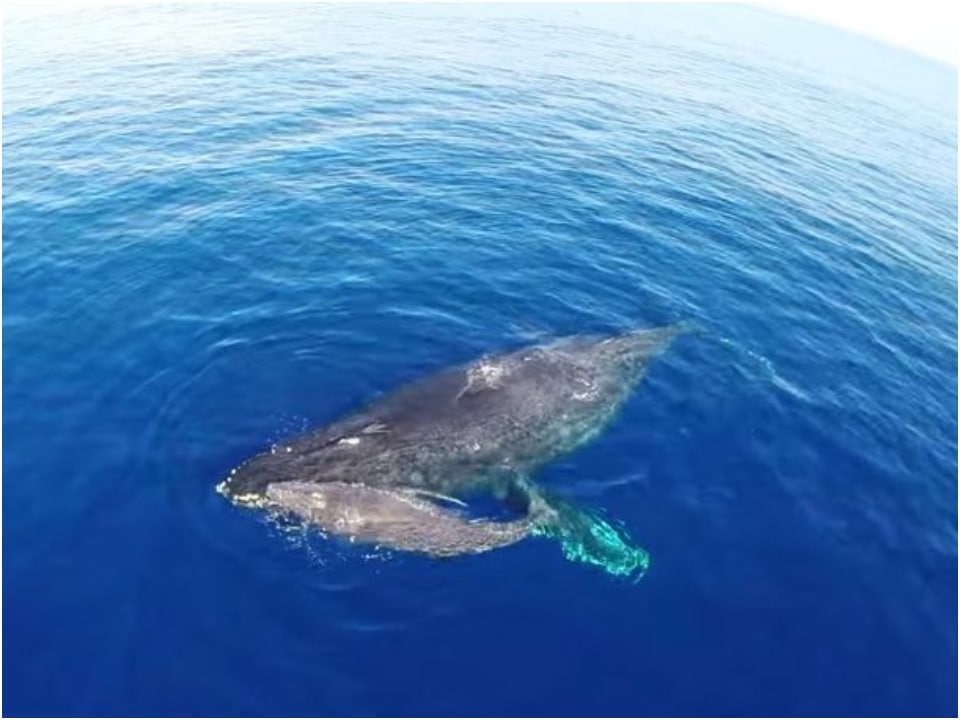 Somebody who doesn't understand whales and dolphins, might end up endangering them, or make them follow the wrong migratory path. You don't want this to happen, so leave the drone footage to the pros like Captain Dave.

New Laws
In an effort to protect whales, the National Oceanic and Atmospheric Administration have begun drafting laws around drones and whales. They don't want these gentle giants to be disturbed in their natural habitats.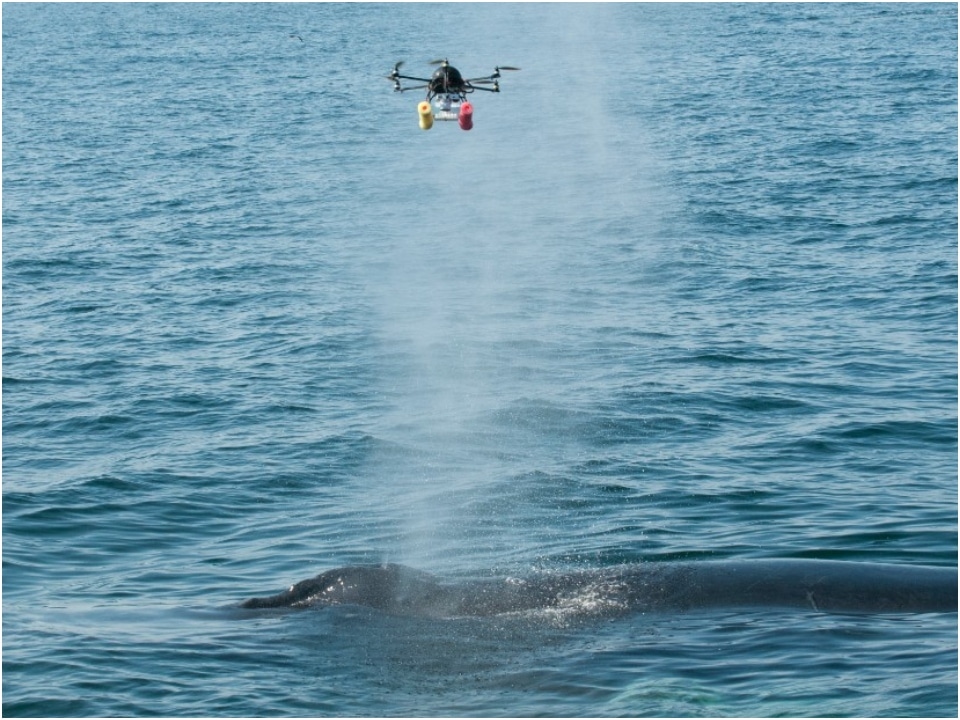 The laws would potentially make it so that only licensed drone operators, or those with marine experience are allowed to shoot the whales in the ocean. This is a great way to keep them safe, and still give people a chance to see them in all of their glory.

Captain Dave Will Keep Whale Watching
You can expect to see more drone footage of whales from Captain Dave. As he notes on his popular YouTube channel, he is a captain who has studied whales for 20 years. That means he knows how to interact with them from a safe distance, and not disturb them.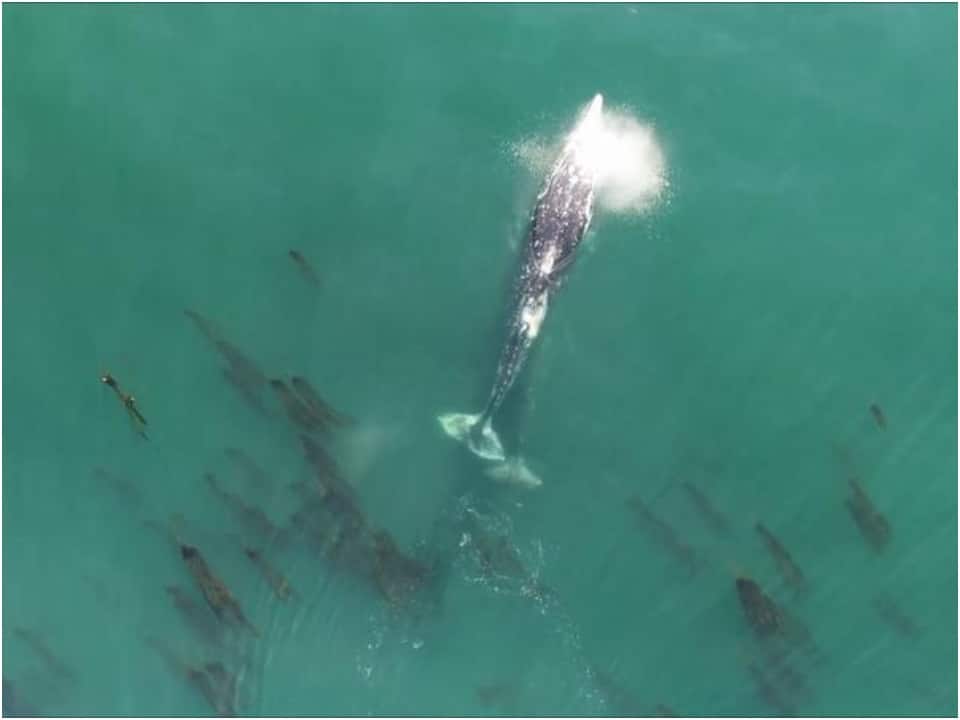 All he wants is for humans to understand how whales live, and show footage of them in their natural habitats. Head over to his page to see these giant mammals in action.