Welcome to the world of celluloid charm and miniature glamour, where the quintessential childhood icon, Barbie, steps into the shoes of legendary movie characters. The awe-inspiring fusion results from the brilliant mind of AI artist Kristen Harris, who intricately carves a universe where cinema and Barbie dolls coalesce in an unexpectedly enchanting way.
As anticipation builds for the imminent live-action Barbie movie directed by the acclaimed Greta Gerwig, Harris has ventured to create a delightful blend of Hollywood's glamour and Barbie's endearing allure. Harnessing the compelling capabilities of artificial intelligence, she animates remarkable movie moments, transforming them into captivating Barbie narratives.
The Dark Knight
Say goodbye to the gritty streets of Gotham and hello to a dreamy Barbie-infused city! The revered "Dark Knight" morphs into a fabulous spectacle in this imaginative Barbie-style remake. Prepare to experience Batman and his infamous villains as never before.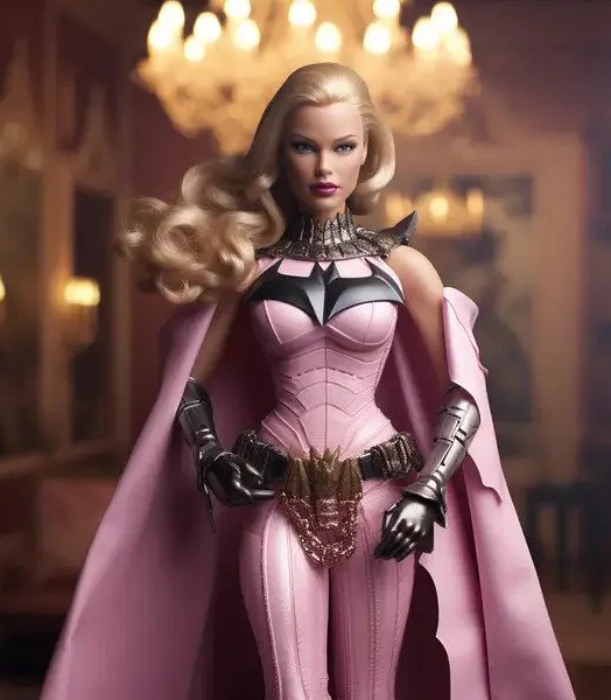 Unveiling "The Knight of Barbie," an exhilarating new perspective on Christopher Nolan's acclaimed Batman trilogy, certain to leave a delightful grin on your face. Just imagine: Bruce Wayne as Barbie, a charming billionaire by day and a crime-thwarting diva when the sun goes down.
The Godfather
Brace yourself as the gritty mob world collides with the glamorous realm of Barbie dolls in a remarkable transformation of The Godfather. The Corleone family and their associates have swapped their menacing suits and hats for chic pink attire.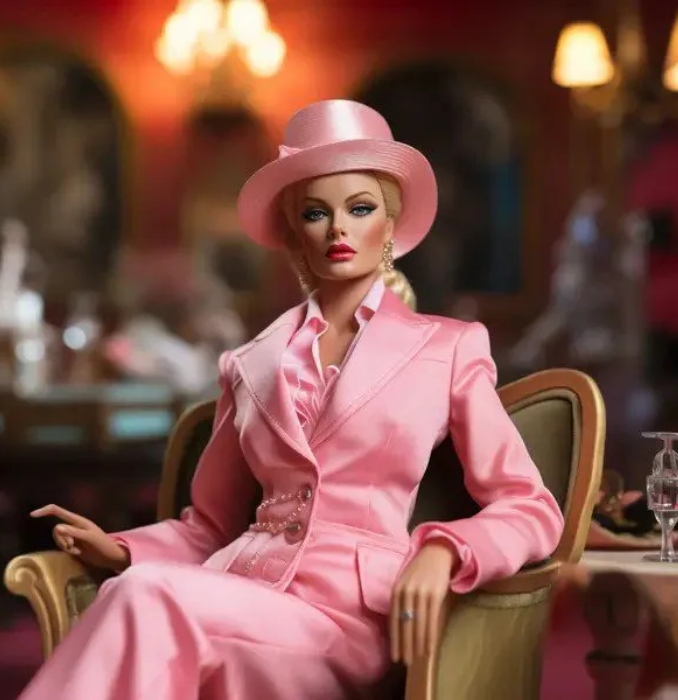 Meet the new Don Corleone, an exquisitely dressed patriarch, striking a perfect balance between authority and allure. And don't forget his smart and refined daughter, Barbie Corleone, skillfully maneuvering between elegance in silk and ruthlessness with a Tommy gun.
The Hunger Games
Welcome to a Barbie-fied dystopia where fearlessness meets high fashion. Experience the brave Katniss Everdeen like never before as she steps into the thrilling world of The Hunger Games. It's a place where survival, revolution, and extraordinary style come together in a spectacular fashion collision.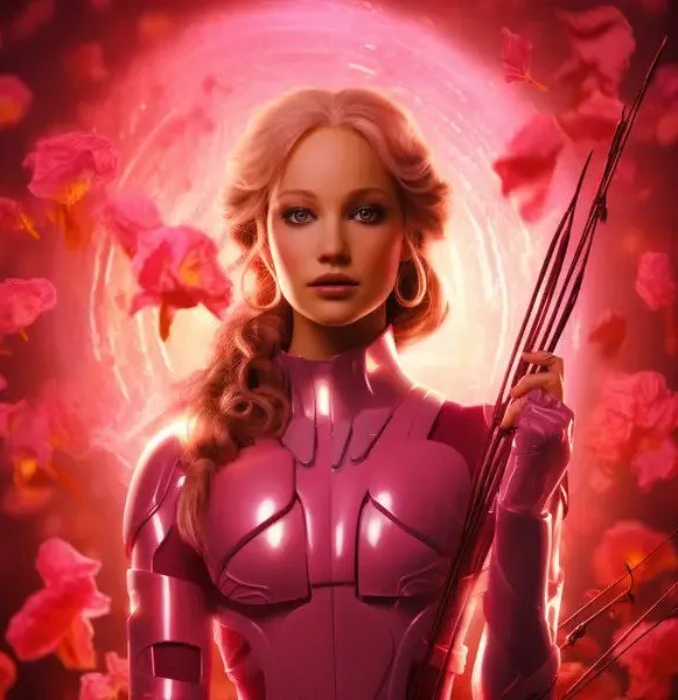 Introducing "Barbie Everdeen," the formidable tribute who has stolen our hearts and revolutionized the miniature fashion world. With her characteristic braid, flawless outfits, and a selection of splendid accessories, Barbie Everdeen takes the iconic role of the Mockingjay to glamorous new peaks.
Star Wars: Episode IV — A New Hope
In an unseen galaxy, fashion takes a cosmic twist. Get ready for an incredible Barbie-Star Wars crossover that will spark your creativity. Witness the extraordinary narrative of Star Wars: Episode IV — A New Hope, where iconic characters morph into glamorous Barbie dolls!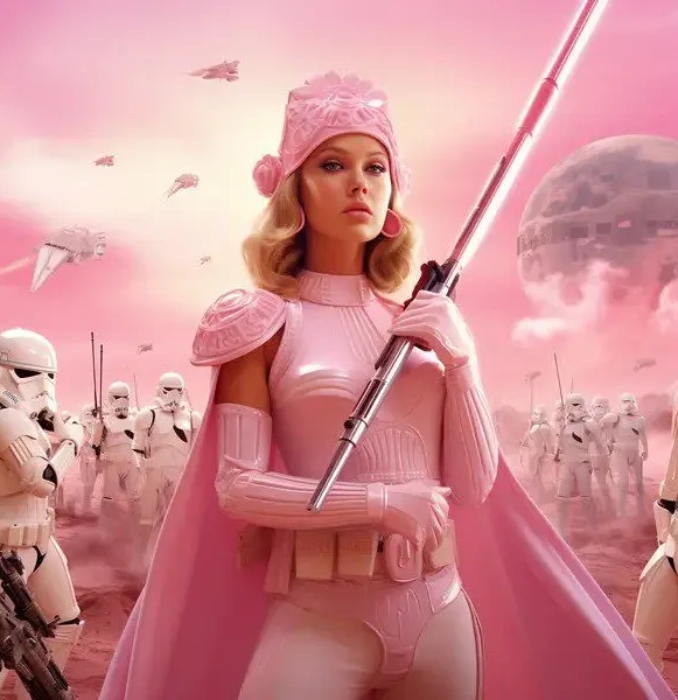 Introducing "Barbie Wars: A New Style Hope," where fashion forces clash with the power of the Force. Visualize this: Barbie Skywalker, the courageous Jedi Knight, donning a flowing cape, wielding a lightsaber, and sporting gravity-defying hair. She's genuinely invincible.
Pride & Prejudice
Next, we immerse ourselves in a world steeped in quick-wit, charm, and societal conventions. Join us on a delightful voyage through the timeless Pride & Prejudice. Still, now the grace of the Bennet sisters is portrayed in glamorous Barbie form.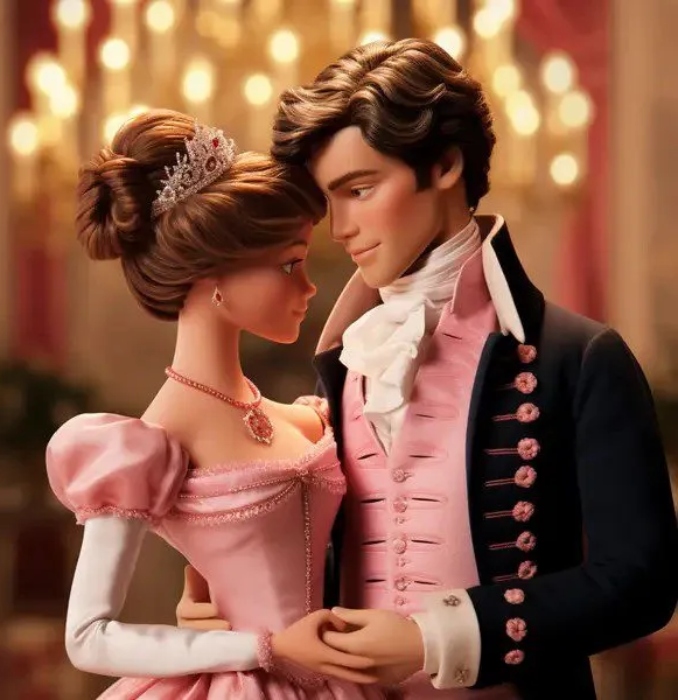 Our independent and clever heroine, Barbie Elizabeth, shines in her magnificent gowns. Not to forget the alluring gentlemen courting the Bennet sisters. With his enigmatic aura, Darcy (Ken Darcy, perhaps?) commands attention in his meticulously tailored suit and intense gaze.
Everything Everywhere
All At Once, Fasten your seatbelts for a dimension-transcending journey packed with creativity as Everything Everywhere All At Once morphs into a vivid Barbie extravaganza. This incredible transformation will leave you mesmerized.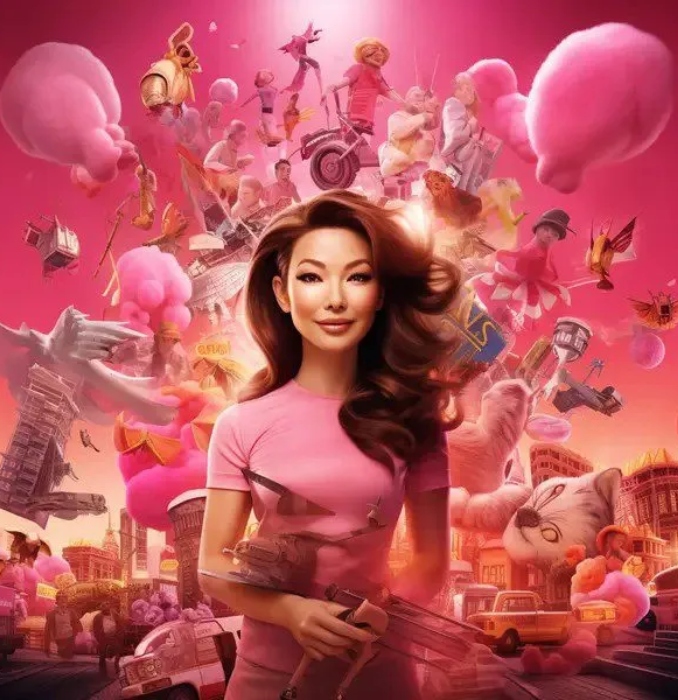 In this spellbinding adaptation, each universe that Barbie visits unleash unique styles, vibrant hues, and fantastical landscapes. Transitioning effortlessly from a candy-tinged wonderland to an enchanted forest, Barbie is surrounded by a host of quirky, delightful characters.
Titanic
Gear up for a captivating Barbie twist on the heartrending voyage of the legendary Titanic. The majestic ship's grandeur intertwines with Barbie's enchanting charm as we introduce "Titanic: A Barbie Voyage."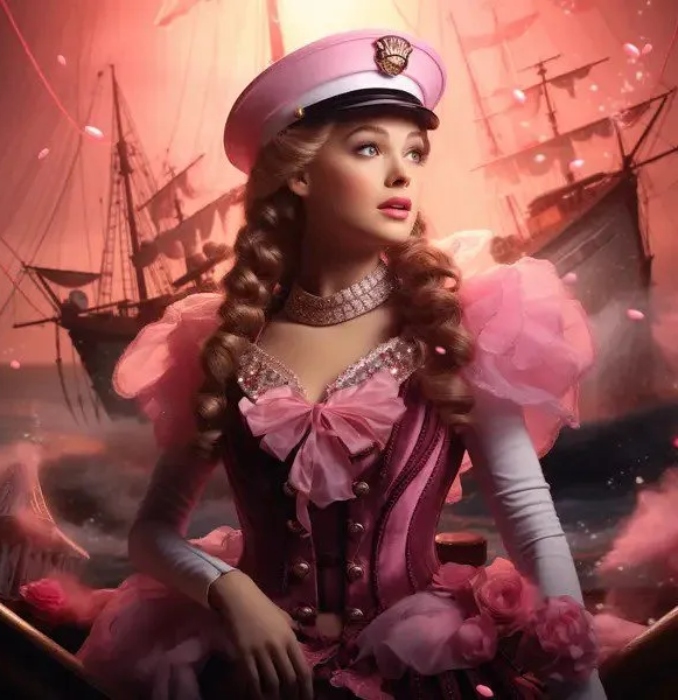 In this imaginative adaptation, Barbie embodies Rose, the feisty and independent woman who ensnares the heart of the charming artist Jack. Follow Barbie Rose as she explores the majestic ship's grandiose spaces, from opulent ballrooms to the vast promenade.
Shrek
Prepare for a green-tinged, laughter-filled odyssey as Shrek and his quirky sidekicks are reincarnated into adorable Barbie dolls. In this charming rendition, Barbie becomes Princess Fiona, the strong and independent heroine who captures the ogre's heart.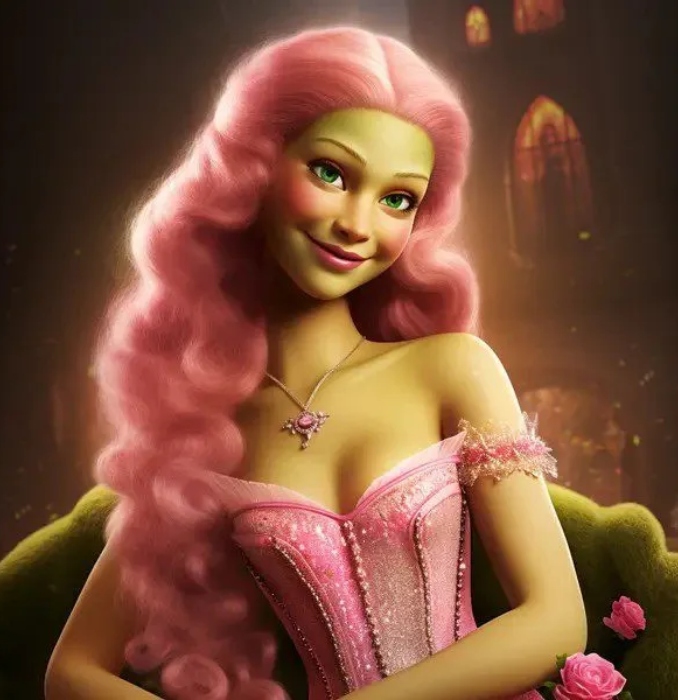 Picture Barbie Fiona, adorned in her signature green gown, challenging societal norms and embracing inner beauty on a journey filled with fun and adventure.
Citizen Kane
Step into a world where Barbie's meticulous style illuminates the grandeur of Xanadu and the lavish ballrooms of Kane's empire. Explore the mystery of Charles Foster Kane as Barbie Kane navigates through past glories and lingering dreams.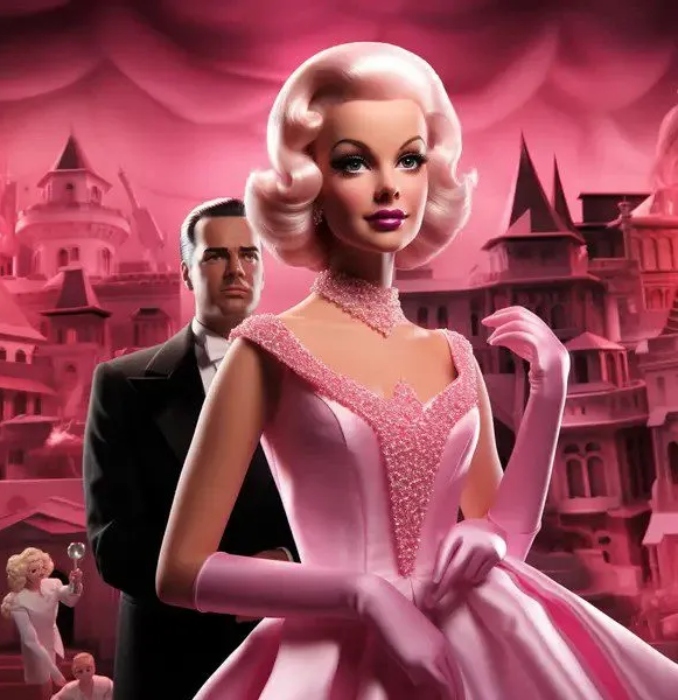 Beyond opulence lies a profound examination of human ambition and the effects of power and wealth. "Barbie Kane: A Tale of Mystery and Glamour" delves into the ephemeral nature of success, the solitude that accompanies it, and the quest for purpose and real connection.
Iron Man
Dive into the thrilling life of Barbie Stark, a genius inventor who transforms into the unassailable Iron Barbie. Get ready to be enthralled as her brilliance and resilience take center stage in this unique amalgamation of fashion and superhero prowess.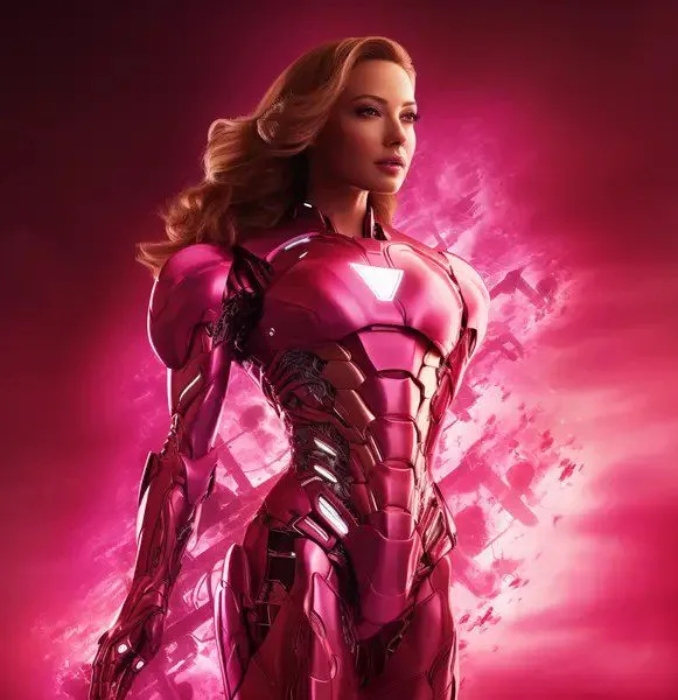 Barbie Stark, a woman of incomparable intellect and steadfast dedication to justice, shines in her stunning suit of armor, impeccably styled hair, and a confidence that radiates strength. She utilizes her remarkable inventions to battle against injustice and shield the world.
The Wizard of Oz
Take a stroll down the vibrant yellow brick road and delve into the magical realm of Oz – now with a Barbie twist! Welcome to "Barbie of Oz: A Dazzling Adventure."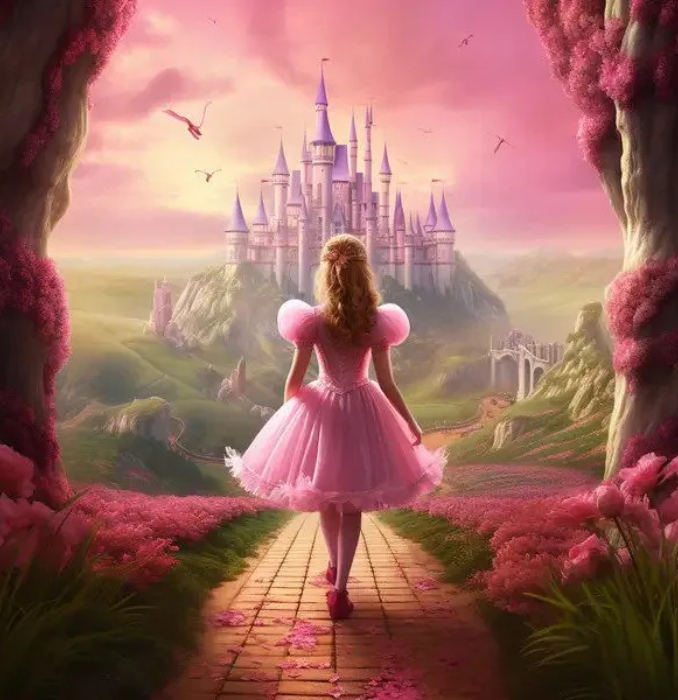 Join Barbie Dorothy on her unforgettable journey alongside her charming companions: the wise Barbie Scarecrow, the tender-hearted Barbie Tin Man, and the brave Barbie Lion, each one on their unique quest.
Forrest Gump
Venture into the extraordinary life of Forrest Gump through the enchanting perspective of Barbie. In this inventive adaptation, Barbie assumes the role of Forrest, exhibiting his endearing nature and sunny disposition.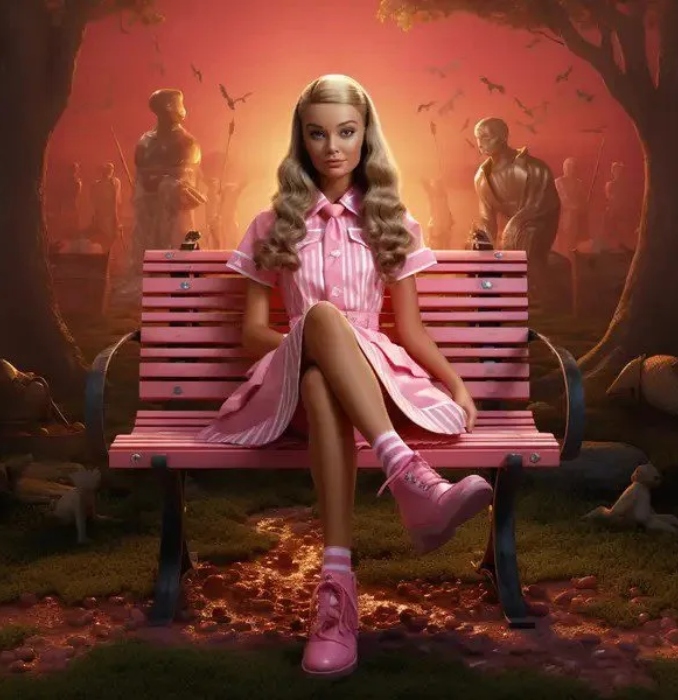 Follow Barbie Gump, with her radiant grin and flowing hair, as she traverses the memorable moments of history, all the while embracing the sweetness and surprises of life's metaphorical box of chocolates.
Casablanca
Experience the world of timeless allure and captivating mystery with Barbie as she journeys through the mesmerizing lanes of Casablanca. Presenting "Barbie in Casablanca," a thrilling tale of romance, sacrifice, and destiny.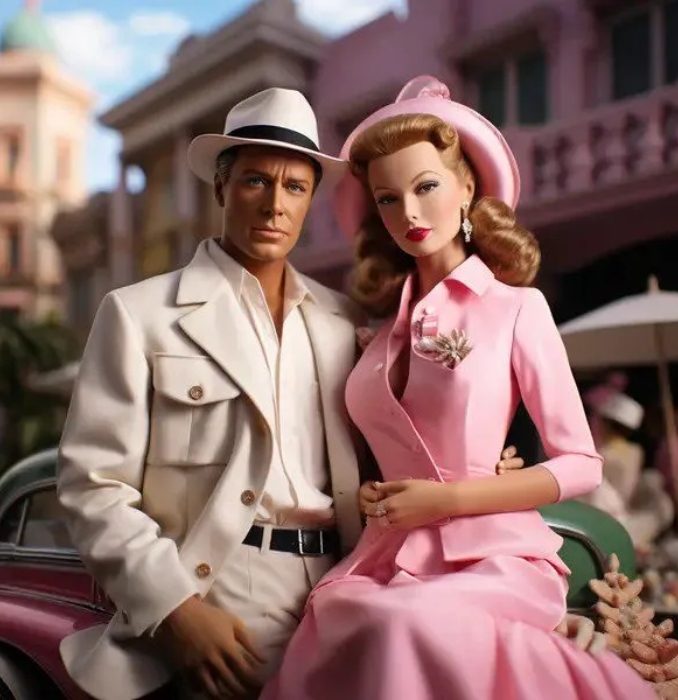 Barbie steps into the shoes of Ilsa, the beguiling heroine ensnared in a whirlwind of emotions and circumstances, maintaining her elegance and charm against the backdrop of wartime Casablanca.
Top Gun
Prepare to soar through the sky with Barbie in the adrenaline-fueled world of Top Gun. This thrilling film receives a playful Barbie makeover, with Barbie taking the lead as the daring and charismatic Maverick.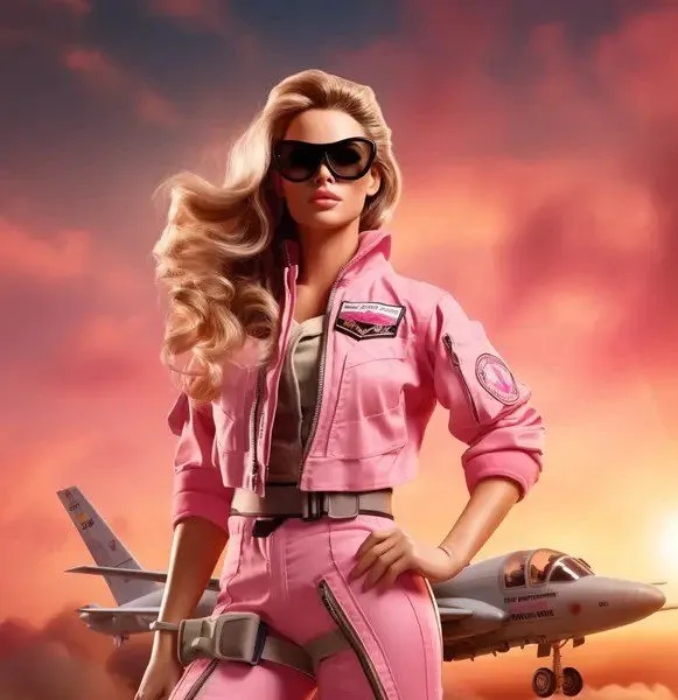 Dressed in her iconic flight suit and her hair perfectly styled, Barbie Maverick dominates the skies, showcasing her impressive flying abilities, courage, and allure.
Twilight
Step into a mystical world of forbidden romance and supernatural intrigue as we introduce you to "Barbie: Twilight Tantalizations." Here, Bella Swan, the thoughtful and magnetic protagonist, finds herself irresistibly drawn to the mysterious Edward Cullen.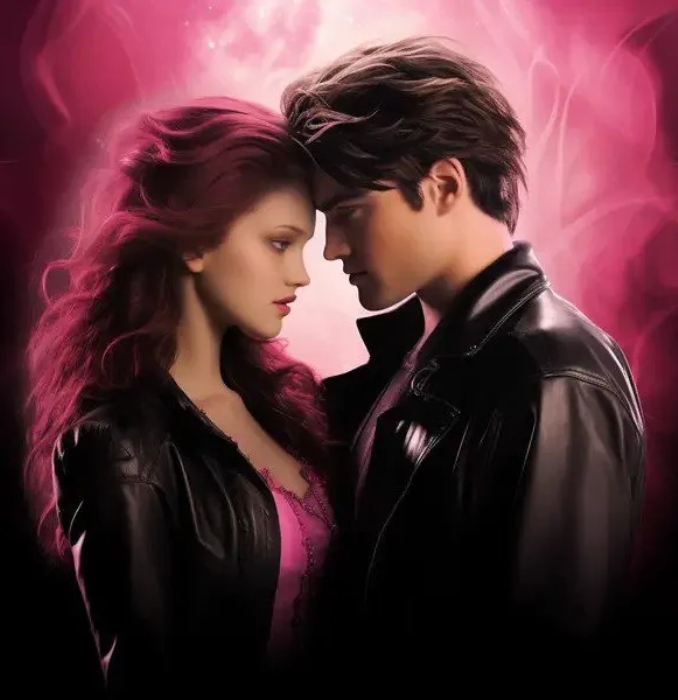 Barbie Bella, with her radiant aura and elegant demeanor, unravels the intricate threads of love, loyalty, and destiny amidst the thrilling drama of forbidden love.
Ferris Bueller's Day Off
Welcome to a day of mischief and delightful adventure as we explore the iconic world of Ferris Bueller's Day Off through Barbie's whimsical lens. Presenting "Barbie's Day of Daring Deception."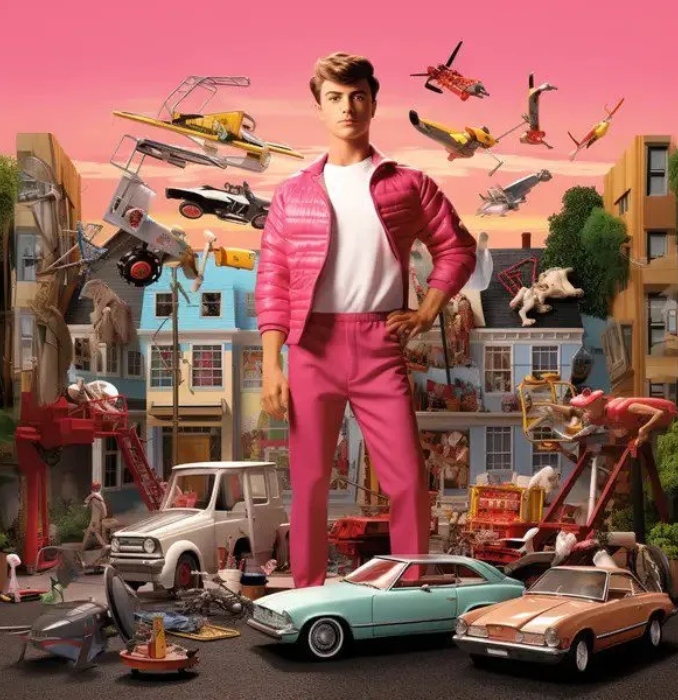 Barbie assumes the role of the charismatic Ferris Bueller, a master of escapades and an embodiment of youthful enthusiasm. With her infectious grin and striking style, Barbie Ferris hatches another elaborate plan for a thrilling day off.
Breakfast at Tiffany's
Immerse yourself in the glamour and timeless elegance of Breakfast at Tiffany's with a Barbie spin. Presenting "Barbie at Tiffany's," where Barbie slips into the role of Holly Golightly, the intriguing socialite with a love for fabulous jewelry and memorable escapades.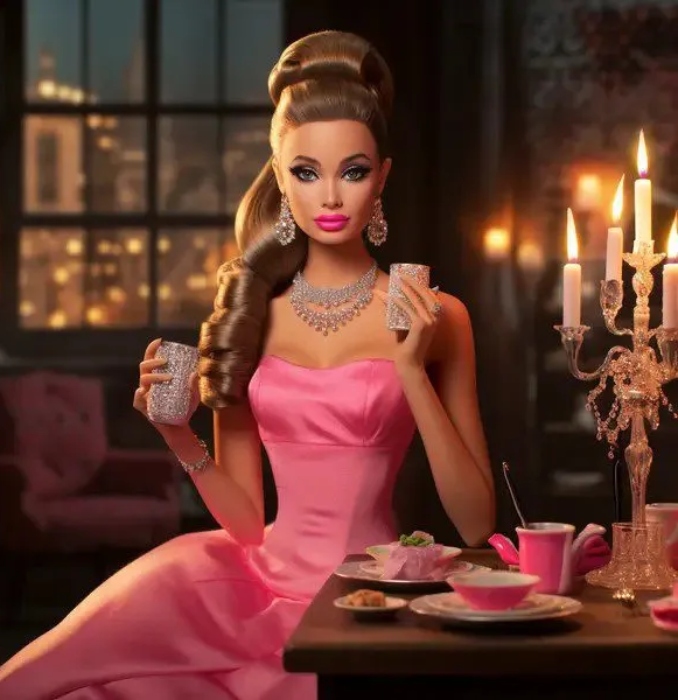 Dressed in her stunning pink gown, Barbie Holly exudes the audacious spirit, independence, and charisma that made the original character unforgettable.
Jaws
Plunge into a thrilling adventure with "Barbie vs. Jaws: The Splashy Showdown!" Barbie Brody sets off on her maritime adventures, joining forces with her quirky companion, Ken Quint.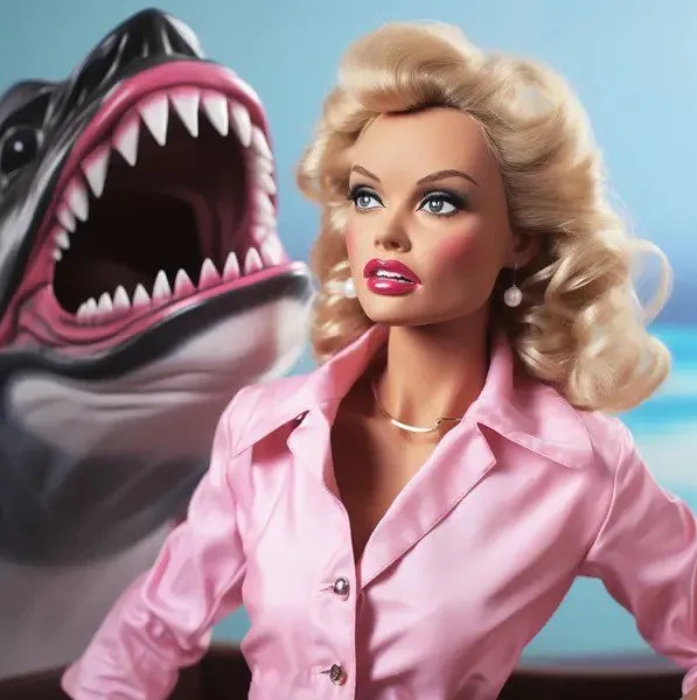 Together, they combine scientific acumen and Barbie-style creativity to outwit the aquatic adversary, bringing in tons of laughter, excitement, and unexpected twists in this playful interpretation of the classic thriller.
Spirited Away
Witness Barbie's captivating journey in the beloved Studio Ghibli masterpiece Spirited Away. Taking the role of Chihiro, a courageous and resilient girl trapped in a mystical spirit world, Barbie encounters an enchanting array of spirits, magical creatures, and whimsical characters.
With her signature charm and grace, Barbie ventures through ethereal landscapes, overcoming challenges and forging friendships along the way.
Rocky
Prepare to be entertained as Ken steps into the boxing ring in "Ken: The Italian Stallion!" In this imaginative retelling, Ken morphs into the gritty and determined Rocky Balboa.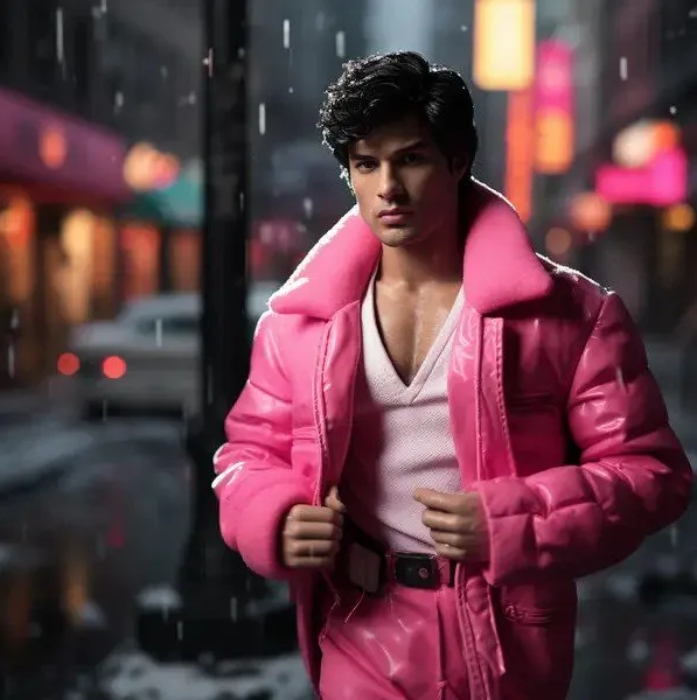 Enjoy his quirky training routines that creatively incorporate unconventional items, like Barbie's old hair ribbons turned into skipping ropes and miniature dumbbells serving as weights. Witness his journey as he channels his inner champion and embraces the thrill of the challenge.
Singin' in the Rain
Get your dancing shoes on and embrace the refreshing charm of "Barbie: Dance in the Rain!" Be swept away as Barbie mirrors Gene Kelly's iconic moves and revitalizes this classic musical in her style.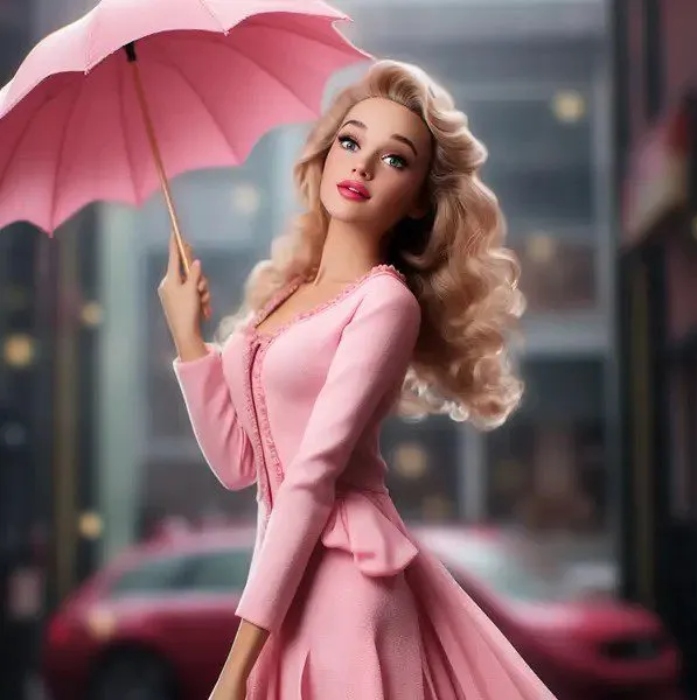 Barbie personifies Kathy's radiant spirit, singing and pirouetting her way through Hollywood's rain-drenched avenues with her vintage attire and trusted umbrella by her side.
Avatar
Experience the enchanting universe of Pandora with "Avatar: Barbie's Voyage to Pandora." This reinterpretation beautifully merges Barbie's elegance and the breathtaking grandeur of James Cameron's renowned epic.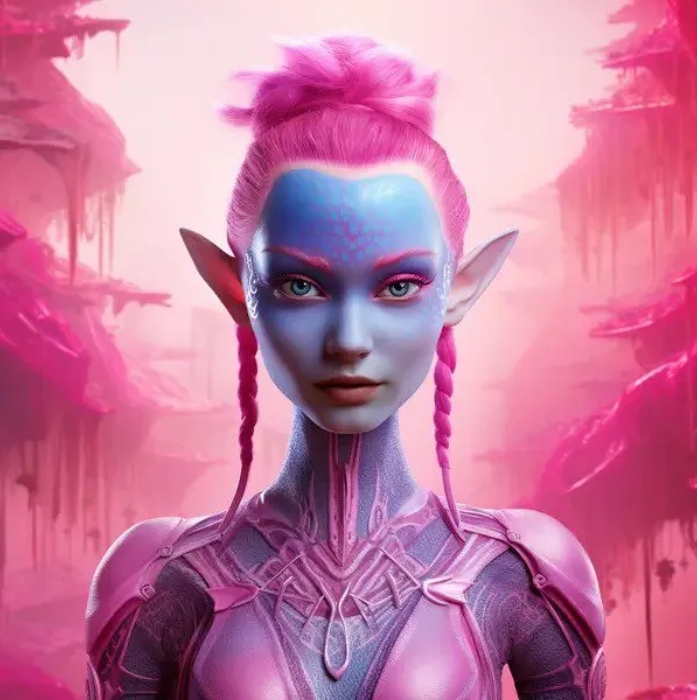 Alongside Barbie Neytiri, she journeys through lush woodlands, phosphorescent vistas, and towering cliffs, absorbing her encounters with mystical entities and her tireless efforts to safeguard her home.
Beetlejuice
Ready yourself for a dose of playful chaos in "Barbiejuice: Hauntingly Humorous Exploits!" This eccentric mashup features Barbie in the role of the amusingly bizarre phantom, Barbiejuice.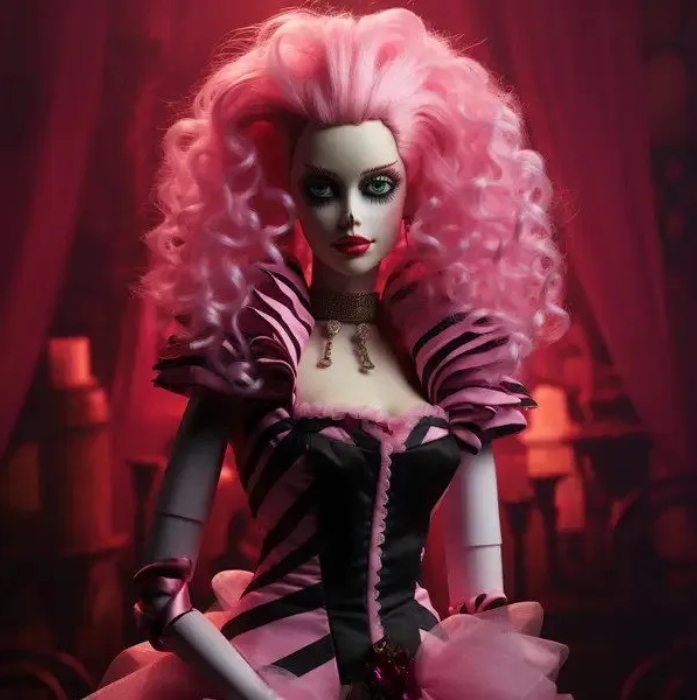 Be prepared for hilarity as Barbiejuice, with her wild fashion sense and a devilish smirk, stirs up mischief in the afterlife, crossing paths with the newly departed Barbie and Ken Maitland.
Mission: Impossible
Experience the thrill of danger and intrigue in "Barbie: Mission Inevitabarbie!" Join Barbie, as Agent Barb-Impossible, through high-risk missions in this gripping reimagination.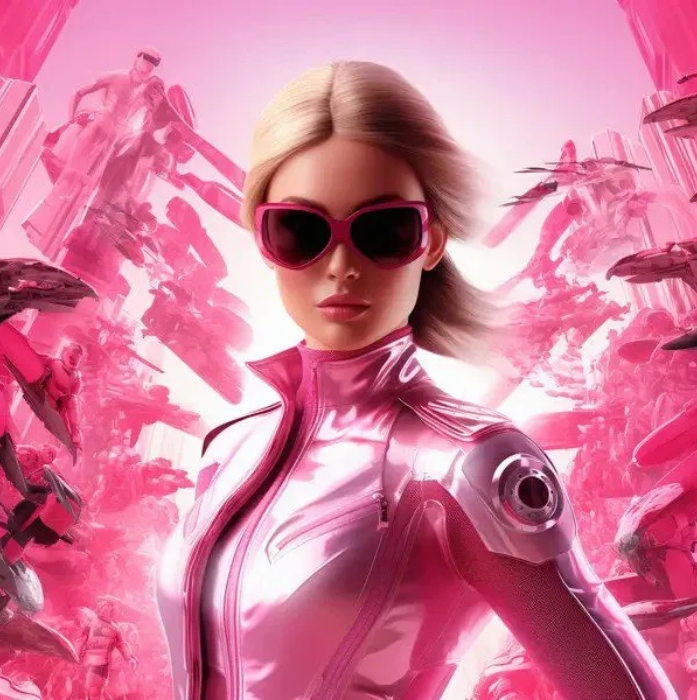 Alongside her expert team, witness her navigate perilous predicaments, outmaneuver devious foes, and prevent looming disasters. This spy tale is replete with exhilarating chases, daring heists, Barbie's glam, and a dash of intelligence.
The Fast and the Furious
Start your engines for "Barb and the Speed Squad: A Furious and Fashionable Journey!" Barbie slips into the driver's seat, transforming into the daring and competent racer Barb Torque in this electrifying take on The Fast and the Furious.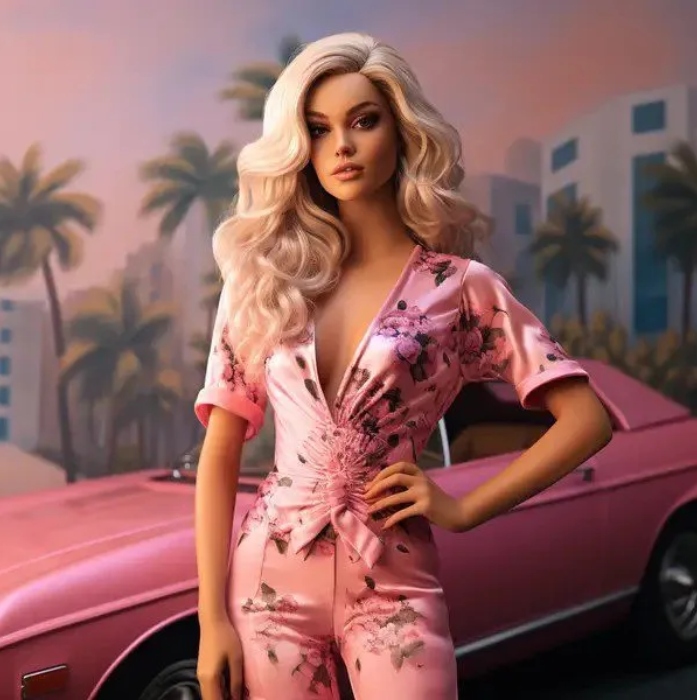 Sporting her sleek racing gear, her irresistible smile, and an insatiable need for speed, Barb Torque proves that she's not one to be underestimated.
2001: A Space Odyssey
"Barbie: 2001: A Space Odyssey" explores existentialism, artificial intelligence, and the limitless scope of human exploration. Join Barbie Bowman's cosmic journey as she uncovers cryptic monoliths, soars through the silent splendor of space, and wrestles with the enigmas of existence.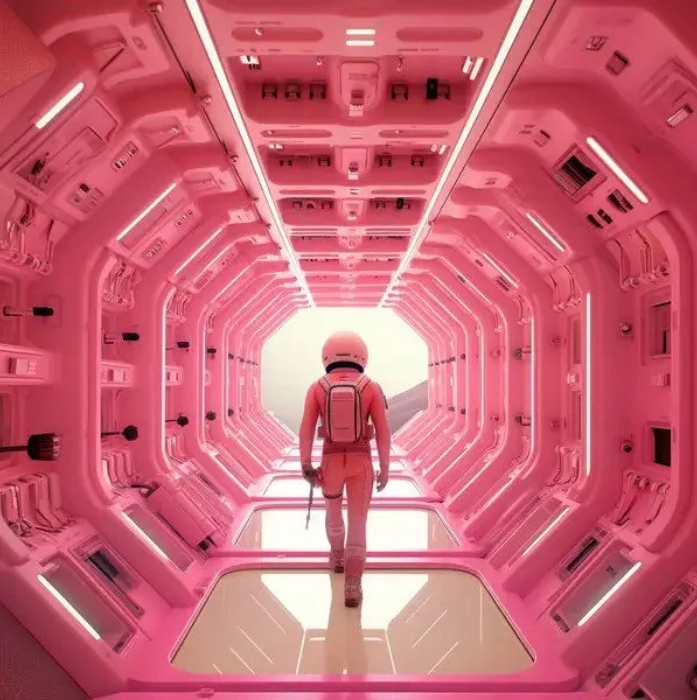 Her grace and elegance add an otherworldly charm to this celestial saga.
Raiders of the Lost Ark
Unleash your adventurous spirit in "Barbie and the Quest for the Lost Relics!" This rendition of Raiders of the Lost Ark sees Barbie as the audacious archaeologist Dr. Barbie Jones navigates through treacherous jungles and ancient ruins.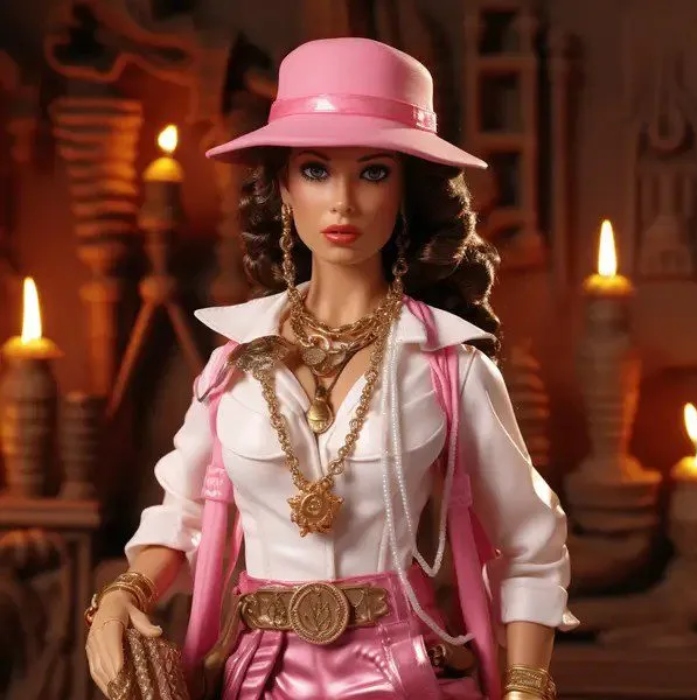 With her iconic hat and whip, she delves into unexplored territories in search of a historical artifact that could rewrite history.
Midsommar
Immerse yourself in a world of mesmerizing beauty and haunting traditions with "Midsommar: Barbie's Mysterious Journey." In this eerie adaptation, Barbie steps into the shoes of the naive protagonist, Dani.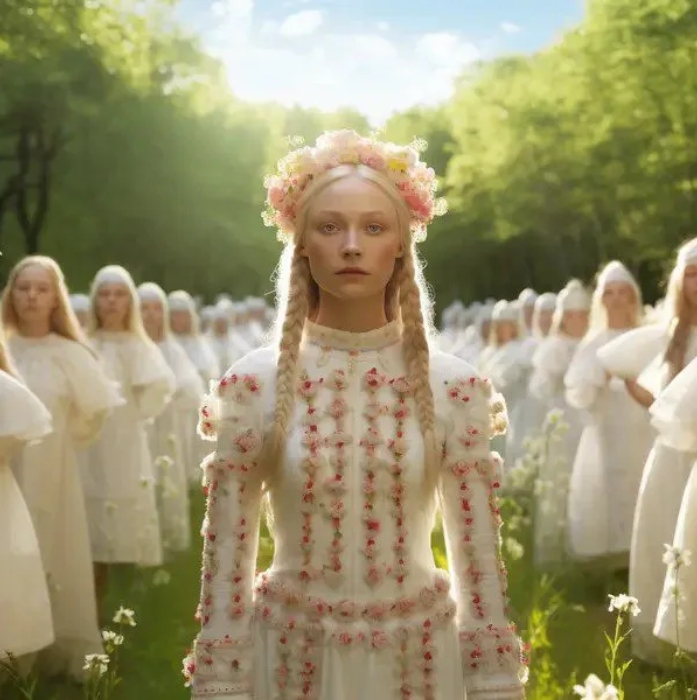 The innocent and vulnerable Barbie Dani takes you on a chilling journey to a remote Swedish village, where endless daylight, lush florals, and deep-rooted darkness coexist.
Braveheart
Relive the valorous saga of Scotland through "Barbieheart: An Epic of Bravery and Liberty!" Barbie infuses her strength and tenacity into the heroic tale of Braveheart.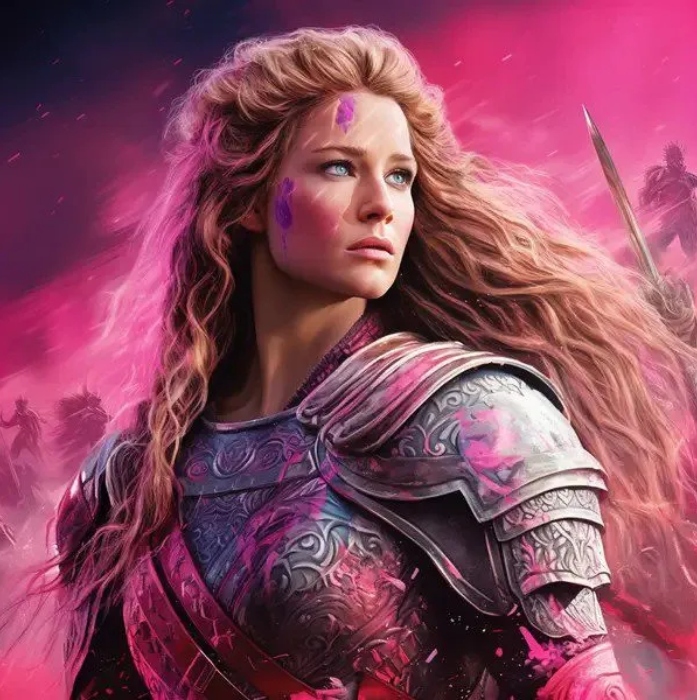 As the valiant Barbie Wallace, she rallies her fellow Scots, unites clans, and fearlessly resists adversity, embodying the power of resilience and justice.
Mad Max: Fury Road
Rev up for an adrenaline-filled spectacle like no other as Barbie redefines what it means to be a road warrior in "Barbie: Fury Road Revolution!" Recreated as the audacious Barbie Maxine, she takes you on an epic adventure filled with perilous car chases, daring stunts, and fiery combat.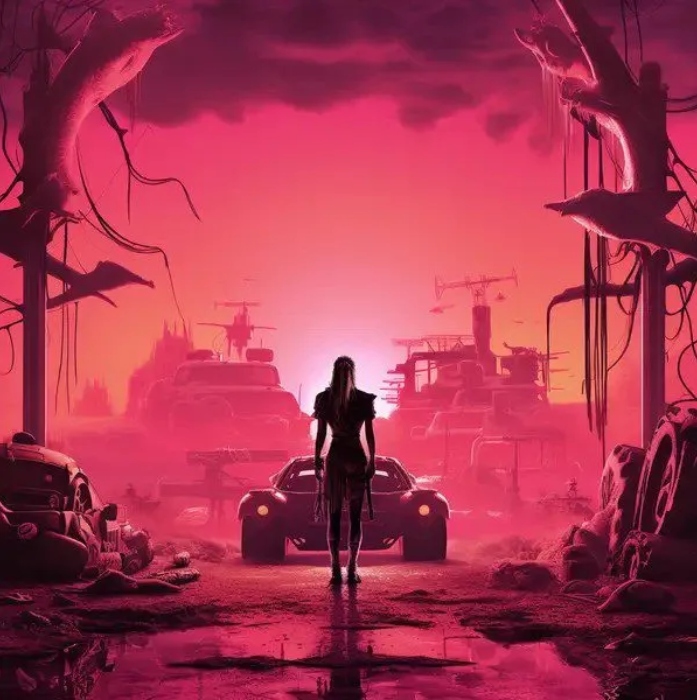 Barbie's grace and style bring a fresh, mesmerizing aesthetic to the otherwise desolate post-apocalyptic landscape. Stand witness as Barbie Maxine becomes a beacon of hope and defiance in a world that seems beyond salvation.
The Truman Show
Delve into a world of surreal mystique and transformative self-realization with Barbie in "Barbie: The Truman Show Unveiled!" Assuming the role of Barbie Burbank, she navigates the too-perfect town of Seahaven. In this artificial paradise, every neighbor has a script, and every event is preordained.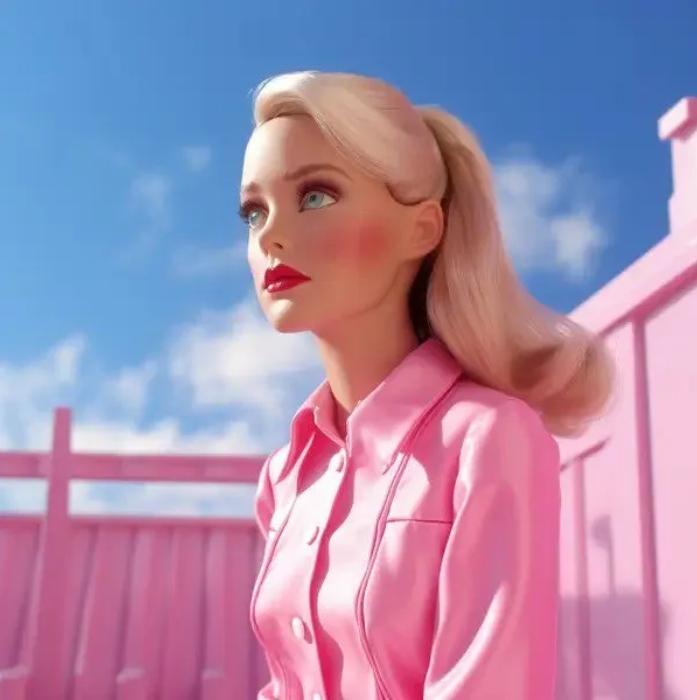 Join her as she peels back the curtain of her own existence, challenging the nature of reality and embracing the power of individual agency.
Spider-Man: Into the Spiderverse
Leap into the high-flying thrill ride of "Barbie: Into the Spiderverse!" In this colorful and kinetic realm, Barbie adopts the mantle of a superhero, bringing a unique blend of charisma, bravery, and camaraderie to the iconic web-slinger.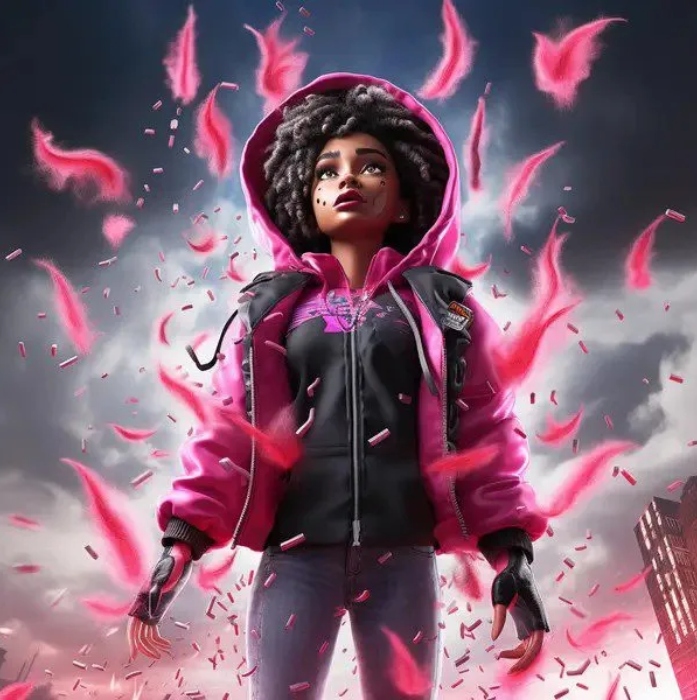 Watch as she explores the sprawling metropolis, showcases her acrobatic prowess, and inspires us all to find the superhero within ourselves.
The Lord of the Rings: The Fellowship of the Ring
Journey alongside Barbie Baggins as she braves an epic adventure through the awe-inspiring landscapes of Middle Earth, encountering legendary creatures and challenging the dark powers that threaten her world.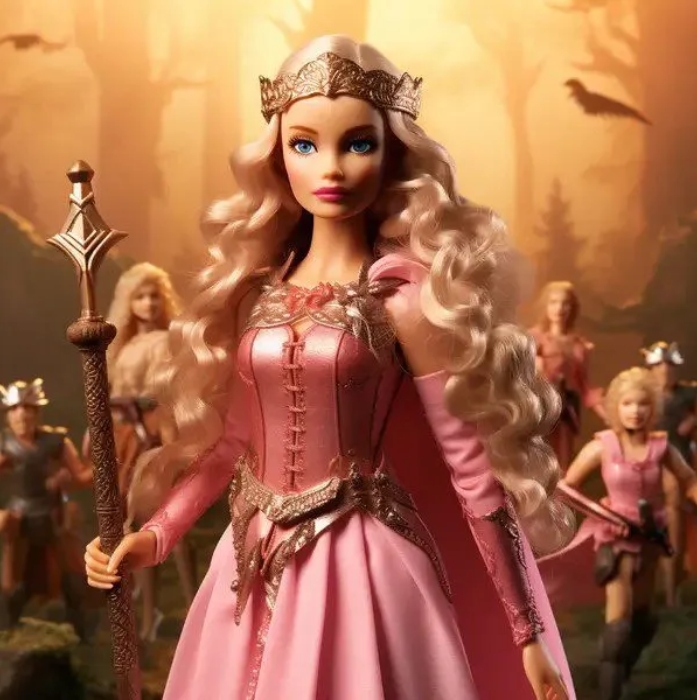 "Barbie: The Fellowship of the Ring" is a moving testament to the power of friendship, the courage to stand against evil, and the tenacity of the spirit in the face of seemingly insurmountable odds.
Goldfinger
Enter the world of glitz, glamour, and intrigue with "Barbie: Goldfinger's Glamorous Heist!" Barbie sheds her pink dress for a sleek, black suit, transforming into the stylish and astute spy, Barbie Bond.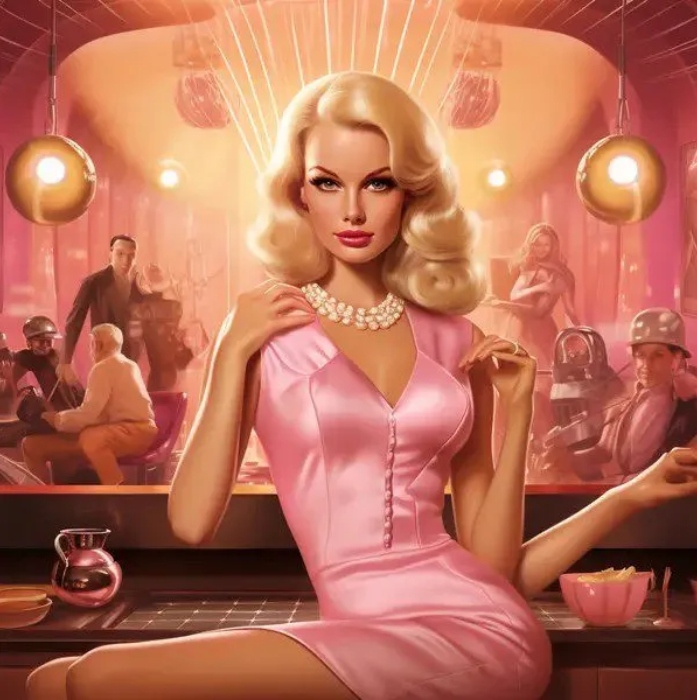 She immerses herself in a high-stakes game of subterfuge and strategy, leveraging her wit, agility, and an array of high-tech gadgets to outwit the cunning Goldfinger.
Slumdog Millionaire
Follow Barbie Malik's heartrending journey from the labyrinthine streets of Mumbai to the national stage in "Barbie: Slumdog Millionaire!"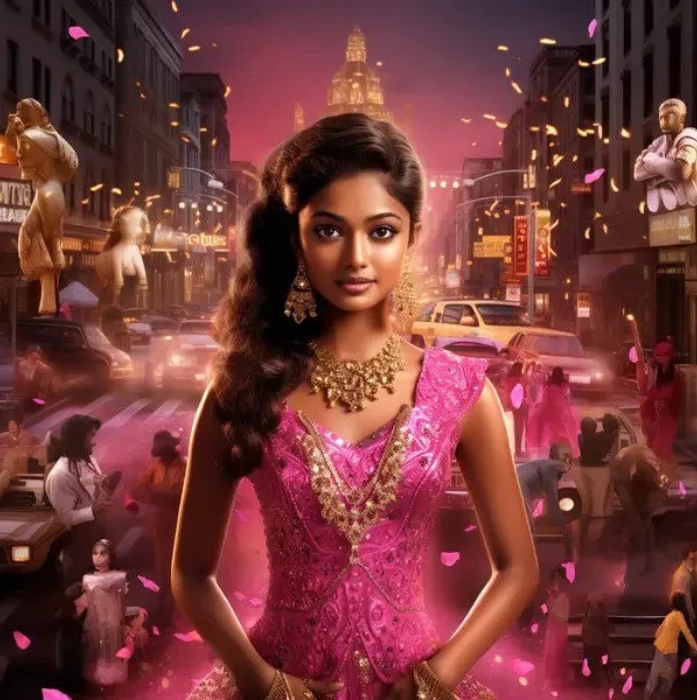 As the tenacious Barbie Malik, she tackles each question in a game show, unearthing a narrative of struggle, perseverance, and the indomitable human spirit that perseveres in the face of adversity.
Harry Potter and the Sorcerer's Stone
Step into a spellbinding journey with "Barbie and the Sorcerer's Stone: A Magical Adventure!" Barbie Potter enters the enchanting realm of Hogwarts, forging friendships with her fellow students and honing her magical skills to combat the malevolent forces looming in the shadows.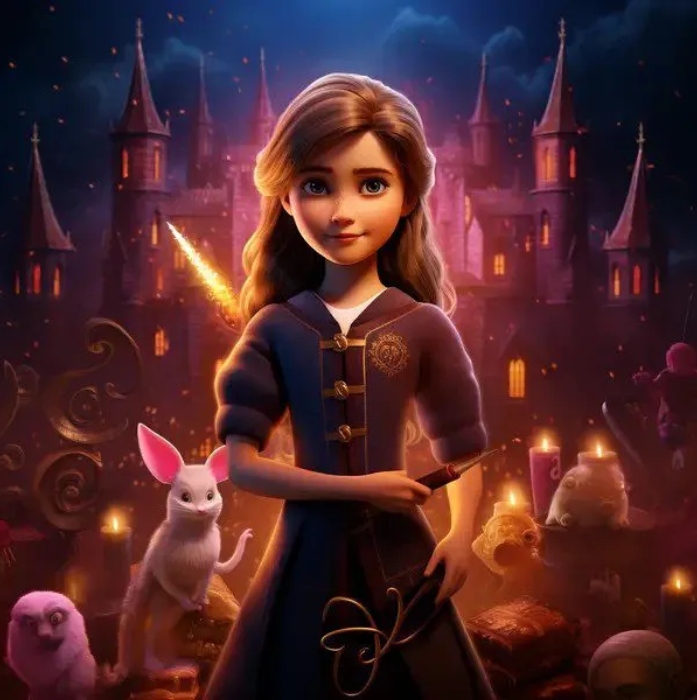 Watch as Barbie Potter grows into her newfound abilities, navigating challenges with bravery, loyalty, and a pinch of her unique charm.
A Star Is Born
Witness Barbie Maine's meteoric rise in the music world and her intimate journey of self-discovery in "Barbie: A Star Reborn!" Under the mentorship of a seasoned musician, Barbie Maine grapples with the rewards and pitfalls of fame, delivering soul-stirring performances and navigating personal struggles.
This story underscores the transformative power of music, love, and resilience in the face of adversity.
Marie Antoinette
Experience the decadence and complexity of the French court in "Barbie Antoinette: Reign of Elegance!" With her high powdered wigs and sumptuous gowns, Barbie Antoinette presides over the Court of Versailles, embodying the challenges and the glories of royal life.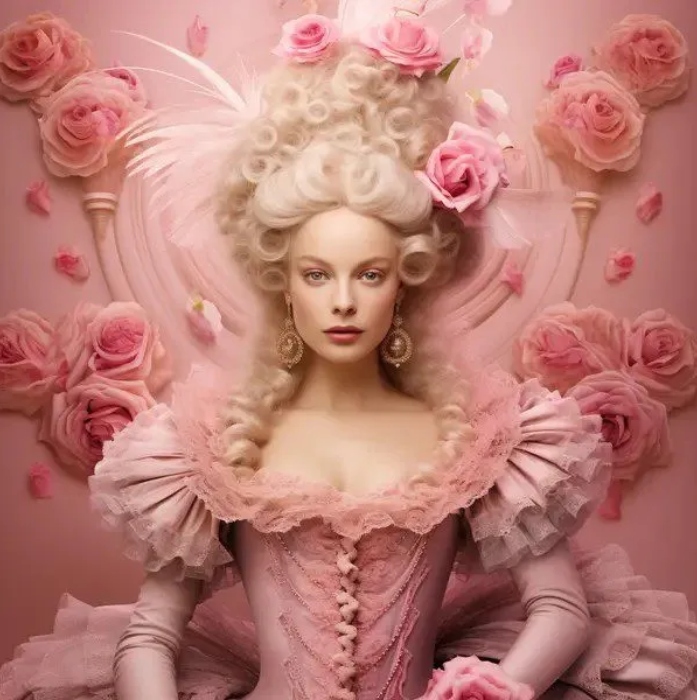 This tale is a riveting exploration of identity, power, and the fickle nature of public adoration.
Suicide Squad
Prepare for chaos and camaraderie in "Barbie Squad: Unleashed Chaos!" As the eccentric and fearless leader, Barbie Quinn forms an unlikely alliance with a motley crew of antiheroes.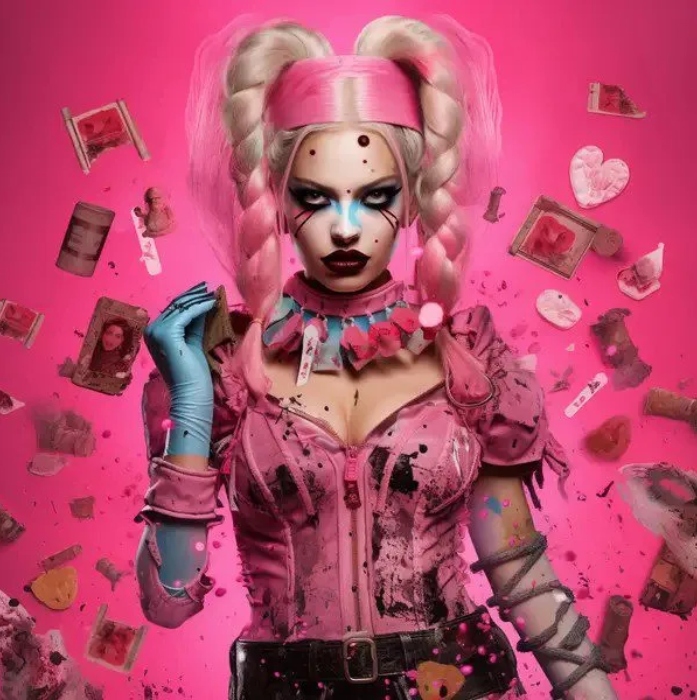 With her unyielding spirit and dash of madness, Barbie Quinn takes the audience on a roller-coaster ride, from high-energy battles to moments of surprising empathy and humor.
Ghostbusters
"Barbie: Specter Seekers!" is here to provide an exhilarating paranormal ride like no other. Our resourceful hero, Barbie Spengler, delves fearlessly into a universe brimming with spirits. With her trusty proton pack slung over her shoulder and a quick wit, she takes on these spectral foes, delivering punchline after punchline with infectious gusto.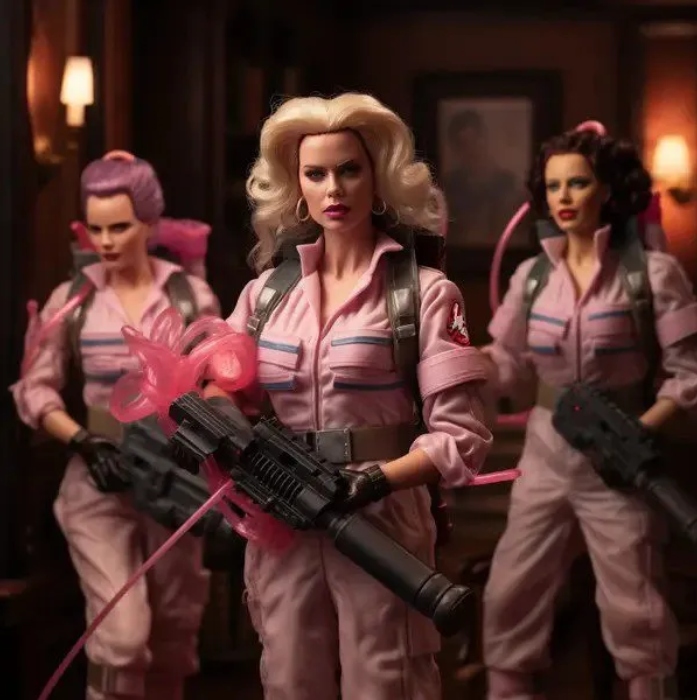 Join her on a thrilling journey filled with uncanny chills and laughs as she ventures deep into the heart of the ghostly realm. You'll find yourself cheering on her ghost-busting prowess and falling in love with her endearing charm. This is Barbie, proving once again that even the supernatural can't dampen girl power.
Mrs. Doubtfire
Prepare for an avalanche of laughter with "Barbie: Incognito!" Our protagonist, the unflappable and infinitely imaginative Barbie Doubt-Firecracker, is set to take you on a laugh riot. In a quest to stay close to her beloved family, she dons an array of absurdly entertaining disguises.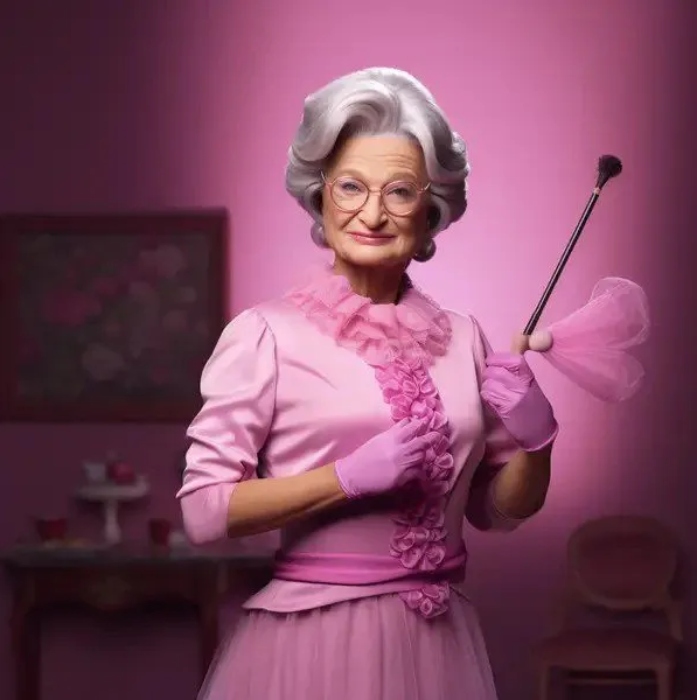 From a wise-cracking Scottish nanny to a klutzy British gardener, each persona she adopts is more hilariously outrageous than the last. Barbie's knack for humor and heartwarming family antics transform an unconventional situation into a riotous, love-filled escapade. This hilarious roller-coaster is a touching exploration of family bonds and a celebration of unstoppable spirit.
Office Space
Embrace the quirks of corporate life in "Barbie: Corporate Rumble!" Barbie Corporate-Clash, our vibrant protagonist, takes you on a hysterical journey through the maze of the corporate world. From defeating the dreaded office printer to enduring an endless loop of mind-numbing meetings, Barbie's misadventures are a comedic take on the sometimes-dreary office environment.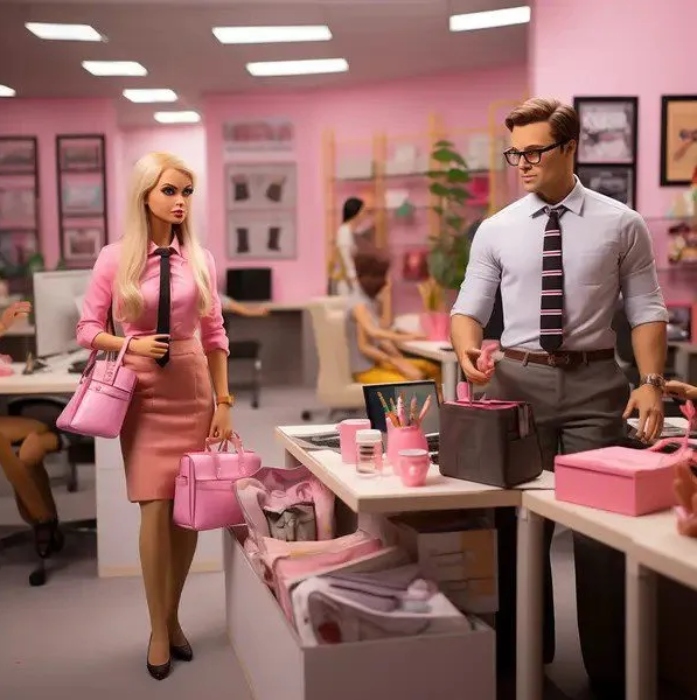 This isn't your usual office story. The mundane transforms into an absurdly funny experience with Barbie at the helm. She takes on the challenge with gusto, turning gray cubicles into a laugh-out-loud adventure that reminds us all of the lighter side of work.
ET the Extraterrestrial
Get ready for a heartwarming adventure across the cosmos in "Barbie & ET: Intergalactic Friends!" In this magical rendition, Barbie Elliot befriends a lovable extraterrestrial stranded in her backyard. From their first encounter to their moonlit bicycle escapades, their friendship blossoms into an extraordinary bond that defies logic and breaks barriers.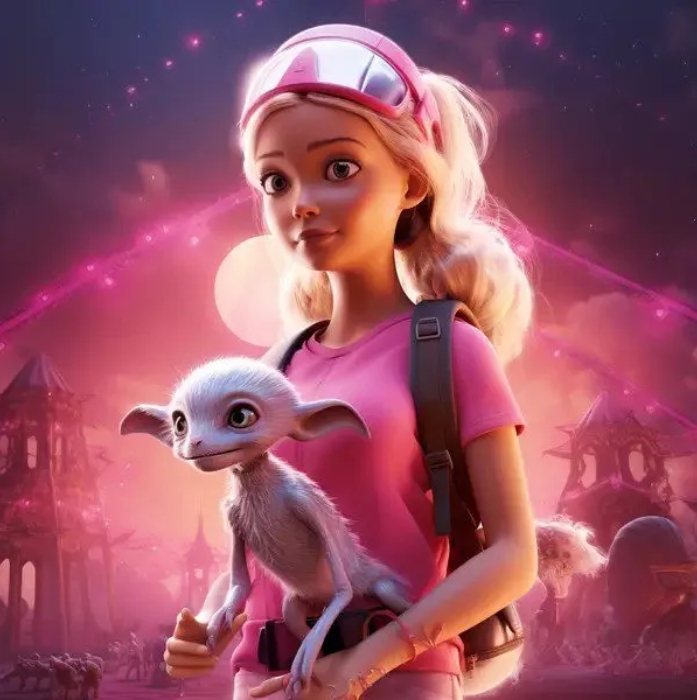 As they dodge government agents and embark on a quest to help ET return home, the duo teaches us powerful lessons about acceptance and friendship. With its equal parts thrill, warmth, and wonder, this tale redefines the boundaries of friendship and adds a Barbie flair to intergalactic adventures.
Thelma & Louise
Embrace the spirit of freedom in "Barbie & Lou: Road Trip Rebels!" Barbie Thelma and her faithful sidekick Barbie Louise trade their mundane lives for the unending expanse of the open road. With their spirits high and an insatiable thirst for adventure, they embark on a journey that transcends the traditional road trip narrative.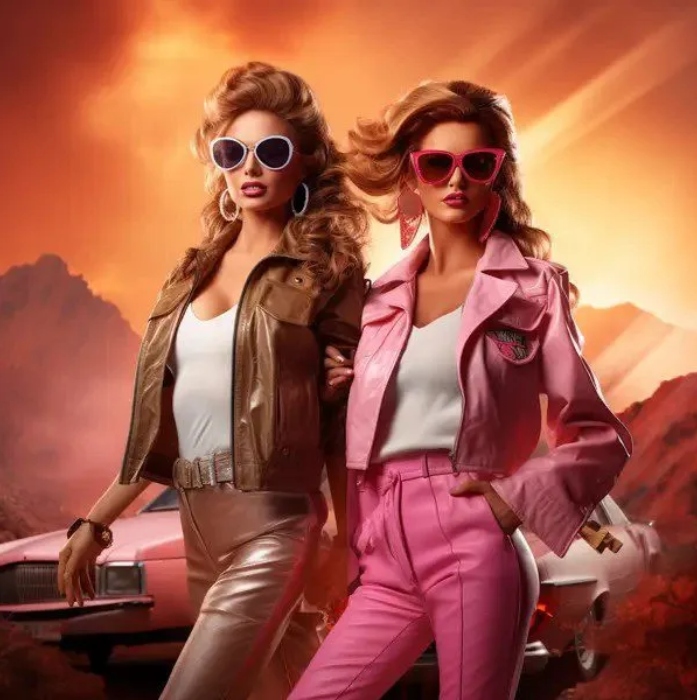 As they face trials and challenges and bask in the joy of newfound freedom, their story unfurls like an exhilarating tapestry of rebellion, friendship, and self-discovery. The result is an engaging, inspiring, and wild ride that offers a fresh take on the Thelma and Louise saga, Barbie style.
All Images are Courtesy of AI artist Kristen Harris.